The best thing about a sheet pan dinner is that it creates less mess. You only have one pan to wash! Try these chicken sheet pan dinners and create a delicious meal for your family with ease!
Cooking your ingredients on a sheet pan means they cook together and are ready simultaneously.
You also don't need to stand around stirring ingredients in a pot on busy weeknights. You can let your oven work its magic on these sheet pan meals!
Do You Cover Sheet Pan Dinners?
It's not recommended to cover your sheet pan recipes while they're cooking. Doing so can prevent your ingredients from becoming nicely browned and caramelized.
However, you can use a strip of aluminum foil or parchment paper on the bottom of your sheet pan to make cleaning up your delicious recipes even quicker!
What is a Sheet Pan Dinner?
A sheet pan dinner is what it says it is. Dinner is cooked on a sheet pan. Much of the time, it consists of protein (for example, chicken) and veggies.
You can add herbs and spices for flavor. Marinades are an excellent option too. If you're using a marinade, let your ingredients soak up the flavor in the fridge before cooking.
Best Chicken Sheet Pan Dinner Recipes
Find something for your whole family in the recipes below!
Source: allnutritious.com
If you love sweet chili sauce, you will love this sweet chili chicken. It's a sheet pan full of veggies, chicken, and a ton of sweet and spicy flavor.
Fresh cilantro, nutty sesame seeds, and juicy lime are a great match for chicken and red peppers. Broccoli goes excellent with this dish too.
Make your zesty sauce using sesame oil, lime, garlic, ginger, and sweet chili sauce.
Source: seasonalcravings.com
The sweetness of the caramelized pineapple in this dish balances the spiciness of the Jerk chicken flavor.
Make your Jerk seasoning with flavorful spices. These are onion powder, cayenne, paprika, cinnamon, salt, and pepper. Add a teaspoon of sugar to balance the spice.
Source: allnutritious.com
This recipe's sweet and savory honey garlic marinade perfectly coats juicy chicken thighs.
Bake chicken thighs alongside nutritious veggies. Brussels sprouts, bell pepper, carrots, and red onion are ideal for this dish.
Garlic and onion powder enhance the flavor of your veggies. Apple cider vinegar adds a tangy taste to your meal.
This is one of the most easy cheap dinner ideas for families!
Source: acedarspoon.com
Chicken sausage and colorful veggies are the centerpieces of this dinner.
Slice your choice of flavored cooked chicken sausage so it's the same size as your veggies. Vibrant sweet potatoes, bell peppers, broccoli, and carrots are perfect for this dish.
Cajun spices or taco seasoning work well with the flavors of this recipe!
Source: allnutritious.com
This sheet pan chicken dinner takes you on a Mediterranean journey with its Greek flavors.
Tender chicken breast chunks take on the flavor of olive oil, lemon juice, and garlic. You'll have sticky, caramelized veggies from this marinade too.
Ideal veggies are colorful bell peppers, zucchini, and red onion. Sprinkle with soft, crumbled feta cheese before serving.
Source: acedarspoon.com
This sheet pan dinner is all about juicy chicken breast tenderloins and colorful vegetables.
For this dish, you'll make two marinades from scratch. But they're not too different, so they go well together. Use olive oil, balsamic vinegar, honey, salt, and Italian seasoning.
Add crushed red and black pepper to the marinade you make for your vegetables. Onion, zucchini, bell peppers, tomatoes, and carrots are the vegetables to use.
Check out these other yummy chicken tenderloin recipes!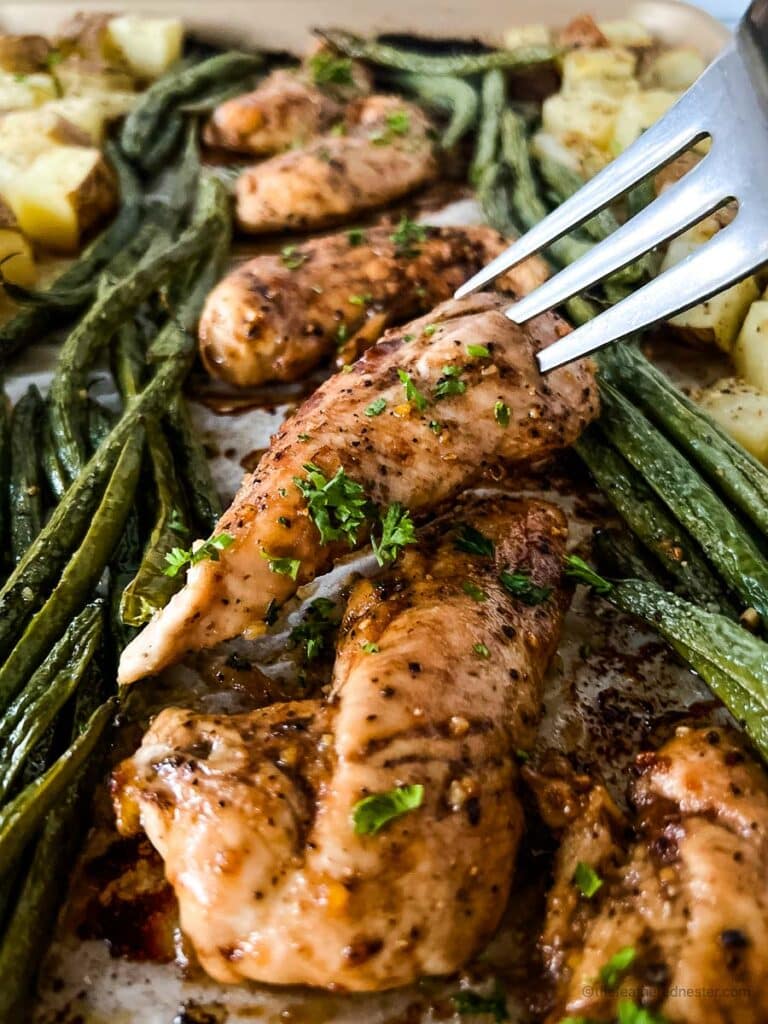 Source: thefeatherednester.com
The marinade for this recipe is quick and easy. So, these juicy chicken tenders taste great with very little work!
You only need a bottle of Italian salad dressing to liven up your chicken tenders! If you prefer, you can make your dressing from scratch.
Your chicken tenders go well with soft roast potatoes and green beans. Use all-purpose seasoning to add flavor.
Source: gardeninthekitchen.com
A homemade rub adds flavor to this dinner of chicken and potatoes. Use chicken thighs or legs to keep your chicken moist and juicy.
Make your dry rub with paprika, garlic & onion powder, all-purpose seasoning, and oregano. You'll also use olive oil and minced garlic.
Add some greens to your meal with fresh asparagus or broccoli.
This recipe is perfect for a Friday night dinner idea with family!
Source: chefjar.com
Using a delicious hummus crust for chicken breast stops it from drying out. Plus, you have a wonderful crunchy texture on the outside!
Flavor chicken breasts with cumin, garlic salt, onion powder, and pepper. Coat your chicken with store-bought or homemade hummus before baking in the oven.
Serve your hummus-crusted chicken with veggies, in a wrap, or on top of rice or cous cous.
You will also enjoy this juicy cast iron skillet chicken breast recipe!
Source: amagicalmess.com
Peach isn't a flavor you would think to put with chicken, but it works! The sweetness of peach complements the rich flavors of the other ingredients in this meal.
Use chicken thighs and drumsticks for juicy cooked chicken. Make your sweet, tangy sauce with peach preserve, soy sauce, rice wine vinegar, Dijon mustard, and olive oil.
Coat broccoli and potatoes with olive oil, salt, and pepper, and cook with your chicken. An orange preserve also works well with this recipe!
Source: allnutritious.com
This sheet pan chicken dinner is naturally sweet from apples, red onions, and sweet potatoes.
Garlic, sea salt, and pepper are the essential flavors you'll use. A touch of cinnamon also adds a lightly spiced taste. It matches well with the apple in the dish.
You'll start cooking your veggies before adding your chicken breasts. These won't take as long to cook. Sprinkle fresh parsley over your chicken and veggies before serving.
Source: stemandspoon.com
A harissa spice blend brings perfect heat and smokiness to this juicy chicken thigh meal.
The main ingredients of the harissa paste are hot chili peppers, garlic cloves, olive oil, and warming spices.
The spiciness of harissa goes well with sweet veggies like red onion, fennel, zucchini, sweet potato, and bell pepper. Serve your harissa chicken with refreshing lemon-cilantro Greek yogurt.
Source: simplystacie.net
A zesty, summery lemon and herb butter flavors chicken drumsticks and veggies.
Coat your drumsticks in a flavorful butter spread. Make this with minced garlic, lemon zest & juice, and fresh thyme. You'll place these on top of your chopped veggies.
Yukon Gold potatoes, green beans, and carrots are ideal veggies for this dish. The butter from your chicken will also drip onto these while cooking, flavoring them!
Source: thepracticalkitchen.com
Roast chicken breasts and corn ears together on your sheet pan for the best chicken and corn recipe.
Coat your chicken in homemade taco seasoning. To make this, use chili powder, smoked paprika, cumin, onion powder, oregano, black pepper, and red pepper flakes.
Shred it for your tacos when tender, cooked, and rested. Make your sweet corn salsa with cherry tomatoes, scallion, jalapeno, red onion, fresh garlic & cilantro.
Add a squeeze of lime juice for acidity. Assemble your tacos with soft tortillas and your choice of toppings!
Source: allnutritious.com
This easy chicken and cauliflower sheet pan dinner is delicious with a full-bodied taste.
Mix turmeric, paprika, cumin, cinnamon, ground ginger, and minced garlic for your chicken marinade. This adds a warmth of flavor to your juicy chicken thighs.
Olive oil and garlic powder improves the taste of your tender roasted cauliflower.
Source: foxeslovelemons.com
If you think cooking a curry on a sheet pan is impossible, think again. This recipe fills your family with tender chicken, rice, veggies, and fruits.
Savory chicken and curry powder match with sweet Fuji apples and raisins. Garlic, salt, yellow onion, and peas add further flavor and textures.
Use packaged microwave rice to make cooking this meal easier. Serve with crunchy cashews, chopped cilantro, and sharp plain yogurt.
Source: rachaelhartleynutrition.com
Make a stir fry even simpler by cooking it on a sheet pan. This chicken and mango stir fry has sweet, savory, salty, spicy, and umami flavors!
Add bell peppers and red onion alongside your chicken and fresh mango. Make your flavorsome marinade with chili flakes, lime juice, minced ginger & garlic, and soy sauce.
Serve this delicious stir-fry with tricolor quinoa!
Source: budgetdelicious.com
This ranch chicken and veggies sheet pan is versatile for family dinners. Make it go further by serving it with cooked rice. Or you could have it in a wrap for a quick and easy lunch!
Use a packet of ranch seasoning to give the best flavor to your chicken. Smoked paprika and dried oregano uplift the ranch flavor.
Sweet potato, red onions, bell pepper, and grape tomatoes are excellent options to serve alongside.
Source: maryswholelife.com
Have a taste of Mexico with these street-style taco bowls!
Create a spicy Mexican flavor with garlic powder, onion powder, chili powder, paprika, and black pepper.
You'll use this for your juicy chicken thighs and chopped cauliflower florets. Roast these until tender and crispy.
Make a creamy, tangy sauce with mayo, cilantro, lime juice, garlic, paprika, and chili powder. Try serving these in crunchy lettuce cups or soft tortillas!
Source: rachaelhartleynutrition.com
This tandoori chicken is warming and comforting for colder months.
You can make tandoori spice from scratch. However, it's okay to use a prepackaged one. Toss your chicken thighs in the spices and the secret ingredient for crispy skin – baking powder!
Your veggies take on the delicious flavor of the chicken thighs roasting on top of them. Cauliflower, winter squash, and red onion are perfect for this recipe.
Serve your sheet pan dinner with cooling homemade raita and green chutney.
Source: allnutritious.com
Bring the spicy flavors of Mexico to your table with sheet pan chicken fajitas.
Make a flavorful seasoning by mixing garlic powder, chili powder, ground cumin, smoked paprika, and black pepper. Red onion and colorful bell peppers are ideal veggies to go with the chicken in this dish.
Lime juice and cilantro offset the spice of your fajitas. Serve in soft tortillas with your favorite toppings. Sour cream, salsa, and guacamole are perfect!
Source: rachaelhartleynutrition.com
Put your ratatouille chopped veggies and skin-on chicken thighs on a sheet pan. Then let the oven do its magic!
Ideal veggies for your ratatouille are fresh zucchini, tomatoes, bell peppers, eggplant, and onion. Use lots of garlic too! Dried thyme is the perfect herb seasoning.
Make a complete meal by adding sliced potatoes to your pan. You could also serve it with tender cooked rice or crusty bread!
Source: tiffinandteaofficial.com
Take your roast chicken up a level by coating it in Indian spiced butter before cooking it with winter squash. This produces golden, crispy skin, juicy meat, and sweet, tender squash.
Your butter is packed with flavor. Make this by combining butter and oil with flavorsome spices.
These include chili powder, smoked paprika, ginger, garlic, ground cumin, coriander, cinnamon, and cardamom. Garam masala is also an essential Indian spice.
Source: throughthefibrofog.com
This chicken traybake has fall flavors with squash, fennel, maple syrup, and ginger. Blueberries add a delicious pop of sweetness.
You'll cook tender chicken breasts on top of sliced squash and fennel. Drizzle before cooking with a delicious maple ginger dressing. Make this with maple syrup, fresh ginger, garlic, salt, and pepper.
Source: allnutritious.com
Try this healthier recipe if your favorite Chinese restaurant dish is cashew chicken.
Cook nutritious broccoli and red bell pepper in a tasty sauce alongside chicken breasts. Unsalted cashew nuts add a wonderful crunchy texture.
You'll make your tasty sauce by mixing a few ingredients.
They are fresh garlic, ground ginger, coconut aminos, apple cider vinegar, sesame oil, and cashew butter. Add honey for natural sweetness.
Source: disheswithdad.com
A zesty lemon and garlic marinade takes the flavor of juicy chicken thighs up a notch. Roast your chicken with Yukon gold potatoes and tender broccoli for a complete meal.
Create your marinade with olive oil, lemon juice & zest, garlic cloves, and dried oregano & thyme. Use most of the marinade for your chicken and the rest for the potatoes.
Source: meganvskitchen.com
This recipe's homemade honey mustard sauce is a perfect blend of sweet and spicy. Using cooked chicken sausage rather than pork makes a healthier meal.
Bake chicken sausage beside healthy Brussels sprouts, potatoes, and carrots for a whole meal. Make your tangy sauce with Dijon mustard, honey, olive oil, and apple cider vinegar.
Source: blessthismeal.com
Add a unique taste to creamy pasta sauce with vodka! You'll also have a crispy parmesan crust that forms when your pasta bakes.
Make your chicken pasta bake healthier than it sounds by adding nutritious veggies. Red bell pepper and spinach are perfect for this dish.
Heavy cream and canned tomatoes are the base of your delicious sauce. Remember the vodka for that unique flavor!
Source: maesmenu.com
Juicy chicken, tender roasted veggies, and a sticky apricot glaze are the stars of this dish.
Make your glaze using apricot jam, white wine vinegar, and Dijon mustard. Use this to coat your chicken breasts and dried apricots.
Season potatoes, sliced carrots, and diced onion with olive oil, salt, and rosemary. Serve this as it is straight from the oven!
Source: throughthefibrofog.com
This sheet pan chicken meal is versatile. Use your choice of pesto, whether you prefer to make it or use a store-bought version.
You'll cook your pesto-smothered chicken breasts on a bed of tender vegetables. Colorful bell pepper and sliced leeks work well for this recipe. Chicken broth adds flavor to your veggies.
Source: maesmenu.com
This easy Cuban-inspired chicken can be the highlight of your weekly menu.
Make your zesty mojo marinade by whisking olive oil, vinegar, garlic, orange & lime zest & juices, cumin, oregano, and cayenne. Marinate your chicken thighs briefly before cooking.
Try serving your mojo chicken with steamed rice and black beans.
These other easy sheet pan dinners will also provide some dinner inspiration!
31 Best Chicken Sheet Pan Dinners for Easy Clean Up
This list of chicken sheet pan dinners is all you need for quick, easy, and healthy meals any day of the week. Give these quick dinners a try!
Ingredients
1. Sweet Chilli Chicken Sheet Pan Dinner
2. Sheet Pan Jerk Chicken with Pineapple
3. Sheet Pan Chicken Thighs with Garlic and Honey
4. Sheet Pan Chicken Sausage and Vegetables
5. Greek Sheet Pan Chicken Dinner
6. Sheet Pan Honey Balsamic Chicken Tenders and Vegetables
7. Oven Baked Marinated Chicken Tenders
8. Sheet Pan Chicken and Potatoes
9. Sheet Pan Hummus Crusted Chicken
10. Peach Chicken Sheet Pan Dinner
11. Sheet Pan Chicken with Sweet Potatoes, Apples and Brussels Sprouts
12. Sheet Pan Harissa Chicken with Roasted Vegetables
13. One-Pan Lemon Thyme Chicken
14. Sheet Pan Chicken Tacos with Summer Corn Salsa
15. Sheet Pan Chicken and Cauliflower
16. Sheet Pan Chicken and Apple Curry
17. Sheet Pan Chicken and Mango Stir Fry
18. Ranch Sheet Pan Chicken and Veggies Dinner
19. Sheet Pan Cauliflower and Chicken Street Taco Bowls
20. Sheet Pan Tandoori Chicken
21. Sheet Pan Chicken Fajitas
22. Sheet Pan Ratatouille Chicken
23. Roast Chicken Butternut Squash Traybake
24. Maple Ginger Chicken Tray bake
25. Sheet Pan Cashew Chicken
26. Sheet Pan Lemon Chicken with Potatoes and Broccoli
27. Sheet Pan Chicken Sausage with Honey Mustard
28. Cheesy Sheet Pan Pasta with Vodka Sauce and Chicken
29. Sheet Pan Apricot Chicken and Potatoes
30. Pesto Chicken Tray Bake
31. Sheet Pan Mojo Chicken
Instructions
Scroll up to get a bunch of easy, yummy, and delicious sheet pan recipes. Don't be afraid to get creative with the ingredients. You might discover a flavor you didn't know you liked.
Get your shopping list going and make sure you've got all the ingredients.
Get cooking and make your next Chicken Sheet Pan Dinner!
Notes
Which one of these recipes was your favorite? Let me know in the comment section or on Pinterest!