The work week's over, it's family night, and everyone's hungry. So, what's on the dinner table? These Saturday dinner ideas are here to save the evening!
Saturday dinners are a chance to sit together and enjoy a delicious meal as a family. However, they're also on one of the busiest days of the week.
Good easy Saturday night dinner ideas should be the perfect intersection of convenience and deliciousness, ensuring you have time to get on with the rest of your day outside of the kitchen.
Luckily, I've compiled a list of fifty-one delicious easy dinner ideas. Any one of these easy dinner recipes would be the most perfect way to cap off the start of a great weekend.
What Should I Eat for Dinner on a Saturday?
As I said, Saturday's main courses should be both convenient and delicious.
Whether you're cooking for yourself, for two, or for a whole family, you need a hearty meal that's healthy, tasty, and easy.
Skillet meals and simple casseroles are a great place to start if you're stuck for ideas. Otherwise, you can replicate your favorite take-out meal at home in a healthier fashion.
For many people, Saturdays are the night before the big grocery shop. So, these meals also need to be back-of-the-pantry friendly, using up the last of the groceries from the week prior.
On this list of best Saturday night dinner ideas, I've got four categories for you to check out: Easy Saturday Dinners, Dinners for 2, Family Dinners, and Healthy Saturday Dinners.
Bounce to the one that works for you, and let's get cooking these great recipes!
Easy Saturday Dinner Ideas
Easy dinners promise a quick trip to the kitchen with a delicious result. If you've got a busy Saturday on the books and limited time for prep, these recipes for an easy meal are for you.
From cast iron skillets to simple, comforting avocado pasta, there's something for every member of the family on this menu.
Source: allnutritious.com
First on the list is an easy recipe of mine, and I might be biased, but I think it's great! I designed these cast iron skillet chicken breasts to be a super simple meal for any night of the week.
It's moist, tender, and full of delicious flavor, thanks to the seasoning on the chicken. Serve with a side of your favorite fresh or steamed vegetables, and enjoy the lack of dishes at the end of the meal.
Source: healthmylifestyle.com
We all love a good pizza, but preparing an entire batch of dough isn't exactly the easiest thing when you want a quick meal for dinner tonight. That's where these pita pizzas come in!
Instead of traditional pizza dough, this recipe uses cut-open pita bread to create a crunchy base. Slather with the marinara sauce, cheese, and your favorite toppings for a super simple dinner.
Source: allnutritious.com
This is another one of my recipes. In fact, I reach for it all the time because it's so easy for a healthy dinner!
The sweet chilli chicken is a little sweet, a little spicy, and a lot delicious on the taste buds.
The best part is that this simple meal is a sheet pan dinner, so you have barely any dishes to do when all is said and done.
Roast along with some of your favorite vegetables to create a well-rounded meal.
Source: jcookingodyssey.com
Quesadillas are a classic simple dinner that doesn't require much in the way of ingredients.
This is a great option with simple ingredients for a vegetarian Saturday dinner that will keep you going for a long time.
The sweet potato and the black beans both contribute a ton of protein to the meal, along with some healthy carbs to keep your energy levels up.
This crowd pleaser recipe is sure to become a family favorite
Source: allnutritious.com
Here's another quick and easy sheet pan dinner inspired by the flavors of Greece.
This is an out-of-this-world meal with plenty of delicious vegetables, herbs, and spices to kick the taste up a notch.
This comes together in no time, meaning you'll have plenty of time outside the kitchen to relax on your Saturday night.
Source: naturallieplantbased.com
Who doesn't love the taste of buffalo chicken? Get all that protein and flavor the vegetarian way with this delicious tofu Buddha bowl.
The buffalo sauce is the hero of the day, standing out against all the lovely natural vegetables populating the rest of the bowl.
Source: allnutritious.com
Here's another one of my favorite sheet pan meals! This one takes inspiration from sweet, earthy Asian flavors, particularly Japanese flavors. The soy, garlic, and honey combination is so good.
Cooked in a sheet pan, the sauce thickens to a tasty, sticky consistency that makes this meal utterly addictive. Not only is this a great recipe for a Saturday dinner, but it's also great for meal prepping!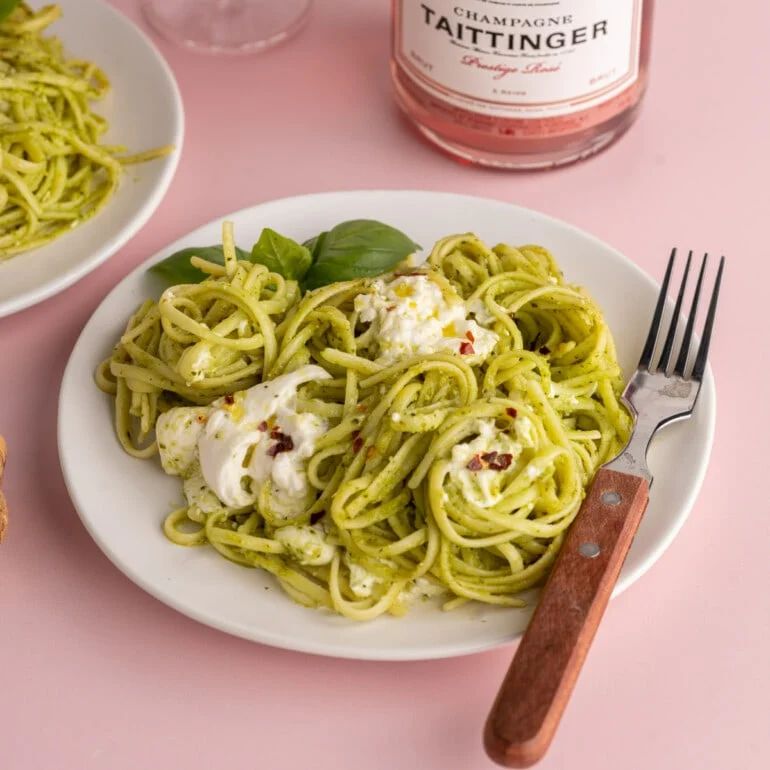 Source: marleysmenu.com
The best way to make sure your Saturday dinner is quick and easy is to use as few ingredients as possible. That's what this recipe promises.
Burrata cheese is an iconic Italian ingredient. While technically mozzarella, it's softer and creamier on the inside, making it the ideal ingredient for a luxurious pasta dish.
Combined with the pesto, this is a luxurious, beautiful pasta dish you can enjoy on Saturday evenings, busy weeknights, or special occasions.
Source: oohlalaitsvegan.com
Speaking of creamy pasta dishes, here's one for your Saturday night! This is a primavera pasta dish, meaning you're using a cold sauce on warm pasta. Let me tell you, this is amazing.
Best of all, it only takes fifteen minutes to make! This is the kind of thing you can whip up last minute and satisfy everyone sitting down to dinner, regardless of what's in your pantry.
Source: freeyourfork.com
Making gluten-free ramen has its own challenges, especially when it comes to the noodles. After all, making gluten-free noodles can mean they become brittle or snap easily.
That hurts the slurping experience!
But this gluten-free ramen recipe ensures that you'll have perfectly chewy noodles in a rich, umami-filled ramen broth, the easy way to enjoy on a cold Saturday night.
This great recipe is one of the best things for picky eaters!
Source: bestservedvegan.com
Looking for something fresh and summery? This pasta al limone dish promises the best of the best this coming Saturday. Hailing straight from Italy. This is a dish that promises light and bright flavors.
The best part about this yummy recipe is that it's super easy to make because it doesn't use a ton of ingredients. Plus, it's great if your pantry is looking a little bare-bones.
Source: pipingpotcurry.com
Delicate, tender shrimp and bold, fragrant spices come together in this unforgettable dish. It's almost unfair that you can make a dish this good this quickly and easily. It feels like cheating!
This is the ultimate dish for a cold night with the family, and it will taste even better the following day after the spices really soak into the shrimp.
Saturday Night Dinner Ideas for 2
Enjoying a date night at home, or just want a comforting weekend meal? Look no further than these cozy Saturday night dinners for two!
These dinners are super simple to prepare, leaving you with plenty of time to spend together. Take care of the cooking as a team for some extra quality time.
Source: allnutritious.com
Baked chicken takes almost no effort to make, which is why I love it so much as a quick and easy option when you're cooking for two. Prepare a single breast each and whack it in the oven.
Baked along with some vegetables and spices or herbs, you've got the perfect well-rounded dinner in just ten minutes of hands-on cooking time.
These other chicken cutlet recipes are sure to please everyone at the dinner table!
Source: servedfromscratch.com
Pancetta is known for its iconic saltiness and robust flavor, so you need something to balance that out when you cook with this protein. That's why this pasta dish is the perfect solution.
Sweet peas add a touch of brightness and sweetness to the dish, helping to balance the heavy carbs from the pasta and the delicious saltiness of the pancetta.
This is a wonderful date night meal, offering a refined option for dinner that won't take forever to create.
Source: allnutritious.com
Keep dishes to a minimum and crank the flavor all the way up with this delicious creamy tomato chicken skillet. There's nothing better than perfectly-cooked chicken in a great tomato sauce.
And not to toot my own horn, but this recipe with fresh herbs really delivers!
The tomato provides the acidity and flavor, while the cream and chicken make this a robust dinner that will keep you going.
Source: urbanblisslife.com
A great risotto is the perfect date night meal. After all, it's one of the most iconic meals you'll find on a restaurant menu! The good news is, it's not nearly as difficult to make as it seems.
This recipe makes creating the perfect risotto a breeze. The tender, juicy prawns are a great bonus, creating a well-rounded flavor that you won't forget for days afterward.
Source: allnutritious.com
In my mind, the only thing that makes a perfectly-cooked chicken breast even better is when you can stuff it with cheese… so that's what I did. Hence, this recipe was born!
This is a keto-friendly mozzarella-stuffed chicken breast that features a ton of good flavors, fats, and textures.
Serve this chicken with a side of your favorite steamed vegetables for a healthy meal for two.
Source: thelittlestcrumb.com
Looking for something refined yet simple to make? Pizza to the rescue! This is a date-night-friendly recipe that features a few sophisticated ingredients combined into the perfect pizza.
Figs and pears offer a burst of sweetness to counteract the fatty brie and goat cheese. Walnuts create some much-needed crunch. The whole effect is a restaurant-quality meal prepared in no time!
Source: allnutritious.com
Doing the dishes isn't a great way to enjoy a date night, so why not eliminate the need? This sheet pan cashew chicken is nutty, rich, and super healthy. What a great way to enjoy the night together!
Bake some vegetables along with the chicken, or set some up to cook in your steamer or air fryer. This dish is the last word in convenience, but it tastes like you spent hours working on it.
Love how easy sheet pan meals are? Check out these best chicken sheet pan recipes!
Source: quichemygrits.com
Tajin spice, a creamy Baja sauce, and deliciously moist chicken tenders come together to create this incredible taco dish. This will put a delicious spin on even the most tired Taco Tuesday!
Serve up a 'make your own' taco bar featuring fresh pico de gallo, some guacamole, and even a rich, spicy salsa to complete the effect. These are great no matter what kinds of shells you use.
Source: kitchenontheavenue.com
Kale is one of those things that everyone should have in their daily diet. However, if you're one of those people who struggles to enjoy leafy greens, that can be tough.
That's why I love this recipe! The kale is effortlessly interwoven with acidic tomato and moist chicken, creating the perfect balance of flavors and textures. This is proof that health can be simple.
Source: homecookingcollective.com
Rather than beef, this vegetarian twist on a classic French dish heroes mushrooms!
These are an excellent choice for the main ingredient, as the mushrooms retain that meaty texture this dish is known for.
The best part of this dish – apart from its flavor, that is – is that it comes together quicker than the traditional beef version. So, you don't have to wait the whole day to enjoy this Saturday dinner!
Source: sabrinacurrie.com
This is exactly what it sounds like pasta with salmon. The flaked salmon is rich and packed with the flavors of the sea, while the pasta is perfectly chewy and creamy.
Combined, you couldn't ask for a better meal. This is rich, filling, and great for sneaking some stray vegetables into. If you're having a date night soon, this is the recipe to reach for!
Source: the-pasta-project.com
If you're not really a seafood fan, here's another option for that ideal Saturday night date meal. Impress your significant other with your culinary skills thanks to this creamy Italian ragu.
I can't overstate how flavorful this meal is. The ragu is rich and full of tomato, with a bold flavor profile that makes you sit up and take notice. Best of all, most of the work is done in a single pot!
Did somebody say no dishes? Because they may be my two favorite words in the English language.
Source: pipingpotcurry.com
However, in Hindi, my two favorite words are definitely 'Tikka Masala'. This Instant Pot variation of a classic Indian curry ensures you get all the flavor with half the effort of a normal curry.
Rich, bold, and fragrant, this dish will pump an irresistible aroma through your whole home. The family will come running!
Plus, the use of salmon instead of chicken as the protein lends an added richness to the dish. This is a must-try of the highest order.
Source: christinascucina.com
Take a dip in the ocean with this briney, refreshing, almost Mediterranean seafood pasta dish. Featuring shrimp, scallops, and a generous amount of garlic, this is a crowd-pleaser for sure.
Best of all, it's super easy to make! The seafood cooks in no time, and the sauce comes together in a breeze. The only thing to worry about is the pasta, which you can opt for fresh or store-bought on.
Saturday Night Family Dinner Ideas
There's an art to feeding a family! This person wants one thing while the next person wants another, and as we all know, feeding picky family members makes things twice as hard.
That's why I love these Saturday night family recipes. Each one is designed to feed the whole family in a jiff, with crowd-friendly meals that are guaranteed to satisfy even the pickiest family members.
Source: allnutritious.com
When feeding a family on a Saturday night, the key is to make as much food as possible with as little effort as possible.
Well, this dish does the trick! This is my roast vegetable and apple sheet pan chicken.
The roasted chicken is so juicy and moist thanks to its journey of roasting alongside fruits and vegetables.
All the flavors mingle in the oven, ensuring you'll be left with nothing but empty plates at the end of the night.
Source: twokooksinthekitchen.com
Usually, meatloaf uses red meats like lamb or even more robust white meat like pork. But sometimes, you just have to go with chicken.
Chicken promises the ultimate lean and tender meatloaf!
Plus, ground chicken absorbs flavor like nobody's business, making it the perfect foundation for the array of spices in this meal. Serve with a side of roasted vegetables for a delicious Saturday roast.
Bought extra ground chicken? Check out these other delicious easy ground chicken dinners!
Source: allnutritious.com
If you're a lover of Mexican food, you can't go past this sheet pan dish! These are fajitas on easy mode, with almost no effort required and a ton of flavor delivered.
I reach for this recipe when I want an easy Saturday night. Nutritious dinner, easy clean-up, and vibrant Mexican flavors that can't be beaten!
Check out more of these tasty Mexican chicken recipes for dinner!
Source: servedfromscratch.com
Speaking of Mexican flavors, here's a street food-inspired dish you have to try. This is a case of delicious fusion, blending Italian and Mexican sensibilities into the perfect Saturday night dinner.
Elote, in case you haven't had it before, is a corn-based Mexican street food with a vibrant sweetness and punchy spices. As a skillet pasta dish, it's arguably on par with the best of the best.
This is one of the most fun dinner ideas for families!
Source: allnutritious.com
When you want simple, nutritious food, you have to turn to chicken thighs. They have dark meat that stays tender and moist as the thighs roast, plus they promise a ton more flavor.
These lemon chicken thighs are wonderful on a Saturday night, but they're also a great meal prep companion! Have your entire week's protein sorted in one flick of the oven switch. It's that simple.
Source: simply-well-balanced.com
Your kids are going to love this. I guarantee it! This is taco spaghetti, a kid-friendly fusion dish that will have the entire family scrambling into the kitchen with its aroma.
Best of all, this is a casserole, meaning you won't have to contend with a ton of pots and pans to get this made. Simply mix, bake with a generous amount of cheese, and serve. You're welcome!
Source: allnutritious.com
Keep things low-carb, high-protein, and gluten-free with this delicious sheet pan recipe. Not to toot my own horn, but these pork chops are out of this world.
Lean, tasty, and super crispy, these chops are so easy to prepare! Not to mention, you can roast your vegetables on the same plate to save on time and dishes.
Source: theforkedspoon.com
Jambalaya was gifted to collective humanity by Southern Louisiana, but they, in turn, found their inspiration in Spain and Africa.
In other words, two places in the world where big, bold flavors are currency.
It's a rice-based dish with a real kick, and you can customize it to create your signature take! If you're having anyone from the South of the U.S. over to dinner, make them this.
It's sure to have them thinking of home.
Source: quichemygrits.com
The only thing better than tacos are tacos that you don't have to assemble yourself. Enter this incredible sheet pan taco bake! This sheet pan bake is a gift for all ages.
You can almost think of it like a taco pizza featuring all the trappings of a traditional Taco Tuesday. The only difference is these come pre-assembled so that your guests can just dig in!
Source: twohealthykitchens.com
Imagine that a Sloppy Joe has died and gone to heaven. That might give you some approximation of how good these cheeseburger Sloppy Joes are! They're like finding nirvana.
Full of gravy and melted cheese and sandwiched between two perfect buns, your Saturday night can't get better than this. These are especially good as a comfort meal after a long week!
Source: plantbasedonabudget.com
Enjoying plant-based versions of your favorite meals doesn't have to mean blowing out your budget!
This sweet potato lasagna is proof that even the humblest of ingredients can be transformed into something beautiful.
Packed with lentils and sweet potato, this is a protein-packed lasagna you won't forget any time soon.
Source: madcreationshub.com
Hailing from the sunny climes of Italy, this chicken limone dish is like sunshine on a plate. Take just thirty minutes out of your Saturday night to whip up this delightful meal.
Complete with a delicious sauce and tender chicken. This is a crowd-pleasing dish the whole family can get on board with. On top of that, it goes with almost any vegetables you have at home!
So, it's a great dish for the end-of-week crawl until the next grocery shop.
Healthy Saturday Dinner Ideas
Finally, keeping healthy on a Saturday is easier than you think! These delicious healthy Saturday dinners are proof that you can make nutritious, delicious meals in no time.
From vegan fajita bowls to salmon sheet pan dinners, check out some delicious options to keep you healthy and happy on a quiet Saturday night with the family.
Source: allnutritious.com
I reach for stir fry all the time. It's super easy and super healthy because you can just stuff as many vegetables as possible into it! This is my recipe, but feel free to make it your own.
After all, that's the power of a good stir fry! At the end of the week, it's the perfect meal to clear out the remnants of your vegetable drawer, all while keeping your family healthy and satisfied.
Source: foodwineandlove.com
Get all the flavors you love in a spring roll and enjoy them in the simplicity of a bowl with this awesome recipe!
This is the kind of dish that makes you feel like it's spring, no matter what time of the year it is. Vegan, nutritious, and packed with great flavors, this is a dish you should be proud to serve!
Source: allnutritious.com
I'm a big fan of zucchini in all its forms. Frankly, I think this delicious vegetable doesn't get enough love! So, it's with great pride that I present you with my delicious zucchini stir fry.
This highlights – you guessed it – zucchini as the hero ingredient. It's full of flavor since the watery flesh of the spring vegetable is great at absorbing sauces and doubling their taste.
Source: allergyfreealaska.com
Poke bowls hail from the shores of Hawaii, where Japanese influences bring notes of sesame, seaweed, and teriyaki into many different dishes.
This poke bowl, while made in your kitchen, will make you feel like you're standing on Hawaii's sunny shores. It's great for enjoying on a hot day, especially when you're after some protein!
Source: allnutritious.com
Salmon is amazing when roasted, and it's twice as amazing when roasted alongside a platter of tasty vegetables. Luckily, that just so happens to be the premise of our next recipe!
This salmon sheet pan dinner is a usual suspect in my weekly meal rotation. It's nutritious and full of flavor, especially considering the oily salmon has plenty of time to bask in the herbs and seasoning.
Source: allergyfreealaska.com
Prawns and avocadoes are common companions, which is why this salad is founded on well-tested culinary history. This is the kind of salad perfect for anchoring a brunch.
Served with a light dressing, this dish lets the prawns take center stage. The avocado is there to provide a creamy counterpart to the prawns' light sweetness.
Looking for light dinner ideas for summer? This is a great option!
Source: allnutritious.com
Cauliflower is yet another vegetable that doesn't get enough love, especially considering how versatile it is! There's almost no dish that wouldn't be better with the addition of cauliflower.
This one is included! This is a quick and easy sheet pan dish guaranteed to boost your Saturday night dinner with your family. It's delicious, nutritious, and utterly perfect for a lazy dinner at home.
Source: masalaherb.com
Living a plant-based lifestyle certainly doesn't have to mean giving up all the flavors you know and love, Indian food included.
In fact, with the large population of vegetarian people living in India, there are plenty of options to keep your tastebuds on their toes! One such option is this amazing coconut chickpea curry.
Creamy, vibrant, and packed with spices at every turn, this is the kind of dish you serve on a cold night indoors. It warms you from the inside out!
Source: happykitchen.rocks
Pack your Saturday night full of protein with this amazing casserole. Casseroles are a classic family-friendly dish, allowing you to effortlessly feed a ton of people with minimal effort.
If you have a big day planned on Sunday, you can't go wrong with serving this dish. The slow-burning protein will keep everyone well-fed for longer.
Source: thespiceadventuress.com
Tamarind and chilli get along like a house on fire, featuring the perfect interplay of sweetness and spice. Now, picture that flavor combination on a fillet of rich, flaky salmon. Heaven!
This is a butt-kicking salad with a ton of flavor in every mouthful. The green mango and herbs add a kick of refreshment, balancing out the rich tamarind so that it doesn't become too much.
Source: freeyourfork.com
Take inspiration from the Mediterranean with these incredible salad bowls! Whether you need a dish for your Saturday night dinner or you're just after something for meal prep, this will do.
Why? Because it's incredibly versatile, nutritious, and delicious. This is the kind of salad that even salad-haters can enjoy, and that's saying something.
Source: bestservedvegan.com
Much like any other dish, fajitas should be enjoyed by everyone! That's why this vegan fajita bowl is such a triumph.
Experience all the Mexican flavors you know and love without compromising on your values. Even if you aren't living plant-based, this meal is a must-try.
Source: plantbasedonabudget.com
The final dish on our list goes down South, pulling inspiration from the Tex-Mex meals popular in the United States… with a healthy twist.
Zucchini boats provide the perfect foundation for this healthy meal, helping seal all that flavor in even as the filling cooks. Everyone in the family will love this crowd-pleasing Saturday dinner!
51 Delicious Saturday Dinner Ideas For a Fun Night
Make a memorable meal for your family with these simple and delicious Saturday dinner ideas. Enjoy the flavors with your loved ones!
Ingredients
1. Cast Iron Skillet Chicken Breast
2. Pita Pizzas
3. Sweet Chilli Chicken Sheet Pan Dinner
4. Sweet Potato and Black Bean Quesadilla
5. Greek Sheet Pan Chicken Dinner
6. Crispy Buffalo Tofu Bites
7. Sheet Pan Chicken Thighs with Garlic and Honey
8. 5-Ingredient Burrata Pesto Pasta
9. Avocado Pasta
10. Gluten Free Ramen
11. Pasta Al Limone
12. Shrimp Masala
13. Baked Chicken Cutlets
14. Pea Pancetta Pasta
15. Creamy Tomato Chicken Skillet
16. Risotto with Prawns
17. Mozzarella Stuffed Chicken Breast
18. Fig, Pear, Walnut, Brie, Honey, and Goat Cheese Pizza
19. Sheet Pan Cashew Chicken
20. Baja Chicken Tacos
21. Chicken, Kale, Tomato Pasta
22. Mushroom Bourguignon
23. Pasta Alla Salmone
24. Italian Creamy Beef Ragu
25. Instant Pot Salmon Tikka Masala
26. Seafood Pasta with Shrimp and Scallops
27. Sheet Pan Chicken with Sweet Potatoes, Apples, and Brussels Sprouts
28. Chicken Meatloaf with Vegetables
29. Sheet Pan Chicken Fajitas
30. Elote Skillet Pasta
31. Lemon Chicken Thighs
32. Cheesy Chicken Taco Spaghetti
33. Sheet Pan Pork Chops and Vegetables
34. Jambalaya
35. Sheet Pan Taco Bake
36. Cheeseburger Sloppy Joes
37. Sweet Potato Lasagna
38. Chicken Limone
39. Salmon Stir Fry
40. Vegan Spring Roll in a Bowl
41. Zucchini Stir Fry
42. Shrimp Poke Bowl
43. Salmon Sheet Pan Dinner with Veggies
44. Prawn and Avocado Salad
45. Sheet Pan Chicken and Cauliflower
46. Creamy Coconut Chickpea Curry
47. Sweet Potato Casserole with Black Beans, Kale, and Quinoa
48. Tamarind Chilli Salmon with Green Mango Herb Salad
49. Mediterranean Salad Bowls
50. Vegan Fajita Bowl
51. Tex Mex Zucchini Boats
Instructions
Scroll up to get a bunch of easy, yummy, and delicious recipes. Don't be afraid to get creative with the ingredients, you might discover a flavor you didn't know you liked.
Get your shopping list going and make sure you've got all the ingredients.
Get cooking and make your next Saturday Dinner Idea!
Notes
Which one of these recipes was your favorite? Let me know in the comment section or on Pinterest!