Tortilla wraps are great sandwich alternatives, especially if you're looking for something a little lighter. Thankfully, these tortilla wrap recipes are just as versatile as two slices of bread!
There are many ways to enjoy sandwich wraps. Since it has almost no flavor, the chewy flatbread is the ideal foundation for anything from Nutella to shredded pork. It's all up to you.
Best of all, an easy tortilla recipe is so easy to make. Take care of meal prep in no time, or whip up a quick and easy lunch you can take anywhere with these easy recipes.
Tortilla wraps are the perfect foundation for a portable meal. With that in mind, let's review thirty-one of the best tortilla wrap recipes and discover some easy lunch ideas!
How Do You Fill a Tortilla Wrap?
What you choose to fill your wrap will depend on the wrap itself. Corn tortillas made from masa suit traditional Mexican or Cuban cooking, most likely for savory dishes.
On the other hand, white flour tortillas are a lot like a slice of bread. They're versatile, playing host to sweet and savory wrap filling ideas without an issue.
No matter what you choose to fill your tortilla with, ensure you use the right amount of filling! Simple spreads are easy to spread over the entire wrap, but others might be tougher.
The key is not to overfill your easy wraps, which can make eating difficult.
On top of that, ensure you're careful to leave wet ingredients off your wraps for as long as possible to prevent sogginess!
Is a Tortilla Wrap Healthy?
Much like sandwiches, how healthy your wrap is depends entirely on you! While a wrap slathered in Nutella might be good for the soul and provide some good fats, it's quite high in sugar.
Likewise, a tortilla wrap filled only with water-based vegetables might be high in fiber and nutrients, but it most likely won't have enough calories to keep you going until your next meal.
Use healthy wrap recipes as part of a well-rounded diet, and they'll fall into the healthy category.
Chicken Tortilla Wrap Recipes
First in the line-up are our chicken tortilla wrap recipes. Chicken is a tasty, lean meat that can translate to many different flavors and cuisines. That's what makes it great in tortillas!
From shredded chicken to crunchy chicken salads, discover a few ways to pair chicken and tortillas for the best results.
Source: allnutritious.com
We're kicking things off with one of my easy tortilla wrap recipes, and it's one of my favorites! This is a creamy chicken and avocado wrap with red onion and a refreshing salad.
This is a light and easy lunch. Take it to work, or use it for the family on a picnic day. This simple recipe is great to use with rotisserie chicken or leftover chicken from dinner!
Source: viralrecipes.com
Hailing from the land of TikTok, these viral honey chicken wraps come together in no time, thanks to a little help from an air fryer. All that punchy flavor comes from the honey and taco seasoning!
Broiled to perfection in the air fryer, this chicken is mouth-watering in a flour tortilla with your favorite taco toppings creating the most delicious wraps.
Source: allnutritious.com
If you're in a rush and stumped for your next lunch idea, this quick and easy recipe has your back. This is my chicken salad wrap, with a creamy dressing and light, crunchy romaine lettuce.
Make this salad your own by tweaking the ingredients; anything salad-themed is welcome for this great lunch idea!
This is one of the best cheap lunches to stay under budget!
Source: kidtestedrecipes.com
This recipe makes weeknight dinners with the family a breeze. It's so simple. Even your kids can get in on making the wraps! Plus, you can adjust the spice level in the sauce to suit everyone's tastes.
If you're looking for healthy food that tastes takeout-worthy, this recipe is for you.
Source: theforkedspoon.com
Take a quick tip to the Mediterranean with this ultra-refreshing hummus wrap. Simple ingredients like olives, herbaceous chicken, and hummus combine to create perfect oceanic harmony.
This is a wonderful wrap with crunchy fresh veggies to enjoy on summer days with friends and family. Serve with a cold drink on a picnic blanket, and you're ready for the best afternoon!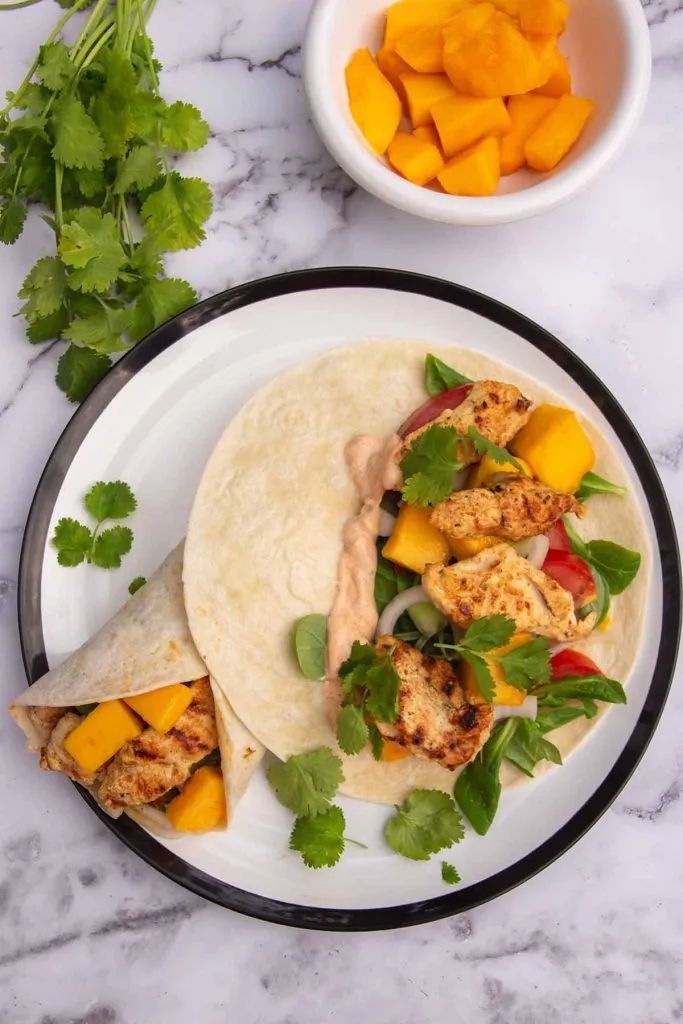 Source: thetastychilli.com
Next up is a combination you might not expect, but the flavors will quickly make this a favorite. The sweet mango, spicy mayo and grilled chicken create a delicious symphony in a great way!
This chicken with fresh fruit is wildly flavorful because the recipe calls for half an hour of marination before cooking. Trust me. The extra effort is worth the tasty results.
Source: 4sonrus.com
Enjoy a tortilla wrap bursting with many different textures and flavors and a delicious crunch.
This is a treat for the senses! Tender Asian-style chicken, crunchy noodles, a sweet Asian dressing, and vegetables taste great together.
This wrap is great for lunchtime meal prep because it contains nothing that could make the delicious flour tortilla soggy.
Source: bellyfull.net
Make a quick lunch simple and tasty with a fall-themed barbecue roast chicken wrap.
You can throw a batch of these together in as little as ten minutes, so they're great for last-minute lunches.
The crunchy nuts and broccoli slaw make this a particularly refreshing picnic option!
Source: goodlifeeats.com
Looking for something that will last the week? This is a wonderful meal prep recipe since you can prepare a large batch of the salad ahead of time. It will last you up to five days!
Make sure to keep the tortilla and the salad separately to keep both as fresh as possible.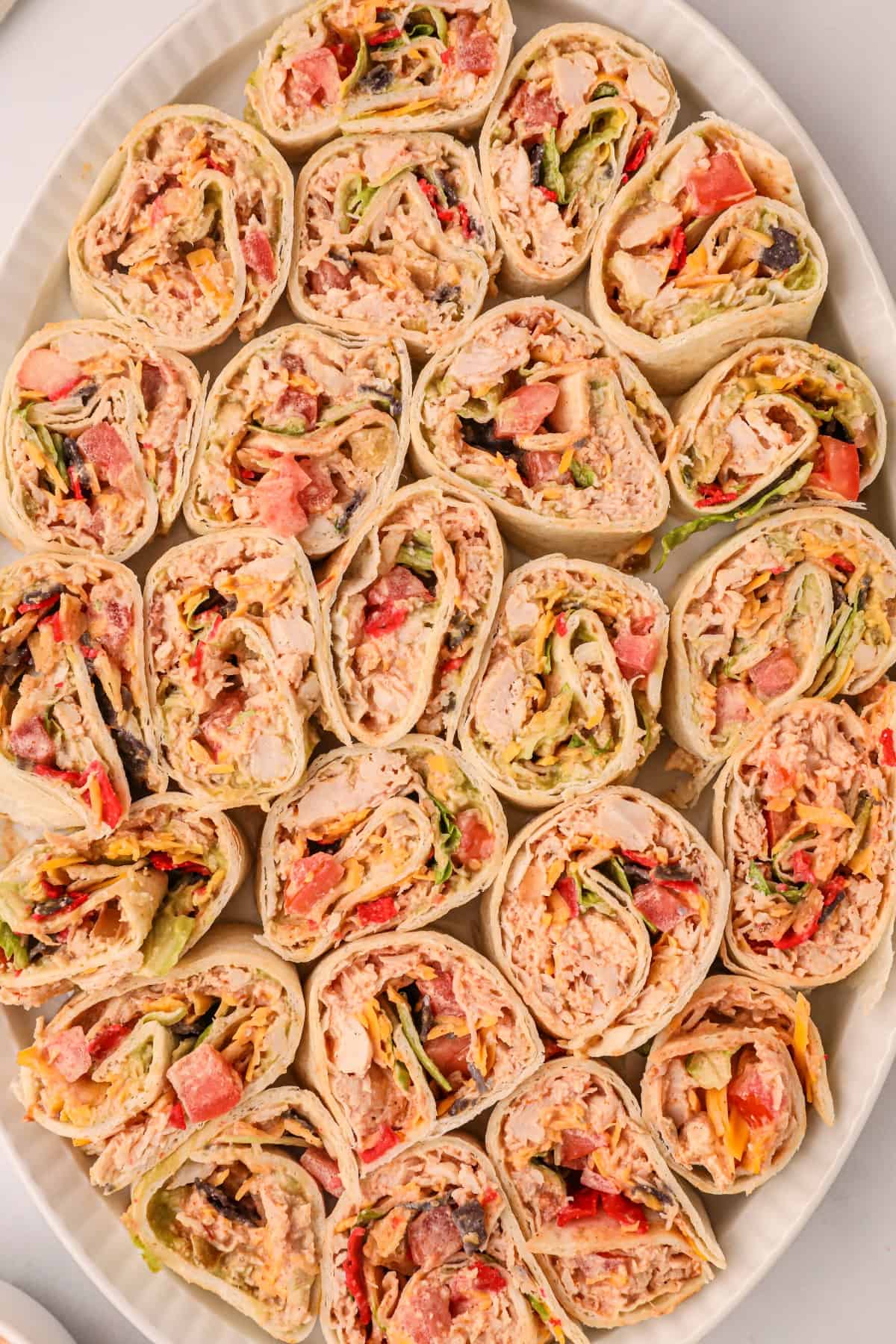 Source: noshingwiththenolands.com
Who doesn't love a quick and easy Southwest chicken lunch? These pinwheels are so simple to make and perfect for putting in lunch boxes.
This is the kind of lunch you can't go wrong with. It's such a crowd-pleaser!
Spinach Tortilla Wrap Recipes
Rich in iron, folate, potassium, and various vitamins, spinach is a great ingredient to include in any meal. Its unobtrusive flavor means it will slot in besides just about anything savory.
That's why spinach tortillas are so great! The difference in taste is minimal, but they're much healthier and add a wonderful brightness to your lunch or dinner.
Source: allnutritious.com
Pair two classic flavors with my super simple spinach feta wrap. This recipe is generous with the garlic, so the other mellow flavors perfectly balance the whole dish.
Low in calories and high in nutrients, this is the ideal snack or light lunch. It's also super easy to assemble, so you can take it to work and make it there.
Source: recipesfromapantry.com
Are your kids headed back to school? Use a spinach tortilla or actual spinach in the wrap to ensure their first day back is as healthy as fun with these cheese tortilla wraps.
These roll-ups are a lifesaver for busy parents. Whip these up in just five minutes in the morning, leaving ample time to get out the door and on the way.
These wraps make great easy lunch box ideas for kids!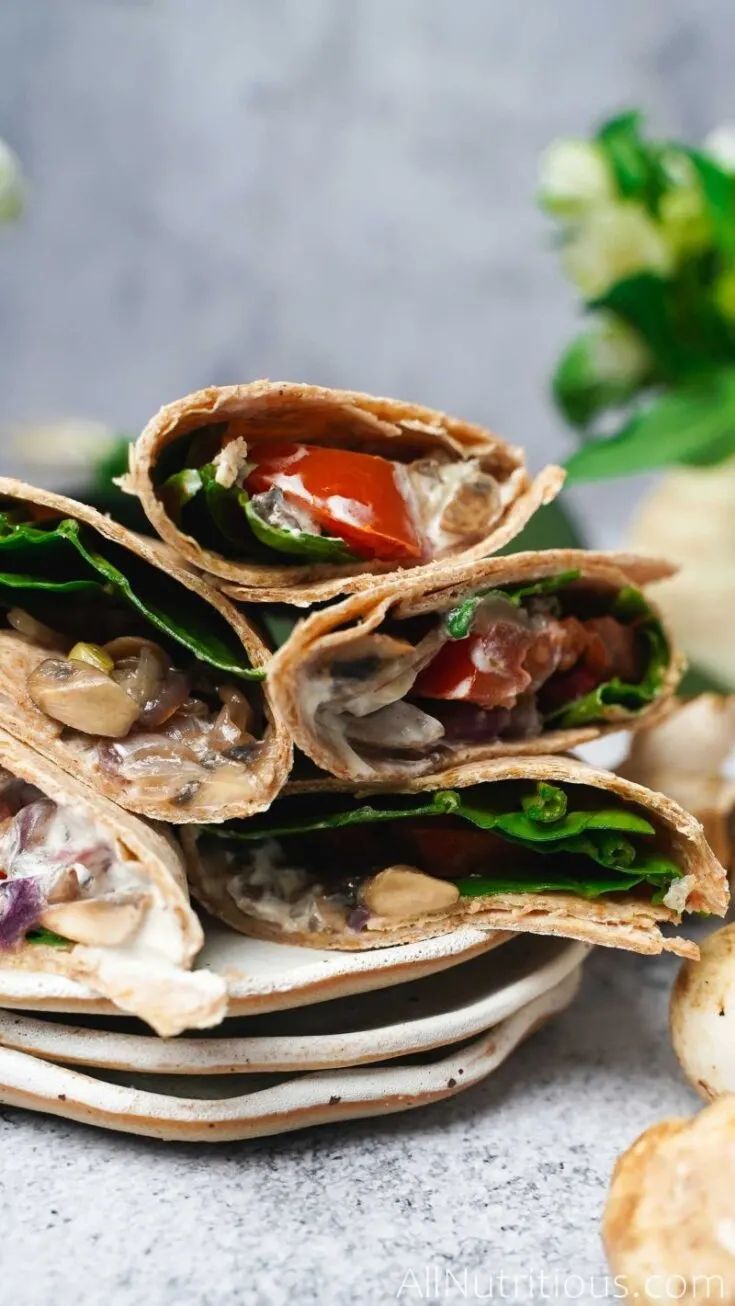 Source: allnutritious.com
On a busy morning, nothing is worse than making a complex breakfast. We're keeping things simple with this next recipe! This is a quick and easy wrap that's packed with valuable protein.
Low in calories and high in taste, this is exactly the kind of light breakfast that's perfect for kicking off a busy day.
Source: stefseatsandsweets.com
Cranberry and chicken get along like a house on fire, so these wraps are guaranteed to be delicious. These are so good, with little gems of cranberry and a generous handful of chicken hidden inside!
Use a spinach tortilla to add a little earthiness to the dish. A dash of cilantro would go a long way, too, adding some brightness to the rich dish.
Source: seasonandthyme.com
Enjoy something that tastes creamy and luxurious without making your wrap too rich for a light lunch. This pesto and chicken wrap is so tasty it could easily feature on a café menu.
Customize the wrap to make it your own! Include your favorite vegetables, handfuls of salad greens, or a crunchy element to add texture.
These other delicious chicken wrap recipes make great lunches as well!
Source: sumptuousspoonfuls.com
Who doesn't love a BLT? The effortless combination of bacon, lettuce, and tomato is one for the all-time culinary hall of fame.
This is a great spin on the classic sandwich, making it suitable for something fancier.
Whether you need a quick work lunch recipe or something to serve for brunch, this quick and easy recipe will fit the bill.
These cheesy wraps are one of the best lunch ideas for kids!
Source: recipesfromapantry.com
When you aim to create healthy meals, one of the rules of thumb is to make your meal as colorful as possible. That means you include a ton of different vegetables.
Well, this rainbow hummus veggie wrap certainly got the memo. It's packed with bright vegetables, making this as fun to look at as it is to eat.
You must see these other fresh healthy wrap recipes!
Ground Beef Tortilla Wrap Recipes
If you're a fan of burritos, then this will probably be your favorite section of this list. Each recipe has a new and delicious way to incorporate ground beef into a tortilla wrap. Make sure to try them out!
Source: sandraseasycooking.com
Breakfast is the most important meal of the day, as they say. This recipe is worth a spot in your morning routine, especially if you need something quick, filling, and nutritious.
Ground beef and egg make a perfect pair in this delicious wrap. This is a great crowd-pleaser for when you need to feed your family ahead of a busy weekend!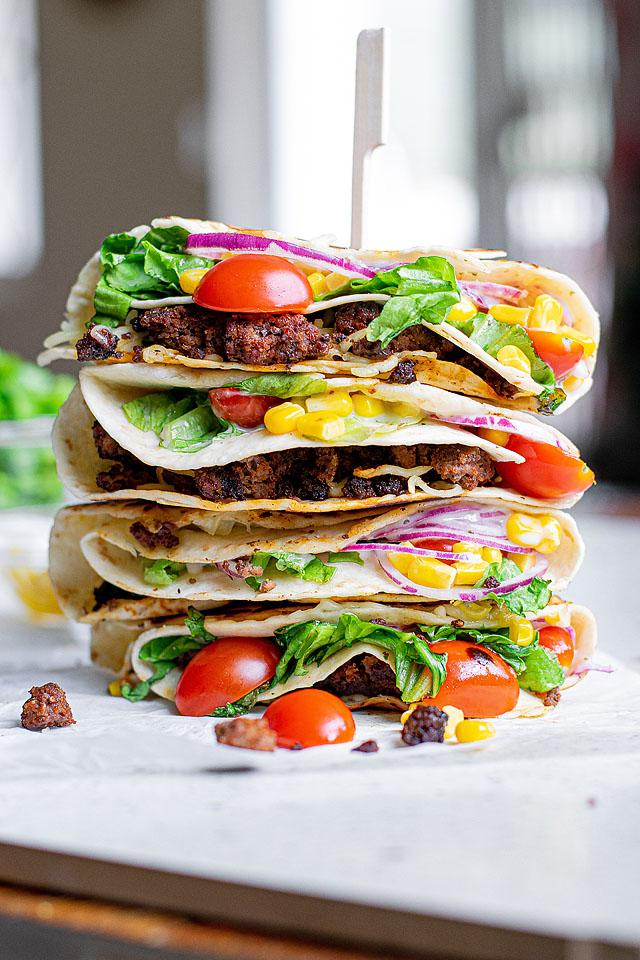 Source: xoxobella.com
This recipe is TikTok's answer to the Taco Bell Crunch Wrap Supreme, and it's everything you've ever wanted in a tortilla. Salad, moist beef, salsa, and cheese live between this wrap's layers.
Seared to golden perfection, this is a fantastic comfort food meal the whole family will enjoy.
Source: thekitchenismyplayground.com
Finally, here's a classic roll-up recipe. These ground beef and cheese taco roll-ups are so good. Whip up a big batch and keep them in the freezer for a quick and easy lunch or dinner.
Vegetarian Tortilla Wrap Recipes
Finally, we're finishing our list with a ton of vegetarian tortilla wrap recipes to ensure you're getting your five-a-day.
Whether you're vegetarian or just want to enjoy something light for your next meal, these recipes will deliver.
Source: allnutritious.com
First up in the vegetarian category is one of my recipes: a tomato and basil wrap! This tasty wrap calls to mind the Italian countryside, with bright and vibrant flavors to light up your afternoon.
This is a quick and easy lunch you can take anywhere. I might be biased, but the best part is the melted mozzarella hiding between the basil leaves.
Source: jawnsicooked.com
Sweet potato is an amazing ingredient! It's cost-effective, filling, and easy to cook with. That's why I love this curried sweet potato wrap recipe.
Every bite is packed with fragrant spices to keep your tastebuds guessing.
Source: happykitchen.rocks
If you're living a vegetarian life, hummus is probably your best friend. It's an easy way to add protein to a meal and a ton of flavor, so it's a favorite in the community.
These wraps are stuffed with vegetables from across the rainbow, so they're bright, crunchy, and absolutely delicious.
Source: createmindfully.com
This vegan vegetable wrap looks like it sprang fully formed from the middle of a garden. It's full of greenery, including the spinach tortilla encasing the delicious ingredients.
Vegan cream cheese ties the whole thing together, adding a delicate creaminess that's tough to beat.
Source: strengthandsunshine.com
Speaking of greenery, here's another take on a green vegan wrap. This is a grilled wrap recipe, meaning it's ideal for enjoying warm. Serve with your favorite salad for a super simple dinner.
Source: naturallieplantbased.com
Who doesn't love buffalo chicken wraps? This take on buffalo chicken uses tofu to add the necessary protein, and it's delicious.
With the crispy exterior and addictive buffalo hot sauce, this is the kind of wrap a meat-lover would enjoy too.
Source: hellofrozenbananas.com
If tofu isn't really your style, you can use this recipe instead. Chickpeas play the role of the main protein here, with an addictive chewiness that really adds to the wrap's overall effect.
Best of all, the crispy chickpeas dissolve into the sauce with every bite. Whip up the chickpeas ahead of time to use however you like!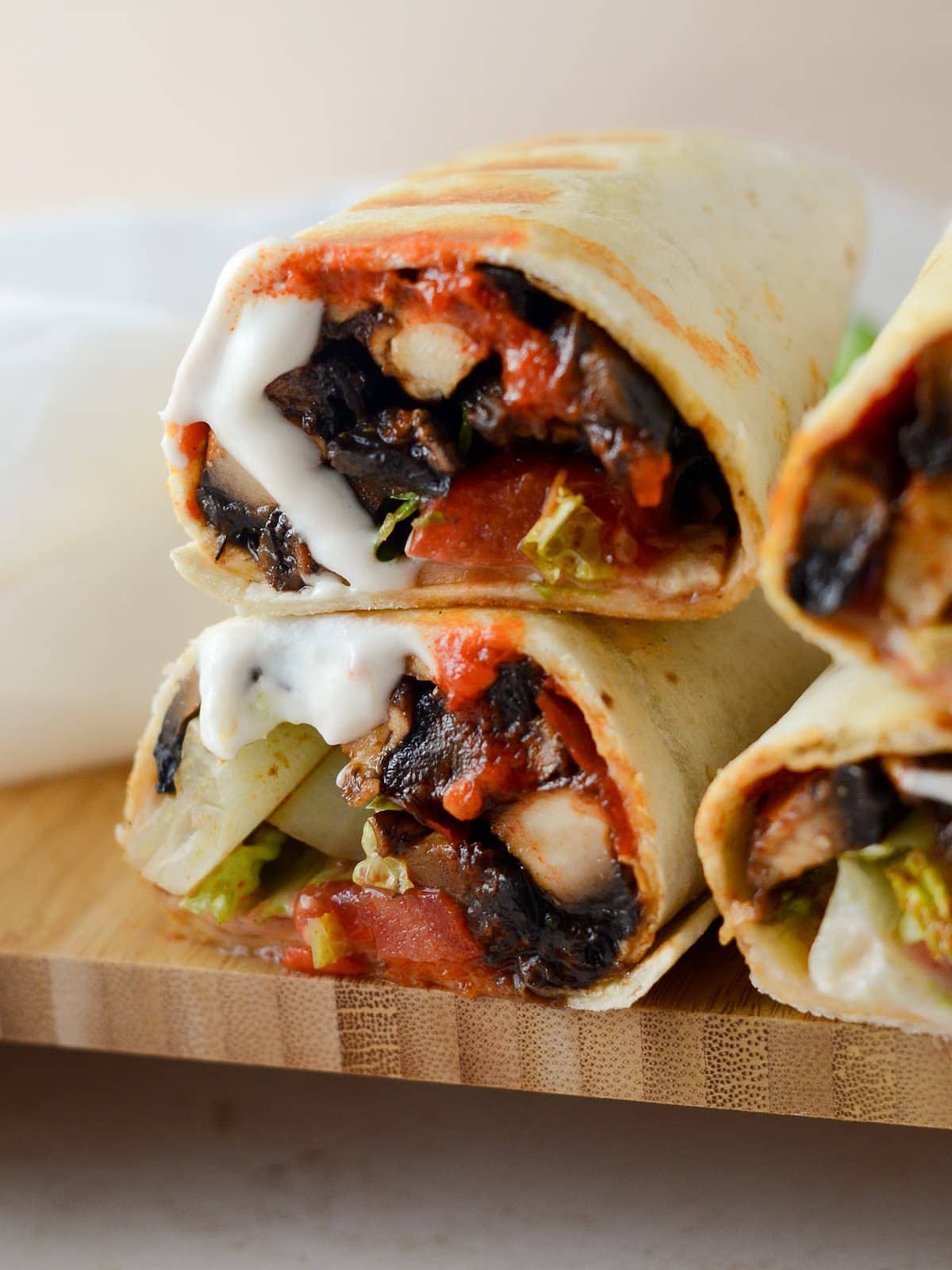 Source: naturallieplantbased.com
Mushrooms are one of the best things to have on a vegan diet. They carry essential vitamins, as well as a ton of protein. Best of all, they mimic the texture of perfectly-cooked beef or lamb.
That's what makes the mushrooms in this grilled wrap so good! It's meaty, hearty, and ideal for getting you through a long day.
Source: ourhappymess.com
Here's another take on a crispy tofu wrap, this time without the buffalo sauce. This is closer to a Caesar salad chicken wrap, though, of course, with crispy tofu instead of chicken.
This is a great meal prep recipe, especially if you're a tofu lover.
Source: 4sonrus.com
Wraps are so versatile that you can use them for just about anything, including your next holiday appetizer!
These pomegranate, feta, and chive pinwheels are the perfect thing to enjoy on Christmas.
They're light, packed with fragrant flavor, and super creamy. What could be better ahead of a big holiday meal?
Source: greedygourmet.com
Finally, we have the only dessert recipe on this list. I had to do at least one, and this one is incredible!
In this recipe, the tortillas function like crepes, turning crispy and sweet with the custard, berries, and chocolate drizzled throughout. This is the perfect way to cap off a date night.
If you loved these wraps, you'll get lots of inspiration from these best sandwich ideas!
31 Best Tortilla Wrap Recipes for a Quick Lunch
Explore a flavor-packed lunch with these healthy tortilla wrap recipes with delicious fillings.
Ingredients
1. Chicken Avocado Wrap
2. Honey Chicken Wraps
3. Chicken Salad Wrap
4. Chipotle Chicken Wrap
5. Mediterranean Chicken Wraps with Hummus
6. Grilled Chicken Wraps with Mango and Spicy Mayo
7. Asian Chicken Wraps
8. Barbecue Chicken Wrap
9. Santa Fe Chicken Salad Wrap
10. Crunchy Southwest Chicken Pinwheels
11. Spinach Feta Wrap
12. Ranch Cream Cheese Ham Roll Ups
13. Spicy Mushroom Wrap for Breakfast
14. Cranberry Chicken Salad Spinach Wraps
15. Pesto Chicken Wrap with Spinach
16. Cheesy BLT Spirals
17. Rainbow Hummus Veggie Wrap
18. Breakfast Eggs and Beef Wrap
19. Crunchy Beef Tortilla Folded Wrap
20. Cheesy Taco Tortilla Roll-Ups
21. Tomato Basil Wrap
22. Curried Sweet Potato Wrap
23. Vegan Wraps with Hummus
24. Vegan Veggie Wrap
25. Grilled Green Goddess Wraps
26. Buffalo Tofu Wrap with Easy Vegan Ranch
27. Buffalo Chickpea Wrap
28. Grilled Portobello Mushroom Wrap with Yogurt Tahini Sauce
29. Tofu Wraps
30. Pomegranate, Feta, and Chive Pinwheels
31. Dessert Tortilla Wraps
Instructions
Scroll up to get a bunch of easy, yummy, and delicious recipes. Don't be afraid to get creative with the ingredients, you might discover a flavor you didn't know you liked.
Get your shopping list going and make sure you've got all the ingredients.
Get cooking and make your next Tortilla Wrap Recipe!
Notes
Which one of these recipes was your favorite? Let me know in the comment section or on Pinterest!