If a wrap is your definition of a perfect lunch, then we've got the most delicious healthy wrap recipes right here. Check them out and use them for meal prep or just when you need some easy meals.
Perfect to sneak in some more nutrients into your diet, healthy wraps are something that you should consume on a regular basis.
Besides, they are so convenient to have on the go or to pack in your lunch box, which gives you much more control of what goes into your body than buying your lunch does.
Whether you want them with chicken, spicy sauce, or veggie-only, I've created a list of some of the healthiest wrap recipes for you to try. Now, it's up to you whether you want to wrap them all!
Are Wraps Healthy for Weight Loss?
While there are surely tortilla wraps that are healthier than others (think chickpea flour, low-carb, flax flatbreads, 7-grain wraps, etc.), it is usually what you put inside that makes them healthy or not.
If you're trying to lose weight, a wrap can be a convenient and healthy way to fuel up and load on nutrients on the go or at the office.
Raw veggies, greens, lean meats, and healthy spices can help you stay on the right lane.
What Can I Put in the Wrap?
Hmm, the filling options for your wraps are pretty much endless. That being said, you can practically put whatever you want in the wrap. But that doesn't mean that you should.
Leafy greens are practically a must, so make sure to always include them. They are not only a delicious "base," but they also add tons of nutrients to the mix.
Raw chopped veggies, shredded and sliced meat, avocado slices, cheese, hummus, beans, and corn, topped with some herbs, spices, and sauces, are some classic fillings you should definitely try.
Healthy Wrap Recipes
From meat-loaded to spicy or vegetarian, here are the healthiest and most ingredient-balanced healthy recipes you will find. Use whole-wheat tortillas to make your easy wraps even more nutritious.
Source: allnutritious.com
Whenever I'm in need for a quick and hearty dinner, I make myself this creamy, crunchy, and super filling chicken wrap with creamy avocado, tomatoes, and lettuce.
The thing I love most about this recipe is that it is sup[er easy to assemble, and also tastes amazing cold, which is why I always have some in the fridge for a quick meal on the go.
The recipe uses romaine lettuce because it holds its shape better than most leaves, but feel free to add other greens to it, too. It also uses Greek yogurt instead of mayonnaise to make it way more nutritious.
This is one of the healthy lunch wraps you can enjoy if you like traditional chicken salad.
Per Serving:
• Calories: 277
• Fats: 8.5g
• Protein: 23g
• Carbs: 27g
• Fiber: 4.1g
• Sugar: 2.9g
Source: cadryskitchen.com
With baked lime tofu, chopped raw veggies, and a spicy peanut sauce, these wraps are the perfect thing to have when you cannot make up your mind between a raw salad or a classic spring roll.
I really suggest you don't skip the tofu-baking part, as the browned tofu combined with the lime and tamari, give the veggies the meat-like flavor that simply clicks with the rest of the ingredients well.
The recipe uses two teaspoons of sriracha, but hey, this is always optional. Feel free to knock the heat down if you cannot tolerate it well.
Per Serving:
• Calories: 315
• Fats: 17g
• Protein: 15g
• Carbs: 26g
• Fiber: 4g
• Sugar: 5g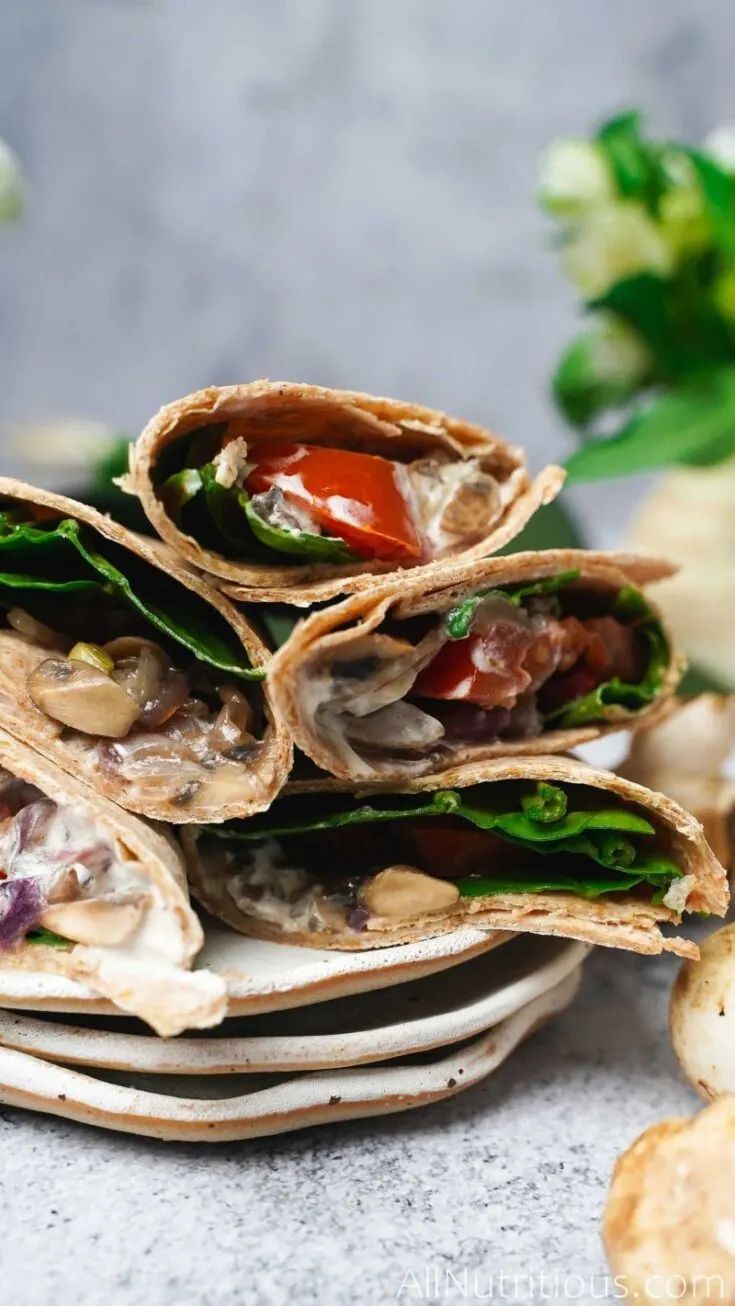 Source: allnutritious.com
Breakfast wrap, anyone? I'm always for it, you guys. And I mean always. It is healthy, it is creamy, rich in nutrients, and super convenient to take with you on a busy morning.
To make things even healthier, make sure you use wholemeal weight watchers tortilla wraps.
The spicy yogurt dip gives some fresh and kicking wake-up notes in the morning that I simply adore.
The recipe uses just tomatoes, spinach, and a sliced chili with the mushrooms, but feel free to use whichever raw veggies you have on hand.
Love this wrap? Check out more low calorie wraps here.
Per Serving:
• Calories: 251
• Fats: 10g
• Protein: 11g
• Carbs: 31g
• Fiber: 3.9g
• Sugar: 6.1g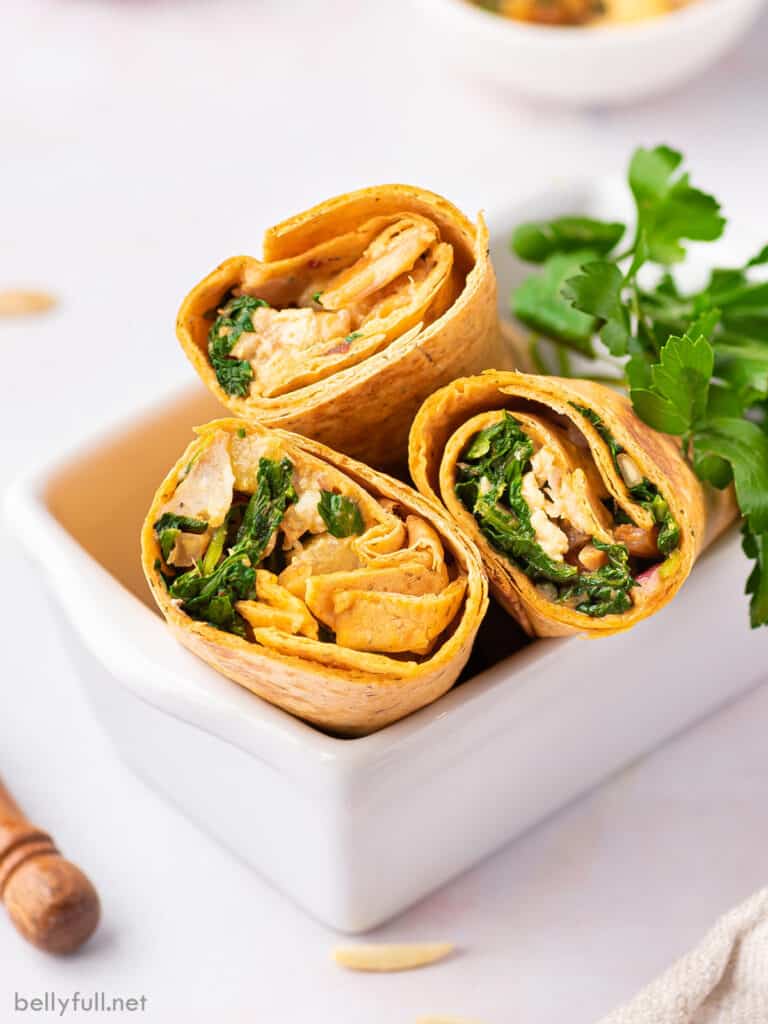 Source: bellyfull.net
These chicken wraps the Aisan (or Thai, to be exact!) way taste so good. They will become a regular if not even an absolute favorite in your kitchen.
Besides, with well-seasoned chicken, ginger, pineapple chunks, almonds, and a zesty mayo and yogurt dressing, anything will taste amazing.
The Thai red curry paste really stands out in this recipe, so I highly suggest you use it.
The green in these wraps come from a generous amount of spinach that takes the nutritional content up a notch.
Per Serving:
• Calories: 313
• Fats: 20g
• Protein: 19g
• Carbs: 16g
• Fiber: 2g
• Sugar: 12g
Source: allnutritious.com
The Italian-flag colors in a lovely wrap. Spinach, red pepper, and feta cheese are the stars of this recipe, but it really is the hummus underneath that shines through.
Refreshing, filling, and nutritious, these wraps are the perfect thing to have in your fridge for a quick college lunch, brunch, or an afternoon pick-me-up that needs to keep you full until dinner.
Each tortilla wrap has 270 calories, but you can also use smaller tortillas, or even slice this in three, for a healthy snack.
Per Serving:
• Calories: 270
• Fats: 12g
• Protein: 11g
• Carbs: 30g
• Fiber: 4.9g
• Sugar: 2g
Source: theforkedspoon.com
When it comes to busy (or lazy, no one's judging you) dinners, having tortillas or pita bread in your kitchen is probably your best friend.
If you're having one of those days, then this 20-minute recipe will definitely brighten up your mood.
Chicken thighs with tomatoes, red onions, and topped with homemade tzatziki sauce for the win.
Marinated with yogurt and lemon juice, the chicken will more than wow your guests.
Per Serving:
• Calories: 472
• Fats: 11g
• Protein: 49g
• Carbs: 41g
• Fiber: 2g
• Sugar: 7g
Source: allnutritious.com
When you're craving a quick dinner or lunch with whole and fresh foods, this wrap recipe will surely satisfy.
With just over 300 calories, healthy fats, crunchy raw veggies, soft avocado, protein-loaded shredded chicken, and a taste that knocks your socks off, this wrap is a real keeper.
And it is super easy to make. You just mix everything up in a bowl the salad style, spread over your tortillas, and wrap up.
Per Serving:
• Calories: 314
• Fats: 16g
• Protein: 17g
• Carbs: 28g
• Fiber: 6.4g
• Sugar: 1.3g
Source: veganonboard.com
Fried tofu cubes seasoned with a bunch of spices and glazed with tomato and soy sauce are the base of this wrap.
Laying in a bed of greens and topped with avocado and pepper slices, who needs meat when such a vegan goodness can deliver such intense and satisfying flavor?
Try it with some zesty yogurt dip!
Per Serving:
• Calories: 330
• Fats: 20g
• Protein: 13g
• Carbs: 28g
• Fiber: 7g
• Sugar: 5g
Source: allnutritious.com
If you don't have time for cooking meat or don't have any leftovers, I suggest this tuna wrap for a healthy and quick lunch.
A spicy yogurt and tuna mixture is spread over wholemeal tortillas first, and then it is topped with cucumber, carrots, and avocados.
Of course, you can play around with the ingredients as you see fit, but this base recipe that is ready in just 15 minutes is the perfect choice for a nutritious meal in a jiffy.
Per Serving:
• Calories: 207
• Fats: 7.6g
• Protein: 8.5g
• Carbs: 28g
• Fiber: 3g
• Sugar: 4.1g
Source: beyondthechickencoop.com
Do you love chicken Caesar salad? Then say no more because this wrap recipe is definitely up your alley.
With cooked chicken, romaine lettuce, parmesan cheese, mayo, and Caesar dressing, this super easy wrap comes together in just 10 minutes.
If you want that crunch that's missing from an authentic Caesar salad, feel free to add some chopped nuts to the mix to give it more texture.
Per Serving:
• Calories: 235
• Fats: 16g
• Protein: 4g
• Carbs: 17g
• Fiber: 1g
• Sugar: 2g
Source: allnutritious.com
I am officially addicted to healthy wraps. Most days, I am super busy around lunchtime, so they are the perfect way for me to sneak in more vitamins, eat healthy food, and still get the comfort from it.
And this tomato and basil wrap with mozzarella doesn't fall short of that level of comfort.
Spread with pesto sauce and topped with raw veggies and shredded cheese, you can only imagine how light, refreshing, and filling at the same time this wrap tastes on a summer afternoon.
This is one of the easy recipes you can enjoy for an easy lunch! A great option when you're in need of a vegetarian option!
Per Serving:
• Calories: 277
• Fats: 14g
• Protein: 11g
• Carbs: 28g
• Fiber: 2.9g
• Sugar: 3.5g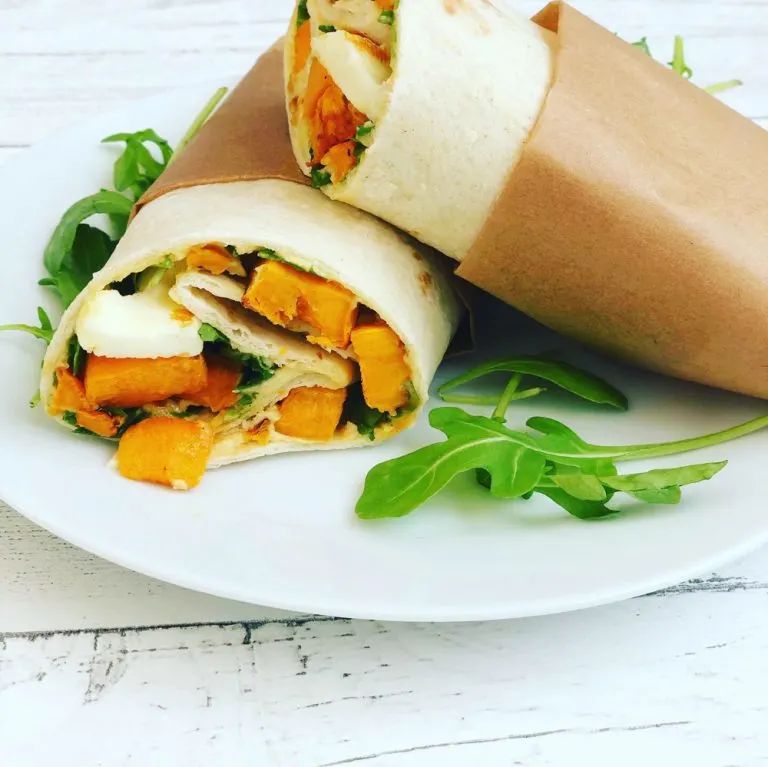 Source: daisiesandpie.co.uk
Potatoes may not be the first thing that comes to your mind when you think of healthy wraps, but they definitely should be on your list. Because this recipe is ridiculously good.
With roasted sweet potato cubes, halloumi cheese, hummus, some greens, and chili jam, you get both a taste-bud satisfaction and a decent nutrition boost.
Not to mention, your tummy will certainly stop rumbling. This is a perfect veggie wrap you can store in an airtight container and enjoy as one of the healthy lunch ideas.
Per Serving:
• Calories: 589
• Fats: 25g
• Protein: 21g
• Carbs: 70g
• Fiber: 7g
• Sugar: 12g
Source: mysequinedlife.com
Shredded chicken with cheese, celery, onion, mayo, spices, herbs, and a generous amount of buffalo sauce to wrap everything together nicely.
This recipe more than spices up your lunch sandwich game and gives you plenty of inspiration. The recipe is easy to customize, so feel free to make it your own.
Per Serving:
• Calories: 283
• Fats: 12.5g
• Protein: 36.7g
• Carbs: 4.3g
• Fiber: 1g
• Sugar: 0.5g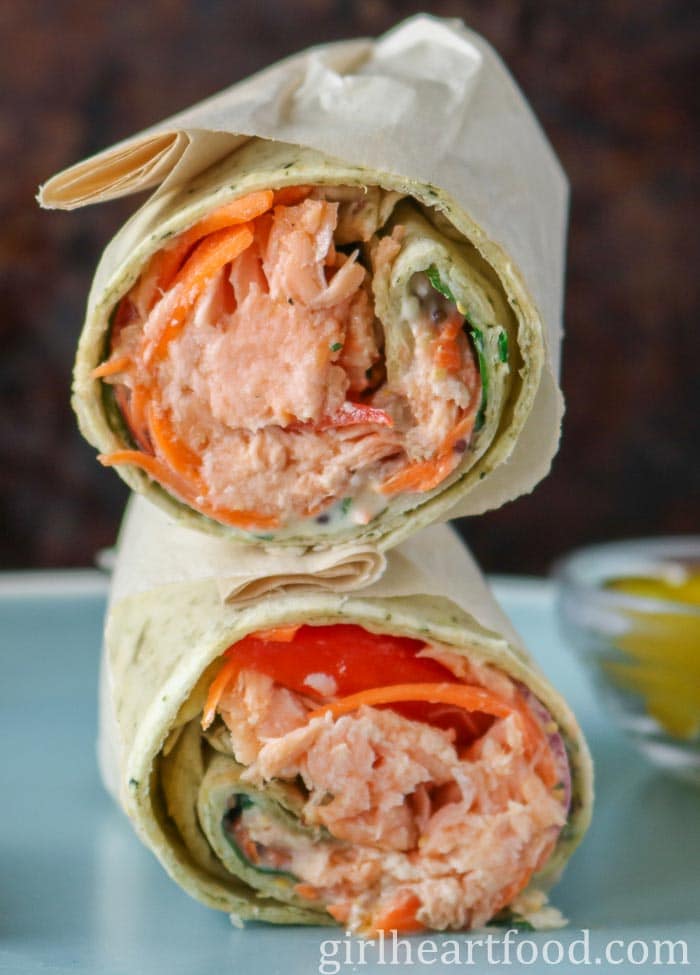 Source: girlheartfood.com
If you haven't tried adding salmon to your lunch wraps, you definitely should. And this recipe will give you plenty of inspiration.
Creamy, crunchy, sweet, spicy… What more could you possibly want?
The recipe uses a honey Dijon yogurt sauce, but feel free to use a sweetener for a sugar-free version.
Per Serving:
• Calories: 347
• Fats: 9g
• Protein: 22g
• Carbs: 44g
• Fiber: 3g
• Sugar: 13g
Source: cookingcarnival.com
Sauteed veggies with rice from the Instant Pot, for the most delicious burrito bowl ever.
Add this nutritious mixture to your tortilla, add some lettuce, cheese, and guacamole to it, wrap up, and serve with sour cream.
I'd also add some jalapeno slices here as the heat will totally transform the taste. Tired of wraps? Why not check these healthy sandwich recipes!
Per Serving:
• Calories: 683
• Fats: 15g
• Protein: 18g
• Carbs: 119
• Fiber: 10g
• Sugar: 11g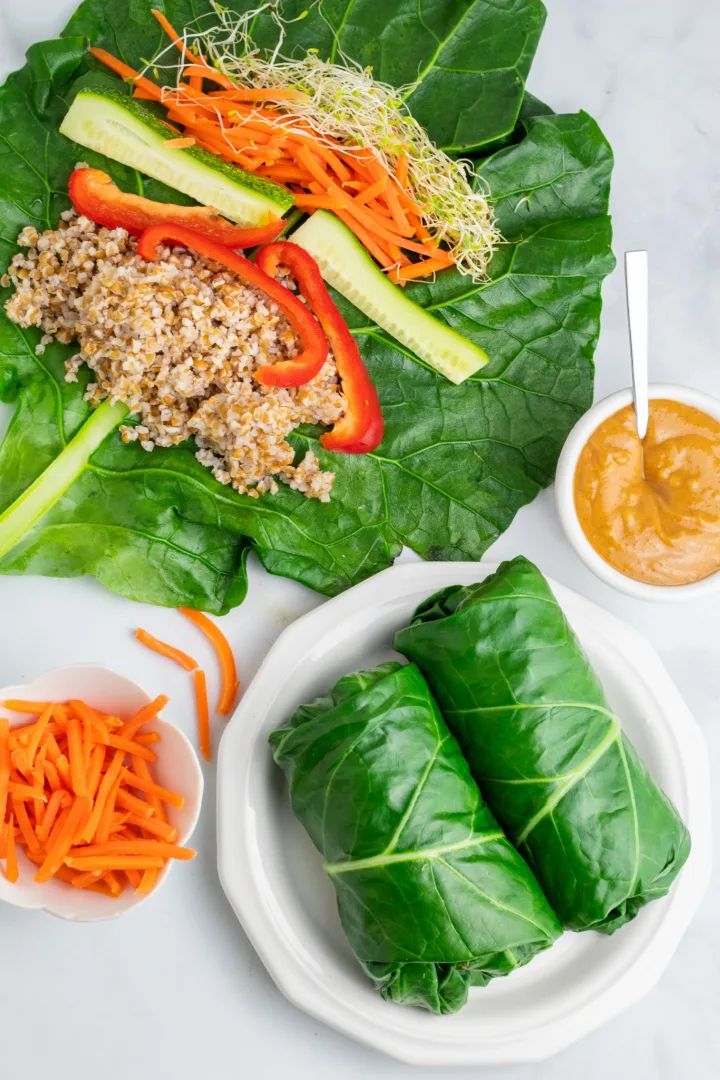 Source: eatplant-based.com
Who says you need tortillas for a wrap? These vegan collard green wraps with bulgur, carrots, cucumbers, peppers, and bean sprouts are just the plant-based meal you need.
They are also drizzled with sweet and chili peanut sauce, which this recipe shows you how to make from scratch.
For a gluten-free version lower in carbs, use cauliflower rice instead of the bulgur.
Per Serving:
• Calories: 158
• Fats: 1.5g
• Protein: 6g
• Carbs: 34.3g
• Fiber: 7g
• Sugar:
Source: crumbsandcaramel.com
Instead of meat, these vegan gyros use roasted cauliflower. But don't skip this recipe if you're a meat-lover.
The cauliflower is marinated in garlic, lemon, and so many spices, that the result is super flavorful.
The recipe uses kalamata olives, onions, cucumber, tomatoes, and parsley, but feel free to use whichever fixings you prefer.
Per Serving:
• Calories: 225
• Fats: 8g
• Protein: 7g
• Carbs: 33g
• Fiber: 5g
• Sugar: 4g
Source: thestingyvegan.com
For a full-on vegan lunch, I suggest this Mediterranean wrap with chickpeas, fresh veggies, and a vegan tzatziki sauce that you'll learn how to make from scratch.
So fresh, lemony, zesty, tangy, and in one word – exciting, this vegan wrap is something you must try.
If you are a hardcore meat fan, you can add some chicken slices, but really, give the vegan version a shot, as it is totally pleasing.
Per Serving:
• Calories: 347
• Fats: 8g
• Protein: 12g
• Carbs: 55g
• Fiber: 8g
• Sugar: 7g
Source: homemadeandyummy.com
With cooked and sliced (or shredded) turkey, cheese curds, cranberries, kale, broccoli, and a fruity balsamic and mayo dressing, this wrap is sweet, tangy, and packs a filling punch.
Perfect for lunch or a light dinner, this recipe is a great way to use up all of that leftover fall turkey.
The cranberries also bring a holiday touch, which makes this wrap even more satisfying.
Per Serving:
• Calories: 426
• Fats: 27g
• Protein: 22g
• Carbs: 26g
• Fiber: 2g
• Sugar: 7g
Source: cookedbyjulie.com
Technically, this recipe is for pinwheel roll-ups, but you can easily turn them into a full lunch or even dinner by not slicing up the tortilla wraps but devouring them whole.
With broccoli, carrots, chives, sour cream, and cream cheese, this crunchy, creamy, and herbal mixture packs a powerful nutrition kick. Plus, it also tastes amazing.
Serve with your favorite dip or sauce, and enjoy!
Per Serving:
• Calories: 145
• Fats: 11g
• Protein: 4g
• Carbs: 10g
• Fiber: 2g
• Sugar: 3g
Source: glutenfreehomestead.com
Another tortilla-free recipe, these Philly cheesesteak wraps use lettuce leaves.
The recipe uses provolone cheese and sliced beef roast with peppers, onions, garlic, and a touch of avocado mayo for some creaminess to combine everything together.
If you're especially hungry and don't mind the extra carbs, feel free to chop up the lettuce instead and wrap everything up in a tortilla.
Per Serving:
• Calories: 218
• Fats: 13.3g
• Protein: 19.4g
• Carbs: 9.6g
• Fiber: 1.2g
• Sugar: 2g
21 Healthy Wrap Recipes for Lunch
Need a quick easy lunch? These healthy wrap recipes are perfect when you need an easy, quick but nutritious meal.
Ingredients
1. Chicken Salad Wrap
2. Spring Roll Wraps
3. Spicy Mushroom Wrap
4. Thai Chicken Curry Wraps
5. Spinach Wrap with Feta
6. Chicken Gyros
7. Chicken Avocado Wrap
8. Easy Tofu Wraps
9. Spicy Tuna Wraps
10. Chicken Caesar Wraps
11. Tomato Basil Wrap with Mozzarella
12. Vegetarian Wraps with Roasted Sweet Potato and Halloumi
13. Buffalo Chicken
14. Salmon Wrap with Creamy Honey Mustard Sauce
15. Instant Pot Burrito Wrap
16. Collard Green Vegan Wraps with Creamy Peanut Sauce
17. Vegan Cauliflower Gyros
18. Vegan Mediterranean Wraps
19. Harvest Turkey Wrap
20. Veggie Cream Cheese Roll-Ups
21. Philly Cheesesteak Lettuce Wraps
Instructions
Scroll up to get a bunch of easy, yummy, and delicious wraps. Don't be afraid to get creative with the ingredients, you might discover a flavor you didn't know you liked.
Get your shopping list going and make sure you've got all the ingredients.
Get cooking and make your next Wrap Recipes!
Notes
Which one of these recipes was your favorite? Let me know in the comment section or on Pinterest!