Knowing what to have for every meal of the day can be tough, both on our wallets and our minds. But all is not lost! There are plenty of easy cheap lunch ideas out there to keep us going.
I've compiled fifty-one of my favorite easy recipes into this quick and easy list. Save time, money, and stress with these cheap meals, ideal for work, school, or a lazy day at home.
What Are Good Cheap Lunch Ideas?
There are plenty of tasty and budget-friendly lunch ideas you can try. A simple sandwich with fresh vegetables and hummus or turkey and cheese can be satisfying and doesn't cost much money.
A bowl of soup or chili can also be filling and cost-effective on a tight budget, especially if you make a large batch and freeze portions for future meals.
A salad with mixed greens, beans, and hard-boiled eggs or chicken is another healthy and budget-friendly lunch for picky eaters.
Leftovers from dinner can be easy to enjoy a cheap, delicious meal the easy way. Don't forget to consider fruits like apples, bananas, or grapes for a nutritious and portable snack.
Cheap Lunch Ideas for Work
Cheap lunches can still be healthy, nutritious, and filling. Each easy lunch idea will easily get you through a long, hard day at work.
Many are tasty enough to tempt you long before the clock ticks over into lunchtime.
Source: allnutritious.com
First on the list is a baked chicken meal prep recipe of my design to wow your taste buds. I always make this for myself since it's super easy to create and packed with healthy ingredients.
There's nothing better than enjoying something tasty and knowing it's also good for you! This healthy, cheap lunch recipe will get you through the middle of your workday for the whole week.
Source: mooshujenne.com
If you're meal-prepping, then your Instant Pot is your best friend for your meal plan! It's super easy to cook up the perfect selection of meals in an Instant Pot without investing a ton of time or money.
Case in point: these chicken Caesar wraps! This is like enjoying a more filling chicken Caesar salad without all the prep work. Customize it to suit your tastes, and enjoy it at midday!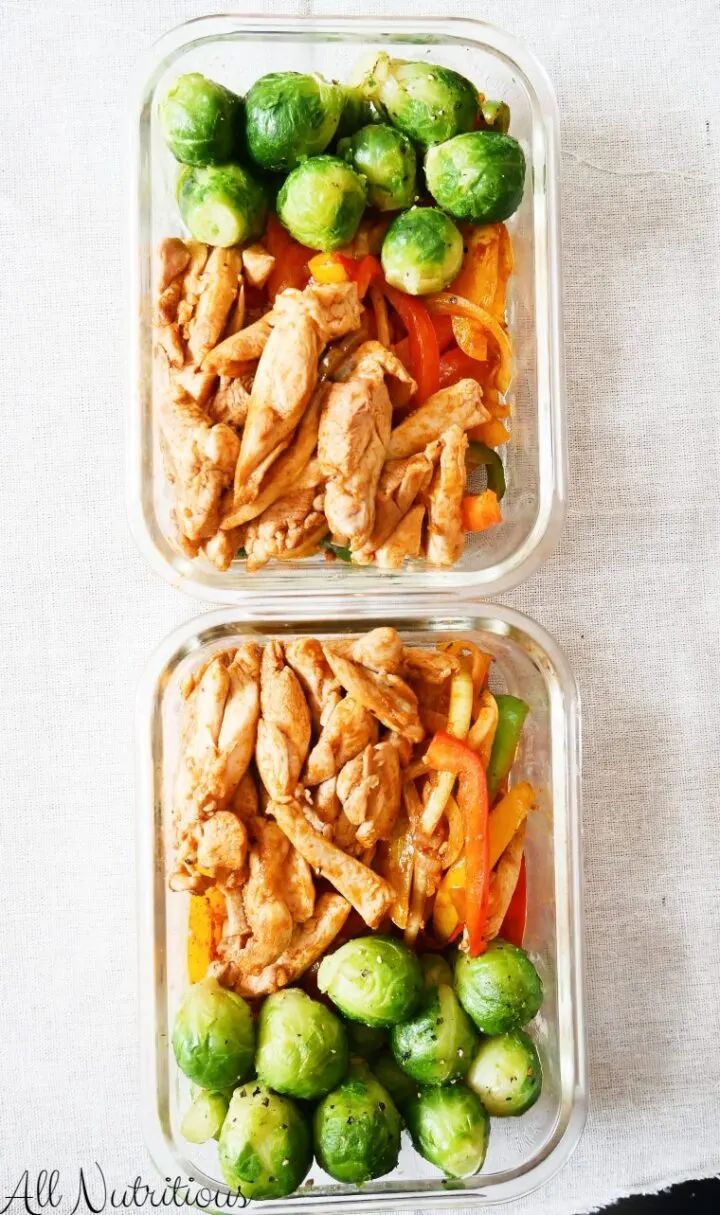 Source: allnutritious.com
This Chicken Fajita Meal Prep Bowl is a healthy and tasty meal that is easy to make. That's why I reach for it so often.
It has lots of protein from chicken, black beans, and quinoa and includes vegetables like bell peppers, onions, and cherry tomatoes. Get through the middle of your day with a protein boost!
The recipe gives you tips for making it your own, too. Overall, it's a great choice for meal prepping!
Source: recipesfromapantry.com
Looking for something kid-friendly you can also send to school with your little ones? Look no further! This avocado and smashed chickpea wrap is tasty, packed with protein, and ideal for kids.
It's portable and easy to eat, so it's great for taking a trip in their lunchbox. Best of all, the flavors are great, no matter how old you are. Chickpeas and avocados are an earthy, salty, delicious pair.
You'll love this healthy wrap recipe for your work lunches!
Source: allnutritious.com
If you know me, then you know I love a one-pan meal. There's something about looking down at your completed meal prep and knowing that you only have to wash a single dish that's so satisfying!
These one-pan chicken legs prove that using fewer dishes doesn't mean compromising flavor. With a ton of spices, fiber, and protein, this recipe will have you sailing through the rest of your day.
Source: amummytoo.co.uk
Are you a fan of baked beans? You're not the only one! This baked bean muffin recipe is a clever way to enjoy everyone's favorite canned vegetables.
Each batch contains a whole can of protein-packed beans, so you know the muffins are filling. The real kicker is the flavor of these beauties.
Cheesy and moist, with an edge of tomato, they're to die for!
Source: allnutritious.com
I'm a huge fan of quick and easy chicken recipes regarding workplace lunches. The chicken stays moist and delicious while waiting in the fridge, especially if you coat it with sticky sauce.
Enter my sweet honey garlic chicken recipe! This sauce is the bomb, packed with many delicious Asian flavors to keep your chicken moist and tasty. Serve over noodles, stir-fried vegetables, or rice.
Source: clankitchen.com
Chopped salads are ideal for work lunches. They're so easy to prepare and include a ton of natural fiber to keep your gut happy. Plus, you can customize them to suit your tastes!
This mason jar Thai chopped salad is simple to prepare and flavorful. The mason jar helps keep everything contained, making assembling your lunch a breeze.
Check out these other healthy college lunch ideas!
Source: savorthespoonful.com
Overnight oats for lunch? I'm not complaining! Overnight oats are a treat you can enjoy at any time of day, and these banana cinnamon oats will be calling your name by noon.
This is a filling recipe to reach for if you're running low on time. While the recipe calls for them to sit overnight, you can always make these in the morning and let them sit until lunch for the same effect.
Source: amandascookin.com
Add a kick of spice to the middle of your workday with this delicious Cajun chicken salad. This is a great way to reuse any leftover chicken, giving it new life with the recipe's bold flavors.
You can use this chicken salad however you like! I love how versatile it is. Sandwich it between two slices of bread, enjoy it in a lettuce cup, or use it to top your favorite greens for a summer salad.
Source: lovefromtheoven.com
Chicken and rice are one of those lunchtime staples we all know and love. Both ingredients are filling, and we know they're easy to prepare. However, plain chicken and rice get boring fast!
That's why this Southwestern chicken and rice recipe is so great. It invites all the convenience of a simple chicken and rice recipe with the flavor of a comforting weeknight dinner.
Healthy Cheap Lunch Ideas
For many of us, 'cheap' meals often mean super convenient takeout meals that aren't very good for us. These recipes prove that you can enjoy healthy lunches without breaking the bank!
Source: allnutritious.com
Looking for something high in protein, nutrients, and fiber? I've got you covered with my lemon chicken and vegetables meal prep recipe. This super simple recipe comes together in no time.
It's also gluten-free and keto-friendly, making it a great option for those working with some restrictions. With this recipe, you can have your entire week's lunches sorted in no time!
Source: rachaelhartleynutrition.com
This punchy recipe is great for meal prepping, offering a quick and easy lunch recipe that produces a huge batch. You only need half an hour, a generous amount of kimchi, and your favorite vegetables.
If you love a little spice, this is the recipe for you. The low-level kick from the kimchi is the ideal midday pick-me-up, especially in summer. This is a cold salad with a ton of heat to back it up.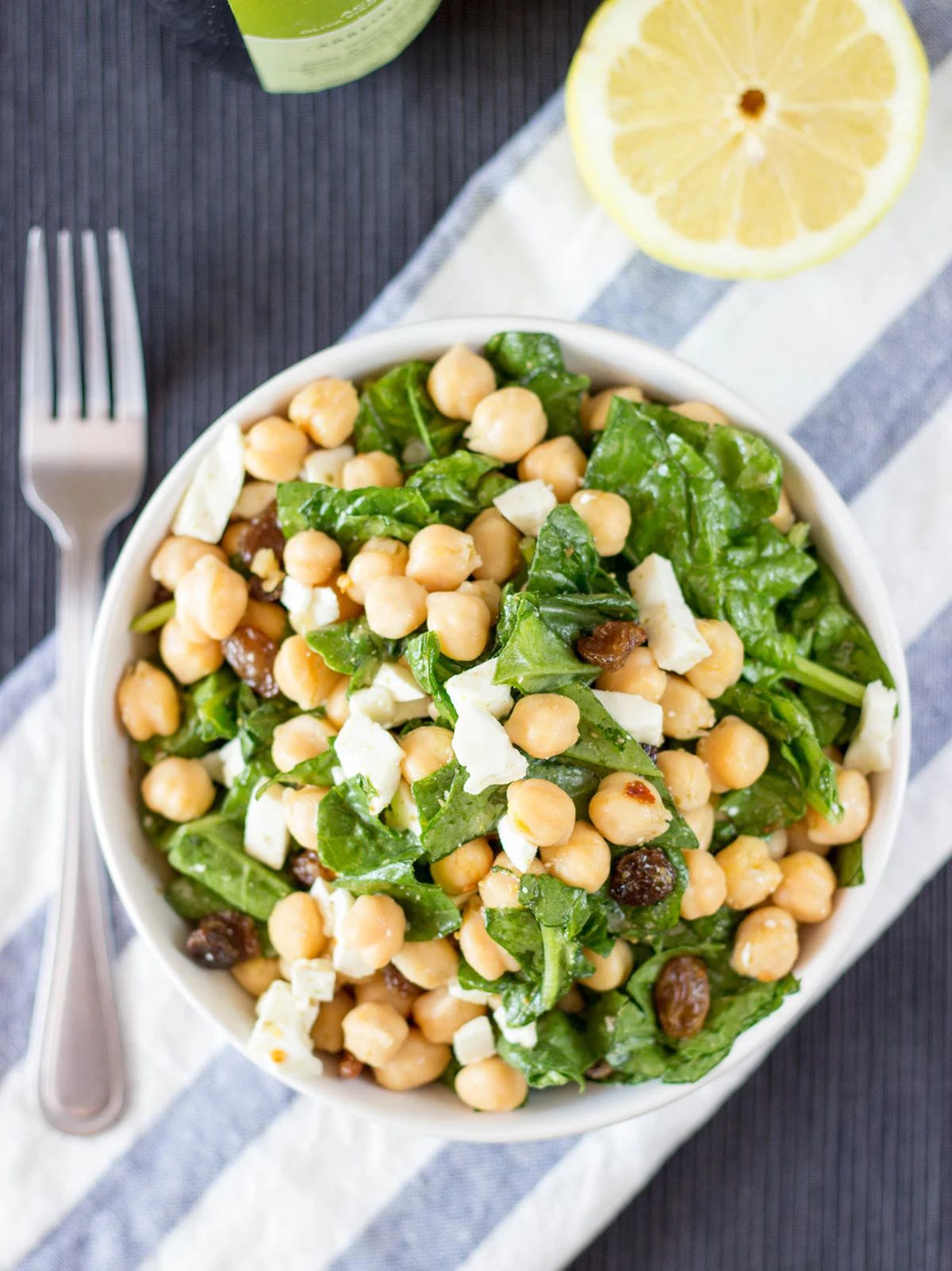 Source: hurrythefoodup.com
You only need seven minutes to make this recipe happen. That's right, seven minutes! Even the most vehement salad haters will fall in love with this recipe. It's convenient, healthy, and delicious.
My favorite part of this recipe is all the different textures. They come together into the perfect bite every single time. You can assemble the salad beforehand or bring the ingredients to work.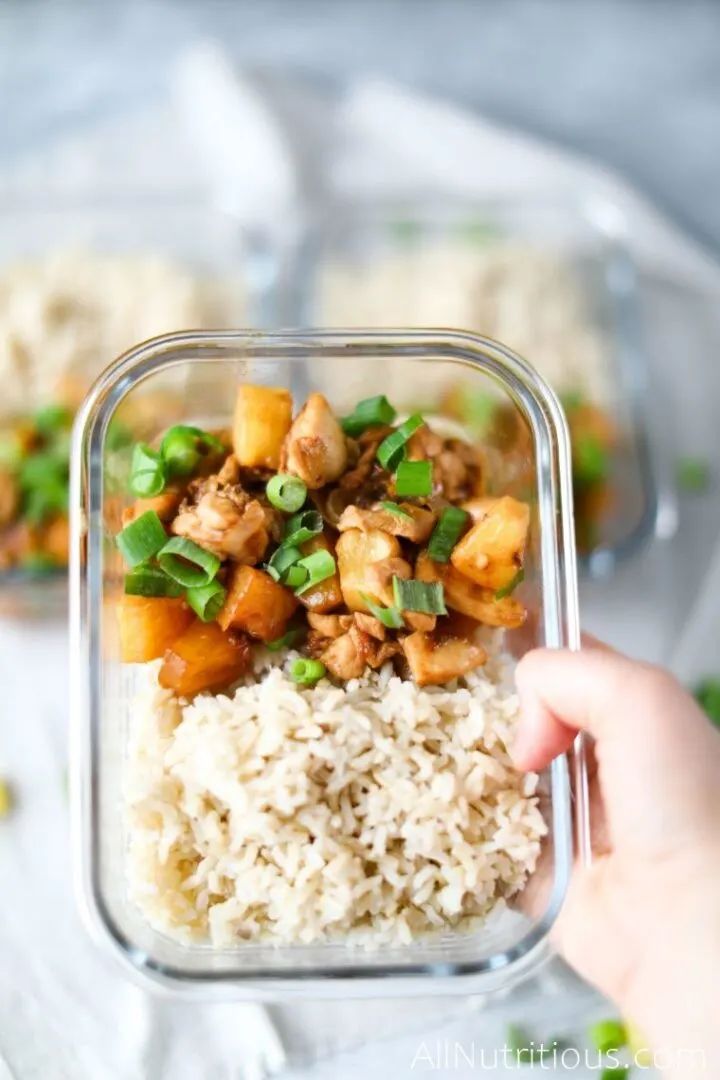 Source: allnutritious.com
Spice and sweetness are the oldest of culinary friends. That's why this spicy pineapple chicken meal prep is so great! Serve it with delicious brown rice, saucy noodles, or stir-fried vegetables.
The pineapple in this recipe is what makes it sing. The pineapple enzymes break down the chicken, making it ultra tender. So it stays tasty and moist even days after you've prepared it!
Source: rachaelhartleynutrition.com
Are you after the perfect intersection of sweet and savory? This curried quinoa and apple salad has the textures, flavors, and nutrients to make your lunch break the best part of your day.
It's also a great recipe to have in your back pocket for your next potluck or picnic. The key to success is crunchy, crispy apples instead of mealy ones.
Try Honeycrisp or Pink Lady apples for the best results!
Source: allnutritious.com
Cheap, healthy, and easy to make? That's right! This recipe is my invention, and I always reach for it. With just three ingredients, this is a killer teriyaki chicken sauce that moistens the chicken.
Sprinkled with fresh green onions, there's nothing better than this in the middle of your day. I also love how versatile this recipe is. Serve it on noodles, on vegetables, or even on its own.
Source: canadiancookingadventures.com
Soups are one of the best lunchtime meal prep recipes because you can make a ton at once! Soups – particularly vegetarian soups – also freeze well, so they last longer.
This vegetarian black bean soup is rich in protein and earthy flavors. Plus, it uses mostly canned ingredients. Feed yourself for an entire week for less than ten dollars, or prep for the whole family!
Source: thedairyfreemenu.com
If you can't eat chicken, these sticky sesame chickpeas will give you the same experience as a delightful Asian chicken dish. This dish is a great midday treat with a sweet, earthy sauce.
Best of all, you can make it in just fifteen minutes! With no need to cook your chicken, the cooking time is almost nothing, so it's dead easy to make this during a busy workday.
Source: acedarspoon.com
If you're after something simple, cheap, and healthy, there's nothing wrong with a classic sandwich. This vegetarian sandwich recipe is packed with Mediterranean flavors that feel fresh and delightful.
With all the ingredients, you can knock this sandwich together in ten minutes or less. It's great if you don't have access to a stove or microwave at work or need something super fast.
This is one of the best sandwich ideas that aren't boring!
Source: hurrythefoodup.com
If you're tired of sandwiches, why not try a simple wrap? This tangy veggie wrap has all the protein, texture, and flavor you could ask for from a great meal prep recipe.
This will easily get you through the latter half of your day. You can even slice the wrap into two portions to enjoy at different afternoon times when you start feeling snacky.
Source: theroastedroot.net
I'm a big fan of chickpea salads. They're wildly easy to prepare, full of refreshing flavor, and bursting with enough protein to carry you through hours and hours of work.
While they don't always look super filling, chickpeas are like condensed morsels of pure protein.
Their mellow flavor makes them an ideal salad base, so you can toss whichever ingredients you want into the fray.
Source: delicrunch.co
Enjoy a classic Caesar salad for your lunch with this simple recipe. The homemade dressing makes this recipe sing, thanks to its creamy, tangy flavor profile.
Paired with a generous sprinkling of croutons, this salad is addictive. Even if you don't have all the right ingredients, the recipe is forgiving enough to allow any substitutions.
Source: sustainmycookinghabit.com
Here's another take on a chickpea salad, which is even simpler than the last! With an easy dressing and some refreshing chopped vegetables, this salad is ideal for summer work lunches.
Serve this as a side dish, or enjoy a big bowl of this simple chickpea salad for your main meal. If you prefer grazing throughout the day, this also makes for a healthy and delicious snack.
Quick Cheap Lunch Ideas
If you're low on time and feeling the midday slump, these recipes have your back. We all know the feeling of being in a rush and still needing to fuel up!
Whether you're meal prepping or making your lunch on the day, these recipes will take only half an hour to make.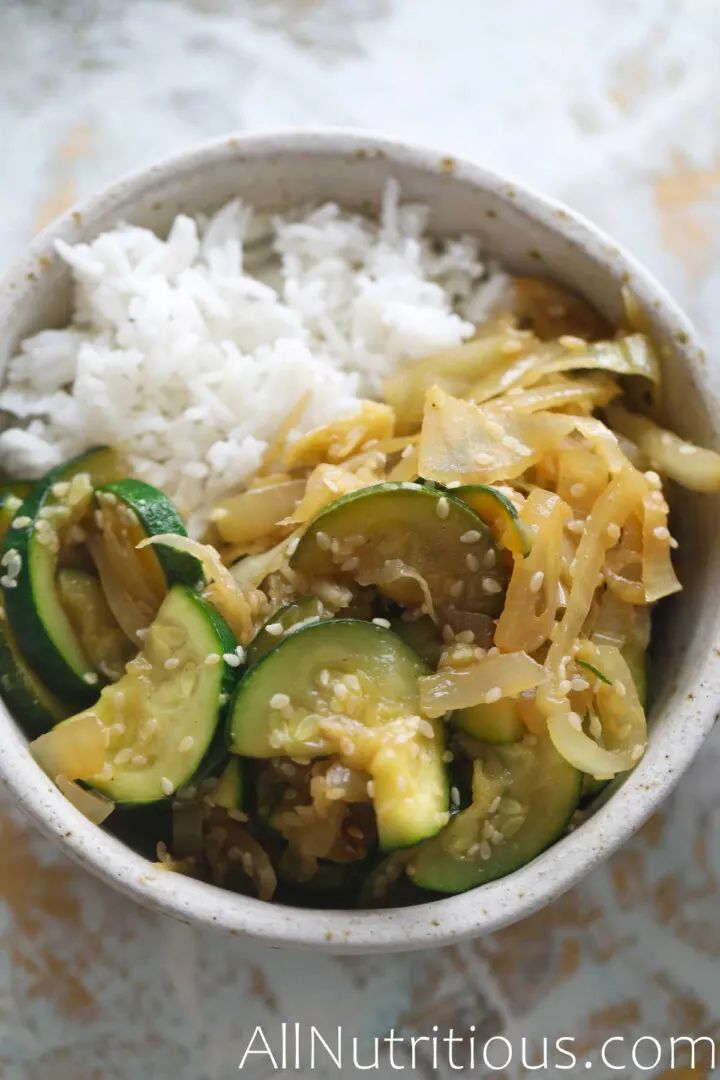 Source: allnutritious.com
Need a quick and easy vegetarian or vegan option? This is a cozy lunch option that comes together as fast as anything. The zucchini and onion cook quickly, absorbing all the sauce to become moist.
This is a two-ingredient stir-fry that you can use any way you like.
Drop on top of your favorite noodles or serve with a steaming heap of fragrant jasmine rice to get you through the middle of your day.
Source: organicallyaddison.com
The tortilla pizza is every pizza lover's secret weapon. This is a fantastic way to enjoy your favorite treat without needing to buy a ton of ingredients, make dough, or even worry about the sauce.
If you have an oven where you work, this is a wonderful workday lunch! Otherwise, you can make this as soon as you come home.
It only takes ten minutes, and you can top it with all your favorite toppings.
This is a great lunch idea for kids' school lunches!
Source: servedfromscratch.com
Speaking of ten-minute recipes, here's another delicious midday recipe that won't take away your valuable rest time! Whether you need it for lunch or dinner, this recipe will deliver.
The nutty, creamy sauce is super comforting, making this the ideal way to get through a midday slump. Enjoy cold on a summer afternoon, or make it fresh and warm for a winter night.
Source: acedarspoon.com
Even if you're living a vegetarian lifestyle, you can still enjoy the taste of a chicken salad sandwich! This chickpea salad sandwich has all the flavors you know and love from this potluck staple.
Greek yogurt is the secret ingredient here, making the sandwich creamy and savory without adding a ton of mayonnaise. That's what makes this cheap, easy, tasty, and healthy.
Source: thekitchenismyplayground.com
Whether you need a recipe for tea time or a quick and easy low-carb lunch, this is the place to be. These 'sandwiches' have no bread to them, instead using slices of cucumber as the sandwich slices.
This makes this recipe super refreshing and crunchy! Ideal for a hot summer day when you don't have a lot of time to cook, this is tasty, easy, and packed with crunch.
These other low calorie turkey recipes will be perfect for your lunch bag!
Source: everydayfamilycooking.com
If you're like everyone else on the planet, chances are that you have a bit of a thing for buffalo chicken. Good news, you don't have to wait until game day to enjoy this punchy sauce!
This five-minute buffalo chicken wrap uses leftover chicken tenders and any loose vegetables to create something divine. If you don't have leftover tenders, you could always use frozen tenders too!
Source: organicallyaddison.com
Quesadillas are one of the best lunches you can enjoy on a budget. All you need is cheese, a tortilla, and a delicious dipping sauce to complete the meal.
Reach for this recipe if you have a grilled sandwich maker, stove, or oven at your workplace to melt the cheese. This is a fantastic after-school snack for your kids, too.
Source: theforkedspoon.com
Asian-inspired noodle dishes are perfect for meal-prepping your work lunches! This super simple twenty-minute stir fry proves that beyond a shadow of a doubt.
If you're a garlic lover, these noodles are for you. You can serve these warm or cold thanks to the simple sauce. You can even take the sauce with you to work, boil the noodles there, and then serve!
Source: sugarandsnappeas.com
Who doesn't love a BLT? This version uses a bagel instead of the classic sourdough or bun, making it a little sweeter and a little bit chewier.
The best part about using a bagel for this sandwich is that the bread keeps very well. Even if you assemble the sandwich a few hours before lunch, the bagel won't get soggy or ruin the taste.
Source: naturallieplantbased.com
Take basic packet ramen noodles and give them a spicy makeover. This flavorful and quick meal comes together in just ten minutes with a selection of pantry staples!
These are quite spicy, thanks to the Korean gochujang paste, so this recipe definitely isn't for the faint of heart. That said, if you're a spice lover, there's no better midday pick-me-up.
Source: littlesunnykitchen.com
Tuna salad is so versatile. You can use it to make bigger salads, sandwiches, and bagels, and even enjoy it as a snack on its own.
The possibilities are endless, so it makes sense to have a recipe for this in your arsenal.
Using canned tuna, you can craft a cheap and delicious lunch or snack in no time. Tuna is great brain food, so this is ideal if you need a little kick in the middle of your day.
Source: simplyairfryer.com
Nostalgia alert! This recipe for the ultimate grilled cheese and tomato sandwich is bound to warm your heart and your belly. The familiar flavors are perfect for a tough day with a lot on your plate.
It's comforting, warm, and filling enough to carry you through whatever your afternoon has to challenge you. Best of all, you can make it with anything from an air fryer to a stovetop.
Source: thefastrecipe.com
Pinwheels are a clever way to put a tasty twist on a familiar favorite. No matter what you enjoy in your favorite sandwich, you can make a pinwheel that matches!
The key is chewy flour tortillas. Wrapped tight around your favorite fillings, these tortillas create the perfect portable lunch you can take with you anywhere. From picnics to work days, this recipe works.
Source: christinascucina.com
Take a hint from the British and try something new with this tasty beans-on-toast recipe. Using canned beans and simple toast, you can enjoy a dead simple dish in a matter of minutes.
I love this recipe because any lunch recipe that uses canned food immediately takes stress out of the equation. All you need to get this done is a toaster and a microwave!
Source: asweetalternative.com
Tahini is one of my favorite dressings because you can use it for pretty much anything. Sweet or savory, tahini has got your back. In this case, it's the perfect dressing for a simple pasta.
If you want this to be a little bit creamier, try adding some Greek yogurt or a dollop of mayonnaise and mustard to the mix. Regardless, this is a simple, earthy pasta dish you'll never get tired of.
Cheap Cold Lunch Ideas
If you work somewhere without a microwave, oven, or stove, then cold lunches are a necessity. Cold lunches can be absolutely delicious, and you don't need to spend an arm and a leg to make them!
Check out these tasty cold lunch ideas to switch things up.
Source: allnutritious.com
If we're talking about cold lunches, then we can't leave chickpea salads out of the discussion. I reach for chickpeas all the time when I need something cold, quick, and easy.
Not only are they filling, but they're also the perfect mellow foundation for any combination of your favorite salad toppings. In this case, this Mediterranean-inspired salad is super refreshing!
Source: healthyfoodiegirl.com
Take a simple chicken salad sandwich and crank it up a notch with the addition of some buffalo sauce. This is an ultra-creamy sandwich with a ton of crunch, flavor, and creaminess to boot.
I highly recommend whipping up a big batch of this chicken salad to use however you like. On top of salads, on a soft brioche bun, or even spread on some crackers. The possibilities are endless!
Source: nutriciously.com
A good burrito doesn't necessarily need to contain meat. It just needs to be filling, well-wrapped, and full of classic Mexican flavors. That's why I love this simple black bean burrito.
This recipe uses rice, black beans, vegetables, and Mexican spices to create something beautiful. This is an easily portable lunch you can take anywhere, from work to school or even a picnic.
Source: allnutritious.com
I believe that bulgur wheat doesn't get enough love, and I'm here to change that! This is a fibrous grain with a mellow flavor that's great for your gut health. Best of all, it's easy to cook with.
If you've never cooked with bulgur wheat before, try my simple salad with this heavy grain. It brings out the best of the wheat with a light dressing, crunchy vegetables, and creamy avocado.
Source: theroastedroot.net
Salmon is a great lunch ingredient. It's refreshing, filling, and excellent brain food. However, it's not the easiest thing to cook if you're in a hurry or want something cold!
Enter canned salmon. This underappreciated ingredient is so great in salads. Packed with briny flavor and flaked to perfection, it's delicious as part of a summer salad.
Source: saporitokitchen.com
Curry chicken and… grapes? Hear me out on this one! The little gems of grape scattered throughout the bold curried chicken help add little bursts of sweetness to every bite.
This salad is by turns creamy, sweet, and spicy. Add in the crunch from the pecans, and you've got a winning combo!
Source: budgetdelicious.com
Love a chicken, bacon, and ranch salad? Make the flavor combination extra filling and portable with these delicious wraps! There's something so addictive about these chewy, flavorful wraps.
Maybe it's how easy they are to make or the intersection of crunchy vegetables and tasty chicken. Considering how fast they are to make, these are some of the ultimate school lunch treats.
Source: homanathome.com
If you're looking to put a little spin on your tuna salad, look no further. This lemon tuna noodle salad is the perfect solution for a cool summertime lunch. It comes together in just minutes!
The recipe uses pantry staples like canned tuna and dry pasta to create something magical. With the light lemon dressing and the dappling of spinach, this is a healthy crowd-pleaser for the whole family.
Source: strengthandsunshine.com
Remember when I said that I love Tahini? Well, I really love tahini, and this is just another reason why. It's the perfect dressing to add a bit of substance to any simple chicken salad.
Not to mention, it brings all the flavors together nicely. Use whichever vegetables you have available in your vegetable drawer to whip up a quick salad, dress with tahini, and bam! You're ready for lunch.
Source: julieseatsandtreats.com
Looking for something fancy, maybe even a bit refined, for lunch? These light cucumber sandwiches are just what the doctor ordered! They're crunchy, cool, and perfect for enjoying in summer.
Bring these to your next potluck brunch or serve your guests a formal high tea, complete with cups of tea and little finger sandwiches. They'll love the cooling, mellow taste of these sandwiches!
Source: healthyfoodiegirl.com
What happens when you mix cottage cheese with salsa? Magic, that's what! This savory cottage cheese burrito bowl is out of this world, pairing creaminess with the bite and boldness of salsa.
This is a vibrant dish with colors bursting from the plate. Featuring a ton of fresh vegetables, is it any wonder that this is a summertime favorite?
Source: inspiringsavings.com
Finally, we have a super simple and healthy dish. If you haven't gone to the grocery store in a while and you're running out of things to cook, this recipe has got your back.
The creamy avocado is almost like a healthier version of mayonnaise. Spread it on top of your perfectly-boiled eggs and enjoy with a generous amount of cracked pepper.
Fun, light, and cool, this is the ideal summertime snack on a lazy day.
That's a wrap! With fifty-one tasty, cheap, healthy ways to get you through your busy lunch break, you'll be unstoppable this week. Do you have any go-to lunch recipes I missed?
Let me know which are your favorites in the comments below, and good luck for the week ahead!
51 Easy Cheap Lunch Ideas To Stay Under Budget
Get creative in the kitchen without overspending. You can save money and still enjoy a tasty meal with these easy-to make cheap lunch recipes.
Ingredients
1. Baked Herb Chicken Breasts with Couscous Meal Prep
2. Instant Pot Chicken Caesar Wraps
3. Chicken Fajita Meal Prep Bowl
4. Avocado and Smashed Chickpea Wraps
5. One-Pan Chicken Legs with Chickpeas and Quinoa
6. Baked Bean Muffins
7. Sweet Honey Garlic Chicken Meal Prep
8. Mason Jar Thai Chopped Salad
9. Banana Cinnamon Overnight Oats
10. Cajun Chicken Salad
11. Southwestern Chicken and Rice
12. Lemon Chicken with Veggies Meal Prep
13. Kimchi Noodle Salad
14. Chickpea Spinach Salad
15. Spicy Pineapple Chicken Meal Prep
16. Curried Quinoa Apple Salad
17. 3-Ingredient Teriyaki Chicken
18. Vegetarian Black Bean Soup
19. Sticky Sesame Chickpeas
20. Mediterranean Veggie Sandwich
21. Tangy Veggie Wrap
22. Mediterranean Chickpea Salad
23. Caesar Salad with Homemade Dressing
24. Simple Chickpea Salad
25. Zucchini Stir Fry with Garlic and Sesame Seeds
26. Tortilla Pizza
27. 10-Minute Peanut Noodles
28. Chickpea Salad Sandwich
29. Low-Carb Smoked Turkey and Cucumber Sandwiches
30. 5-Minute Buffalo Chicken Wrap
31. Cheese Quesadilla
32. Asian Garlic Noodles
33. BLT Bagel Sandwich
34. Easy Spicy Ramen Noodles
35. Tuna Salad
36. Air Fryer Grilled Cheese and Tomato Sandwich
37. Sandwich Pinwheels
38. Beans on Toast
39. Tahini Pasta
40. Chickpea Salad with Cucumbers and Tomatoes
41. Buffalo Chicken Salad
42. Vegan Bean Burrito
43. Bulgur Wheat Salad
44. Mediterranean Salmon Salad
45. Curry Chicken Salad with Grapes
46. Chicken Bacon Ranch Wraps
47. Lemon Tuna Noodle Salad
48. Gluten-Free Paleo Tahini Chicken Salad
49. Cucumber Sandwiches
50. Savory Cottage Cheese Burrito Bowl
51. Guacamole with Hard Boiled Eggs
Instructions
Scroll up to get a bunch of easy, yummy, and delicious lunch recipes. Don't be afraid to get creative with the ingredients. You might discover a flavor you didn't know you liked.
Get your shopping list going, and make sure you've got all the ingredients.
Get cooking and make your next Cheap Lunch!
Notes
Which one of these recipes was your favorite? Let me know in the comment section or on Pinterest!