Wraps are great for meal prep and taking to work or school for packed lunches. These tasty chicken wrap recipes are sure to become lunchtime favorites!
It's okay if you don't want to prepare them in advance. They don't take long to make with a few simple ingredients.
You can combine various colors, textures, and flavors in a wrap. They are great for using up leftovers too!
Chicken wraps are particularly great for experimenting with.
What's the Best Way to Make a Wrap?
The best way to make a wrap is however you want.
You can make it in advance for packed lunches, or you can make it when you're ready to eat it.
You can make it with a soft tortilla, a pita wrap, or a large, crisp lettuce leaf.
Add your favorite ingredients, a sauce if you choose to, and fold it.
You may wish to warm it briefly or eat it cold. It's up to you!
Are Chicken Wraps Healthy for You?
If you use healthy ingredients, chicken wraps are healthy for you.
The only ingredient that could be considered unhealthy is if you make it with a flour tortilla.
However, there are other options to use as the vessel for your wrap filling.
Best Chicken Wrap Recipes
Find your new favorite tortilla wrap recipe from the selection below!
Source: allnutritious.com
Avocado is excellent served with chicken. Its creamy texture contrasts with the crunchy onion in this wrap.
Shredded cooked chicken, avocado, and raw red onion are mixed with a zesty, creamy dressing. Make this with Greek yogurt, fresh parsley, lemon juice, garlic powder, and sea salt.
Make your chicken avocado salad with a tortilla wrap. Add crisp romaine lettuce as a base.
Source: dishnthekitchen.com
Use leftover cooked Tandoori chicken for this quick meal. Add a refreshing cucumber raita and tangy mango chutney to your wrap.
Your raita is easy to make. Mix plain yogurt, grated cucumber, and a pinch of cumin. Add fresh cilantro for extra flavor!
Source: kidtestedrecipes.com
Add turkey bacon to tender chicken, red onion, lettuce, and cilantro. This creates a spicy, crispy wrap. A chipotle marinade and chipotle sauce ramp up the flavor!
Your marinade combines cumin, coriander, garlic, lime zest, and juice. Make your creamy sauce with mayo, sour cream, lime juice, garlic, and honey.
Chipotle peppers in adobo sauce are essential. They provide maximum flavor in your marinade and sauce!
Source: bellyfull.net
A spinach-flavored tortilla makes this wrap stand out with its vibrant green color! Before adding your fillings, spread BBQ sauce and mayo on your wrap for a unique flavor.
Cooked chicken breast and fresh broccoli slaw fill your wrap. Sliced almonds provide a nutty flavor and crunchy texture.
Source: littlesunnykitchen.com
Add a Caesar salad to a soft tortilla for a unique lunch idea!
Use tender chicken, crisp lettuce, and juicy cherry tomatoes for your Caesar wrap. Crunchy garlic croutons provide a satisfying crunchy texture.
A creamy Caesar dressing adds a fresh flavor to your wrap.
Source: persnicketyplates.com
This is a lighter, healthier version of the Buffalo Wild Wings buffalo ranch chicken wrap!
You'll make lightly breaded chicken pieces for your filling. Flavor these with cayenne pepper and garlic powder. Toss them in Frank's wing sauce when they're cooked.
Add ranch dressing, fresh tomatoes, crunchy lettuce, and shredded cheese when assembling your wrap!
Source: theforkedspoon.com
Greek-style chicken tenders and fresh tzatziki are the stars of these gyros.
Marinate your chicken in Greek yogurt, lemon juice, salt, oregano, and paprika. Make tasty tzatziki by mixing cucumber, minced garlic, red wine vinegar, and fresh dill with Greek yogurt.
Add juicy tomatoes and sliced red onion to your pita when assembling your gyros.
Source: seasonandthyme.com
Pesto is all you need to add flavor to a wrap with simple ingredients. Basil, olive oil, pine nuts, garlic, and parmesan cheese are all big flavors.
Combine your pesto with shredded chicken, crunchy red onion, juicy tomatoes, and mozzarella cheese. Pile this on fresh spinach in a soft tortilla.
Source: budgetdelicious.com
Use leftover chicken from dinner and leftover bacon from breakfast for this wrap. Add veggie nutrition with juicy sliced tomatoes and crisp lettuce.
Drizzle creamy ranch dressing all over your filling before folding your wrap. If you like spice, add a few jalapenos too!
These chicken wraps would make one of the best lunch box ideas for kids!
Source: seasonandthyme.com
The secret to making this tasty Southwest crispy chicken wrap is simple. Use a bag of Southwest chopped salad mix.
This adds shredded lettuce, cilantro, and shredded carrots to your wrap. Pumpkin seeds and tortilla strips add a crunchy texture!
Use breaded chicken tenders for an authentic Southwest flavor. Creamy black beans, avocado, and Monterey Jack cheese, take this wrap up a notch!
Source: thetastychilli.com
You have a variety of delicious, sweet, savory, and spicy flavors in this wrap. You'll use a zesty, creamy marinade to flavor your chicken before cooking and assembling your wrap.
Make your marinade with Greek yogurt, lemon juice, paprika, cumin, cayenne, oregano, salt, and pepper.
Create a spicy mayo with Greek yogurt, mayonnaise, cayenne, curry powder, and chili flakes. You'll spread this on your tortilla as your base.
Build your wrap with cooked chicken strips, sliced tomato, crunchy cucumber, red onion, and crisp lettuce. Juicy mango cubes are essential!
Source: budgetdelicious.com
This chicken shawarma wrap is delicious with its Middle Eastern-inspired flavors. You can use a store-bought shawarma spice mix to flavor your chicken or create your own.
Shawarma spices typically include cumin, paprika, coriander, turmeric, nutmeg, cinnamon, and cloves.
Ideal veggies for your chicken shawarma wrap are crunchy red onion, cucumber, and shredded red cabbage.
Make a yogurt sauce from Greek yogurt, lemon juice, and garlic to spread on your pita wraps before assembling.
Source: brooklynactivemama.com
Add an authentic Southwestern flavor to these wraps with shredded chicken and toppings.
Think sweet corn kernels, creamy black beans, fresh spinach, crunchy red bell pepper, and Monterey Jack cheese.
Combine taco seasoning, spicy salsa, and sour cream to make a tangy sauce. Mix your other ingredients with the sauce and load them in soft tortillas!
Source: twohealthykitchens.com
These cheesy BBQ chicken wraps taste even better than they sound! Use a pre-cooked rotisserie chicken here to save time. You only need to shred it.
Mix your shredded chicken with crunchy green pepper, sweet, diced onion, and shredded cheese. Combine this with tangy barbecue sauce before piling it in your tortilla.
You'll warm your loaded tortilla briefly in your microwave. This will melt the cheese slightly! Top the mixture with freshly diced tomato and a crisp lettuce leaf before folding.
Source: foodmeanderings.com
Take Ramen soup to another level by eating it in a wrap! If you're thinking, "Really?" then yes, really, it works!
It's packed with delicious Ramen flavors from noodle soup flavoring, soy sauce, ginger, sriracha, garlic, and fish sauce.
Layer your Ramen with sliced chicken, crunchy carrots, green onions, and a hard-boiled egg. Add sesame seeds for an extra crunchy texture and Asian flavor!
Source: bellyfull.net
Thai-inspired chicken wraps are flavorful from Thai spices and flavored tortillas. Sundried tomato basil flavor pair perfectly with the taste of this wrap.
Thai red curry paste, fresh ginger, and fresh parsley pack a punch. A plain yogurt, mayonnaise, honey, and lime juice dressing delivers a sweet, tangy flavor.
Various textures come from grilled chicken, raw red onion, baby spinach, and pineapple. Almonds also add a delicious nutty flavor!
With this easy wrap recipes, you can easily create more healthy school lunches!
Source: vikalinka.com
This peri peri wrap is quick and easy to make. This is by using shortcuts of microwavable flavored rice and pre-cooked chicken.
Make a spicy yogurt sauce with plain yogurt, mince garlic, hot paprika, cayenne, chili flakes, lemon juice, and fresh parsley.
Creamy avocado, juicy cherry tomatoes, fresh parsley, and crumbled feta cheese pair perfectly with these flavors.
Source: thewoodenskillet.com
You can make this chicken Caesar wrap with a handful of ingredients. The combination of Caesar dressing and parmesan cheese is mouthwatering.
Match these with grilled chicken and crispy romaine lettuce and pile them into a soft tortilla wrap!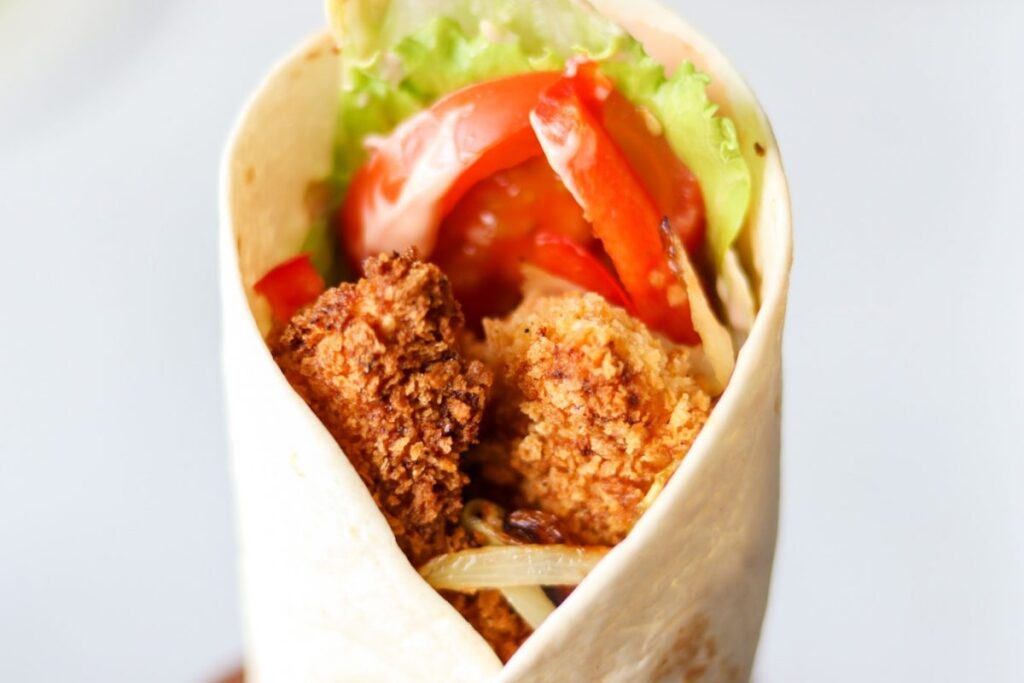 Source: mymorningmocha.com
Tender chicken strips are cooked in a crispy southern fried breadcrumb for the centerpiece of this wrap. Panko breadcrumbs are the key to getting a super crispy coating.
Make your breadcrumb coating flavorful with onion, garlic & ginger powder, smoked paprika, and black pepper. Combine sweet chili sauce and mayonnaise for a spicy sauce.
Layer soft tortillas with your tasty sauce, crispy cooked chicken, crunchy lettuce, red bell peppers, tomatoes, and fried onions.
Chicken Lettuce Wrap Recipes
The wraps in this section all use a lettuce cup instead of a flour tortilla!
Large-leaf lettuce is best to use for lettuce wraps.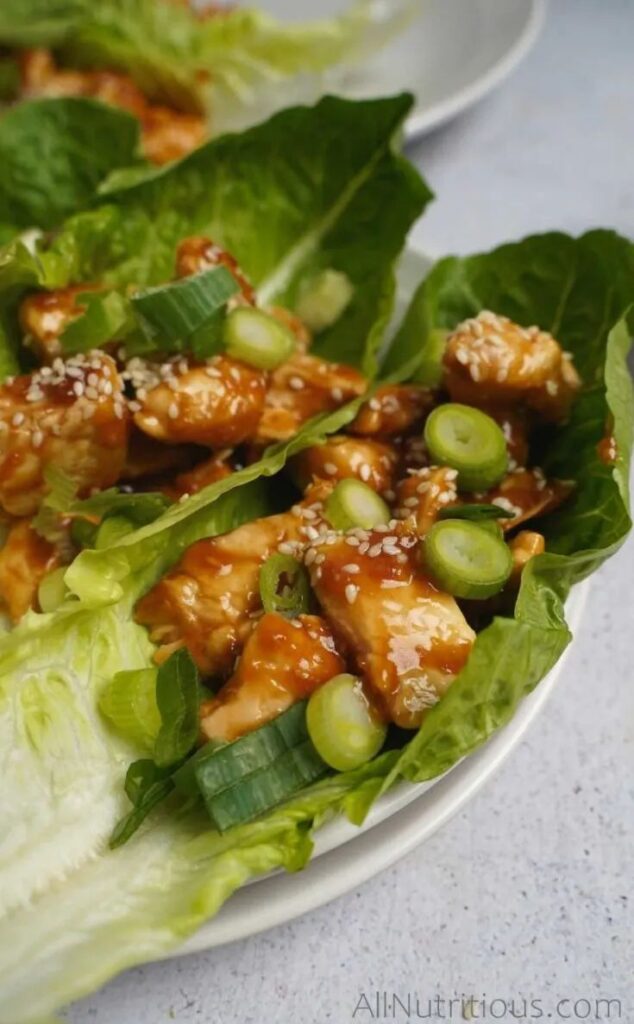 Source: allnutritious.com
If teriyaki chicken is one of your favorite Asian foods, try teriyaki chicken lettuce wraps. A sweet, umami teriyaki flavor pairs perfectly with crisp lettuce leaves.
Make your teriyaki sauce by combining soy sauce, rice vinegar, sesame oil, fresh ginger, and garlic. Honey adds a sweet, sticky texture to this dish.
Garnish your chicken lettuce wraps with nutty sesame seeds and sliced green onion.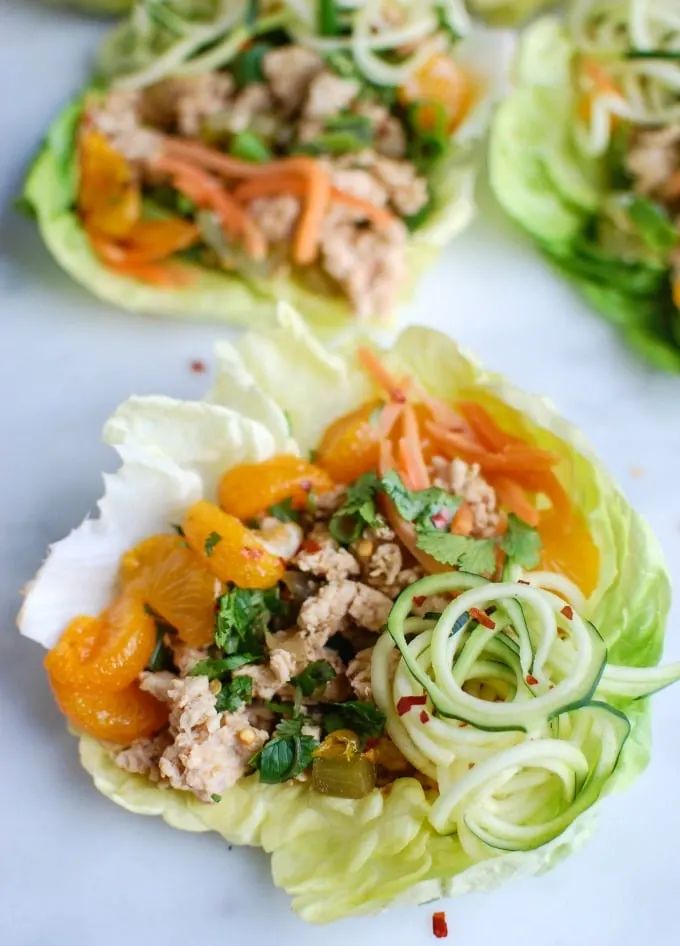 Source: acedarspoon.com
These Chinese chicken noodle wraps have savory and sweet flavors. You'll make an easy, flavorful stir-fry sauce for your chicken.
Cook ground chicken in lime juice, ginger, soy sauce, and chili garlic sauce. This is the main element of your wraps.
Add sweetness with segments of mandarin orange. Use zoodles instead of regular noodles to keep these wraps healthier.
Garnish with crushed peanuts for a crunchy texture.
Source: joyfoodsunshine.com
These Asian chicken lettuce wraps are even better than P.F Chang's. If you're a fan of those, you must try these! Getting the sauce right is the key to ultimate flavor.
Combine soy sauce, hoisin, sesame oil, rice vinegar, peanut butter, honey, and sweet chili sauce. Powdered garlic and ginger are also essential.
Cook ground chicken, minced onion, bell pepper, and water chestnuts in the sauce. Load your chicken mixture into lettuce cups and garnish with crushed peanuts!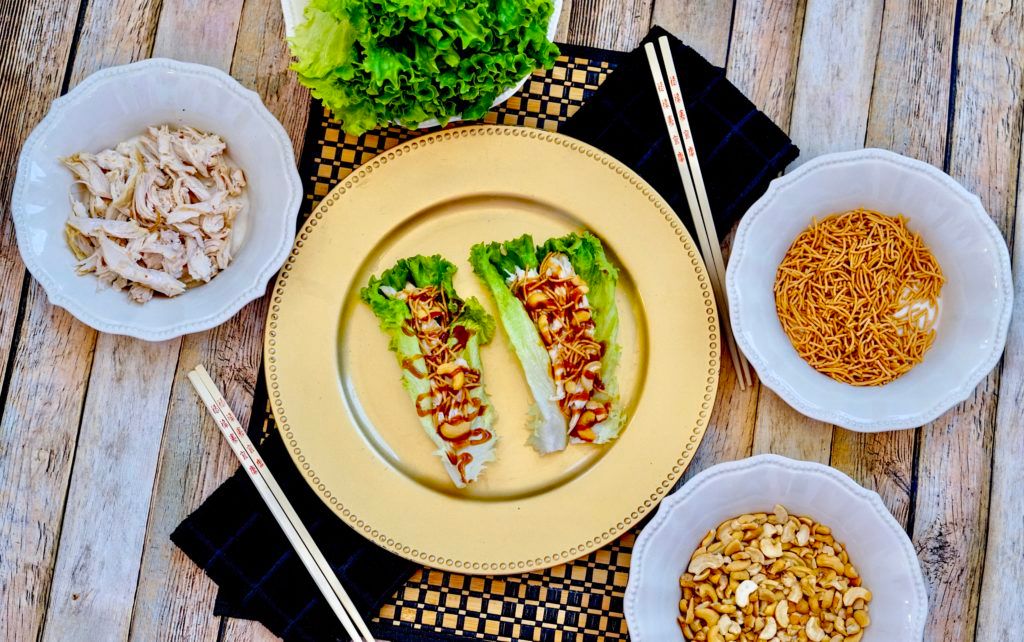 Source: homemadeforelle.com
A low-carb teriyaki sauce is vital for these keto chicken lettuce wraps. They are effortless to make, so you'll want to eat them daily!
Layer a lettuce wrap with shredded chicken, then sprinkle with crunchy cashew nuts. Drizzle them all over with sweet teriyaki sauce.
Source: recipesfromapantry.com
The chicken for these wraps is tender and juicy from cooking in your Instant Pot. Use taco seasoning and salsa for cooking your chicken and adding delicious flavor.
Shred your chicken when cooked and mix it with the sauce before piling it into crunchy lettuce cups. Garnish with your favorite toppings. Cheese and sour cream are perfect!
Source: temeculablogs.com
These chicken sliders have a spicy kick from the buffalo wing sauce. Ranch dressing cools it a little and makes it extra creamy.
Shred your chicken before adding it to your lettuce cups. Make a cooling sauce with mayo, sour cream, Worcestershire sauce, and milk.
Complete your delicious sliders with crumbled blue cheese!
Chicken Salad Wrap Recipes
The following wraps all have the healthy addition of fresh salad ingredients.
Source: allnutritious.com
The salad ingredients in this wrap all pair perfectly with chicken and a creamy homemade dressing.
Mix your cooked chicken with celery, Greek yogurt, Dijon mustard, honey, lemon juice, salt, and pepper.
Add fresh romaine lettuce, juicy tomatoes, and creamy avocado to your tortilla. Pile your chicken salad on top and roll it up to serve.
If you are looking for healthy college lunch ideas, this is it!
Source: goodlifeeats.com
Add a southwestern zing to your wrap with this Santa Fe chicken salad. A creamy, zingy sauce adds robust flavors to your salad.
Creamy black beans, sweet juicy corn, and crunchy bell peppers are tasty additions. You can add green onions and celery too.
Combine sour cream, lime juice, paprika, cumin, cilantro, and chili powder for your sauce. Mix this with your salad ingredients before assembling your wrap.
Source: smellslikedelish.com
Nutty almonds and crunchy apple chunks give this chicken salad wrap a delicious twist. A creamy mustard dressing brings your salad together.
Use chicken thighs for a juicy, meaty taste in your salad. Celery adds an extra crunchy texture and distinctive flavor. Combine mayonnaise and Dijon mustard for your zingy dressing.
Make your wraps with spinach-flavored wraps for a meal that looks eye-catching too!
This is one of the best healthy wrap recipes for lunch!
Source: wholesomemadeeasy.com
These BBQ chicken salad wraps provide various textures and flavors. Ranch dressing and barbecue sauce bring your salad ingredients together.
Green onions and romaine lettuce are crunchy and crisp. Fresh tomatoes and yellow corn add a juicy flavor. Black beans, avocado, and shredded cheddar cheese offer softer, creamier textures.
If you want your wrap to have more heat, drizzle it with hot sauce!
Source: theorganickitchen.org
Cherry salsa adds a unique flavor to these grilled naan chicken salad wraps. Cherries aren't something you expect to work in a salsa, but they do with this one!
Make your salsa by combining cherry quarters, red onion, cilantro, roasted pepitas, lime juice, and salt. Add minced jalapeno to your heat preference.
Layer your grilled naan bread with warm chicken, crisp lettuce, crumbled feta, and delicious cherry salsa.
Source: laurafuentes.com
These Asian chicken salad wraps are packed with crunchy textures. Get this from shredded carrots, sliced almonds, purple cabbage, and chunks of celery.
Add sweetness to your wraps with juicy mandarin orange segments. Your Asian chicken salad comes together with a tasty sesame ginger dressing.
Create this by combining rice vinegar, soy sauce, brown sugar, ginger, garlic, and sesame oil. Sesame seeds add a crunchy texture.
Toss your salad ingredients with your dressing and pile them onto soft tortillas.
Ready for more lunch inspiration? Check out these best sandwich ideas that aren't boring!
31 Best Chicken Wrap Recipes You Need
Packed with protein and paired with fresh and flavourful toppings, these mouthwatering chicken wrap recipes are perfect for lunch or dinner,
Ingredients
1. Chicken Avocado Wrap
2. Grilled Tandoori Chicken Wrap
3. Chipotle Chicken Wrap
4. Barbecue Chicken Wrap
5. Chicken Caesar Wrap
6. Buffalo Ranch Chicken Wrap
7. 20-Minute Chicken Gyros
8. Pesto Chicken Wrap with Spinach
9. Chicken Bacon Ranch Wraps
10. Southwest Crispy Chicken Wrap
11. Grilled Chicken Wraps with Mango and Spicy Mayo
12. Chicken Shawarma Wrap
13. Southwestern Chicken Wraps
14. Cheesy BBQ Chicken Wraps
15. Ramen Wrap
16. Thai Chicken Wraps
17. Peri Peri Rice and Chicken Wrap
18. Chicken Caesar Wrap
19. Southern Fried Chicken Wrap
20. Teriyaki Chicken Lettuce Wraps
21. Asian Chicken Noodle Lettuce Wraps
22. Asian Chicken Lettuce Wraps
23. Keto Chicken Lettuce Wraps
24. Instant Pot Salsa Chicken Lettuce Wraps
25. Crockpot Buffalo Chicken Sliders
26. Chicken Salad Wrap
27. Santa Fe Chicken Salad Wrap
28. Chicken Salad Wraps
29. BBQ Chicken Salad Wraps
30. Grilled Naan Chicken Salad Wraps with Cherry Salsa
31. Healthy Asian Chicken Salad Wraps
Instructions
Scroll up to get a bunch of easy, yummy, and delicious recipes. Don't be afraid to get creative with the ingredients, you might discover a flavor you didn't know you liked.
Get your shopping list going and make sure you've got all the ingredients.
Get cooking and make your next Chicken Wrap Recipe!
Notes
Which one of these recipes was your favorite? Let me know in the comment section or on Pinterest!