Are your kids coming home with a lunch bag full of uneaten foods? Get inspired to fill your child's lunch box with foods they will actually enjoy with these lunch box ideas for kindergarten!
You're reading this because you're struggling with what to put in your child's packed lunch, right? Maybe they are getting bored of the usual lunch, or they're a picky eater.
You can easily make more exciting food for school lunches. Getting your child to help make their lunch box will encourage them to eat it too!
What Should Be In a Child's Lunch Box?
It's good to have a balanced meal in a lunch box for school time, like a meal your child would eat at home, covering all the food groups. Think fresh fruits, veggies, and filling protein and carbs.
If you put carbs in your kids' lunchbox, try to choose whole grain where possible. Adding salad items such as lettuce and tomatoes to sandwiches and wraps adds extra nutrition to a healthy lunch box.
Get creative with healthy variations on favorites such as pizza and burgers. Adding a homemade sweet treat does not harm either!
Invest in some fun-shaped cookie cookers and novelty molds to create exciting lunchbox additions.
What to Pack Your Kid's Lunch In?
Bento boxes are ideal for healthy lunches that have simple, fresh ingredients. These boxes contain compartments so you can keep the food separate.
Having an assortment of secure lidded containers is helpful too. These will stop spills from sauces and dips when packing lunches!
If you're packing food that needs to stay cold, invest in an ice pack to add to your child's lunchbox. This will keep it cool until they're ready to eat it.
School Lunch Ideas for Kids
Look below for easy, tasty inspiration for your kids' packed lunches. You'll find sweet and savory healthy lunch ideas to please even picky eaters.
Source: allnutritious.com
Protein-filled red kidney bean burger bowls are an excellent choice for packed lunches. Your kids will feel like they have a takeout-style treat, but it's nutritious and filling for them.
Pack the bowls with a rainbow of veggies. English cucumbers, carrots, and beets are ideal. Sliced avocadoes add a softer texture too.
Source: thesoccermomblog.com
Mini Italian pinwheels are an exciting alternative to a regular tortilla wrap for packed lunches. Your kids will love finding these easy lunches in their lunchboxes.
Fill these pinwheels with cured meats. Deli ham, salami, and pepperoni are flavors that work well together.
Use provolone cheese and Italian cream cheese spread to pair nicely with the slices of meat. Romaine lettuce adds veggie goodness alongside pepper and tomato in the tasty cheese spread.
Check out these other healthy wrap recipes that are sure to please!
Source: allnutritious.com
Lemon chicken with veggies is ideal for your kids' lunchbox. It's a healthy meal; however, due to the sweetness of the lemon coating, it will feel like a treat meal.
Broccoli and sweet potatoes have a natural sweetness. Roasting them aids caramelization and develops this! Cherry tomatoes have a natural sweetness too. Adding dill to them elevates the flavor.
Source: thesoccermomblog.com
Packed lunch sandwiches don't have to be boring. These star-cut-out mini ham sandwiches will put a smile on your child's face!
If you have bread, sliced ham, and circle & star cookie cutters, you can create these. You'll need to cut out circles from your ingredients and a star from one of your layers of bread.
Assemble the sandwich with the star layer on top. Cut out star shapes from cheese slices and pack them with the ham sandwich!
Get more inspiration with these other sandwich ideas that aren't boring!
Source: allnutritious.com
Oatmeal is full of fiber, so overnight oats are ideal for your kids to start their day with a full tummy. Apple and cinnamon are two flavors that go well together and are perfect for a sweet tooth.
Fresh apples are nutritious, with Vitamin C to build your kids' immune system. Using maple syrup as a natural sweetener lets you know your child isn't eating a meal full of refined sugar.
Source: inthekidskitchen.com
Pizza muffins are an excellent alternative to messy pizza for a packed lunch. Who wants to clean a lunch box covered in pizza sauce?
You'll fill these muffins with classic pizza toppings of melty cheese and savory pepperoni. You will still be using pizza sauce. However, this will cook right into your muffins, so they still taste like pizza!
Source: allnutritious.com
These banana muffins are super moist and naturally sweet. They also contain small pockets of creamy melted chocolate chips. Your child will love finding one of these in their packed lunch!
As they're made with almond flour, you know your child is eating a wholesome low-carb snack. Cinnamon and nutmeg are perfect spice partners whose flavors match well with bananas.
Source: inthekidskitchen.com
These bite-sized veggie pinwheels are full of protein and nutritious veggies. They're perfect for getting kids to eat more vegetables in a tasty and exciting way!
Crunchy shredded carrots, fresh spinach, and cucumber go into these pinwheel wraps. A layer of soft cream cheese holds the veggies together to stop them from falling out.
This means they're easier to get into small mouths!
Source: dinneratthezoo.com
These colorful fruit kabobs are an easy way for your kids to eat more fruit. Pack them into lunch boxes with a protein-rich Greek vanilla yogurt dip to keep them feeling full.
This recipe uses raspberries, clementine oranges, pineapple, kiwi, and grapes. They're versatile, though – use your kids' favorite fruit.
Cut the kiwi into fun shapes using a cookie cutter to make them even more exciting!
This is one of the best healthy school lunch ideas for any age!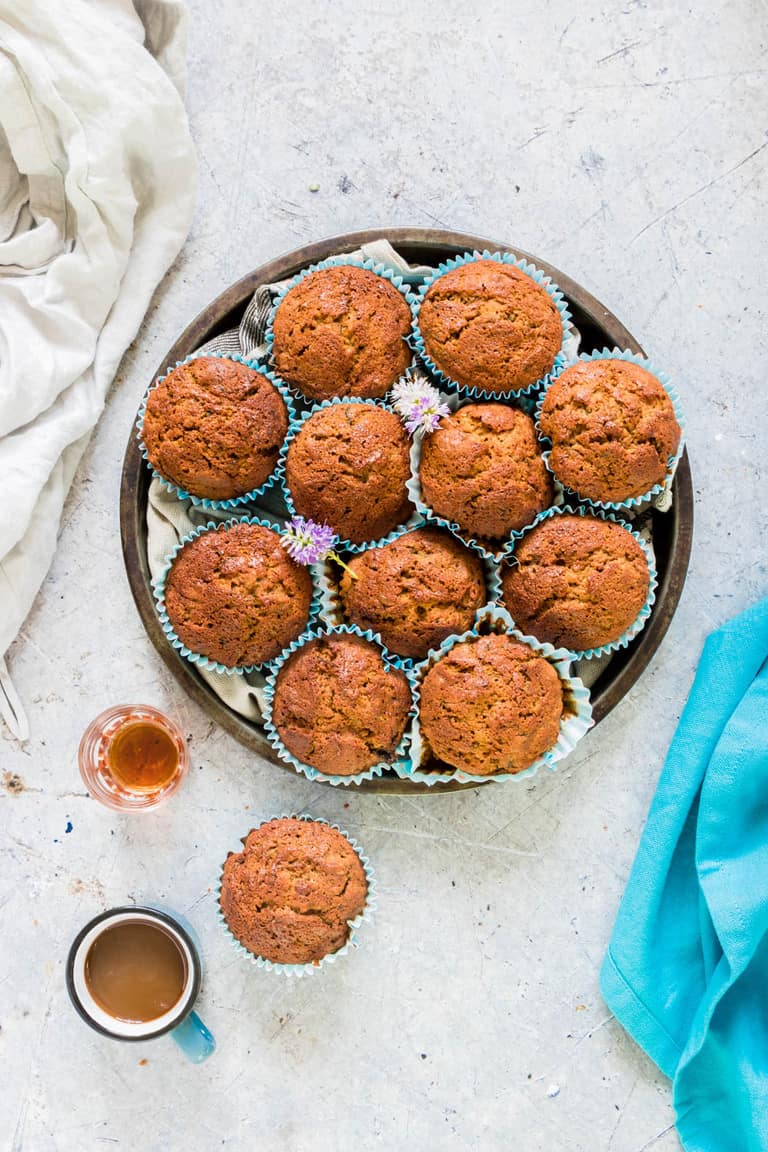 Source: recipesfromapantry.com
These moist zucchini muffins make an ideal lunch box snack for kids. Cinnamon and vanilla create the feeling of a sweet treat, but you know they're eating something nutritious.
Dark brown sugar gives your muffins a delicious, caramelized flavor and golden color. You'll need to squeeze the excess moisture from your grated zucchini.
This ensures your mixture isn't too wet and bakes well.
Source: allnutritious.com
These blueberry oatmeal muffins are a tasty, sweet treat with wholesome nutrition. Your kids will love discovering fresh, juicy blueberry taste in each bite.
A nutty flavor derives from oat flour, rolled oats, and almond milk.
Vanilla and coconut sugar add wonderful, sweet, and caramel flavors. Apple cider vinegar and sesame oil keep your muffins fluffy and moist.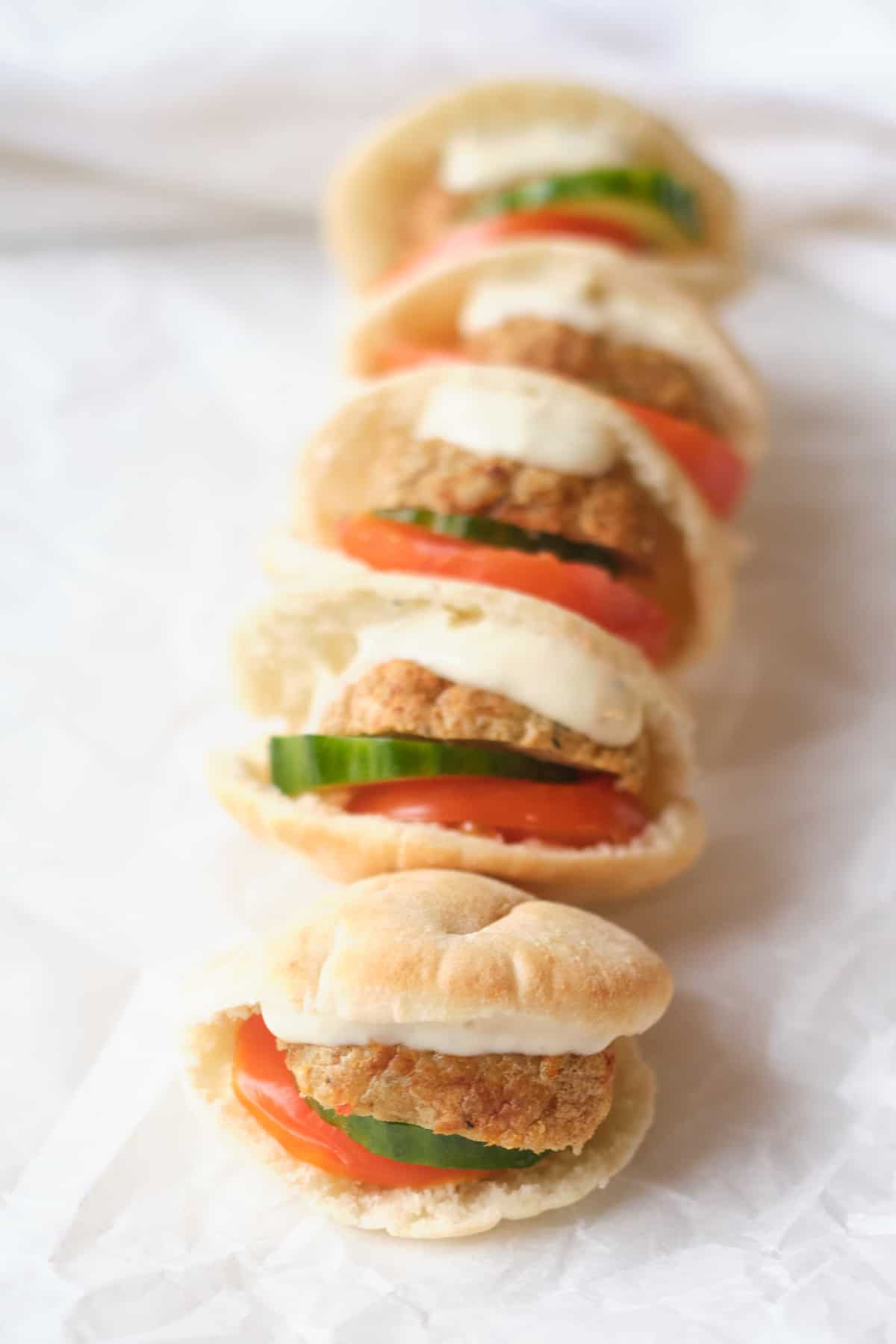 Source: budgetdelicious.com
These filled pita pockets are the ideal size for lunch boxes. They're easy to make with leftover or store-bought precooked meatballs for a quick packed lunch.
You only need pita pockets, meatballs, tomato, cucumber, and salad dressing. Slice your solid ingredients and fill your pitas like a sandwich.
Complete your pitas with a drizzle of Caesar dressing or one your kids prefer.
Source: amummytoo.co.uk
Savory vegetable muffins are easy to make with ingredients you probably already have at home. They're ideal in a packed lunch with a side salad.
A frozen mix containing small, chopped veggies is ideal for this recipe. These usually include veggies such as carrots, sweet corn, and peas.
You'll use shredded cheddar, garlic, sage, and cumin to flavor your muffins.
Source: servedfromscratch.com
Many kids love finding a gogurt in their lunch box. This homemade version means you're not adding much-refined sugar to your kids' lunch. They're super easy to make too!
The three ingredients you need are plain yogurt, fresh strawberries, and honey. This balances the tangy yogurt and brings out the natural sweetness of strawberries.
All you need to do is blend your ingredients and dispense the creamy gogurt into pouches!
Source: allnutritious.com
These cheddar cheese bites are a yummy snack for your kids' lunch box. A satisfying crunch and delicious cheesy flavor are found in every bite!
Cheesy bites are easy to make with a handful of ingredients. You'll use eggs, shredded cheddar cheese, almond flour, baking powder, and black pepper.
You can involve your kids in making these by rolling the mixture into balls ready to bake!
Source: twohealthykitchens.com
This sandwich will be the best surprise when your child opens their lunch box at school. That's if it even makes it to their lunch box, as it's too cute to eat!
The sandwiches take a little work with cutting and "gluing," but it's worth the effort.
You'll use a Flatout Foldit to create the shape of your hippo; however, you can get creative with the filling and decoration.
Blueberries, grapes, and sliced almonds are the best ingredients to create a sweet hippo face.
Source: strengthandsunshine.com
You can evoke childhood memories while packing this snack into your kids' lunch boxes! These allergy-friendly homemade goldfish crackers are exciting and perfect for tiny hands.
You'll use nutritional yeast to add a classic cheesy flavor. Onion powder, turmeric, and paprika elevate the taste of your goldfish.
You'll need a tiny fish cookie cutter to shape your crackers. However, you only need a toothpick to create eyes and a mouth!
Source: garlicsaltandlime.com
This creamy peanut butter dip is excellent for packed lunches and versatile for sweet and savory. Provide fresh fruit such as apple slices, strawberries, and grapes for a sweet taste.
Or you could add graham crackers and pretzels for a savory option.
The base of your dip is purely unflavored yogurt and natural creamy peanut butter. Use honey, maple syrup, or agave nectar to sweeten it naturally. Try adding cocoa powder for a chocolate version!
Source: strengthandsunshine.com
If you have a picky eater who never eats the crust of a sandwich, these uncrustables are perfect for a packed lunch. They are an exciting version of a peanut butter jelly sandwich!
You only need bread, sunflower seed butter, and grape jelly. However, you will need a special sandwich cutter, but it's an excellent investment to make a packed lunch more exciting.
Source: allnutritious.com
These egg muffin cups are ideal for meal prep for a week of packed lunches. They're full of nutritious veggies but have a hint of natural sweetness for those with a sweet tooth.
Add white onion, baby spinach, broccoli, and red & green bell pepper to your egg muffin cups. Garlic, salt, and black pepper add flavor and elevate the veggies.
Source: strengthandsunshine.com
Spaghetti O's are usually eaten hot; believe it or not, they're also delicious cold! This makes them perfect for lunch boxes. (Packed in a sealed container – you don't want a mess!).
This recipe is easier than you imagine. You must cook and drain your pasta, then add it back into your pot.
Add your remaining ingredients and let them simmer until well combined. Nutritional yeast, onion powder, garlic powder, and paprika add delicious flavor.
Source: lovefromthetable.com
With many schools now being nut-free zones, these homemade granola bars are perfect. They don't contain nuts, but they still have crunch from raw pepitas.
Sunflower seed butter replaces nut butter in these bars. This holds the ingredients together alongside honey.
Honey is also your natural sweetener. Dried blueberries add a fruity taste. However, you can use your kids' favorite dried fruit.
Source: allnutritious.com
Yummy broccoli cheese bites are ideal for your children to eat more veg at school. They're crispy and full of cheesy flavor that your kids will love and not even notice the broccoli!
Wholesome chickpeas and quinoa help bind your cheese bites together. Full-on flavor comes from thyme, basil, onion & garlic powder, salt, and black pepper.
Source: healthyfamilyproject.com
Your kids will think their lunch is out of this world when they open this themed bento box! It includes a moon-themed sandwich plus other nutritious space-themed foods.
Red grapes create a dark backdrop, and Swiss cheese makes an excellent moon! Create crescent moon shapes with clementine segments.
Complete the bento box with mini sweet pepper planet rings. Blast off!
Source: bestservedvegan.com
These funfetti protein bites will make your kids think they have a chunk of cake batter in their lunch! You'll need vegan essentials to create these, but they're all easy to find.
Oat flour and almond butter give these bites a nutritional boost.
Vanilla and almond extract deliver a cake batter flavor and take these bites to the next level. Sprinkles are what make these bites "funfetti!".
Source: littlesunnykitchen.com
This fun and colorful pasta salad will encourage even the pickiest eater to tuck in. The key to this is using a fun pasta shape and colorful veggies.
A pretty butterfly-shaped pasta is ideal for this salad. Or how about animal-shaped pasta if you can find it?
Let your child choose their favorite veggies, and then they are more likely to eat them. If they only like sweet corn and broccoli, add that!
Source: plantbasedwithamy.com
This healthy fruit pizza will be like a rainbow in your child's lunch box. Made with minimal ingredients, it's easy enough for them to help you make it.
Cream cheese flavored with orange zest and honey is your "sauce." Spread this on a baked pizza crust and top it with your kids' favorite fresh fruit. Juicy strawberries, blueberries, and kiwis work well.
Source: happykitchen.rocks
These energy balls look like a real treat with their rich chocolaty color. However, you know your child eats a delicious, healthy energy bite.
Chocolate peanut butter energy balls require no baking. Toss your ingredients into a food processor and combine enough to roll into balls.
Medjool dates are your natural sweetener, while coconut oil and peanut butter bind the balls together. A high-quality cocoa powder gives a rich chocolate taste.
Source: allnutritious.com
Fresh chicken and creamy avocado are the perfect pairings in this lunch box wrap. Combined with other nutritious, flavorful ingredients, your child will have a tasty, fresh lunch.
Greek yogurt, lemon juice, red onion, parsley, garlic powder, and sea salt create a creamy dressing to bind your ingredients.
Layer romaine lettuce with the chicken and avocado mixture on your wrap and roll tightly. Easy!
This chicken salad wrap is also a great choice for lunch boxes!
Source: recipesfromapantry.com
This sweet strawberry version of overnight oats is another one your kids will love. It is fresh and fruity, perfect for a hot day at school.
Crushed juicy strawberries, Greek yogurt, milk, and oats create the creamy mixture. Decant into a lidded container and top with chopped strawberries and shredded coconut for added texture.
Source: mapleandmango.com
A zucchini slice is an excellent way to use this ingredient, as you can't taste it once cooked. It's perfect for getting more veg into picky eaters who love cheese and bacon!
It has a unique texture – soft, and fluffy, yet firm enough for little hands to hold easily.
It's easy to make by mixing everything in a bowl, pouring it into a baking pan, and letting the oven do its magic. Salt, pepper, and chopped onion lift the flavor of your main ingredients.
Source: findingzest.com
Pizza dippers are effectively deconstructed pizzas. They are a fun addition to a lunch box that your kids can help get ready. You need a few essential ingredients.
Thread creamy mozzarella chunks and tasty pepperoni slices onto skewers and pack them alongside flatbread wedges.
Pack pizza sauce in a securely lidded container for your child to dip with their skewers!
Source: allnutritious.com
Overnight oats are versatile. With this version, you will omit the milk and add protein-filled chia seeds to fill up little tummies.
Sweet, fresh blueberries and raspberries add a pop of exciting color and fruit flavor. Your child will love mixing their oats to watch the colors combine!
Source: livinglou.com
If your child loves exploring bold flavors, these taco wraps are a perfect lunch box filler. They will love the taste of creamy black beans alongside sour cream and shredded cheddar cheese.
The wraps are easy to assemble. Layer chili and cumin-flavored black beans with salsa, sour cream, shredded cheese, and romaine lettuce.
Roll them tight and slice them into bite-sized pieces for little hands to hold.
Source: goodiegoodielunchbox.com.au
Moist, sweet banana bread is a lunch box favorite. This version is a healthy, delicious twist with added nutrition from zucchini. Your kids won't taste it but will gain the benefits!
Cinnamon is a perfect spice to accompany bananas. It also brings out the sweetness of the other ingredients in this recipe.
You could even add a handful of chocolate chips for an extra boost to eat it. However, it's delicious enough without them!
Source: twopinkpeonies.com
Pack one of these rice crispy treats in your kids' lunch box for a special treat. They won't realize it's packed with protein to keep them full during the day, but you know it will!
They're easy to make with a handful of ingredients. They are marshmallows, rice cereal, butter, and protein powder. A pinch of salt will balance the sweetness.
Source: allnutritious.com
Kids will love the creamy and crunchy textures in this wrap—creamy avocado pairs with crunchy English cucumbers to create a tasty lunch.
You'll create a creamy, vibrant green dressing using Greek yogurt, pesto, fresh dill, and chopped cucumber.
Layer this in your wrap with chunks of avocado and crispy mixed leaves, then roll tight. Cut into bite-sized pieces for your little one to hold easily.
Source: findingzest.com
These homemade fruit cups are a delicious way to add fruit to packed lunches. You will need a tightly sealed container as you will use a liquid to prepare them.
Chopped fresh pear and juicy blueberries go into the cup, and you'll cover them with lemonade. The fresh fruit will soak up the flavor by lunchtime, leaving it with a mild zesty taste.
Source: easymommylife.com
Chickpea patties are ideal for a kids' lunch box as they're easy for little hands to hold. They are also tasty but mild in flavor, so they suit a developing palate.
You'll flavor the chickpea patties with turmeric powder, cumin powder, and fresh thyme. Pack the cooked patties with a fresh mint and yogurt dip.
Source: simplebites.net
Tuna cheddar lunch box bites are like a mini quiche. If your child enjoys tuna, cheese, and eggs, they will love them!
The delicious bites are easy to create by mixing ingredients in a bowl and then decanting them into mini muffin cups.
You'll use a minced sweet onion, tomato paste, and fresh parsley to elevate the flavor of your bites.
Source: mapleandmango.com
Homemade strawberry gummies made with natural fruit are an exciting, tasty addition to a packed lunch!
Your kids will love eating them, and you have the benefit of knowing they're full of healthy ingredients.
You'll need fresh strawberries to blend into a puree. This is mixed with gelatin and vanilla extract. Honey acts as a natural sweetener.
If you have fun silicone molds to create them in, even better.
Source: allnutritious.com
This cacao chia pudding will be a delicious treat for your child after eating the savory element of their packed lunch.
It doesn't contain artificial ingredients, so it's much more nutritious than pre-packaged desserts.
Cacao powder and chocolate chips provide the ultimate chocolate flavor. They pair well with coconut milk which adds creaminess.
Chia seeds are a must! Finally, juicy raspberries add a fresh, fruity element.
Source: recipesfromapantry.com
Roll-ups are an excellent alternative to sandwiches for a packed lunch. This ranch cream cheese and ham version will leave tiny tummies satisfied.
Mix ranch seasoning, shredded cheddar, and cream cheese to create your ranch cream cheese. You'll spread this on tortilla wraps and add ham, chives, and fresh spinach.
Roll the tortilla tightly, firm it up in the fridge, then cut it into bite-sized pieces.
Source: 24bite.com
These apricot and walnut granola bars are ideal for small children. They're soft enough that they won't damage teeth while trying to eat them. And tasty enough to enjoy them!
It's an easy, no-bake recipe. However, it requires heating butter, honey, and sugar. You'll combine this mixture with your dry ingredients and then firmly press into a baking pan to set in the fridge.
Source: momables.com
Make sandwiches more exciting by using a dinosaur-shaped cutter! The filling tastes so much better when the sandwich is a fun shape, right?
Use your kids' favorite sandwich filling. This could be ham and cheese or peanut butter and jelly. Let your child choose and help make their sandwich!
Source: lovefromthetable.com
You'll use a Kodiak pancake mix to make these delicious muffins. However, you can be assured that the muffins are healthy, as they're made with 100% whole grains.
Pumpkin pie spice and pumpkin puree add a warming flavor to the muffins. Maple syrup keeps them moist and acts as a natural sweetener. Add chocolate chips for gooey pockets of sweetness!
Source: amummytoo.co.uk
Filo pastry adds a crunchy texture to these creamy egg quiches. They are full of fresh veggies and look striking, but they're effortless to make.
You'll line a muffin tin with filo pastry which acts as a vessel for your filling. This recipe uses cooked ham, fresh spinach, mushrooms, and cherry tomatoes.
However, your child can choose what to put in theirs. Complete your mini quiches with a melty cheesy topping!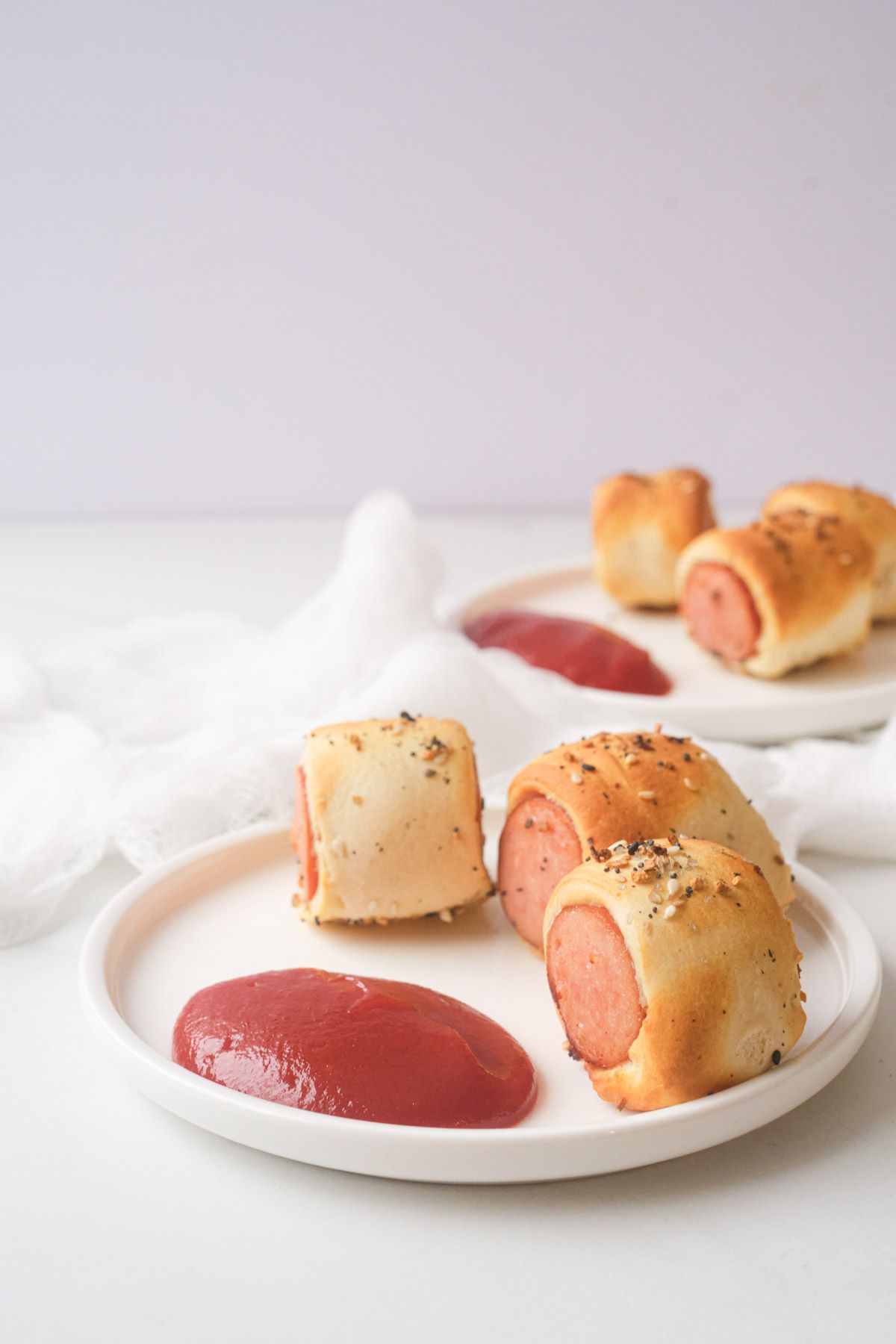 Source: recipesfromapantry.com
These air fryer sausage rolls are quick and easy to prepare for packed lunches. Kids will love the flaky pastry surrounding flavorful sausage meat.
You'll wrap premade pizza dough or puff pastry around precooked sausages. You brush them with egg wash before air frying them to make them golden and crispy.
Mini sausage rolls are ideal in a lunch box with tomato dipping sauce.
Source: allnutritious.com
Chia pudding is healthy, creamy, sweet, and filling. It's the ideal lunch box option for children with a sweet tooth! It's so versatile to make it to their taste, too.
You'll add natural sweetness to the pudding using maple syrup. Vanilla extract adds a delicious light flavor. Fresh chopped fruit is a nutritious topping, while low-sugar granola adds a satisfying crunch.
Source: thesoccermomblog.com
How do you make a sandwich more exciting? Roll it up and put it on a lollipop stick! Your child will love finding two or three savory lollipops in their lunch box.
You will use regular sandwich ingredients to create these sandwich lollipops. You need a slice of bread, a bar of snack cheese, and two pieces of deli ham for this recipe.
Source: inthekitch.net
Mini apple pies are perfect lunch box fillers for colder days at school in the fall season. They will leave your child with a warm, cozy feeling in their tummy.
You bite through a crisp golden puff pastry case to find a tasty apple filling. This is flavored with cinnamon, vanilla, and brown sugar for a caramelized taste.
Continue getting inspired with these other lunch ideas for kids school lunch boxes!
51 Easy Lunch Box Ideas for Kindergarten Kids
Give your child a meal they'll look forward to with these delicious and colorful lunch box ideas for kindergarten.
Ingredients
1. Red Kidney Bean Burger Bowls
2. Italian Pinwheels
3. Lemon Chicken with Veggies Meal Prep
4. Mini Ham Sandwiches
5. Apple Cinnamon Overnight Oats
6. Pizza Muffins
7. Almond Flour Banana Muffins
8. Healthy Veggie Pinwheels
9. Fruit Kabobs
10. Gluten-Free Zucchini Muffins
11. Blueberry Oatmeal Muffins
12. Meatball Pita Pockets
13. Savoury Vegetable Muffins
14. Homemade Strawberry Gogurt
15. Cheddar Cheese Bites
16. Hungry Hippos Sandwich
17. Homemade Goldfish
18. Greek Yogurt Peanut Butter Dip
19. Homemade Uncrustables
20. Egg Muffin Cups with Veggies
21. Homemade Spaghetti-Os
22. Blueberry Granola Bars
23. Broccoli Cheese Bites
24. Outer Space Bento Box
25. Funfetti Protein Bites
26. Kid-Friendly Pasta Salad
27. Fruit Pizza with Cream Cheese
28. Chocolate Peanut Butter Energy Balls
29. Chicken Avocado Wrap
30. Strawberry Overnight Oats
31. Zucchini Slice
32. Pizza Dippers
33. Berry Protein Overnight Oats
34. Vegetarian Taco Wraps
35. Banana Zucchini Bread
36. Protein Rice Crispy Treats
37. Avocado Wrap
38. Homemade Fruit Cup
39. Chickpea Patties
40. Tuna Cheddar Lunchbox Bites
41. Healthy Strawberry Gummies
42. Cacao Chia Pudding
43. Ranch Cream Cheese Ham Roll Ups
44. Apricot and Walnut Granola Bars
45. Dinosaur Sandwiches
46. Pumpkin Chocolate Chip Kodiak Cakes Muffins
47. Mini Filo Pastry Quiches
48. Air Fryer Sausage Rolls
49. Chia Pudding
50. Sandwich Lollipops
51. Mini Apple Pies
Instructions
Scroll up to get a bunch of easy, yummy, and delicious lunch box ideas for kindergarten kids. Don't be afraid to get creative with the ingredients. You might discover a flavor you didn't know you liked.
Get your shopping list going, and make sure you've got all the ingredients.
Get cooking and make your next Lunch Box!
Notes
Which one of these recipes was your favorite? Let me know in the comment section or on Pinterest!