A sandwich is a perfect meal! It's got everything you need stuffed between two slices of bread. Protein, vegetables, and a sauce to top it all off. Enjoy these scrumptious sandwich ideas.
One of the best qualities of a sandwich is its portability. You can take a sandwich with you no matter where you're going and feed your entire family with a single platter, it is the best easy meal.
If you're a sandwich-lover looking for inspiration, this is the right place to be. Discover fifty-one delicious new ideas for sandwich fillings and flavor combinations to bring your sandwich game up!
What are Good Things to Put in a Sandwich?
Sandwiches are all about balance. The best way to construct a sandwich is to include at least one protein, a vegetable of some kind, and a delicious sauce.
From there, the actual ingredients can be up to your imagination! For a meat lover, sliced deli meats like pastrami or ham are great go-to's.
A classic like marinated tofu can make a delicious protein for your sandwich if you're vegetarian that is a huge fan of sandwiches.
Eggs are also a great way to pack protein into your meal without reaching for any meat.
Finally, some vegan staples include beans, legumes, and tried-and-tested tofu.
Which Sauce is Best for a Sandwich?
The sauce best for your sandwich depends on what else you're putting into it. Generally, you want to choose a thick sauce that won't make your bread soggy.
Mayonnaise, ketchup, mustard, and other thick condiments are great options here. But we can't forget about the relishes!
Tomato or onion relish adds a pop of sweetness to help balance your sandwich's flavor. Paired with a thick and creamy sauce, you can't go wrong with a slightly sweet relish to finish your sandwich.
With all that said and done, let's dig into fifty-one of the best sandwich ideas out there!
Breakfast Sandwich Ideas
What better way to start your day than with a sandwich? This is a quick and easy way to create a well-rounded meal on a busy morning.
It's also ideal for meal-prepping your breakfasts. You can easily prep a big batch and feed your whole family all week and have a great go-to option for weekday mornings.
Sandwiches can be frozen and defrosted as needed, so they're ideal for preparing ahead of time. That said, check out some of these tasty breakfast sandwich recipes!
Source: allnutritious.com
Kick things off with a tasty keto breakfast sandwich. Funnily enough, this recipe doesn't contain any bread! This meat-and-vegetable-only sandwich packs a ton of protein into every bite.
If you're living the keto life, this recipe is a super simple way to take care of breakfast in the mornings. You can tweak the vegetables to suit your tastes.
The patties are also easy to prepare ahead of time!
Source: allnutritious.com
The same old BLT can get boring after a while. When you feel yourself tiring, reach for this unique breakfast sandwich recipe! This is best enjoyed when peaches are in season and at their best.
The sweet peach and salty prosciutto prove that opposites attract. They create the perfect flavor balance, especially paired with creamy avocado.
Enjoy toasted wholegrain for a healthy start to your day.
Source: cookwithkushi.com
There are some true geniuses out there! This recipe is a breadless sandwich with an eggless omelette… but it doesn't feel like missing anything.
The recipe calls for lentils and chickpeas to provide that egg-like texture. You must choose which vegetables you include in your breadless sandwich. Stuff the 'omelette' full of your favorites!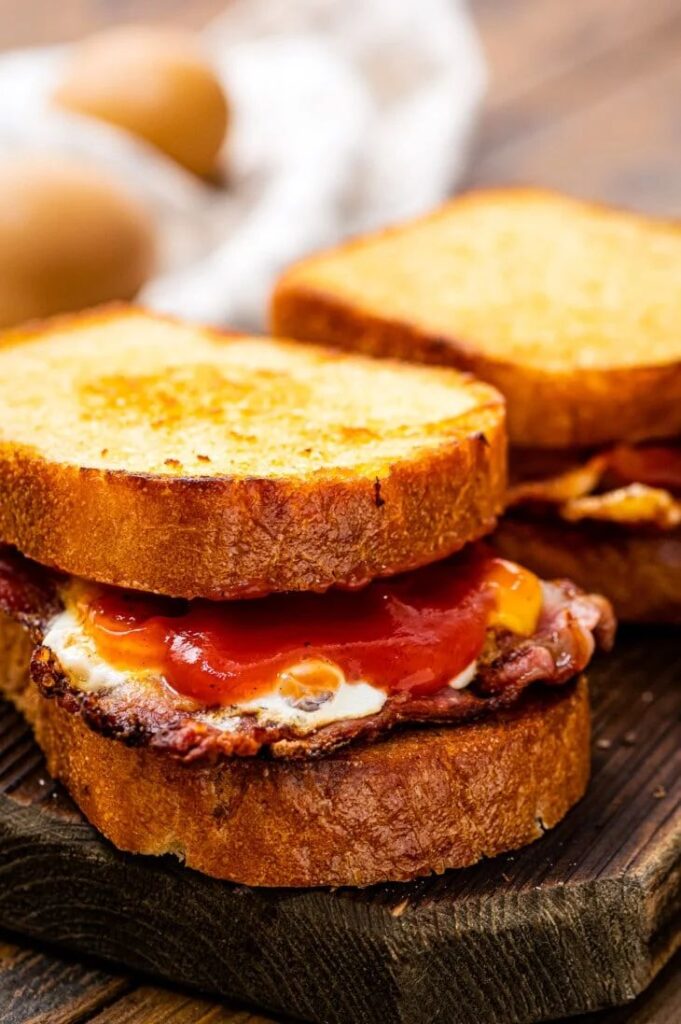 Source: julieseatsandtreats.com
Looking for something super simple and comforting? This fried egg sandwich is just the ticket! You can enjoy this recipe any time, but it's great in the morning.
…especially if you're feeling a bit rough from the night before! If you need a comforting, greasy pick-me-up, this is the recipe to go for.
Source: thetoastykitchen.com
Bacon and cheese are one of the best combinations on earth. Put those two things together on a sandwich, and you've got heaven on a plate. It's especially good with the addition of pimento.
The little spike of heat cuts through all the grease, making the sandwich feel light and well-rounded. The key to this sandwich is to grill it until the bread is deliciously golden and crispy.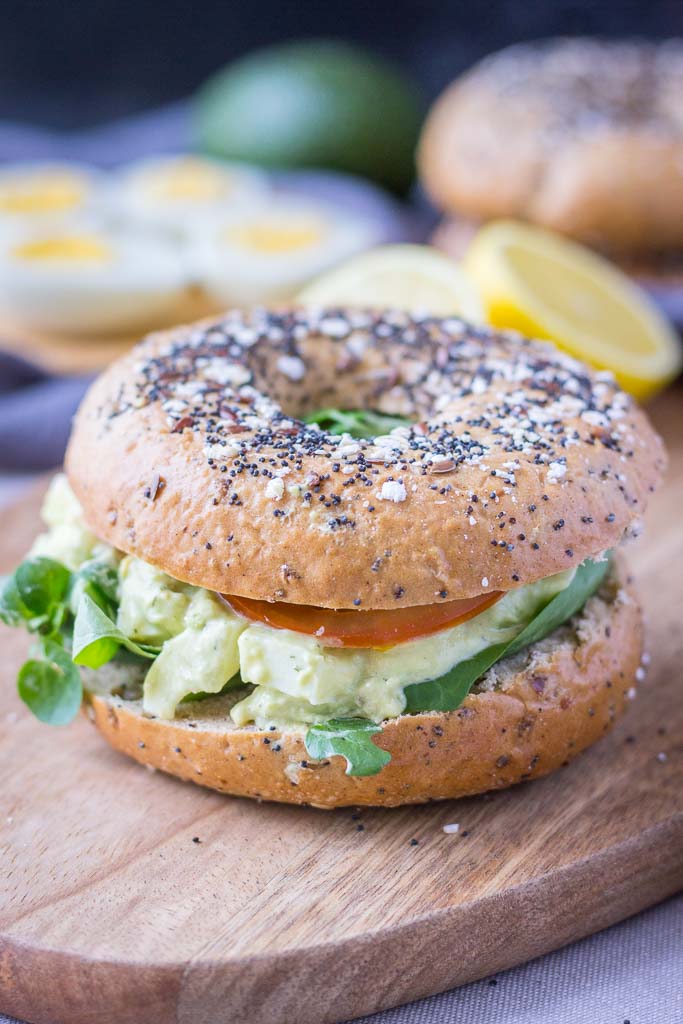 Source: natalieshealth.com
Looking for something a little healthier? This avocado and egg bagel contains healthy, light ingredients to keep you going until lunchtime.
The sauce on this bagel is creamy and light while sidestepping the addition of mayonnaise. The avocado only adds to the creaminess.
Each bite feels indulgent, even without the unhealthy sauces to back them up. That's what makes this an incredible breakfast!
Source: frommichigantothetable.com
Who doesn't love eggs for breakfast? This egg drop sandwich is packed with all sorts of comforting and delicious ingredients! Based on Korean egg drop soup, this recipe has a unique flavor you'll love.
The secret to success in this recipe is the incredible egg drop sandwich sauce. It's a spicy mayonnaise that lies at the heart of the dish. Creamy, spicy, and sweet, there's nothing better!
Easy Sandwich Ideas for Lunch
Quick and easy sandwiches are the cornerstone of a healthy lunch that doesn't take all your valuable time. Need something for work, school, or just a busy day? These recipes have your back.
Source: allnutritious.com
First, in the easy lunch sandwich line-up is my own recipe! I always reach for this one because it's healthy, light, and super simple. Plus, the white beans protein keeps you full for ages.
The secret to success with this sandwich is balancing creaminess and lightness. The tart lemon juice and red onion perfectly contrast the white bean paste.
Add a sprig of arugula for some leafy goodness.
Source: veggiedesserts.com
Grilled halloumi is one of the best sandwich ingredients out there. Paired with spicy mayonnaise and some fresh veggies, this sandwich hits the spot.
This isn't a grilled sandwich, so every bite feels fresh and fluffy. You can use whichever vegetables strike your fancy! I recommend fresh, leafy greens and red onion for a bite.
This is a perfect lunch idea for kids school lunch box.
Source: whatagirleats.com
This might be a salad recipe, but it's incredible between a couple of bread slices. Chicken salad sandwiches are a staple in lunch boxes all over the world. Why? Because they're fantastic!
This cranberry walnut chicken salad uses a ton of unique ingredients. The cubed apple and dried cranberry make every bite a bit sweet while keeping things fresh.
It's the perfect summer sandwich mix. Find more low-calorie chicken recipes.
Source: gardeninthekitchen.com
Speaking of summer sandwich mixes, here's another one for the books! The sweet shrimp and creamy mayonnaise are a match made in heaven. The squeeze of lemon lightens the whole mixture.
If you want this sandwich to blow your mind, try brioche buns! The rich and buttery rolls are the perfect way to anchor this light and summery mixture.
Source: endofthefork.com
Next up, we have a classic crowd-pleaser everyone in the family can enjoy. This tuna mix is a quick and easy for cold sandwiches with plenty of healthy vegetables.
This tuna filling will work no matter what kind of bread you have on hand but white bread is a favorite. It's creamy yet crunchy, thanks to the mayonnaise and fresh vegetables.
Brush your chosen bread with melted butter and a little extra garlic to add an earthy flavor.
Source: greenbowl2soul.com
Even people who hate spinach will enjoy this sandwich. There's more to this sandwich than meets the eye! The spinach and corn mixture is packed with a ton of hidden flavors.
Chilli, garlic, cheese, and even oregano stuff every inch of this sandwich with delicious notes. The key is to fry the sandwich to a perfectly crunchy golden brown!
Source: whippeditup.com
Next up, we have a refined recipe with all the notes of summer hidden in its layers of melty cheese. The apricot element in this dish comes from sweet apricot preserves.
Paired with mayonnaise and melted cheese, every mouthful is the ideal sweet, salty, and creamy balance.
Whip this recipe out for brunches, picnics, or any other outdoor gatherings you have on your plate.
Source: mondayismeatloaf.com
This may not be a sandwich, but it still counts! Enjoy all the flavors of your favorite salad in a healthy wrap form. This is ideal for a simple lunch you can take on the go.
Like all good Caesar salad recipes, you can tweak this to your heart's content! Add croutons, bacon, or a blue cheese sauce to complete the wrap.
Source: saltandlavender.com
Caprese salad is an Italian dish that celebrates fresh Italian ingredients. Basil, mozzarella, and tomato come together in perfect harmony in this grilled cheese sandwich.
Once grilled, the cheese melts out of the sides in a fantastic display of indulgence. This cheese sandwich recipe somehow manages to be fresh and luxurious at the same time.
Trust me, give this one a try for your taste buds sake! It's also a delicious vegetarian sandwich recipe!
Sandwich Ideas for Dinner
Sandwiches have massive potential as dinner fare. All you have to do is give them a little bit of extra love and time.
Each of the following recipes proves once and for all that sandwiches can be a fantastic dinner!
Source: homemadeheather.com
What are you waiting for if you've never tried a Philly cheesesteak before? This quick and easy recipe with red peppers will carry you through many busy weeknights. It's great for satisfying your family.
This recipe isn't an exact mirror of the standard Philly cheesesteak sandwich. It has a few tweaks that make it simpler and cheaper. That said, you can always put your spin on it!
This is one of the best cheap dinner ideas for families!
Source: thegoodheartedwoman.com
The Rueben has gone down in history as one of the most loved sandwiches. It's layers of creamy cheese, tender meat, and tart sauerkraut. What more could you want?
The secret to the perfect Rueben is rich rye bread. It's heavy enough to support all these different flavors without overwhelming the sandwich.
Source: wenthere8this.com
A banh mi is a classic Vietnamese sandwich. Enjoyed on a long bun, this sandwich contains tons of fragrant ingredients. The secret to success? The amazing spicy meatballs!
You can make these meatballs ahead of time to save yourself the effort at dinner. Preparing them in advance and frying them when you're ready to eat is easy. Your family will love these.
Source: bakingbeauty.net
Take a trip to the South with this amazing fried pork sandwich. The crispy fried pork is the hero of the dish! It's salty, tender, and full of juicy flavor.
The hidden accent is a sweet tea marinade that helps tenderize the pork while packing it with flavor. Skip the at-home butchering and use a boneless pork chop for the best results.
This sandwich is the perfect easy college dinner!
Source: saporitokitchen.com
Slow cookers are the secret weapons of the home cooking community. This slow-cooked beef sandwich is so good that it's crazy. The beef is cooked low and slow, falling apart in every bite.
Be generous with the peppers and the creamy sauce to make the sandwich sing. Try enjoying this mix on a brioche bun to make it even richer and tastier!
Source: healthylifetrainer.com
Do we all still remember the big fried chicken sandwich debate of 2020? Well, I do, and this recipe might take both of the other contenders out of the running.
A fried chicken burger will never fail you. It will always be tender, juicy, and flavorful. This recipe is delicious!
The pickled cucumbers are the secret weapon, offering a light reprieve in each bite.
Source: fromvalerieskitchen.com
Here's another take on the slow-cooked Italian beef sandwich. This is the recipe you can reach for even on your busiest day. Set and forget the beef in the morning.
At night, you can return to perfectly tender Italian beef ready to enjoy in a sandwich. The key is cooking the meat with pepperoncini to impart flavor and heat.
Topped with cheese, there's nothing better than this.
Your family will love this as a Sunday dinner recipe!
Source: peaceloveandlowcarb.com
Who knew you could have a keto-style BBQ pulled pork sandwich? This is the ultimate comfort food recipe that even people living the keto lifestyle can enjoy.
This is a super satisfying recipe you can enjoy any time of day. I highly recommend preparing the pulled pork filling ahead of time. That way, you can assemble the sandwiches in no time!
Source: joyousapron.com
It's time for a Southern-style recipe! This fried catfish po-boy is so crunchy and addictive. The fish is tender and flaky, while the creamy remoulade adds a ton of cajun flavor.
The secret to a perfect po boy is crusty French bread and creole seasoning. Without them, this would be another fish sandwich!
Vegan Sandwich Ideas
A lot of the recipes on this list use meat as a base. However, that doesn't have to be the case! These vegan sandwich ideas prove you can create a delicious sandwich with no animal products.
Source: allnutritious.com
The key to a delicious vegan sandwich is balance. Sure, a sandwich made of just vegetables sounds like it could be boring. However, it can be fantastic if you do it right!
Roasted red bell peppers are the anchor of this sandwich. They're juicy and flavor-packed. You can use a store's roasted red bell peppers to whip this up in five minutes or less.
Source: veggiedesserts.com
We all love a sandwich that looks like it jumped off a Pinterest board! This rainbow sandwich is packed with seven layers of raw, crunchy vegetables.
This beautiful and bright sandwich would be perfect for taking on a picnic. You don't need to grill or cook any of the ingredients. So, it will save you a ton of preparation time.
Source: bakerita.com
If you've never used tempeh before, don't worry! This is a great place to start. This marinated tempeh BLT offers all the flavors of your favorite bacon sandwich with none of the actual bacon.
Top that off with some fresh tomatoes and lettuce to keep things fresh.
I'm in love with how easy this tempeh is to make. All you need to do is soak it in the smokey bacon-style marinade, then fry it to your heart's content.
Source: bakerita.com
If you don't want to deal with tempeh as a meat substitute, there are always mushrooms! Thanks to their meaty texture, these affordable vegetables are perfect sandwich patties.
This particular recipe uses an insane marinade to make the mushrooms super juicy. Use this technique for any sandwich recipes that need a meat substitute.
Source: theviewfromgreatisland.com
Missing the classic chicken salad sandwich? Try this curried chickpea salad alternative! This is a super fresh and protein-packed choice to keep you fuller for longer.
I love taking this kind of sandwich on a picnic. It's easy to prepare in advance, or you can even assemble them at your destination.
Source: happykitchen.rocks
This is a great place to start if you've never cooked with jackfruit. It's a simple, low-stakes recipe with a delicious payoff. What could be better?
This easy vegan sandwich is ideal for any time of day. The fragrant coriander and tart red onion help pull back the heavy flavor of the jackfruit.
It's a healthy, tasty way to enjoy one of the best meat alternatives!
Source: vegandollhouse.com
The meatball sub is a staple at every game day, tailgating party, and night out with friends. It's greasy, packed with flavor, and oozing with cheese.
While it might not be the healthiest of recipes, it's comfort food. This is the recipe to reach for when you're seriously craving greasy goodness.
Source: gatheringdreams.com
This super healthy smoked tofu sandwich is on the other side of the coin! This recipe creates a perfectly crunchy, fresh, and flavorful sandwich. The smoked tofu is the cherry on top.
I love this recipe because it's protein-filled and super easy to make. It's the ideal picnic sandwich to enjoy with your friends and family on a hot day.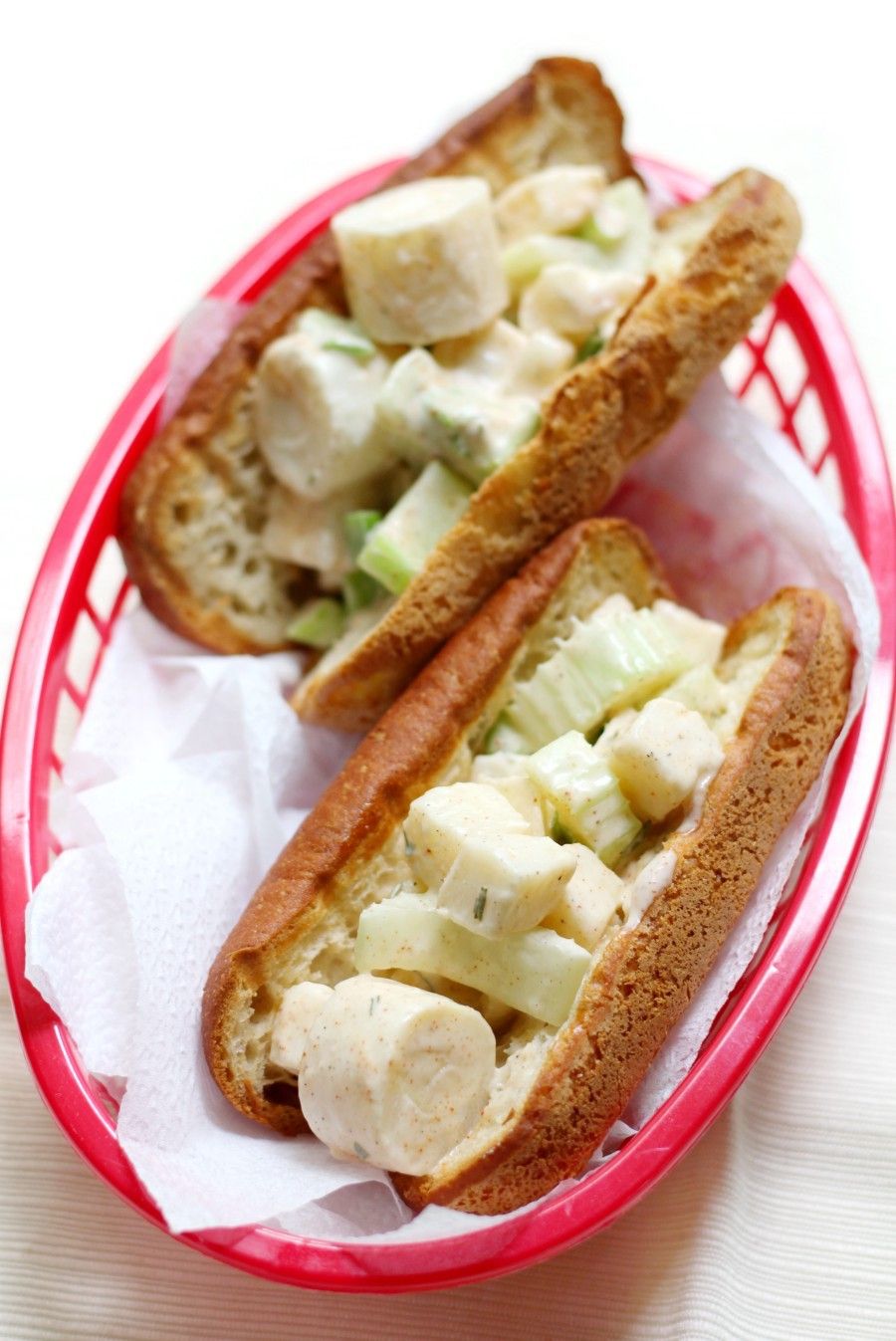 Source: strengthandsunshine.com
Thought Maine lobster rolls were out of reach? Definitely not! This fantastic recipe makes it feel like you're enjoying a creamy lobster roll straight out of a restaurant.
Give yourself a chance to enjoy a fast-food classic the vegan way. The secret ingredient? Hearts of palm! The texture is almost precisely like lobster. The creamy marinade takes it the rest of the way.
Source: strengthandsunshine.com
I don't know about you, but a waffle turned into a sandwich sounds like heaven. Sure, this recipe is vegan, but that's almost a side note! Vegan or not, you'll want to try this.
The peanut butter and jelly oozes out of every part of this sandwich. It's light, fluffy, and indulgent. Best of all, it's insanely easy to make. Enjoy breakfast, lunch, or even dessert!
Healthy Sandwich Ideas
Sandwiches are a great place to start if you're opting for the healthy road. They're a well-rounded and balanced way to enjoy a meal.
The next few recipes prove how healthy (and tasty) sandwiches can be.
Source: allnutritious.com
I'm happy to say I have a lot of healthy sandwich recipes in my back pocket. But this might be one of the healthiest. The carrot, cilantro, and hummus make this sandwich sing.
This sandwich is so healthy because it provides tons of fiber and nutrients. The hummus adds protein to ensure the sandwich is filling enough to carry you through your day.
Source: foodmeanderings.com
Who doesn't love buffalo chicken? This insanely easy buffalo sauce can transform canned chicken into a real treat. It's ideal for lunch or dinner!
Every calorie in this sandwich is healthy, offering you plenty of sustenance to get you through the day. Best of all, it tastes so good! This will become a fixture in your rotation for sure.
This would make a brilliant healthy college dinner recipe!
Source: watchlearneat.com
If you're a fan of Panera, this recipe will interest you. This is a copycat of their Mediterranean Veggie Sandwich! In just minutes, you can enjoy this sandwich at home.
Every bite is packed with fresh vegetables and tangy Mediterranean flavors. Pair that with a dusting of feta for creaminess, and you've got a winner!
Source: maesmenu.com
Sweet potato and black beans are two staples of the vegetarian diet. Is it any wonder? They're full of flavor and protein. Plus, they're super easy to work with.
I love these patties. They're great for meal prep since you can freeze and defrost them. Keep them on hand for last-minute burgers for an easy weeknight dinner.
Source: apaigeofpositivity.com
Turkey is one of the healthiest meats you can choose for your sandwich. It's lean and affordable, which makes it perfect for healthy sandwich recipes.
Whip this one to add variety to your kids' school lunches. The apple adds a touch of addictive freshness they'll love! Serve with a cold pasta salad to create a more balanced meal.
Source: funmoneymom.com
Are you a huge fan of roasted vegetables? This is the sandwich for you! No meat is needed, just your favorite vegetables and a slice of cheese placed under the broiler.
This recipe calls for an English muffin, but it would suit any bread you like. I recommend ciabatta or even a slice of brioche.
Source: breesveganlife.com
Hummus and cucumber are a match made in heaven! The fresh cucumber and rich, protein-packed hummus provide ideal contrasts to one another. Every bite brings you back for another one.
The secret to this sandwich is a generous slice of pickle in every piece. It's salty enough to cut through the hummus but juicy enough to lighten it. Plus, it's super easy to make!
Looking for a healthy college lunch? This sandwich is a winner!
Source: sungrownkitchen.com
Pesto and aioli are two of the best sandwich sauces in the game. Combining them creates a super creamy and fresh sandwich sauce you will adore!
The pesto aioli puts a delicious spin on the classic BLT. It can bring any sandwich up a couple of notches.
This sauce can freeze, so try preparing it ahead of time and keeping portions in the freezer. It defrosts quickly so that you can enjoy your sandwich in minutes.
Party Sandwich Ideas
Throwing a party and need some simple, tasty party fare? Sandwiches to the rescue! These unique party sandwich recipes will save you time and money while blowing your guests out of the water.
And really, what else does a host want?
Source: cookingchatfood.com
This sandwich recipe is a lean, green flavor machine. While it might not seem like kale is a super exciting sandwich ingredient, it's dressed to impress in this sandwich!
The secret? A punchy green pesto and creamy cheese! The kale's healthy nature sticks around, but the flavor blends into the tasty pesto.
This super simple recipe is ideal for parties because it's easy to make in large batches. Whip this out for a summer gathering and watch your guests demolish the plate!
Source: bigflavorstinykitchen.com
Are you holding a refined tea party? Then these turkey salad tea sandwiches are the right thing for you. These little morsels are so creamy. The dried cherries cut through that creaminess perfectly.
Being a good host is all about satisfying your guests. With this recipe, you can produce a ton of little sandwiches ahead of time. Then, you can spend all the valuable time saved with your guests!
Source: saltycanary.com
Next up, we have something super unique! Who knew two of the most classic sandwiches in the world – PB & J and grilled cheese – would blend so well?
This is the most incredible combination of savory and sweet. The sweet jam cuts through the salty cheese and peanut butter. Trust me. This is the ideal sandwich for a party.
It's tasty enough to impress your guests but simple enough that you can make it in no time at all.
Source: askchefdennis.com
Put a homey spin on classic comfort food. This sandwich will make you and your guests feel like you're enjoying the best pepperoni pizza on the planet! Best of all, it's so easy to make.
This might be the most indulgent sandwich on the list. But you can whip it up in just a few minutes! Even if you run out, creating a new batch for your hungry guests will only take a few moments.
Source: cookwithkushi.com
Speaking of pizzas as sandwiches, here's another example! Instead of cheesy and greasy, this grilled margherita sandwich offers a fresh and easy alternative to pizza.
You only need a few ingredients to bring this sandwich together. Thanks to those gorgeous Italian colors, it looks just as good as it tastes. Best of all, you can whip it up in no time!
I call that a win-win.
Source: stacyling.com
Cucumber and cream cheese sandwiches are a classic tea party staple. That's why this recipe has made its way onto our list. Fresh cucumber and creamy cheese are an ideal combination.
This would be a great appetizer. It's light and delicious but not so filling that it takes away from the rest of the meal you have planned.
Source: littlefamilyadventure.com
Take inspiration from the Danish with this delicious smoked salmon sandwich. This is a sandwich that embodies luxury. The caviar is what makes this recipe sing.
Little pearls of salty goodness offer a delicious contrast to the sweet salmon. If you want to impress your guests, there's nothing better than a little bit of caviar!
Source: cookingandcussing.com
Our final recipe is a deliciously unique one. This takes inspiration from Hawaiian and Japanese flavors. The pineapple is the secret to success!
The enzymes in the pineapple tenderize the steak to make it extra soft and juicy. Paired with a teriyaki sauce on a brioche bun, these sliders will blow your guests away.
So, out of all these sandwich recipes, which one is the best? Do you have a recipe you reach for when you're craving a perfect sandwich? Let me know in the comments below!
51 Best Sandwich Ideas That Aren't Boring
Find sandwich recipes for any time of the day, including tuna sandwiches, egg sandwiches, veggie sandwiches, Reubens and more.
Ingredients
1. Keto Breakfast Sandwich Ideas
2. Peach Prosciutto Avocado Sandwich
3. Eggless Omelette
4. Fried Egg
5. Bacon Pimento Cheese
6. Avocado Egg Bagel Sandwich
7. Egg Drop Sandwich
8. White Bean and Avocado
9. Grilled Halloumi
10. Cranberry Walnut Chicken Salad
11. Shrimp Salad
12. Tuna Mix
13. Spinach Corn
14. Apricot Brie Chicken
15. Chicken Caesar Salad Wraps
16. Caprese Grilled Cheese
17. Philly Cheesesteak
18. Classic Reuben
19. Spicy Meatball Banh Mi
20. Fried Pork
21. Slow Cooker Beef
22. Crispy Fried Chicken
23. Italian Beef
24. Barbecue Pulled Pork
25. Fried Catfish
26. Greek Avocado Sandwich
27. Rainbow Vegetable
28. Vegan Tempeh BLT
29. Portobello Mushrooms
30. Curried Chickpea Salad
31. Vegan Pulled Jackfruit
32. Vegan Meatball Sub
33. Smoked Tofu
34. Vegan Maine Lobster Rolls
35. Peanut Butter and Jelly Vegan Waffle Sandwich
36. Spicy Carrot and Hummus
37. Buffalo Chicken Panini
38. Mediterranean Veggie
39. Sweet Potato Black Bean
40. Turkey Apple Cheddar
41. Roasted Veggie
42. Cucumber Hummus
43. BLT with Pesto Aioli
44. Kale Pesto Grilled Cheese
45. Turkey Salad Tea Sandwiches
46. Peanut Butter Jelly Grilled Cheese
47. Pepperoni Pizza Grilled Cheese
48. Grilled Margherita
49. Cucumber with Cream Cheese
50. Smoked Salmon
51. Teriyaki Steak Pineapple Sliders
Instructions
Scroll up to get a bunch of easy, yummy, and delicious recipes. Don't be afraid to get creative with the ingredients. You might discover a flavor you didn't know you liked.
Get your shopping list going, and make sure you've got all the ingredients.
Get cooking and make your next Sandwich recipe!
Notes
Which one of these recipes was your favorite? Let me know in the comment section or on Pinterest!