Looking for authentic Mexican soup recipes? You're in the right place! Find the meal your fam will love.
Méxican food is loved around the world for its flavor as well as the spice. Mexicans follow ancient cooking techniques to give their food a unique blend of aroma and flavor.
Soup is the most popular street food and appetizer in Mexico. There are many hearty and rich-flavored soups available in Mexican cuisine.
Here's all you need to know about Mexican Soups.
What is the Most Popular Soup in Mexico?
If you have ever been to Mexico. You must know that Mexican people are big on comfort foods, especially soups. A three-course meal at a Mexican house isn't complete without a big bowl of soup.
The most popular Soup in Mexico is Menudo. Though the origin of Menudo is hard to trace, all regions claim it to be theirs. It's a slow-cooking soup that has beef tripe, chilli, garlic, corn, and onion as the main ingredients.
If you are short on time, and if you only have a limited time to enjoy the many cuisines of Mexico, Menudo should be on top of your list.
Apart from Menudo, many other types of soups are pretty popular in Mexico. So, if you are craving some Mexican vibe for dinner today, check out our list of easy soups from Mexico.
Best Mexican Soup Recipes
If you have ever been to Mexico, you must know that they take their food very seriously. Here are some of the best Mexican soup recipes that you need to try if you are a Mexican food lover.
Source: persnicketyplates.com
Here's killing two birds with one stone, a slower cooker soup recipe that will comfort every cell of your body on a chilly day.
This soup recipe has more than a few key ingredients, but the result is too delicious to miss. Get your slow cooker out and throw in Chicken Breasts, Onion, Olive Oil, Seasoning, Chicken Stock, Green Chilies, Green Enchilada Sauce, and Corn Tortillas.
If you are a busy mama, this is the delicious soup you need at your dinner table. Just throw in all the ingredients and forget about it till you are serving dinner.
Source: livingsmartandhealthy.com
If spicy and hearty is what you are craving, you need to try this Chicken Tortilla Soup. This chicken soup is a complete one-pot meal that is great for health as it's packed with protein, and fiber and rich in flavor.
Every bowl can be different as you can add any kind of toppings to your chicken tortilla soup like sour cream or lime wedges. Moreover, This is one of the traditional Mexican tortilla soup recipes that is served with crispy strips of tortilla, avocado, and lime.
Source: 24bite.com
Zucchini is one versatile vegetable you can use whichever way, and it will taste great. Hence we are making a Spicy Zucchini Soup warm up your insides on a cold winter's night.
The Spicy Zucchini Soup is paired with Roasted Poblano Chiles because Mexicans love all things spicy and flavorful. All you need for this hearty dinner are Zucchini, Poblano chiles, Onion, Chicken broth, or stock and seasonings.
Source: organizedisland.com
If you have chicken, potatoes, adobo sauce, green chilis, and corn. Readily available in your pantry, you can cook Mexican Chicken Corn Chowder for dinner.
It's elementary to make, and the creamy texture of this soup makes it the perfect soup for winters and cold days.
It will take you just 40 minutes and one pot to cook this hearty dinner, and there is no need to cook another dish. This will suffice for the whole family. Serve this soup hot with
Source: theforkedspoon.com
Pozole is one soup that isn't not only made with comforting ingredients but also topped with yummy ingredients like cabbage, lettuce, radishes, onion, lime, and cilantro.
The Pozole is also known as Pozole Rojo due to its warm, rich red hue. The soup is flavored with homemade red chile sauce.
Source: temeculablogs.com
Here's a rich-in protein killer dinner with so much flavor that you can make in an instant pot for dinner. Since this soup is made with chicken breast, bell peppers, onions, cream, and a few spices like chili powder, it's pretty heavy and doesn't need a second dish to go with it.
To make it even more delicious you can serve it with warm tortillas and a little bit of lime juice.
If you have had a busy day, all you need is to put a pot over the stove, light up the fire, and wait for your soup to get ready. This is the beauty of one-pot meals. Authentic mexican soup recipes like this one are effortless and tasty beyond words.
Source: theforkedspoon.com
Pozole Verde is a heart green chilli soup served in Mexico. Verde means green in Spanish. This soup is made with pork or chicken and flavored through green chile broth.
This soup will make your taste buds dance with happiness.
You can prepare the green chilli broth with tomatillo, Poblano, serrano, and jalapeño peppers. Since this is the main ingredient of Pozole Verde, you can't skip it.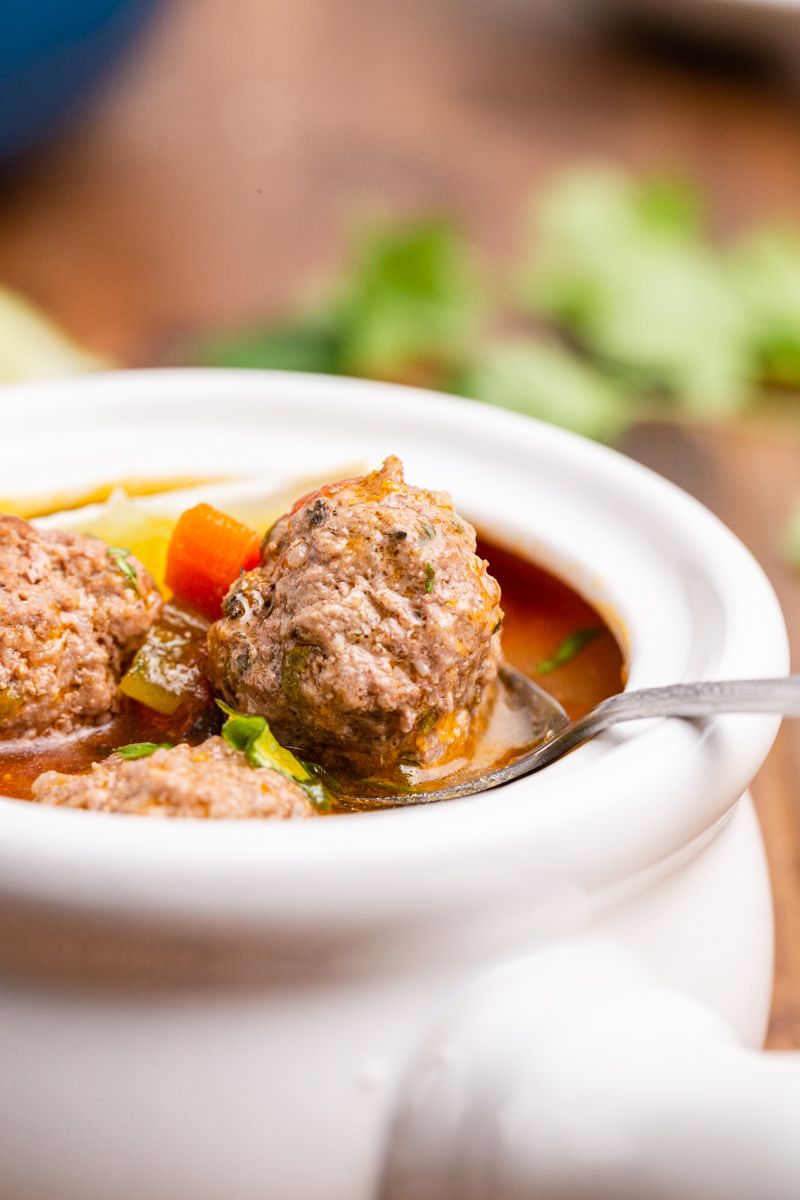 Source: bobbiskozykitchen.com
Here's a carb-less mexican meatball soup recipe that you can add to your Keto routine, and thank us later for a delicious diet meal.
If you are having friends over, this is just the right dish to serve, and proudly announce that this mexican beef soup contains no carbs.
Stock up on Ground beef, onion powder, pork rinds, Eggs, Mexican seasoning, Olive oil, Tomato paste, Fresh Cilantro, a couple of veggies, and chicken bone broth at the grocery store. Diet means healthy, not bland.
Source: thaicaliente.com
Carne En Su Jugo is a soup recipe that may not look like much, but it's the most flavorful Soup in Mexico due to all the juices that the meat contains.
The name of the soup even translates to "Meat in its juices". It is made with the simplest ingredients ever. Bacon, broth, and blended tomatillos are all you need to make this one.
Source: bobbiskozykitchen.com
Here's another cool Keto-friendly recipe that you can cook both in an instant pot or the slow cooker. Either way, the soup will taste just divine.
This soup is the best combination of green chilli sauce and pork. The other ingredients you will need are Cauliflower, Mexican seasoning, Garlic, Chicken bone broth, Radishes, and green cabbage.
Source: thaicaliente.com
Once your kids have a taste of this mouth-watering soup, they will dare not say no to lentils of any kind.
The star ingredient of this soup may be Lentil, but there are many other ingredients like potatoes, cilantro, and tomato-based broth to give it the delicious taste that will make you fall in love with Mexican cuisine.
Moreover, this soup is a vegan version, so you can serve it to your friends who aren't keen on meat.
Source: theviewfromgreatisland.com
Here's one recipe you will crave every time you hear the word Mexico; Fire Roasted Gazpacho.
This filling soup has a smokey flavor to it, that comes from fire-roasted tomatoes and peppers which are the key ingredients of this Mexican soup.
Source: cookingchatfood.com
Chipotle Chicken Black Bean Soup combines the ease of canned ingredients and flavorful ingredients. This soup is perfect for the last-minute dinner or lunch for a crowd.
You can adjust the level of spice through the alapeño peppers in the recipe. You can prepare this soup with olive oil, onion, carrot, seasoning, jalapeño pepper, pinch dried marjoram, and chicken broth.
The list of ingredients may seem long, but the flavors are worth it.
Love carrots? Check out this celery and carrot soup!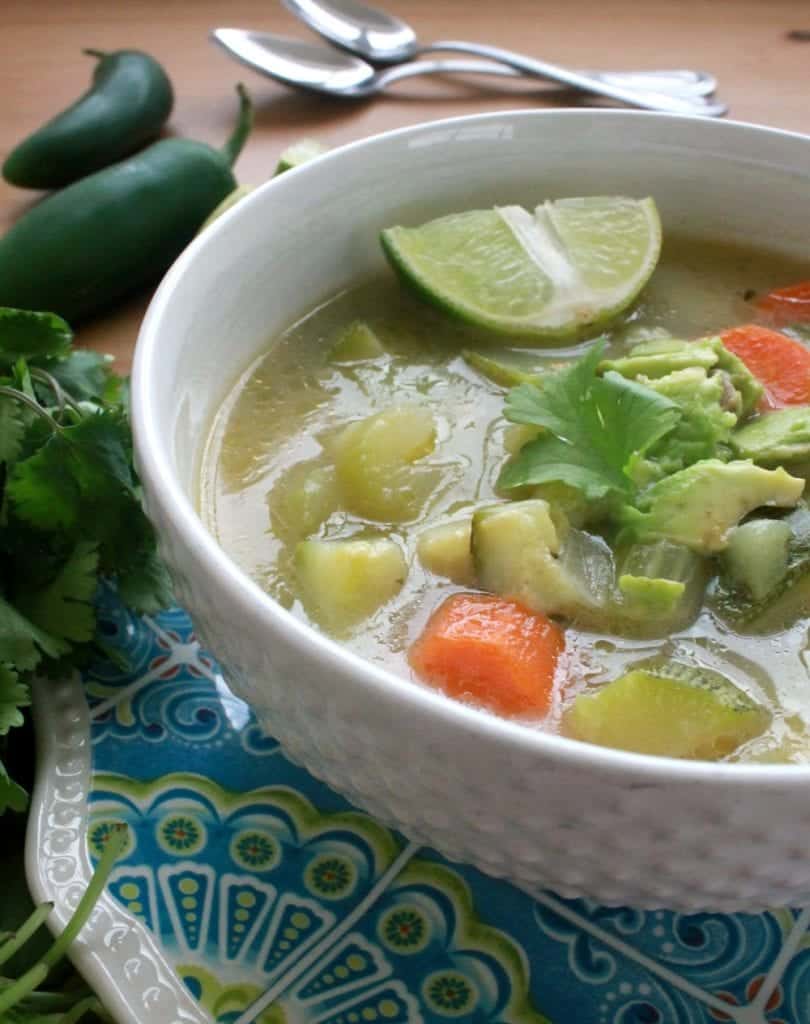 Source: inmamamaggieskitchen.com
Here's one for warmth, filling, and goodness; Caldo De Verduras made with the goodness of vegetables. This is, again, the most suitable starter for your vegan friends.
The best part is that you can make this soup with all kinds of vegetables; whatever is available in your pantry is perfect for this one.
Source: pressurecookingtoday.com
A hearty and comforting stew that will put all other comfort foods to shame, presenting Pork and Hominy Stew.
Pork and Hominy Stew is a mix of fork-tender pork shoulder blended with chilli powder, garlic, and onion. Here's the fun part, everyone can customize this soup to their liking with different toppings.
Source: onlyglutenfreerecipes.com
If you are making Mexican Chicken Rice Soup, you won't need anything else for dinner; it's that filling!
A plethora of ingredients go into this soup to make it bursting with flavor and everyone's favorite dish. You will need poblano peppers, tomatoes, chicken, corn, garlic, jalapeno peppers, spinach, and rice.
Source: inmamamaggieskitchen.com
It's hard to feed picky eaters, especially if your toddler is one. This Sopa De Conchas will end this problem once and for all. This soup is so rich and comforting that even your most stubborn child will eat it without making a sound.
The abundance of pasta shells makes this soup so attractive for the kids. Apart from pasta shells, this soup also has onions and canned tomatoes.
Source: lowcarbquick.com
Here's a low-carb soup made with roasted poblano cheddar cheese for your Keto routine. Firstly bake your ​​peppers in the oven.
Secondly, blend poblano slices with half-and-half. Now, add all your remaining ingredients, cream cheese butter, white cheddar, and almond milk, to one pot and let that cook till it's nice and thick.
Enjoy with any sideline you like. Enjoy this dinner for Sunday.
Source: honest-food.net
Puchero soup is made with venison, but in most parts of the world, it's more common to make this soup with beef.
It's one Mexican soup packed with different flavors in every bite. This soup is anything but boring when it comes to taste.
Puchero has many different types of vegetables in it as well, apart from the meat, but you need to have all hard root veggies to make your traditional bowl of Puchero.
Source: inmamamaggieskitchen.com
If you are a seafood lover, Caldo De Siete Mares should be on top of your food list to try before you die. This hearty soup is made with seven different kinds of seafood; this is the secret behind its unique name.
To make one big bowl of Caldo De Siete Mares, you need octopus, oysters, shrimp, fish, clams, scallops, and snow crab legs. This one soup will take care of all your seafood cravings.
Source: honest-food.net
Looking for THE dish to try in Mexico? Well, feast your eyes on Chocolomo, a fiery soup that will warm up your existence and leave you craving for more.
This soup's profound flavor is a singular experience you wouldn't want to miss. You can make this soup with a variety of meat, so experiment as much as you want with this one.
Source: nourishedkitchen.com
Here's one soup that is both affordable and nutritious, perfect for a day off in your busy schedule. Chicken and Black Bean Soup is a light soup. You can have this healthy concoction for supper or lunch.
Source: honest-food.net
Caldo de camaron is an underrated soup that should get more attention than it does. Here's the fun part, you can make this soup easily or as hard as you want. If you have time, go all out and add a few extra steps to make the soup even tastier.
But if you are running late, you can cook up a quick version of this soup as well. The key ingredient for this one is Shrimp.
Source: joyousapron.com
Here's a crockpot recipe that will become a staple at your dinner table. This soup simmers in light broth jam-packed with flavorful ingredients like shredded chicken, black beans, cheese, tomatoes and tortilla strips.
Every bite of this soup is a bite full of deep flavor and taste. Through all the ingredients one after another in the broth and let the slow cooker run its magic.
Check out more crockpot recipes here.
Source: urbancowgirllife.com
This Beef Tortilla Soup delivers a hearty bowl of fresh comfort. This bowl of beef heaven should come with a warning sign. You will have a hard time letting this bowl go.
Traditionally this bowl is made with chicken, but with beef, the taste is even better. You can garnish your bowl with tortilla strips, crumbled queso fresco, and cilantro.
Love beef? You might enjoy these easy beef cube recipes!
Source: joyousapron.com
Here's a recipe that takes 30 minutes but can feed a huge crowd on a rainy day. Instant Pot Chicken Tortilla Soup is perfect for unusually cold winters,
This Chicken Tortilla Soup is a flavorful Mexican concoction filled with pieces of chicken and Tortillas along with avocado and lime.
Here's a pro tip for making the most flavorful chicken soup, use thigh meat and sear your chicken before adding it to your instant pot.
Source: aseasonedgreeting.com
If you want to erase the memory of chicken broths from when you were sick and look at heart soups without reliving the past, you need to try the Creamy Mexican Corn Chowder.
This recipe is full of delightful flavors that will make you forget the past ordeals and make you fall in love with creamy bowls of soups again.
To prepare this yummy soup bowl, you need cooked corn, chicken broth, all kinds of veggies, seasoning, and Cotija cheese. Serve hot with crispy tortilla triangles.
Source: flippedoutfood.com
Mexican food is spicy, there are no two ways about that, but Mexican food is also bursting with flavor. If you haven't had a Mexican stew yet, you are missing out on the most flavorful dishes of all time.
The Caldillo Green Chile Pork Stew is a spicy brew, but every spoonful has a deep flavor of meat and the goodness of all veggies that go in it.
Source: saltandlavender.com
If you have the notion that Mexican food can't be healthy and hearty, you need to rethink and taste this traditional Mexican Chicken Soup.
Here's a fresh and healthy Mexican soup that is made with olive oil, onion, celery, carrots, chicken thigh or breast, corn, tomatoes, and any kind of seasoning you'd want to add.
It's the perfect dinner or lunch soup that takes about 45 minutes to make. You can serve this with breadsticks or tortilla chips.
Source: thehealthyepicurean.com
Sweet corn and spicy Poblano make for the best soup combination ever! If you haven't had the time to try this ideal soup combination, you need to take some time out and enjoy this hearty meal.
The best part is that it doesn't take much to prepare this soup for any meal of the day. You will easily find most ingredients like Sweet corn, Poblano, chicken, tomatoes, and seasoning in your pantry.
Source: veganhuggs.com
Noodles are comfort food, add that to a Mexican soup, and you will have a bowl of healthy and comforting goodness in your hands.
With just seven ingredients and 25 minutes tops, you will have this ready to devour on your dinner table. Can you think of any other dinner that is this easy?
Mexican foods, especially soups, are known for their rich taste and filling bowls. If you are craving something sweet, savory, and spicy, a big bowl of Mexican Soup should be your 1st choice.
31 Authentic Mexican Soups Recipes
Love Mexican cuisine? Give these authentic Mexican Soups recipes a try! They're delicious, easy to make, and nutritious.
Ingredients
1. Slow Cooker Green Chile Chicken Enchilada Soup
2. Chicken Tortilla Soup
3. Spicy Zucchini Soup with Roasted Poblano Chiles
4. Mexican Chicken Corn Chowder
5. Pozole
6. Fajita Soup
7. Pozole Verde
8. Keto Albondigas Meatball Soup
9. Carne En Su Jugo
10. Keto Pork Pozole Verde
11. Mexican Lentil Soup
12. Fire Roasted Gazpacho
13. Chipotle Chicken Black Bean Soup
14. Caldo De Verduras
15. Pork and Hominy Stew
16. Mexican Chicken Rice Soup
17. Sopa De Conchas
18. Roasted Poblano Cheddar Soup
19. Puchero
20. Caldo De Siete Mares
21. Chocolomo
22. Chicken and Black Bean Soup
23. Caldo De Camaron Receta
24. Slow Cooker Chicken Taco Soup
25. Beef Tortilla Soup
26. Instant Pot Chicken Tortilla Soup
27. Creamy Mexican Corn Chowder
28. Caldillo Green Chile Pork Stew
29. Mexican Chicken Soup
30. Chicken Poblano Soup with Chicken
31. Mexican Noodle Soup
Instructions
Scroll up to get a bunch of easy, yummy, and delicious recipes. Don't be afraid to get creative with the ingredients, you might discover a flavor you didn't know you liked.
Get your shopping list going and make sure you've got all the ingredients.
Get cooking and make your next Authentic Mexican Soup!
Notes
Which one of these recipes was your favorite? Let me know in the comment section or on Pinterest!