One of the easiest ways to ensure your family gets all the protein they need is to serve up some meat for dinner. These meat recipes for dinner are tasty and super easy to cook for families!
With an ingredient this common, we're presented with a question. "Which meat should I cook with?". Well, that depends on what you feel like!
Let's dive into forty-one delicious recipes. Each one offers something different for you to try for a delicious meal.
What Meats Are Good for Dinner?
Thinking about a weeknight dinner? The best meats are cheap, cook fast, and feed many mouths. Things like flank steak and chicken legs will serve you well here.
On the other hand, there are fancier options. High-quality red meat or luscious duck breast (and more) are great to break out for your next dinner party.
Thankfully, easy weeknight dinner recipes and tasty food intersect often in this list. No matter what meat you want to cook with, you'll find something simple and tasty to try.
What is the Easiest Meat to Make?
This answer strongly depends on your cooking method. It will shift based on whether you're planning to slow-cook your meat or want something to slap on the grill for five minutes.
Either way, many professional chefs and home cooks agree that red meat is one of the easiest to cook with. It always comes out tasty. No matter whether you put it in a slow cooker or flash fry it!
Plus, cheaper cuts of red meat are perfect for feeding large families in no time. Simply season your flank or chuck steak. Then grill and serve with roasted vegetables. Done!
But what are we waiting for? Let's investigate some tasty meat dishes to whip out at dinnertime.
Hamburger Meat Recipes for Dinner
Hamburgers are a classic family dinner recipe. You can easily make a whole bunch of them at once. Plus, everyone gets to assemble their idea of the perfect sandwich. No risk of picky eater syndrome with these easy ground beef recipes!
Source: drugstoredivas.net
First on our list is a family-favorite classic recipe with a gourmet twist. I don't know about you. I firmly believe that bacon can make just about anything taste better.
That's why these bacon-infused beef burgers are so good! This is a great recipe to try if you own a meat grinder. Break out some cheap steak and plenty of bacon for a smoky patty you'll love.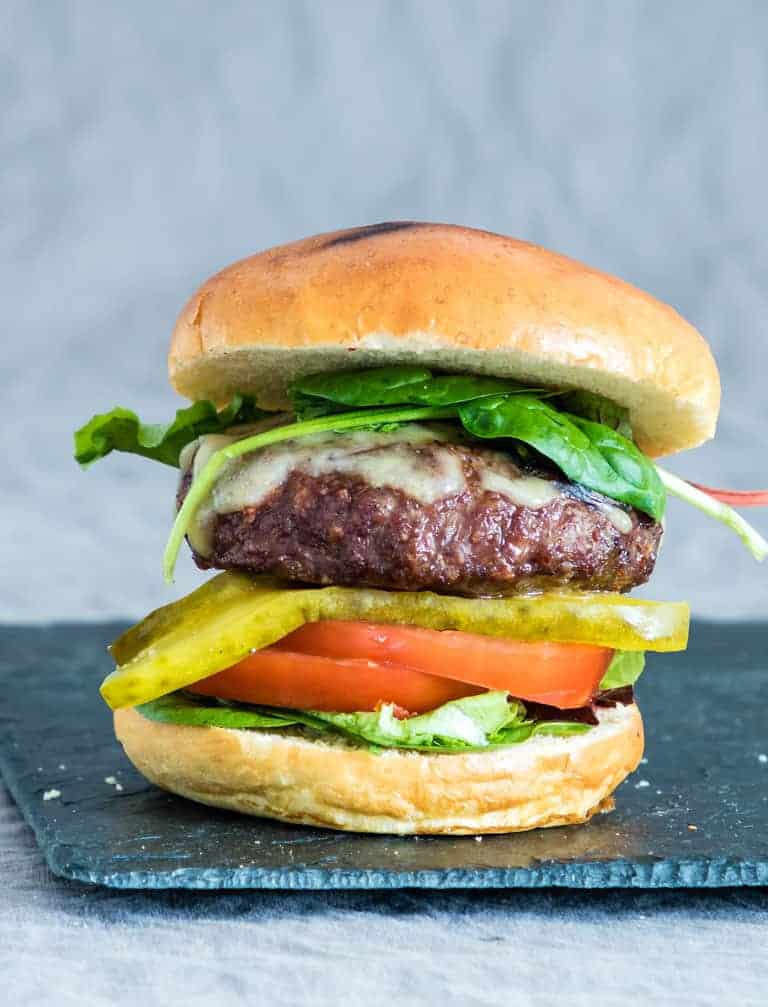 Source: recipesfromapantry.com
Don't have a grill? Don't worry! Enjoy perfectly-cooked patties every single time. It's all thanks to your trusty air fryer. These juicy burgers are made from scratch.
So you can put your favorite spices in them!
Then you just set and forget them in your air fryer. Get on with preparing your burger buns and vegetables while they cook. Serve the burgers with no delay so they're hot and tasty.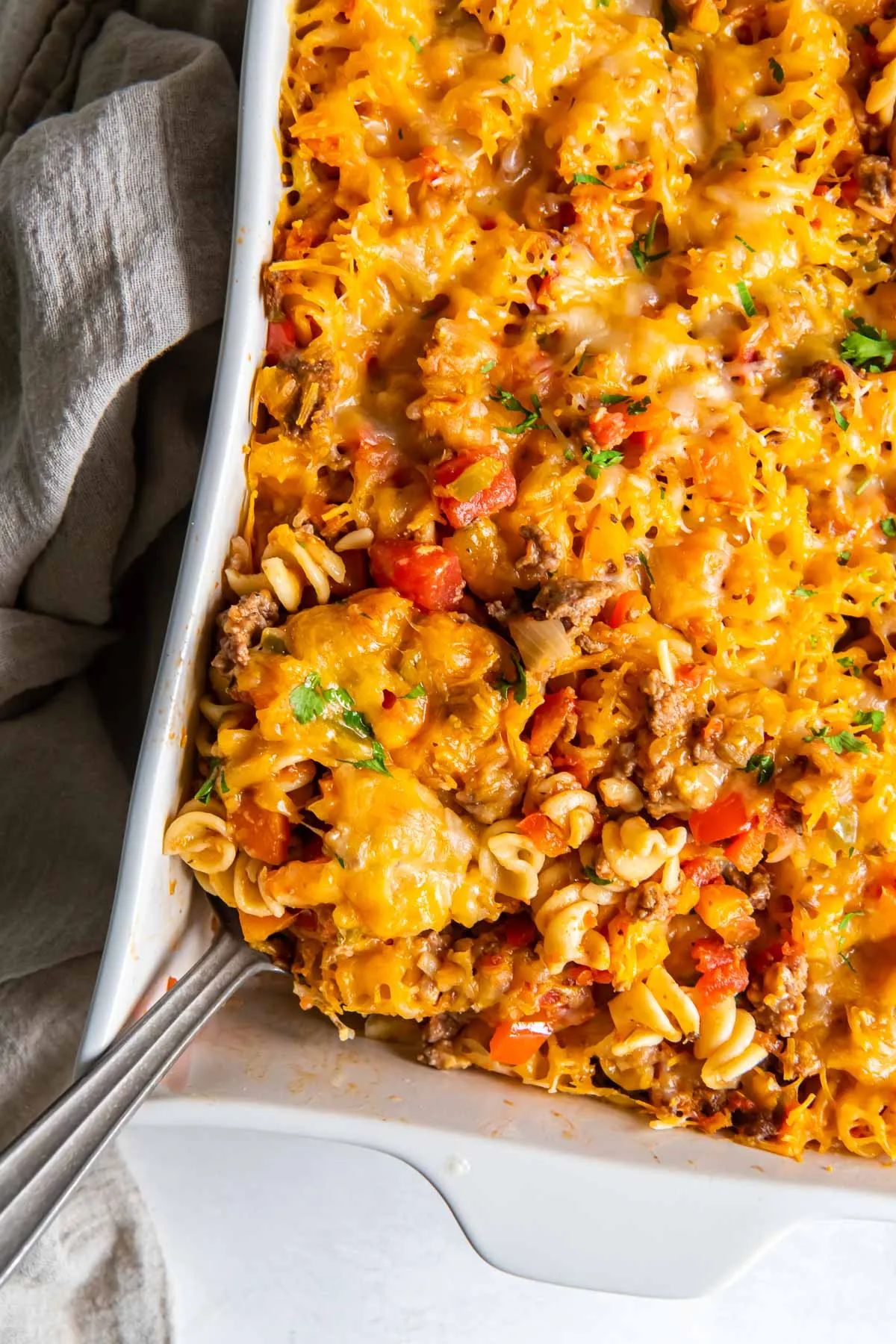 Source: kristineskitchenblog.com
Do you love the taste of hamburgers but don't want to deal with buns? This comforting dish is for you. It's a super quick and simple casserole dish packed with protein and vegetables.
The all-important pasta adds carbs to balance out the ground beef. The final touch is a tasty layer of cheese that will have the whole family drooling making this the ultimate comfort food.
Source: apaigeofpositivity.com
Back in the Great Depression, it was pretty tough to get enough meat for a good burger. That's when people started getting creative. From necessity, the Oklahoma Onion Burger was born!
This patty is packed with a whole bunch of stewed onions. Each bite is full of flavor from the mixture of onion. The texture makes the patty ridiculously juicy!
Source: mychefsapron.com
These amazing gourmet patties will take your next family grill night to another level. This recipe uses almond flour to bind the patty together. So, it's great for anyone gluten-free.
The real hero here is the soft brie hiding in the center. One bite and your burger will ooze a river of melted cheese. This might have 'gourmet' in the title. But don't worry, it's super simple!
Ground Meat Recipes for Dinner
Ground beef, pork, chicken, or turkey is great because it is cheap. Each kind also absorbs flavor like a sponge. That's why ground meat is so great when cooking with spices.
Source: courtneyssweets.com
If you're craving takeout, don't give in to temptation! Instead, reach for these ultra-easy ground beef tacos. You can have tacos even better than what takeout would offer in just half an hour.
These are much healthier than anything you could buy at a takeout joint. These will delight your family and friends in the best way. They're packed with vibrant vegetables and oozing with flavor. Just grab all your favorite taco fixings!
Source: sweetandsavorymeals.com
Meatloaf is a classic family recipe for a good reason. Each bite is infused with endless flavor thanks to the herbs, spices, and of course, Worcestershire sauce.
The brown sugar glaze on top adds a tasty stickiness that lifts the dish.
Best of all, it pairs with all your favorite vegetable side dishes to make a complete meal! Buttery mashed potatoes, fried greens, and a dose of gravy are all at home in this great ground beef recipe.
Source: hauteandhealthyliving.com
These muffins are perfect if you love meatloaf but want a little portion control to go along with it. Each is a bite-sized meatloaf portion you can serve with all your favorite sides.
This recipe is also fantastic for meal prep! Freeze in an airtight container and defrost for an easy lunch or dinner you can have ready in minutes.
Source: allnutritious.com
Next up is a recipe of my own! This ground pork stir fry is one of my favorites because it's so full of flavor. Plus, it's packed with fresh vegetables.
This is a great way to use if you've reached the end of the week with some errant vegetables in your fridge. Use it as a meal prep lunch or a mid-week dinner. This high-protein recipe is super versatile.
Source: tastyonadime.com
Kebabs are one of the easiest recipes on the planet, in my opinion. All you have to do is create tastily-spiced ground meat. Then grill said mixture on some skewers, and you're ready to go!
I love this recipe because you can make it your own. Play around with the spices and serve it with whichever side dishes make your heart happy.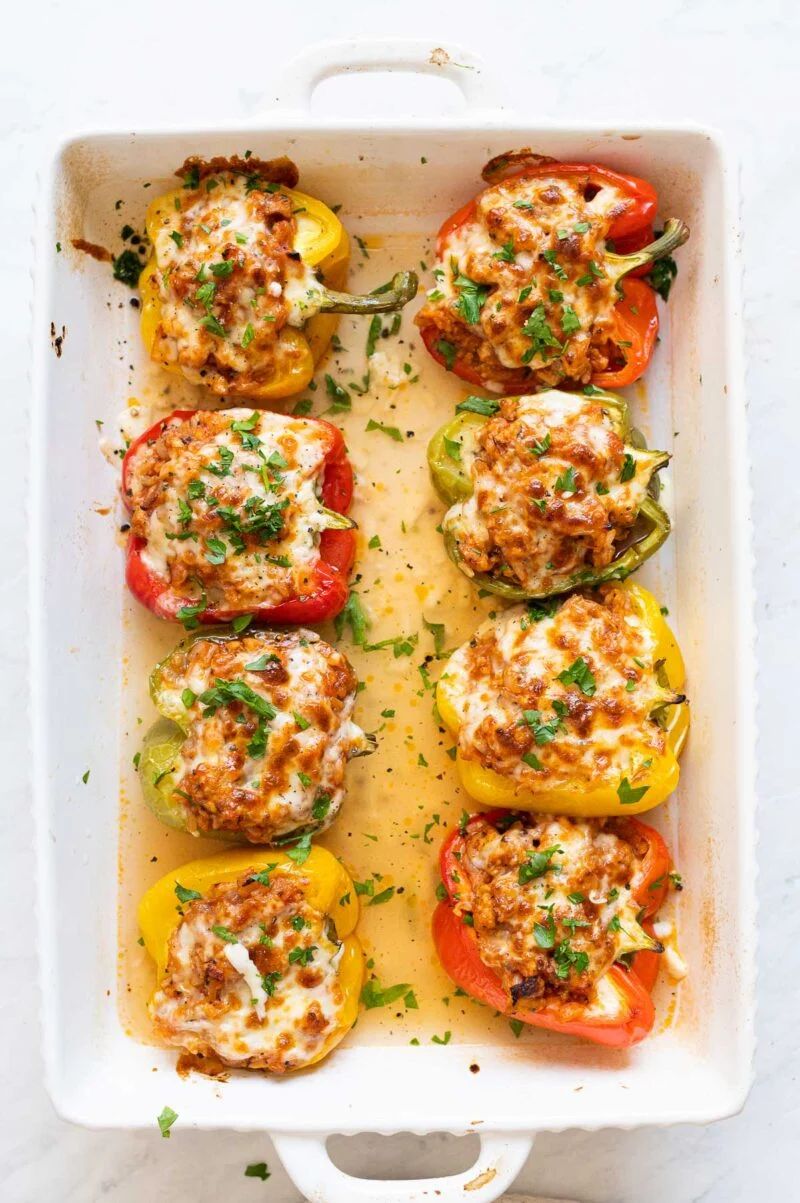 Source: ifoodreal.com
I love stuffed peppers because they keep the meat inside so moist! This bell pepper recipe is to die for. They're packed with everyone's favorite things: fresh herbs, spice and mozzarella cheese.
They're a super easy weeknight recipe for when you're feeling lazy. Do you have any leftover mince or vegetables hanging around? Use them here! It's an ideal leftover buster at the end of the week.
Source: thishealthytable.com
Hailing from Korea, this tasty ground beef bulgogi is bursting with flavor. It takes just twenty minutes to make it happen!
Serve with all your favorite fresh vegetables and a side of rice for a quick and easy dinner. Don't forget a generous sprinkle of spring onions on top for a delightful kick.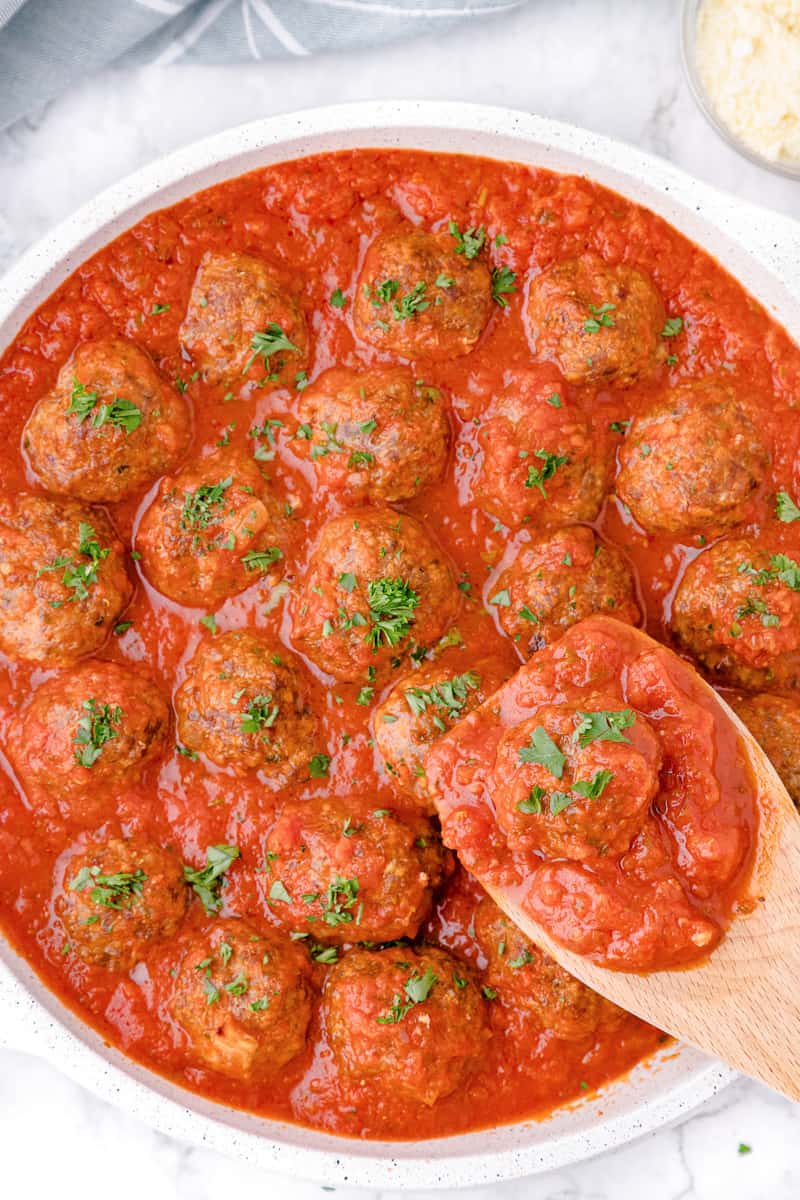 Source: herwholesomekitchen.com
Just looking at this homemade meatball recipe will make your mouth water. Are you dying for some Italian food but don't want to spend hours in the kitchen? This recipe is your new best friend.
Top your favorite spaghetti with this luscious tomato sauce and tasty meatballs. This recipe is full of protein and rich with all the Italian goodness you could ever ask for.
Source: apaigeofpositivity.com
Turkey meatballs are ideal if you're looking for a hearty flavor without any red meat. They're super absorbent and take on taste like a dream.
Plus, ground turkey is super cheap! These tasty zesty turkey meatballs are ideal for whipping out as a meal prep recipe. Get them done in no time. Then get on with your day.
Serve them with your favorite veggies like green beans and a nice bed of brown rice.
Enjoy more turkey meals with these ground turkey recipes.
Source: lowcarbhoser.com
A stromboli meatloaf is a study in luxury. Never had one before? It's a cheese and pepperoni stuffed meatloaf with a layer of fresh basil inside.
The flavors are out of this world! The meatloaf is made from ground chicken. So, it's nice and light. That's necessary when this incredible dish's center is so rich.
Source: montanahappy.com
Soup is one of my favorite recipes to make, no matter the season. It freezes so well and stays tasty when defrosted. That's why it's so good for meal prepping your dinners.
This stuffed pepper soup proves my point. It's rich in flavor and packed with good protein and vegetables. It's super easy to make!
Your house will smell amazing while this is bubbling away.
Source: frolicandfare.com
A good old cottage pie is the ideal leftover buster at the end of the week. It's the whole reason this recipe was created in the first place!
Back in the olden days, cottage pie was invented to give all the meat offcuts a home. These days, a packet of ground beef and all your leftover vegetables are all you will need.
Easy Meat Recipes for Dinner
Every busy home cook's favorite word for a recipe is "easy." How can you get the tastiest dinner with the least possible effort? In this part of our list, we investigate that question.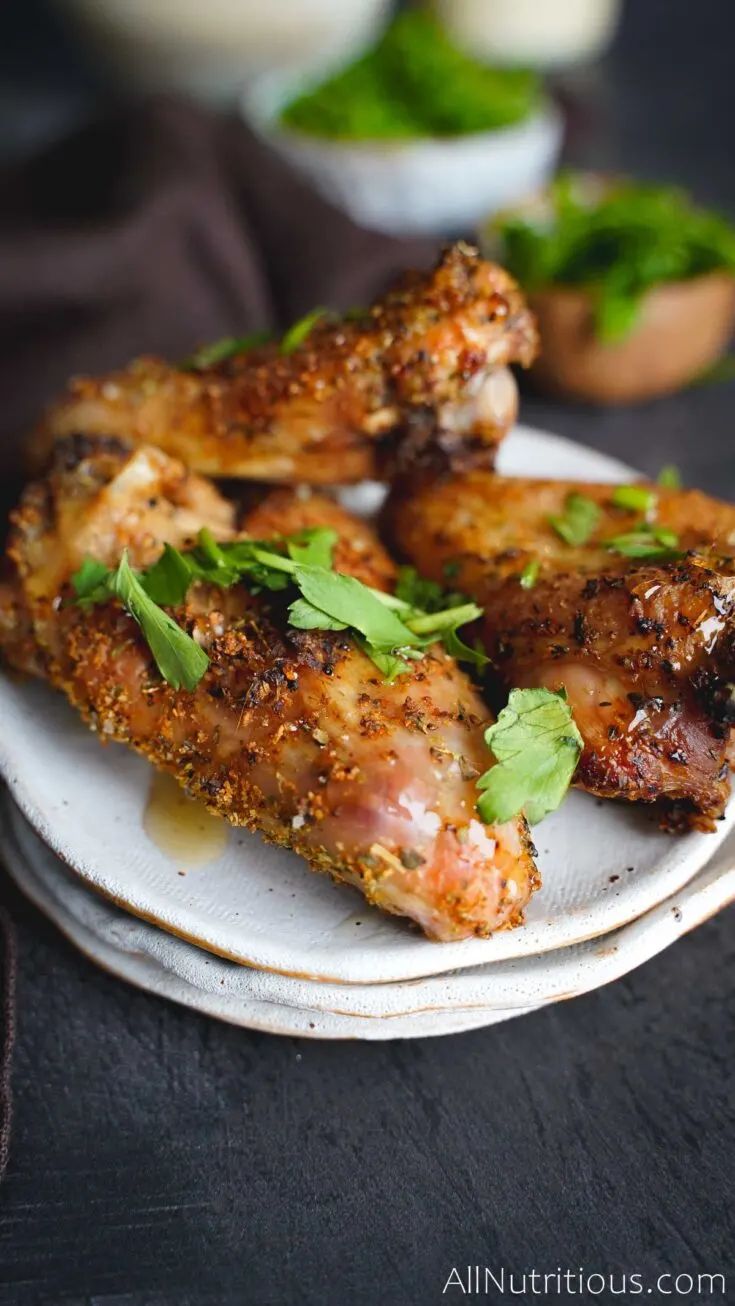 Source: allnutritious.com
Who doesn't love a plate of tasty chicken wings? This is one of my recipes. I often reach for it. Thanks to the honey and spice mixture, it's so full of flavor.
Honey has enzymes that break down meat. So, marinating this chicken in the rub makes each wing incredibly tender! Serve as a snack or at dinner for a mouth-watering treat.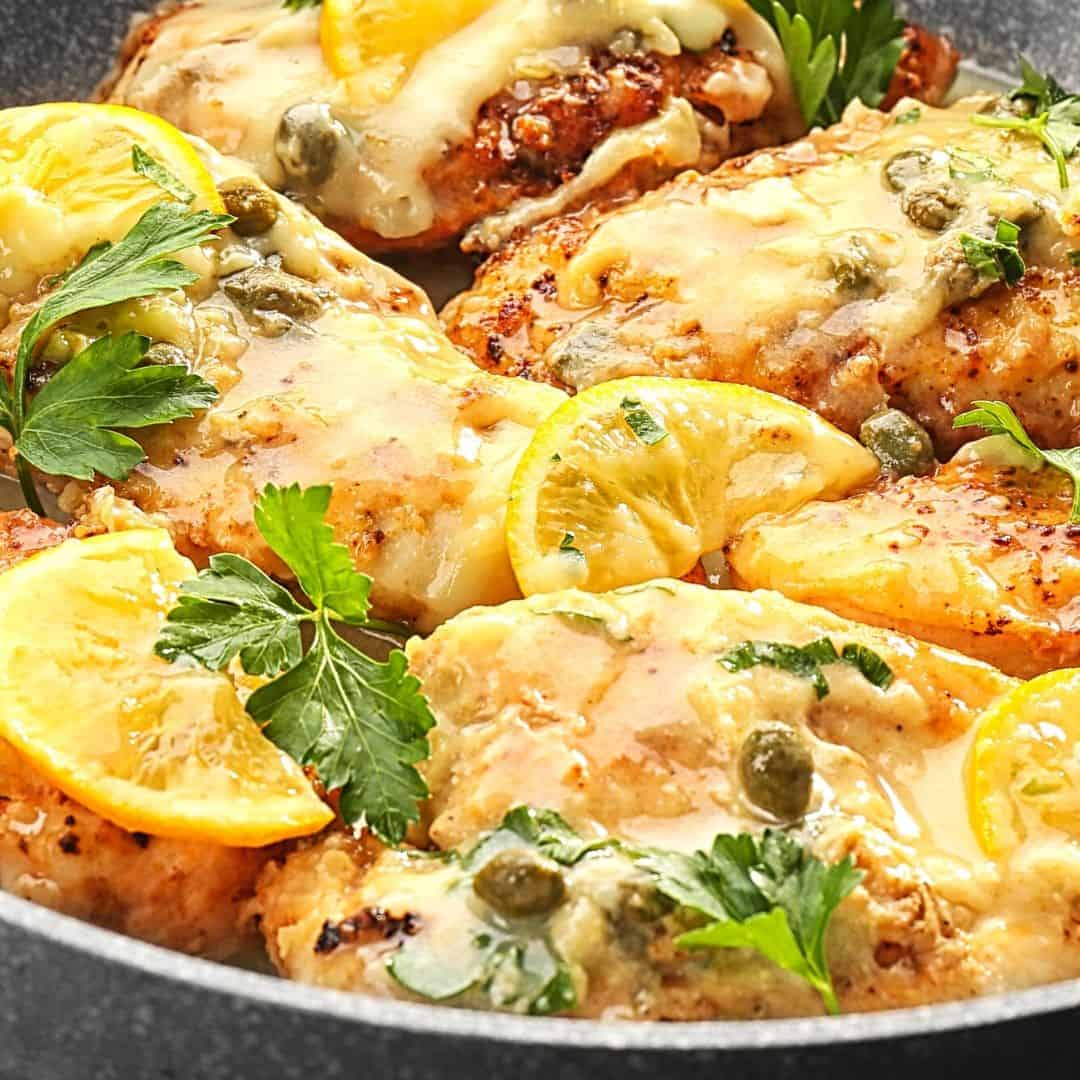 Source: foodwineandlove.com
Chicken piccata is an insanely tasty dish perfect for impressing your family on a casual weeknight. It might seem super complex. But it's pretty easy to make with a large skillet and full of fantastic flavor.
Even the pickiest eaters will want to dig into this one. Browned chicken in a zingy lemon sauce is an unbeatable combination of flavors.
This piccata would make of the best Sunday family dinner ideas.
Source: allnutritious.com
I love sheet pan recipes. They reduce the number of dishes you have to do at night's end. But that's not even the best part!
These pork chops cook along with the vegetables you serve alongside them. That means the vegetables take on the rich flavor of the pork while the meat stays tender and moist.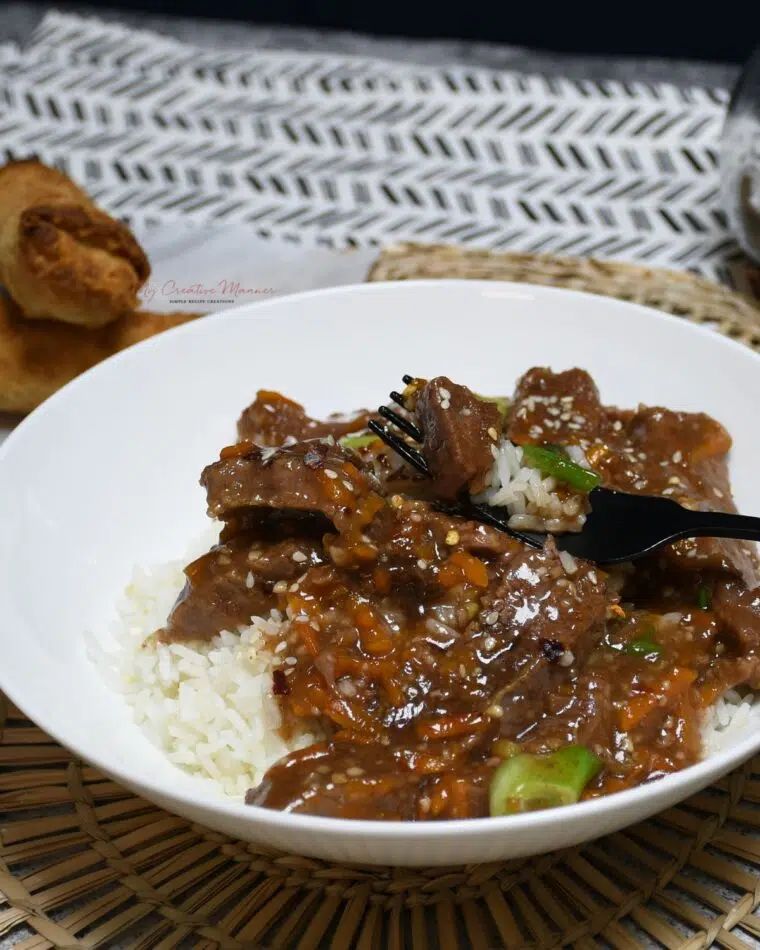 Source: mycreativemanner.com
Mongolian food has a unique set of rich, hearty flavors. The punchy flavor is truly unforgettable. You can achieve your own version of these flavors thanks to this super simple crockpot recipe!
Prepare your dinner in the morning, then set and forget it for the day. You'll see a rich, dark stew waiting to be devoured when you lift the lid. Serve on white rice for the simplest, tastiest dish ever.
Make more dinners in your slow cooker with these crockpot meals.
Source: allnutritious.com
This recipe is my take on keto pork chops. They're pretty good if I say so myself. Whether you're cooking for lunch or dinner, these will serve you well.
Packed with garlic and butter flavor, each bite of these pork chops is more tender than the last. Pair that with the fresh asparagus and green peppers for an easy, addictive weeknight meal.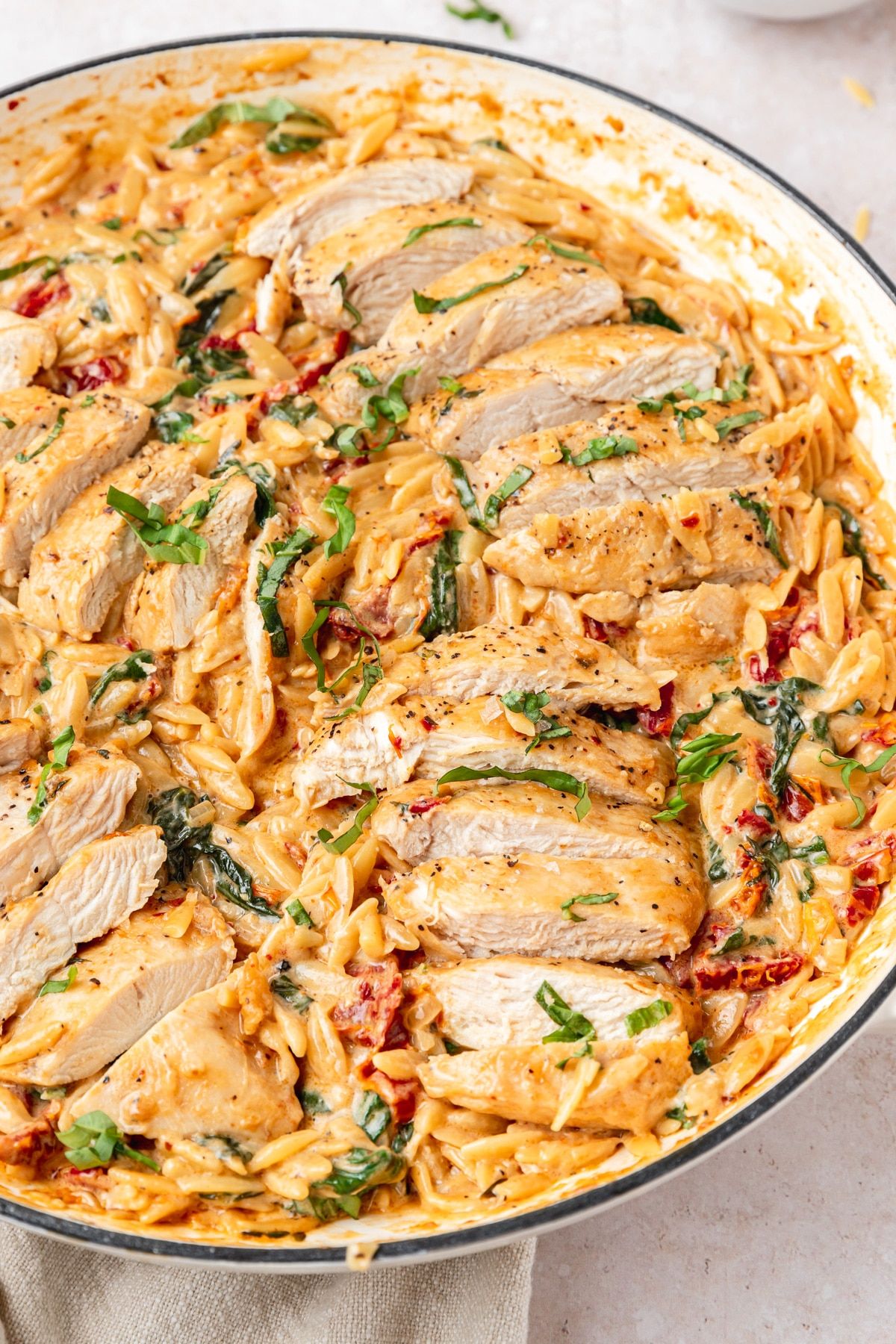 Source: barleyandsage.com
Any dish hailing from Tuscany is bound to be tasty, right? This creamy Tuscan chicken orzo lives up to Italy's reputation for incredible food.
The various tastes and textures add up to an addictive forkful every time. It's full of creamy pasta and perfectly-cooked chicken. This is a dish everyone will adore.
Source: thefastrecipe.com
Are you blessed enough to have some pork belly in your fridge? Then you need to try this recipe. It's sweet and sticky. Perfect for beating back takeout cravings.
Serve on a bed of fragrant rice or noodles. This is a tasty way to enjoy one of the best pork cuts.
Source: crayonsandcravings.com
Chilli is already an insanely easy and tasty dish. But this recipe takes the cake! You only need three ingredients and half an hour to make this dinner a reality.
Ground beef, chili beans, and chili-style diced tomatoes. That's it! Serve with all the chili toppings your heart desires like sour cream and cheddar cheese for a warm and comforting weeknight meal.
Deer Meat Recipes for Dinner
Do you hunt regularly? Do you just love the taste of deer? Either way, these recipes are ideal for enjoying this kind of game the way it should be eaten. All without spending hours in the kitchen!
Source: anoffgridlife.com
Venison stew is a classic choice for fresh deer. It's a great way to stew some gamey flavors out of the meat while keeping that unique flavor.
This stew is a super simple winter warmer you can have on the table in no time. Pack it with your favorite vegetables for some added nutrition.
Source: champagne-tastes.com
Our next recipe requires ground venison or a meat grinder. So make sure you have either on hand. This is a fragrant and punchy venison chili with a special secret ingredient. Beer.
That's right! The beer adds a whole new level of rich taste. Don't worry. All the alcohol cooks out. This is just for flavor.
Have leftover deer meat in your freezer? Try these easy ground venison recipes.
Source: runningtothekitchen.com
This is a great place to start if you've never used your Instant Pot to roast meat. This roast is so tender and juicy that you can cut it with a spoon. It falls apart on the plate.
It's also super simple to pull together! Pair with a red wine balsamic sauce for a punchy flavor.
Source: binkysculinarycarnival.com
Strangely enough, venison and teriyaki sauce go well together. These two flavors from opposite sides of the world blend into an unforgettable dish.
The sweet, sticky sauce also helps pull back some of the gamey flavor in the venison. It's a great combination!
Source: runningtothekitchen.com
The back strap is often one of the most tender cuts of meat. On venison, it's a tasty tender cut that's great for tossing on the grill.
You barely need to do anything to the meat here. Just baste with oil and seasoning, grill, and serve.
Healthy Meat Recipes for Dinner
Cooking healthy dinners with meat is super easy. It provides all the protein you need on the plate. All that's left is to pack the rest of the plate with healthy carbohydrates and vegetables!
Source: allnutritious.com
I have yet to meet someone who doesn't love a good pasta dish. What's great about this one is that it's healthy too! This is a nutritious dish filled with protein. No creamy pasta high in fats here.
The zucchini is the real hero of this dish. It absorbs all the flavor in the sauce and doubles it while keeping the chicken nice and tender.
Source: eatingglutenanddairyfree.com
Steak salad is an absolute classic. This is a great way to celebrate your favorite cut of meat while enjoying some fresh vegetables on the side!
The recipe offers a suggested spice rub. But you can make this your own. Play around with flavors to find your signature steak salad.
Source: apaigeofpositivity.com
Speaking of signature steak salads, this is another recipe with a lovely twist. The chimichurri coating this steak packs every single bite with flavor.
Chimichurri is tart and sweet. So it's perfect for highlighting the steak with all those fresh vegetables. Serve in summer for a quick and easy lunch or dinner.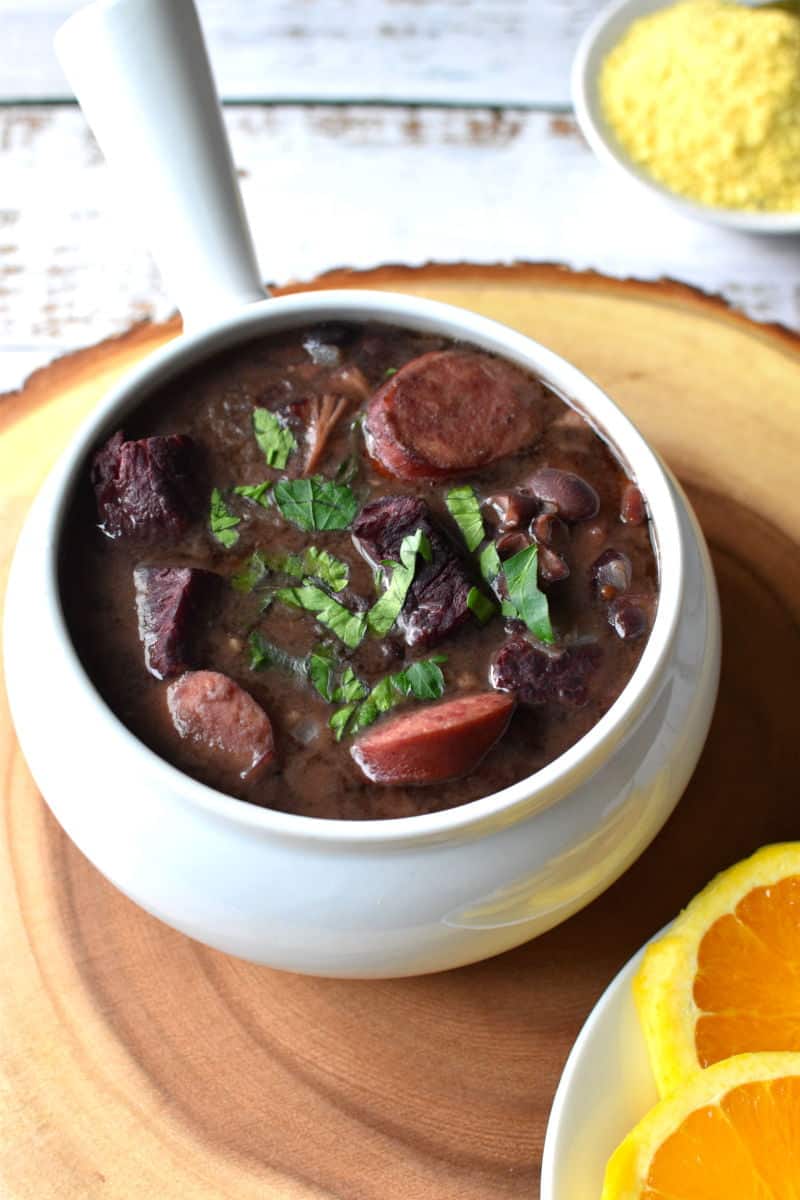 Source: simplelivingrecipes.com
Also known as feijoada, this Brazilian black bean stew is on a new level. It's a dark and rich stew with grilled chorizo to match the rich flavor profile.
You might expect it to be overwhelming. It's got so much protein in it! But the punchy spices make each bite super addictive. It's not hard to see why this is Brazil's national dish.
Source: allnutritious.com
Next up, we have another one of my sheet pan recipes. This time we're highlighting a super juicy chicken thigh. The fragrant roasted cauliflower absorbs spices well!
This is dinner worthy of applause. It's especially good served with a scattering of fresh red onion. Best of all it leaves you with almost no dishes to do.
Love easy meals? Check out these easy sheet pan dinners.
Source: ourlovelanguageisfood.com
Chicken and fruit have been a classic combination for many years. This chicken mango lettuce wrap recipe proves why! The sweet mango and savory chicken are a fantastic combination.
This is a fresh and tasty summer or spring dish paired with fresh butter lettuce. Thanks to the super quick and simple recipe, enjoy this in no time!
Source: allnutritious.com
Leave the flavor of chicken fajitas dancing on your tongue without all that extra effort! This super easy chicken sheet pan recipe celebrates Mexican flavor at its best.
The chicken and vegetables hum with a great spice profile. They're great on their own. But they're even better served with a grain like quinoa, couscous, or rice.
Source: clankitchen.com
Remember how much I love stuffed peppers? Another reason they're so great is because of how healthy they are! They're loaded with vegetables.
Even the pickiest eaters in your family will love this cheesy delight. Each bite sings with spice. Plus the roasted peppers add a lovely texture!
Source: gohealthyeverafter.com
Feeling the takeout blues? Don't give in! Instead, whip up a better, tastier dish in the same time it would take you to order some to your door.
This sesame chicken stir fry uses plenty of tasty vegetables and lean chicken. However, the result tastes like a box of your favorite Chinese takeout. Talk about a win-win!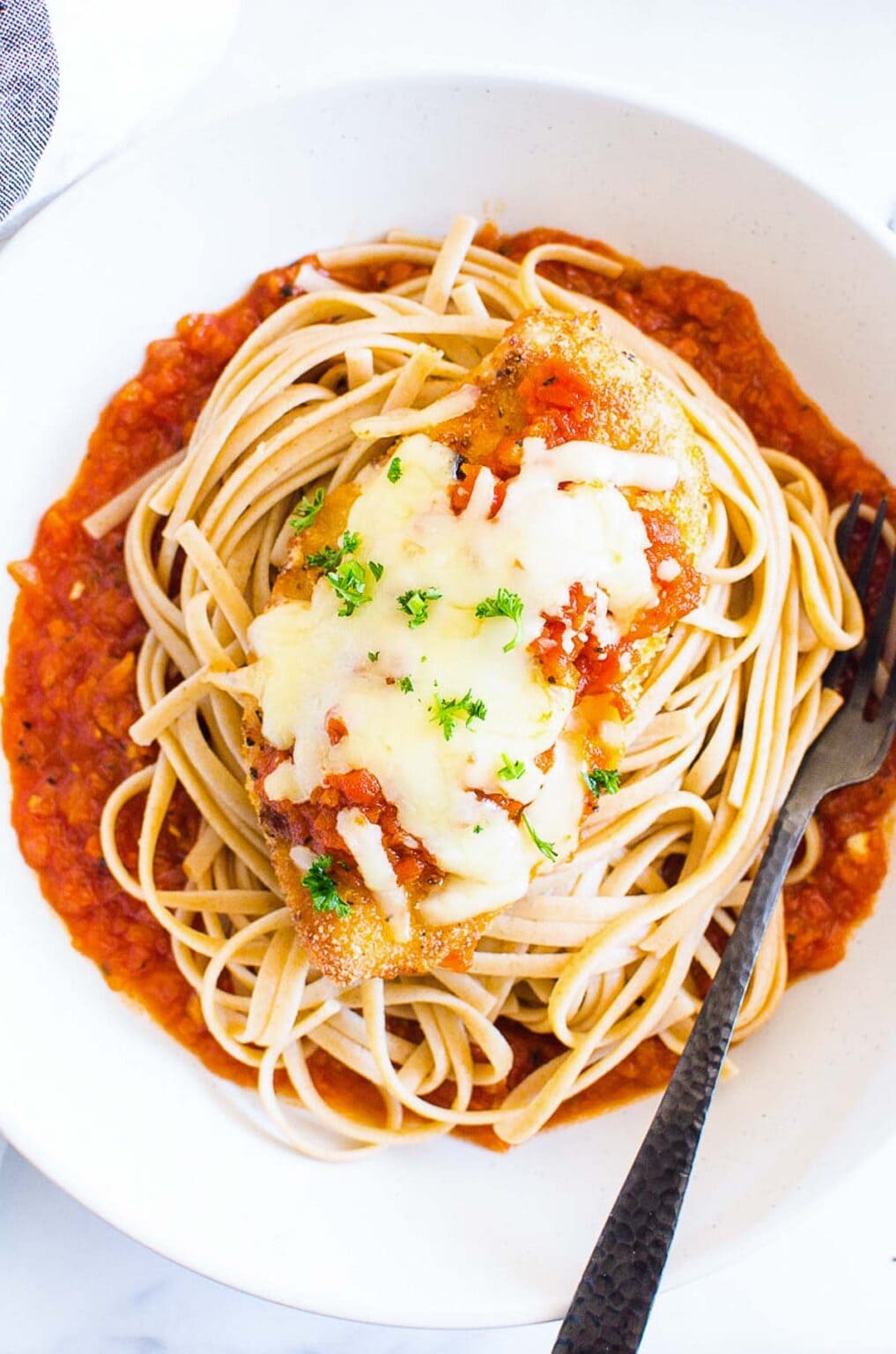 Source: ifoodreal.com
Chicken parmesan might be one of the most indulgent dishes in the world. So, how on earth do you make that healthy?
This talented home cook has done it! This recipe bakes the chicken instead of frying it. The crust is a tasty almond flour substitute. It's still crunchy and tasty but with less saturated fat.
Source: sungrownkitchen.com
Our final recipe is one home cooks have been reaching for since time began. Roasted chicken with vegetables! This is an insanely tasty meal that takes almost no effort.
If you have leftover chicken, store it and use it for your lunch the next day. That's the whole reason to make roast chicken in the first place!
If you're craving meat tonight, which of these recipes will make it onto your table? Do you have another one in mind? Share it with us in the comments below!
41 Best Meat Recipes for Dinner (Quick & Easy)
Looking for meat recipes for dinner? Well, you don't want to miss this list. Here are the best dishes to serve for meat lovers.
Ingredients
1. Bacon Infused Beef Burgers
2. Air Fryer Hamburgers
3. Hamburger Casserole
4. Oklahoma Onion Burgers
5. Grain-Free Gourmet Meat Patties
6. Ground Beef Taco
7. Meatloaf
8. Meatloaf Muffins
9. Ground Pork Stir Fry
10. Kebabs
11. Chicken Stuffed Peppers
12. Bulgogi
13. Homemade Meatballs
14. Turkey Meatballs
15. Stromboli Meatloaf
16. Stuffed Pepper Soup
17. Cottage Pie
18. Honey Chicken Wings
19. Mediterranean Style Chicken Piccata
20. Sheet Pan Pork Chops
21. Crockpot Mongolian Beef
22. Keto Pork Chops with Asparagus
23. Creamy Tuscan Chicken Orzo
24. Marinated Pork Belly
25. 3 Ingredient Chilli
26. Venison Stew
27. Venison Chilli
28. Instant Pot Venison Roast
29. Venison Teriyaki Stir Fry
30. Venison Backstrap
31. Chicken Zucchini Pasta
32. Steak Salad
33. Steak Salad with Grilled Vegetables
34. Black Bean Stew
35. Sheet Pan Chicken Cauliflower
36. Chicken Mango Lettuce Wraps
37. Sheet Pan Chicken Fajitas
38. Stuffed Peppers
39. Sesame Chicken Stir Fry
40. Healthy Chicken Parmesan
41. Roasted Chicken with Root Vegetables and Couscous
Instructions
Scroll up to get a bunch of easy, yummy, and delicious recipes. Don't be afraid to get creative with the ingredients, you might discover a flavor you didn't know you liked.
Get your shopping list going and make sure you've got all the ingredients.
Get cooking and make your next Meat Recipe!
Notes
Which one of these recipes was your favorite? Let me know in the comment section or on Pinterest!