Tightly packed spiced pork meat? Yes, please! Here are the most delicious kielbasa recipes you could ever try!
Are you a fan of cured meat with spices? Then kielbasa should definitely be a regular on your table.
Kielbasa is a type of Polish sausage and a staple in the cuisine of Poland. It can be fresh, smoked, and spicy, just like regular sausage. But with a pretty distinctive taste!
A Polish kielbasa enthusiast or a newbie trying their hand at cooking with this European delight? Whatever it is, this round-up of the best kielbasa recipes will bring exciting flavors to your kitchen!
What is the Best Way to Cook Kielbasa?
Grill. Roast. Boil. Sauté. Whatever method of cooking you choose, delicious sausage on your table is guaranteed.
The best part? You don't have to worry about whether it is fully cooked or not. Because guess what? Kielbasa can be eaten raw. Yup, just slice it up and make a sandwich.
But you might not want to. Because warm kielbasa tastes way better. So yes. Grill, roast, boil or sauté it for best results.
What is the Traditional Way to Eat Kielbasa?
Traditionally, kielbasa is eaten with mustard. Lots and lots of mustard. It is also served in a roll. Again, with mustard.
Horseradish goes well with it too. And it is also super delicious with sauerkraut.
But that's not all. Kielbasa can be the protein star of many meals. Casseroles, stews, soups, pasta… you name it.
Kielbasa Crockpot Recipes
Do you own a crockpot? Then, let's put it to good use with these tasty slow-cooked kielbasa recipes.
Source: saltandbaker.com
Sauerkraut and kielbasa join forces for a sweet, spicy, and incredibly delicious easy kielbasa recipe.
So, get your hoagie buns ready, because this is one super addictive dish.
Loaded with apple cider and brown sugar. The taste is distinctive, slightly fruity, and nothing but satisfying.
If you don't have any cider, you can also use beer. A bit more on the hardcore side, but still yummy.
Source: thefreshcooky.com
Red beans, rice, and kielbasa. Smokey and filling, loaded with Cajun spices in a large skillet.
This easy recipe also includes ham and chicken as well. But if you ask me, you can easily go without either of them. The kielbasa is already super flavorful and meaty, so you don't even need more protein.
Serve with some salad on the side for a well-balanced delicious dish.
Love for more flavor loaded recipes? Check out these best cajun and creole recipes.
Source: whereismyspoon.co
Chopped cabbage, sliced kielbasa, bacon, and your favorite spices. Add some chicken stock and let it cook for hours in the slow cooker.
The result? As comforting as they come! Soft, meaty, spicy, and with an intense flavor that just keeps you eating. And eating.
Seriously, make a double batch because this pot disappears before it even hits the table. This smoked sausage meal is great for a busy weeknight meal the entire family will love.
Get more use out of your crockpot with these cheap crockpot meals.
Source: thelazyslowcooker.com
Casseroles from the crockpot are a lifesaver for busy cooks. Just prep it in 10 minutes, and let it slowly cook on its own.
And this lovely recipe with your favorite type of sausage cooks itself to perfection.
Hash brown potatoes, kielbasa, cheddar, and sour cream. It is creamy, protein-packed, cheesy, and with a hint of spiciness that keeps you coming for more.
Source: xoxobella.com
With kielbasa, cabbage, potatoes, garlic, and tomatoes. This slow-cooked dish has it all! Plus, it is Cajun seasoned.
But the secret to its silky texture and creamy taste? A generous amount of salted butter!
Serve with sour cream. Then top it off with a glass of red wine!
Kielbasa and Potato Recipes
Kielbasa and potatoes are a match made in heaven. And these easy kielbasa sausage recipes will prove exactly that.
Source: cookingwithcarlee.com
Another cabbage and potatoes recipe with kielbasa. Only this time, we are making it in an Instant Pot.
That means that it is super quick for an easy dinner. Seriously, it takes only 20 minutes to make it. So you don't need any special preparation to whip this up.
Besides potatoes, cabbage, kielbasa, and chicken broth, all you need from the grocery store are a couple of your favorite seasonings.
So hearty and filling, this will become one of your favorite quick dinners.
Source: southyourmouth.com
Not really your classic Southern fried potatoes. But something you will be making regularly.
Steamed first and crispy only around the edges. These potatoes pair perfectly with spicy sausages. And yes, they are divine with kielbasa.
Perfect with ketchup, mustard, onions, and/or sauerkraut. Like it spicier? Then add a few dashes of hot sauce over. Or some chili flakes. Yummy either way.
Source: simplyhappyfoodie.com
Do you like your soups chunky? But still incredibly nourishing? Then this recipe is not to be missed.
Kielbasa with chopped potatoes, carrots, cabbage, onion, and celery. Plus, some Italian herbs and spices to boost the flavor.
Rustic and smoky, this will warm you up instantly!
My advice is to serve it with crusty bread. Because you will be so tempted to dunk it into this nutritiousness.
This would make a lovely healthy fall soup recipe.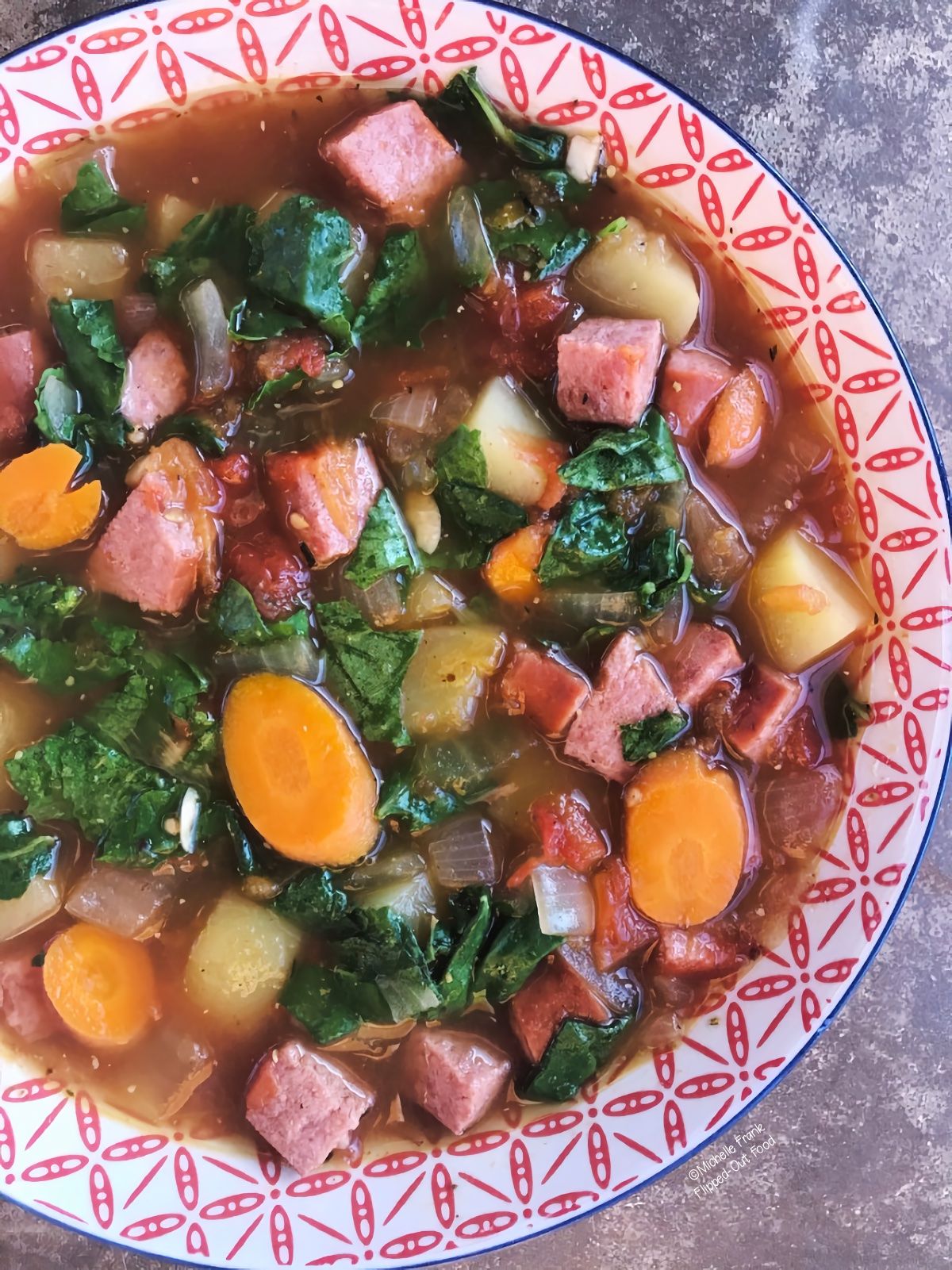 Source: flippedoutfood.com
Your family doesn't like kale soups? Dump some chopped kielbasa into the bowl, then!
With kielbasa, preferably the smoky kind, nothing can taste bland!
Besides kale and sausage, this soup pairs carrots, potatoes, tomatoes, and onions. Plenty of seasonings and a touch of garlic, too.
Delicious with either chicken or veggie stock.
Source: thetwobiteclub.com
Colorful, nutritious, protein-packed, and delicious. And, it is made in just 15 minutes. This recipe surely checks all the boxes for a quick weeknight dinner.
With lean turkey kielbasa, green peppers, onion, and potatoes, and olive oil. But don't let that limit you. This recipe with turkey sausage can also be great with veggies like mushrooms, yellow onion and tomatoes, too.
If you like it a bit more flavorful, add a clove or two of garlic.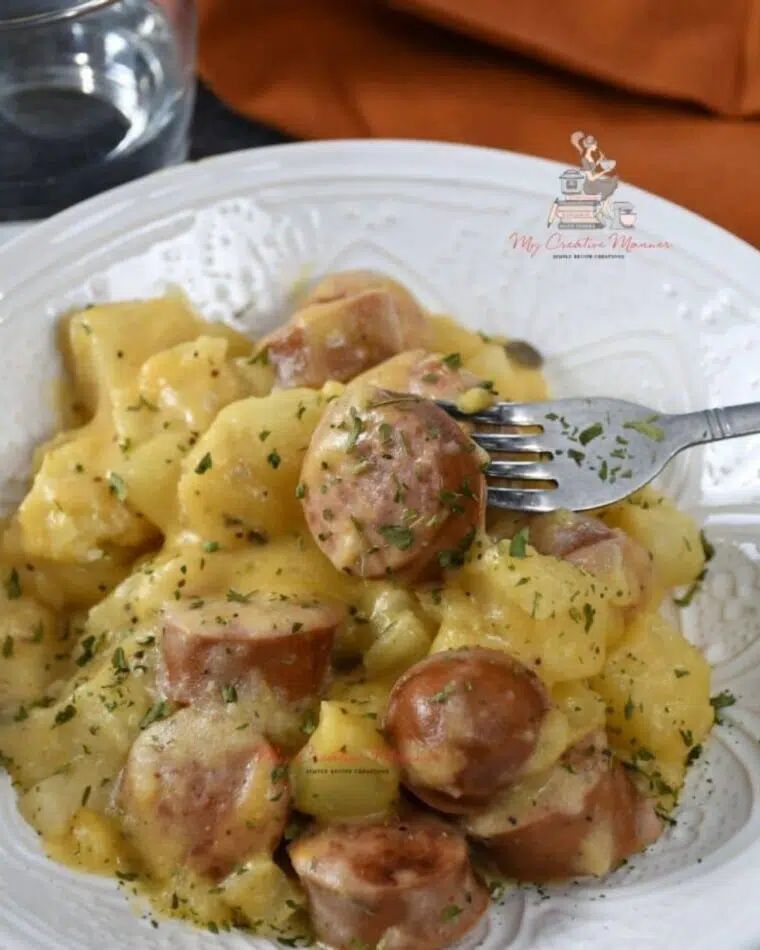 Source: mycreativemanner.com
With cream of mushroom soup as a base for this meal, you can bet these diced potatoes and kielbasa will be nothing but creamy.
And they are also super soft due to the slow cooking.
But that doesn't begin to cover how good these are. Once you top generously with cheese, the whole game changes.
I seriously recommend trying this one.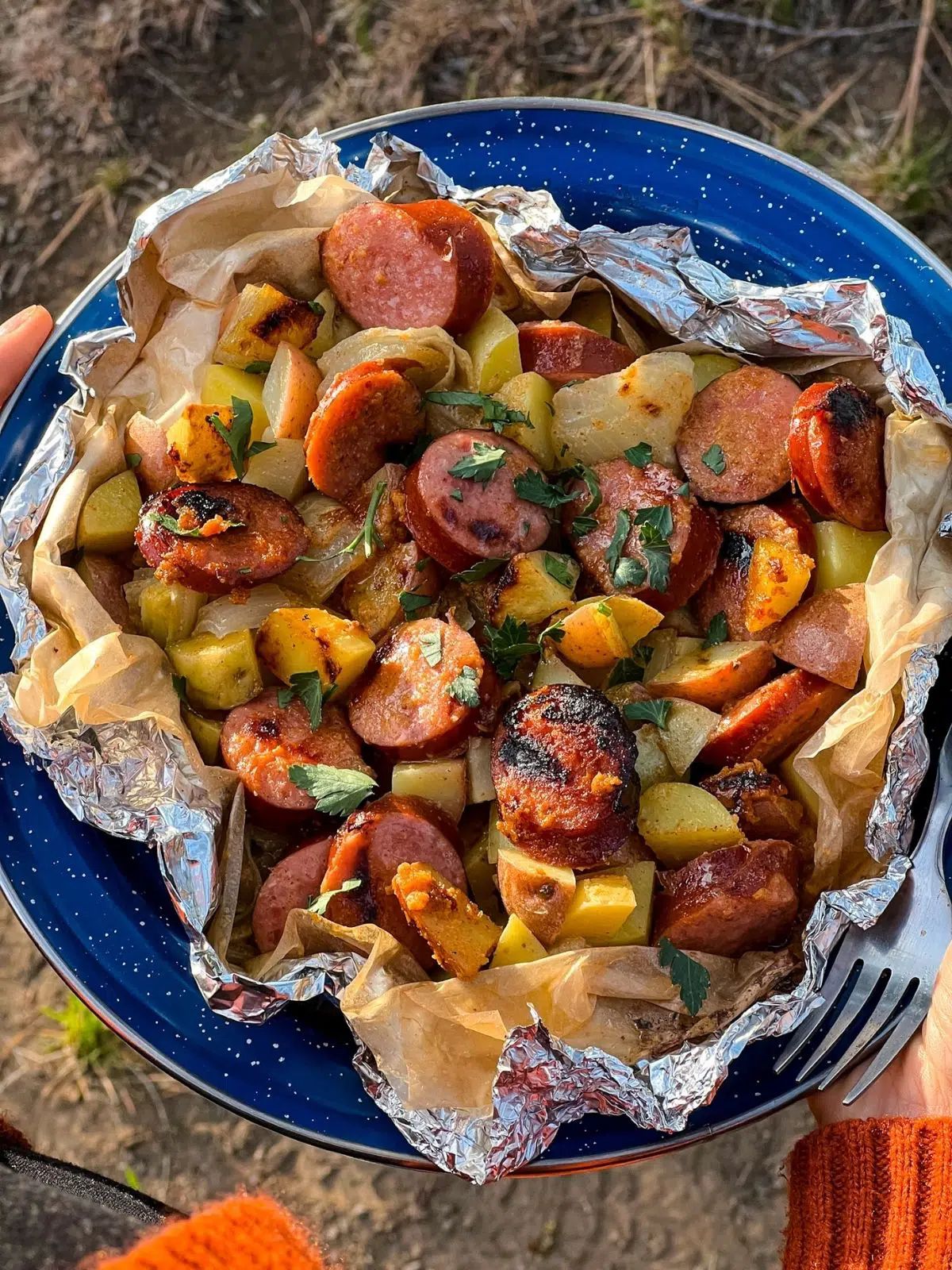 Source: freshoffthegrid.com
Foil-packed roasting is something that always excites me. I almost feel like a kid, unpacking with care to reveal the surprise treat inside.
And trust me, these chopped potatoes and kielbasa make one satisfying treat.
Perfect for dinner. And lunch. Hack, even breakfast and brunch. You have to love a recipe that pairs well with anything and can be enjoyed at any time.
These foil packets would made the best Sunday dinner ideas.
Source: senseandedibility.com
Potato, kale, and kielbasa, with onions and bacon. Stewed to perfection, and drowned in chicken stock.
This soup, stew, or bowl of wholesomeness is super delicious and nourishing.
It has a distinctive deep flavor, which comes from the caramelization of the kielbasa.
Prior to being added to the pot, the kielbasa here is broiled for a few minutes. But you can totally skip this step and char it directly in the pot, too.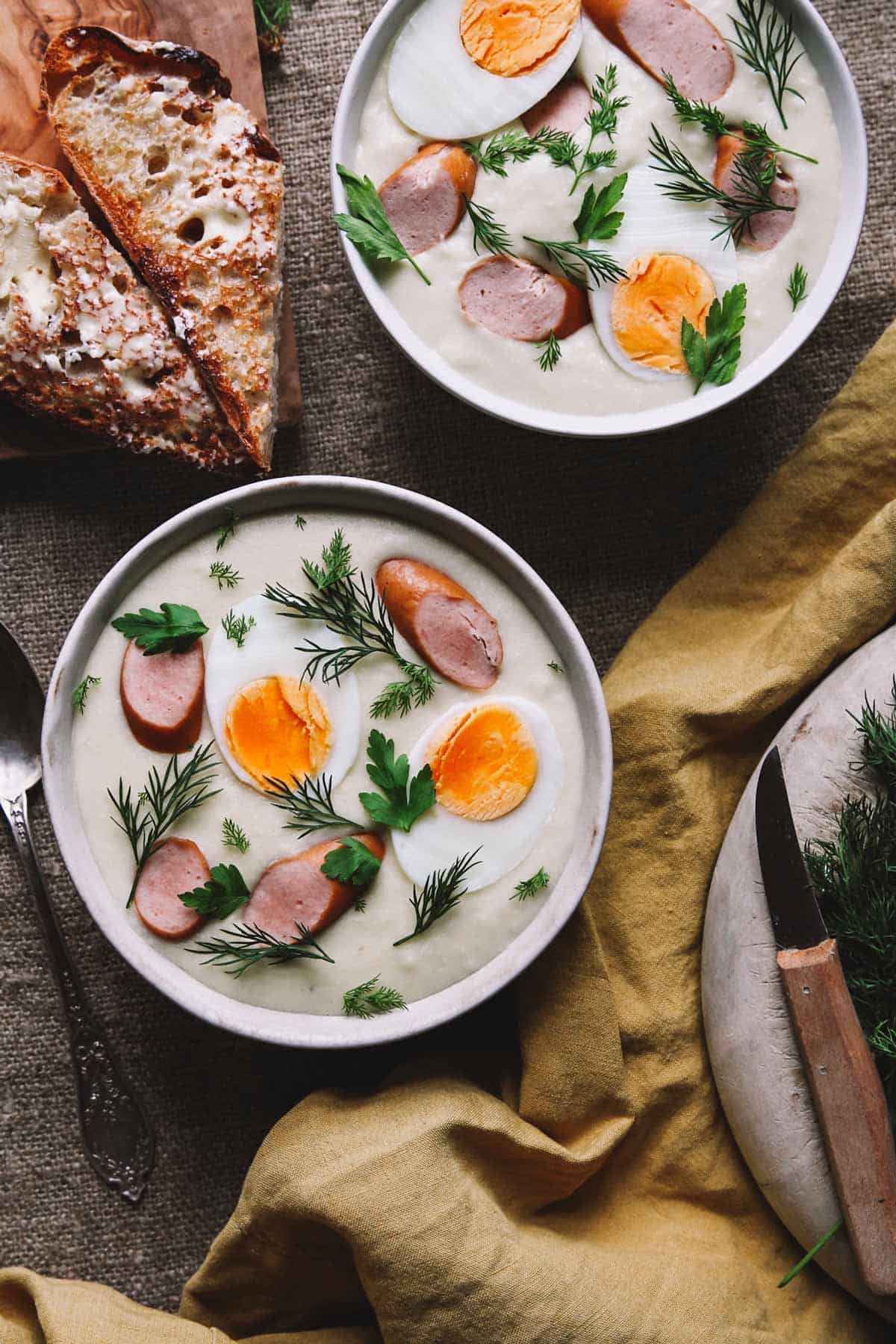 Source: all-thats-jas.com
You may know Borscht as the Russian red soup made with beats. But this white Polish version features potatoes, eggs, horseradish, and kielbasa.
Although this is a classic Easter delight, it can be made year-round for a creamy delightfulness and a satisfying lunch.
All you have to do is serve it with some toasted bread.
Source: wholesomefarmhouserecipes.com
Besides that it is topped with mashed potatoes, this recipe has very little in common with the classic Shepherd's pie. But that doesn't mean it's not up to par.
Sliced kielbasa, topped with Swiss cheese, sauerkraut, and Muenster cheese. With a generous amount of mashed potatoes spread on top.
It is creamy, cheesy, tangy, and super meaty. How can you not love this recipe?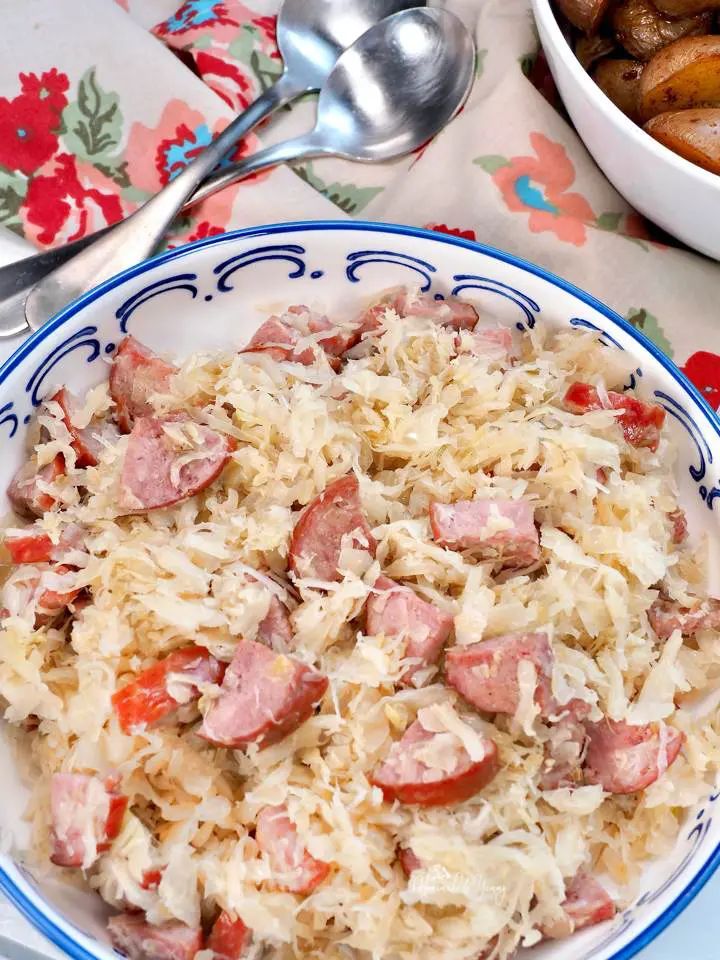 Source: homemadeandyummy.com
If you like Eastern European comfort food, then this one should definitely be on your list.
Sautéd onions, kielbasa, and sauerkraut, with nothing but salt, pepper, and fennel seeds.
Simple ingredients for an incredible taste! You can have it as a main dish or a side.
And it is ready in just 25 minutes, so it surely qualifies as a weeknight delight.
Kielbasa Recipes with Rice
Kielbasa and rice complement each other beautifully. Check out these recipes and see what a great match they are.
Source: cookingwithcarlee.com
Rice and kielbasa with lots of mustard greens. Pungent, flavorful, and a bit spicy.
Of course, if you like the taste to be more mellow, you can use chard or other greens instead.
Protein, grains, and loads of greens. This meal is super balanced and delicious.
Made in the Instant Pot, this recipe couldn't be more convenient. So rich and lovely, your whole family will love it! The kids especially.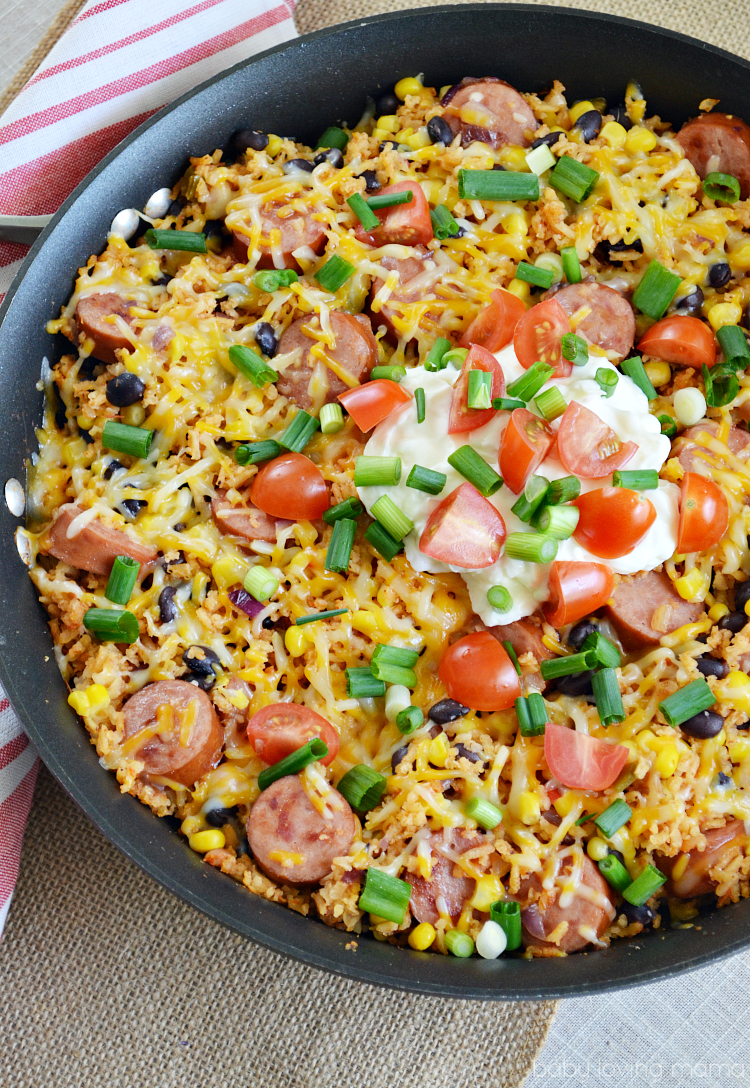 Source: findingzest.com
Mexican flavors with rice and spicy sausages make one heck of a dinner meal. This recipe uses kielbasa, and for a good reason.
It is smoked and spicy enough to be a good fit for Mexican cuisine. And trust me, you need it on your table, too.
This recipe makes one colorful skillet that is perfect with some sour cream on the side.
Source: servedfromscratch.com
A rice casserole for a one-pot quick meal. It combines broccoli, kielbasa, and melted cheese. And yes. It is just as nutritious, protein-packed, and comforting as it sounds.
The recipe uses mozzarella and cheddar cheese, but you can use whatever you have in your fridge, really.
Make sure not to skip the lemon and mustard, though, as they add some powerful flavor notes.
Source: jenniferbanz.com
Kielbasa and rice work well together. But that doesn't mean you have to add grains to your meals.
Yes, I'm talking about mock-rice options, allowed on the Keto diet.
This recipe uses cauliflower rice with kielbasa, Cajun, and some veggies. And it is super tasty and quick, too.
Easy Kielbasa Recipes
Looking for something simple and fuss-free to make for dinner? How about these kielbasa recipes?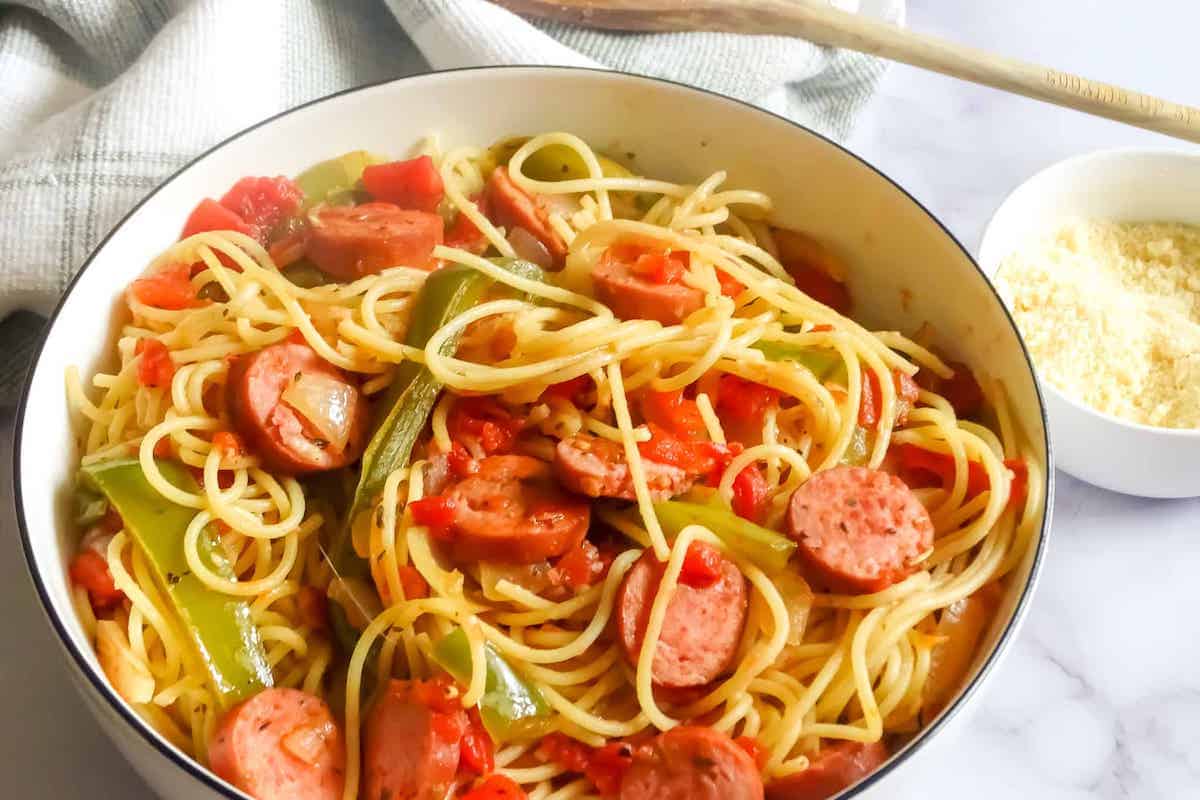 Source: tastyoven.com
Spaghetti with tomatoes, peppers, italian seasoning and lots of garlic. That makes one flavorful and rounded dinner. And your whole family will love it.
The butter is a must as it gives it silkiness that pairs perfectly with the Parmesan cheese.
Of course, you can also use another type of pasta if you don't have spaghetti.
Source: tastyoven.com
Peppers and kielbasa are also a decent match. Both ingredients have a distinctive taste and a pungent and spicy taste. Plus, they complement each other well.
So you don't really need much when you have these two in your pot.
And this recipe is tasty proof of that that comes straight from the Air Fryer.
Source: thetwobiteclub.com
I really love making these for dinner. Even though I know they are technically more of a breakfast meal.
With just five ingredients and 20 minutes, these corn muffins with sausage are the definition of an easy meal.
Add some ketchup on top, and your kids will go crazy.
Source: thisolemom.com
Sautéd kielbasa and broccoli. Egg noodles. Heaps of cheddar cheese. And a creamy sauce to combine everything deliciously.
You can also add some Cajun seasoning to up the flavor a bit in this kielbasa skillet.
This cheesy kielbasa pasta is a one-pot comfort that you will make on the regular.
Source: thisolemom.com
Cajun seasoning, smoky kielbasa, lean chicken, and pasta. Top it with Parmesan cheese, and you're all set.
The main ingredients are drowned in a creamy buttery sauce. Plus, there are red and green bell peppers that add a pop of color.
If you don't have any chicken, just omit it. It will still be delicious.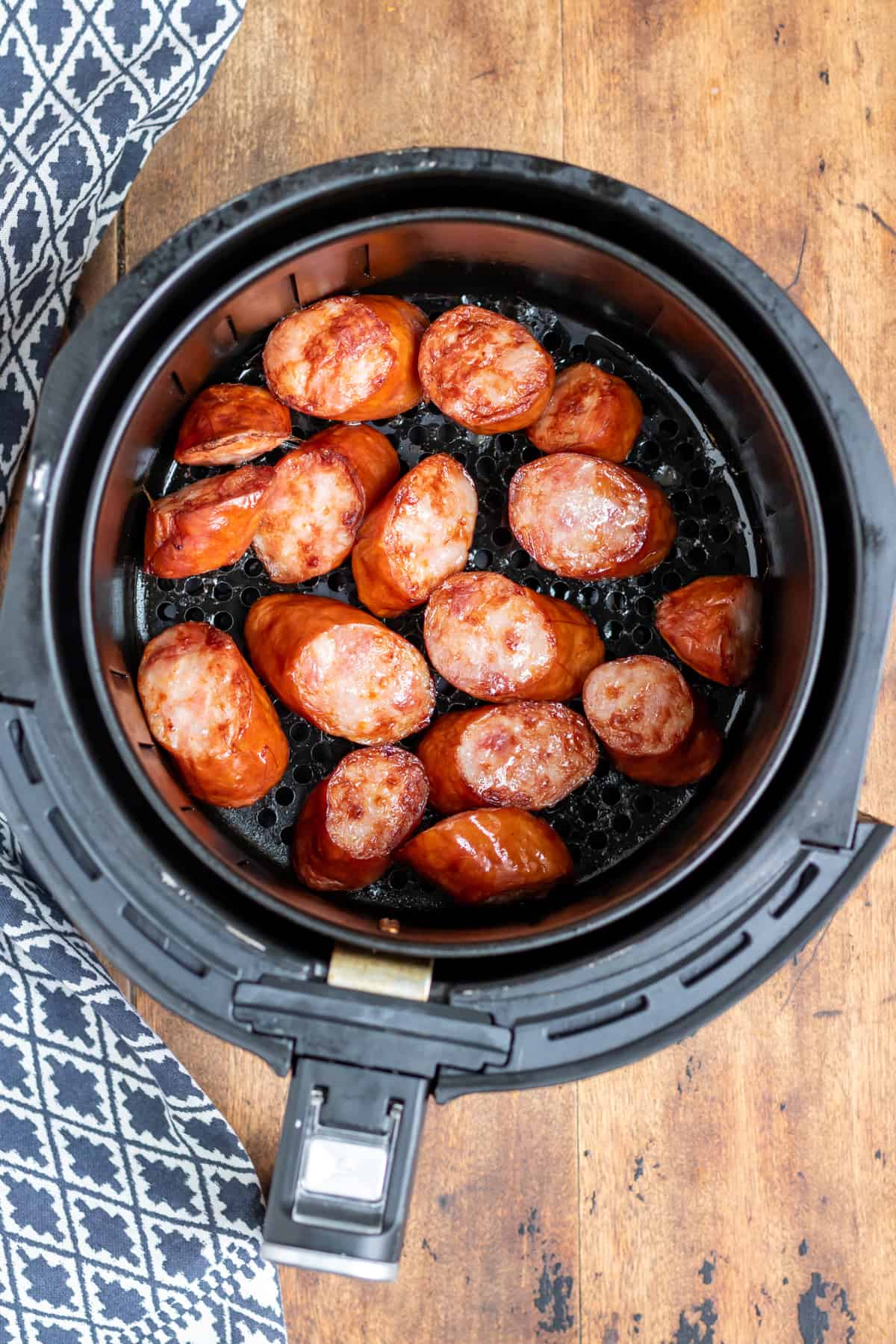 Source: yousaypotatoes.com
If you have some leftover potatoes or sauerkraut in your fridge, all you need is some browned kielbasa slices for a comforting meal.
Think it couldn't get any simpler? Well, think again. Because cooking your sausage in the Air Fryer is easier and much more convenient.
Source: babaganosh.org
Stir fries with cabbage? Tasty, I know! And if you add some smoky kielbasa to the mix, even better.
This five-ingredient recipe couldn't be any simpler as well. A quick, one-pot meal for a comforting dinner that will please everyone.
Served in small portions, it can also make a delicious side dish.
Source: justisafourletterword.com
A sheet pan dinner is my go-to meal after a long day. And I'm sure you will appreciate this recipe, too.
Because with five minutes of prep time and some chopped ingredients, a tasty sheet pan meal will be served in no time.
This recipe combines broccoli, kielbasa, and potatoes.
Source: thetwobiteclub.com
Want a fancy dinner? Not in the mood for cooking? Then these kabobs with pineapple, shrimp, and kielbasa are a must-try.
Sweet, fruity, tangy, peppery, and meaty. And incredibly delicious at the same time.
The marinated shrimp make these skewers even tastier. So make sure not to skip this step.
These are perfect for a backyard dinner party. Don't you think?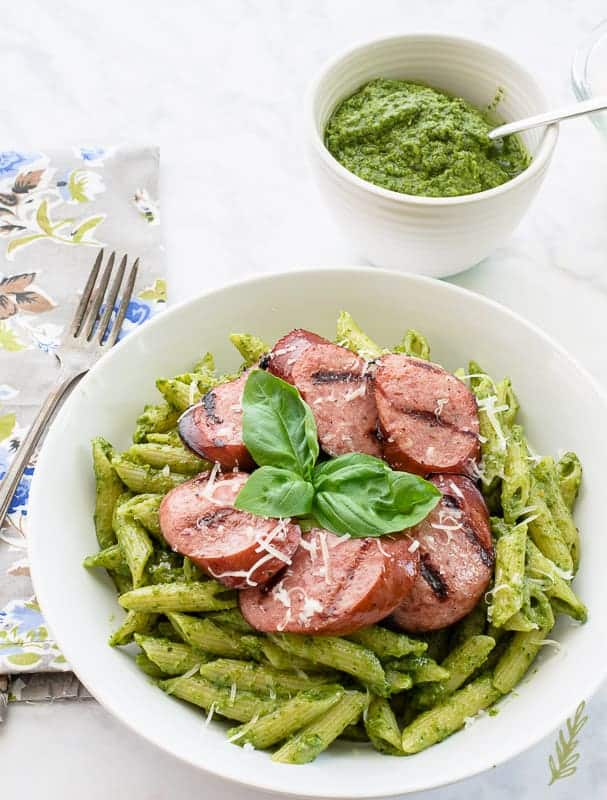 Source: senseandedibility.com
Pesto is usually paired with chicken. But don't shy away from this recipe because you've never tried this green creaminess with sausage.
In this pasta recipe, kielbasa and pesto make perfect sense!
And if you use store-bought sauce, all you need is some sliced kielbasa, pasta, and a touch of Parmesan cheese on top.
It's as easy and delicious as that!
Source: 24bite.com
Gnocchi, kielbasa, spinach, chopped veggies, and lots of garlic. Then covered in stock, and cooked in the Instant Pot for a quick and easy pot.
Not yet an owner of this appliance? Don't worry, because this recipe features the stovetop method, too.
However you cook it, one thing is certain. This filling and yummy soup will nourish you after a single slurp.
Ready for more tasty polish sausage recipes?
31 Best Kielbasa Recipes
Looking for new ways to cook with sausages? Discover the best kielbasa recipes from pasta and salads to soups.
Ingredients
1. Kielbasa and Sauerkraut
2. Red Beans and Rice
3. Cabbage and Sausage
4. Kielbasa Potato Casserole
5. Slow Cooker Kielbasa Cabbage and Potatoes
6. Kielbasa Cabbage and Potatoes
7. Kielbasa with Southern Fried Potatoes and Sausage
8. Kielbasa Cabbage Potato Soup
9. Sausage Kale Potato Soup
10. Kielbasa Pepper Onion and Potato Hash
11. Sausage and Potato Casserole
12. Kielbasa Potato Foil Packets
13. Sausage Potato Stew Kale
14. White Borscht
15. Shepherd's Pie with Kielbasa
16. Ukrainian Kobasa Kapusta
17. Kielbasa with Rice and Mustard Greens
18. Mexican Rice Sausage Skillet
19. Cheesy Kielbasa Broccoli and Rice
20. Kielbasa Pepper Cauliflower Rice Skillet
21. Kielbasa and Pepper Pasta
22. Kielbasa and Peppers
23. Kielbasa Corn Muffins
24. Cheesy Broccoli Sausage Pasta Skillet
25. Cajun Chicken and Sausage Pasta
26. Air Fryer Kielbasa
27. Kielbasa Cabbage Stir Fry
28. Sheet Pan Kielbasa
29. Pineapple Shrimp and Kielbasa Kabobs
30. Penne Pesto Sauce Sausage
31. Creamy Gnocchi Soup
Instructions
Scroll up to get a bunch of easy, yummy, and delicious recipes. Don't be afraid to get creative with the ingredients, you might discover a flavor you didn't know you liked.
Get your shopping list going and make sure you've got all the ingredients.
Get cooking and make your next Kielbasa Recipe!
Notes
Which one of these recipes was your favorite? Let me know in the comment section or on Pinterest!