Looking for easy appetizers? These cold appetizers are made from simple ingredients but taste delicious. Enjoy these cold finger foods!
If you're hosting a party, you want your menu to be top-notch. Every dish should flow into the next, and every last detail should have your guests' mouths watering in anticipation.
The first dish on the docket is your appetizer. It sets the tone for your party, letting people know what's coming and getting everyone in the mood to have some fun!
Serve them on these beautiful bamboo plates!
Why are Appetizers Served Cold?
In formal settings, appetizers are typically served cold to wake up the guests' appetites, hence their name!
The cold and small appetizers make them quick and easy to eat, priming your guests for an evening of wining and dining.
A bonus to serving them cold is that you can make them ahead of time. Unlike with hot appetizers, you don't need to worry about keeping them warm.
Easy Cold Appetizers
Let's kick things off with everyone's favorite recipe category: easy. Simple appetizer recipes are the key to pulling off an entertaining party.
You can easily make them in large quantities, so your guests don't unexpectedly run out! Rule of thumb for a party host: always have more food than you think you'll need.
Find some of the best cold appetizer recipes and take your summer party to a whole new level.
Source: daisiesandpie.co.uk
First off, we have a batch of Caprese skewers. While the traditional Caprese salad is nothing to sneeze at, it's harder to serve in a party setting where people usually sit and mingle.
Enter, Caprese skewers! These are delicious and easy to assemble ahead of time. They're great finger food, so your guests can simultaneously talk and enjoy their appetizers.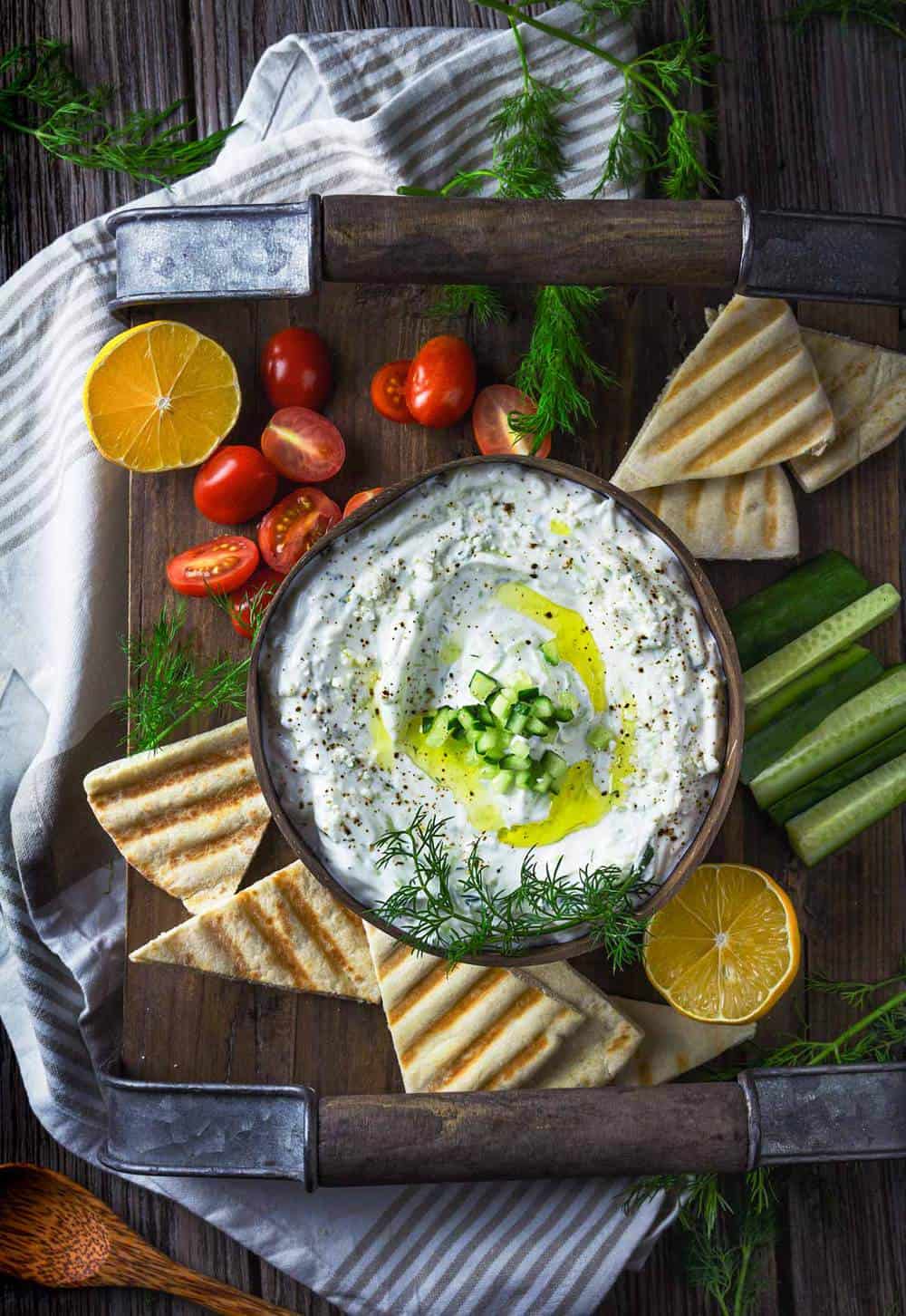 Source: all-thats-jas.com
You can't go wrong with a good dipping sauce as a tasty cold appetizer. This Greek tzatziki sauce is light but packed with flavor, perfect for waking up everyone's appetite.
The sauce's flavor is super versatile, effortlessly complementing a variety of vegetables, bread, and crackers.
So, you can serve this dip with anything you like, which is excellent if you have picky eaters on the guest list.
Source: simpleandsavory.com
We've all heard of fruit roll-ups, but this is their significantly more sophisticated cousin: zucchini roll-ups. This dish is cold and refreshing, pairing the light crunch of fresh zucchini with creamy avocado.
This is a great dish to send around a crowd, ideal for party settings. Even the most vegetable-averse among them won't be able to pass these up; they look insanely delicious!
You will need this peeler to make these happen!
Need more zucchini recipes? Check out these parmesan zucchini bites!
Source: cravingsomethinghealthy.com
This Southwest pimento cheese spread is the Swiss Army Knife of appetizers, able to be spread on everything from crackers to fresh vegetables.
The rich and creamy flavor is a great start to any meal, and serving it chilled pulls back the richness just enough so it won't overwhelm your guests. This is another option that's great for picky eaters.
Have a crockpot and need appetizer? Check out these crockpot appetizers!
Source: adashofmegnut.com
Prosciutto, melon, and mozzarella are a combination that stretches as far back as the seventies. There's a reason it's stuck around for long: it's delicious!
The salty prosciutto, cream cheese, and sweet melon offer the perfect balance of flavors and textures in every bite. Served as antipasto skewers, this is the perfect party food for your next dinner party.
Use these paddle-pick skewers!
Source: marcellinaincucina.com
The key to a great bruschetta is fresh ingredients. This classic appetizer dish will stoke the fire of your guests' appetites, priming them for an evening of delicious food and even better company.
I love serving bruschetta at summer events, as the freshness in each bite is the perfect way to celebrate the sunshine.
It's also easy to make in large quantities, so whip this out if you're serving a crowd!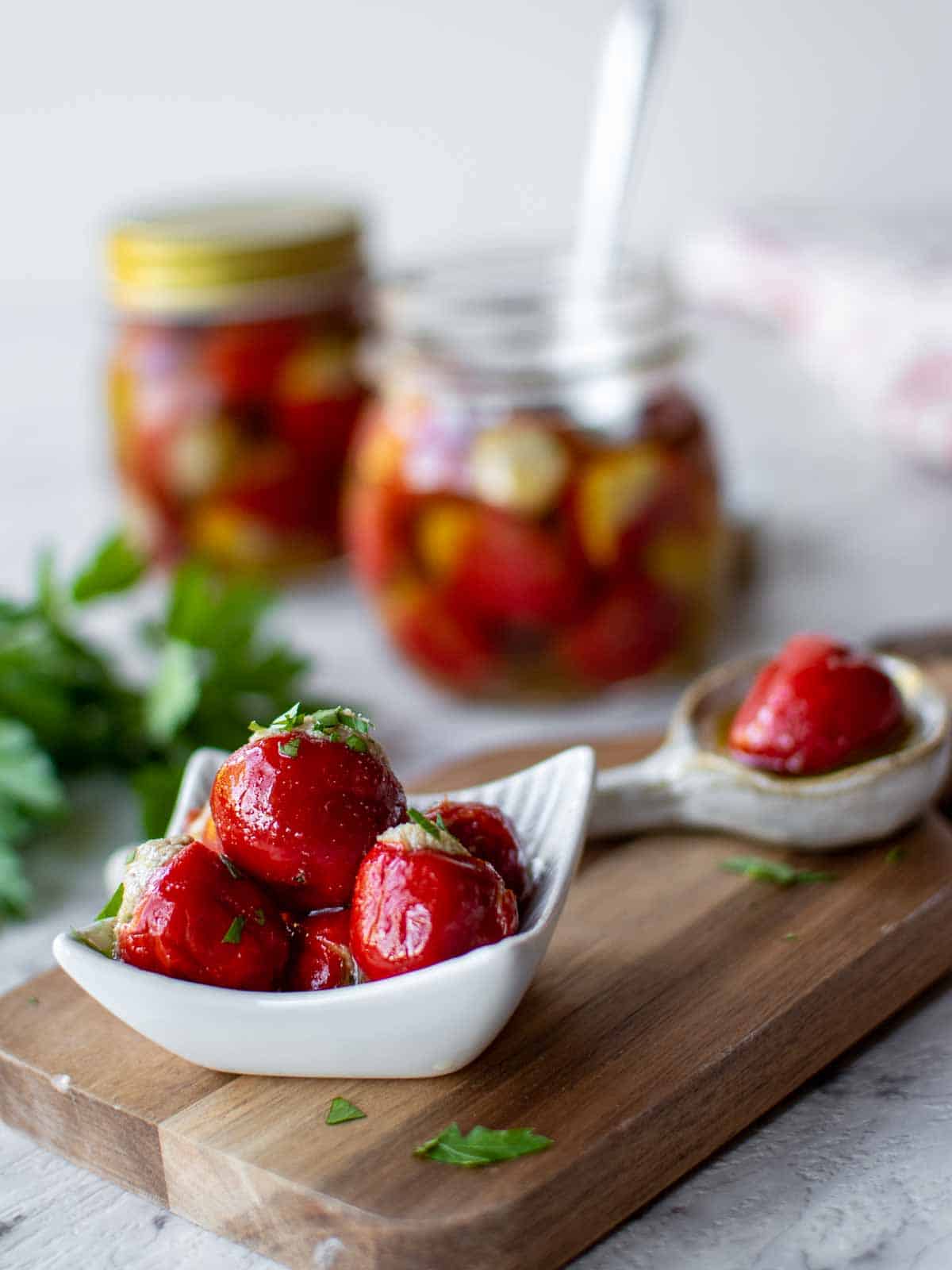 Source: marcellinaincucina.com
Are you looking for something sweet and crunchy to start your meal right? These adorable stuffed cherry peppers are bite-sized morsels that will have your guests clamoring for more.
As any party host will know, how your food looks are as important as it tastes!
Bursting with classic Italian flavors like anchovy, capers, and parsley, each pepper's flavor lives up to its promising appearance.
When you're looking for perfect finger foods. This is one of those make-ahead appetizers you'll want to serve over and over again.
You're going to need these wide-mouth mason jars!
Check out more Italian appetizer recipes!
Source: littlesunnykitchen.com
A cheese ball is a show-stopping appetizer that will smile on your guests' faces, especially one covered in bacon! This is another great dish to serve as a summertime appetizer or on game day.
Bacon, ranch, and cheese are a match made in heaven. You can serve this excellent cheese ball with just about anything, which will succeed.
You can also make it the day before to save yourself some time!
Source: littlesunnykitchen.com
Ceviche is a classic Italian appetizer that uses an acidic dressing to cook raw fish gently. It's light, refreshing, and perfect for summer or spring events with an Italian theme.
Shrimp ceviche is lovely, thanks to the shrimp flesh's natural delicacy. While it's delicious, it's light enough that your guests will be hungry for more when your main meal is ready.
Source: thaicaliente.com
Ceviche is also fantastic as an appetizer because you don't have to cook any elements. Chop up the various ingredients and throw them together with a dash of citrus for a perfect appetizer.
This Mexican ceviche de Pescado uses cilantro, cherry tomatoes, and lime juice to highlight the fish's natural flavor.
Calling on these traditional Mexican elements makes this a flavorful yet light start to your meal. Check out more Mexican appetizers here.
Source: partylicious.net
You can't go wrong with a big dip when it comes to the best cold appetizers. They make it easy to feed large groups, and they're ideal for picky eaters because everyone can choose what they dip with.
This roasted garlic beet dip is a deliciously unique option for your next gathering. Featuring the earthy-yet-sweet beetroot and some mellow roasted garlic, it's the best of both worlds.
This will go great with other puff pastry appetizers!
Source: joyfoodsunshine.com
Speaking of dips, this layered Greek dip is a major crowd-pleaser. Guaranteed to satisfy everyone in attendance, this has several layers that everyone can enjoy.
The base is delicious yogurt tzatziki; then, we transition into a deliciously spiced hummus. Finally, we cap the whole thing off with an assortment of fresh vegetables that look as good as they taste.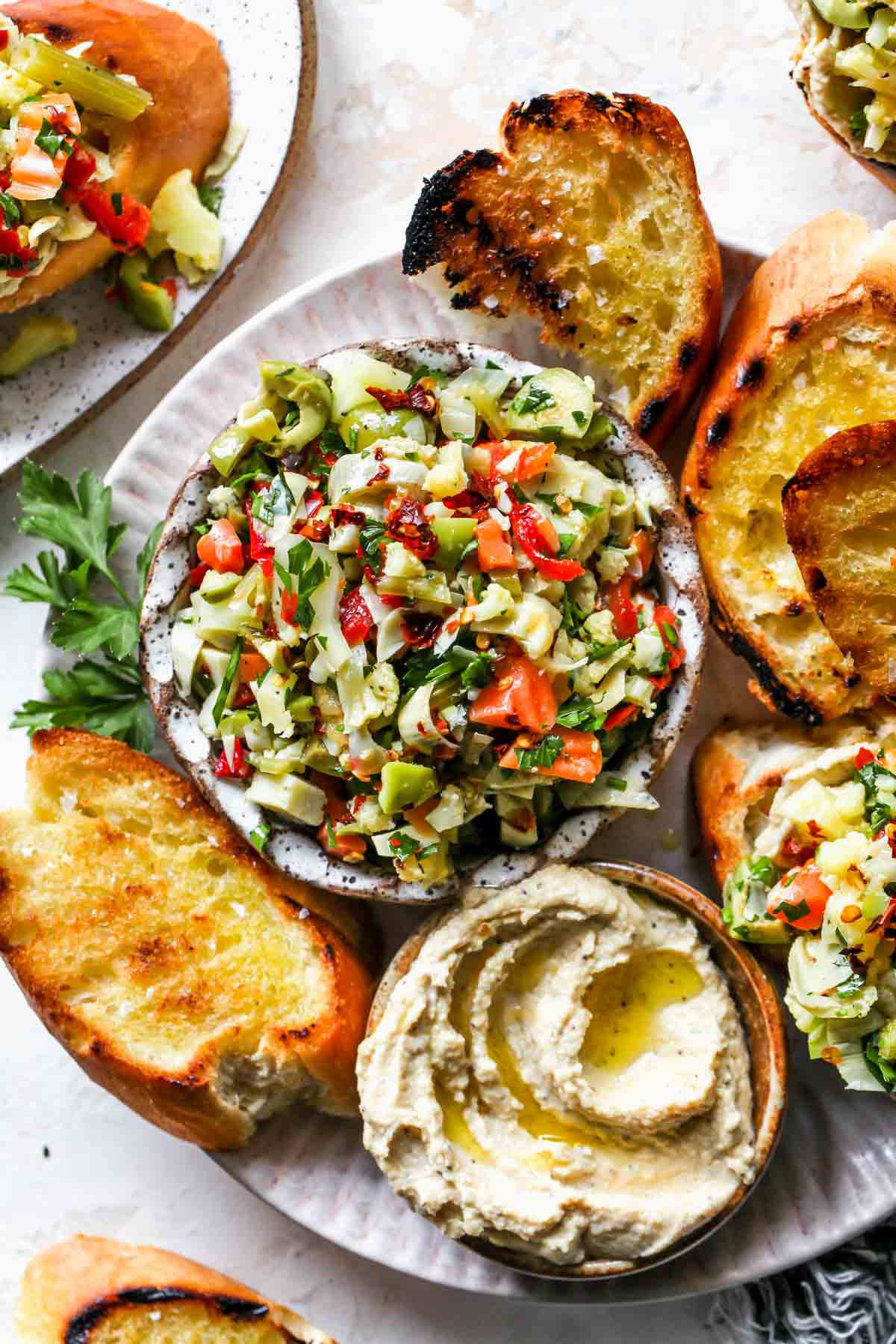 Source: dishingouthealth.com
Artichokes are those vegetables with an unfortunate reputation because of how difficult they can be to prepare for beginners. But there's a trick to cooking them correctly.
Once you get it, you're in the clear!
This delicious artichoke salad is further proof not to knock artichokes until you try them. With a beautiful myriad of textures and flavors, this is a salad your guests won't be able to put down.
Source: thehealthyepicurean.com
Yes, you read that right. Combining peach and guacamole might sound strange, but these two fruits are unexpectedly amazing together.
The creamy avocado is a perfect contrast to the sweet peach. It's best to serve this as fresh as possible so that the avocado doesn't go brown. Luckily, it takes just minutes to prepare!
Source: noshingwiththenolands.com
If you're searching for a quick and easy cold appetizer, look no further than these cucumber hummus bites. The earthy hummus offers a delicious earthiness, while the cucumber rounds are refreshing.
You can top these with tiny croutons to baby olives, but I prefer the classic heirloom cherry tomato.
A bright, crunchy, colorful, and healthy appetizer that sets your guests' appetites ablaze. This perfect finger food will definitely be a crowd pleaser. On top of it, it's the easiest thing you'll ever make.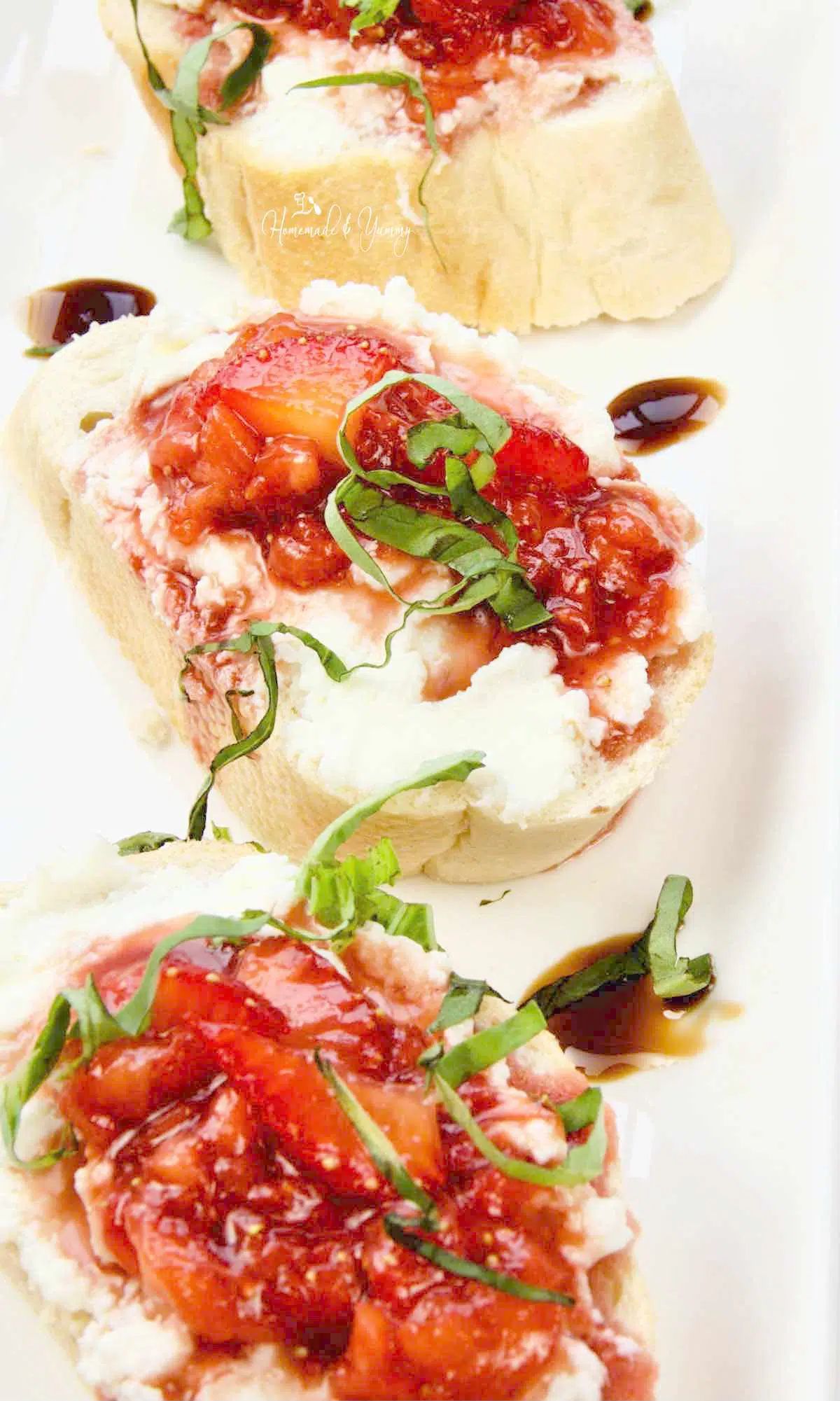 Source: homemadeandyummy.com
Despite how strawberries are usually used, this is a savory appetizer dish ideal for serving on warm days.
Balsamic-glazed strawberries are a study in contrasts, showing how well sweet and savory go together.
These are super easy to prepare in bulk, and your guests will fawn over each strawberry-coated baguette slice. Make sure to pick up some high-quality ricotta for ultimate creaminess.
Source: therusticfoodie.com
Knowing how to make a good olive tapenade is essential for any entertainer. This recipe is great for use as a perfect cold appetizer, coating crunchy crostini with salty olive spread.
You can easily prepare the tapenade ahead of time, but make sure not to spread it on the crostini until the last minute. This will keep the bread fresh and crispy for as long as possible.
Source: sweetandsavourypursuits.com
Good hummus is its reward, so this caramelized onion hummus must be an entire treasure trove!
The earthy chickpea mixture's veins of sweet caramelized onion are sprinkled, making it completely irresistible.
This is an excellent choice for parties as most guests enjoy good hummus. Serve with crackers, fresh vegetables, or crostini to contrast the creamy hummus with some natural crunch.
A nice addition to this onion hummus would be these Indian appetizers.
Source: pinchandswirl.com
If you're having a smaller party where each guest can enjoy their own appetizer, these Mexican shrimp cocktails will blow them away.
While these aren't ideal for serving crowds, they're great for dinner parties! Each cocktail is chock full of luscious shrimp, marinara, citrus, and creamy avocado.
Every bite has a new collection of flavors to enjoy, and the light seafood means your guests will still be hungry for the main event.
Source: cookingonthefrontburners.com
Speaking of dinner party appetizers, these Greek salad stackers are another example of an ideal recipe.
These cold party appetizers look incredible on the plate, sporting vibrant colors arranged with care.
I'd highly recommend preparing these ahead of time, as they can be tricky to assemble. Once you're ready to serve, whip them out of the fridge, dress them with olive oil, and you're good to go!
Source: cookingwithjanica.com
Charcuterie boards are great, but they can be difficult to serve to an entire party, especially if you want to make sure every guest gets enough. That's where these fantastic charcuterie cups come in.
Imagine them like small charcuterie boards, where each guest gets a portion of the cheeses, meats, and fruits you'd find on a standard board.
It's all presented in a cup, so walking, talking, and eating are easy.
Source: hotpankitchen.com
These simple cucumber bites will perfectly suit any occasion, whether you're preparing for the Super Bowl or an elegant dinner party.
There's no cooking involved, so all you need is time to assemble them. Featuring a delicious balsamic dressing, these cucumber bites are light and refreshing enough for any season.
The prosciutto on the bottom ensures your guests' appetites will wake up, but they won't be too full for dinner.
Source: cookingchatfood.com
Speaking of prosciutto, this following recipe is a classic appetizer that makes the best of two stunning ingredients: fresh asparagus and prosciutto.
Topped off with goat's cheese, this is a fantastic blend of flavors. These are super simple to prepare and keep well in the fridge, so they're great for parties.
Tantalize your guests' taste buds with a classic combination like this!
Source: thesuburbansoapbox.com
If you're searching for an appetizer that will completely blow your guests away, you've found it!
These honey ricotta peach crostini celebrate the summer gems that are peaches, turning them into savory marvels.
Crispy pancetta and creamy ricotta play off the light, sweet freshness of the peaches to create a balanced appetizer.
Prepare these ahead of time and pay extra attention to the presentation to impress your guests.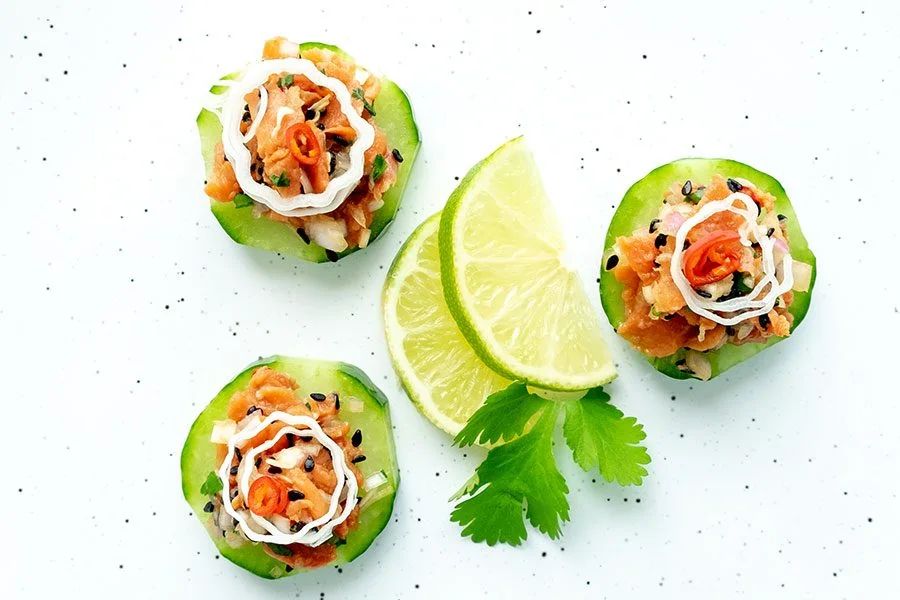 Source: onlyglutenfreerecipes.com
A delicious salmon tartare is a fantastic appetizer on its own, but what happens when you place it on top of fresh cucumber rounds? The answer is a fresh and light appetizer that will fly off the plates.
Salmon tartare is relatively simple to prepare; just make sure you cut the salmon as evenly as possible for the best result. Top your cucumber rounds with the mixture, drizzle with mayo, and you're done!
Source: alittleandalot.com
If salmon tartare doesn't sound like your cup of tea, this orange salmon might fit the bill. Featuring roasted salmon instead of the fresh variety, this is an earthy one-bite appetizer great for fall.
Experiment by switching out the different components to find the flavor combination you enjoy most. This is a great dish to serve at large parties, mainly if you aim for a sophisticated vibe.
Source: mykitchenlove.com
On the other hand, if you're searching for something more simple for your next party appetizer, these bites are the way to go.
Using classic flavors everyone can enjoy, these are quick and easy to assemble. While this easy recipe calls for manchego cheese, you can easily substitute a sharp cheddar cheese if you prefer a cheaper option.
This is one of the easy finger food recipes you can serve for special occasions. Nothing works better than simple recipes. So let your party guests enjoy some of the best appetizers.
Source: makeitskinnyplease.com
Fresh spring rolls are a vibrant and colorful addition to any dinner table, immediately drawing your guests into the party mood. These spring rolls are served with a light peanut sauce.
However, if you're worried about allergies, a hoisin and chili sauce will also suit them brilliantly. The hardest part about these is getting the rolls tight, but you're good to go once you've got that down!
Source: cleangreensimple.com
Searching for something quick and refreshing to rock your guests' worlds? This mango and cucumber salad brings together two of the freshest, juiciest ingredients on the sweet and savory spectrum.
It's more like a salsa than a salad, so you can always chop the pieces smaller than the recipe calls for and use them as a condiment instead. With a dish this delicious, the possibilities are endless.
Source: lucismorsels.com
Our second-to-last dish features fresh, cold asparagus on a bed of white bean puree. Bursting with protein and healthy goodness, this appetizer looks and tastes stunning.
The flavors are mellow enough that your main meal won't be overshadowed but tasty enough that your guests will keep coming back for more. Be prepared to share this recipe around!
Source: 365daysofbakingandmore.com
Finally, we have a unique and delightful appetizer option that will have your guests clamoring for the recipe. A perfect goat cheese appetizer!
These delicious cold appetizers would be right at home on a holiday dinner table with this flavor combination. Plus, they're super easy to make.
You need to mix up the goat cheese with the other ingredients, form them into cheese balls, and chill them until you're ready to serve. How much better can it get?
31 Easy Cold Appetizers for an Entertaining Party
Start your dinner right with these easy-to-make and delicious Cold Appetizers. These recipes are simple but marvelous!
Ingredients
1. Caprese Skewers
2. Greek Tzatziki Sauce
3. Zucchini Roll-Ups with Guacamole
4. Southwest Pimento Cheese Spread
5. Prosciutto Melon Mozzarella Skewers
6. Bruschetta with Mozzarella
7. Stuffed Cherry Peppers
8. Bacon Ranch Cheese Ball
9. Shrimp Ceviche
10. Mexican Fish Ceviche
11. Roasted Garlic Beet Dip
12. Layered Greek Dip
13. Artichoke Salad
14. Peach Guacamole
15. Cucumber Hummus Bites
16. Sweet Strawberry Bruschetta
17. Kalamata Olive Tapenade Crostini
18. Caramelized Onion Hummus
19. Mexican Shrimp Cocktail
20. Mini Greek Salad Stackers
21. Charcuterie Cups
22. Whole30 Cucumber Bites
23. Prosciutto Wrapped Asparagus
24. Honey Ricotta Peach Crostini with Crispy Pancetta
25. Smoked Salmon Tartare Bites
26. Orange Salmon Appetizers
27. Cheese, Ham, and Olive Bites
28. Fresh Spring Rolls
29. Mango Cucumber Salad
30. Asparagus Crostini
31. Cranberry Pecan Goat Cheese Bites
Instructions
Scroll up to get a bunch of easy, yummy, and delicious appetizers. Don't be afraid to get creative with the ingredients, you might discover a flavor you didn't know you liked.
Get your shopping list going and make sure you've got all the ingredients.
Get cooking and make your next Cold Appetizer!
Notes
Which one of these recipes was your favorite? Let me know in the comment section or on Pinterest!