Looking for easy appetizers to make from puff pastry? These easy puff pastry appetizer recipes are easy and delicious.
Puff pastry extends back as far as 1600s France when bakers discovered that layering butter and pastry would create a wondrously flaky result.
The signature pastry gains its puff from the butter melting out of the layers as it bakes, leaving air gaps throughout the crispy pastry. Every bite crunches through the buttery layers to add taste and texture.
Since then, we've been using it to create excellent snacks and dishes. Today's list looks through twenty-seven amazing recipes that highlight puff pastry at its best: in appetizers.
So, get a box of puff pastry sheets and get cooking!
Source: motherwouldknow.com
The secret to a good appetizer lies in the name; it needs to ignite your guests' appetites! These spicy cheddar herb palmiers will do the trick with their delicate texture and punchy flavor.
These are super simple to make with pre-made puff pastry, producing an elegant appetizer that will quickly disappear from the plate. They're crispy, golden brown, and full of unbeatable flavor.
This is one of the quick appetizers you'll make again and again.
Source: artfrommytable.com
Next up on our list is a recipe for caramelized onion tarts, an easy crowd-pleaser with a simple method. You can easily make this ahead of time and whip it out on the day of your event.
This recipe combines apples and onions to create a tart walking the line between sweet and savory. Each bite dances on the tongue with a delightful sweetness pulled back by Greek yogurt.
Source: motherwouldknow.com
Looking for something that looks elegant but isn't too hard to create? Then these puff pastry potato roses are just right for you. The key is to make your potato slices as thin as possible so they can be crisp.
If you don't own a mandoline slicer, then a knife works just fine, but you might need to practice your technique. You can flavor them with anything, but the recipe calls for herbs to liven up the taste.
Source: bellyfull.net
Let's hop into dessert-style appetizers with these jam puff pastry twists. These are great for your next brunch get-together. They're sweet enough to wake up the appetite without overpowering the meal.
These might look fancy, but they're effortless to make, mainly if you use pre-made pastry. Sprinkle the crunchy twists with powdered sugar to make them look more appetizing and enjoy.
All you need is a rolling pin and some creativity!
Just get some parchment paper and pop these on a baking sheet and bake! Serve at room temperature for the best taste.
Store these in an airtight container and prep these for the next party! Your guests will thank you!
Source: mommyevolution.com
Next up, we have another simple appetizer packed with crunch and flavor. These savory puff pastry bites are dotted with sweet caramelized onions and mushrooms, making them both earthy and a little sweet.
The flavor combination on these bites is incredible, with each element highlighting the next in a flavor-filled merry-go-round. You can use the same bites method to create your signature blend too!
Source: thegoodheartedwoman.com
Here's a sophisticated recipe perfect for your next dinner party: a mushroom and chicken tart. The puff pastry tart contrasts the earthier chicken filling, so each bite is perfectly balanced.
While this looks quite sophisticated, it's actually relatively easy to make. You can also prepare this tart ahead of time and serve it cold if you're looking for a deliciously simple summer appetizer.
Source: thegoodheartedwoman.com
Baked brie is the ultimate picnic or brunch appetizer! It's so simple and versatile, thanks to the variety of things you can dip into the cheese, so all your guests will have something they can enjoy.
This is a fabulous low-effort recipe that yields a big reward. Simply wrap your favorite brie in a layer of puff pastry dough and bake until golden. Once you crack that shell, delicious melted brie will come oozing out.
The ribbons of almond and raspberry throughout the brie mixture help make it fresh and light, so it's ideal as an appetizer dish.
Source: brooklynactivemama.com
Sometimes it's best to rely on the classic flavors you know everyone will love. These pizza puffs will make you very popular whether you're gearing up for your next game day or a neighborhood potluck.
If you're really in love with these puffs, you can easily make them larger and have them as your main meal. Leave some ranch or buffalo dipping sauce on the table to elevate them further.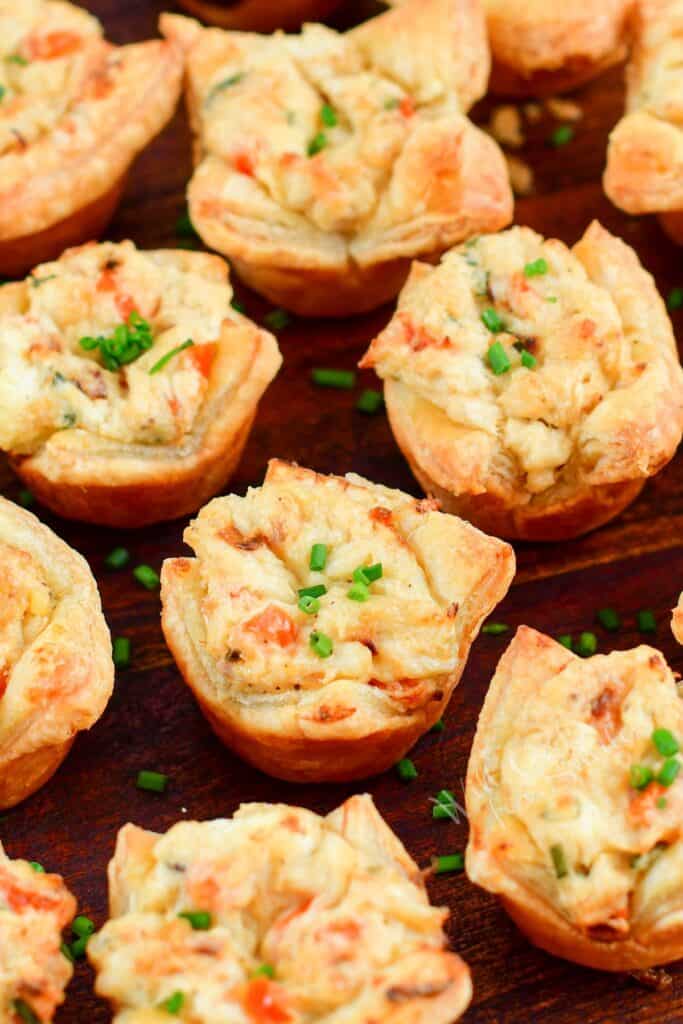 Source: willcookforsmiles.com
Crab puffs are a classic crowd-pleaser, heralded as a delicious appetizer for decades! Buttery, crunchy puff pastry is the perfect contrast for soft and sweet crab meat, creating a cycle of unbeatable flavor.
These bite-sized delights are the perfect appetizer to make the rounds at your next holiday dinner party. They're light, sophisticated, and easy to make in bulk, mainly using pre-made puff pastry.
Source: wenthere8this.com
A flat puff pastry tart is one of the simplest yet tastiest appetizers you can make. It requires minimal effort – just some vegetable chopping – but the result is a beautiful centerpiece for your table.
It's also great for serving bigger crowds, as the large tarts can feed many people at once. Leeks and mushrooms are a delicious combination that will easily cater to even the pickiest eaters.
Source: whereismyspoon.co
Looking for spinach puffs? These Greek-inspired pastry triangles are bursting with herbaceous flavor. Each bite tastes better than the last one, featuring feta cheese, spinach, and an assortment of herbs.
Thanks to the simple shape, these are easy to whip up, but they look pretty impressive on a platter. These are portable and self-contained, great for outdoor settings or gatherings!
Source: wenthere8this.com
Ham and cheese is a flavor combination as old as time, but serving ham and cheese pizzas as appetizers might not be as sophisticated as you'd like. That's where this ham and cheese puff pastry recipe helps.
These are essentially little slices of ham and cheese pizza, but the puff pastry base and delicious sauce add a touch of elegance. This crowd-pleasing choice will be sure to wow all your guests.
Source: limethyme.com
Are you looking for something a little unique? This South Indian-style recipe produces punchy, crunchy egg puffs that will have your guests drooling. The aroma alone is enough to ignite their appetites!
These puffs use halved boiled eggs as their main element, so they're simple to make. You can even make them ahead of time and whip them out when you're ready.
This is one of the savory recipes that's great for holiday parties. A savory treat everyone will love. Check out more Indian appetizers here.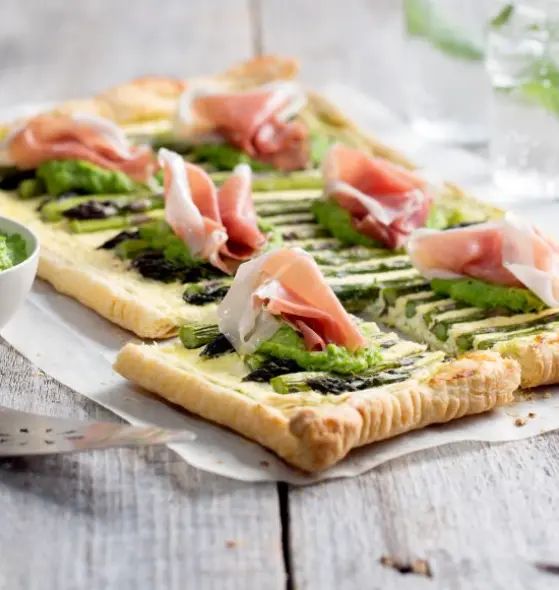 Source: swirlsofflavor.com
This is an ultra-elegant choice with an assortment of Italian-inspired flavors. Salty prosciutto, fresh asparagus, and sweet balsamic all pair to create a delicious symphony of tastes and textures.
While it looks elegant and complex, the tart only requires the most straightforward techniques to come together. It doesn't need much time either, so that you can whip it up at a moment's notice.
Check out more Italian appetizer recipes here.
Source: abakingjourney.com
If you're looking for an appetizer, this vegetable tart celebrates all your favorite fall and winter flavors as we head into the cooler months. Onion, herbs, and the all-important pumpkin all feature.
The pastry turns a delightful golden brown in the oven, matching the warm orange of the sweet, earthy pumpkin. It's the perfect way to kick off a winter meal.
Source: thefoodblog.net
These bite-sized asparagus puffs are so cute and easy to serve at a spring gathering. Celebrate an underappreciated spring vegetable with these quick and easy puffs.
All you need is a miniature tart tin, and you can whip these up in no time. Serve fresh from the oven or cold on a platter to combat the day's warmth.
This is a lovely easy recipe when you need some impressive appetizers. Easy finger foods that will quickly become some of your favorite appetizer recipes.
Source: confessionsofparenting.com
Unexpected guests knocking at your door? Blow them away by producing these delicious cranberry brie bites in just fifteen minutes!
Cranberry and brie is a classic combination that speaks for itself. The tart berries contrast the rich brie, so neither flavor overwhelms your taste buds.
Wrap some pastry around that combination, and you have a winner!
Source: jamjarkitchen.com
Introduce a splash of color to the table with these puff pastry tomato tarts. You'll get the best results if you opt for grape tomatoes, but traditional cherry or Roma tomatoes also work beautifully.
Each square is the perfect portion for a single appetizer, waking up your guests' appetite without overfilling them. Plus, they look like they came straight out of an Italian bakery!
Source: smalltownwoman.com
Sick of defrosting your puff pastry before you have to work with it? These cheese and bacon straws are easily assembled using frozen puff pastry! That's right, no more last-minute panicking!
Not to mention the straws themselves taste absolutely delicious. Veins of cheese and bacon streak across the surface, making each bite salty, rich, and wonderfully crunchy.
Source: apaigeofpositivity.com
Asparagus and bacon are a classic combination, so why not elevate it with some puff pastry? These adorable pastry pockets are the perfect spring appetizer for your next picnic.
They're easy to eat with your hands, but they don't look out of place in a more formal setting. With this versatile recipe in your pocket, you can never go wrong.
Source: littlesunnykitchen.com
If you're into asparagus but looking for a simpler appetizer, this straightforward asparagus tart is right for you. Straightforward doesn't mean boring, though; this tart bursts with flavor!
Each crunchy bite brings to mind the spring season, with fresh asparagus and light cheese constantly bringing you back for more.
Source: onehotoven.com
Apricot and parmesan cheese? Hear me out on this one! The salty parmesan is the perfect companion to dried apricot's dark sweetness, especially when you introduce buttery pastry into the mix.
These pinwheeled pastries are easy to make and look delightful on a platter. These will be an instant crowd favorite whether you're headed to a potluck or a picnic.
Source: itsnotcomplicatedrecipes.com
We've all heard of apple turnovers, but why not make them savory with an ever-popular combination? Bacon and cheese turnovers are utterly delicious, bursting with melting goodness and chunks of bacon.
This is the perfect appetizer to bring out on game day, especially if you pair it with some dipping sauces! These are really easy to make, requiring only a few ingredients you should easily have on hand.
Source: itsnotcomplicatedrecipes.com
Let's take a trip to the land of little things with this adorable miniature bacon and onion pasties. These can be a bit fiddly to make, but you'll be churning them out once you get the hang of it.
Your guests will be throwing these back by the handful by the end of your next gathering. Filled with bacon and onion, these are little buttery parcels of flavor you won't forget any time soon.
Source: babaganosh.org
This next recipe is a great appetizer, but it can also be an excellent meal prep recipe or school lunch choice! These puffs are a great healthy option, filled with protein from the black beans.
The flaky pastry is a perfect pair with the delicious black beans and melted cheese. Each bite is luscious and buttery. Try adding sweetcorn to the mixture to add a touch of sweetness.
To take these puffs to another level, try serving them with a marinara dipping sauce to close the circle with these Mexican-inspired puffs.
Check out more best Mexican appetizer recipes.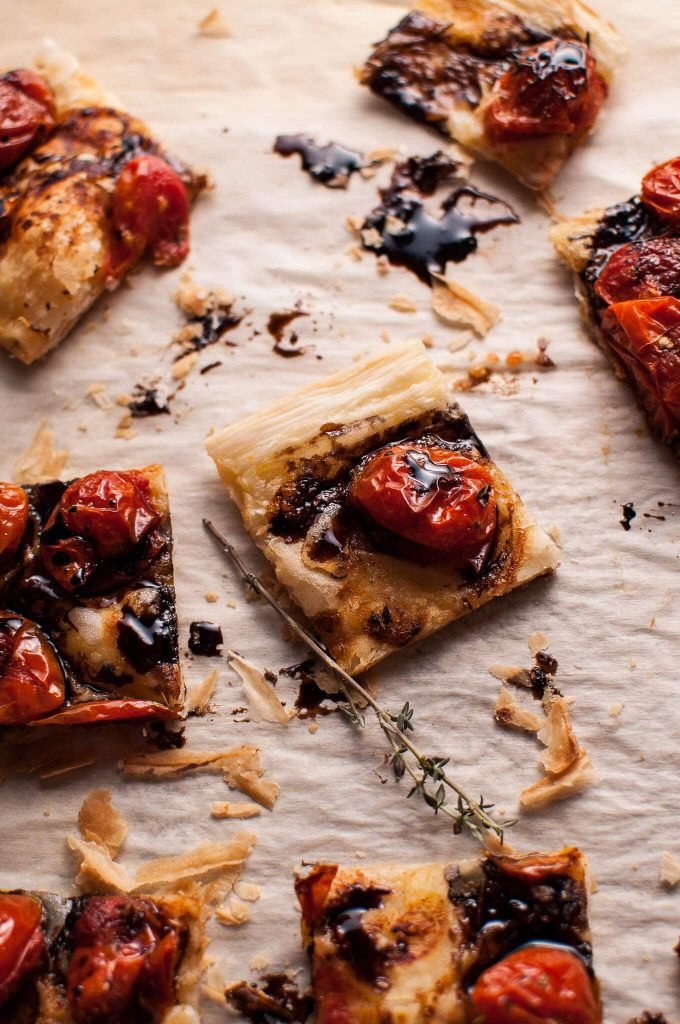 Source: saltandlavender.com
Our penultimate recipe celebrates everything good about the roasted tomato. Sweet and slightly charred gems rest on a bed of buttery pastry, all adorned with streaks of balsamic dressing.
Whether tomatoes are in season or not, roasting them brings out their natural flavor ten-fold. With a small dose of balsamic to highlight their sweetness, this is a sophisticated dinner appetizer for the ages.
Source: babaganosh.org
Our final recipe celebrates a unique flavor combination; after all, it's not often you see a tropical pastry appetizer!
This combination of flavors is perfect for a picnic or brunch, celebrating the meeting of buttery pastry and fresh fruit. Topped with whipped cream to lighten the affair, it's a great start to a summer meal.
27 Easy Puff Pastry Appetizers You'll Love
Got some puff pastry on your hands? Instead of making desserts, try these Puff Pastry Appetizers. Easy to make and taste delicious.
Ingredients
1. Spicy Cheddar Herb Palmiers
2. Caramelized Onion Tarts
3. Puff Pastry Potato Roses
4. Jam Puff Pastry Twists
5. Savory Puff Pastry Bites with Caramelized Onions and Mushrooms
6. Savory Chicken Mushroom Tart
7. Almond-Raspberry Brie in Puff Pastry
8. Pizza Pastry Puffs
9. Crab Puffs
10. Leek and Mushroom Tart
11. Feta and Spinach Triangles
12. Ham and Cheese Puff Pastry
13. Egg Puffs
14. Asparagus Puff Pastry Tart with Prosciutto and Pesto
15. Pumpkin Tart with Ricotta and Onion
16. Asparagus Puffs
17. Cranberry Brie Bites
18. Puff Pastry Tomato Tarts
19. Cheese Straws
20. Asparagus and Bacon Pastry Pockets
21. Asparagus Tart
22. Apricot Parmesan Puff Pastry Pinwheels
23. Bacon and Cheese Turnovers
24. Mini Bacon and Onion Pasties
25. Black Bean Puff Pastry Triangles
26. Roasted Tomato Puff Pastry
27. Pineapple and Mango Puff Pastry Squares
Instructions
Scroll up to get a bunch of easy, yummy, and delicious appetizers. Don't be afraid to get creative with the ingredients, you might discover a flavor you didn't know you liked.
Get your shopping list going and make sure you've got all the ingredients.
Get cooking and make your next Puff Pastry Appetizer!
Notes
Which one of these recipes was your favorite? Let me know in the comment section or on Pinterest!