Tired of going to an Indian restaurant and want to make some of your own easy Indian appetizers? Give your taste buds a party with these popular Indian appetizer recipes.
If you're looking for flavor-packed healthy appetizers that will stoke your guests' appetites into a frenzy, look no further.
Indian food has many different styles, each one highlighting a different kind of ingredient or cooking style. Despite it being a single country, there's a massive range of Indian regional cuisines.
Each one is liberal with its spices and vegetables, making this a healthy choice for your next round of popular appetizers.
What Should I Serve for an Indian Dinner Party?
It's important to note that most Indian meals don't just focus on a single meal. Instead, various curries, gravies, vegetables, and grains come together to form a collection from which your guests can choose.
If you're gearing up for an Indian dinner party, pick several dishes that can be enjoyed together. A dal, a dry curry, some roti or naan, a gravy curry, and a dash of pickle are ingredients for the perfect formula.
What Are Some Indian Appetizers?
Most of the best Indian appetizers can be enjoyed as part of the main meal or even used as a lunch item. Great examples are things like pani puri (a fried ball stuffed with potato and mint water) and samosas.
Light soups like dal are great, as well as naan or roti, which can serve as your bread course. With so many options to choose from, feel free to experiment with combinations that will heighten your main course.
Source: urbanfarmie.com
A samosa is a triangular stuffed pastry, usually filled with mashed potatoes, vegetables like peas, and various delicious spices. There are a couple of ways to enjoy this tasty treat.
You can eat it just as it is or with a generous dollop of chutney or yogurt to soften the spice. You can use samosas to make samosa chaat, a delicious appetizer dish if you're going all-out.
Samosa chaat consists of crushed samosas adorned with chutney, fried chickpeas, yogurt, and little crunchy potato sticks called sev. It's a symphony of delicious flavors and textures not to be missed!
Love pastry? Check out these puff pastry appetizers!
Source: theforkedspoon.com
Mint chutney is a classic Indian condiment hailing from the Northern regions. It adds a burst of vibrant green freshness to the table, paring back the spice for those who need it.
Don't be intimidated by making green chutney at home; it's actually much simpler than you might think! This recipe requires only a few ingredients and minimal effort, but the result is packed with flavor.
Source: urbanfarmie.com
These Indian vegan fritters called pakoda are a great snack often served with tea in India. They're small fried balls of battered vegetables, and they're absolutely delicious dunked in sweet chutney.
Once again, these are super simple to make with things you'll have on hand in your pantry. You can use any vegetables you like to make these delicious fritters, an amazing leftover-busting recipe.
Source: culinaryginger.com
Dal is the Hindi word for 'lentil,' so this is a thick lentil curry wrapped in a delicious samosa pastry. This is a great way to give leftover curry new life or try making curry for the first time!
Lentils are super easy to work with. If you're using them in their dry form, make sure to soak them for an appropriate amount of time – about half an hour – so that they cook well.
This vegetable samosa method will work with any thick or dry curry, but not one that has too much gravy. That will soak through the samosa wrapper and take away its crispiness!
Give this popular street food a try and enjoy Indian starter recipes!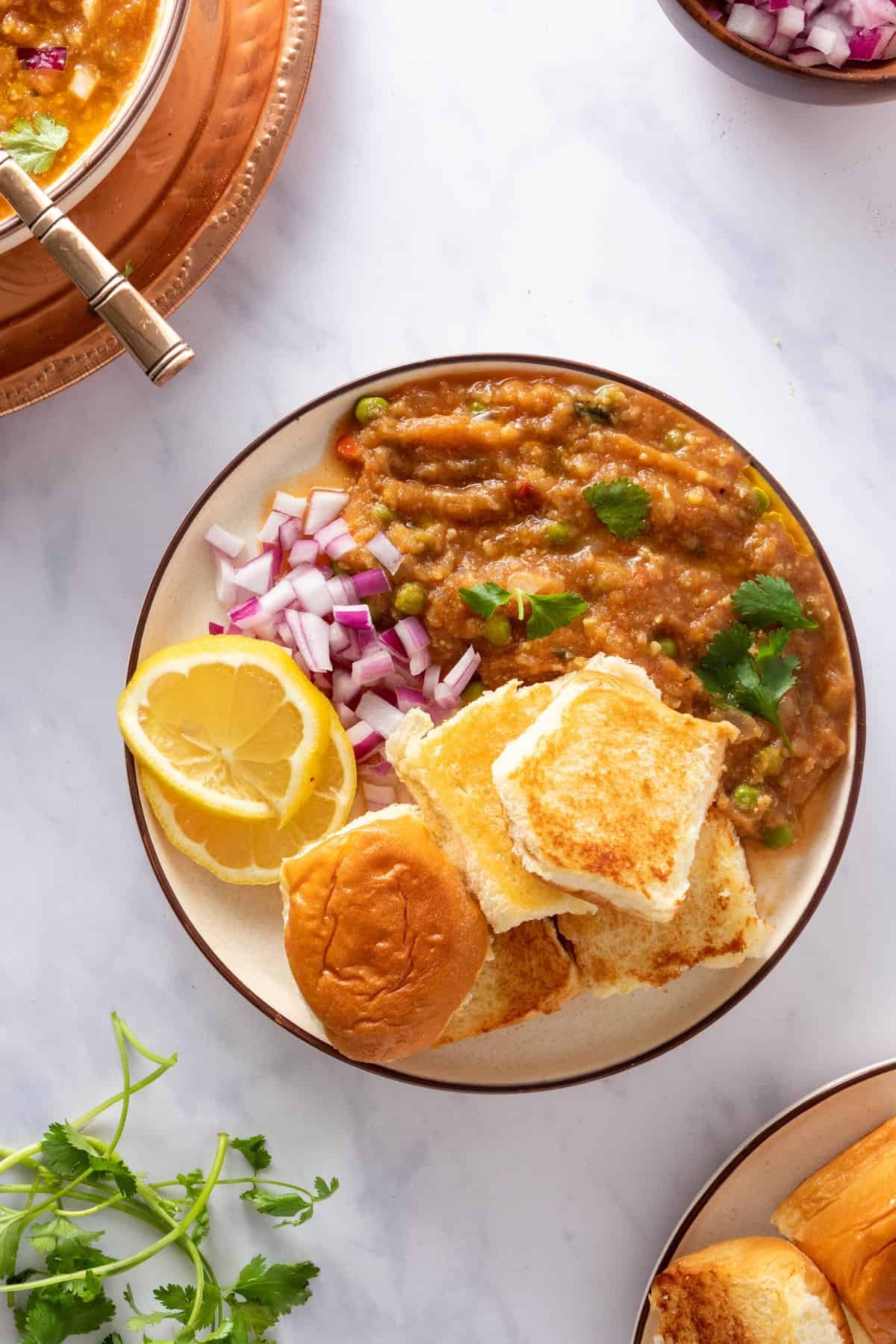 Source: urbanfarmie.com
Pav bhaji is a delicious bread dish with origins in Indian street food. Picture this: fluffy white bread rolls fried in butter and a delightful collection of vegetables cooked into a spicy gravy.
This is a great crowd-pleaser and the ideal dish to get your kids eating their vegetables. With all the flavor packed into the gravy, they'll barely notice the vegetables.
This is the best thing if you love Indian starters. It'll be the best part of any party!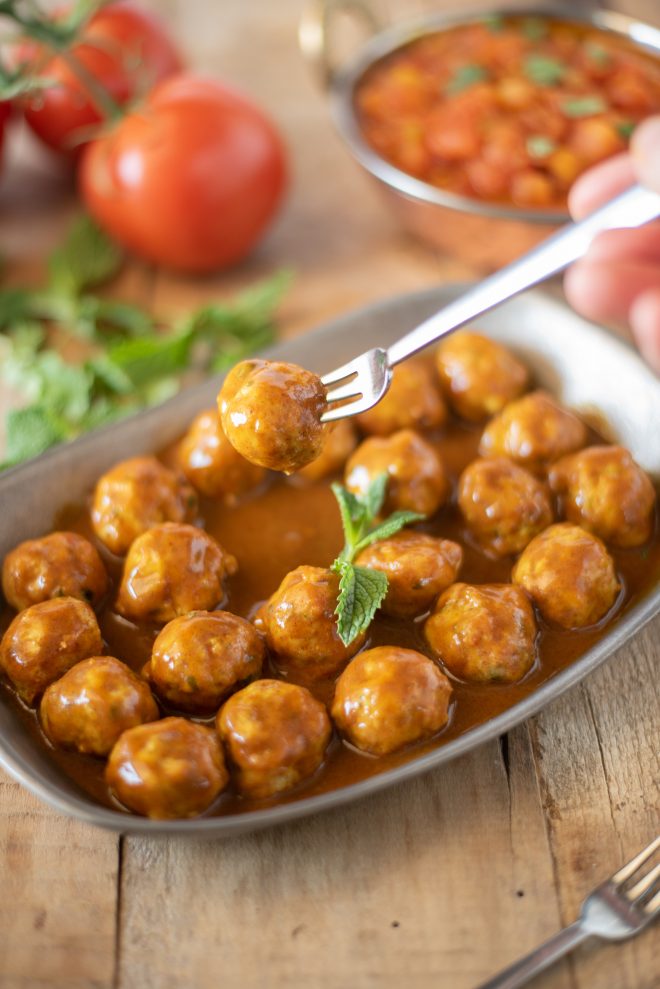 Source: culinaryginger.com
Koftas are small meatballs originating from Central and South Asia, and they're utterly delicious. Picture the most perfectly-spiced meatball you've ever had in your life, and you might get close to a kofta.
These mini versions make for a great appetizer dish at your next dinner party. Serve up the plate of sauced meatballs in the center of the table with small plates and forks so guests can serve themselves.
Adorn with a selection of chutneys for a finishing touch, and you've got an easy appetizer they won't forget anytime soon.
Source: mycookingjourney.com
Dal vada is a specific type of vegetable pakoda (fritter) that uses a variety of lentils called moong dal. If you've ever had mung bean sprouts, these are the grain that comes before them.
This variety of dal is super high in protein, making this a fantastic snack option for vegans and vegetarians. Spiced correctly, they almost taste and feel like little chicken nuggets!
Need more appetizer inspiration? Check out these Italian appetizers!
Source: cookingcarnival.com
Paneer is cottage cheese made by setting curd with an acidic fruit juice like lemon. It has a unique texture that holds up very well under heat, making it an ideal focus for vegetarian dishes.
This Hariyali-style paneer tikka – 'grilled cheese' – skewers blocks of paneer alongside a variety of vegetables. Then, grill them over high heat to char all the elements.
A smoky, spicy, utterly delicious appetizer ideal for your next gathering at the grill.
Source: greenbowl2soul.com
Here's another take on a vegetable pakoda that uses sweetcorn! These are delightfully sweet and refreshing, the perfect appetizer to kick off a spring or summer picnic.
The contrast between the fried batter and the fresh sweetcorn is entirely addictive. Make sure to double the batch on this one; you will need the extras!

This is a great recipe to make with basic ingredients. It will become a popular dish in many Indian households.
Source: spiceupthecurry.com
Cabbage is a profoundly underrated vegetable, in my opinion, but many regions in India use this tasty vegetable in their cuisines. Cabbage absorbs flavor like a sponge, perfect for making fritters.
This pakoda recipe also uses mint leaves to add a hint of freshness, which is great for appetizers. You want your guests to be hungry for more, and the mint leaves entice their tastebuds perfectly.
Source: littlesunnykitchen.com
Onion bhaji are fried onion fritters imbued with a delicious collection of Indian spices. The crispy batter gives way to chewy, punchy onion slivers that will stoke the fires of your appetite in no time.
If you're getting into Indian cuisine, this is a great place to start. Onion bhaji are pretty intuitive to make, requiring minimal effort and time to get right.
But the results will undoubtedly have you coming back for round two! This could also be a lovely side dish for your next party.
Source: ikneadtoeat.com
This mixed vegetable pakora is a great way to use up any leftover vegetables at the end of the week or simply sneak a few extra vegetables into your kids' diets. They're super quick and easy to make.
If you don't get to eat them all at once, you can easily refrigerate these to enjoy cold later on. Make sure to store them with a paper towel in their container to absorb any excess moisture and keep them crunchy.
This is the perfect tea-time snack you can make in little time and enjoy in different ways. One of the greatest Indian recipes!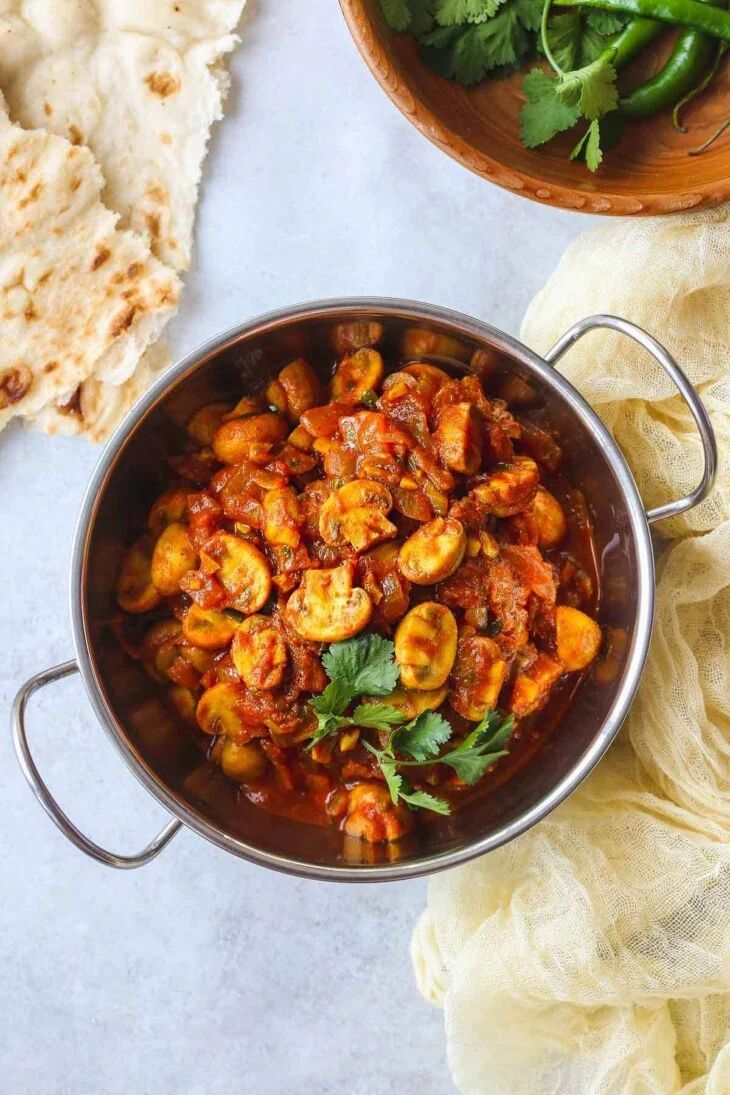 Source: littlesunnykitchen.com
You might have heard of onion bhaji before, but mushroom bhaji is a less common dish. Despite that, its flavors and texture make it the ideal dish to satisfy meat-eaters and vegetarians.
The mushrooms give the bhaji a slightly meaty texture and flavor, especially with the spices forming a tag team in the batter. If you're vegetarian or vegan, this is an unbeatable recipe to have in your arsenal.
When you're looking for great finger foods to add to your Indian dishes, this is the quick appetizer you want to make.
Want to make other easy appetizers? Check out these crockpot appetizers!
Source: ikneadtoeat.com
If there's one thing every cuisine in the world can agree on, it's the versatility and appeal of the humble potato. Picture spiced potato cooked to perfection, then battered and fried.
That's what these aloo pakoras are, and they're insanely good. Pakora is another pronunciation of 'pakoda,' so you can think of these as a potato version of the earlier vegetable fritters.
If your guests are unfamiliar with Indian cuisine, this is a great place to get them started. The potato is a familiar and delicious ingredient that effortlessly absorbs spice, so these will be a hit! You can also use baby potatoes!
Source: temeculablogs.com
Don't worry, making naan yourself isn't as difficult as many people think! It might take a few tries to nail it, so I recommend a couple of test runs before you break this out for your next dinner party.
That said, the basic principles of making naan are super simple. Plus, you require minimal ingredients to make this style of bread. It only needs wheat flour, salt, and water.
The key is not to over or under-knead the dough. Under-kneading can reduce the amount of gluten formed and make the result dense, while over-kneading can make a tough dough that doesn't fluff.
Source: onlyglutenfreerecipes.com
Samosas should be enjoyed by all, including those who don't eat gluten. Luckily, this clever cook has a gluten-free method for making delicious samosas. It's a super simple dough you can make from scratch.
The spicy beef filling is delicious, packed with punchy flavor that takes your tastebuds on a wild ride. You can use the samosa dough on any filling you like, though!
What a great samosa recipe!
Source: thedevilwearssalad.com
Pakoras can be made with meat too, not just vegetables! This chicken pakora recipe is a prime example. It's essentially Indian-style fried chicken, battered with spice and fried to perfection.
The juicy boneless chicken surrounded by a spicy, crispy shell is almost unbeatable in terms of flavor. As an appetizer, you can't go wrong with this crowd-pleasing dish, especially served with chutney!
Source: pepperbowl.com
Also called 'corn chaat,' this can be used as a side salad, a cold appetizer, or even a condiment depending on your evening's menu.
This salad has a refreshing balance of flavor and acidity from corn, onion, and tomato, making it irresistible. It's a super healthy and simple appetizer that takes barely any time to prepare.
Source: nutriciously.com
Many chutney recipes use additional sugar to achieve that characteristic sweetness, but this mango chutney relies only on the fruit.
I'd recommend making this chutney when mangos are in season; that's when you'll get the best result. Then you can seal and store it year-round, ready to use whenever you'd like to freshen your meal.
Want more inspiration? Check out these Mexican appetizer recipes.
Source: myyellowapron.com
Aloo chop or batata vada is a simple Indian street food recipe that capitalizes on the ease and taste of mashed potato. The recipe produces spiced mashed potato balls encased in perfectly fried batter.
This is another great dish to try out if you're starting your journey into Indian cuisine. They're super easy to make, and their taste is truly unforgettable.
The spice mix is pretty simple, too, so you should be able to make it with what you have on hand!
Source: braisedanddeglazed.com
Eggplant is a ubiquitous vegetable in India, used in many delicious curries to soak up all those spices. In this case, we're using roasted eggplant to make a delightful dip mellowed with a dash of yogurt.
The yogurt and eggplant blend with a few spices to create a mellow mixture that hums with smokiness. This is perfect for serving at the start of your meal with roti, naan, or even crostini!
Source: splashoftaste.com
Aloo bonda is another term for aloo chop, our favorite fried mashed potato balls. This variation uses cilantro and fresh curry leaves to add a splash of freshness to the heavy potato balls.
While this makes for a fantastic yummy appetizer dish, this can also be used as part of the main meal. Dipped in dal or curry, the potato will absorb the sauce and amplify its taste ten-fold.
Source: myyellowapron.com
Our final recipe is a less commonly known dish, but it's one to try at your next dinner party. The idea for this dish comes from traditional Indian street food, coating beetroot in semolina and frying it.
In this variation, you'd use an air fryer to achieve that crispy texture with barely any oil needed. That makes this one of the healthiest appetizer options on this list and a great way to kick off your meal!
Enjoy these delicious Indian appetizers!
23 Easy Indian Appetizers You'll Love
Bring Indian flavors to your dinner table with these Indian appetizers. Perfect for family dinners and parties.
Ingredients
1. Healthy Samosas
2. Mint Chutney
3. Vegan Fritters
4. Lentil Dal Curry Samosas
5. Mumbai Pav Bhaji
6. Mini Indian Meatballs with Curry Coconut Sauce
7. Moong Dal Vada
8. Hariyali Paneer Tikka
9. Easy Corn Fritters
10. Cabbage Pakoda
11. Crispy Onion Bhaji
12. Mixed Vegetable Pakora
13. Mushroom Bhaji
14. Crispy Aloo Pakora
15. Homemade Naan
16. Gluten-Free Spicy Beef Samosas
17. Chicken Pakora
18. Indian Corn Salad
19. Sugar-Free Mango Chutney
20. Aloo Chop
21. Mutabal Roasted Eggplant Dip with Thick Yoghurt
22. Aloo Bonda
23. Beetroot Tiki
Instructions
Scroll up to get a bunch of easy, yummy, and delicious appetizers. Don't be afraid to get creative with the ingredients, you might discover a flavor you didn't know you liked.
Get your shopping list going and make sure you've got all the ingredients.
Get cooking and make your next Indian Appetizer!
Notes
Which one of these recipes was your favorite? Let me know in the comment section or on Pinterest!