Love Mexican cuisine and need some appetizers? Make these Mexican Appetizer Recipes that taste delicious and are easy to make.
Are you gearing up for a party or game day? Looking for snacks and easy appetizers that will please every palate? Then you're in the right place!
Mexican food – particularly their street food – has a long delicious history. With Spanish and Mesoamerican influences, this warm and vibrant cuisine is guaranteed to please.
What Appetizers to Bring to Mexican Food Party?
If you're searching for good party food, you can't go wrong with appetizers inspired by Mexican street food. A large proportion of this is finger food, perfect for rolling out to a crowd.
Pick small things like stuffed peppers, tarts, or esquites with corn tortillas for a rip-roaring selection of easy-to-eat dishes.
What Are Good Mexican Appetizers?
You can head the traditional route, including fajitas, empanadas, elote, quesadillas, and more! Each one is a classic that will go down a treat, plus they're super easy to eat.
All the recipes on this list fall squarely in "good Mexican appetizers." They use classic recipes and put a bit of a twist on them, thus refreshing these delicious dishes.
Mini Mexican Appetizers
Let's start with one of my favorite categories: mini Mexican appetizers. The ultimate finger food, these dishes prove that good things come in small packages.
Some of these Mexican recipes are a great choice if you're looking for party pleasers. A simple recipe can go a long way in keeping the guests excited about the food.
Source: thismomsmenu.com
Love the taste of nachos, but don't want the carbs that come with them? Enter these delicious taco-stuffed mini peppers! These delightful little morsels are the perfect healthy appetizer.
Each one is a tiny parcel of light and vibrant flavor. The peppers provide a juicy crunch with each bite, while the insides burst with spice. Serve with a creamy dip to start your meal off right.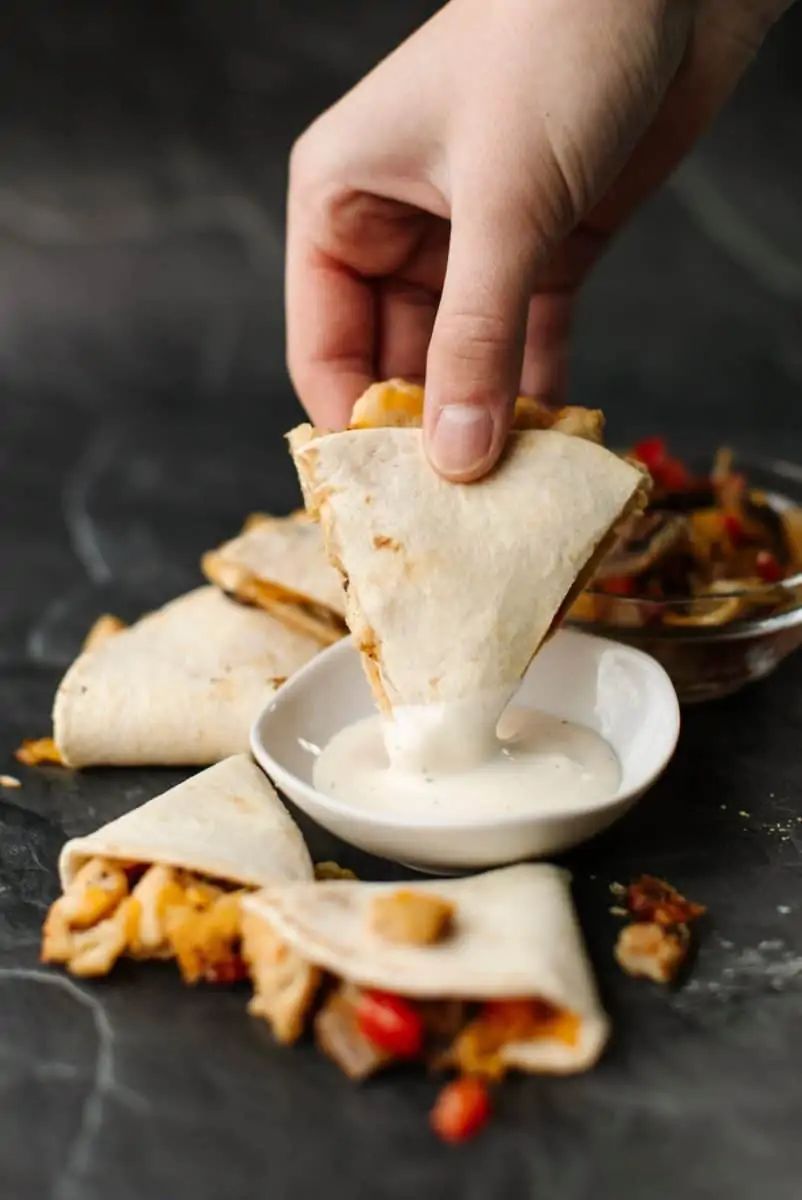 Source: frommichigantothetable.com
These mini chicken and cheese quesadillas will be your new favorite appetizer if you're a grilled cheese sandwich lover. These are so quick and easy to make; they're great for lunches or snacks!
I love this easy recipe because you can experiment with any spices, vegetables, cheese, and protein you like. No specialized equipment is needed, just your ingredients and enthusiasm.
Source: thatskinnychickcanbake.com
Don't be scared by the word 'tart'; this is one of the least complicated recipes on this list. Using pre-made shells or pastry to line mini tart tins, you can create delicious mini Mexican tarts in no time.
These tarts are perfect for filling out the lineup on your game day menu. They're self-contained, so they're easy to eat with no utensils. You can also send your guests home with any leftovers!
Source: carolynscooking.com
We've already touched on the magic of quesadillas, but these mini green chile chicken quesadillas take it to a whole new level. These beautiful half-moon wraps are chock full of warm, spicy notes.
Quesadillas are the ultimate crowd-pleaser. Who doesn't love cheese and chicken in a grilled casing? This green chile chicken version adds a new realm of flavor to keep your guests on their toes.
Source: wholesomemadeeasy.com
We're back with another stuffed mini peppers recipe, but we're using cream cheese this time. These mini peppers are the perfect intersection of a light appetizer and a hearty snack.
Each stuffed pepper is a treat for both the eyes and the tastebuds. The stuffing is super easy to make despite the quality, taste, and appearance. Just grill the stuffed peppers, and you're good to go.
Source: theartoffoodandwine.com
Spice up the usual salad with a new take on tacos. These miniature taco salad cups will make all other salad appetizer recipes obsolete.
This is a delicious blend of tastes and textures, featuring creamy avocado, crunchy taco cups, juicy tomato, and light sour cream. Have these taco cups ready to go in fifteen minutes or less.
Cold Mexican Appetizers
Summer days and Mexican food are a match made in heaven. What's even better is a plate of cold Mexican appetizers to cool off on a scorching day.
Source: servedfromscratch.com
First up, we have a personal favorite: Mexican street corn salad. This cool and refreshing treat roars off the plate in a kaleidoscope of color and taste. Not to mention, it's so easy to make.
Each bite is bursting with fresh corn, cheese, and onion. Whip this up with only a few ingredients, let it sit in the fridge to chill, and take it to your next potluck as an impressive contribution.
This is also a great side dish for chicken.
Source: fromvalerieskitchen.com
Distinct from Mexican street corn salad is corn salsa. With even fewer ingredients than the salad, this is the perfect condiment to freshen up your summer lunch or dinner table.
This salsa heroes the corn as its sweetest, crunchiest element. The little pieces of red onion, pepper, and lime speckled throughout to heighten the corn even further. Be liberal with that lime!
This is one of the fresh salsas you'll enjoy with the main course for taco Tuesday. What a great way to incorporate fresh ingredients into your diet and enjoy healthy appetizers.
Source: ihearteating.com
No table of Mexican food is complete without a dish of delicious guacamole. This is a versatile condiment that every tortilla chip, nacho dish, quesadilla, or frijole can call home.
You just need five minutes to whip this up before serving. Guacamole should be served as quickly as possible to prevent browning, but adding a tiny bit of citrus to the mix should also delay that.
Source: foodieandwine.com
Right next to the essential guacamole is a place for refried bean dip. This hearty and delicious dip has a few different approaches you can take, depending on how much time you have.
The quickest approach is to use canned refried beans and give them some new life with some additional ingredients. You can also go the whole hog and use a slow cooker to get the best result.
Source: foodieandwine.com
Start your lunch or dinner off the classy way with this Mexican shrimp cocktail recipe. It is a treat for your tastebuds, but the look of the filled cocktail glasses is wildly impressive.
It's somewhat based on a shrimp ceviche recipe, but there isn't enough lime juice in this recipe to cook raw shrimp. So, make sure you're using cooked shrimp to get the best result.
Source: thecleaneatingcouple.com
Picture this: it's a warm summer day. You're sitting outside with some friends, sipping a cold drink, and you reach over to spoon some pineapple mango salsa onto your fish taco.
If you're anything like me, that sounds like heaven. This delicious salsa is great for making in advance, so whip up a big batch and store it in an airtight container.
Healthy Mexican Appetizers
Mexican cuisine features a lot of vibrant, delicious fresh vegetables and fruits… it also tends to feature a lot of carbohydrates and cheese! In this section of our list, we'll lean toward the former.
Take a journey through a few of the healthiest Mexican appetizers you can use to liven up the table for your next meal.
Source: veeg.co
Jicama is a Mexican root vegetable that slightly resembles a turnip but has an apple-like taste. It's a super healthy option for your dinner table, and it's even better as part of a light and tasty slaw!
This quick and healthy recipe requires no cooking, so it's straightforward. This slaw recipe relies on fresh, bold flavors that highlight each ingredient in its most natural form.
As with any slaw, I'd recommend making this in advance and letting it sit in the fridge to cool. This could also be a nice side for burgers.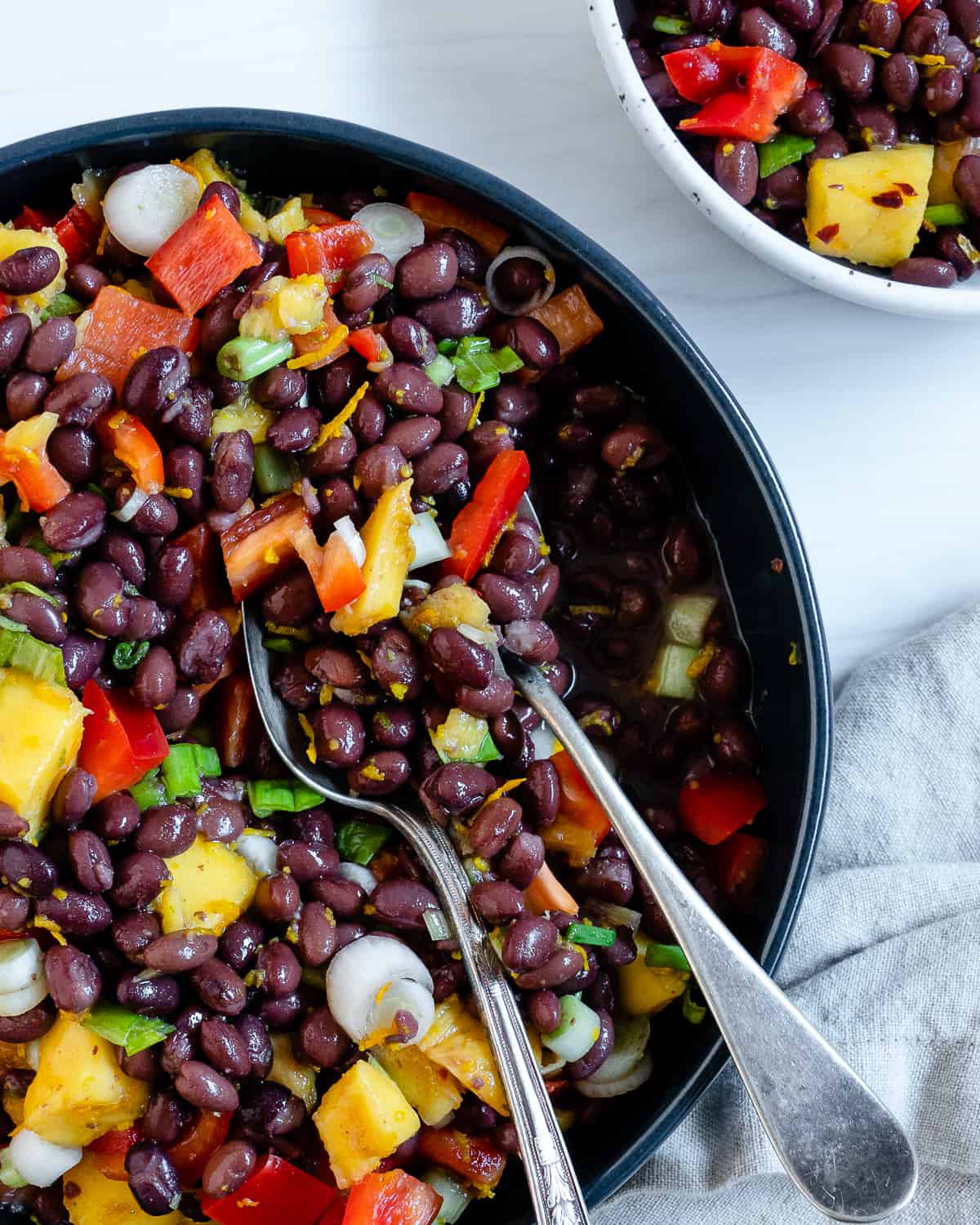 Source: plantbasedonabudget.com
Next up, we have a hearty and protein-packed black bean salad that's perfect for clearing out your pantry at the end of the week. Got some peppers and canned black beans leftover from the week?
Spice up those simple ingredients with a speckling of mango and green onion. Each bite presents a new series of flavors blending, so you'll have to keep going back in for more.
Source: delicioustable.com
Avocado salsa is the perfect addition to your list of favorite Mexican appetizer recipes, whether you're catering for a large party or cooking on a weeknight. Spoon this healthiest of condiments over anything you like!
Earthy avocado provides a solid base for this salsa. Then, we brighten it with vegetables, onion, chiles, and a few tomatillos for freshness.
The result is a bowl of beautiful green sauce that makes you feel healthier just by looking at it. This is a perfect addition to your main dish.
Source: nourishplate.com
In need of more delicious salsas? Are you searching for the perfect combination of sweet and savory?
This pineapple salsa undoubtedly fits the bill. Little gems of pineapple are strewn through with red peppers, red onion, and cilantro.
The result is a condiment that is savory and sweet, highlighting all the right parts of a dish without overwhelming it.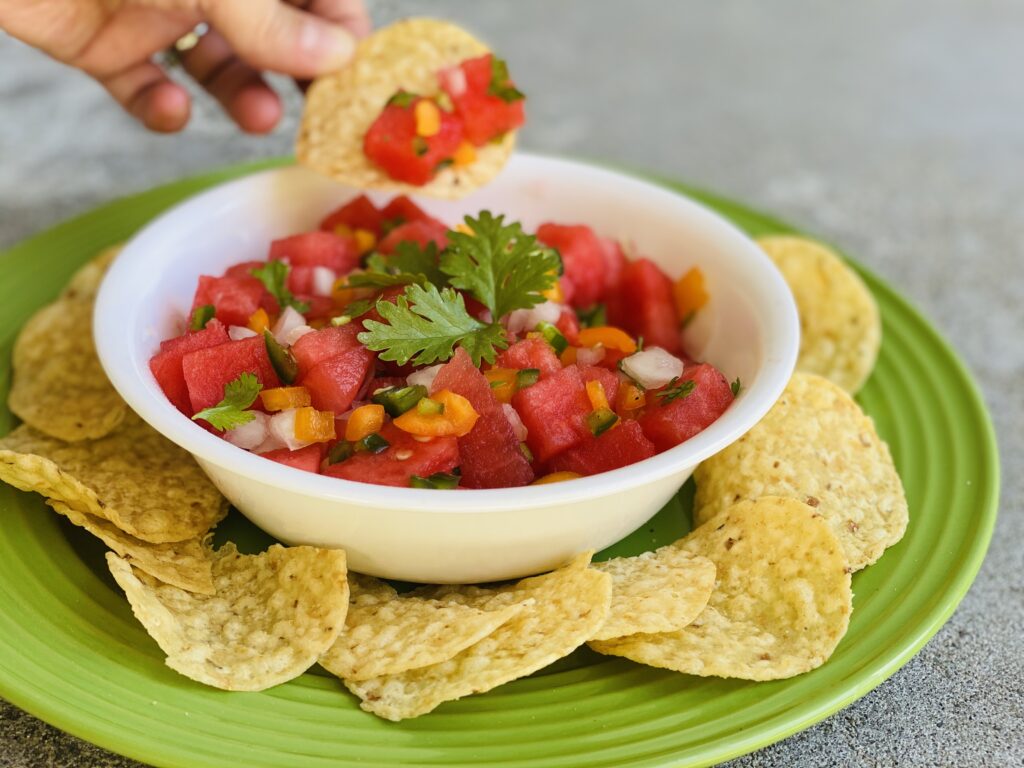 Source: theshortordercook.com
Our final healthy appetizer is the freshest take you've seen on a pico de gallo in a while! This recipe uses juicy watermelon as the core ingredient rather than relying on tomatoes to anchor the salsa.
The result is an excellent and refreshing salsa that takes beautifully to seafood and chicken dishes. It's also remarkable just served with a plate of chips and some cold drinks before your main meal.
Easy Mexican Appetizers
In my opinion, the best quality an appetizer can have is that of convenience.
But how do you nail convenience without sacrificing taste? These six upcoming recipes are perfect examples of success in that arena.
Enjoy these delicious Mexican appetizers and get your taste buds ready for Mexican cuisine.
Source: alekasgettogether.com
Traditional empanadas can be a little bit of a hassle to make if you're not used to them, primarily due to the pastry. These vegetarian empanadas use a pre-made pie crust that speeds up the process.
This vegetarian filling is nice and hearty without being too filling. It leaves plenty of room for the meal to come! You might find guests swiping the leftovers; that's how good they taste.
Enjoy these for a cheap dinner!
Source: whereismyspoon.co
Devilled eggs are a classic appetizer choice for a reason. They're deliciously creamy and excellent finger food. Spice up this traditional option with a Mexican take on deviled eggs.
Each bite is bursting with spice and warmth to compliment the creamy texture. This is a great way to get through any eggs approaching their expiry date, plus you get a delicious appetizer out of it!
Source: kathrynskitchenblog.com
Like any good sheet pan recipe, these chicken nachos are here to make your life easier. You need to spread your nachos on the pan and cover them in whatever takes your fancy!
This recipe calls for a smattering of chicken, chilies, lime, and beans to create a bright and fresh smorgasbord of textures.
Source: currytrail.in
Enjoy a street corn salad with more texture, more sauce, and an awe-inspiring look. These Mexican-style corn riblets are a fantastic way to start your next meal.
They're super easy to make, and all you need are some ears of corn. Thanks to the minimal ingredients, this is a cheap and easy treat that can also work for school lunches, snacks, and more.
Source: moonandspoonandyum.com
Who doesn't love a plate of loaded fries? These Mexican street corn fries dress a plate of delicious potato fries with a creamy, deliciously-spiced corn pile.
Topped off with cilantro and lime to brighten up the spread, this appetizer will make you very popular. Use frozen fries or fast food fries to get it done even faster!
Source: xoxobella.com
Elote nachos are another personal favorite, combining the salty crunch of nachos with the delightful sweetness of street corn. These nachos require no dipping or dressing, just slap the corn on and go.
These nachos are perfect for laying out on the table in large quantities for your guests to enjoy at a party. The minimal hassle with maximum deliciousness!
This is a lovely snack for a Sunday dinner.
Keto Mexican Appetizers
With the number of carbohydrates present in many Mexican dishes, you might think that keto Mexican appetizers are challenging to find.
The truth is, the warm spice and delicious ingredients characteristic of Mexican cuisine create the ideal playground for some delicious keto recipes.
Source: ketocookingwins.com
First up, we have a cream jalapeno dip to die for. Using sour cream, cilantro, jalapeno, and lime, you can create a delicious dip for your table.
Provide a whole range of options for dipping, such as fresh vegetables or good old nachos, to satisfy your guests before the main event.
This is a perfect Mexican dip that will become the best thing in your household. Enjoy it with chicken taquitos, homemade tortilla chips and more!
Source: lowcarb-nocarb.com
If you loved the taco cups recipe earlier in this list, you'd love this low-carb version. Instead of pastry to create the cups, this recipe uses keto taco shells made from almond flour.
The result is a light and crunchy shell that provides the perfect contrast to the tasty filling. Experiment with fillings or offer a range of them to have all your guests drooling.
Source: fittoservegroup.com
The jalapeno popper is any keto lover's dream appetizer. This is a well-loved bar snack that lives up to its name, featuring no carbohydrates. The first bite results in a delicious burst of flavor.
You can prepare these poppers in advance to get all the fiddly work out of the way. Then, when it's time to serve, cook them up in five to ten minutes and serve warm.
Source: lowcarbspark.com
Our final recipe celebrates all the colors and flavors of Mexican cuisine, just without the carbohydrates. This bowl is bursting with great nutrients and a lot of protein.
As a lead-up to dinner, you can serve small bowls to wake up your guests' stomachs without overfilling them. You can even host a create-your-own-bowl bar!
27 Best Mexican Appetizer Recipes
Love Mexican cuisine? These Mexican Appetizer Recipes are easy to make, taste delicious, and are great for parties.
Ingredients
1. Mini Taco Stuffed Peppers
2. Mini Chicken and Cheese Quesadillas
3. Mini Mexican Tarts
4. Mini Green Chile Chicken Quesadillas
5. Cream Cheese Chorizo Stuffed Mini Peppers
6. Mini Taco Salad Cups
7. Mexican Street Corn Salad
8. Corn Salsa
9. Guacamole
10. Refried Bean Dip
11. Mexican Shrimp Cocktail
12. Pineapple Mango Salsa
13. Jicama Slaw with Fresh Herbs
14. Mango Black Bean Salad
15. Avocado Salsa
16. Pineapple Salsa
17. Watermelon Pico De Gallo
18. Vegetarian Empanadas
19. Mexican Devilled Eggs
20. Sheet Pan Chicken Nachos
21. Mexican Style Corn Ribs
22. Mexican Street Corn Fries
23. Mexican Street Corn Nachos
24. Creamy Jalapeno Popper Dip
25. Crunchy Taco Cups
26. Bacon Jalapeno Poppers
27. Mexican Bowl
Instructions
Scroll up to get a bunch of easy, yummy, and delicious appetizer recipes. Don't be afraid to get creative with the ingredients, you might discover a flavor you didn't know you liked.
Get your shopping list going and make sure you've got all the ingredients.
Get cooking and make your next Mexican Appetizer!
Notes
Which one of these recipes was your favorite? Let me know in the comment section or on Pinterest!