Parmesan zucchini bites are a perfect low carb and low-calorie snack or appetizer. You can have many of these throughout the day and keep yourself full!
These bites are flavorful, super tasty, and incredibly easy to make! Vegetarian-friendly and gluten-free.
Sometimes we just want warmer, comforting snacks. These parmesan zucchini bites are a great option.
They are low carb, low fat, and have less than 7 calories per bite. It's difficult to believe they are this healthy with the amount of flavor they have.
The recipe only has five ingredients. You should be able to make these pretty quickly when you're in need of a healthy snack or side dish.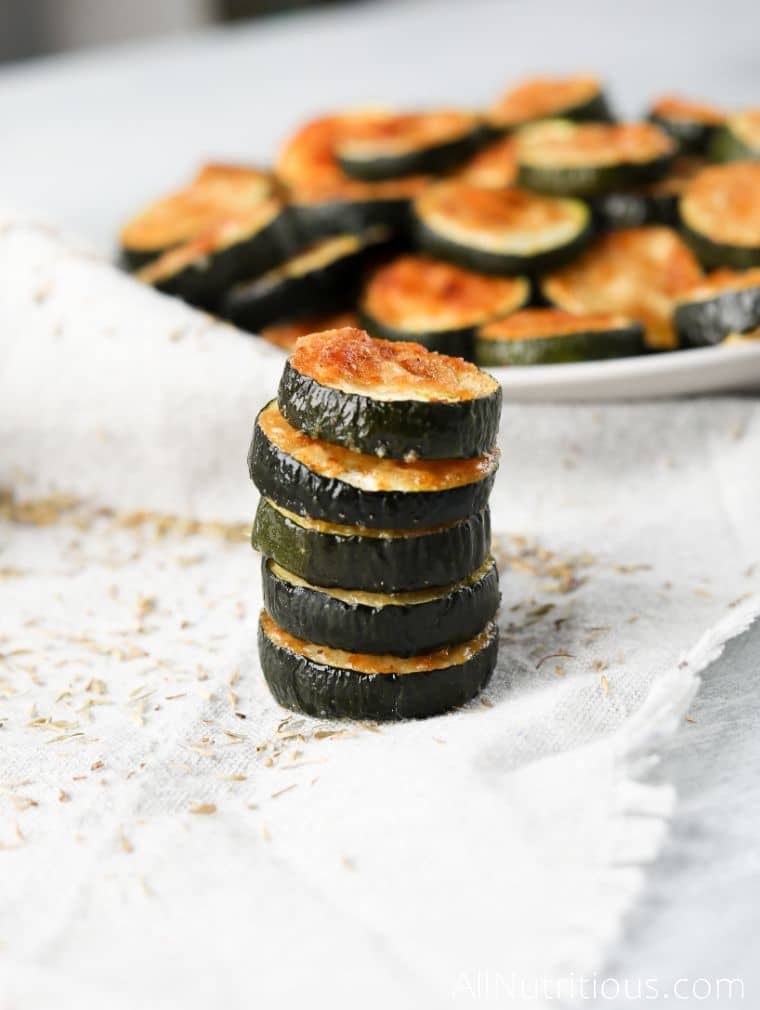 These tasty little bites can be enjoyed on their own or with dipping sauces. Some sauces that would work great are sweet chili sauce, marinara sauce, or garlic aioli.
It's always best to make the sauces when you can. If you aren't able to, don't worry.
There are a lot of healthy options at the supermarket or through an online grocer.
You could also add these zucchini bites as a side to a bed of sautéed greens or lean pieces of meat.
Why Make These Parmesan Zucchini Bites?
There are a multitude of reasons to make these parmesan zucchini bites. They are healthy and really simple to make.
Zucchini is a wonderful vegetable to cook with. It can be cooked in a variety of ways.
It has a very mild taste. It's great to combine it with bold flavors.
Zucchini is also really good for you. It helps lower your blood sugar and aids in healthy digestion.
The vegetable is also rich in Vitamin B. Vitamin B will help boost your energy and combat fatigue.
It also had a lot of fiber, which is great for any weight loss routine.
Parmesan cheese, garlic, and paprika make these zucchini bites extra delicious. Parmesan cheese is also really good for you.
It has protein and is rich in vitamins. It also provides calcium.
How to Make Parmesan Zucchini Bites
These parmesan zucchini bites are really easy to make. Gather your ingredients.
This will help the recipe process move along quickly.
Ingredients
zucchinis
ground garlic
salt
parmesan (powder preferably)
paprika powder
Step-by-step Instructions
First of all, preheat the oven to 425F (220C). Get a large baking tray and line it with parchment paper.
It's best to use medium zucchinis for this recipe. Larger (wider) ones will have more moisture.
Next, slice the zucchini into round discs. You want the slices to be about ¼" thick (.65cm).
This is the best thickness so that they do not get soggy while cooking. If you sliced them any thinner, they might fall apart.
It's a good idea to dry the zucchini after it's been sliced. This will remove some of the water from the vegetable that might also cause it to get soggy when cooked.
You can do this by patting the slices with paper towels.
Before the next step, spray the parchment paper with no-stick spray. This will help the bites from sticking to the paper.
Next, lay the slices flat on the baking tray. Make sure they are not touching or overlapping.
Sprinkle some garlic powder and salt over all of the zucchini slices.
Sprinkle a small amount of parmesan cheese on each zucchini bite.
You will want to use a fine, flakey parmesan cheese for this recipe.
Finally, top each bite with a pinch of paprika. This adds flavor and a burst of color.
Put them in the oven.
Bake them for 15-20 minutes at 425F or until the parmesan cheese begins to brown. Remove the bites from the oven and allow to cool for five minutes before serving.
Don't forget to serve with your favorite dipping sauce.
Should You Salt Zucchini Before Cooking?
There are a few good reasons to salt the zucchini before baking. Zucchini is a very water-dense vegetable.
You will probably notice this when you make things like zucchini bread. When you cut or shred zucchini, the vegetable starts to break down and release water.
When you shred zucchini, you usually have to squeeze the water out before using it. A lot of water gets released from the vegetable.
It would be difficult to squeeze the water out of the slices used for this recipe. Instead, adding a bit of salt will help release some of the water.
When the zucchini bakes, the water will leave the vegetable. Now your slices won't be as soggy.
Salt is also a great way to boost the natural flavor of the zucchini. Served plain, zucchini doesn't really have a lot of flavors. Adding salty ingredients (in moderation, of course) will help boost the flavor.
How Do You Know When Zucchini Is Cooked?
Zucchini tastes best when cooked but still has a tender texture. You will know that the zucchini rounds are cooked with the cheese starts to brown.
You will also notice that the rounds will still be able to be picked up without falling apart. They can be cooked through and still maintain their shape.
The zucchini rounds are over overcooked if you notice a lot of water on the pan and flimsy zucchini rounds.
Can I Use a Different Cheese?
Other cheeses will work just fine in this recipe. It's best to use a fine, grated cheese so that they stay on the rounds better.
You can grate almost any cheese by using a grating tool with fine blades.
Mozzarella and cheddar cheese would work great. Soft cheeses, like goat cheese or brie, would be more difficult to use and not result in the same flavor.
These cheeses are not recommended for this recipe.
Other Recipes You Might Like
Watch Full Instructions
Parmesan Zucchini Bites
These parmesan zucchini bites are low calorie, full of fiber, vegetarian, and gluten-free. It's a perfect little snack you can have throughout the day.
Ingredients
3 medium zucchinis
1tsp ground garlic
½ tsp salt
½ cup parmesan (powder)
pinch of paprika
Instructions
Preheat the oven to 425F (220 C) and get a baking tray. Line it with parchment paper and spray a little bit of cooking oil on it.
Slice dry zucchini into ¼ inch (0.65 cm) thick pieces. Place the slices on the baking sheet, sprinkle with garlic and salt.
Cover each zucchini slice with a layer of parmesan and sprinkle some paprika over them.
Bake parmesan bites in the oven for 15-20 minutes until parmesan is light golden brown.
Allow to cool down for 5 minutes before serving. Feel free to have them with your favorite sauce.
Nutrition Information:
Yield:

46 zucchini bites
Serving Size:

1 zucchini bite
Amount Per Serving:
Calories:

6.8
Total Fat:

0.3g
Saturated Fat:

0.2g
Trans Fat:

0g
Unsaturated Fat:

0.1g
Cholesterol:

0.9mg
Sodium:

46mg
Carbohydrates:

0.6g
Net Carbohydrates:

0.5g
Fiber:

0.1g
Sugar:

0.3g
Protein:

0.5g
Nutritional values were obtained with automatic software using the amounts of products used. To get the most accurate representation of the nutritional values, you should calculate them with the actual ingredients used in your recipe. You are solely responsible for the nutritional information obtained to be accurate.