Looking for easy appetizers to make in a crockpot? These slow cooker appetizers will be a hit in your next party.
Whether planning a big party meal or a romantic date night menu, choosing the right appetizer is essential. It must suit the meal's theme, suit all dietary requirements, and be delicious!
Beyond that, slow-cooker appetizers should be easy to prepare ahead of time. Having your appetizer ready to go allows you to work on other aspects of your meal without worrying about the first course.
This is why, in the appetizer game, a crockpot is your very best friend.
You can set and forget each of these twenty-seven easiest appetizers, returning to them only when it's time to serve your delicious first course. Let's discover what they are.
Source: fantabulosity.com
Our first crockpot appetizer is a classic in the home cook's repertoire; slow-cooker BBQ meatballs. You only need four ingredients to make this enticing appetizer a reality, and it's so simple!
All you have to do is place frozen meatballs, sriracha, grape jelly, and BBQ sauce in your crockpot. Set it to cook for two hours, and move on to the rest of your meal.
These meatballs are a delicious way to kick off your meal, bursting with punchy, sweet, tangy barbecue flavor.
Source: sparklestosprinkles.com
Are you gearing up for game day? Whether you're hitting a tailgate party or hosting a Super Bowl event at home, these Lil' Smokies will be the highlight of everyone's meal.
These little sausages are ideal for kicking off a delicious array of game-day treats requiring only five minutes to assemble.
Once you've got this cooking, you can dedicate your energy to the rest of your meal.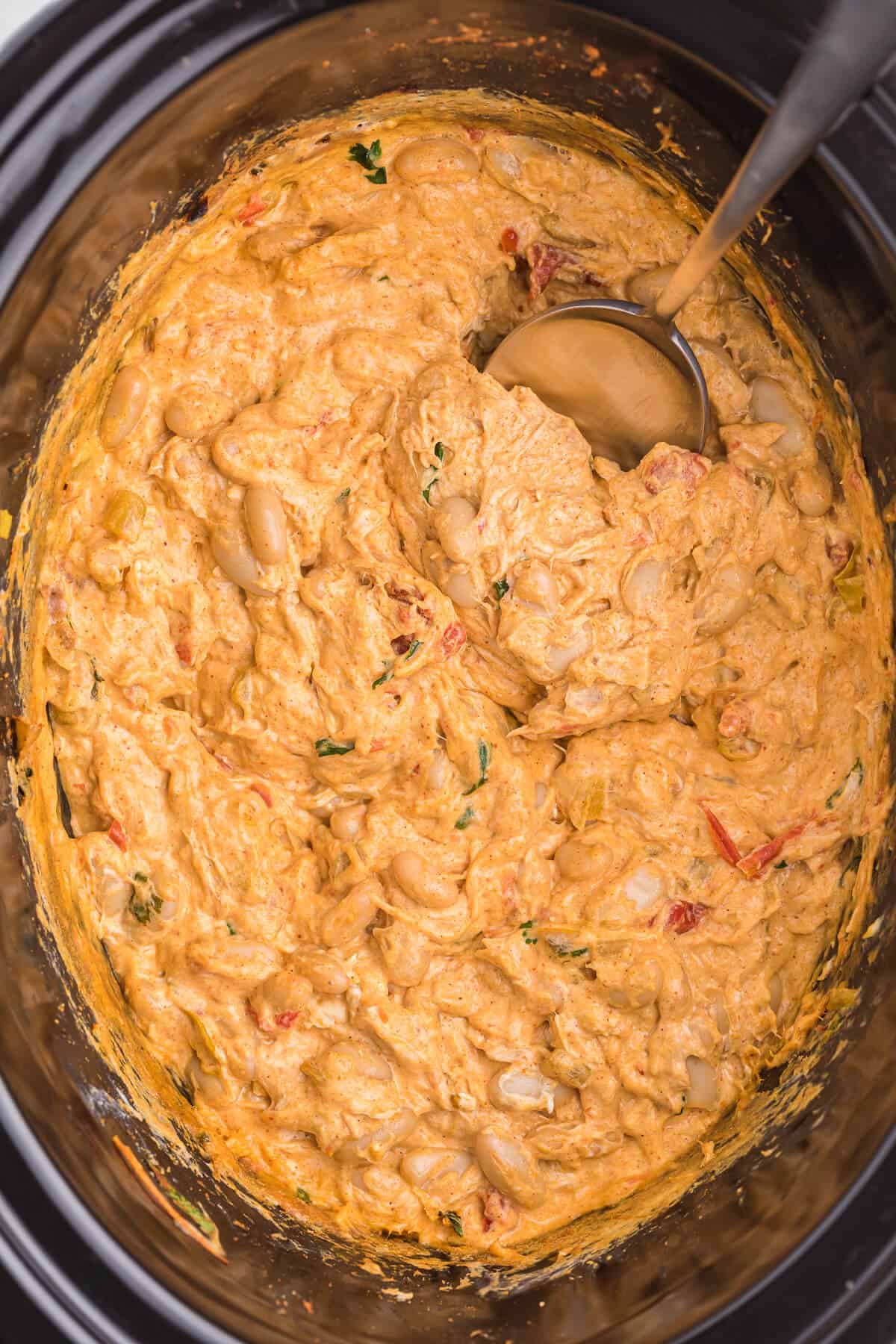 Source: simplystacie.net
You can't go wrong with a delicious dip in the appetizer game.
This white chili chicken recipe takes the concept of 'dips' to a whole new level, containing chunks of tasty chicken, white beans, and vegetables.
This is a great crowd-pleaser, thanks to its bold flavors and comforting, familiar aroma. Serve it up with an assortment of crackers, bread, and vegetables to get everyone's appetite humming.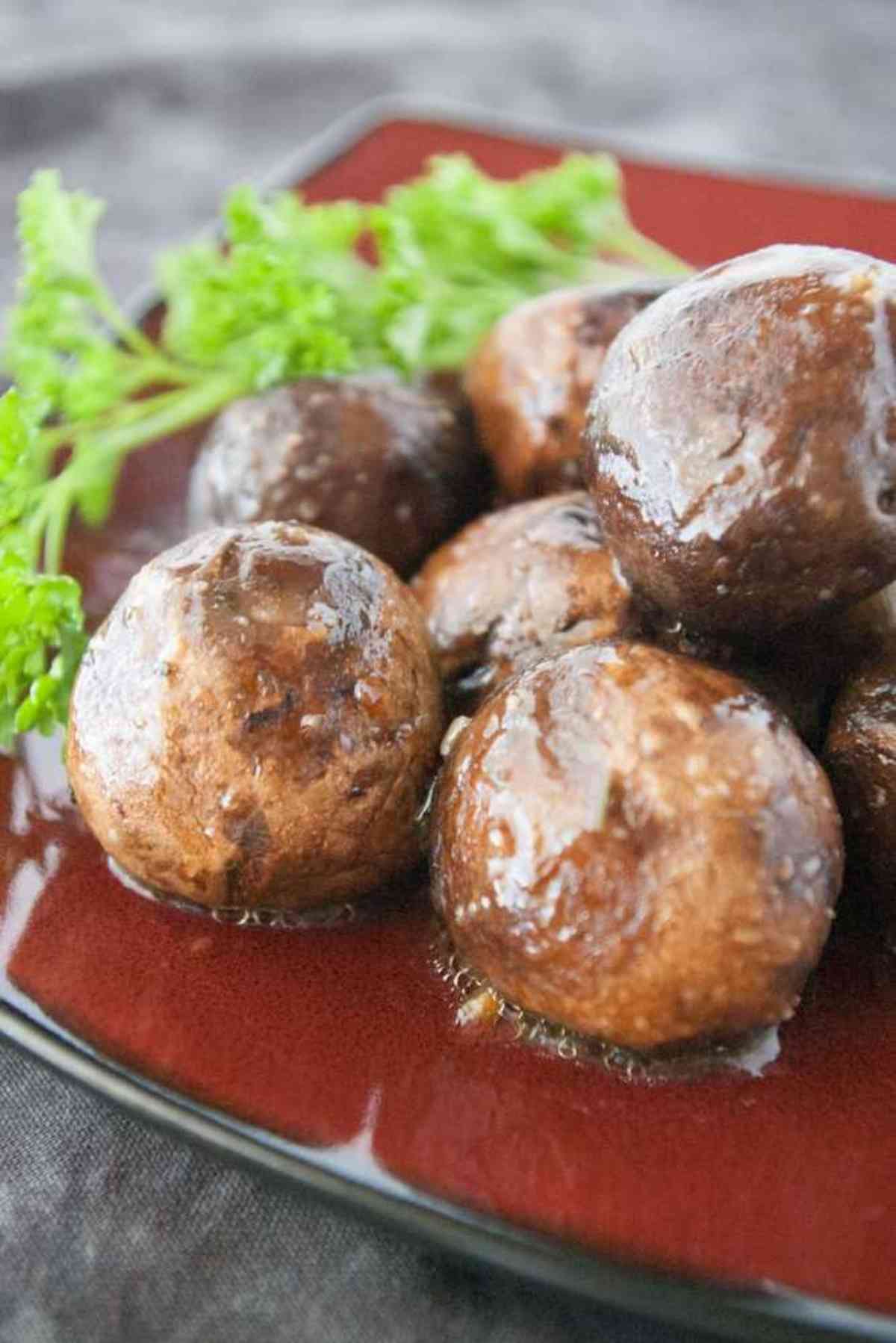 Source: mindeescookingobsession.com
Have you ever heard of Italian mushrooms? These delicious little morsels are great as a side dish and a perfect appetizer.
They require only a few minutes of preparation, coming out of the crockpot juicy and herbaceous. If you're serving these as an appetizer, I'd recommend pairing them with a dip or vinaigrette.
Set out some toothpicks and a few bowls of your chosen dip, and let your guests devour these delicious fungi.
Source: foodmeanderings.com
Whether it's Thanksgiving, Christmas, Easter, or any other holiday on your horizon, give this next appetizer a try! These cranberry and turkey meatballs are pure festivity on a plate.
They require a little more preparation than some of the other easy recipes on this list, but the time spent is worth it.
You'll receive delicious, sticky meatballs with a crispy exterior and a juicy bite for your hard work.
Serve as an appetizer on their own, or feel free to incorporate them into your main meal as a perfect side dish!
Source: theforkedspoon.com
We're back in dip territory for the next couple of crock pot recipes, and this one is a real winner. This is another great recipe to whip out on game day; it will perfectly complement a plate of buffalo wings!
It's easy to create, and any leftovers (assuming your guests don't devour it all) can be used for lunch the next day.
Wrap the dip in some tortillas or use it to make a grilled sandwich; it's delicious either way.
Source: theblondcook.com
Our next flavor-packed recipe condenses a fan-favorite Mexican recipe – chicken enchiladas – into a simple cheesy dip. You only need ten minutes to get this one cooking, and the results are stunning!
The best way to serve this dip is with a plate of tortilla chips to scoop as much of the dip onto the chip as possible. Take this to your next potluck or picnic to claim your spot as a party favorite.
Source: fakeginger.com
Next up, we have crockpot appetizer recipe that's more of a bar snack. These sweet and spicy peanuts are to die for, combining smoky sriracha with the dark sweetness of brown sugar.
I highly recommend making a large batch of these because they'll disappear like hotcakes. These delicious peanuts also make for a beautiful snack.
Just store them in an airtight container in your pantry for when those cravings hit.
This is a delicious cold appetizer.
Source: giftofhospitality.com
We have a three-ingredient dip recipe on the heels of those spicy peanuts that will knock your socks off. This chili cheese dip turns canned chili, beef, and Velveeta cheese into the ultimate delight.
Because of its simplicity, this is a dip you can quickly whip up for any occasion. Last-minute picnic plans? Fun night in with the family? Unexpectedly hosting the game at your place?
You've got it covered. This is a lovely addition to your favorite main course. Who doesn't love a hot dip!
Source: thecleaneatingcouple.com
Every home cook needs a chicken wing recipe that sets them apart from the rest, and this could very well be yours. These ultra-delicious wings have meat falling off the bone; that's how tender they are.
As an appetizer, you can't go wrong with a plate of wings. With minimal meat and maximum flavor, it's the perfect way to ignite your guests' appetites while keeping them hungry for the main event.
Source: lemonblossoms.com
Next up is a cheesy dip as comforting as tasty, offering sweetness and creaminess in equal measure. You can serve this with anything, and it will be a hit.
This savory dip uses three different types of cheese to create its luxurious flavor, one your guests won't forget any time soon.
You can swap out the Pepperjack if it's not to your taste, but the mozzarella is essential to retain that sticky, stretchy texture.
Source: lovefromtheoven.com
This next dip is easy to make ahead of time, allowing you to serve it hot or cold. Artichokes and spinach are underrated vegetables, and this dip will prove it. It hums with a comforting flavor.
Bursting with delicious notes of fresh garlic, artichokes, and spinach, this is slow cooker dip that embodies the word 'scrumptious.'
Prepare it in just ten minutes and reap your rewards a couple of hours later.
Source: thecozycook.com
If you're a fan of making homemade pretzels, try serving them with this incredible beer and cheese dip. This is less of a recipe and more a set of guidelines for you to experiment with.
Try swapping out your choices of beer and cheese to create your signature taste. Serve with crackers, pretzels, breadsticks, or anything that will allow the dip to shine through.
Want something else? Try these puff pastry appetizers!
Source: recipesfromapantry.com
Grape jelly and meatballs might sound like a strange combination, but there's a lot of flavor in this unique pairing. The grape jelly caramelizes in the slow cooker to form a sticky glaze.
The sweet glaze and the savory meatballs are a mouth-watering combination that will have your guests clamoring for more. This recipe also uses frozen meatballs, so it's super simple!
Source: dinneratthezoo.com
These Asian-inspired sweet and sour meatballs will do the trick if grape jelly sounds too strange for you. They also create an unbeatable sweet and savory combination, with a bit of added tartness.
They're also a bit spicy, so they'll kickstart everyone's appetite in anticipation of the main meal. This recipe is a total winner with a two-ingredient sauce and almost no prep time.
Source: kaleenaskitchen.com
We've all heard of buffalo chicken wings, but get ready for their delicious cousin: buffalo turkey meatballs! These delicious, lean meatballs soak up the buffalo sauce like a sponge.
Serve alongside a ranch dip and some fresh vegetables for the ultimate taste sensation. This is also a great recipe for meal prepping, as you can easily double the batch for the week's lunches.
Source: themagicalslowcooker.com
These teriyaki meatballs can easily be an appetizer or your main meal, depending on what you serve them with. Served alone, they make a sticky, sweet appetizer sure to fire up everyone's appetite.
Served with a bowl of rice and some green onions, this is an easy weeknight meal that will satisfy the whole family. This crowd-pleasing recipe is a great one to have in your arsenal.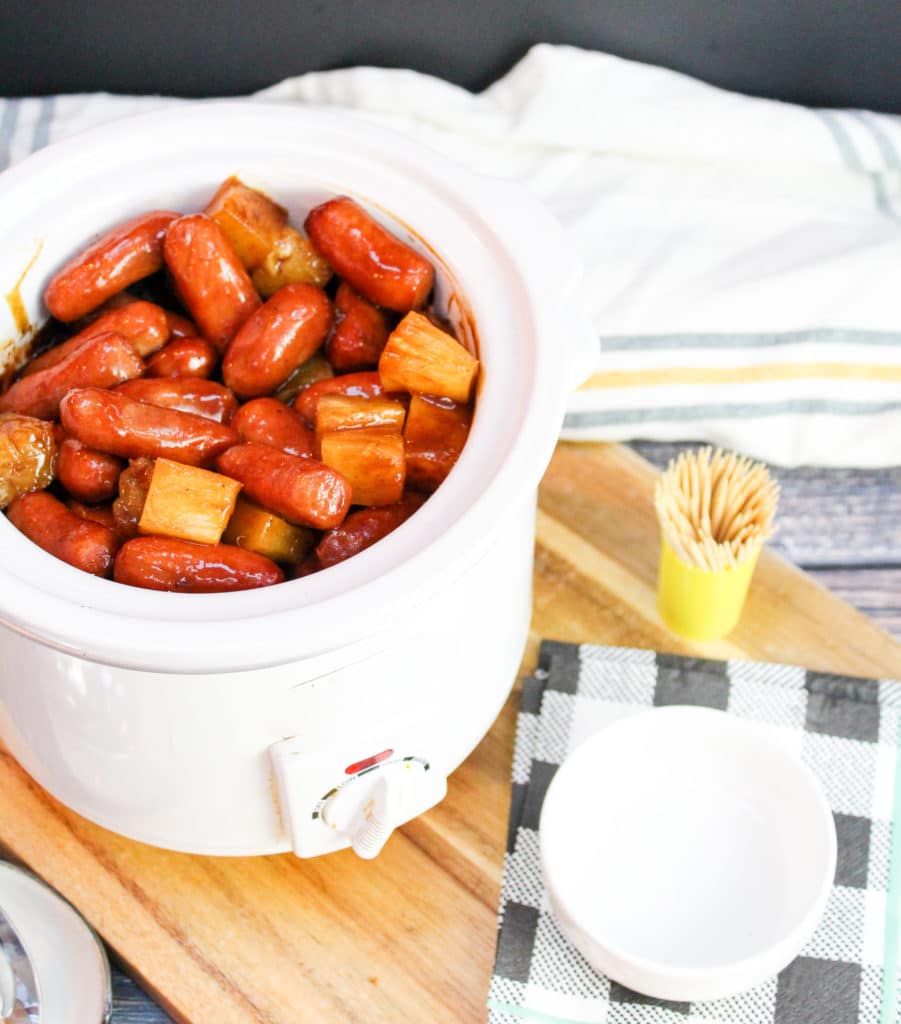 Source: cheesecurdinparadise.com
Are you bored of the classic BBQ version of Lil' Smokies? Kick it up a notch with this tropical Hawaiian take on a potluck favorite.
Featuring chunks of pineapple, soy sauce, and ginger, this is a recipe you don't want to miss.
You can also use this sauce recipe with many different meaty easy slow cooker appetizers. This pineapple-infused glaze will elevate your appetizer game to a new level, from meatballs to popcorn chicken.
Source: cheesecurdinparadise.com
What's the only thing better than a jalapeno popper? A jalapeno popper dip! This ultra-easy crockpot dip takes everything delicious about our favorite bar snack and boils it down into a bowl.
The addition of bacon makes this dip extra smoky and delicious. Take this to a potluck, serve it at your next picnic, or impress your guests on game day with this dip that just won't quit.
Source: thecozycook.com
If you've never had a ricotta meatball before, you're about to have your mind blown. This is a creamy and herbaceous take on the fan-favorite meatball, making them lighter and even juicier.
If another appetizer occupies your crockpot, you can quickly whip these incredible meatballs up in the oven or on the stove.
Best of all, they blend beautifully into any sauce you want to coat them in.
Source: veganinthefreezer.com
Next up is an appetizer meant to be served with other crock pot appetizers. While these spiced cashews won't hold up the entire meal on their own, they're a great snack to bolster your range of treats.
Plus, they're super easy to make. Whip up a large batch and keep some aside for yourself to use when those midnight cravings strike.
The deliciously warm and spicy profile will ignite anyone's appetite.
Source: cookingwithjanica.com
Speaking of nuts, here's another recipe you can serve with your appetizer range: beer-boiled peanuts! These are chewy and full of flavor, soaking up the notes of garlic powder and onion like a sponge.
Naturally, these are the perfect snack for any event where you're serving beer. And don't worry, the alcohol boils off as they cook, so these are kid-safe snacks you can use any time.
Source: barefootinthepines.com
Looking for super bowl appetizers? The only thing better than Chex Party Mix is a version you make yourself. This is an ultra-crispy, super flavorful take on a party classic that will have your guests begging you for your recipe.
The assembly takes virtually no time at all, and you only have to cook these in the crockpot for about an hour and a half. This is a great slow cooker party mix you can use for a birthday party or a big game celebration.
Source: smalltownwoman.com
Next, we have another take on a jalapeno popper dip that features a luxurious crispy topping. This is a great one to make on the day, as it will keep that crispy layer nice and fresh.
You can choose to use raw or roasted jalapenos, but I highly recommend opting for roasted ones if you have the time. They mellow the spice but increase the flavor to create an unbeatable taste.
Source: thelazyslowcooker.com
This cheesy fiesta dip is your recipe if you're over using Velveeta in your cheesy dips. This dip features ingredients like corn, black beans, rice, and cheese inspired by Mexican flavors.
The result is a luxurious dip that will be gone before the plate can hit the tabletop. It's aromatic and flavorful, using all-natural cheese rather than the ultra-process Velveeta.
Need more ideas? Check out these Indian appetizers!
Source: midwesternhomelife.com
This one goes out to all the vegetarians who are craving some delicious barbecue. These barbecue chickpea meatballs are out of this world. They're good enough to have even meat eaters raving.
Chickpea is an excellent meat substitute. They're chock full of protein and soak up flavor like a sponge, so your meatballs will definitely hit the spot. The barbecue sauce is truly what makes this slow cooker recipe awesome.
This is one of the crockpot appetizers that are also perfect finger foods. Enjoy on the holiday season and keep your guests entertained.
Source: thislittlehomeofmine.com
Our final appetizer is a fan favorite, a cheesy bacon dip! Cheese and bacon are one of those combinations you just don't question because everyone knows how good it tastes.
You only need five ingredients and a few minutes of hands-on time to get this dip cooking.
A little while later, you'll lift the lid on a super aromatic and sticky cheese concoction sure to put a smile on your face.
27 Best Crockpot Appetizers (Easy & Yummy)
Got a crockpot and looking for a way to make those appetizers? Take your dinner to a whole new level with these delicious Crockpot Appetizers!
Ingredients
1. BBQ Meatballs
2. Lil' Smokies
3. White Chili Chicken Dip
4. Italian Mushrooms
5. Cranberry Turkey Meatballs
6. Buffalo Chicken Dip
7. Chicken Enchilada Dip
8. Sweet and Spicy Peanuts
9. Chili Sauce Dip
10. Sticky Chicken Wings
11. Cream Cheese Corn Dip
12. Spinach Artichoke Dip
13. Beer Creamy Dip
14. Slow Cooker Grape Jelly Meatballs
15. Sweet and Sour Meatballs
16. Buffalo Turkey Meatballs
17. Teriyaki Meatballs
18. Hawaiian Little Smokies
19. Jalapeno Popper Dip
20. Ricotta Meatballs
21. Spiced Cashews
22. Garlic and Onion Beer Boiled Peanuts
23. Chex Party Mix
24. Jalapeno Popper Dip
25. Cheesy Fiesta Dip
26. Barbeque Chickpea Meatballs
27. Cheesy Bacon Dip
Instructions
Scroll up to get a bunch of easy, yummy, and delicious appetizers. Don't be afraid to get creative with the ingredients, you might discover a flavor you didn't know you liked.
Get your shopping list going and make sure you've got all the ingredients.
Get cooking and make your next Crockpot Appetizer!
Notes
Which one of these recipes was your favorite? Let me know in the comment section or on Pinterest!