This beet hummus is flavorful, full of nutrition, refreshing, and packed with healthy ingredients. The viral TikTok recipe everyone loved! Gluten-free, dairy-free, and vegan.
This Beet Hummus is a delight to make! It's packed with healthy ingredients, and it's bursting with flavor.
When you're looking for a quick fix or something you can grab in a hurry, you won't BEAT this BEET recipe!
We are all very familiar with the usual hummus out there; yes, it's tasty, and it's a healthy way to dip veggies or add to a salad, but if you're ready for something a little different, this is it.
Gloriously pink and with a nutty hemp seed topping, this dip will make you smile with its earthy beets and warm spice.
Ingredients for Hummus
Chickpeas – This is a great base, but you could use other cooked beans. Butter beans and cannellini beans would work well.
Cooked beets – You can cook your own or buy these ready-cooked. Tip – if you are cooking your own, bake with skins on and peel under a running tap, making this so much easier!
Tahini – You could use dark or light tahini here. You could also substitute with sunflower seed butter for a welcome change.
Lemon – Leave at room temperature to get the most juice out of your lemon and give it a roll on the top first; that will also help.
Lemon zest – Try and avoid zesting a lemon down to the white pith. It does taste a little bitter!
Cumin – You could ground your own cumin seeds to get the most aromatic taste here, but the ready ground version would still be great.
Salt – Sea salt does provide the best nutrition and strength of flavor, but you could use regular table salt.
Black pepper – freshly ground black pepper gives far more taste, so if you have your own grinder, grind away!
Olive oil – You can use either regular or extra-virgin olive oil here, but as you aren't cooking with it, find the best quality one with a great peppery flavor, as your dip will be amazing!
Garlic – Any garlic can be used, or try a change and add a smoked variety; you may just be surprised.
For Serving
Olive oil – Again, choose a great quality oil that will pack in bags of taste.
Hemp seeds – The shelled variety is best or use hemp hearts. These give you a soft but nutty texture that makes the perfect topping for this dip. If you can't get hold of hemp, any seeds, such as pumpkin, sunflower, and sesame, could be used.
How to Make Beetroot Hummus
Wash and drain the chickpeas.
Place the chickpeas, cooked beet, tahini, lemon juice, lemon zest, cumin, salt, black pepper, 2 tbsp olive oil, and garlic into a food processor or blender, like this one, and pulse until you have a smooth texture.
You could also leave this dip with a bit of texture if you wish.
Transfer the hummus to a serving bowl or dish.
Drizzle over the olive oil and top with the hemp seeds.
Serve with foods of your choice!
Is Beet Hummus Good for You?
Yes, absolutely! This hummus not only tastes great, but it is also so good for you! The chickpea base provides some fantastic energy-giving protein to the dish that will help your body recover and rebuild.
Chickpeas are also good for your digestive health and will feed your gut bacteria, thought to reduce your risk of developing chronic conditions.
Beets are full of plant phytochemicals full of antioxidants, perfect for managing free radicals in the body and reducing inflammation.
They are also full of iron, manganese, and potassium, which are vital minerals needed for nerve response and transporting oxygen around the body.
If you are serving this with the topping of hemp seeds, you will get yet another boost of energy, as these seeds contain protein, fatty acids, and vitamins.
They are also another source of fiber that will also keep you fuller for longer – great if you don't want to be caught snacking!
This Beet Dip will keep sugar levels stable too. Some snacks can cause spikes in sugar, which are not good for the body, and this will also create a sugar dip too.
Keep this recipe in the fridge, ready to dip into, a much better option than a sugary fix.
How Long Does Beetroot Hummus Last in the Fridge?
Keep this hummus in the fridge for up to 3 days. Make sure you cover tightly and give it a good stir just before serving, adding some extra hemp seed on the top again if you like.
What Can I Serve with Hummus?
Hummus is the perfect combination with fresh veggies. An easy serving would be to chop batons of carrot and cucumber and scoop up the dip into big-sized mouthfuls. You could also use bell pepper slices and celery as they would also make perfect 'scoopers'!
Breadsticks are a great accompaniment to the dip, and you could serve these to friends with drinks as a wonderful social snack.
How about dolloping a generous helping of the dip onto a Buddha bowl? Pack a dish with herbs, radish, avocado, shredded onions, cucumber, lettuce, and some extra hemp seeds. The ruby pink dip will look and taste amazing!
If you are stuck for a sandwich filler or a wrap filler, this hummus would also be perfect. It spreads easily and will go with a number of salad ingredients or another protein to add to a filling lunch.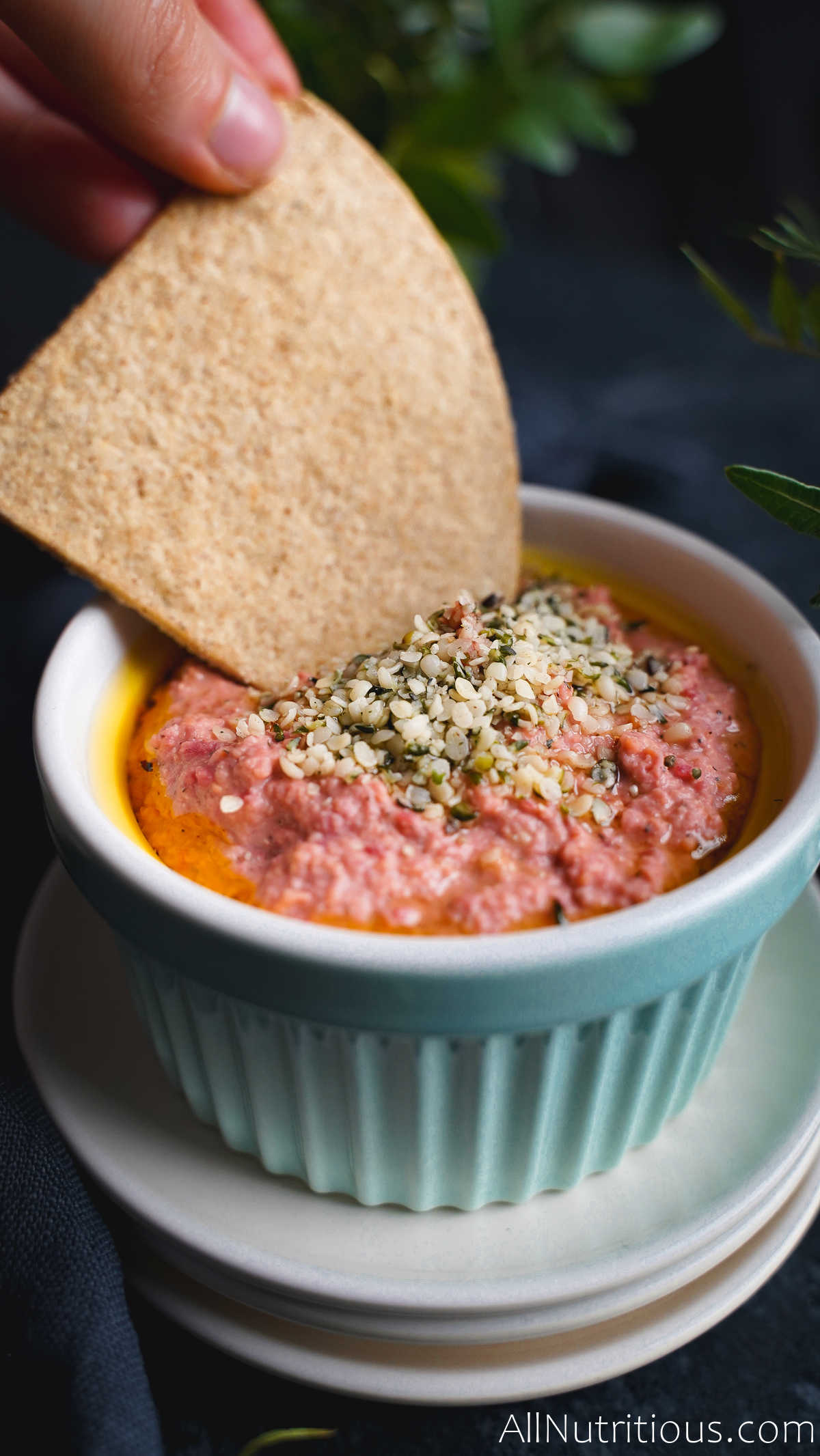 Other Recipes You May Like
Beet Hummus (Viral TikTok Recipe)
This flavorful, vegan hummus dip is a yummy twist on your regular hummus. Give this beetroot hummus a try and enjoy it with oatcakes, carrots, celery, or any other snacks. It's gluten-free and dairy-free.
Ingredients
Hummus
1 can chickpeas (washed and drained)
1 cooked beet
1/4 cup tahini
1 tbsp fresh lemon juice
1 tsp lemon zest
1/4 tsp cumin
1 tsp salt
1 tsp black pepper
2 tbsp olive oil
1 clove garlic
For serving
1 tbsp olive oil
1 tsp hemp seeds
Instructions
Add all the hummus ingredients to a processor and pulse until one smooth texture.
Transfer to a bowl, top up with olive oil and hemp seeds.
Serve with foods of choice!
Nutrition Information:
Yield:

2 small bowls
Serving Size:

1 small bowl
Amount Per Serving:
Calories:

491
Total Fat:

39g
Saturated Fat:

5.4g
Trans Fat:

0g
Unsaturated Fat:

32g
Cholesterol:

0mg
Sodium:

1528mg
Carbohydrates:

27g
Net Carbohydrates:

19.2g
Fiber:

7.8g
Sugar:

2.3g
Protein:

12g
Nutritional values were obtained with automatic software using the amounts of products used. To get the most accurate representation of the nutritional values, you should calculate them with the actual ingredients used in your recipe. You are solely responsible for the nutritional information obtained to be accurate.