This chickpea salad combines spices and acidity like no other salad does. It's high in protein and fats, thus, will keep you full for the whole day.
The chickpea salad with cucumber and tomatoes can be served as a lunch or even a side dish. The recipe is high protein, vegan, dairy-free, and gluten-free.
Why You Should Love Chickpeas
Chickpeas are quite plain by themselves, but that actually makes them perfect for all types of meals. You can play with spices and truly transform your dishes by just using them.
What's great about them is that you can easily find them in your pantry. Storing canned or dried chickpeas is of no problem to anyone. So, it's one of those go-to foods when your fridge is quite empty, and you have to get creative to get a meal on the table.
Another beautiful benefit of chickpeas is that they're cheap. So, if you're on a budget, let yourself get creative with these legumes. Make a nutritious meal while on a low budget.
And oh boy, are chickpeas nutritious! While they contain a moderate amount of calories, with 46 calories per 1-ounce serving, they're also packed with fiber, protein, and a variety of vitamins as well as minerals.
Chickpea Salad with Cucumber and Tomatoes – a Perfect Meal Prep Idea
This particular meal prep salad is a great high protein meal prep option for all the vegans and non-vegans out there. It's high enough in protein for all the carnivores out there (*haha) to try it.
There's going to be days when you're just tired of eating meats, dairy products. Give yourself a break with a lovely, nutritious, and flavorful salad.
It will refresh your tummy and your soul. Also, it will fill you up just well enough to keep you productive and not crave for another meal in a couple of hours.
So, it's a perfect salad for meal prepping and bringing to work. Another benefit of it being is that you won't even need to heat it up. So, if a microwave is nonexistent at your workplace, this is the recipe you needed!
Essential Ingredients for Chickpea Salad
Chickpeas – well, obviously, that's the main ingredient! Use either canned chickpeas or cook dried ones. You'll need to soak them overnight and then simmer for 2 hours in one of your pots. That's if you're using dry chickpeas, which actually are more flavorful and cheaper.
Fresh herbs – if you're not a fan of salads, you'll be once you start adding fresh herbs into it. I cannot tell you how important they are! For this chickpea salad, I'm using parsley, but you could easily substitute it with dill or cilantro.
Vegetables – any salad needs vegetables. For this recipe, I'm using cucumbers and tomatoes as well as onion. Obviously, feel free to improvise and introduce veggies of your own.
If you want to lower the number of carbs in the salad, I recommend using low carb vegetables like these. However, the juicier the veggies, the more flavorful the salad will be as the juice will mix with the dressing.
Dressing – any salad needs a good dressing. For this chickpea salad, I'm using a mixture of olive oil, white wine vinegar, and garlic. I'm letting it sit so that the garlic has time to flavor the dressing.
What You'll Need for this Chickpea Salad
Glass food containers or plastic ones – I love using glass food containers because they keep the food fresh for longer. Also, they're more environmentally friendly. We have enough plastic trash out there. Meanwhile, glass is widely recycled.
On the other hand, plastic food containers are a lot lighter. So, if you want to bring food to work, especially if it's multiple containers, it's best to keep them in plastic boxes.
Non-stick frying pan – you'll want a good quality frying pan to make sure you can cook those chickpeas up and have them ready for your salad.
Other High Protein Meal Preps
24 Quick Vegan Meal Prep Recipes – great for when you're craving for something non-meaty. All the recipes are vegan-friendly and can be easily packed for lunch.
Spicy Chickpea Meal Prep Bowls – a vegetarian high protein meal. It brings together the spices, herbs, and cheddar cheese. The combination of these takes you to a whole new world.
Healthy Chicken Fajitas – a healthier version of the regular chicken fajitas. This healthy meal prep is actually low in carbs and high protein. Perfect if you're trying to build muscle and lose weight.
20 Easy Chicken Meal Prep Ideas – for the times when you're tired of eating your chicken the same way. You can incorporate some of these recipes into your meal plan.
20 High Protein Lunch Ideas – if you're looking for high protein recipes that would be office-friendly. Look no further!
Watch Full Instructions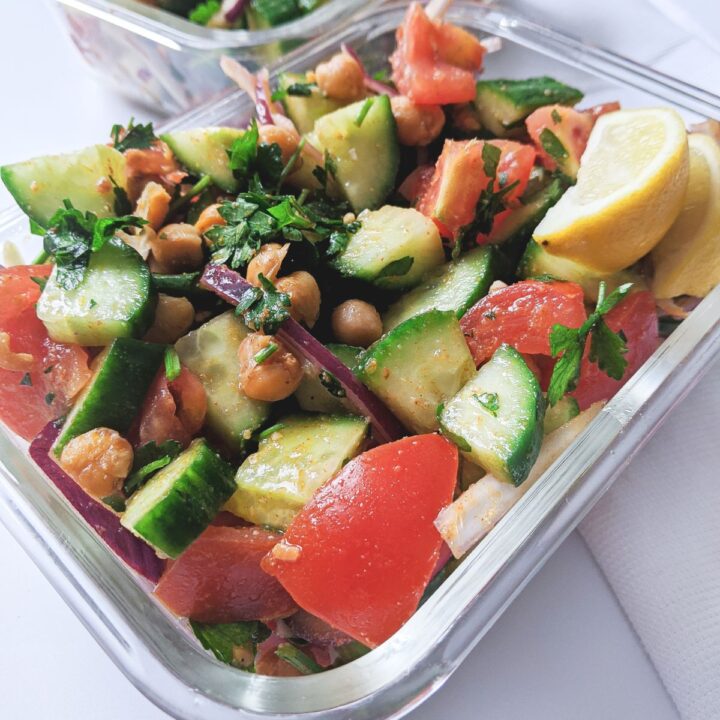 Chickpea Salad with Cucumber and Tomatoes
These vegan high protein chickpea salad bowls are delicious and nutritious. The recipe is great if you're vegan and want to increase your protein intake naturally.
Ingredients
Chickpeas
14 oz can of chickpeas (400g)
2 tbsp olive oil
1 tsp ground cumin
1 tsp paprika
1 tsp garlic powder
¼ tsp salt
Salad
2 cucumbers, diced
3 medium tomatoes, diced
1 small red onion, sliced
½ cup parsley leaves, chopped
1 garlic clove, smashed (1/2 tsp minced garlic)
1 ½ tbsp white wine vinegar
2 tbsp olive oil
Salt and pepper
Instructions
Peel the garlic, use a garlic press to smash it. Mix white wine vinegar with olive oil and add garlic to it. Set aside.
Heat the olive oil in the frying pan, add dried chickpeas to it. Add cumin, paprika, garlic powder, and fry for around 5 minutes. Once finished, salt it.
Dice cucumbers, tomatoes, slice red onion, and chop parsley. Combine all the ingredients, add in the dressing we've mixed up before and mix the salad. Add salt and pepper to the taste.
If you're using this recipe for meal prep, add in the salad into your storage containers. It should cover ¾ of the container and use the rest of the space for chickpeas.
Nutrition Information:
Yield:

2 meal prep bowls
Serving Size:

1 meal prep bowl
Amount Per Serving:
Calories:

556
Total Fat:

32g
Saturated Fat:

4.3g
Trans Fat:

0g
Unsaturated Fat:

6.5g
Cholesterol:

0mg
Sodium:

1427.5mg
Carbohydrates:

58g
Fiber:

15g
Sugar:

17g
Protein:

16g
Nutritional values were obtained with automatic software using the amounts of products used. To get the most accurate representation of the nutritional values, you should calculate them with the actual ingredients used in your recipe. You are solely responsible for the nutritional information obtained to be accurate.