Change up your healthy recipes on your low calorie diet by incorporating more lean turkey in a great way. These low calorie turkey recipes will help you enjoy a healthy meal on your weight loss diet!
Turkey – minus skin – is one of the leanest meats. And it's not just for Thanksgiving!
Ground turkey is great for a quick midweek meal. Turkey breast is excellent for a weekend roast. It's a meat that is so versatile.
Plus, it has many health benefits and has come into its own as a SuperFood.
It's a great source of protein and rich in vitamins and minerals. It also offers zinc which helps boost the immune system and aid healing.
Turkey is often overlooked in favor of chicken. But the healthier option is turkey! Turkey tends to be lower in calories and sodium. It also has a slightly higher iron percentage.
If you don't eat the skin, then it's also one of the lowest fat options.
Best Turkey Recipes
You can make many low-calorie meals using turkey. Below you will find a varied selection of low-calorie recipes.
Turkey can be used for breakfasts, light lunches, and main meals. Let's see what we can cook!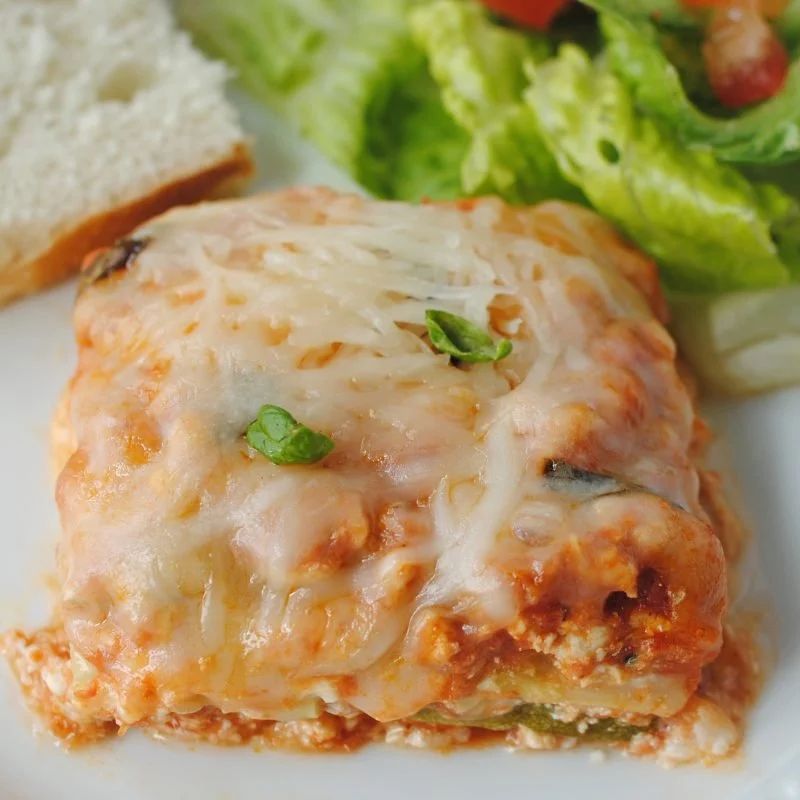 Source: healthbeet.org
Per Serving:
• Calories: 98
• Fats: 1.4g
• Protein: 15.2g
We'll start our selection of turkey recipes with this lasagna. It's a lower-calorie twist on a classic Italian favorite and one of the most healthy ground turkey recipes.
Traditional pasta layers are replaced with zucchini in this easy recipe. This saves you a massive 170 calories!
By using fat-free cheeses, you can save even more calories. Low fat is a personal choice, however!
Using 99% lean ground turkey saves another 70 calories. This a great recipe and an easy meal for getting more veggies into your diet too!
Keep full on your low cal diet with these other yummy skinny pasta recipes.
Source: supergoldenbakes.com
Per Serving:
Calories: 254
Fats: 9g
Protein: 26g
Carbs: 19g
Fiber: 2g
Sugar: 11g
This Thai-style turkey salad can be served in less than 20 minutes. It combines the classic flavors of Thai cooking.
Mango, sugar snap peas, and avocado add various textures. The colors of this salad will look amazing on your plate!
Change it up by leaving out the salad leaves and cucumber. Just add rice instead!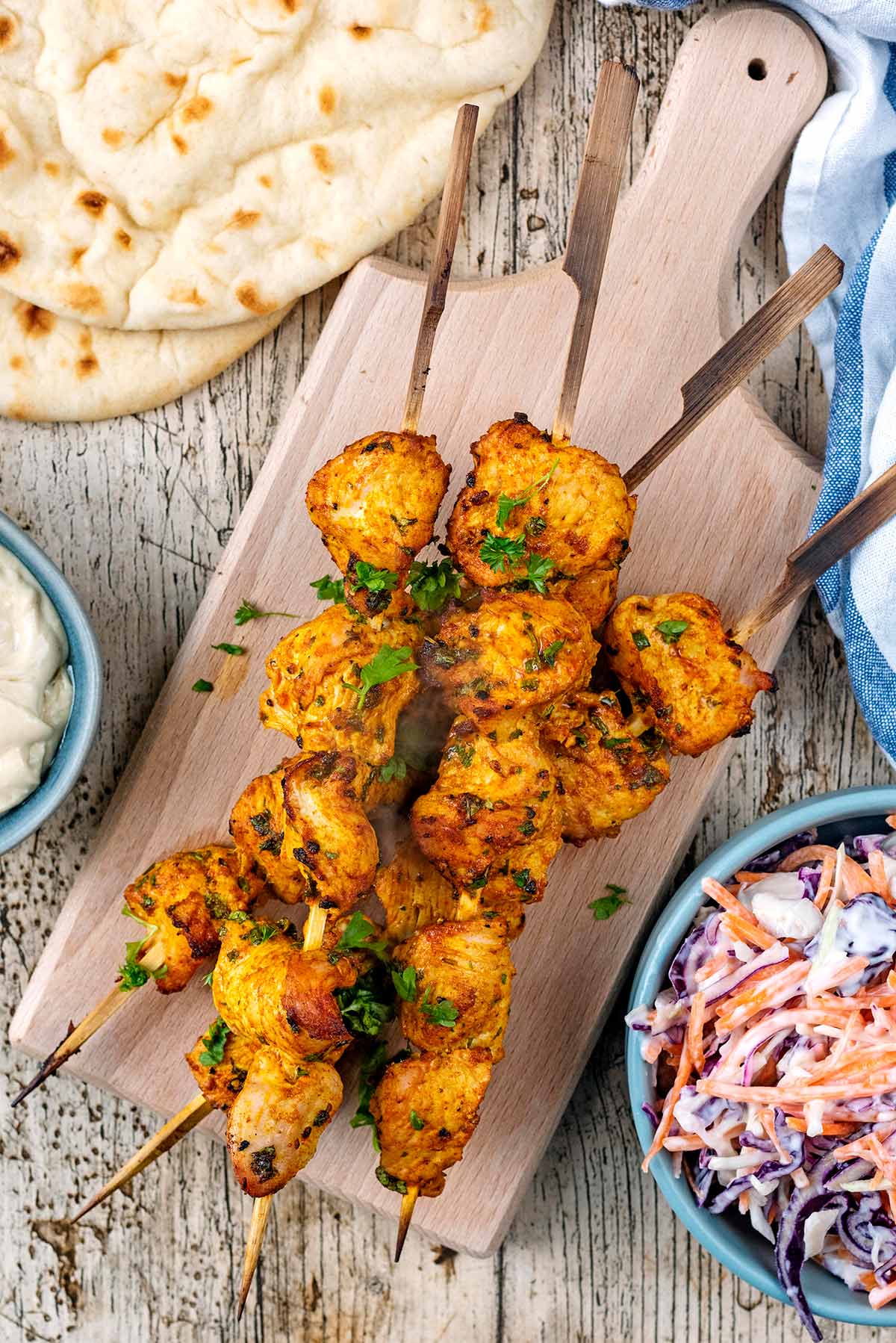 Source: hungryhealthyhappy.com
Per Serving:
Calories: 158
Fats: 8g
Protein: 22g
Carbs: 3g
Fiber: 1g
Sugar: 1g
Shish kebabs are famous worldwide but not traditionally made with turkey. You can serve up a unique twist with these turkey kebabs!
These kebabs are coated in a marinade that is packed with flavor. They are then cooked by threading them onto a wooden skewer and grilling.
The kebabs make a wonderful light lunch. Serve them up with warm flatbread and salad.
You could try variations for a heartier main meal. Perhaps with rice or potatoes.
Source: thecleaneatingcouple.com
Per Serving:
Calories: 260
Fats: 9g
Protein: 32g
Carbs: 12g
Fiber: 1g
Sugar: 2g
These turkey meatballs are a twist on traditional beef or ground pork meatballs. But they're sure to satisfy your palate! They are truly one of the best ground turkey recipes.
All you need for this delicious meal is a pound of ground turkey, Italian seasoning, breadcrumbs, olive oil, and some parmesan cheese.
As well as being low-calorie, these family favorite meatballs suit a variety of diets. This includes paleo, gluten-free, and keto.
The meatball mixture can even be made gluten-free by substituting breadcrumbs. Try using gluten-free breadcrumbs or brown rice flour, or coconut flour.
Serve up with a tangy tomato sauce and pasta. You could even try zucchini noodles for a healthy dinner the whole family will enjoy!
Source: gardeninthekitchen.com
Per Serving:
Calories: 228
Fats: 7g
Protein: 31g
Carbs: 14g
Fiber: 3g
Sugar: 5g
This shepherd's pie is another unique twist on a classic favorite. It's also a low carb meal and keto friendly.
Substitute ground lamb with ground turkey for a leaner filling. And instead of mashed potato, use mashed cauliflower!
You can add your favorite veggies to the filling of this pie. Popular options include peas and carrots. Mushrooms make it taste extra meaty too!
Source: hungryhealthyhappy.com
Per Serving:
Calories: 204
Fats: 5g
Protein: 43g
Carbs: 1g
Fiber: 1g
Sugar: 1g
Roast turkey breast is a beautiful alternative to using a whole turkey. Especially over the festive season if you're feeding fewer people!
Turkey breast is a naturally lean cut of meat. So, you can make room for the extra calories of the coating on this!
The turkey breast is coated with fresh garlic and rosemary butter. It's then roasted until golden, best enjoyed with vegetable sides!
Source: eatinginaninstant.com
Per Serving:
Calories: 265
Fats: 7g
Protein: 25g
Carbs: 26g
Fiber: 2g
Sugar: 4g
Use your leftover turkey to make this quick turkey noodle soup. The entire recipe takes less than 30 minutes!
This recipe is flexible, and you can suit it to your taste. Use up whatever veggies you can find in your refrigerator!
The great thing about this recipe is that it's made in one pot. So, you can spend more time enjoying eating and less time doing the dishes!
Source: zucchinizone.com
Per Serving:
Calories: 291
Fats: 6g
Protein: 27g
Carbs: 36g
Fiber: 8g
Sugar: 10g
Slow cookers are excellent for cooking hearty fall meals. This turkey vegetable chili is just one of many!
Using ground turkey rather than beef keeps calories lower. This healthy turkey chili is also filled with plenty of nutritious vegetables.
This turkey chili recipe uses zucchini, but you can swap this to your taste. Try adding carrots or mushrooms to your chili!
Top it with some mozzarella cheese to make this ground turkey chili the best comfort food for busy weeknights.
Source: jordosworld.com
Per Serving:
Calories: 276
Fats: 13g
Protein: 28g
Carbs: 14g
Fiber: 4g
Sugar: 18g
Another one-pot wonder to add to our turkey recipe collection. You will need a large skillet for this one, however.
Once again, this recipe uses ground turkey and a selection of your favorite veggies. Cooked with a variety of spices, you will have a flavorful meal!
You can add even more nutrients to your plate. Riced cauliflower works well to accompany this!
Source: cleaneatingkitchen.com
Per Serving:
Calories: 267
Fats: 6.6g
Protein: 31.3g
Carbs: 20.1g
Fiber: 3.1g
Sugar: 3.9g
You may wonder what to do with leftover turkey. This turkey vegetable soup could be a great option!
Soup is a comforting meal option for the fall season. You can use an Instant Pot or your stove top to whip this up in no time.
It doesn't take long to be ready as you only need to cook the veggies. Mashed potatoes add an extra level of creaminess to this soup!
Source: lovefromtheoven.com
Per Serving:
Calories: 294
Fats: 12g
Protein: 46g
Carbs: 1g
Fiber: 1g
Sugar: 1g
Air fryers are more than just helpful in cooking fries or roast potatoes. They're also terrific for quickly cooking significant cuts of meat!
It's the perfect way to cook turkey breast for Thanksgiving dinner. Air frying means you have more space in your oven!
It also produces the crispiest skin on the turkey after it's been coated in butter. Everybody will want to tuck into this!
Source: simplysavourymeals.com
Per Serving:
Calories: 94
Fats: 5g
Protein: 5g
Carbs: 8g
Fiber: 0g
Sugar: 0g
These simple turkey roll-ups are perfect for lunchboxes or picnics in the summer. They can be ready in just 15 minutes.
These roll-ups consist of a tortilla wrap with several other ingredients inside. These are herbed cream cheese and slices of turkey breast.
You could also add some iceberg leaves or spinach. For a bit of greenery and extra nutrition!
Source: recipesfromapantry.com
Per Serving:
Calories: 215
Fats: 5g
Protein: 33g
Carbs: 10g
Fiber: 1g
Sugar: 2g
These turkey patties are a versatile way to use leftover turkey from a Thanksgiving dinner. However, you can also use ground turkey to make it completely fresh.
Kids will also love these. The crunchy coating and tender middle are reminiscent of a chicken nugget!
Serve these patties up in several ways. With a tzatziki dip or piled with salad in a bun to make a tasty burger!
Source: pinchandswirl.com
Per Serving:
Calories: 237
Fats: 7g
Protein: 18g
Carbs: 26g
Fiber: 2g
Sugar: 2g
We're adding rice to a savory broth for this turkey soup recipe. It is mixed with hearty vegetables and some beautiful aromas.
You can alter this recipe to your preference with the rice preparation. Rinse it before adding if you want a thinner soup.
Take this soup to the next level by adding a blend of lemon zest, garlic, and parsley. It is finished with a splash of lemon juice to make it more than just ordinary!
Source: lovefromthetable.com
Per Serving:
Calories: 212
Fats: 5g
Protein: 10g
Carbs: 36g
Fiber: 13g
Sugar: 11g
This turkey bell pepper chili brings rainbow colors to your bowl! And a warming feeling to your palate.
You're brightening this dish by using yellow, orange, and red bell peppers. If you have picky eaters, use red to blend in with the tomatoes!
This serves well with sour cream, shredded cheese, and crunchy tortilla chips!
If you loved this, you might also enjoy these tasty low calorie chicken recipes!
Source: cookathomemom.com
Per Serving:
Calories: 295
Fats: 22g
Protein: 22g
Carbs: 2g
Turkey bacon cooked in the air fryer is a real hands-off experience. And you're guaranteed to get the perfect crispy pieces every time!
You will, however, need to spray with some oil first. This ensures that it gets crispy and doesn't stick to the basket.
Serve this bacon in a veggie-filled salad. Or a sandwich for breakfast!
Source: thenessykitchen.com
Per Serving:
Calories: 186
Fats: 4g
Protein: 21g
Carbs: 18g
Fiber: 4g
Sugar: 10g
This wholesome turkey spaghetti sauce is packed with nutritious veggies. The ground turkey adds a new dimension to it.
You can make this entirely in one pot. Or you can transfer to a slow cooker after the simmering step.
This sauce can be served in various ways. Try it with pasta, zoodles, or extra veggies that have been roasted!
Source: theforkedspoon.com
Per Serving:
Calories: 32
Fats: 1g
Protein: 1g
Carbs: 3g
Fiber: 1g
Sugar: 1g
How about using the bones from your Thanksgiving roast turkey to make a tasty stock?
This can then be used to make flavorful soups or stews. You could freeze it for future dishes, such as risotto.
Stock does take a few hours to make. But you'll be left with something tastier than anything in the store!
Source: joyfilledeats.com
Per Serving:
Calories: 59.7
Fats: 1.6g
Protein: 8g
Carbs: 3.1g
Fiber: 0.03g
Sugar: 1.8g
A unique, low-carb twist on the pinwheels usually made with tortillas! The "tortilla" in this recipe is deli turkey.
These pinwheels are quick and easy to prepare. They do need to be chilled for a couple of hours, however. So, best to prepare these in advance.
You will find a selection of flavors in these pinwheels. Cheese, bacon crumbles, garlic, and onion! Plus, dill is what gives us the ranch taste.
Source: lovefromthetable.com
Per Serving:
Calories: 233
Fats: 9g
Protein: 34g
Carbs: 3g
Fiber: 0.1g
Sugar: 3g
Turkey tenderloin is a beautiful alternative to the usual turkey breast. This air fryer tenderloin is coated in a brown sugar and herb rub.
The hot air from the air fryer will caramelize the sugar on the tenderloin. It'll leave you with a flavor that takes turkey to the next level.
The ease of cooking means you can enjoy this any time of the year. Serves with your favorite vegetables and potatoes for a delicious midweek meal!
Source: dinneratthezoo.com
Per Serving:
Calories: 240
Fats: 15g
Protein: 1g
Carbs: 1g
Fiber: 1g
Sugar: 1g
This turkey salad is so simple to prepare and can be ready in five minutes! Using leftover turkey adds to the speed of this recipe.
All that's needed is to mix turkey with a few ingredients. Diced celery, onion, parsley, and a light mayonnaise dressing!
You can serve in several ways. Try it with crackers, spooned into lettuce leaves, or in a sandwich!
Source: joyfoodsunshine.com
Per Serving:
Calories: 209.1
Fats: 9.2g
Protein: 18.7g
Carbs: 14.3g
Fiber: 1.4g
Sugar: 8.6g
These Asian-style lettuce wraps would traditionally use chicken. But ground turkey is an excellent substitute!
The key to this recipe is the sauce. You achieve this by simply whisking the ingredients together.
They feature traditional Asian ingredients like hoi sin sauce, rice vinegar, and sesame oil. This dish is a burst of flavor!
You might also enjoy this yummy chicken avocado wrap for lunch this week!
Source: saltandlavender.com
Per Serving:
Calories: 280
Fats: 5g
Protein: 28g
Carbs: 33g
Fiber: 6g
Sugar: 2g
Here we have a different turkey soup recipe. This one adds heartiness with the use of cannellini beans and pasta.
The turkey soup is easy to make to your taste. Try adding a few more herbs, or use kale instead of spinach.
This is the perfect winter dish to serve on a cold evening. Or feed to anyone who is feeling under the weather!
These other low calorie soup recipes will help keep you warm and toasty this winter.
Source: keytomylime.com
Per Serving:
Calories: 61
Fats: 4.1g
Protein: 2.5g
Carbs: 4.2g
Fiber: 1.5g
Sugar: 2.4g
This turkey veggie tray is a super fun dish to make with kids! It doesn't use turkey, but it does look like one!
Prepare this by arranging a selection of colorful and nutritious veggies onto a platter.
Add some herby goat cheese dip, and you have the perfect Thanksgiving party centerpiece!
Source: feastingnotfasting.com
Per Serving:
Calories: 179
Fats: 4g
Protein: 28g
Carbs: 7g
Fiber: 2g
Sugar: 2g
Turkey tacos are an excellent option for a light midweek dinner. They don't need to be caloric to be tasty!
The spices used in the mixture for these tacos give them the best flavor. You don't need to avoid lean ground turkey, as the veggies will add moisture.
Serve these in your favorite type of tortilla. Flour ones are preferable, but corn works as well! Don't forget the regular taco toppings too!
Source: callmepmc.com
Per Serving:
Calories: 236
Protein: 15g
A frittata is a popular breakfast dish. But you probably wouldn't think to add turkey to it. This turkey sausage frittata may change your mind!
You can prepare these mini frittatas in advance, which will last all week. So, they are perfect for busy lifestyles.
The frittata combines roasted cauliflower and mushroom. These are both perfect accompaniments to turkey and are delicious in this dish.
Source: healthyseasonalrecipes.com
Per Serving:
Calories: 230
Fats: 8g
Protein: 30g
Carbs: 11g
Fiber: 3g
Sugar: 7g
This turkey dish is low-carb as well as low-calorie. It's also another much-loved one-pot recipe!
You'll be using lean turkey filets for this meal. The cooked filets are served in a hearty tomato, pepper, and onion sauce.
Yet another delicious midweek meal that is sure to smell and taste divine!
Source: savorthebest.com
Per Serving:
Calories: 80
Fats: 3.9g
Protein: 10g
Carbs: 1g
Fiber: 0g
Sugar: 1g
These egg muffin cups are another convenient breakfast dish. Turkey bacon is added to give a delicate meaty taste.
Using more egg white rather than yolk reduces the calories. Low-fat cottage cheese gives them a creamy texture and rich flavor.
Make these at the beginning of the week; all you need to do is grab and go. Just reheat them in the microwave, and off you go!
Source: feastingnotfasting.com
Per Serving:
Calories: 214
Fats: 6g
Protein: 18g
Carbs: 21g
Fiber: 4g
Sugar: 5g
Cabbage is typically overlooked in the world of vegetables! But these turkey cabbage rolls will make sure it is no longer.
Using quinoa makes this more filling and gluten-free! There are lots of steps to the dish, but you can take some shortcuts. So don't let this put you off.
I promise that the time to make these turkey cabbage rolls will be worth it!
Source: healthbeet.org
Per Serving:
Calories: 263
Fats: 12g
Protein: 24g
Carbs: 19g
This spaghetti squash is the perfect low-calorie replacement for pasta! It's also a great accompaniment to ground turkey in this recipe.
The whole dish is relatively easy to put together. You can use a low-calorie pre-packaged spaghetti sauce to save time.
Once prepared, transfer into four containers to last the week. Or share with your family if you're feeling generous!
Source: saltandlavender.com
Per Serving:
Calories: 277
Fats: 10g
Protein: 31g
Carbs: 17g
Fiber: 3g
Sugar: 7g
A stir fry is a quick, easy way to get plenty of veggies. Try this variation with ground turkey and a delicious homemade sauce!
The sauce uses a combination of three iconic Asian spices. That is hoi sin, soy and sriracha! They give a perfect blend of sweet, spicy, and savory.
Feel free to use your preference for veggies. Try this served with jasmine rice or Udon noodles!
Keep strong in your calorie deficit with these other delicious and nutritious low calorie recipes!
31 Healthy Low Calorie Turkey Recipes
We are giving you the best collection of low calorie turkey recipes for your meal plan. These meals will easily be a hit with the family.
Ingredients
1. Lasagna with Zucchini
2. Thai Style Turkey Salad
3. Turkey Kebabs
4. Healthy Turkey Meatballs
5. Ground Turkey Shepherd's Pie
6. Roast Turkey Breast
7. Instant Pot Turkey Noodle Soup
8. Slow Cooker Turkey Vegetable Chili
9. Ground Turkey Skillet with Veggies
10. Leftover Turkey Vegetable Soup
11. Air Fryer Turkey Breast
12. Turkey Roll Ups
13. Turkey Patties
14. Turkey and Rice Soup
15. Turkey Bell Pepper Chilli
16. Air Fryer Turkey Bacon
17. Turkey Spaghetti Sauce
18. Turkey Stock
19. Turkey Bacon Ranch Pinwheels
20. Air Fryer Turkey Tenderloin
21. Turkey Salad
22. Asian Turkey Lettuce Wraps
23. Ground Turkey Soup
24. Turkey Veggie Tray
25. Turkey Tacos
26. Turkey Sausage Frittata
27. Low Carb Turkey and Peppers
28. Egg Muffin Cups
29. Turkey Cabbage Rolls
30. Spaghetti Squash with Ground Turkey
31. Ground Turkey Stir Fry
Instructions
Scroll up to get a bunch of easy, yummy, and delicious turkey recipes. Don't be afraid to get creative with the ingredients. You might discover a flavor you didn't know you liked.
Get your shopping list going, and make sure you've got all the ingredients.
Get cooking and make your next Low Calorie Turkey Recipe!
Notes
Which one of these recipes was your favorite? Let me know in the comment section or on Pinterest!