The possibilities for cooking chicken are endless. Knowing how to make it tasty without drying out is even better! These easy cheap chicken recipes will help you stay under budget this month!
Chicken thighs, chicken wings, and chicken legs are good options if you're on a strict budget. However, we're going to show recipes that use chicken breast too.
You can make the cost of chicken go further by using it for leftovers. You can turn one batch of cooked chicken into two or more different meals with quick prep and cheap ingredients.
How to Make Cheap Chicken Taste Good?
You don't need a lot of equipment or ingredients to make cheap chicken taste good. Herbs and spices are your best friend, as chicken takes on the flavor of whatever you add to it.
An Instant Pot or slow cooker makes chicken tender, juicy, and moist. However, you don't need costly equipment either.
A skillet is just as good as anything else for cooking chicken. A cast iron skillet is worthwhile if you cook many chicken recipes on your stovetop.
Easy Cheap Chicken Recipes
Have a look below for a collection of easy cheap chicken recipes! These all use one pot or pan for cooking your chicken-based meal.
Source: allnutritious.com
Your cast iron skillet-cooked chicken breasts are flavored with herbs and spices. These are dried oregano, onion & garlic powder, sea salt, and black pepper.
Adding a sprinkle of lemon zest to your seasoning adds a sharp flavor. You can make your chicken extra zesty by adding butter and a squeeze of lemon juice when dishing them up.
Serve this versatile chicken with a green salad for a light lunch. Baby new potatoes and steamed fresh asparagus turn it into a filling dinner.
Source: runningtothekitchen.com
Cutting your chicken into bite-sized chunks before cooking makes it feel tender and juicy when eating. Also, you have maximum flavor in every bite.
These garlic chicken bites are cooked alongside pieces of peppers, onions, and mushrooms. Deliver a delicious taste by cooking your chicken and veggies with fresh thyme, parsley, and garlic.
Smoked paprika and Worcestershire sauce add another layer of flavor.
Source: heartbeetkitchen.com
Chicken wings usually get the hype. However, chicken drumsticks can be just as tasty, especially when adding a spicy buffalo coating!
Grilling is an excellent method for cooking chicken drumsticks. The skin will be crispy, and the meat inside will be juicy and tender.
Make your easy buffalo sauce with three ingredients. These are zingy Frank's Wing Sauce, melted butter, and garlic powder. You can use BBQ sauce for a kid-friendly version.
Source: rachaelhartleynutrition.com
Cooking your stir-fry on a sheet pan means you can leave your hands free for other things. For example, drinking a hot cup of coffee while waiting!
You'll use mango, peppers, and onions alongside chicken breast. Create your marinade with soy sauce, minced ginger & garlic, chili flakes, and lime.
These all give a balanced flavor – sweet, savory, salty, spicy, and umami. Serve your tasty stir-fry with tender cooked rice or tricolor quinoa.
Source: afarmgirlsdabbles.com
Sweet and sticky chunks of chicken breast are the feature of this dish. It's a quick and easy meal, ideal for busy weeknights.
Minced garlic, sweet honey, and umami soy sauce create a delicious marinade. Use flour to dry out the surface of your chicken. This produces a crispier outside for your meaty chunks.
Honey garlic chicken is flavorful enough to be served with tender cooked rice. Add Thai basil, green onion, and sesame seeds for different textures.
Source: daisiesandpie.co.uk
Firecracker chicken is an easy recipe full of spicy flavor. It's also sweet, sticky, and saucy, creating a flavor bomb with every mouthful!
Diced onion, red & yellow peppers, and baby corn are cooked with fresh chicken. These add a crunchy texture and vibrant colors to your meal.
Make your flavorful sauce using BBQ sauce, hot chili sauce, sesame oil, soy sauce, and white rice vinegar. Serve your firecracker chicken with tender rice.
Source: karalydon.com
Use your Instant Pot for this easy chicken recipe, and you can dump and go. It's prepped and ready in under half an hour.
Chicken thighs work well in this dish because they have a higher fat content to produce juicy chicken. Green and red bell peppers add extra crunch.
A fresh, tangy flavor comes from pineapple juice and fresh pineapple. Garlic, apple cider vinegar, ketchup, soy sauce, and brown sugar add to this dish's sweet, sticky flavor and texture.
Source: theorganickitchen.org
Use chicken thighs for this Whole30-compliant meal. Your chicken will remain tender, and your veggies will soak up the tasty juices.
Lightly season your chicken with salt, pepper, and smoked paprika. Add fresh asparagus and sweet shallots close to the end of your cooking time.
Your asparagus will roast perfectly, and you will have delicious, caramelized shallots.
Source: therecipewell.com
Transform instant ramen noodles with this delicious easy stir-fry recipe. Make a homemade sauce for maximum flavor, rather than using the seasoning that comes with your noodles!
Ground chicken and thinly sliced peppers make this recipe quicker to cook. Use a pre-packaged coleslaw mix to cut down on prep time too.
Make your sauce with rice vinegar, minced garlic & ginger, sesame oil, sriracha, and soy sauce. Honey adds sweetness and a thicker texture.
Source: karalydon.com
This Middle Eastern-inspired chicken dish is quick, easy, and nourishing for busy weeknights. You'll use za'atar to impart maximum flavor to your juicy chicken thighs.
Za'atar spice comprises sumac, thyme, sesame seeds, and salt. Combine za'atar with olive oil, lemon juice, and lemon zest to create your flavorful marinade.
Cheap Healthy Chicken Recipes
The chicken recipes below are all healthy. Some are low-carb, some are high-protein, but they all include veggies in some form!
Source: allnutritious.com
This one-pan healthy dish is packed with protein. You're getting this from tender chickpeas, quinoa, and juicy chicken.
The natural sweetness from dried cranberries balances the acidity of the fresh tomatoes. Coriander, turmeric, and cinnamon add warmth to your dish.
Add a little heat with crushed red pepper flakes and black pepper. Your chicken legs have flavor from salt and pepper as you'll cook your quinoa and chickpeas in the spices!
Source: hezzi-dsbooksandcooks.com
This chicken dish has flavors of Asia with honey and sriracha. Your sauce ingredients provide maximum flavor for this tasty one-pan dish!
Make your sauce using sweet chili sauce, sriracha, honey, sesame oil, and soy sauce. Ground chicken soaks up this sauce, and your broccoli is sauteed near the end of cooking.
Serve your chicken and broccoli in a bowl with tender rice and garnish with sharp green onions.
Source: allnutritious.com
This chicken recipe is Mediterranean inspired. You'll use spices, roasted veggies, and cous cous for a complete meal.
Combine basil, oregano, garlic powder, salt, pepper, and olive oil for your chicken marinade.
Your veggies are zucchini, red & yellow bell peppers, and red onion. You'll roast these with eight cloves of garlic.
The oil from your garlic flavors your cous cous after cooking, too!
Source: gardeninthekitchen.com
This healthy chicken soup is smoky, zesty, and protein filled. You can save prep time by using pre-packaged taco seasoning to flavor your soup.
Paprika seasoned, shredded chicken breast and black beans provide protein in this soup. Sweet corn kernels are a must. Red bell pepper balances the acidity of tomato sauce and diced tomatoes.
Serve your soup with your preferred toppings. Diced avocado, crunchy tortilla chips, shredded cheddar cheese, and sour cream are good options!
Source: allnutritious.com
Roasted veggies go well with chicken. Lemon juice and zest in the marinade give a zesty taste to your dish.
You'll need chicken stock, minced onion, crushed garlic, and olive oil to make your marinade. Tender broccoli and sweet potatoes are roasted until caramelized. This adds natural sweetness.
Add cherry tomatoes with dill to round out your meal.
Source: razzledazzlelife.com
These copycat PF Chang's wraps are delicious, like the original, but healthier!
Add diced onion, minced garlic, green onion, and crunchy water chestnuts to ground chicken for your filling. Combine hoisin, soy sauce, rice wine vinegar, and ground ginger to create a flavorful sauce.
Serve your chicken in crunchy lettuce wraps and sprinkle with sesame seeds. Drizzle with sriracha for added spice!
Source: allnutritious.com
This curried chicken recipe is low-carb and high-protein.
Put paprika, curry powder, oregano, and crushed garlic on your chicken breasts. Before cooking, marinate in the fridge for a few hours to get the spiciest flavor.
Replace carbs with healthy and tender broccoli, Brussels sprouts, and cauliflower. Or you can use a fresh, vibrant salad.
Source: rachaelhartleynutrition.com
A tangy, slightly spicy cilantro-lime sauce is your flavor bomb for this chicken tacos recipe. Grilled bananas are an unusual addition, but they work!
Combine lime juice, cilantro, chili powder, garlic, cumin, salt, and olive oil. These create your tangy chicken marinade. Grilled red onion and bell pepper balance the sweetness of the banana.
Build your tacos using a warm, soft tortilla as your vessel. Top them with a spoonful of guacamole and a sprinkle of cilantro.
Source: afarmgirlsdabbles.com
These flavorful teriyaki chicken poke bowls are easy to customize with favorite toppings. This makes them an excellent option for family dinners.
Make your teriyaki sauce using water, brown sugar, soy sauce, rice vinegar, and fresh garlic & ginger. Sesame and olive oil helps your chicken crisp in the oven and stops it from drying out.
Each bowl contains delicious bite-sized chunks of glazed chicken and sushi rice. Ideal fresh toppings include sweet pineapple, crunchy edamame, and carrot ribbons.
Make a spicy mayo vinaigrette to finish your poke bowls.
Source: theorganickitchen.org
Herbed chicken thighs stay juicy and moist in this recipe with one easy method. This is by filling the space between the chicken skin and meat with tasty compound butter!
You'll mix butter with lemon zest, paprika, and fresh rosemary. This is what makes it "compound butter."
You'll need to get hands-on to add your butter to the chicken thighs, but the result after cooking is worth it.
Elevate cauliflower rice by adding diced green apple to bring a crunchy texture and a taste of sweetness.
Cheap Chicken Recipes for Family
These chicken recipes are ideal for family meals. Whether that is a busy weeknight meal or a family gathering, you'll find something everybody will enjoy.
Source: allnutritious.com
Sheet pan chicken fajitas are ideal for spending more time with family or guests. Instead of standing by the stove, pop your ingredients on a pan and let the oven do its magic.
Add flavor to your fajitas with chili powder, garlic powder, smoked paprika, ground cumin, salt, and black pepper. Colorful bell peppers and red or white onion are ideal veggies for this dish.
Lime juice and cilantro counter the spice of your chicken and veggies. Serve in corn tortillas with your favorite toppings. Sour cream and shredded cheddar cheese are perfect!
Have extra bell peppers? Check out these best green pepper recipes!
Source: noshingwiththenolands.com
There is nothing wrong with sometimes taking shortcuts to make a quick, healthy meal. This chicken and dumplings recipe is a great example.
Use store-bought cooked chicken and frozen peas & carrots to save time. Onion, celery, and fresh garlic are aromatics that add flavor to your meal.
You'll also use onion powder, salt, and dried parsley & thyme. Create a smooth, creamy sauce using flour, milk, and chicken broth. Make fluffy, soft dumplings by using a pack of Bisquick!
Source: allnutritious.com
Chicken wings are a food that is generally thought of as unhealthy. However, you'll use the oven for this easy recipe. Plus, they are delightfully sticky!
You only need three ingredients for honey chicken wings. Aside from your wings, you'll use Italian seasoning and quality runny honey.
The worst thing about this recipe is the wait for them to finish cooking! But it's worth it.
Source: thefreshcooky.com
This chicken fried rice suggests using a Blackstone Griddle for cooking. However, you can use your favorite electric griddle or wok if you don't own one.
Cook your chicken and veggies before adding pre-cooked, cooled rice. Your veggies cook quicker if they're chopped small.
Sweet onion, carrots, zucchini, and bell pepper are ideal for this recipe. Scrambled eggs and frozen peas are a must!
Taste Asian flavors with soy sauce and oyster or fish sauce. Garnish your chicken fried rice with sesame seeds and green onion.
Source: killingthyme.net
These crispy chicken cutlets have a satisfying crunch on the outside. However, they're tender and juicy in the middle!
Soak your chicken cutlets in a spicy buttermilk marinade for an hour before coating them. This keeps them moist while cooking.
Your coating consists of panko breadcrumbs, Italian seasoning, and onion & garlic powder. Add spice with paprika and white & cayenne pepper.
A tangy, sweet homemade honey mustard sauce is the ideal accompaniment to crispy chicken cutlets!
Check out these other tasty thin-sliced chicken breast recipes!
Source: thedizzycook.com
Your whole family will love this apricot chicken with its sweet and sour flavor. Use juicy chicken thighs for this recipe to retain a moist texture.
Apricot jam or preserve is essential for the sweet flavor of your apricot chicken. Nutty, toasted sesame oil, and coconut amino transform this recipe into an Asian-inspired dish.
Source: killingthyme.net
These flavorful chicken meatballs in an easy marinara sauce will become a firm family favorite.
It's okay to use a jar of sauce. However, you won't regret making this easy one from scratch. Use crushed tomatoes, yellow onion, and garlic as your base.
Add fresh oregano, basil & bay leaf, and red pepper flakes if you like a hint of spice.
Your meatballs are flavored with salt, pepper, onion powder, fresh garlic & thyme, and Worcestershire sauce. This gives them a distinct taste!
Source: reciperunner.com
This Mexican-inspired chicken is a one-pan oven dish. It's easy to prepare with minimal ingredients and no chopping involved!
A spice mix of chili powder, garlic powder, and cumin adds to the spicy flavor. Mexican ingredients include salsa Verde, black beans, canned green chilies, and sweet corn.
Add a cheesy topping when the chicken is cooked through. Monterey Jack or Pepper Jack work well for a spicy kick! Or you can keep it mild with shredded cheddar.
Source: killingthyme.net
Burgers are an excellent option for using ground chicken. You can have the perfect chicken burger with the right ingredients to make your patty flavorsome and moist.
Greek yogurt, egg, and panko breadcrumbs are your critical ingredients for the perfect texture. Herbs bring out the best taste of bland chicken.
Whole-grain mustard and Worcestershire sauce add a tangy, umami flavor. If you can find liquid smoke, use it! It adds the delicious, chargrilled flavor that you love in a burger.
Source: theforkedspoon.com
Roast chicken is a family favorite. The ingredients and method in this recipe produce juicy meat inside and a golden, crispy skin on the outside.
Cover your whole chicken with garlic, butter, olive oil, lemon, and fresh herbs. Rosemary, thyme, oregano, basil, and parsley are ideal. Your chicken is cooked on a bed of root vegetables.
The flavors from your chicken will drip onto the veggies, making those taste delicious too! Firm potatoes, carrots, and onions are ideal choices.
Source: joyfoodsunshine.com
Baked hummus chicken is ideal as the main element of a healthy Greek-inspired meal. It's easy, delicious, and made with minimal simple ingredients.
Flavor your juicy chicken breasts with paprika, garlic powder, onion powder, and dried oregano. Choose your favorite hummus – plain or flavored – to coat your chicken with before cooking.
A drizzle of lemon juice adds a zesty flavor. Serve your chicken with tzatziki, soft pita bread, or a fresh Greek salad.
Cheap Chicken Casserole Recipes
Casseroles are an excellent way to add flavor to chicken. It's a bonus that they only use one dish too!
Source: pamsdailydish.com
This easy chicken noodle casserole is prepared in minutes. Using pre-cooked and frozen ingredients helps with the speed of this!
Start your casserole on the stovetop by cooking bowtie pasta until al dente and making a roux for your creamy sauce.
This step also partly defrosts your veggies. Add these into an oven dish with cooked chicken, chicken soup, sour cream, and seasonings.
Sprinkle shredded cheese on your casserole when it's almost cooked. Cook it for a little longer until the cheese is golden and bubbling!
Source: iamhomesteader.com
Cheesy chicken casserole is perfect for a family of cheese lovers. You'll cook tender chicken breasts in a cheese sauce before adding more cheese!
Make your chicken flavorful by seasoning it with paprika, salt, pepper, and garlic powder before searing.
Prepare your creamy sauce with chicken soup, heavy cream, and shredded cheddar cheese. A diced onion adds extra flavor and texture to your sauce.
Add more shredded cheese for the final 20 minutes of cooking for a crispy, golden texture!
Source: creativecynchronicity.com
This easy, comforting chicken recipe is like chicken soup in casserole form! You don't need many ingredients, either.
A cream of chicken soup and water creates the liquid your chicken and rice cook in. (You can use milk instead of water for a creamier texture.)
Season your casserole with poultry seasoning, rosemary, basil, and black pepper before cooking.
This is one of the best hearty summer casserole recipes!
Source: princesspinkygirl.com
This recipe is named crack chicken casserole because once you try it, it's addictive! You have gooey cheese, tender chicken, crunchy bacon, and a creamy ranch sauce.
Combine cream cheese, chicken soup, sour cream, half-and-half, and ranch seasoning for your creamy sauce.
Mix this with cooked chicken, yellow onion, macaroni, shredded cheddar, and crispy bacon pieces in a baking dish.
Add sliced green onion and more bacon & cheese before cooking until bubbling and golden!
Source: anediblemosaic.com
If you prefer a recipe that does not use canned soup, this is the one for you. In minutes, you'll make a rich, creamy, flavorful sauce for your chicken casserole.
Add chicken stock, milk, dried onion, garlic powder, salt, pepper, and cream cheese to an easy roux. Pre-cooked chicken and frozen veggies reduce prep time as you make your sauce from scratch.
Buttery Italian seasoned breadcrumbs make for a wonderfully crispy casserole topping.
Source: julieseatsandtreats.com
Cheesy hash brown chicken casserole is the ultimate comfort food. The easy recipe involves mixing all your ingredients and dumping them in your baking dish to cook!
Combine shredded hash browns and pre-cooked chicken for the main components of your casserole.
Make a creamy sauce using sour cream, cream of chicken soup, milk, shredded cheese, and seasoning.
A buttery cornflake mixture adds a satisfying crunchy top to your casserole!
Source: simplelivingrecipes.com
This creamy chicken casserole is delicious with its flavorful cheesy sauce. Add a mass of potato sticks on top, and your kids will love it!
Make your sauce with corn, cream cheese, heavy cream, Dijon mustard, and garlic powder. This sits on top of pre-cooked shredded chicken in a baking pan. Add shredded mozzarella before cooking.
Add crunchy potato sticks to your casserole after removing it from the oven.
Source: homanathome.com
This chicken casserole combines the flavors of a chicken pot pie but without the hard work! You'll use only five ingredients too.
Mix cooked shredded chicken, a bag of steamed mixed veggies, a can of chicken soup, and butter. Also, add chopped refrigerated biscuits.
When they cook and rise, these are the "bubble up" part of your casserole!
Source: savingtalents.com
This chicken broccoli casserole has a slightly spicy flavor from adding curry. They will love this casserole if your kids don't mind a little spice.
You'll add your main ingredients of tender chicken breast, rice, and broccoli to your baking dish, pre-cooked.
Your creamy sauce consists of cream of chicken soup, mayonnaise, lemon juice, and curry powder. You can use cream of mushroom soup if preferred, or one can of each.
Add a mountain of shredded cheese to your casserole before baking it in the oven.
Source: saltandspoon.co
This keto version of chicken alfredo casserole is low-carb, creamy, and full of nutritious veggies. It's a quick and easy meal made with minimal ingredients.
Cooked chicken, cauliflower, and broccoli are the main elements of your casserole. Make your creamy sauce using butter, cream cheese, parmesan, mozzarella, and heavy cream.
Add garlic, salt, and pepper for flavor. Layer your base ingredients in a baking dish and pour over your cheesy sauce. Finish off with grated mozzarella for extra cheese indulgence!
You'll also love this delightful mozzarella stuffed chicken breast!
Cheap Chicken Thigh Recipes
Thighs are the best part of a chicken if you want guaranteed tender, juicy chicken. Check out the delicious chicken thigh recipes below.
Source: allnutritious.com
You'll get sweet and sticky chicken thighs from this recipe!
Your chicken is golden and caramelized from using honey as a natural sugar. Add this to the hot pan with chicken broth and umami soy sauce when your thighs are almost cooked.
Serve your juicy chicken with tender brown rice.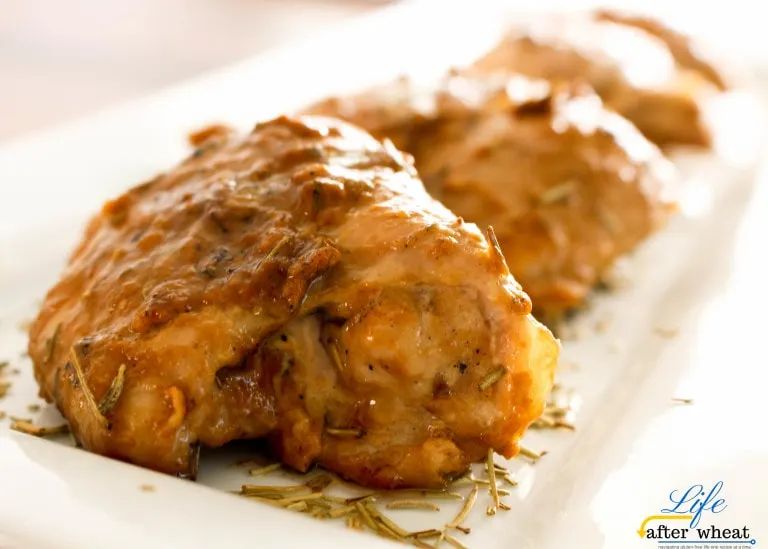 Source: thereislifeafterwheat.com
These sweet, savory, herby chicken thighs are quick and easy to whip up for dinner. Rosemary matches well with the other ingredients in this recipe.
You'll cook a tasty sauce for your chicken thighs in a skillet. Make your sauce with ranch dressing, Greek yogurt, soy sauce, lemon juice, pepper, sugar, and dried or fresh rosemary.
Serve your delicious chicken with fluffy baked potatoes or tender coconut rice.
Source: allnutritious.com
These chicken thighs are baked on a sheet pan alongside nutritious veggies. They are savory, sweet, and lightly spiced so everyone will love them.
You'll make a flavorsome marinade using garlic, chili powder, and oregano. Apple cider vinegar adds a tangy flavor; your essential ingredient is honey!
Brussels sprouts, red & yellow bell pepper, carrots, and sharp red onion are ideal veggies for this dish. Enhance the flavor of these with garlic powder and onion powder.
Source: createkidsclub.com
This baked chicken thigh recipe is the perfect option for kids. It's simple but flavorful and has minimal prep time.
Your seasoning consists of garlic powder, onion powder, and dried parsley. Plus, salt and pepper to taste. That's all!
Serve these to kids with colorful veggies such as crunchy baby carrots, sweet corn on the cob, and juicy cherry tomatoes.
Source: smellslikedelish.com
These broiled chicken thighs hint at the Mediterranean with their zesty lemon and garlic flavor.
You'll baste your thighs in a lemony sauce between turning under the broiler, so this is a hands-on recipe. Combine olive oil, lemon juice, minced garlic, salt, and pepper for a flavorful sauce.
Add Creole seasoning or smoked paprika if you prefer a little spice.
Source: wewanttoeat.com
For this recipe, you'll bake juicy chicken thighs in a rich, creamy pesto sauce.
Heavy cream and parmesan cheese create the creaminess of this dish. Pesto has enough flavor that you don't need to add much seasoning to the recipe.
Add diced yellow or white onion and petite diced tomatoes to your sauce for extra flavor and texture.
Source: sugarandsnappeas.com
These chicken thighs have a satisfying crisp skin due to their searing before oven-cooking. This method also retains the juices of the thighs to keep them moist.
Use salt, black pepper, and garlic powder to season your chicken thighs before skillet frying them. After transferring your thighs to the oven, you'll coat them in a tangy, sweet marinade.
Dijon mustard and sweet honey are essential for the marinade! Mix these with minced garlic and salt before brushing them onto the chicken.
Source: scratchmarket.co
If you're a spice lover, these Jamaican Jerk chicken thighs are perfect. The flavor packs a punch if you can handle the heat!
You'll dry brine and rest your chicken thighs before coating the Jerk marinade. Make your dry brine using allspice, orange zest, salt, and brown sugar.
The spice level in the marinade comes from habanero or scotch bonnet peppers. Other ingredients that add a robust flavor are paprika, nutmeg, ginger, garlic, lime juice, and soy sauce.
Before baking in the oven, you'll sear your chicken in a hot skillet.
Source: fluxingwell.com
Coca-Cola is an excellent ingredient for cooking chicken. The soda in the drink tenderizes meat during cooking. This leaves your chicken thighs juicy and tender.
This recipe uses minimal ingredients. All you use aside from chicken thighs and Coca-Cola is barbecue sauce! Combining barbecue sauce with Coca-Cola makes it sweet, sticky, and flavorful.
These delicious chicken thighs are perfectly served with tender rice.
Source: makethebestofeverything.com
Cooking chicken thighs in your Instant Pot with potatoes and fresh green beans makes a complete meal.
You'll sauté your chicken thighs in butter for a few minutes and then add honey, garlic, and water to the pot. Add your veggies to the chicken in a stainless-steel bowl or on your Instant Pot trivet.
This steams them nicely, and they absorb the sweet flavor of your chicken!
Cheap Crockpot Chicken Recipes
Cooking chicken in your crockpot makes it tender to eat. Try some of the recipes below!
Source: thefreshcooky.com
Copycat Olive Garden crock pot chicken is quick and easy to prepare. It has bold and tangy Italian flavors, with tender and juicy chicken. It's just like the original!
An Italian dressing is your essential ingredient (other than chicken!) for this crockpot chicken. Olive Garden brand is the best option, but any will work.
Finely shredded parmesan cheese melts beautifully into your creamy, cheesy pasta sauce.
Once your chicken is cooked, you'll shred it and add it back to your crockpot and combine it with cooked pasta. Sprinkle with more parmesan before serving it!
Source: joyfoodsunshine.com
This tangy crockpot BBQ chicken is versatile. You can serve it in a sandwich, with a healthy fresh salad, or on top of a pizza! Whichever way you decide to use it, you'll love it.
Aside from chicken breast, you'll use barbecue sauce, minced garlic, red onion, and sea salt. You can also choose a suitable liquid, such as beer, apple juice, or chicken broth, to add more flavor.
Once your chicken is cooked, shred it, and add it back to the pot for more cooking. Make your BBQ chicken crispy by putting it in a baking dish and cooking it in the oven for 20 minutes!
Check out these best leftover BBQ chicken recipes for the next day!
Source: dessertfortwo.com
Like in many recipes, you'll make this creamy crockpot chicken without using a can of chicken soup.
Instead, you'll use chicken bouillon cubes, poultry seasoning, milk, and cornstarch to make a delicious, rich sauce.
Cover your chicken breasts in broth and butter to keep them moist during cooking. You'll add a cornstarch slurry for the final 30 minutes of cooking. This will make your sauce rich and creamy.
Source: mimosasandmotherhood.com
Tasty crockpot Mexican shredded chicken is versatile for a selection of meals. You can use it for burritos, tacos, enchiladas, or even loaded nachos!
You'll add essential Mexican ingredients to your crockpot with chicken breasts. These are black beans, canned green chilies, Rotel tomatoes, sweet corn, yellow onion, and taco seasoning.
If you like your Mexican chicken spicier, add hot sauce too!
After you've shredded your cooked chicken, add cream cheese, and let it cook for another 30 minutes. This will make a delicious, creamy sauce.
Source: returntothekitchen.com
This is another Mexican-inspired crockpot chicken recipe that is versatile when cooked. It's a quick dump-and-go recipe, giving ample time to decide how to serve it!
The sauce of your crockpot chicken fajitas comes from a jar of salsa. Add red bell peppers and sweet sliced onions.
Season your fajita mixture with chili powder, garlic powder, and cumin powder for added spice.
Source: littlehouseliving.com
This crockpot chicken recipe is so minimal that you'll want to add it to your regular meal rotation.
You only need chicken breast, a sweet onion, chicken broth, and milk or cream. If you wish to add more flavor, try adding salt & pepper, Italian seasoning, or a clove of garlic.
This crockpot chicken is ideally served with tender egg noodles.
Source: slowcookermeals.com
Juicy chicken, tender potatoes, and crunchy green beans perfectly combine. Cooking them together in one pot means you don't have to stand at your stove.
You can spend more quality time with your family instead! You'll cook your main ingredients in a zesty, garlicky marinade.
Make this with olive oil, lemon juice, minced garlic, and dried seasonings. Salt, black pepper, onion powder, Italian seasoning, and paprika work well for this dish.
Source: lovefromtheoven.com
This crockpot BBQ chicken is one of the easiest pulled chicken recipes. You only need three staple ingredients!
Add chicken breasts and sliced onion to your pot. Then you'll pour over your favorite BBQ sauce and leave your crockpot to do its magic!
Shred your chicken with a fork when it's cooked and mix it into the sauce. Try serving your tangy BBQ chicken in soft hamburger buns with shredded cheese and pickles!
Source: monicanedeff.com
Crockpot salsa fresca chicken is straightforward to prepare with minimal ingredients. You only need chicken breast, fresh salsa, and queso fresco cheese!
Cook your chicken and salsa in your crockpot for 3-4 hours. When it's cooked, sprinkle crumbled cheese on top and cover until it's melted.
Zesty lime and cilantro white rice is an ideal side dish for this tasty chicken!
Source: twohealthykitchens.com
You have another super easy crockpot chicken recipe here. The only three ingredients you need are chicken breasts, taco seasoning, and a jar of salsa.
Layer your ingredients in your crockpot and let it do its thing! Shred your chicken with two forks when it's cooked, and then give it a good stir.
Serve your taco chicken in tortillas with your favorite toppings.
These other yummy slow cooker chicken recipes are sure to impress!
61 Easy Cheap Chicken Recipes To Make For Dinner
Give your family a meal they'll look forward to with these delicious and cheap chicken recipes for any day of the week.
Ingredients
1. Cast Iron Chicken Breast
2. Garlic Chicken Bite Skillet
3. Buffalo Grilled Chicken Drumsticks
4. Sheet Pan Chicken and Mango Stir Fry
5. Honey Garlic Chicken Rice Bowls
6. Firecracker Chicken
7. Instant Pot Sweet and Sour Chicken
8. Whole30 One Pan Paprika Chicken and Asparagus
9. Chicken Ramen Stir Fry
10. Sheet Pan Chicken Potatoes, and Green Beans
11. One-Pan Chicken Legs with Chickpeas and Quinoa
12. One Pan Honey Sriracha Ground Chicken, Broccoli, and Rice Bowls
13. Baked Herb Chicken Breasts with Couscous Meal Prep
14. Instant Pot Mexican Chicken Soup
15. Lemon Chicken with Veggies Meal Prep
16. Copycat PF Changs Chicken Lettuce Wraps
17. Spicy Curried Chicken Meal Prep Bowl
18. Cilantro Lime Chicken Tacos
19. Teriyaki Chicken Poke Bowls
20. Herbed Chicken with Apple Cauliflower Rice
21. Sheet Pan Chicken Fajitas
22. 30 Minute Chicken and Dumplings
23. Honey Chicken Wings
24. Chicken Fried Rice
25. Crispy Air Fryer Chicken Cutlets
26. Slow Cooker Apricot Chicken
27. Ground Chicken Meatballs in Sauce
28. Salsa Verde Baked Chicken
29. Best Chicken Burger
30. Roast Chicken
31. Baked Hummus Chicken
32. Simple Chicken Noodle Casserole
33. Cheesy Chicken Casserole
34. Chicken and Rice Casserole
35. Crack Chicken Casserole
36. 30-Minute Chicken Noodle Casserole
37. Cheesy Hash Brown Chicken Casserole
38. Creamy Chicken Casserole
39. Chicken Pot Pie Bubble Up Casserole
40. Chicken Broccoli Rice Casserole with Curry
41. Keto Chicken Alfredo Casserole
42. Sweet Honey Garlic Chicken Meal Prep
43. Rosemary Ranch Chicken Thighs
44. Sheet Pan Chicken Thighs with Garlic and Honey
45. Baked Chicken Thighs
46. Broiled Chicken Thighs
47. Creamy Low-Carb Pesto Chicken Thighs
48. Easy Dijon Chicken Thighs
49. Jamaican Jerk Chicken Thighs
50. Coca-Cola Chicken Thighs
51. Instant Pot Honey Butter Chicken Thighs
52. Olive Garden Crock Pot Chicken
53. Crockpot BBQ Chicken
54. Crockpot Creamy Chicken
55. Mexican Crockpot Shredded Chicken
56. Crock Pot Chicken Fajitas
57. 4-Ingredient Crockpot Chicken
58. Crockpot Chicken Potatoes and Green Beans
59. Crockpot BBQ Chicken Sandwiches
60. Salsa Fresca Chicken
61. 3-Ingredient Crock Pot Chicken Tacos
Instructions
Scroll up to get a bunch of easy, yummy, and delicious chicken recipes. Don't be afraid to get creative with the ingredients. You might discover a flavor you didn't know you liked.
Get your shopping list going, and make sure you've got all the ingredients.
Get cooking and make your next Cheap Chicken Recipe!
Notes
Which one of these recipes was your favorite? Let me know in the comment section or on Pinterest!