Summer is a time for gathering with the people you love! That means warm days spent under the sun enjoying good food like these summer casseroles and great company of course.
It's so exciting when the warmer months roll around. When it comes to easy weeknight cooking, the casserole at the dinner table is a staple and the perfect way to end a summer day.
Many casserole recipes feel like they belong more to winter than summer time of year!
With this list of thirty-one delicious best casserole recipes your whole family can enjoy, that's not a problem. Discover thirty-one ways to bring bright, summery, delicious casseroles to the table.
What Do You Feed a Large Crowd in the Summer?
If you are hosting a summer get-together, having your favorite summer casseroles up your sleeve is essential for the best result. It's so easy to feed a crowd with a simple classic dish.
Casseroles save you so much time, allowing you to get on with enjoying other people's company. To keep things easy, reach for simple, comforting dishes that require very little time to prepare.
Aside from casseroles, opt for fresh and light foods when hosting a summer crowd. Hot days make us all crave something refreshing. So, platters of fresh fruit and cool drinks will go down a treat.
For dessert, why not try serving something cold? Bowls of ice cream, popsicles, or even slushies are all great options. Plus, they're easy to whip up for you as the host!
Best Summer Casseroles
With summer on the horizon, here are thirty-one summer casserole recipes everyone will enjoy! This collection of summer casseroles are simple, delicious, and big enough to feed a crowd easily.
Just grab your baking dish and enjoy a bubbly casserole for easy dinners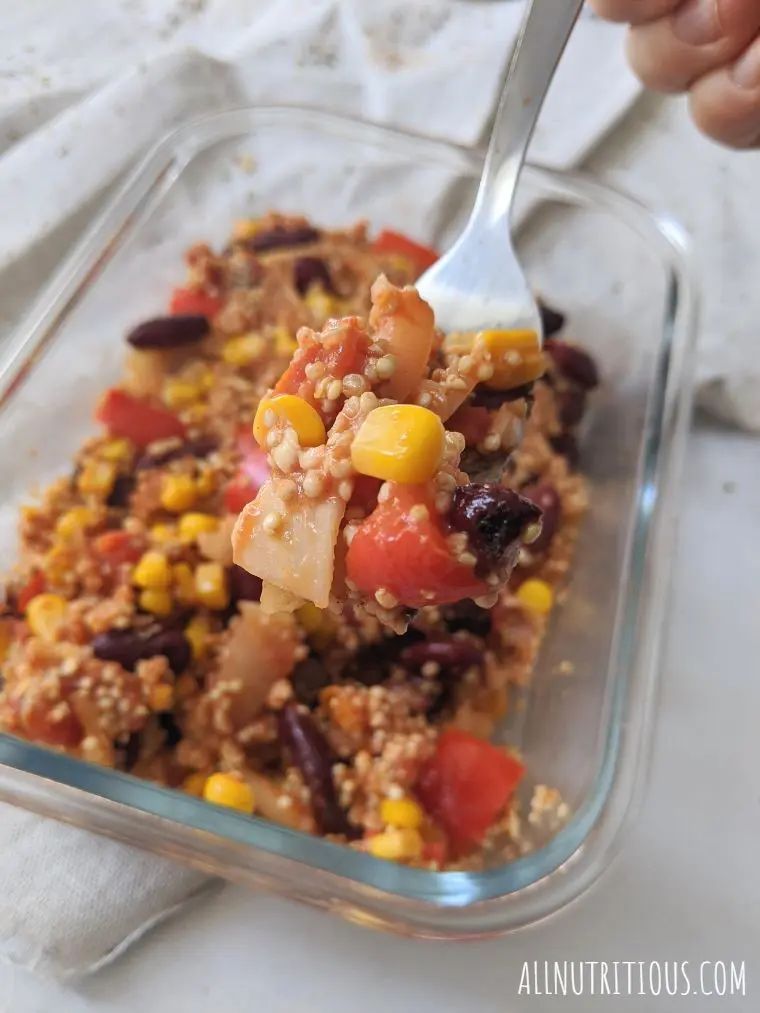 Source: allnutritious.com
First up is one of my recipes! This Mexican red bean casserole is a summer favorite of mine. It's filling and delicious but not too heavy. Plus, it's super easy to whip up with some simple ingredients.
If you're a fan of meal prepping, you might also enjoy making this for your weekly lunches. It's packed with healthy vegetables and plenty of protein to keep you going for the whole day.
Source: saltandlavender.com
Speaking of Mexican-style casseroles, here's a tasty taco casserole! This is rich and delicious. But it's still fresh enough to be enjoyed on a hot day. That's what makes it such a crowd-pleaser.
I guarantee everyone will enjoy this casserole if you're hosting a gathering. It has plenty of tasty vegetables, tons of cheese, and even a layer of Doritos! It's not to be missed.
Source: acedarspoon.com
On the hunt for quick and easy protein? This delicious sausage and bean casserole is super simple. Packed with good protein to keep you going, this has plenty of vegetables to keep things light.
You can whip this up in no time using the ingredients you find in your pantry. Tweak the recipe to suit whichever vegetables or beans you have on hand. It will still taste amazing!
These kielbasa recipes are perfect for you if you enjoyed this casserole!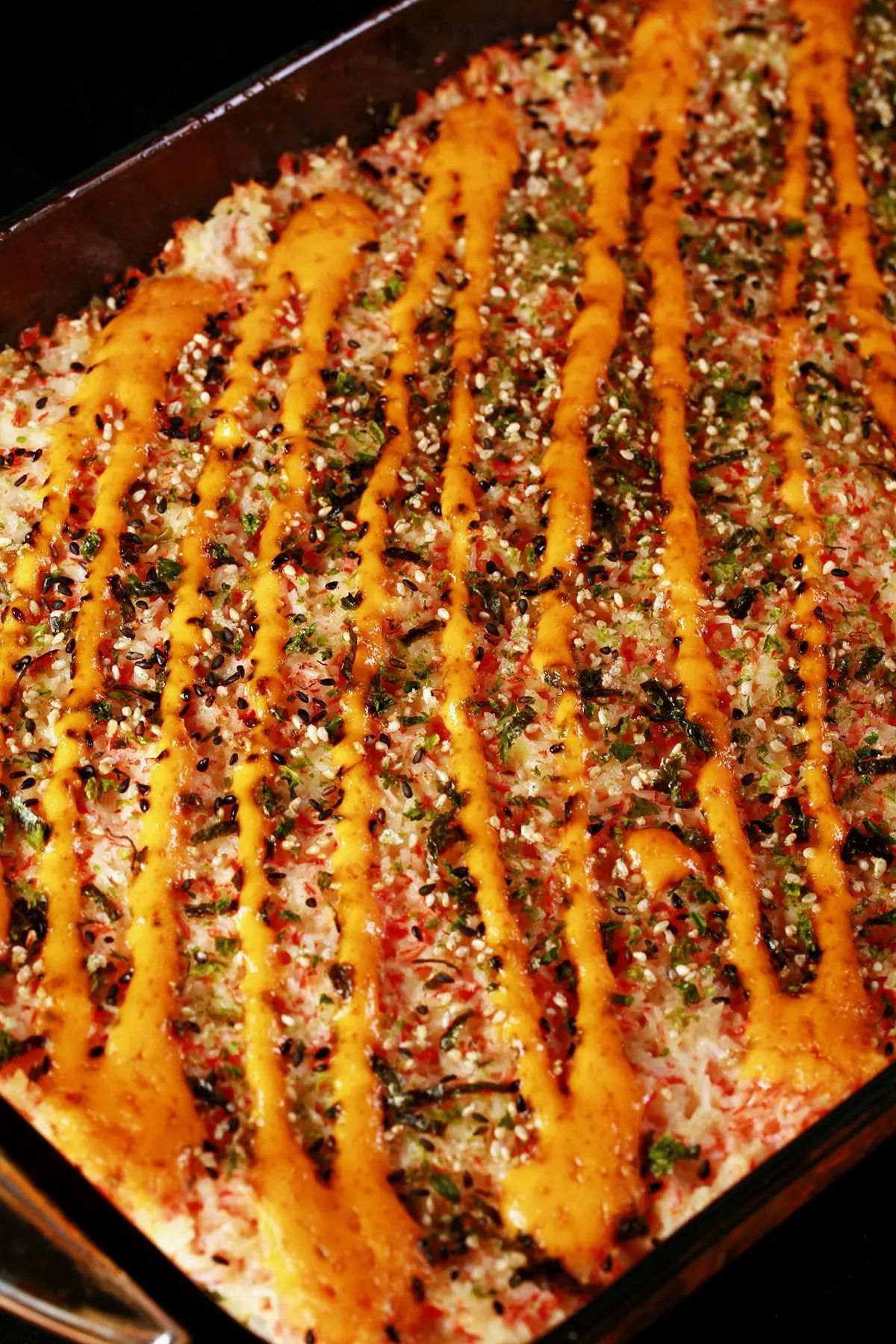 Source: celebrationgeneration.com
Sushi and casserole don't usually end up in the same sentence. However, this recipe proves that they belong together! This is a simple yet unique casserole to serve at a summer gathering.
The bright sushi flavor is perfect for cutting through the sweat of a warm day. This is much easier to make than a sushi platter. Save time and enjoy something new in the process with this great recipe.
Source: fromachefskitchen.com
If you're hunting for a hearty vegetarian option, look no further than this Greek recipe for a veggie-packed casserole!
Packed with delicious vegetables, this bake-ahead casserole is so simple to make.
You can serve it alone or with your favorite summer salad. The punchy Greek flavors make this the perfect comfort food, no matter the season.
Source: mykitchenlove.com
This next recipe even has 'summer' in the name! With plenty of fresh and bright flavors, this is a surprisingly filling casserole that's sure to satisfy. The key? Summer squash!
Paired with creamy sauce and plenty of pasta, this dish promises a rich and tasty meal. If you're stuck for dinner ideas, this makes a great weekend dinner. You can even freeze the leftovers.
Source: blackpeoplesrecipes.com
What's better than a hashbrown? A hashbrown casserole, of course! This is a simple make-ahead casserole you can have on the table in just twenty minutes.
Trust me. This one is a crowd-pleaser. Bacon, cheese, and potato are an unbeatable combination. Dust with some chopped green onions for freshness to cut through the rich cheese.
Source: trialandeater.com
If you're hosting a brunch, you've got to try this amazing French toast casserole! This delivers all the fluffy flavor of typical French toast with a tasty twist: the toast is stuffed!
Packed full of summer berries and fruit jam, this is a fantastic way to celebrate a summer morning. This unique recipe will blow your brunch guests away when it hits the table.
It's a real showstopper!
Source: fromachefskitchen.com
Many people feel that summer casseroles can't be filling and light at the same time. But this recipe proves them wrong! Light yellow squash adds a buttery flavor, while quinoa adds protein.
The result is a filling and healthy casserole dish perfect for outdoor summer days. Whip this up for a quick and easy family lunch. You can even prepare it ahead of time.
Have lots of zucchini in your garden this summer? Try this zucchini stir fry too!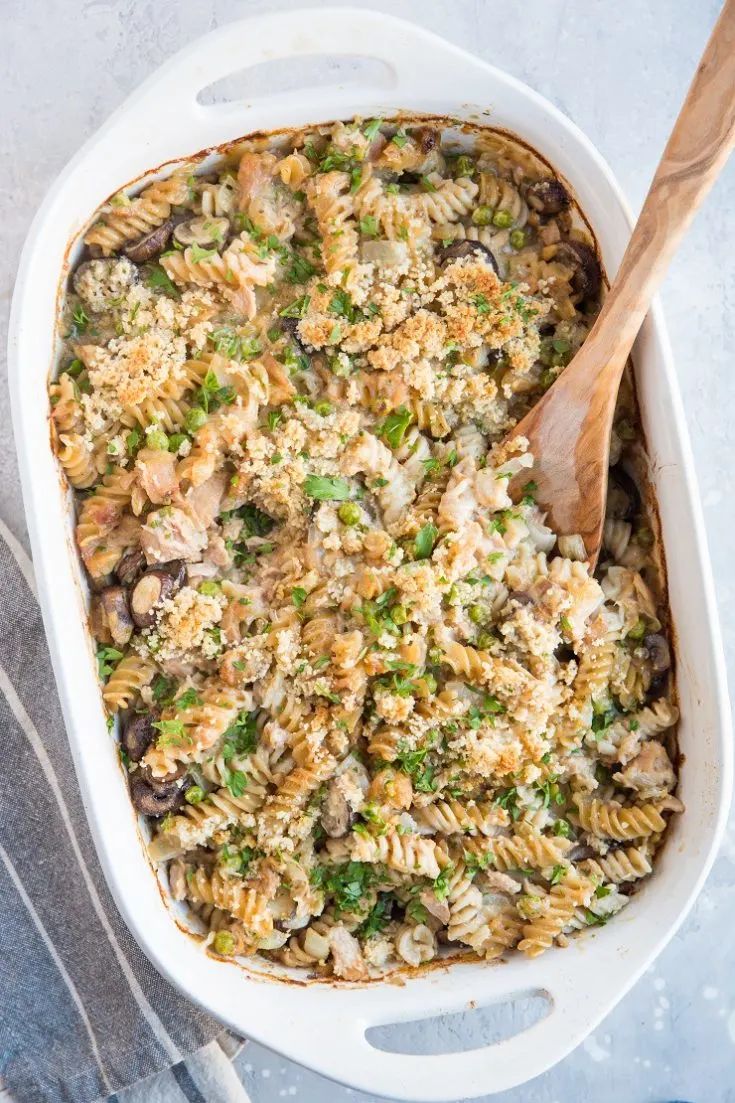 Source: theroastedroot.net
Fish casseroles are a staple of the summer scene. Since fish is a light protein that goes well with citrus, it's great for enjoying in warmer months. This tuna casserole is no exception.
This casserole is laced with a creamy sauce you'll quickly become addicted to. With crispy breadcrumbs and chunks of tender tuna, each bite is a riot of flavor and texture.
Source: simplyscrumptiouseats.com
Stuffed peppers are a fantastic summer meal. Now, imagine them in the form of a casserole! This recipe is dead easy, requiring only half an hour.
If you have picky eaters in the family, this recipe will get them to eat their vegetables. They're hidden beneath a layer of tasty cheese, cooked rice, and Italian sausage.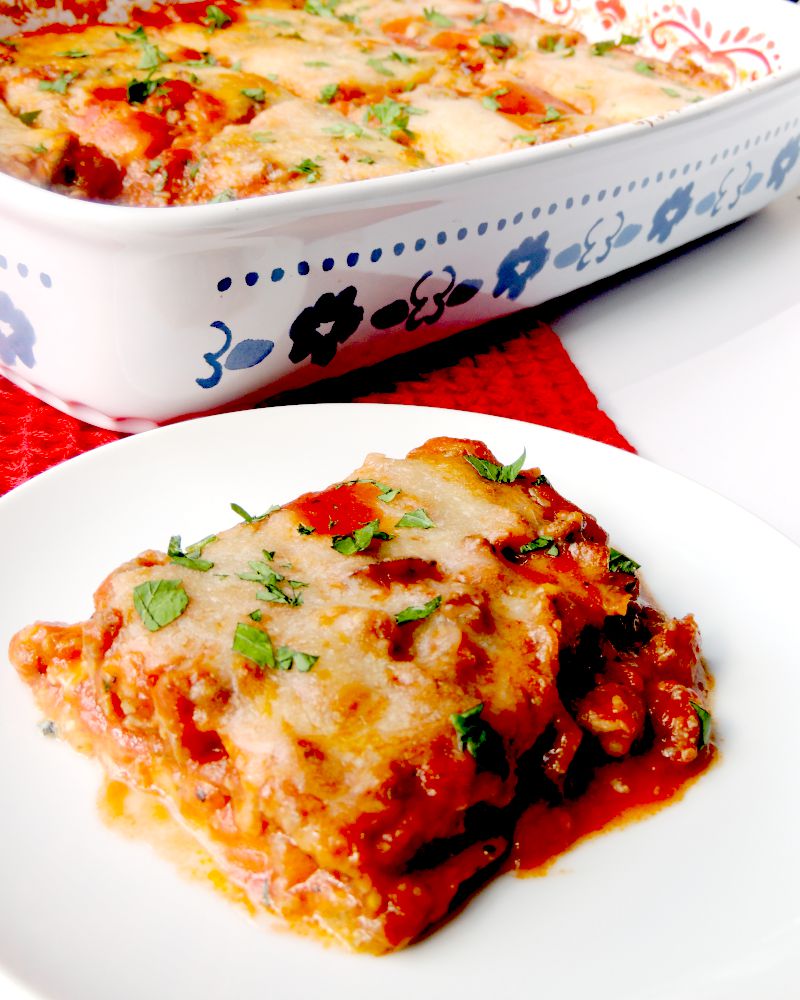 Source: bobbiskozykitchen.com
I love a pizza casserole. This version is even better because it uses zucchini to create the crust, making this a healthy option for a weeknight meal. Trust me. The kids won't even realize it!
If you're looking for a warm and comforting dish that doesn't feel too rich for summer, this is it. The casserole hums with all the flavors you know and love from pizza.
Customize the toppings to make your family's favorite type of pizza! Add pepperoni, vegetables, or your favorite sauce to make it your own.
Source: julieseatsandtreats.com
Broccoli has a bad reputation, but it's time to fix that. The truth is that broccoli is not just good for you. It's also delicious when you treat it right! That's exactly what this recipe does.
Discover how amazing broccoli tastes when you bathe it in a creamy sauce and a buttery cracker topping. This is a great dish for family gatherings during the summer holidays!
Source: herbsandflour.com
Pastitsio is Greek comfort food, and that's enough to make almost anyone want to eat it. This is almost like a macaroni and cheese sandwich.
Two layers of creamy pasta bracket a layer of meat in the middle. Then, the casserole is baked to crispy perfection and topped with fresh herbs. This recipe is absolutely out of this world!
Source: plantpowercouple.com
For all the vegans out there, this squash casserole recipe is the answer to your creamy casserole cravings. Every bite bursts with earthy mustard and squash flavors.
Enjoying this casserole in summer is almost like lifting the curtain in fall. It's warm, comforting, and everything a delicious casserole should be. Plus, it's super easy to make ahead of time.
Source: plantbasedonabudget.com
Summer is zucchini season, so it's time to celebrate the kind of summer vegetables. This healthy and hearty casserole pairs zucchini and potatoes to great effect.
No matter whom you're hosting, everyone will love a bowl of this. It's crunchy, thanks to the breadcrumbs, with a light vegetable flavor that's perfect for summer.
Chop up the vegetables, mix them with the spices, and bake. It's that simple to make!
If you loved this zucchini recipe, you must try this chicken zucchini pasta this summer!
Source: sustainmycookinghabit.com
We have Croatia to thank for the next delicious item on our list. This is a tasty quiche recipe bursting with chicken and mushrooms. Thanks to a hearty layer of cheese on top, it's super comforting!
This is Croatia's answer to a summery quiche. It's filling without tipping the scales into 'too rich' territory. Make sure to sprinkle with fresh herbs once it's ready for an extra dose of freshness.
Source: splashoftaste.com
Corn is a great summer vegetable to use in a casserole! It's light and juicy, with a slightly sweet flavor that makes you think of warm days and cool drinks.
I love this recipe because it comes together so quickly. All you need are some pantry staples and fresh corn to bring it to life. Plus, it's a comforting crowd-pleaser that will always go down a treat.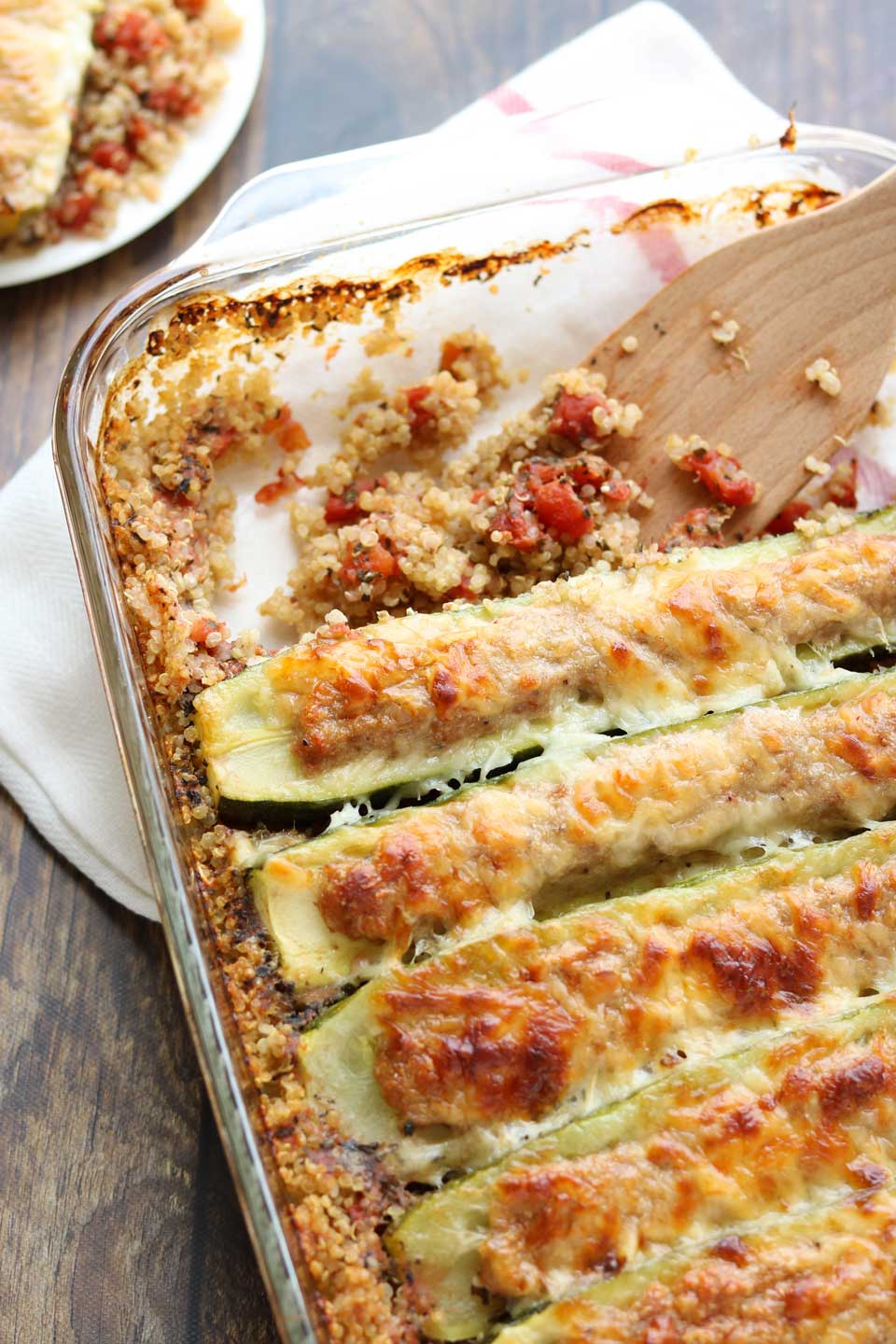 Source: twohealthykitchens.com
Here's another way to enjoy zucchini at its best! This recipe is delicious in summer when zucchini is in season. It's the perfect intersection of healthy and comforting.
The best part about this recipe is that you can prepare it almost entirely ahead of time. Whip up the zucchini boats and let them wait in the fridge until you're ready to eat.
Then, bake for an hour until everything is crispy and delicious.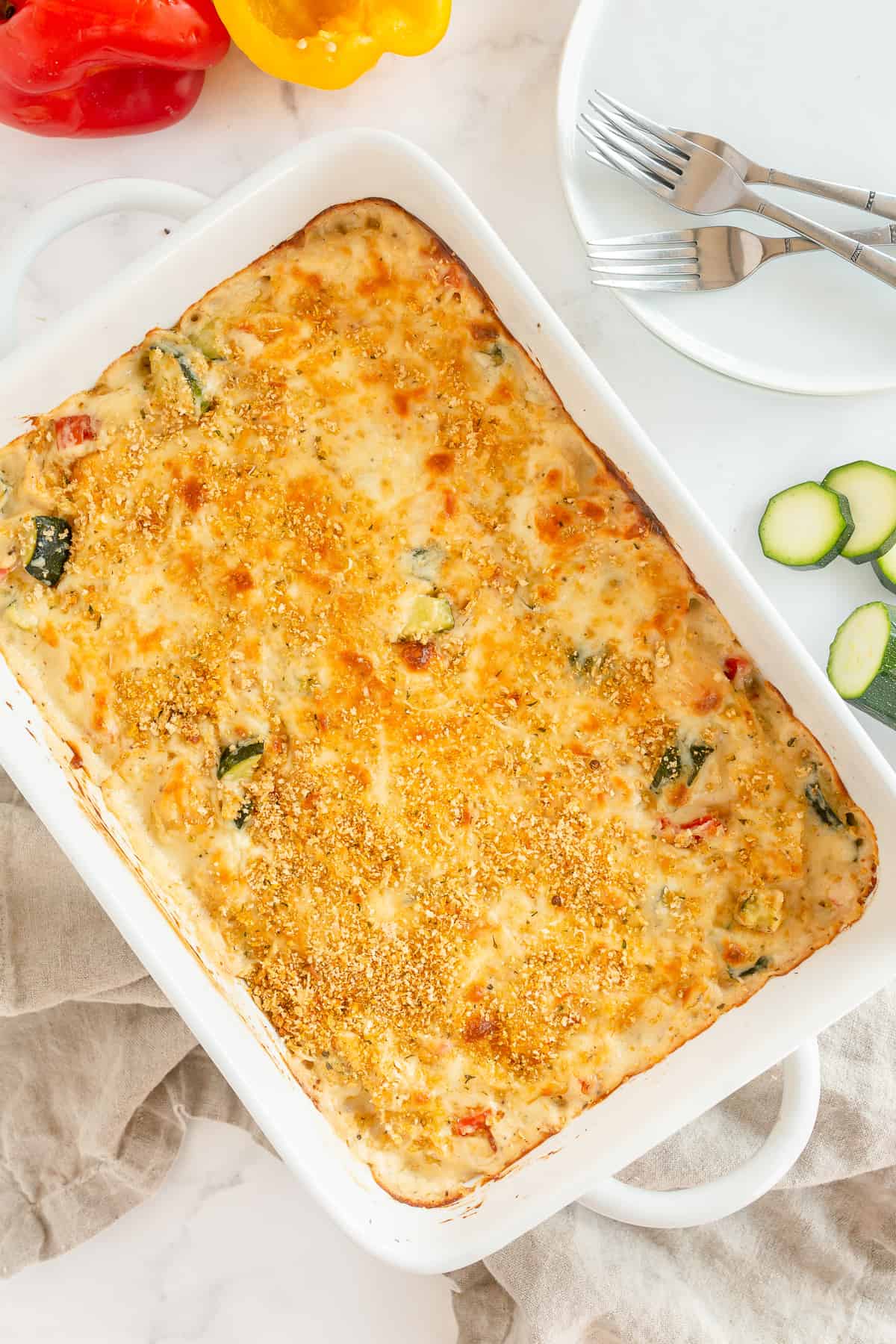 Source: wholesomemadeeasy.com
Chicken, zucchini, bell peppers, and cheese. These four ingredients blend to create a super tasty summer casserole that won't cost an arm and a leg. It's affordable, tasty, and utterly simple.
This recipe is great if you need to use up vegetables that are starting to get a little bit old. The creamy sauce gives them new life!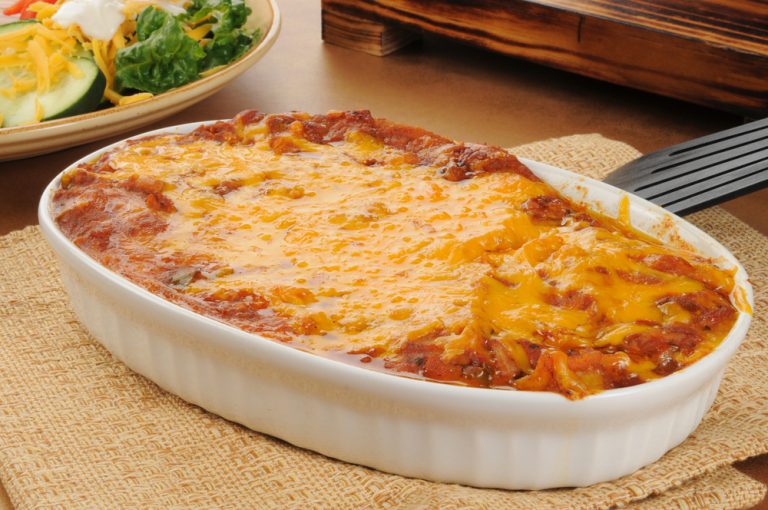 Source: cookingschooldropout.com
If you have an air fryer, give it a bit of a workout with this unique pork taco casserole. You only need thirty minutes to prepare this tasty recipe. It bakes to a perfect crisp, thanks to the air fryer!
Treat you and your guests to a unique take on a delicious dish. This is a great way to use any leftover pork from earlier in the week.
If your family enjoys pork, you must make these best ground pork recipes this summer.
Source: theforkedspoon.com
The Caprese salad is a staple Italian summer dish. The mozzarella, basil, and fresh tomato all bring new and exciting flavors to the table. So, why not enjoy this refreshing dish in casserole form?
This super simple Caprese casserole is a vibrant showstopper. It looks terrific sitting at the center of a table, just waiting to be eaten.
Save yourself time by preparing it and reheating it when you're ready to serve it.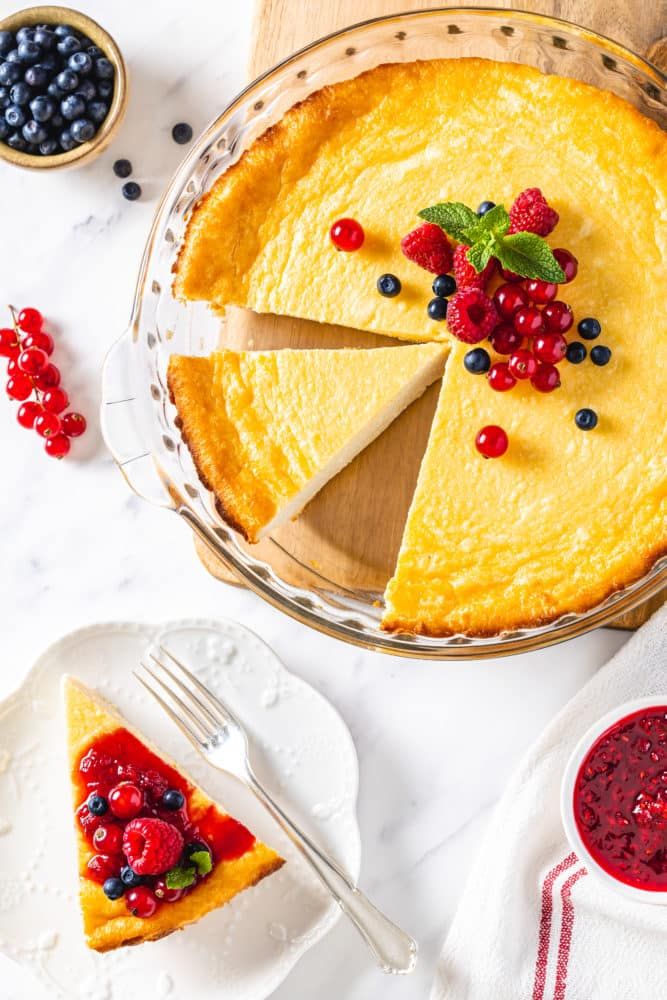 Source: allweeat.com
If you want something unique to serve your guests, try this Sweet Farmer's Cheese Casserole! It looks slightly like a cheesecake but closer to a quiche.
The secret ingredient in this dish is farmer's cheese. That's pressed cottage cheese! It's light and delicious, with less moisture than standard cottage cheese, so that the dish won't be too rich.
Source: ifoodreal.com
Next up is a super affordable recipe with a delicious flavor profile. With chicken and rice as the two main ingredients, you'd be forgiven for thinking this dish would be a bit bland.
But every bite of this casserole is bursting with flavor! It's super healthy even though it features a cream sauce thanks to a dollop of fresh yogurt.
Tweak the spices to suit your tastes for a signature casserole dish.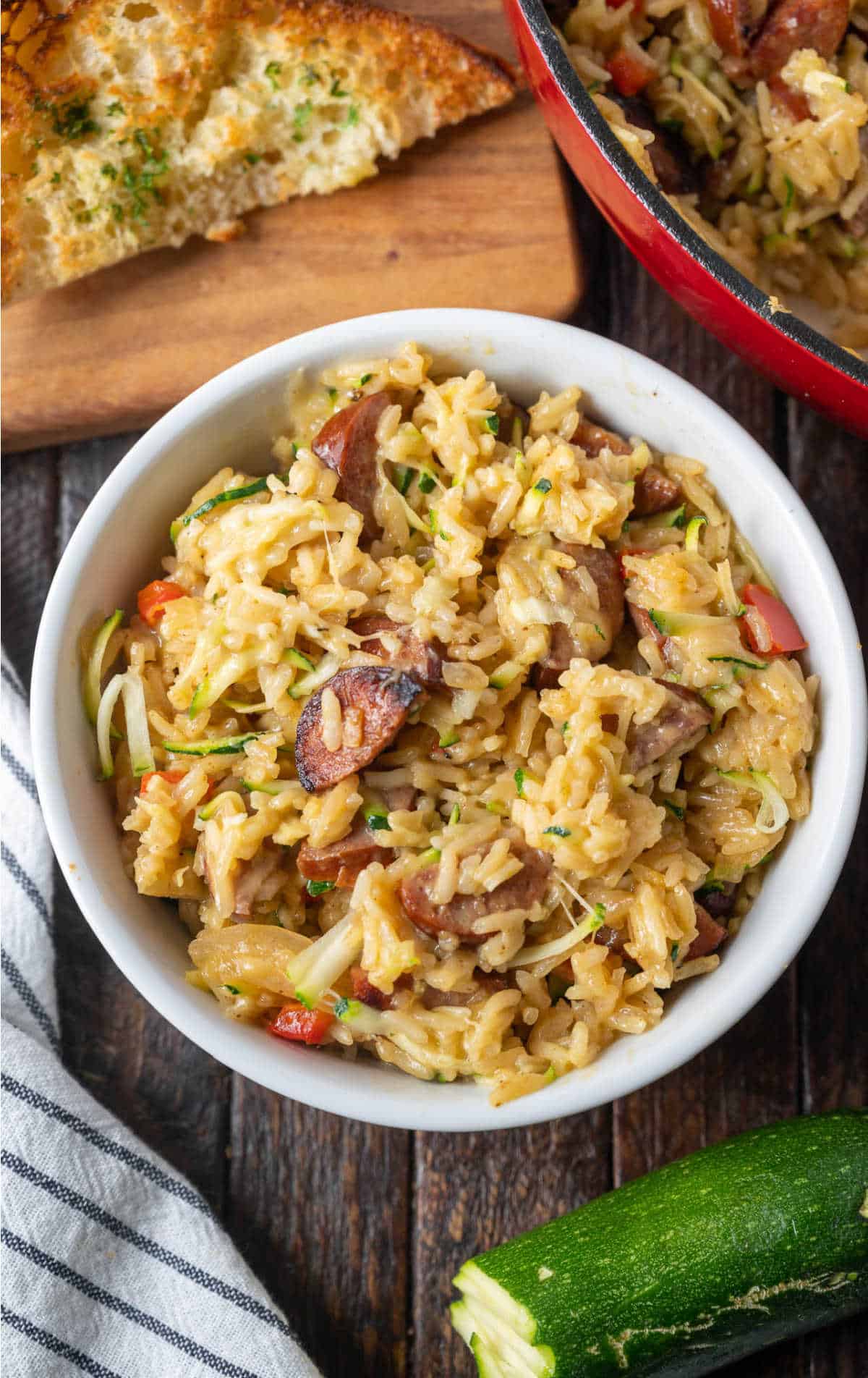 Source: butteryourbiscuit.com
Here's another version of a rice casserole with a smoky kick hiding inside. This casserole recipe uses smoked sausage to add both protein and flavor.
Make it your own by choosing your favorite sausage! Doused in cheese and speckled with zucchini, this recipe is the perfect balance between delicious and healthy.
Source: strengthandsunshine.com
Enjoy a vegan spin on a classic squash casserole with this tasty recipe. Squash casseroles are one of the best things to enjoy in summer. And this Southern-style recipe takes the cake!
The cracker-crumb topping is what makes this recipe work. It's a delicious contrast to the buttery squash below, adding some much-needed crunch.
This is perfect for taking to summer potlucks or even picnics. Even the kids won't hesitate to dive into a bowl of this, despite all the vegetables.
Source: bakingbeauty.net
Impress your guests with super tender chicken in a rich, creamy sauce. This chicken spaghetti casserole has to be tasted to be believed!
This kind of dish will always have your guests asking for seconds. So, thank goodness it's so easy to make. Whip up a big batch quickly and save the leftovers for a rainy day.
Source: theroastedroot.net
Inject some extra sunshine into your day with this delicious salsa verde chicken. There's something about a chicken and rice casserole that works. It's filling yet light and full of flavor.
Try serving this tasty dish with all your favorite Mexican fixings. Everything from pico de gallo to a dollop of guacamole would go down a treat.
Since this is easy to make, it's ideal for busy weeknights. Your family will request this, again and again, no matter the season!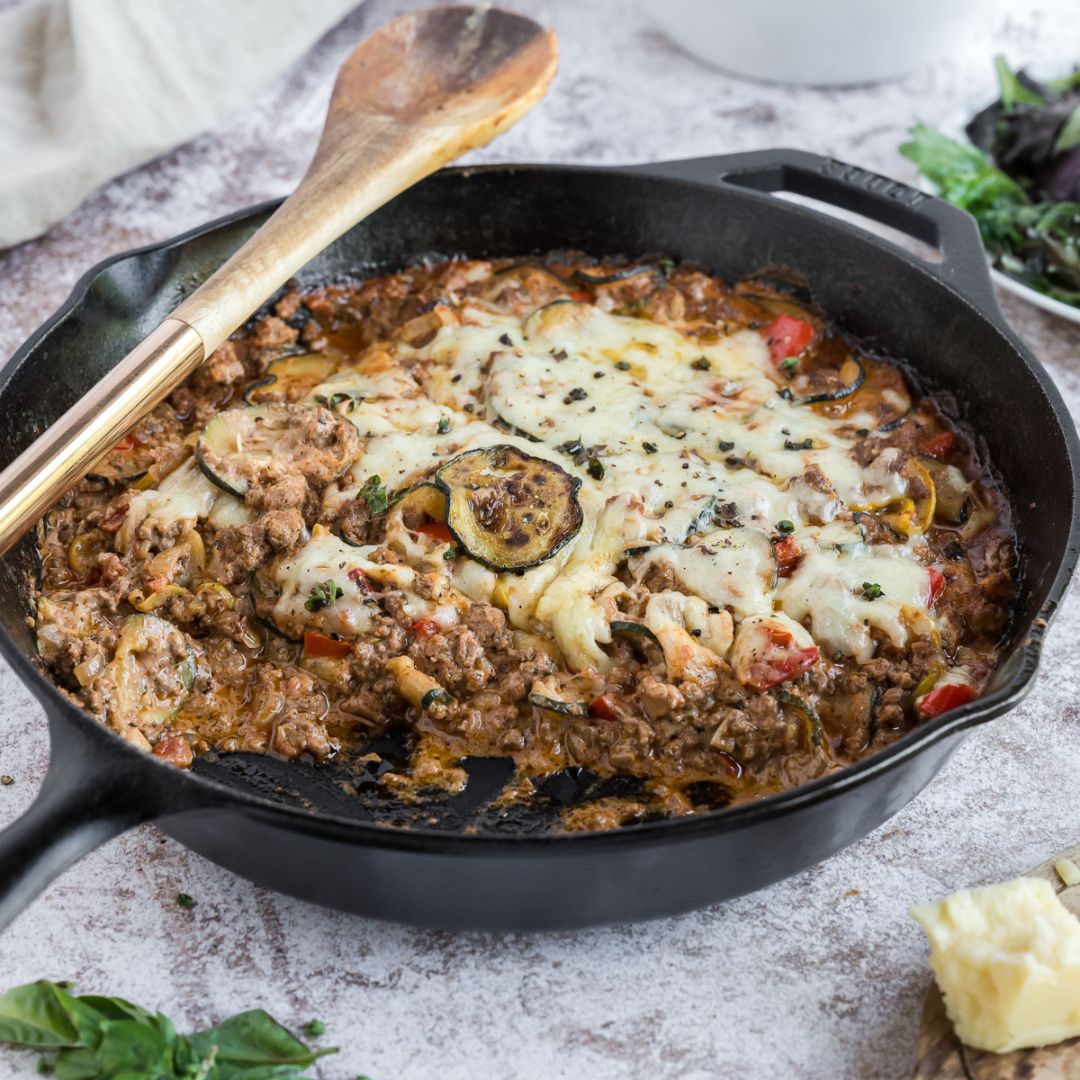 Source: thefreshcooky.com
Next up is a one-pan wonder that will save you time and money! Plus, you'll have barely any dishes to do once you're done eating. Despite the layer of cheese on top, this is quite healthy.
Ground beef is packed with delicious vegetables and spices to add flavor. If you have vegetables that you need to use before the end of the week, this is a great way to do it.
Have some extra ground beef? Try these brilliant leftover ground beef recipes!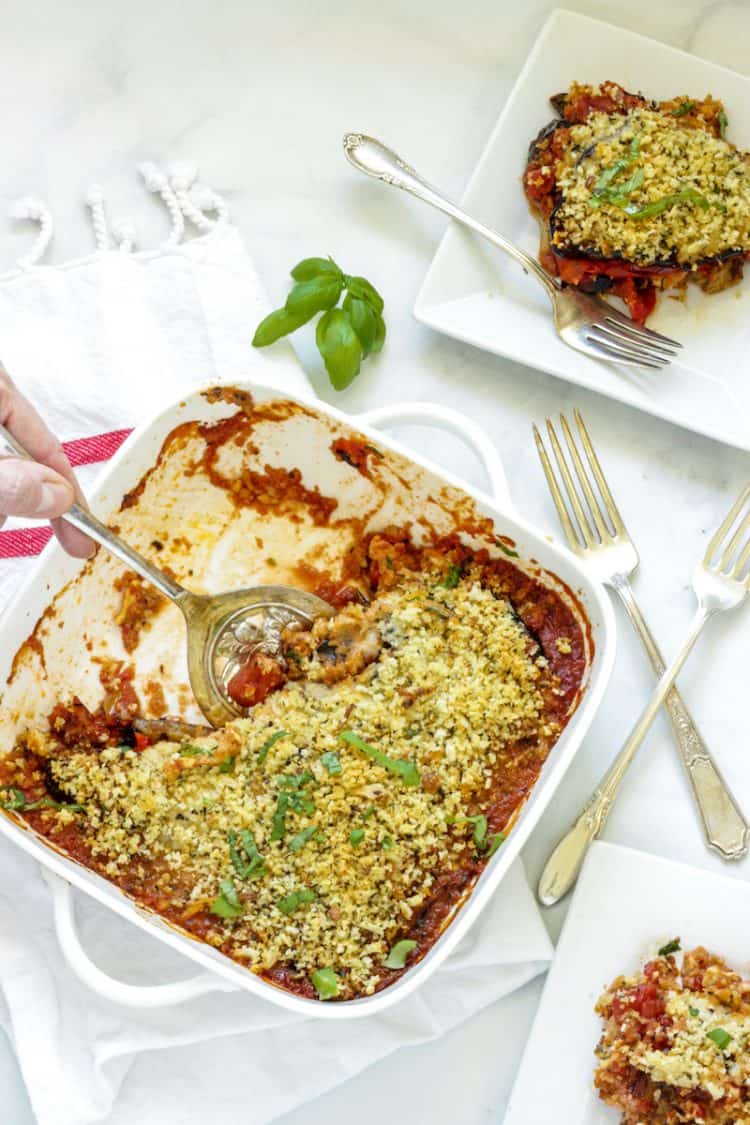 Source: cravingsomethinghealthy.com
Love eggplant parmesan, but looking for something a bit healthier? This recipe is for you! Enjoy light and delicious grilled vegetables in this tasty parmesan casserole.
This is one of those dishes that gets twice as good the next day. So, it's perfect as a leftover lunch! Make sure to whip up a big batch if you're hosting friends and send them home with a slice.
Trust me. They'll be begging you for the recipe!
Source: theforkedspoon.com
The last recipe on our list celebrates some of the most humble ingredients you can buy. But look at how tasty they can be if you know what to do with them!
This casserole is creamy, crunchy, and fresh. Best of all, it's packed with healthy broccoli to keep your summer nutrition on track.
So, what are you waiting for? Bring on summer! Which of these delicious recipes will be gracing your tastebuds this year? Let me know in the comments down below!
31 Best Summer Casseroles For The Whole Family
From simple chicken to tasty vegetarian summer casseroles, we've got plenty of hearty meals to enjoy through the warmer months
Ingredients
1. Mexican Red Bean Quinoa Casserole
2. Taco Casserole
3. Sausage and Bean Casserole
4. Sushi Casserole
5. Greek Vegetable Casserole
6. Summer Squash Casserole
7. Cheesy Hashbrown Casserole
8. Summer Berry Stuffed French Toast Casserole
9. Zucchini Yellow Squash and Quinoa Casserole
10. Tuna Noodle Casserole
11. Stuffed Pepper Casserole
12. Zucchini Pizza Casserole
13. Broccoli Casserole
14. Pastitsio
15. Vegan Squash Casserole
16. Zucchini and Potato Casserole
17. Croatian Chicken and Mushroom Quiche
18. Corn Casserole
19. Stuffed Zucchini Boats Casserole with Italian Sausage and Quinoa
20. Chicken Zucchini Casserole
21. Air Fryer Pork Taco Casserole
22. Cheesy Chicken Caprese Casserole
23. Sweet Farmer's Cheese Casserole
24. Healthy Chicken and Rice Casserole
25. Cheesy Sausage Zucchini Casserole
26. Vegan Southern Squash Casserole
27. Chicken Spaghetti
28. Salsa Verde Chicken and Rice Casserole
29. Easy Zucchini Ground Beef Casserole
30. Grilled Vegetable Parmesan Casserole
31. Chicken Broccoli Rice Casserole
Instructions
Scroll up to get a bunch of easy, yummy, and delicious recipes. Don't be afraid to get creative with the ingredients, you might discover a flavor you didn't know you liked.
Get your shopping list going and make sure you've got all the ingredients.
Get cooking and make your next Summer Casserole!
Notes
Which one of these recipes was your favorite? Let me know in the comment section or on Pinterest!