This sheet pan chicken and cauliflower dinner is easy, rich in flavors, spiced, and purely delicious. This dish is high protein, low carb, paleo-friendly, Whole30-friendly, gluten-free, and dairy-free.
Sheet pan chicken and cauliflower is a recipe you are going to want to try right away. It involves delicious roasted chicken thighs, garlic-seasoned cauliflower, and it's finished with fresh herbs and red onions.
It tastes just as good as something you would find at a restaurant. What is also great about this meal is that it's low carb, gluten-free, and high in protein.
In fact, each serving has 47 grams of protein. This makes the dish a great option when you're preparing a high protein meal plan.
The recipe is also straightforward to put together. Everything is put together on a sheet pan and cooked at the same time.
Let's get started and put this tasty recipe together.
How to Make Sheet Pan Chicken and Cauliflower
First, you'll want to prepare and marinate the chicken. Then, we will prepare the cauliflower.
Let's get started!
Ingredients for Chicken
Chicken thighs – They are an inexpensive cut of chicken. Having the bone-in will maintain a ton of flavor while cooking.
Try to use chicken thighs for the best flavor, but other cuts of chicken will also work fine for this recipe.
Turmeric – It has a very unique, earthy flavor. It's a bright yellow spice that has plenty of health benefits.
These health benefits include being high in antioxidants and anti-inflammatory properties. It also has been known to help with arthritis and warding off cold and flu viruses.
Paprika – It's made from ground, dried peppers. It adds a slightly sweet, but not spicy, flavor to the marinade.
Cumin – Another great dried spice to add to marinades. It adds flavor without adding heat.
Cinnamon – One of the more unique ingredients in the marinade, but it's worth trying! Sometimes adding a spice like cinnamon brings on the best flavors.
Ground ginger – It will add a tangy taste to the marinade. If you can't find ground ginger, you can always chop up some fresh ginger instead.
Garlic – What's a marinade without garlic? It seems to be in just about every marinade recipe and for a useful purpose.
It's delicious, and the flavor carries throughout the cooking process. Try to use fresh garlic for the best-tasting marinade.
Olive oil – The ingredient that's going to hold all of these spices together. If you don't have any olive oil, you could use another cooking oil just as easily.
How to Make Chicken
To make the marinade, you'll first combine all of the marinade ingredients in a large bowl. Stir them all together so they are thoroughly mixed.
Then, add the chicken. You will want to let the chicken sit in the marinade for at least 30 minutes.
While the chicken is marinating, you can now prepare the cauliflower.
Ingredients for Cauliflower
Garlic powder – Great seasoning spice. It's easy to find, and most people love it.
Cauliflower – It has become a great low-carb alternative to pasta or other starchy vegetables. It's also high in fiber and has antioxidants.
Olive oil – It's the vessel that helps the garlic powder stick to the cauliflower. If you don't have any, you could use another cooking oil, and it will work just fine.
Parsley – Adding fresh herbs makes any dish better. It's delicious when you add them at the end, as we do in this recipe.
Dill – A great fresh herb option to add as a finishing garnish to the meal. If you don't have fresh dill or parsley, you can use other fresh herbs like chives or basil.
I don't recommend using dried herbs, though. It won't be the same refreshing flavor that you would get from the fresh herbs.
Red onion – This is one of the best ingredients to add at the end if you're looking for an added kick of flavor. The fresh red onions will make a big difference in the meal.
If you don't like onions, it's ok! Just go ahead and leave them out. If you prefer a milder taste, you can substitute red onions with sliced green onions instead.
How to Make Cauliflower
The cauliflower will be ready to put on the pan in just a few simple steps. You'll want to cut the head into smaller pieces.
Toss the cauliflower pieces with olive oil and garlic powder.
It's time to make sure that your oven is preheated to 400F.
Next, spread all of the cauliflower onto a large non-stick sheet pan. Then lay the chicken on the pan with the cauliflower.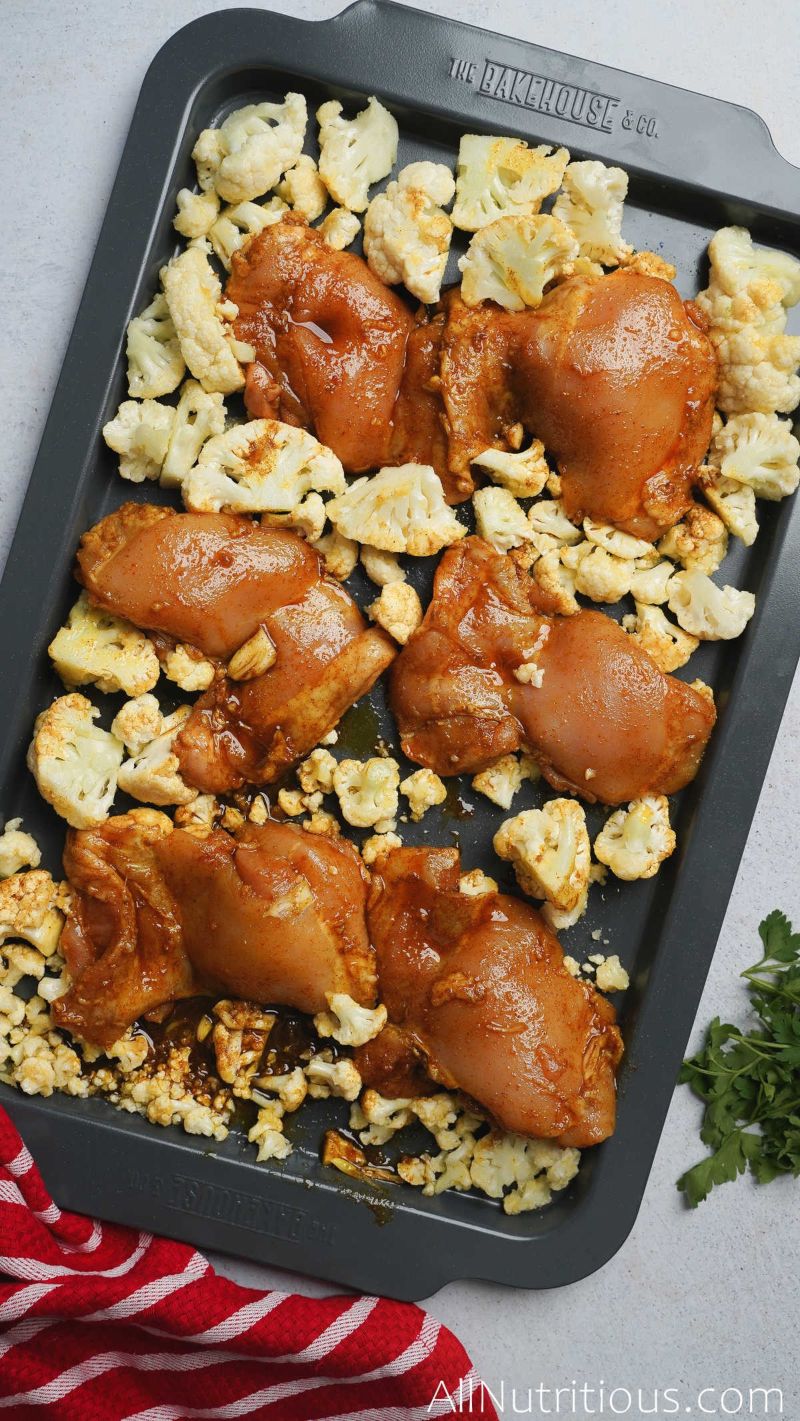 Bake the chicken and cauliflower for 30 minutes. Once the 30 minutes is done, make sure that you check the chicken to be sure that it's fully-cooked.
Cut into the chicken and make sure that it's no longer pink and the juices run clear.
Finally, it's time to add fresh herbs and red onions. Then, sprinkle them on top of the chicken and cauliflower and get ready to serve.
Finally, grab a big plate, a knife, and a fork and enjoy.
What's so Great About Sheet Pan Dinners?
Sheet pan dinners have become very popular recently. This makes complete sense because they are a way of making dinner that's simple, less messy, and still ends up delicious.
The whole concept is to use just one sheet pan for cooking all of the ingredients. This way, all of the ingredients are cooked at the same time.
They are also all ready at the same time. It doesn't get much easier than that.
Additionally, clean-up is a breeze. You don't need to worry about extra saute pans or baking dishes when it comes to sheet pan dinners.
Other Vegetables You Can Use
One of the greatest things about this sheet pan recipe is that it's really versatile. You can swap out many different vegetables, and it will still be incredibly delicious.
Some other vegetables you could try instead of cauliflower could be:
Broccoli
Parsnips
Sweet potatoes
Acorn or butternut squash
White cabbage
Brussels sprouts
Other Recipes Like This
More Sheet Pan Dinners
If you love this chicken with cauliflower dinner, check out more of my sheet pan dinners on Youtube!
Sheet Pan Chicken and Cauliflower
Additional Time:
30 minutes
Total Time:
1 hour
20 minutes
This sheet pan chicken with cauliflower is spiced, extra rich in flavors, very easy to make, and yummy. The meal is great for meal prep, it's high in protein, low carb, Paleo, Whole30, gluten-free, and dairy-free.
Ingredients
Chicken
6 chicken thighs (boneless, skinless)
1/2 cup olive oil
1 tsp turmeric
1 tsp paprika
1 tsp cumin
1/2 tsp cinnamon
1 tbsp ground ginger
4 garlic cloves (minced)
Cauliflower
3 tbsp olive oil
2 tsp garlic powder
1 large cauliflower head (or 2 small ones)
For serving (optional)
Parsley (chopped)
Dill (chopped)
Red onion (thinly sliced)
Instructions
Preheat the oven to 400F.
In a large bowl, mix together olive oil, turmeric, paprika, cumin, cinnamon, ground ginger, and garlic. Coat the chicken in it and leave it for at least 30 minutes.
Rinse and cut your cauliflower head into florets.
In a separate bowl, mix together 3 tbsp olive oil and garlic powder. Toss cauliflower in it until it's well coated.
Spread the cauliflower on a baking sheet, cover with chicken thighs, and make sure to pour all the oil in to cover some of the cauliflower too.
Roast in the oven for 30 minutes until the chicken is fully cooked.
Garnish with parsley, dill, and red onion.
Nutrition Information:
Yield:

4 plates
Serving Size:

1 plate
Amount Per Serving:
Calories:

583
Total Fat:

39g
Saturated Fat:

6.5g
Trans Fat:

0g
Unsaturated Fat:

30g
Cholesterol:

193mg
Sodium:

404mg
Carbohydrates:

14g
Net Carbohydrates:

9.3g
Fiber:

4.7g
Sugar:

4.1g
Protein:

47g
Nutritional values were obtained with automatic software using the amounts of products used. To get the most accurate representation of the nutritional values, you should calculate them with the actual ingredients used in your recipe. You are solely responsible for the nutritional information obtained to be accurate.