We all know the feeling of a hot summer night. Sitting on a deck with friends, beneath dangling fairy lights, with a cool drink in your hand. These light dinner ideas for summer can make it even better!
The one problem is that mugginess can hurt our appetites. We don't feel like eating heavy dinners when it's too hot. We definitely don't feel like making them, either!
So, what's a cook to do? I have fifty-one delicious, nutritious, easy summer dinner ideas to cool down your summer nights.
Discover the many ways you can impress your guests without heating things up with these light summer meals for hot summer days.
What to Serve for Dinner on a Hot Summer Night?
When it's hot out, and you're looking for dinner ideas, it's key to look for naturally refreshing foods. Fresh vegetables and fruits are a wonderful place to start, but cooked meals can work too.
It's essential to reach for light and bright flavors. Be generous with citrus, acidity, and ingredients with a high water content to leave everyone feeling hydrated.
Of course, you can't go wrong with a cool drink served on the side to quench your thirst with any of these easy summer dinners.
What Are Examples of Light Meals?
Some classic examples of light meals include hearty summer salads, pan-seared fish, and even light broths or soups.
When the heat dampens your appetite, you just need something with simple ingredients and enough nutrition.
Heavy dinners like stews or ultra-meaty casseroles won't do the trick since they will bog you down in the heat.
It's great to search for inspiration from tropical places around the world. After all, they do hot summer night dishes the best!
Thailand, Hawaii, Japan, and many other regions are excellent fodder for inspiration. Think sushi, coconut curry, and seared tuna; these dishes have a ton of flavor and nutrients.
What are we waiting for if you really want some examples of light dinners to serve on hot summer nights? Let's dive into fifty-one of the easiest, tastiest, most nutritious recipes we can find.
Easy Light Dinners
Being stuck in the kitchen on a hot summer night is just about as bad as eating something hot and stodgy in the muggy weather. Don't do that to yourself!
Instead, try out any one of these deliciously simple light dinners. Each easy dinner recipe comes together in under an hour – some in just thirty minutes!
Source:allnutritious.com
First on the list is a recipe of my own, which I'm quite proud of that is also great for busy weeknights!
This zucchini stir fry celebrates one of the summer's most iconic vegetables, offering a simple and cooling dish for your hot summer evening.
Serve the seasoned zucchini over a bowl of steamed rice to have one of the most easy summer dinner recipes and an easy weeknight dinner.
Or, take it one step further and invest in some cold soba noodles to take the heat off. Make sure you're liberal with the sesame seeds!
Source:quichemygrits.com
A garden salad is a great starting point for a summer dinner tonight. The traditional leafy greens aren't exactly filling enough to carry an entire meal. That's where this delicious recipe comes in.
This garden spaghetti salad is served cold but fires up the tastebuds! The combination of spaghetti, fresh vegetables, and a creamy sauce pack a punch in terms of flavor in this easy meal.
Source:allnutritious.com
Keep things quick and simple with this high-protein baked chicken recipe.
This is another one of my easy summer recipes, and I always reach for it when the weather gets a bit warmer for an easy weeknight meal.
I highly recommend using panko breadcrumbs to get your chicken's crispest possible result. The low olive oil content in this meal means you can enjoy fried chicken without the greasiness.
You might also enjoy this flavorful cast iron skillet chicken recipe!
Source:quichemygrits.com
Whip out the Tajin spice to make something quick, simple, and delicious this summer. These Baja chicken tacos include a wildly delicious Baja sauce perfect for cooling off in the evening.
Best of all, these tacos come together in just thirty minutes. You don't need any special ingredients, just your favorite protein and a collection of fresh vegetables like juicy tomatoes and red onion.
Serve this delicious summer dinner with a side of margaritas or a Baja Blast to round out the meal.
Source:heartbeetkitchen.com
Grilled shrimp is one of my go-to favorite summer recipes for a hot summer night. That's why these shrimp kabobs made it onto the list!
This light meal is sweet, refreshing, and packed with the juiciness we expect from good shrimp and summer produce.
Best of all, these kabobs are super versatile. While the recipe calls for pineapple and avocado, you can serve these shrimp with whatever your heart desires.
Clear out the vegetable drawer and get creative!
Source:neighborfoodblog.com
The power of a good mango salsa should not be underestimated. There's something about the combination of fresh fruit and salmon that just screams 'delicious.'
Imagine the delicate smokiness of grilled salmon paired with a handful of fresh, sweet mango. That's what this recipe delivers! This dish highlights the salmon, but it's so easy to prepare.
Source:theroastedroot.net
Speaking of salmon, here's another way to prepare this classic summertime protein. Canned salmon is cheap and delicious, especially if you know what to do with it.
This salad combines it with many Mediterranean ingredients to bring out the seafaring side of your tastebuds. Serve this as a side salad, or make it the main event. It's totally up to you!
Source:thedizzycook.com
I don't think halloumi gets enough appreciation as a summer ingredient. This tasty cheese adds much protein and flavor to any meal, but it doesn't weigh you down.
This halloumi and couscous salad will keep you going well into the following day.
With high-GI carbohydrates, fresh vegetables, and a ton of cheesy protein on the plate, you can't ask for anything more.
Source:savorthebest.com
Our next salad is a texture sensation. Chewy barley and crispy vegetables pair with little nuggets of roasted chicken to create the ideal summertime feast.
Once again, this would be a great side salad, but you could easily make it the main event, too. I highly recommend opting for the freshest vegetables you can get your hands on.
Source:urbanblisslife.com
Keep things sweet and refined with this underappreciated flavor combination! Melon and prosciutto are a flashback from way back in the day, but their flavor pairing holds up.
This salad proves it! The sweetness of the melon, the salty prosciutto, and the creamy mozzarella create a beautiful balance of flavor.
Plus, it's dead easy to make with a melon baller and a few minutes.
Source:caramelandcashews.com
Homemade chimichurri is a gorgeous summer sauce. It's so light and vibrant that it almost feels like summer in a bowl! That's why I love this chimichurri steak bowl recipe.
While steak in summer might feel a little too heavy, the light dressing and fresh vegetables help to balance it out. Not to mention, this dish provides you with plenty of nutrients.
This is one of the most delicious meat recipes for dinner!
Source:reciperunner.com
Rather than choosing a heavy, creamy pasta dish for your summer dinner, why not try this on for size? Little flakes of orzo provide the perfect amount of carbs to keep this dish light and tasty.
Pair that with a generous dose of basil, goat cheese, and tomato for an ideal summer dish. The tasty chicken on top adds some much-needed protein, so this could easily serve as your main dish.
Source:sweetandsavourypursuits.com
Need a last-minute summer dinner but barely anything in the pantry? Never fear! This white bean and tuna salad uses the most basic pantry ingredients to create something delicious.
Who knew white beans and tuna would be so good on a salad? You can serve this salad to friends and family in just ten minutes. This makes it the ideal meal for a busy weeknight at home.
Source:beyondfrosting.com
Take Mexican night and make it a little healthier with this amazing taco salad recipe! I'm a huge fan of transforming tacos into salads because it packs all the flavor with twice the nutrients.
Plus, this is much better for enjoying on a hot summer night. With no shells in sight, you can just enjoy the delicious taco filling with the cool relief of fresh guacamole.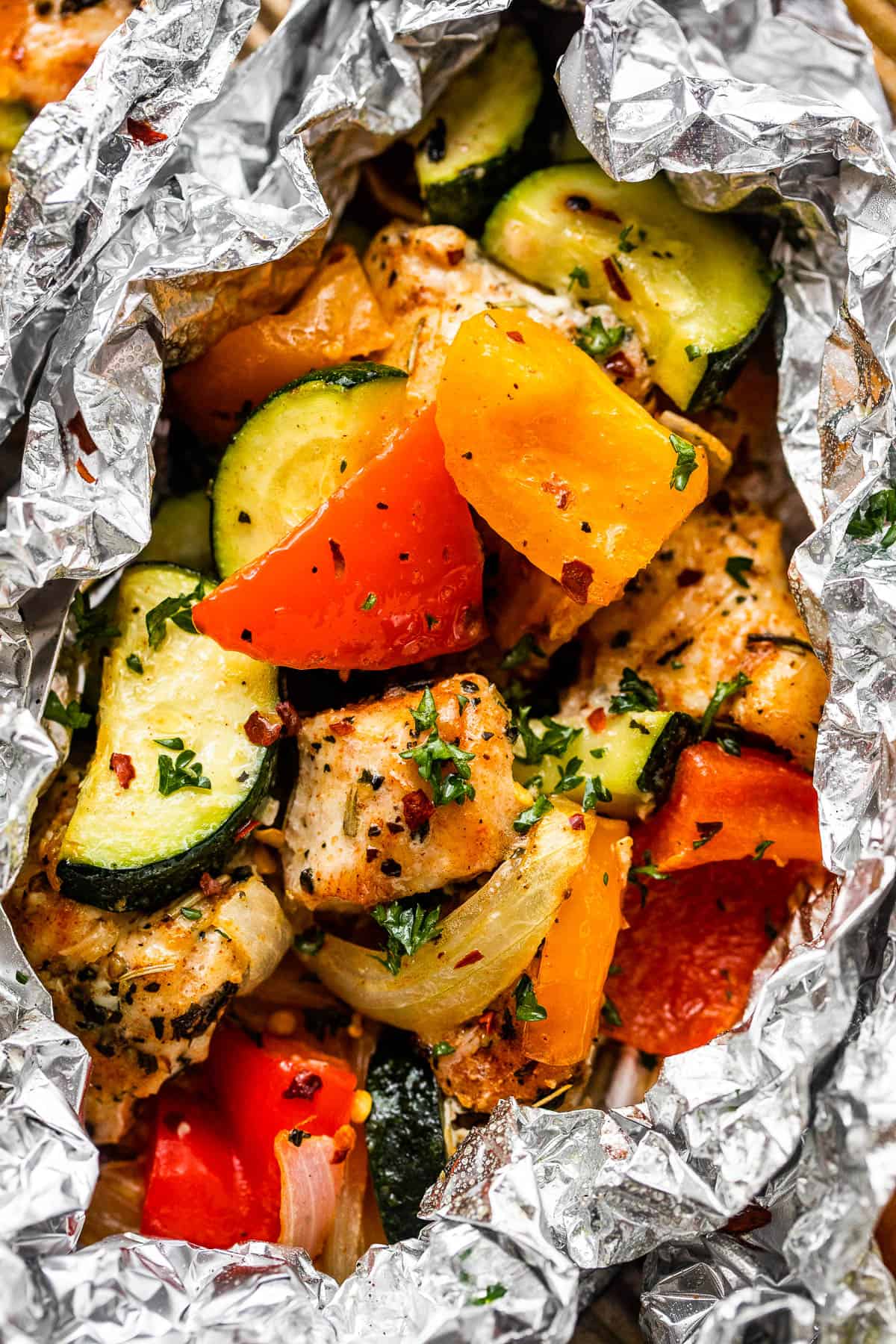 Source:easyweeknightrecipes.com
Make something dead easy while also giving yourself time to enjoy the summer evening. These chicken and vegetable foil packets are a genius way to cook your main and side dishes together.
Preparation only takes about fifteen minutes, and the rest is dedicated to letting the parcels bake. You only need forty minutes to bring this simple summer dish to life.
Source:blogghetti.com
You can't go past a sheet pan recipe in the realm of quick and easy dinners! Who doesn't love some juicy, tender shrimp on a hot summer night?
This simple recipe also covers your main and side dishes in one fell swoop. Asparagus and shrimp combine to form a balanced, delicious plate any cook can proudly serve.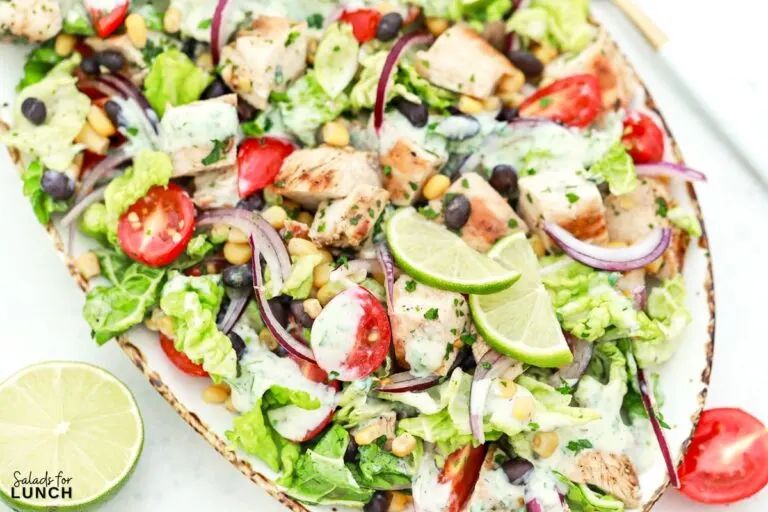 Source:salads4lunch.com
Take a traditional grilled chicken salad and add a little kick to this deliciously simple recipe. This salad takes inspiration from Mexican flavors, including plenty of cooling lime and avocado.
It is super healthy, and this salad comes together in almost no time. Best of all, you can cook a large batch of chicken and use it in another salad the next day. Talk about convenience!
Source:jz-eats.com
Light up a traditional Southern steak bowl by introducing some leafy greens and other vegetables. The herbs in this dish make it sing, helping each bite feel vibrant and summery.
The combination of sweet potato and steak in this recipe is delicious. Not only does it taste great, but it also ensures you'll have plenty of protein to keep you going until the next morning.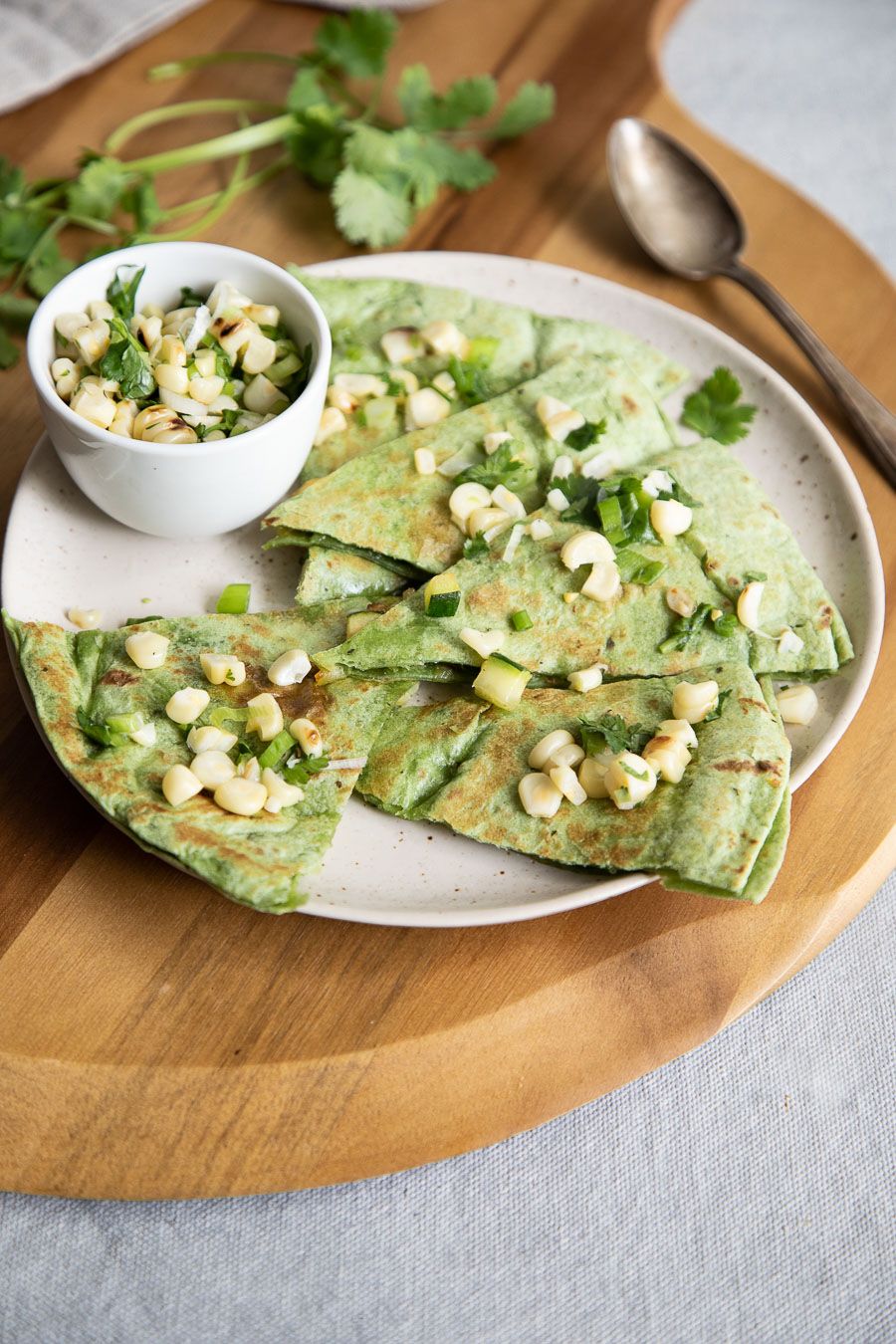 Source:lucismorsels.com
These vibrant zucchini quesadillas give these summery vegetables a new and improved look.
Sprinkled with cooling corn salsa, these quesadillas prove you don't have to work too hard for great flavor.
This is a fantastic vegetarian dish, perfect for enjoying when the mercury is too high for heavy meat or cheese.
Source:jz-eats.com
Seafood, in general, is a great protein for hot summer nights. But scallops are particularly good! Something about the tender, sweet, juicy rounds fits in with the heat.
These scallops live on a bed of delicious spaghetti squash, making them even more appropriate for summer.
Source:tomatoblues.com
If it's too hot for carbs, why not try a clever spin on a classic? Instead of real spaghetti, use zucchini to soak up your favorite summer pasta sauce.
The zucchini strands stay perfectly crunchy, offering a cooling alternative to hot pasta. Plus, they go with any sauce, so you can reach for your old favorites without worries!
Source:bonappeteach.com
When last-minute invitations to potlucks come knocking, we look to pasta salads for salvation. This protein-heavy pasta salad recipe is perfect for keeping the neighborhood well-fed.
It's light, tasty, and full of fresh vegetables to keep the summer heat at bay. Best of all, you can make it in next to no time at all. Just you, your knife, and half an hour in the kitchen are all you need.
Source:ourhappymess.com
Chicken is another great summertime protein, especially when topped with chimichurri! The sauce makes the chicken extra herbaceous, which is perfect for summer.
Serve this flavorful fillet on a bed of cooling couscous, atop a salad, or simply on its own.
Source:twopinkpeonies.com
Take your next busy weeknight by storm with this fantastic sheet pan dinner. You just need ten minutes to throw this together and another twenty to let it bake in the oven.
With minimal dishes and tons of flavor, this is the ideal way to cook a summer dish. Clean-up is a breeze; you can feed the whole family in minutes.
Source:wholenewmom.com
When the temperature rises, so does the temptation to skip cooking and just get takeout. But don't let your wallet fall victim to the dreaded takeout menu!
Instead, take half an hour to make a delicious egg roll in a bowl. This is ready super-fast, so you won't have to spend a lot of time over a hot stove. Best of all, it tastes twice as good as any takeout.
Healthy Light Dinners
Even though a bowl of ice cream for dinner sounds like a great way to cool off, it's not exactly the healthiest of choices.
Thanks to these recipes, you get the same effect with all the nutrients you need.
Source:allnutritious.com
We're kicking off with one of my favorite healthy recipes to reach for on a hot summer night: teriyaki chicken wraps. These lettuce wraps are super light and flavorful, and packed with nutrients!
The teriyaki chicken is super easy to make, so you don't have to spend a lot of time in the kitchen. I recommend marinating the chicken in the sauce for the day to save time and increase flavor.
Source:cookwithkushi.com
Quinoa is the ultimate summer salad base! With tons of fiber and grains to keep your digestion healthy, there's no better way to begin a salad than with quinoa.
This recipe is easy to tweak to suit your unique tastes. Check out your vegetable drawer to see what you have to work with. Almost anything you have in there will work with this weeknight recipe.
Source:allnutritious.com
Looking for something weeknight-friendly and healthy? That's how I invented this delicious dish! Tender pieces of chicken pair with strands of tasty zucchini to create the perfect summer dinner.
This dinner is packed with Asian flavors to keep your tastebuds on their toes. Plus, it comes together in just thirty minutes.
Source:krumpli.co.uk
Are you hosting a dinner party this summer? This amazing cod salad will keep things cool while you upscale your dinner plans. Every bite is refreshing, with plenty of tender cod and citrus.
Potatoes and asparagus help this salad feel more filling, all while adding a ton of flavor and crunch. Serve as your appetizing dish, or make it the main event. Either way, your guests will love it!
Source:thegourmetbonvivant.com
The poke bowl hails from Hawaii, where residents are experts at finding deliciously filling summer meals. So, we should take their lead!
This amazing poke bowl recipe uses Ahi tuna cut into small cubes. It's refreshing, full of insane flavor, and packed with nutrients. Great for a summertime evening!
Source:pinchandswirl.com
Instead of heavy beef steaks, whack some brined cauliflower on the grill to achieve the same effect. These steaks are the perfect side dish for a summer feast, but you can also make them a main dish.
With this recipe, it's all about the seasoning. Keep things light and fresh with lemon and herbs, or raid your spice drawer for something a bit more robust.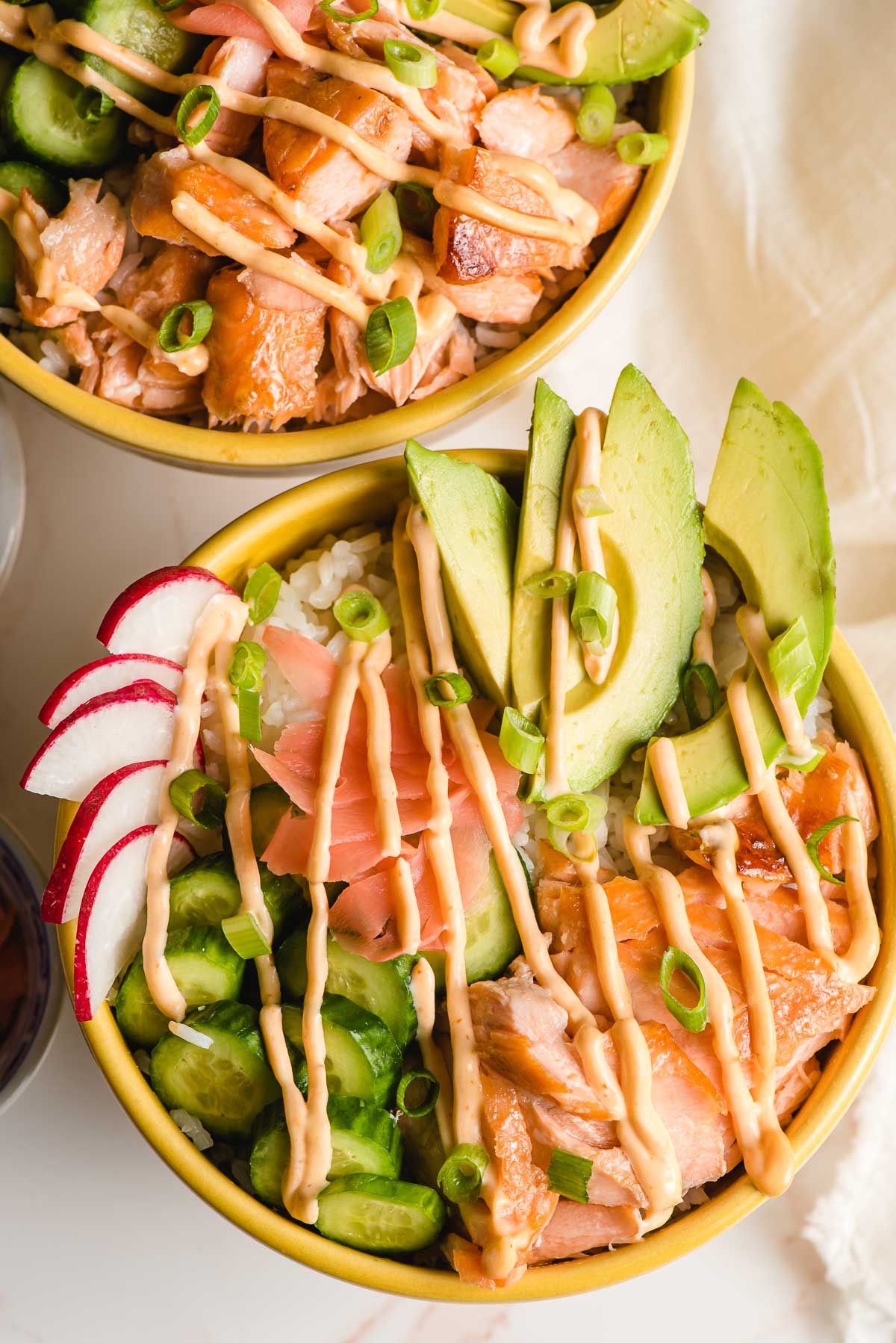 Source:neighborfoodblog.com
Whether on a bagel or in a bowl, salmon and avocado are a classic summer combination. That's why I love this bowl so much. You know it's going to be delicious!
The flavors echo that of a popular salmon sushi roll. With sticky rice, spicy mayo, and a ton of creamy avocado, every bite feels like summer in Japan.
Love salmon? Try this easy salmon stir fry!
Source:pinchandswirl.com
Are you looking for a simple, refined appetizer or main dish? Delight your guests with a plate of perfectly-seared tuna to cool off their summer evenings.
Grilling tuna steaks perfectly is an art form. You need to get a perfect sear on the outside while leaving the middle blue. That way, each bite has several different textures to enjoy.
Just take your time, and you'll nail it.
Source:urbanblisslife.com
Tired of the standard green salad? Bring some Thai flavors into the mix with this quick and easy salad. This is ideal for a busy weeknight; you can even bring it out as a lunch recipe.
The secret to this meal's success lies in the delicious peanut dressing. This unassuming dressing is bursting with bold, vibrant Thai flavors.
Make a big batch and keep it on hand when you need to add a kick to your meal!
Source:caramelandcashews.com
Pairing sweet and savory flavors is a wonderful way to balance meals in preparation for the summer heat. This quinoa salad is a great example. The creamy feta and sweet peaches balance each other.
The quinoa at the base of the salad helps provide a healthy foundation. These ingredients create a tasty, sweet, salty bowl of goodness.
Source:afoodcentriclife.com
Here's another example of how well fruit can work in a savory setting. These chargrilled shrimp are both sweet and smoky. So, the raspberry vinaigrette is the perfect way to highlight those flavors.
Pair that with a side of creamy avocado, and you've got a winner. This dish is cooling, simple, and great for preparing on the grill amongst friends.
Source:goodlifeeats.com
In Vietnam, muggy summer nights are common. So, they created a delicious banh mi sandwich to beat back the humidity. This recipe takes that idea even further.
Instead of a crusty white bread roll, this recipe uses lettuce wraps to make the meal feel even lighter. With all the flavors you know and love from a banh mi, this meal is great for summer.
Source:goodthingsbaking.com
This chicken and apple salad would be at home as a main or side dish. The chewy apple slices and tender chicken might be an unlikely pair, but they're delicious in the right hands!
This time, those hands are yours. This blueberry-strewn salad looks like it leaped straight off a forest floor. With tons of earthy flavors and fiber, this is a grounded take on the light summer salad.
Source:siftandsimmer.com
Also called Goi Cuon, these Vietnamese spring rolls are the epitome of summer indulgence. After all, the word 'spring' is baked right into the name!
Every element of this dish is designed to be enjoyed on a hot day. The light rice paper wrappers and crispy, fresh ingredients in the filling are proof of that. Pair with juicy shrimp for the best experience.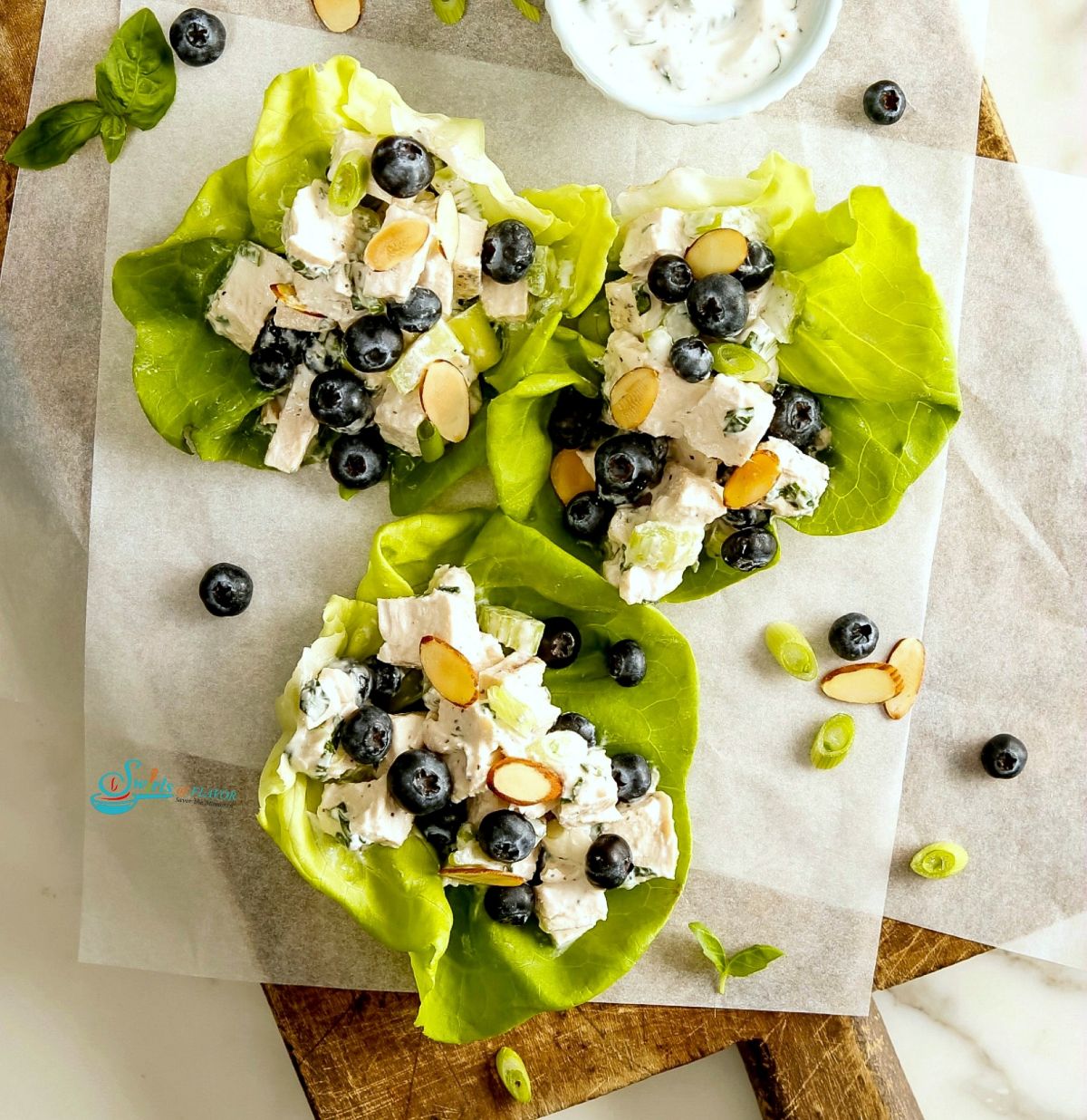 Source:swirlsofflavor.com
Here's another take on chicken salad lettuce wraps… but this time, there's an unlikely ingredient. Blueberries are delicious with chicken. They offer a burst of tart sweetness.
Wrapped in a leaf of buttery cos lettuce, this salad is perfect for when the temperature creeps up. It's quick and easy to prepare, so you can serve many people with minimal effort.
Source:rhubarbarians.com
Having a light dinner doesn't have to mean the ingredients won't keep you full. This black bean and quinoa salad bursts with protein and fiber to keep you fuller for longer.
The mango and cherries atop the salad help pull back the earthy flavors, keeping things light and juicy. Best of all, you can make this salad in just ten minutes. That's right, ten!
Source:cookingformysoul.com
Grilled peaches are one of my favorite treats to enjoy in summer. They're luscious and sweet, with a light smokiness that makes them addictive.
So, how cool is it that you can enjoy grilled peaches in a salad? Strewn with berries, this is possibly the ultimate summer salad. It celebrates the fruits and vegetables of the season beautifully.
Source:rhubarbarians.com
With no cooking and just ten minutes of your time, you can create this delicious Thai peanut noodle salad. This is a cold noodle salad, meaning it's meant to be enjoyed on a hot day.
The raw peanuts and vegetables crunch makes this feel like a summertime dish. Tweak the ingredients to suit your needs, but red cabbage and peanuts are essential!
Source:cookingformysoul.com
This next salad might have a ton of fruit, but it's technically a savory dish. Enjoy this as a light opener to your brunch or a side salad at dinner. What makes it savory, you ask?
The crumbled feta! The punch of salt and cream from the crumbled cheese pulls back the fruity sweetness in the salad. Together everything tastes balanced and refreshing, perfect for the heat.
Source:plantbasedfolk.com
Once again, light dinners don't have to mean dinners that won't keep you full. I'm a huge fan of brown rice in salads. It acts like barley, adding a chewy element that fills you up for longer.
The key to making this salad feel fresh is the raw vegetables and light dressing. All together, these ingredients create a wonderful summer salad that you can prepare in advance.
Source:veggiefunkitchen.com
Cucumber is another essential ingredient to have in your fridge during summer. It's mostly water, so including it in your salads is a guaranteed way to add some cooling refreshment.
This Mediterranean salad makes cucumber the main event. A host of other vegetables and a lemon dressing highlight the crunchy main character, making this ideal for a hot day outside with friends.
Source:goodiegoodielunchbox.com.au
If you're looking for something Asian-inspired to light up your summer evening, you just found it! This rice noodle salad uses cool rice vermicelli noodles as a base.
From there, you simply build up your favorite Asian ingredients to create a well-rounded salad. The main event in this recipe is the marinated crispy tofu. It's absolutely packed with fragrant flavors.
The flavor palate here is Vietnamese, so be ready for fragrant lemongrass, ginger, and a healthy dose of lime and chili.
Enjoy these other flavorful rice noodle recipes as well!
Source:heartbeetkitchen.com
Sometimes, it's helpful to return to the classics. After all, they're classics for a reason! This is a grilled chicken Caesar salad with all of the fixings. No matter who's coming to eat, they'll love this.
Creamy avocado, crunchy croutons, and perfectly tender chicken all play a role here. If you're headed to a potluck and need to impress, this recipe will earn you your brownie points.
This is one of the best Friday night dinner ideas for families!
Source:healthmylifestyle.com
Looking for something refined but easy to make? This vegan-friendly summer blackberry salad is the answer! With the right ingredients, this recipe will only take you fifteen minutes to make.
This recipe is super easy to feed a crowd since it uses allergy-friendly ingredients in big portions. The secret to success is the cashew ricotta, which is totally dairy free.
However, if you don't mind using dairy, standard ricotta will do just fine.
Source:thedevilwearssalad.com
Our next recipe goes out to kiwifruit lovers! This is a wonderfully balanced salad with an unexpected zing to keep your tastebuds on their toes.
Give your shrimp the ultimate makeover in mere minutes.
With the light coriander fragrance and crispy radish to light the way, this unique salad is great if you want to try something new!
Source: therusticfoodie.com
We're closing the list with an entry from Vietnam, and what an entry it is! This shrimp and noodle salad is a classic, with crunchy elements and fragrant flavors to present summer at its best.
The juicy shrimp are the center of the whole meal. Whether you're feeding just yourself or the whole extended family, this recipe will take the same time to make: just half an hour!
Lean into using fragrant Vietnamese ingredients like cilantro, lime, and chili for the best results.
Ready for more light summer recipes? These best summer casseroles are the answer!
With all these ideas on the table, you should be set for the summer ahead! Do you have any go-to recipes for when the heat starts to rise? What's your favorite summertime dinner recipe?
Let me know all that and more in the comments below! And, if you'd like more recipes like this, check out more ideas to keep your summers cool and your winters warm.
51 Easy Light Dinner Ideas for Hot Summer Nights
Looking for simple yet satisfying light dinner ideas for summer? These dishes are the perfect choice for any warm evening meal.
Ingredients
1. Zucchini Stir Fry
2. Garden Spaghetti Salad
3. Baked Chicken Cutlets
4. Baja Chicken Tacos
5. Grilled Shrimp, Pineapple, and Avocado Kabobs
6. Grilled Salmon with Mango Salsa
7. Mediterranean Salmon Salad
8. Halloumi Couscous Salad
9. Roasted Chicken and Barley Salad
10. Melon and Prosciutto Salad with Mozzarella
11. Chimichurri Steak Bowl
12. Spinach Orzo Chicken Salad with Goat Cheese
13. White Bean and Tuna Salad
14. Taco Salad
15. Chicken and Vegetables Foil Packets
16. Sheet Pan Lemon Garlic Shrimp with Asparagus
17. Grilled Chicken Salad with Creamy Honey Lime Dressing
18. Southwest Steak Bowl
19. Zucchini Quesadillas
20. Seared Scallops and Spaghetti Squash
21. Zucchini Spaghetti
22. Creamy Southwest Pasta Salad
23. Grilled Chicken Thighs with Chimichurri
24. Chicken Apple Sausage Sheet Pan Dinner
25. Egg Roll in a Bowl
26. Teriyaki Chicken Lettuce Wraps
27. Healthy Quinoa Salad
28. Chicken Zucchini Pasta
29. Cod Salad
30. Poke Bowl
31. Grilled Cauliflower Steaks
32. Salmon Sushi Bowl
33. Grilled Tuna Steaks
34. Thai Chicken Salad with Peanut Dressing
35. Quinoa Salad with Feta and Peaches
36. Grilled Shrimp Salad with Raspberry Vinaigrette
37. Banh Mi Lettuce Wraps
38. Chicken Apple Salad
39. Vietnamese Spring Rolls
40. Blueberry Basil Chicken Salad Lettuce Wraps
41. Black Bean Quinoa Salad with Mango and Cherries
42. Grilled Peach Salad with Berries
43. Thai Peanut Noodle Salad
44. Watermelon Blueberry Feta Salad
45. Vegan Brown Rice and Chickpea Salad
46. Veggie-Filled Mediterranean Cucumber Salad with Lemony Dressing
47. Rice Noodle Salad
48. Grilled Chicken Caesar Salad
49. Summer Blackberry Salad with Cashew Ricotta
50. Prawn and Avocado Salad with Golden Kiwi
51. Vietnamese Shrimp Salad with Noodles
Instructions
Scroll up to get a bunch of easy, yummy, and delicious dinner recipes. Don't be afraid to get creative with the ingredients, you might discover a flavor you didn't know you liked.
Get your shopping list going, and make sure you've got all the ingredients.
Get cooking and make your next Light Dinner Idea!
Notes
Which one of these recipes was your favorite? Let me know in the comment section or on Pinterest!