Birthdays are iconic for three things: parties, gifts, and food! Food is one of the ways we celebrate meaningful moments with our loved ones. So, birthday party food ideas need to be amazing!
There are so many different delicious birthday food ideas to impress your guest list, depending on who's coming to the party.
Aside from the iconic cake, it's a good idea to have a balance of sweet and savory.
So, if you're on the hunt for the perfect birthday foods to round out your roster, you can find them here! Check out forty-one amazing birthday party food ideas.
What Food Should I Serve at a Birthday Party?
The best birthday party food is tailored to the guests. What kind of party is it, and who's coming?
Maybe you're having a kids' birthday party! In which case, you'll want plenty of finger foods, delicious desserts, and simple, easy snacks you can make a ton of in very little time.
On the other hand, if you're hosting an adult birthday party, your choices might be different.
For example, a dinner party would require some refined appetizers, a main, and a sophisticated dessert. Hot dogs and ice cream might not be the best choice.
Regardless of what you choose, make sure to consider what else your guests are going to be doing at the party. If there are plenty of activities, make sure you have food that's easy to eat on the go.
However, if your guests will be sitting down for most of it, you'll have room to play with more refined or built-out meals.
What is the Cheapest Food to Serve at a Party?
Budget-friendly party foods include dips, simple snacks like chips or chopped vegetables, spreads, crackers, and simple store-bought confectionery for a touch of sweetness.
If you're looking for homemade party food that won't blow out your budget, try starting with the ingredients rather than the recipes.
Consider what you can afford in large quantities, then work backward.
For example, potatoes are very cheap and easy to source, making them great fodder for party food. Wedges or stuffed potato skins, anyone?
Best Birthday Party Food Ideas
You know that saying, 'save the best for last'? Well, we're not doing that today! We're kicking this list off with the very best birthday party food ideas.
Each of these has the perfect balance of taste and texture. They're all crowd pleasers, so no matter who's coming along to the party, they'll be happy with the menu.
Source: allnutritious.com
First things first, we're kicking the list off with an easy recipe for a dip!
Beet hummus is one of my favorite dips and a crowd pleaser because it combines health and protein with an unforgettable taste and appearance.
With its signature purple color and earthy flavor, this easy appetizer will have no problem taking center stage at your next party.
Source: strengthandsunshine.com
Put a healthy spin on your favorite funfetti cake by turning it into banana bread! This is just as sweet and delicious as funfetti cake, with the added bonus of the iconic moist flavor of banana bread.
Every bite is springy and dense, with the crunch of funfetti sprinkles to add some interest. This is a great way to enjoy a healthier version of a birthday favorite.
Source: nutriciously.com
Regardless of what kind of party you're hosting, croquettes are always good food on the menu!
Not only are these deep-fried delights definite crowd-pleasers, but they're also easy to prepare beforehand.
Whip up your croquettes the day before, but leave out the last frying step. On the big day, simply heat up your oil, drop them in, and serve it hot.
This is one of the most delicious potluck ideas to feed a party crowd!
Source: allnutritious.com
Macaroons are a classic cookie thanks to their chewy texture and nutty taste. But what happens when you add chocolate to the equation?
You get insanely delicious, rich, smooth coconut macaroons that your guests will love! Make these part of your gift bags if you can stand to wait before taking a bite!
Source: playdatesparties.com
This one goes out to all the cinnamon roll-lovers in the world. This is a cinnamon roll cake that will blow your guests away. It's also the ideal cake to surprise a cinnamon roll-fiend on their big day!
While it might seem intimidating, this cake is actually quite easy to make, even for the novice baker. If you need help, store-bought cinnamon roll dough is on your side.
Source: allnutritious.com/paleo-chocolate-chip-cookies/
This is one of my recipes, and I love reaching for it when I have a party coming up! While the cookies are Paleo-friendly, you wouldn't be able to tell from the taste and texture alone.
With plenty of smooth, rich chocolate to enjoy along with the chewy texture, these are sure to impress. Plus, they're so easy to make in large quantities!
Source: senseandedibility.com
Let a delicious dip do the hard work for you. This is a caramelized onion dip that tastes almost like French onion soup but in a dippable form.
Serve this creamy dip with an array of your favorite crunchy accompaniments. Potato chips, crackers, and even fresh vegetables would be at home on a plate with this tasty dip.
Source: scratchmarket.co
Crescent rolls are the savior of any birthday party host who's racing the clock. Whip up a quick and easy veggie pizza – or several of them – using spread-out crescent rolls as your base!
Top with your favorite vegetables to finish it off. Pizza is a fantastic option for parties, and it's even better when it's homemade.
Source: twocloveskitchen.com
If you're hosting your birthday party on a sunny day, why not whip out the grill and get some turkey burgers going?
These turkey smash burgers are a healthy alternative to the standard red meat patties.
The thing is, you won't even notice the difference between the two! The turkey burgers taste incredible, and you can create an 'assemble your own burger' station for your guests.
Source: theforkedspoon.com
If you have bacon and you have shrimp, you just can't lose.
This is a wonderful finger food option, but it would also suit a dinner party if you'd like to set your guests' appetites ablaze ahead of the main meal.
Serve with a simple dip to keep things quick and easy for you. These are so great to prepare ahead of time!
Source: amandascookin.com
Perhaps one of the most iconic birthday foods of all time, funfetti cake is a staple at birthday parties of all shapes and sizes. Whip up a beautiful show-stopping centerpiece that the crowd will love.
That's what's so great about choosing a recipe that everyone loves: you can be sure they'll all dig in!
Kids Birthday Party Food Ideas
When kids are coming around for a birthday party, it's a whole new ballgame.
Check out some kid's birthday party recipes that balance health and taste really well, giving the kids a kick of sweetness without turning your home into a sugar rush tornado!
Or, if you love more traditional birthday fare, there are some amazing recipes here that come together super quickly. That way, you have more time to enjoy the party.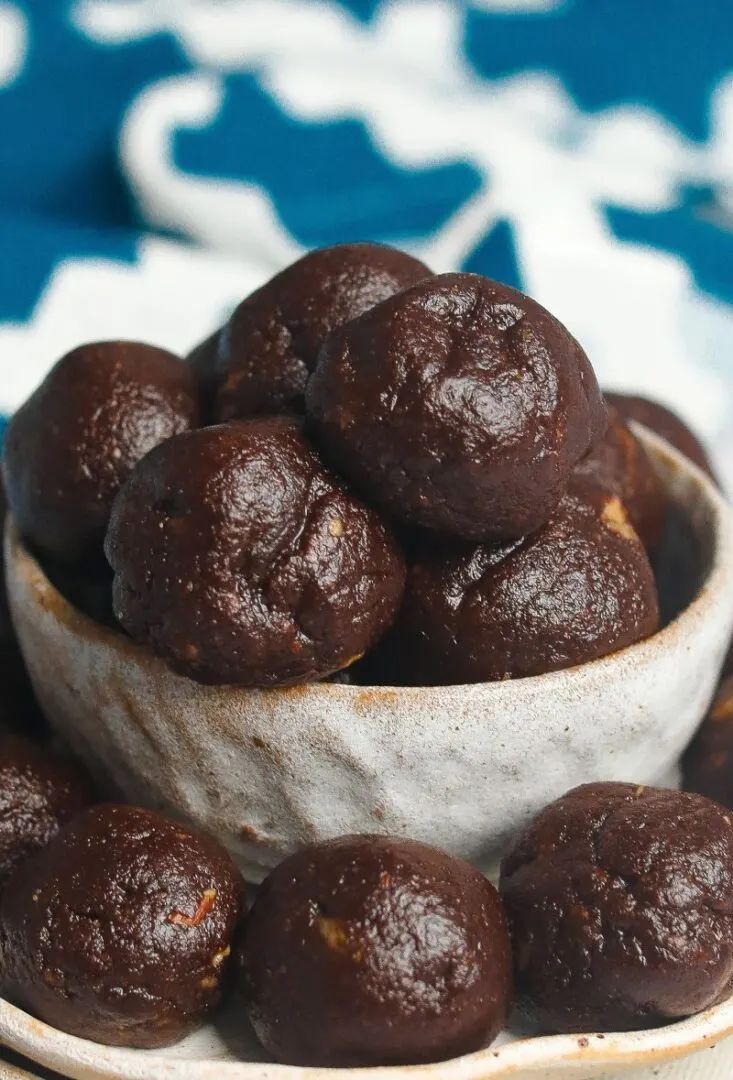 Source: allnutritious.com
It can be difficult to get kids to eat anything of substance at a birthday party, where sugary snacks run rampant. The key? Make healthy food just as good as sweets!
These quick and easy almond butter energy balls add a much-needed dose of protein to balance out all that sugar with a delicious snack.
Source: playdatesparties.com
Homemade marshmallows are in a league of their own. They're super soft and fluffy, and you can tweak the flavors or toppings to suit any combination you like!
These birthday cake marshmallows are perfect for a kids' birthday party. Best of all, you can save yourself some time by making them the day before.
Source: urbanblisslife.com
Speaking of making things the day before, these cookie bars are also ideal for a make-ahead birthday party snack! The iconic funfetti flavor will have every kid at the party losing their mind with joy.
These taste as good as they look, with a crunchy, chewy texture and buttery crumb. Pro tip: save a few for yourself ahead of time, since they'll be gone in minutes once they hit the snack table!
Source: allnutritious.com
Here's another quick and easy way to introduce some healthy snacks to the spread. These apple slices are covered with a mixture of nut butter, seeds, and dried fruits.
The extra fiber makes digesting all the birthday sugar much easier on your kids, all while helping to balance out their blood sugar so there's no crash.
Source: cookingwithnanaling.com
We have Australia to thank for this next iconic party snack. Fairy bread is a super simple way to introduce the funfetti flavor to your party without baking an entire cake.
In fact, this is so simple that you can get the birthday kid in on the fun! This will add to their anticipation, making the party that much more fun for them.
Source: inspiredbycharm.com
We've all seen savory cheese balls, the kind that turns up on dinner party tables or game day spreads. But what about a birthday cake version?
This is an amazing way to save time while delighting your kids!
This is literally a ball of birthday cake-flavored cream cheese covered in funfetti sprinkles. Whip it up the day before and serve it with a platter of cookies for a super simple showstopper.
Having a perfectly pink party? These naturally pink foods are for you!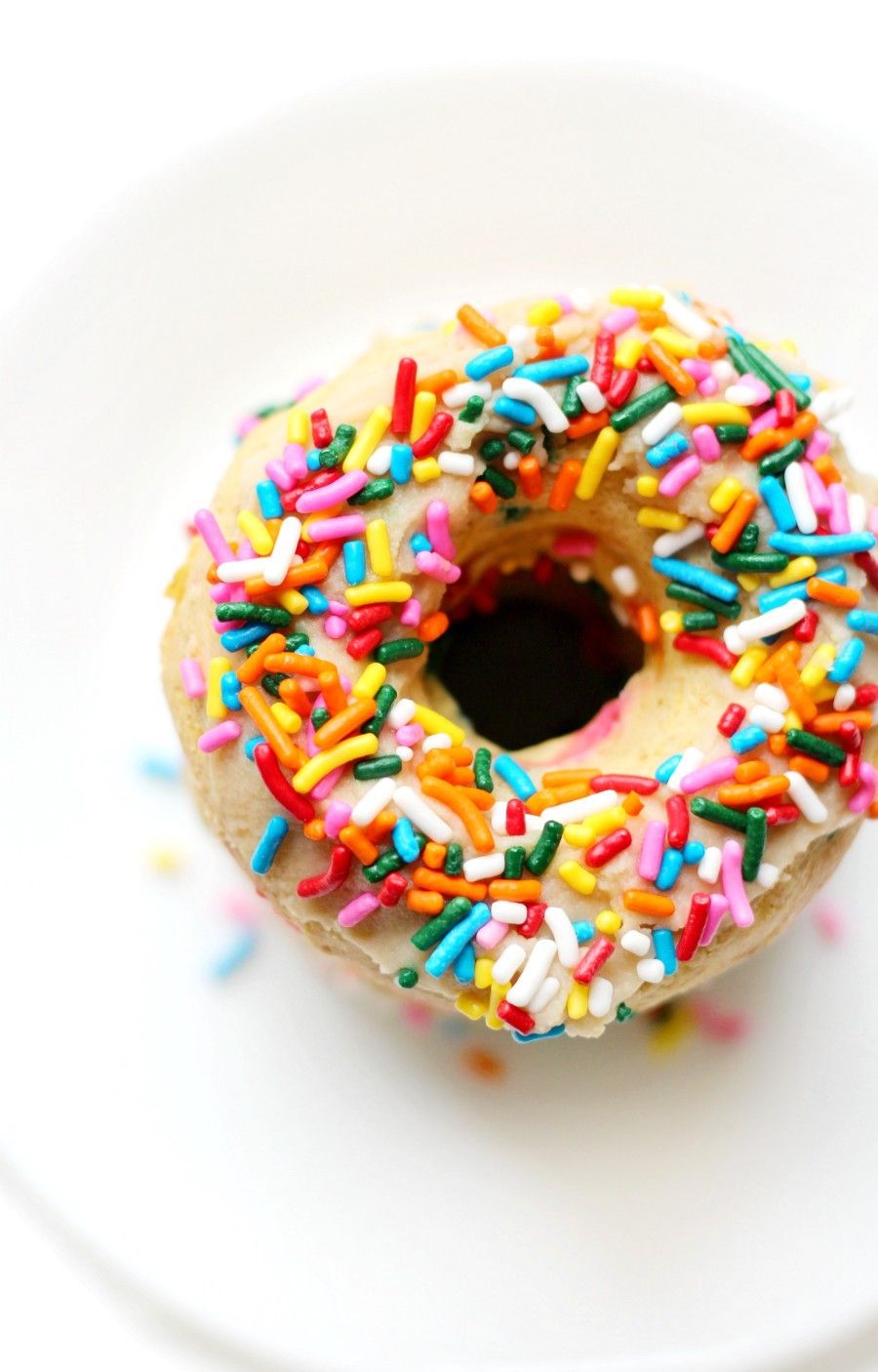 Source: strengthandsunshine.com
Who said gluten-free or vegan party food had to be boring? These delicious donuts prove you can have just as much fun, even if you're working with some dietary restrictions.
Who wouldn't want a bite of warm, sugary funfetti donuts, after all?
These donuts are one of the most fun things to bake when bored!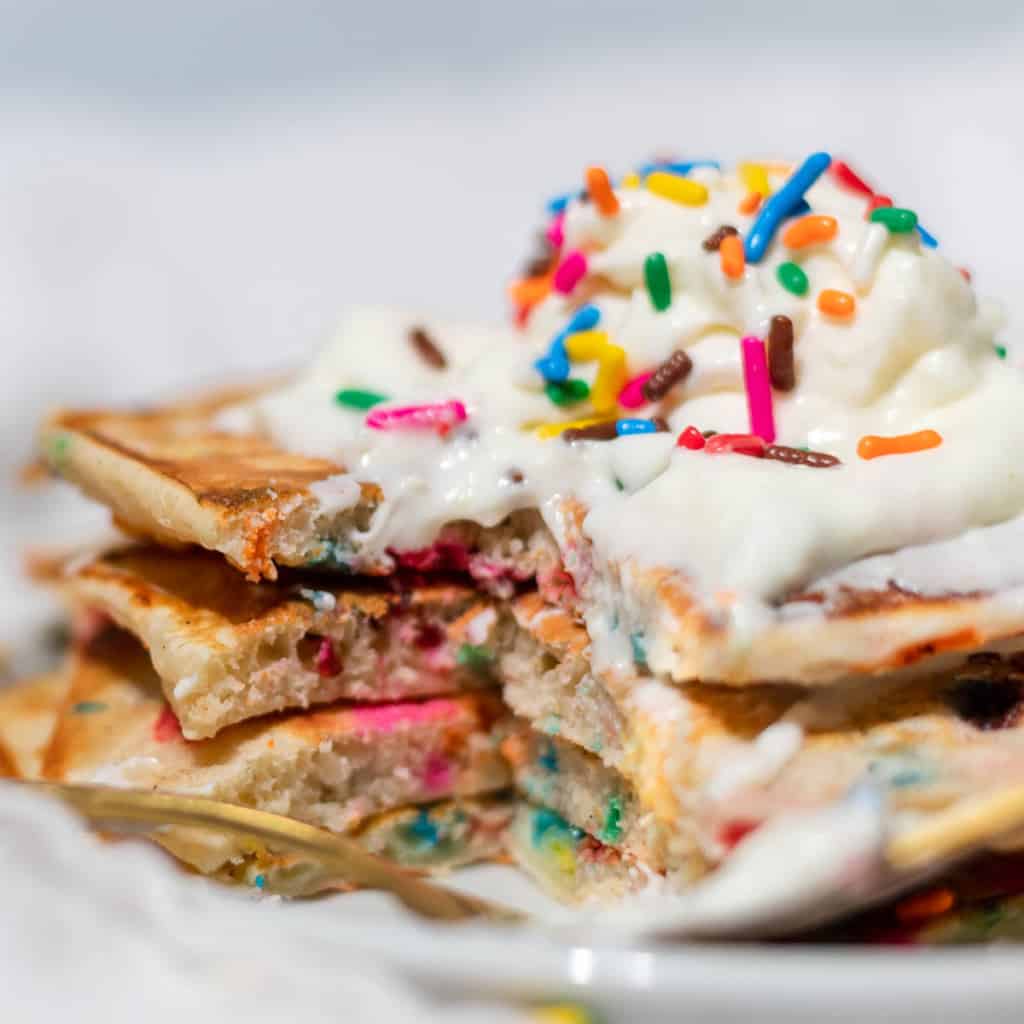 Source: agratefulmeal.com
While this is a great birthday party food idea, it might be even better as the first meal your little one wakes up to on their big day. Imagine the joy of plowing through a stack of funfetti pancakes.
Luckily, these are just as easy to make as standard pancakes, so you'll have plenty of time to get on with party preparation.
Source: delilahspartyideas.com
Put a kid-friendly spin on an adult classic with this super creative candy charcuterie board!
This is so easy to tailor to your little one's tastes and party guests, and all the adults in attendance will get a kick out of it in the best way.
Take your kiddo shopping with you to pick out the candy as part of the birthday excitement. Then, present this showstopper to kick off the festivities!
Source: onmykidsplate.com
Whoopie pies are out of this world. They're like hand-held, personal birthday cakes. Soft, fluffy cake yields a creamy vanilla filling in this amazing recipe.
Thanks to the cream cheese, these aren't overwhelmingly sweet, so the parents coming over can also enjoy their fill of the whoopie pies.
Outdoor Park Birthday Party Food Ideas
If you're taking the party outside, you need food that's happy at room temperature and easy to transport. That's where all these great recipes come in!
You can blend healthy, portable snack choices with delicious birthday party food; I promise it's possible! From healthy apple nachos to funfetti dip, there's something for every party guest here.
Source: allnutritious.com
This is my absolute go-to, no matter what outdoor event I'm headed to! The plate of apple nachos easily snags the attention of every kid in a mile radius because it's so novel.
This is super easy to make the morning of your party, and you can customize it to suit your needs. Plus, it's really portable, so you won't have to struggle with a million components.
These apple nachos would also be fitting as carnival food for a themed party!
Source: cheneetoday.com
Popcorn is a great outdoor snack, but it's not quite on par with other birthday snacks… until you add funfetti! This confetti popcorn recipe is super tasty and crunchy, perfect for enjoying at the park.
You can create little gift bags for the kids to dig through once you arrive at the park and include a bag of this crunchy snack to get them started on the festivities.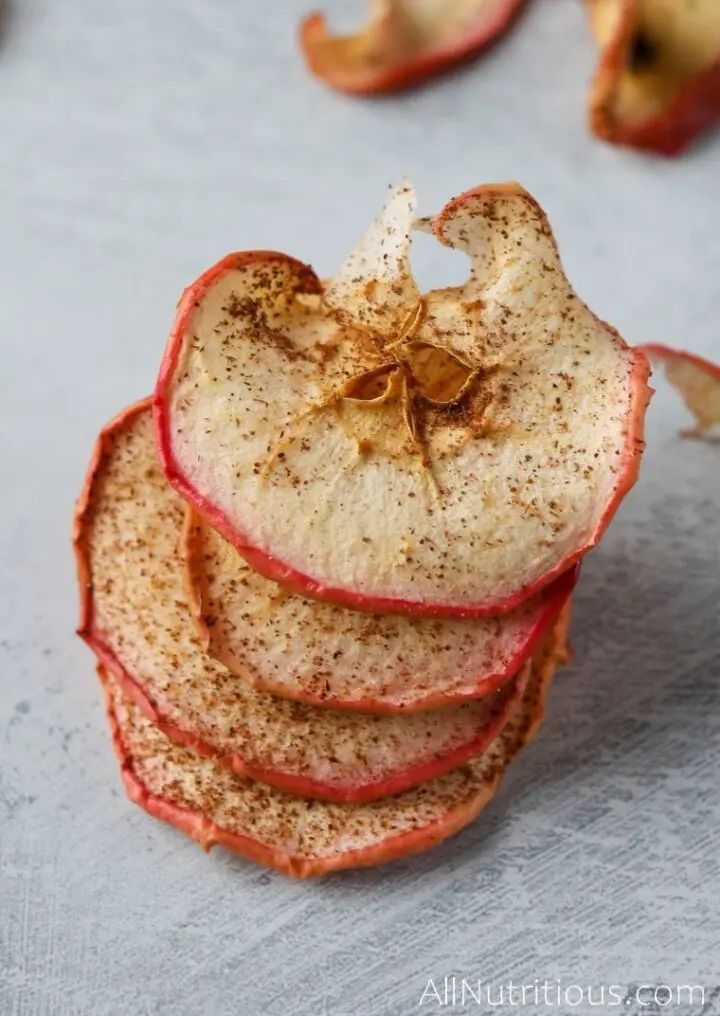 Source: allnutritious.com
If you need something healthy that you can prepare the day before, look no further than my baked apple chips! These sweet, earthy chips are ideal for keeping your kids satisfied on the big day.
They help balance the blood sugar, plus they're really easy to transport in an air-tight bag.
Source: inspiredbycharm.com
Dips are great for outdoor occasions! Simply whip up this funfetti dip in a Tupperware container, seal it with the lid, and set it in the fridge. Once you're ready to leave, you can just grab it and go.
Serve with your little one's favorite selection of cookies for a picnic-friendly birthday food everyone will remember for years.
Source: happykitchen.rocks
Looking for something fresh and healthy? Look no further than these amazing vegan spring rolls!
The fresh, crunchy vegetables and light wrappers are perfect for a summer day packed with action.
Plus, these healthy appetizers are super easy to assemble the day before a special event. Set up in front of your favorite show and just start wrapping.
Source: freeyourfork.com
This is the perfect snack for the outdoors; it's baked right into the name! Trail mix! This is a delicious custom trail mix featuring dried cranberries and a light coating of maple syrup for sweetness.
This tastes delicious, but the nuts and fiber will help with digesting any excess sugar, so your kids stay healthy and sugar crash-free.
Source: savorthespoonful.com
Sugar cookies are perfect for adapting into vegan snacks because all you need to do is change the butter for vegan butter. Everything else stays the same, so they taste and feel identical!
Pack your sugar cookies up and take them on the road with you for a fun-filled afternoon of birthday party action.
Source: endofthefork.com
A quick and easy snack guaranteed to get the kids eating their fruit is this amazing Greek yogurt fruit dip. Chop up your favorite fruits and scatter them around a big bowl of this dip.
This is so easy to prepare on the morning of the party, and it transports like a dream.
Throwing your birthday party poolside? Check out these other best pool party food ideas!
Source: theforkedspoon.com
Speaking of dips, here's a no-fail hummus recipe that you can serve with anything you like! From freshly chopped vegetables to pre-made breadsticks, there's nothing that won't fit here.
Make the hummus a day ahead to save yourself stress on the big day, all while ensuring everyone has a healthy snack to keep them going for the whole party.
Source: healthmylifestyle.com
These cookie fries just so happen to be vegan, but no one is going to even think about that when they get a load of them! These are crispy on the outside and soft on the inside.
Bring a little bottle of your favorite sweet dip to complete these cookie fries. They're the perfect finger food for a fun day outdoors!
Finger Food Ideas for Birthday Party
Are you promising your guests plenty of fun activities to get into at your next birthday party? Make enjoying your chosen snacks as easy as it is delicious with these amazing finger food ideas.
All of these foods can be enjoyed one-handed, without cutlery, and plate-less. Whether you need something sweet or savory, I've got you covered on birthday finger food ideas.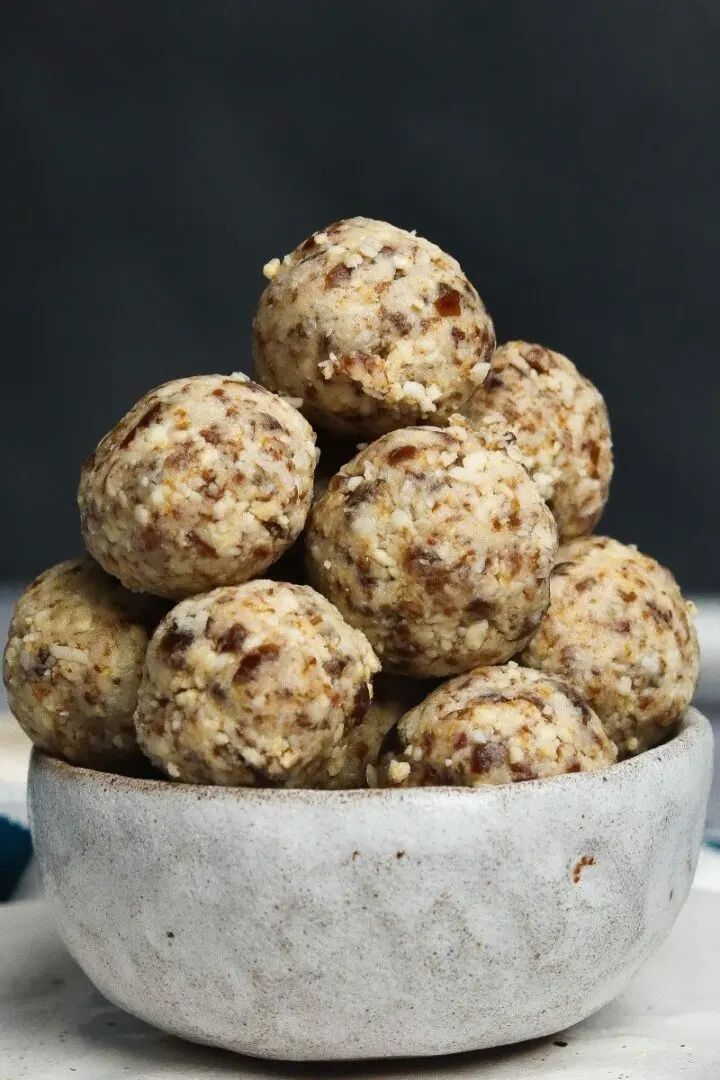 Source: allnutritious.com
These cashew energy balls are a personal favorite, boasting a huge amount of protein and even more great flavor. Not to mention, they're so easy to make ahead of time.
Even if you have leftovers once the party is over, these make for fantastic midday snacks.
Source: acedarspoon.com
If you say the words 'bacon' and 'pizza' in the same sentence, you immediately have my full attention. I'll bet your guests are the same, which is why they'll love these bites!
These small and delicious bites are perfect finger food for a birthday party that won't involve a lot of sitting still.
Source: allnutritious.com
Keep them normal-sized or create your very own mini muffins: either way, these almond flour banana muffins are going to be a hit. I love these, no matter when or where I'm serving them.
The banana and almond flour combine to create a super moist crumb, so these will delight your guests with every bite.
Source: acedarspoon.com
In the fight to make enough food to serve a crowd without spending the whole day in the kitchen, your air fryer is your best friend! These delicious air fryer meatballs are perfect for a savory snack.
Pop a toothpick into each meatball, and voila! You've got a protein-packed birthday finger food ready to go.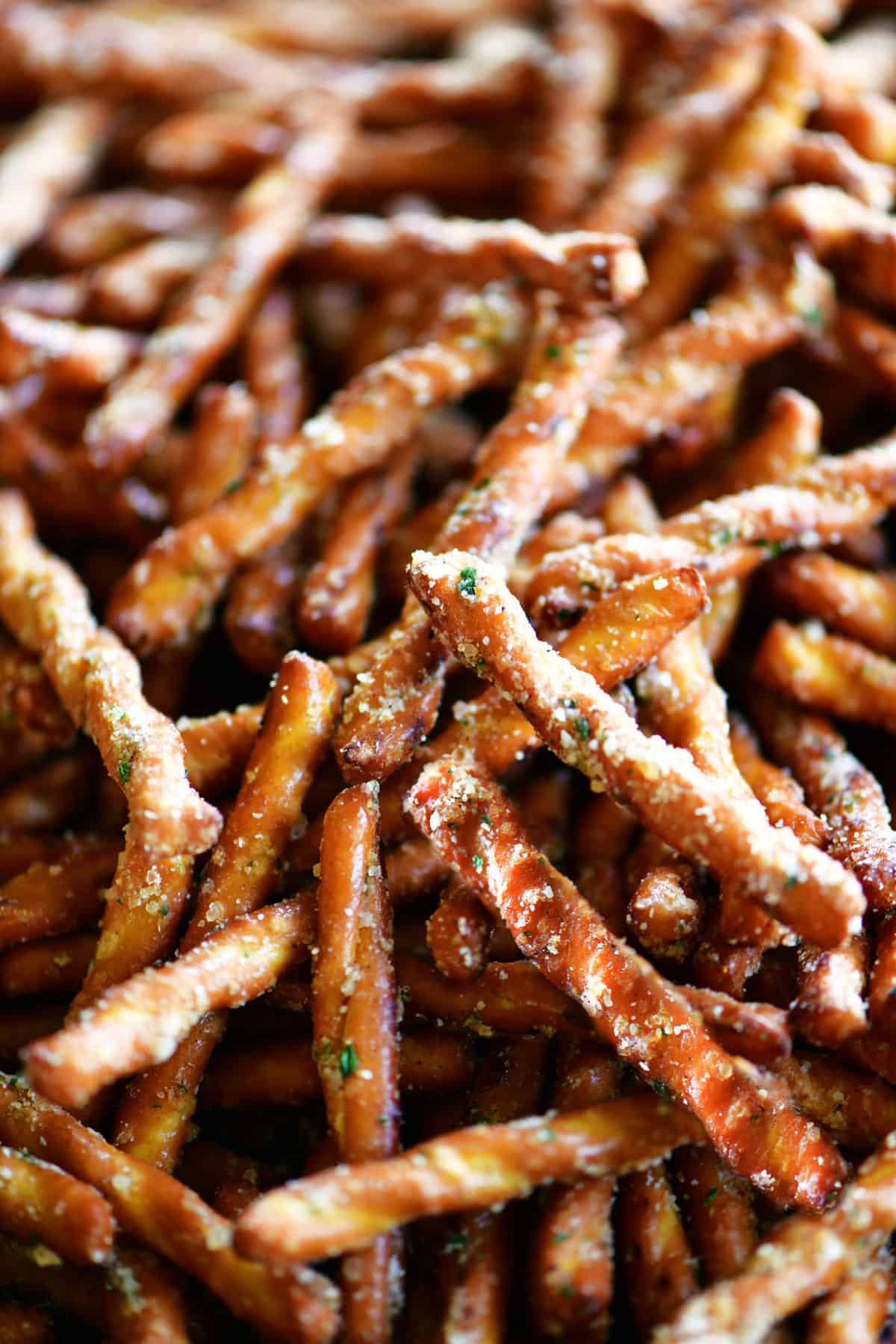 Source: thegunnysack.com
Everybody loves ranch, so these spicy ranch pretzels are a guaranteed slam dunk. You don't even need a dip for them because the dip flavor is already baked into the pretzels!
Make sure to tweak the spice level to suit your crowd: little ones might not enjoy too much of a kick on these.
Source: lowcarbspark.com
I'd never heard of corn dog muffins before encountering this recipe, but now I can never go back. These incredibly clever muffins are the perfect savory finger food for a birthday party!
The sausage in the middle of the muffin is delicious, but the real hero of the dish might be the crumbly, buttery cornbread.
Source: theveganlarder.com
Enjoy one of the most iconic birthday party snacks without compromising on your values with this amazing recipe!
These vegan sausage rolls are undeniably delicious, especially when you add a sauce.
Source: bestservedvegan.com
Balance dietary restrictions, a need for protein, and the birthday party theme with these delicious funfetti bites! These are super easy to whip up, requiring no more than twenty minutes of your time.
The funfetti makes them taste and look amazing, so they're perfect for birthday shenanigans.
Source: mapleandmango.com
If you're not in the mood for pork or beef, why not try a chicken sausage roll? This budget-friendly recipe is ideal if you need to serve a large crowd. Plus, you can portion it beforehand.
Once your guests get a hold of these rolls, the entire platter will disappear in minutes. The rich, hearty flavor and flaky pastry make these chicken sausage rolls a true delight.
Source: thegunnysack.com
Finally, we have to give mini corn dogs a mention! They come with a built-in holder, so they're ideal for a fun-packed birthday party with plenty of activities.
Plus, it's super easy to prepare all the elements ahead of time and simply whip up a big batch on the day.
So, what are you waiting for? We've got a party to prepare for!
41 Best Birthday Party Food Ideas
Impress your guests with these crowd-pleasing birthday party food ideas that are bursting with flavor and creativity!
Ingredients
1. Beet Hummus
2. Funfetti Banana Bread
3. Vegan Potato and Vegetable Croquettes
4. 4-Ingredient Coconut Macaroons with Chocolate
5. Cinnamon Roll Cake
6. Paleo Chocolate Chip Cookies
7. Caramelized French Onion Dip
8. Veggie Pizza using Crescent Rolls
9. Turkey Smash Burgers
10. Bacon Wrapped Shrimp
11. Funfetti Cake
12. Almond Butter Energy Balls
13. Birthday Cake Marshmallows
14. Funfetti Cookie Bars
15. Healthy Apple Snacks
16. Fairy Bread
17. Birthday Cake Cheese Ball
18. Baked Gluten-Free Vegan Funfetti Doughnuts
19. Confetti Pancakes
20. Candy Charcuterie Board
21. Chocolate Whoopie Pies with Vanilla Cream Cheese Filling
22. Healthy Apple Nachos
23. Confetti Popcorn
24. Baked Apple Chips
25. Funfetti Dip
26. Fresh Vegan Spring Rolls
27. Cranberry Maple Trail Mix
28. Vegan Funfetti Sugar Cookies
29. Greek Yogurt Fruit Dip
30. Hummus
31. Cookie Fries
32. Cashew Energy Balls
33. Bacon Pizza Bites
34. Almond Flour Banana Muffins
35. Air Fryer Meatballs
36. Spicy Pretzels with Ranch Seasoning
37. Mini Keto Corn Dog Muffins
38. Vegan Sausage Rolls with Sage and Onion
39. Funfetti Protein Bites
40. Chicken Sausage Rolls
41. Mini Corn Dogs
Instructions
Scroll up to get a bunch of easy, yummy, and delicious recipes. Don't be afraid to get creative with the ingredients, you might discover a flavor you didn't know you liked.
Get your shopping list going and make sure you've got all the ingredients.
Get cooking and make your next Birthday Party Food Idea!
Notes
Which one of these recipes was your favorite? Let me know in the comment section or on Pinterest!