This quick sheet pan cashew dinner is sweet, nutty, and umami. It's macro-friendly, high in protein, gluten-free, and dairy-free. It's a perfect dinner for busy days or a meal prep option for the week to come.
Do you love ordering cashew chicken from a Chinese food restaurant? Have you ever tried to make it at home?
Here is your chance. This recipe for sheet pan cashew chicken is a great place to start.
It's such a simple recipe. You will only need a few ingredients.
Even better, they are all really healthy for you! You'll be able to create your own healthy version of cashew chicken in almost no time at all.
This cashew chicken dinner is a great option when trying to stick to a high protein diet. Each serving has less than 600 calories.
It also has 33 grams of protein per serving.
You will be making the delicious sauce yourself. This will save you from wondering what exactly goes into the sauces you find at the supermarket.
All you need is just a few relatively simple ingredients to get going.
How to Make Sheet Pan Cashew Chicken
You'll want a large sheet tray like this for this recipe. Please don't try to squeeze everything into a smaller tray.
You will end up with uncooked ingredients, and it won't be as tasty. The larger pans provide enough surface area, so everything is cooked evenly and tastes delicious.
Ingredients for the Sauce
Garlic – Fresh garlic makes a big difference when preparing sauces. It's one of the most important ingredients!
It's also very good for you. Garlic adds flavor without adding calories or carbs.
Ginger powder – A great way to add ginger flavor to a sauce. Ginger has immune-boosting properties and is a natural digestive aid.
Coconut aminos – Often used as a healthier, low-sodium, gluten-free substitute for soy sauce. It adds a salty, earthy flavor to the sauce. You can get it here.
Apple cider vinegar – A very healthy ingredient you should always have on hand. It has probiotics and helps your digestive system.
If you don't have any, you could substitute with rice vinegar or even lemon juice.
Sesame oil – It adds great flavor without needing to use a lot. If you aren't fond of its strong flavor, you could use another cooking oil like avocado oil or olive oil.
Cashew butter – It's one of the best ingredients in this sauce. Make sure not to skip out on it!
It provides the rich nutty flavor that makes the sauce so tasty. You can get it here.
Cashew butter has a high amount of monosaturated fatty acids and magnesium. If you can't find cashew butter, you can substitute it with natural, unsweetened peanut butter.
Honey – One of the best natural sweeteners we can use while cooking. It's full of immune-boosting and anti-inflammatory properties.
Raw, unfiltered honey is the best option when trying to add it to a healthy diet.
Making the sauce is pretty simple. Combine the sauce ingredients into a bowl and whisk them together.
That's it! Now just set it aside until you are ready to pour over the sheet pan.
Ingredients for Cashew Chicken
Chicken breasts – The primary protein source in this recipe.
Broccoli – High in antioxidants and promotes healthy skin health. It's one of the most nutritious vegetables you can add to your diet.
If you want to try a different vegetable, cauliflower or asparagus would be good options to play around with.
Red bell peppers – Another very healthy vegetable. When cooked, they become slightly sweet.
And this adds a great flavor to the recipe.
Cashews – Using unsalted cashews is the best when making the meal. Cashews are another excellent source of healthy fats. They also add a crunchy texture that you won't want to miss out on.
If you don't have any cashews, you could also use peanuts.
To start the recipe, preheat the oven to 400F.
Then line a baking tray with parchment paper. Then, spray or brush oil over the parchment paper to prevent the ingredients from sticking.
Mix all the ingredients together in a largest bowl you have, or you can do it right on the sheet tray. Lay all of the ingredients on the sheet tray.
Before cooking, pour the sauce over the ingredients. Toss so that everything is covered in the sauce.
Spread the ingredients evenly on the sheet tray. This way, they will cook consistently.
Place the sheet tray into the oven and bake for 15-20 minutes. You will want to make sure the chicken is fully cooked.
You can do this by cutting into a small piece of the chicken and make sure that it is no longer pink in the center.
Once everything is cooked thoroughly, the cashew chicken is ready to serve.
What Goes Well with Cashew Chicken?
Cashew chicken will pair well with a lot of different sides.
Here are some suggestions to try:
Steamed cauliflower rice or regular rice
Sauteed spinach or kale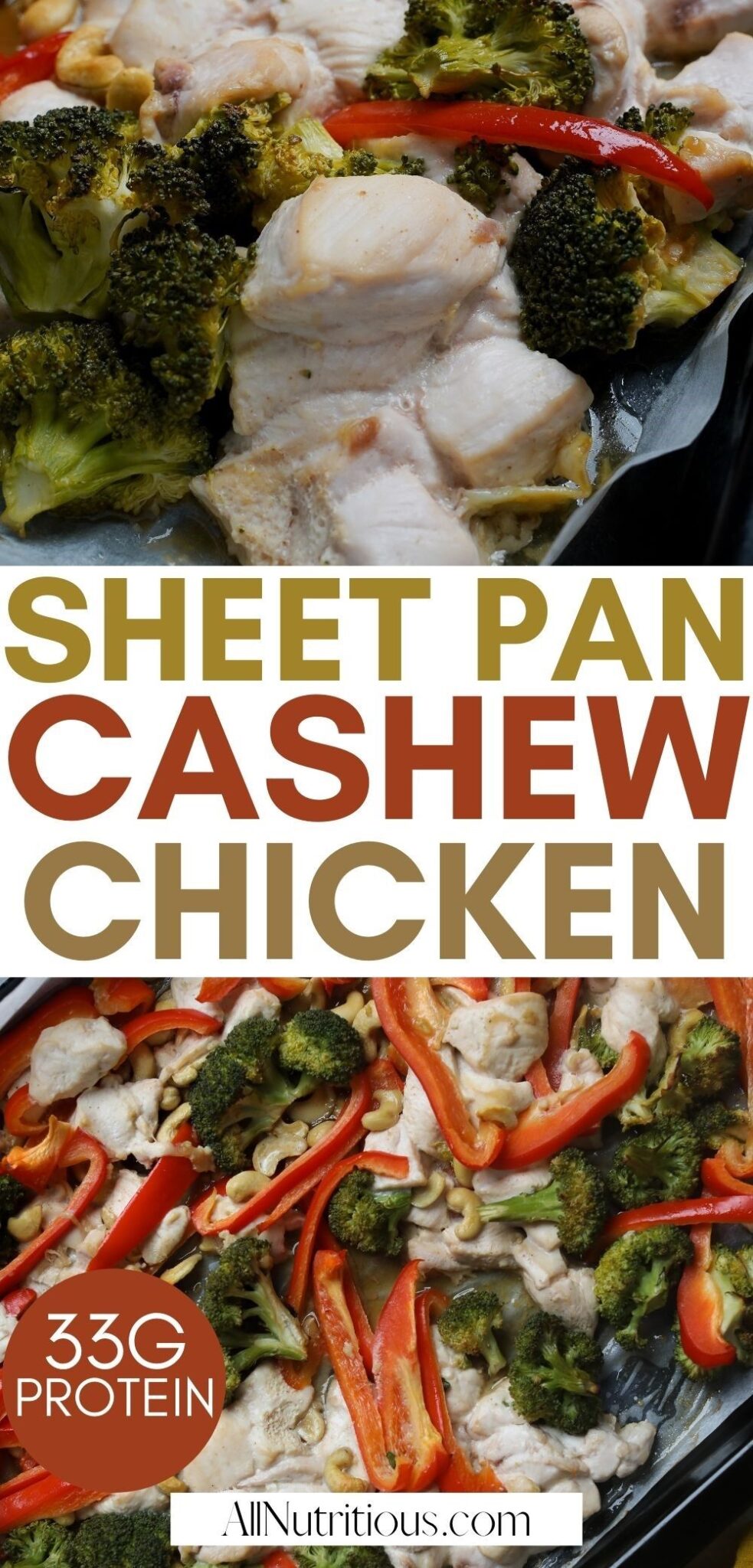 Other Recipes You Might Like
More Sheet Pan Dinners
If you loved this sheet pan cashew chicken, check out more of my sheet pan dinners on Youtube!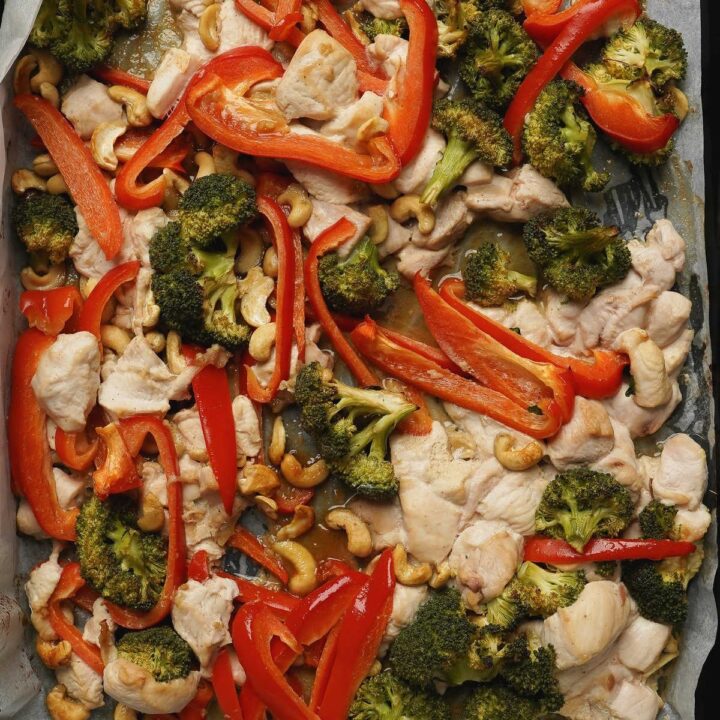 Sheet Pan Cashew Chicken
This sheet pan cashew chicken is a great macro-friendly dinner or lunch meal. It's nutty, sweet, great for meal prep. On top of it all, the recipe is high protein, gluten-free and dairy-free.
Ingredients
Chicken and Vegetables
2 pounds chicken breast(boneless, skinless, cut into ¼-1/2 inch cubes)
1 broccoli head (cut into florets)
2 red bell peppers (sliced)
1 cup unsalted cashews
Sauce
4 garlic cloves (minced)
1 tsp ginger powder
3 tbsp coconut aminos
1 tbsp apple cider vinegar
2 tbsp sesame oil
1 tbsp cashew butter
2 tbsp honey
Instructions
Preheat the oven to 400F and line a large sheet pan with parchment paper or baking foil. Spray it
with oil or cover it with olive oil using a brush.
Add cut chicken, vegetables, and cashews into a large bowl or just straight into the baking sheet.
In a separate bowl, mix together minced garlic cloves, grated ginger, coconut aminos, vinegar, sesame oil, cashew butter, and honey. Combine all the ingredients as well as you can. That might take a bit of mixing to achieve.
Now, pour the sauce into the chicken mixture. Toss so that all the ingredients are well covered with sauce.
Now, spread the mixture of meat and veggies evenly on a sheet pan.
Bake in the oven for 15-20 minutes until the chicken and veggies are fully cooked.
Nutrition Information:
Yield:

6 plates
Serving Size:

1 plate
Amount Per Serving:
Calories:

579
Total Fat:

40g
Saturated Fat:

9.6g
Trans Fat:

0g
Unsaturated Fat:

26.9g
Cholesterol:

130mg
Sodium:

287mg
Carbohydrates:

25g
Net Carbohydrates:

20.7g
Fiber:

4.3g
Sugar:

12g
Protein:

33g
Nutritional values were obtained with automatic software using the amounts of products used. To get the most accurate representation of the nutritional values, you should calculate them with the actual ingredients used in your recipe. You are solely responsible for the nutritional information obtained to be accurate.