If you want to switch up your dinner game from rotisserie chicken, try these ground chicken recipes instead! One of the best things about using ground chicken is how effortless it is to cook with.
Ground chicken makes cooking easy weeknight dinners a breeze! It takes minutes to cook in a skillet, meaning you can have a quick, delicious meal in less than half an hour.
Ground chicken is a blank canvas. This means you can experiment with flavors! Try recreating classics that typically use ground beef, such as shepherd's pie or meatloaf.
Is Ground Chicken Healthier than Ground Beef?
Ground chicken is generally healthier than ground beef if it's made from only chicken breast. This is because the breast is the leanest part of the chicken, so there's no fat.
Ground beef has fat. Even if you use the leanest version, there is still fat. So, if you want a nonfat protein, ground chicken is best.
What Can Be Made from Minced Chicken?
Minced chicken is perfect for making meatballs and burgers. It's also ideal for frying with flavorsome sauces and serving with an Asian salad or noodles.
Any recipe that uses ground beef can also be replaced with ground chicken. It soaks up the delicious flavors even more!
Best Ground Chicken Recipes
You'll find the best ground chicken recipes below. Everything from Asian cuisine to meatballs, burgers, and more!
Source: theforkedspoon.com
Ground chicken, holy basil, and Thai chilies are the stars of this dish, with sweet and salty tastes.
Shallots, chilies, and garlic flavor your chicken before adding the sauce. Mix oyster, fish, and soy sauce with sugar for a unique flavor.
Holy basil is essential for the flavor of this dish with its peppery and spicy taste! Serve your Thai chicken over tender white rice.
Find out more cheap healthy recipes!
Source: anediblemosaic.com
These salty, spicy, sweet chicken lettuce wraps are better than the PF Chang version!
Onion and mushrooms add extra nutrition to this dish. Cook them with your chicken, garlic, and ginger before adding your flavorsome sauce.
Hoisin, soy, and chili garlic sauce are essential ingredients for flavor. Add rice wine vinegar, black pepper, salt, and crunchy water chestnuts.
Serve your wraps with hoisin dipping sauce and steamed or cauliflower rice.
Source: kendellkreations.com
Parmesan chicken meatballs have the most delicious flavors of Italy. Think creamy and sharp cheese, tomato sauce, and basil!
Your meatballs are full of flavor. Combine chicken, ricotta, parmesan, and panko. Add garlic, basil, salt, and pepper, too.
Serve your meatballs on a bed of marinara-coated pasta. Add provolone, ricotta, and parmesan for the ultimate cheesy flavor!
If you are wondering what to make for dinner tonight, this is one of the best dinner ideas!
Source: foxeslovelemons.com
Serve these flavorful Greek chicken meatballs with a yogurt sauce for dipping. They make a great appetizer!
Garlic, onion, dill, oregano, and parsley add flavor to your meatballs. Use Greek yogurt to make your dipping sauce. Add parsley and dill for a fresh, herby taste.
These meatballs are also delicious with crumbled feta on top!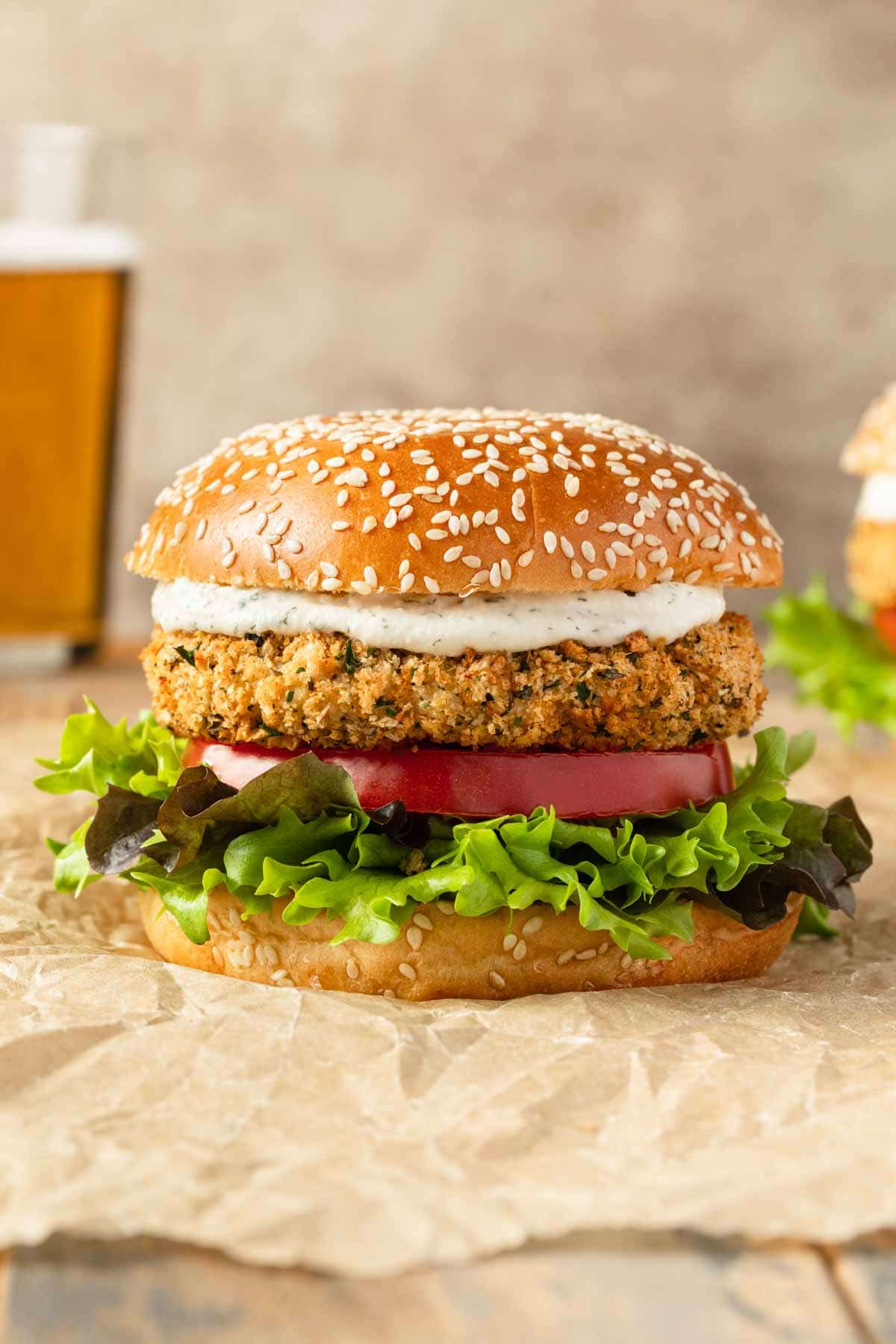 Source: crumbtopbaking.com
These juicy chicken patties with a panko crumb are crispy and delicious!
Flavor your patties with oregano, basil, salt, and garlic powder. Toast your panko breadcrumbs first to make your burger coating extra crispy!
Serve your patties in a burger bun. Add cheese, crisp lettuce, juicy tomatoes, and your favorite sauce for a mouthwatering burger!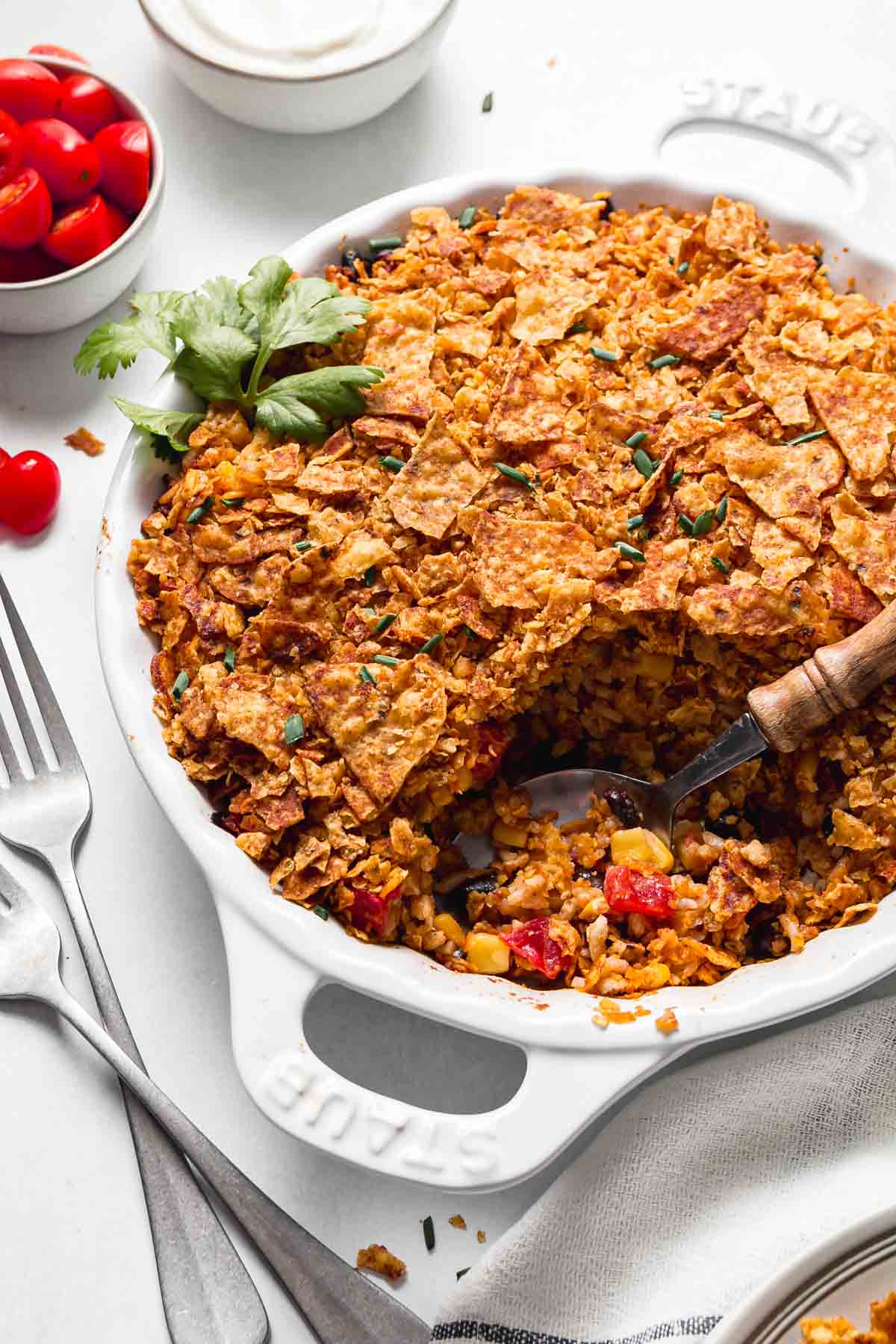 Source: wheatbythewayside.com
This Mexican-inspired chicken casserole has the flavors of tacos and burritos!
Your casserole is effortless once you've cooked your chicken. All you need to do is mix everything. Canned chicken soup, shredded cheddar, and Rotel with chilies provide the base.
Creamy black beans, yellow corn, and rice provide texture in each bite. Use taco seasoning to add Mexican flavor. Use crushed tortilla chips for the ultimate crunchy topping!
This is one of the best cheap dinner ideas to feed your entire family!
Source: yellowthyme.com
This curry is spicy and flavorful. It's the perfect Indian dish to serve with naans for mopping up!
Ginger, garlic, green chili, and onions are aromatics for the tomato base of your curry. Also, add chili powder, turmeric, garam masala, and ground coriander.
Add yogurt to make your chicken keema moist and creamy. Garnish with fresh cilantro before serving.
Source: all-thats-jas.com
This chicken noodle soup has a variety of wholesome ingredients. Find ground chicken, noodles, chickpeas, and beans. They're brought together with warming spices.
Onion, garlic, turmeric, paprika, coriander, and mint flavor your ground chicken. Tomato paste provides a rich base.
Cook your noodles for a few minutes in flavorful chicken bouillon. You'll then add your chicken and bean mixture. Your soup is ready when your pasta is cooked perfectly.
Find more cheap recipes for families here.
Source: frugalnutrition.com
Orange ground chicken is a quick and easy version of a takeout favorite! It has the ideal balance of sweet and umami flavors.
Chili-garlic and soy sauce are the liquid base of the flavor for your ground chicken. Add sesame oil and seeds, garlic, and ginger too. Orange zest and fresh orange juice are essential!
Serve this with tender brown rice and steamed broccoli.
Source: sulaandspice.com
These grilled chicken burgers are moist and delicious. Spinach boosts nutrition, and feta provides a tangy, salty taste!
The rich taste of spinach and feta means you only need to use garlic as an extra flavor.
Serve your tasty burgers with a fresh salad. Or you can have them in a bun with crisp lettuce, juicy tomatoes, and your favorite sauce!
Source: twokooksinthekitchen.com
This meatloaf is moist and flavorful, thanks to the amount of veggies!
Carrots, fresh spinach, and sharp onion add hidden nutrition. Blend them before mixing them with your chicken. This delivers a smooth texture.
Garlic, parsley, thyme, salt, and pepper flavor your meatloaf. Combine ketchup and balsamic vinegar for a tasty, tangy glaze.
Serve your meatloaf with mashed potatoes or a fresh salad and coleslaw.
Source: josieandnina.com
You don't have to be getting married to eat Italian wedding soup! It gets its name from the ingredients marrying together. Mini meatballs and tender pasta match perfectly.
Combine Italian ground sausage with ground chicken. This makes extra moist meatballs! Add Romano cheese, parsley, salt, and pepper, too.
Onion, celery, carrot, fresh basil, and garlic form the flavor of your soup base. Cook these with chicken broth.
Add a small type of pasta and your flavorful poached meatballs near the end of cooking. Egg and cheese ribbons make this soup shine!
Find more Italian sausage recipes here!
Source: noshingwiththenolands.com
These moist, flavorful meatballs go great with a nutritious rice bowl!
Season your meatballs with parmesan, black pepper, garlic powder, and onion powder. Ground ginger delivers a burst of Asian flavor.
Perfect veggies for your bowls are bell pepper, crunchy cucumber, carrot, and sharp onion. Drizzle your rice and veggies with sweet hoisin. Garnish with green onions and crunchy sesame seeds.
If you loved the bell peppers in this recipe, these best green pepper recipes are for you!
Source: whollytasteful.com
Asian-inspired egg roll in a bowl is a quick and easy weeknight dinner. Ground chicken, nutritious veggies, and cauliflower rice are drizzled with a spicy mayo sauce. It's an egg roll minus the wrapper!
White and red cabbage, shredded carrots, and white onion are the ideal veggies for this dish. Garlic, ginger, coconut aminos, and toasted sesame oil add much Asian flavor.
Make your creamy, spicy sauce with mayo and sriracha. Lime adds a hint of acidity to balance the taste!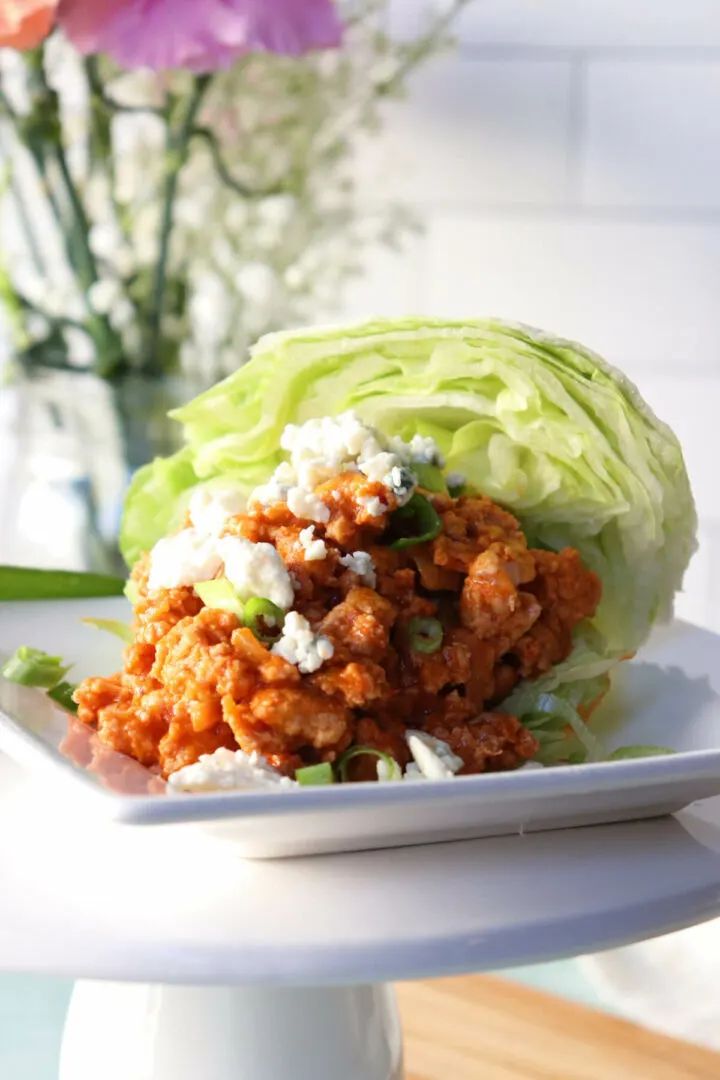 Source: explorermomma.com
Buffalo chicken Sloppy Joes are ideal for gatherings or a relaxed meal! Ground chicken is combined with hot sauce and butter for a deliciously creamy, spicy dish.
Onion, celery, and garlic add a base flavor to your chicken. Hot sauce, tomato paste, and chicken bone broth provide a tasty, smooth texture.
Add blue cheese dressing for an authentic Sloppy Joe's taste! Serve your ground chicken Sloppy Joes in lettuce wraps to keep them healthier. Garnish with green onions and tangy blue cheese.
Source: thaicaliente.com
Thai ground chicken is served with a fresh salad and toasted rice powder. A spicy citrus dressing matches perfectly!
Add sliced red onions to your cooked chicken. Asian ingredients add a robust flavor to this dish. Mix your chicken with lime juice, fish sauce, Thai chili flakes, and toasted rice powder.
Making your own is easy if you can't find toasted rice powder. Toast sweet, sticky rice grains until they become fragrant. Grinding them is easy by using a spice grinder or a blender!
Use crisp lettuce, crunchy cucumber, and sticky rice to make your ground Thai chicken salad.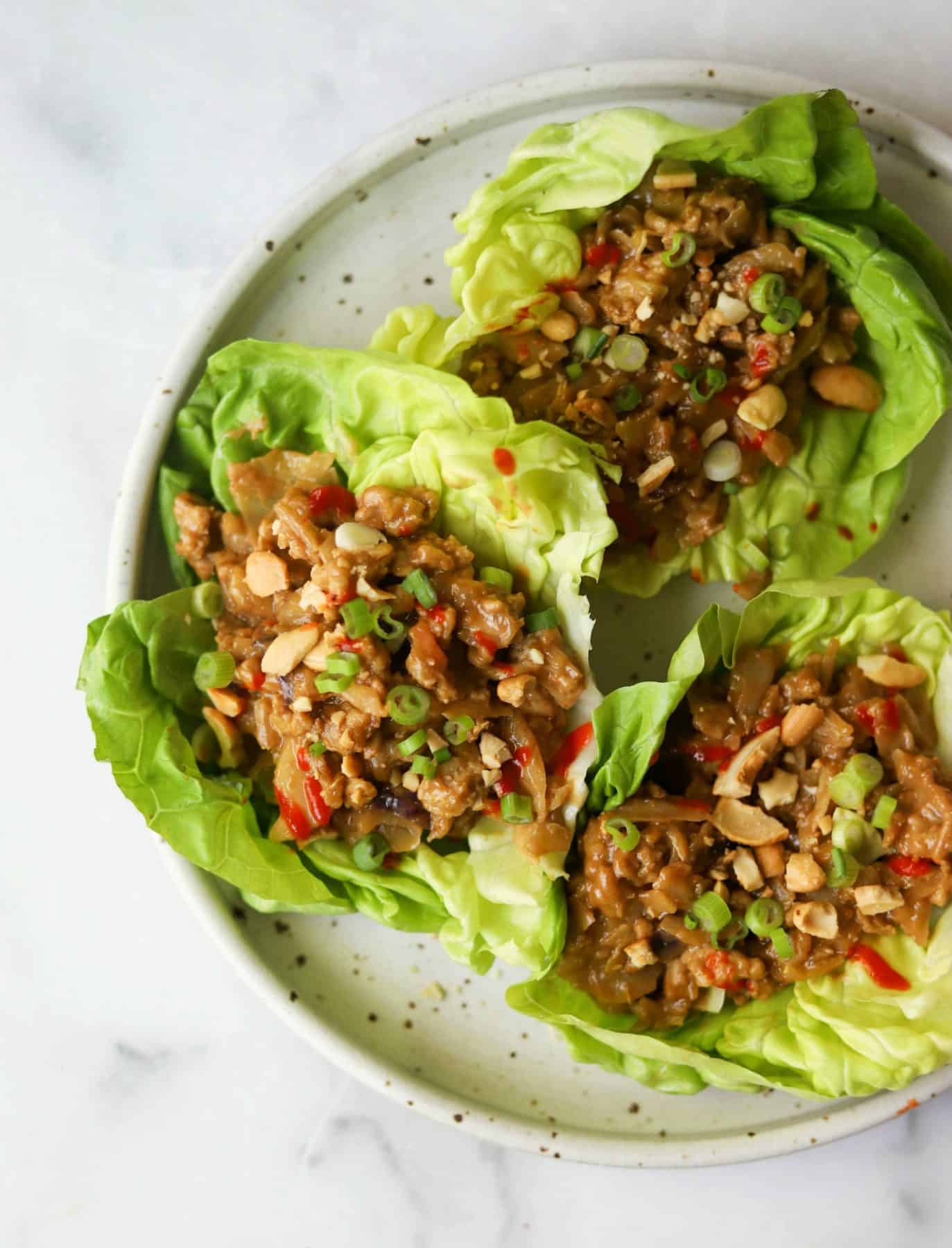 Source: thehealthyepicurean.com
Tasty cashew chicken lettuce wraps are quick, easy, and flavorful!
Use crunchy coleslaw mix as part of your filling. This adds extra nutrition to the dish alongside your lettuce cups!
Your cashew sauce has sweet, spicy, and umami flavors. Use nut butter and sesame oil for a delicious nutty flavor.
Soy sauce adds umami; sriracha, lime, and ginger deliver a tangy, zesty heat. Add brown sugar for a balance of sweetness!
Garnish your chicken lettuce cups with cilantro, crunchy cashews, and chili sauce.
Source: beyondfrosting.com
Crisp and golden, these chicken empanadas are a treat! They are filled with a tasty mixture of meat, spices, and cheese.
This dish has prominent flavors of Mexican oregano and chipotle. They work well with tomato sauce for your ground chicken filling. A shredded Mexican cheese blend complements the spicy flavors.
Serve these with a zesty avocado crema for dipping! Combine mashed avocado with crema, chopped cilantro, and a little lime zest.
Source: nutmegnanny.com
These vibrant bell peppers are packed with Italian flavors. Think Italian herbs, tomatoes, and decadent cheese!
Add yellow onion and grated zucchini to your chicken for extra hidden veggies. Garlic, Italian seasoning, salt, and black pepper add flavor.
Tomatoes, white rice, and parmesan complete your chicken filling. Spoon it inside your peppers before baking in the oven.
Sprinkle shredded cheese near the end of cooking for a delicious melty topping! Find more Italian chicken recipes here.
Source: nutmegnanny.com
Combine Mexican and Italian cuisines for this tasty fajita pasta! Ground chicken is paired with warm spices, sour cream, and melted cheese.
Yellow onion, red, and yellow bell peppers are essentials for any fajita dish. Add garlic, chili powder, smoked paprika, and cumin to your chicken for a spicy flavor.
Chicken stock, tomato sauce, and sour cream deliver the creamy base for your pasta. Sprinkle with a generous helping of Mexican shredded cheese for a gooey topping!
Source: heartbeetkitchen.com
Make this mango chicken breakfast sausage with just five simple ingredients! Ground chicken and fresh mango are the stars of this dish.
You only need onion, fresh chives, and red pepper flakes to flavor your breakfast sausage. They combine perfectly for a beautiful taste.
The natural sugar of mango caramelizes to leave a delicious crust on your patties!
Source: thequickerkitchen.com
Shepherd's Pie is a traditional comfort dish. Add a twist to a classic with this buffalo chicken version!
Add carrots and onions to your ground chicken for veggie goodness. Combine tomato sauce, Worcestershire, and spicy wing sauce.
Add this to your ground chicken mixture for the unique flavor of this pie!
Add shredded cheddar underneath and on top of your mashed potato. You'll have the ultimate cheesy taste!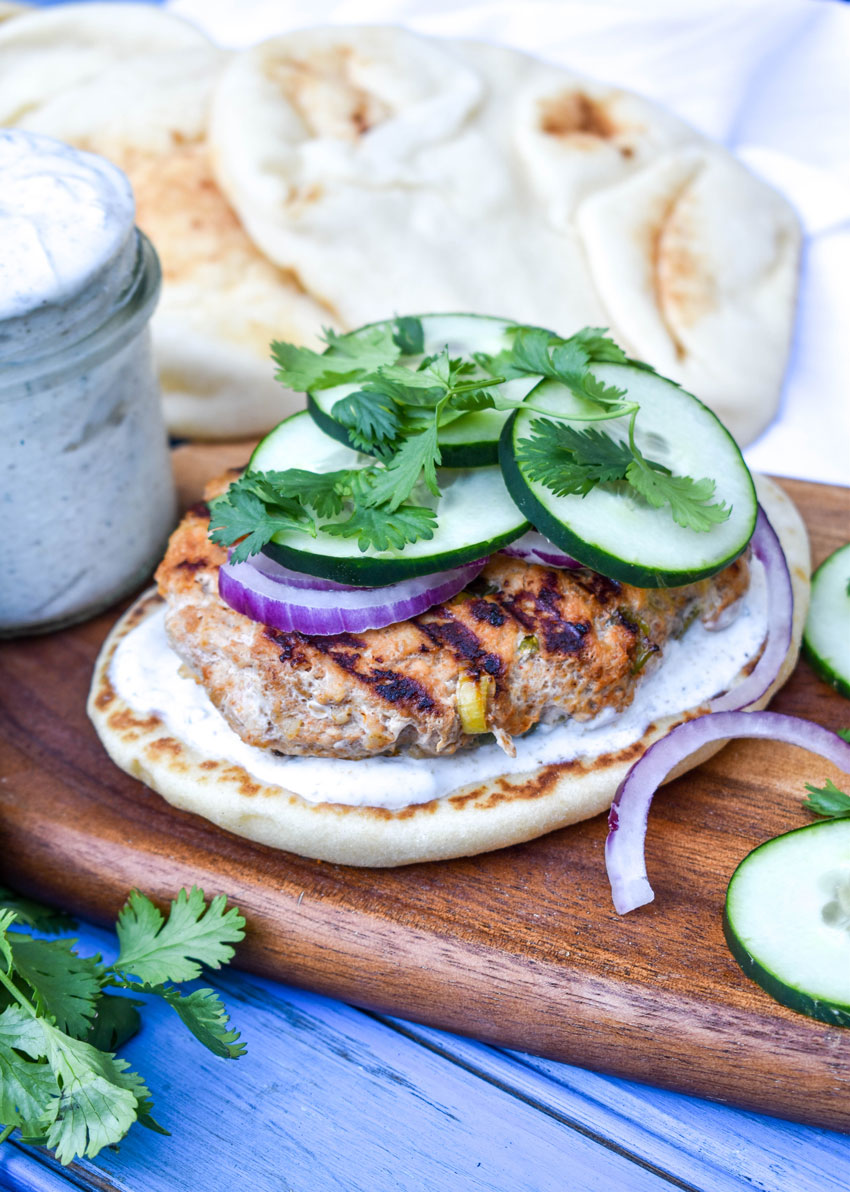 Source: 4sonrus.com
Make a twist on tandoori chicken with these tasty ground chicken burgers. They're served on grilled naan with a creamy mint sauce.
Season your burgers with paprika, ground cardamon, cumin, cayenne, salt, and pepper. Green onions and grated ginger add a sharp taste, too.
Make your creamy yogurt sauce with Greek yogurt, fresh mint, cumin, and lemon juice.
Assemble your burgers with naan, tandoori chicken, and yogurt sauce. Add sliced cucumber and red onion for a fresh taste and crunchy texture.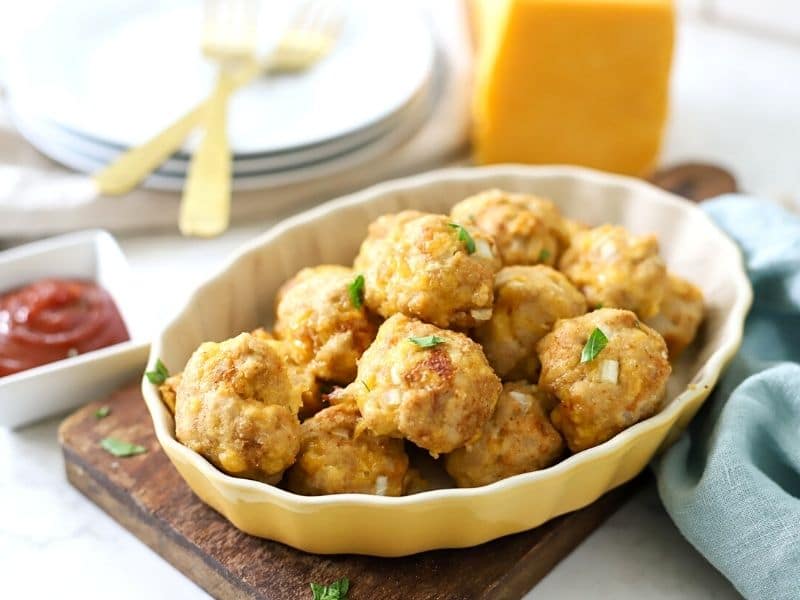 Source: suburbansimplicity.com
These cheesy chicken meatballs are moist, juicy, and flavorful. They're ideal for use as part of a meal or as an appetizer!
Many ingredients combine for the perfect flavor. Season your ground chicken with paprika, garlic powder, salt, and black pepper.
Diced onion and Worcestershire sauce add a sharp, tangy flavor. Add shredded cheddar to make them taste deliciously cheesy!
Try serving your meatballs in marinara sauce with tender spaghetti. They're great with your favorite dipping sauce, too!
Your family will love this Friday night dinner idea!
Source: chocolatemoosey.com
Add a different taste to regular chili with the addition of hot sauce. Unearth ground chicken in a spicy tomato sauce with wholesome black beans. Don't forget the cheese for a creamy texture!
Cook onion and carrot with your chicken to add veggie goodness to your chili. Add a robust flavor with garlic, chili powder, cumin, smoked paprika, and hot sauce.
Garnish your chili with sliced green onion before serving.
Source: bonappeteach.com
Cook fragrant chicken meatballs in a creamy butter sauce. You have the ultimate Indian-inspired comfort food!
Combine curry powder, salt, garam masala, and ground ginger. Use this spice blend for your meatballs and your sauce.
Add spices to your chicken alongside minced garlic, lemon zest, and coconut flour. The lemon adds a bright flavor, while the coconut flour complements the spices.
Butter is essential for your sauce. Use this to cook onion, garlic, salt, cumin, and garam masala. Whisk in tomato paste and coconut milk before adding your meatballs.
This is delicious with cauliflower rice and grilled naan!
Source: currytrail.in
Make these flavorful, juicy chicken meatballs and serve them with spicy buffalo sauce!
Use minced garlic, celery, and paprika for flavor. Add minced green onion and carrot to your ground chicken mixture, too.
Make your spicy buffalo hot sauce by combining butter, hot sauce, and garlic powder. Serve with a creamy blue cheese dressing and blue cheese crumbles!
Source: withablast.net
These delicious Thai chicken nuggets are bursting with flavor. They make the perfect snack or appetizer with a tangy dipping sauce.
Fish sauce, red curry paste, green onions, garlic, and ginger add a ton of Asian flavor to your meatballs.
Sweet chili sauce is ideal to serve with your meatballs.
Source: confessionsofafitfoodie.com
This ground chicken stir fry is an excellent alternative to meatballs when you're in a hurry. It packs a punch of flavor, but hardly any prep is involved!
Make your flavorsome stir fry sauce by combining honey, tomato paste, and coconut aminos. Add fresh garlic and ginger, too.
Sauté your green beans before adding them to your stir fry. You want a slight crunch for texture, so don't overcook them!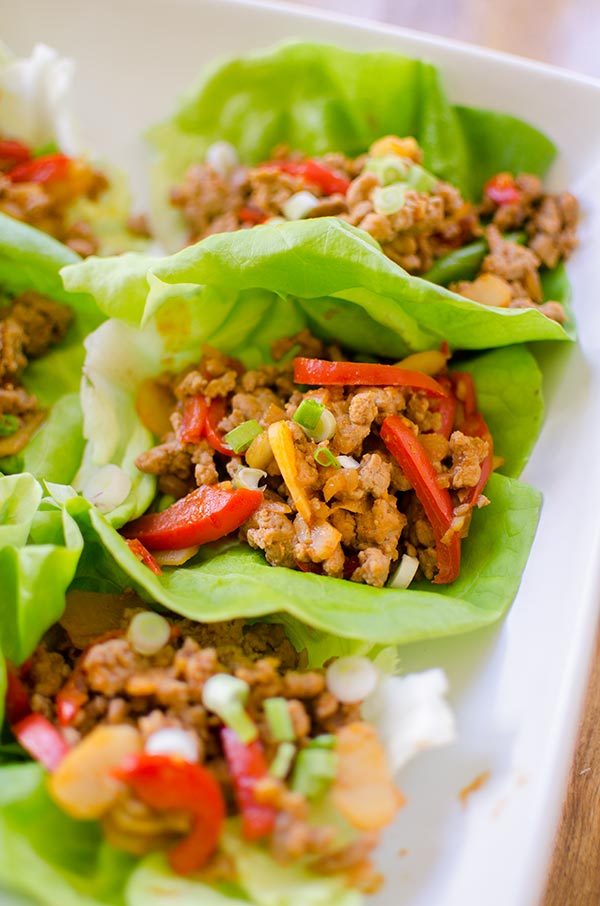 Source: livinglou.com
These tasty lettuce wraps have a variety of textures and flavors. Tender ground chicken and crunchy water chestnuts are a perfect combination.
Combine hoisin, soy sauce, lime juice, sesame oil, and sriracha for a sauce with a kick! Add red bell pepper for sweetness and a pop of color.
Spoon your delicious chicken mix into crisp lettuce leaves. Garnish with sliced green onion before serving.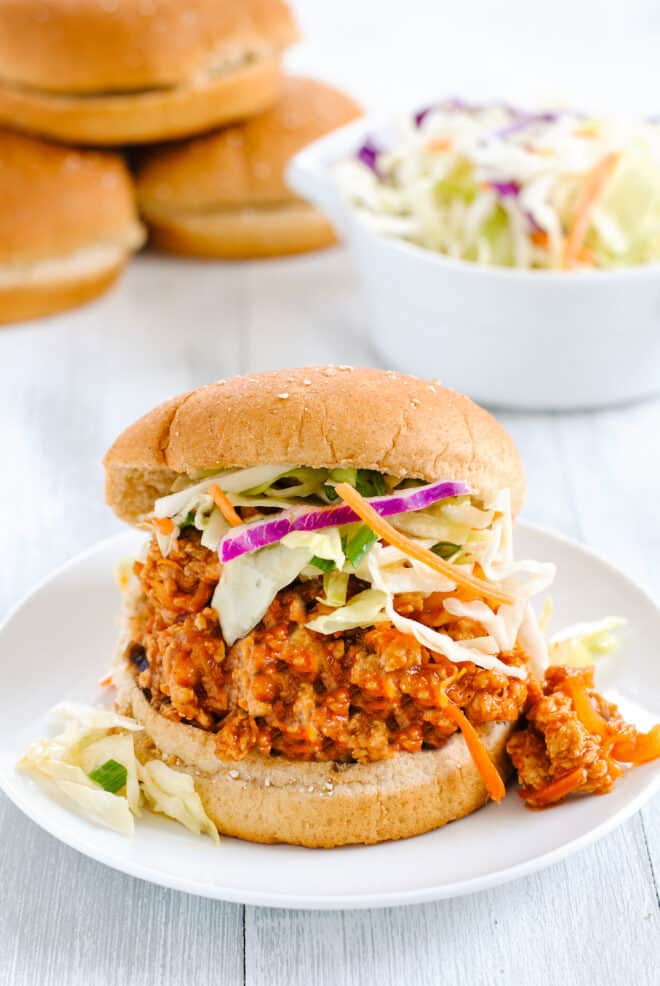 Source: foxeslovelemons.com
Try an Asian twist on Sloppy Joes! Ground chicken in a flavorsome spicy sauce, loaded into soft hamburger buns. Delicious!
Asian flavors in this dish include garlic, ginger, hoisin, soy, and sriracha. They work together to deliver a robust flavor to ground chicken.
Combine rice wine vinegar and sesame oil with fresh coleslaw mix. Add this to your bun with your Sloppy Joes!
Find more Mexican chicken recipes here!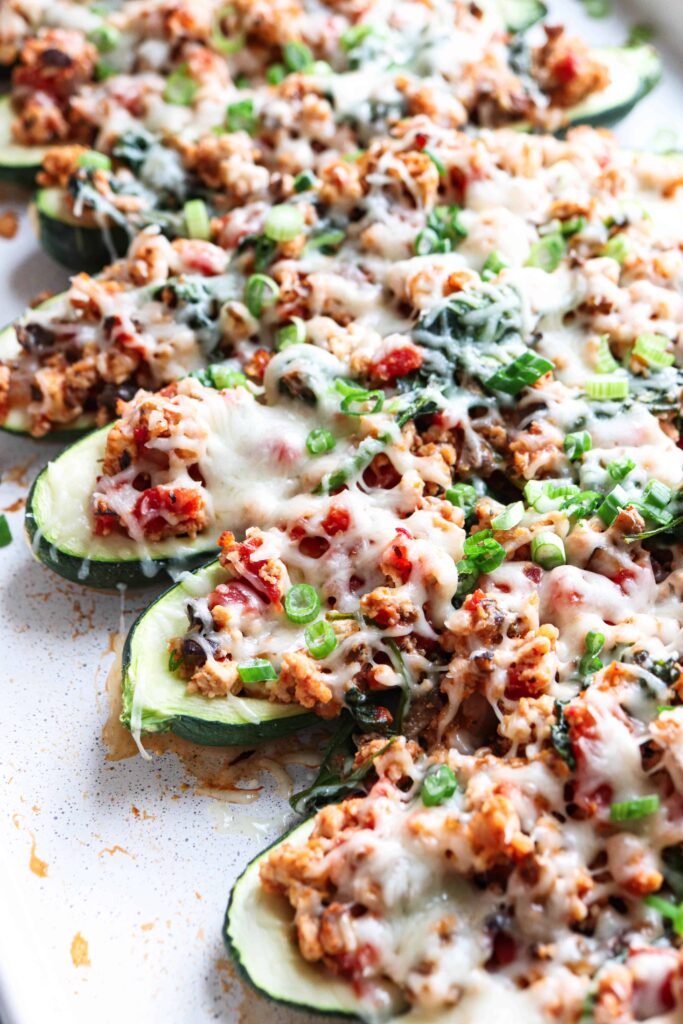 Source: whollytasteful.com
Zucchini boats have Italian flavors and nutritious veggies. Combine everything with a delicious meaty tomato ragu.
Mushrooms, onions, and spinach add a taste of Italy to your ground chicken. Add basil, oregano, and red pepper flakes too.
Sprinkle with mozzarella in the last five minutes of cooking. This leaves a gooey cheesy topping!
If your garden is full of zucchini this year, you should also try this chicken zucchini pasta.
Source: herbsandflour.com
Combine zucchini fritters and chicken meatballs. You get the taste of two favorites in one simple dish!
Aside from zucchini, use onion, parsley, oregano, and cumin to flavor your ground chicken.
Serve your zucchini meatballs with your favorite dipping sauce for a tasty snack!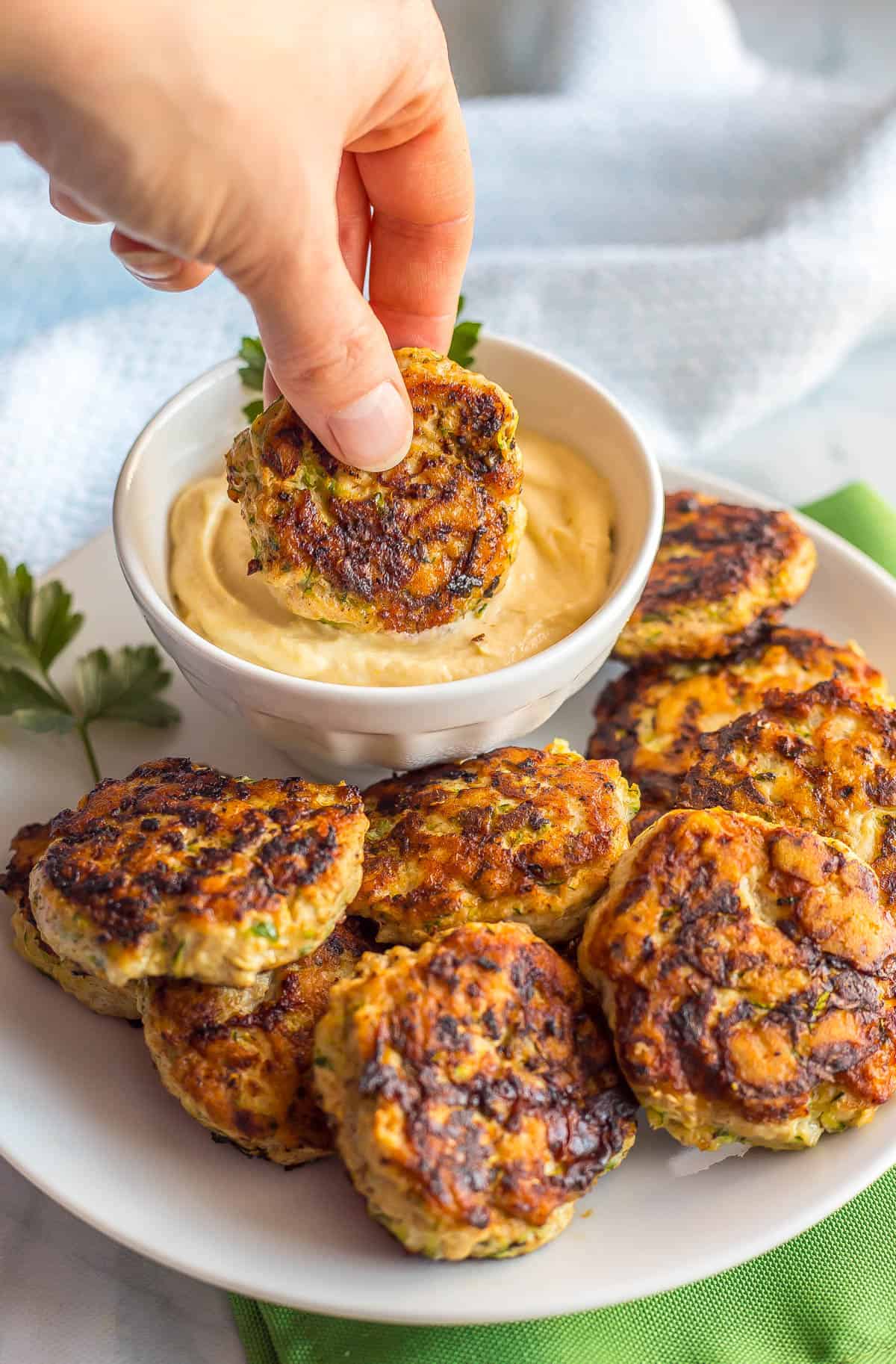 Source: familyfoodonthetable.com
These spicy chicken patties are quick, easy, and versatile. Use them for filling wraps, serve with a dipping sauce, or on top of a fresh garden salad.
Zucchini, minced garlic, cayenne, onion powder, salt, and pepper flavor your chicken patties. Fry in a skillet until they're golden and crispy on the outside!
Source: nourishedkitchen.com
This ginger chicken soup has a spicy kick but has fresh flavors to balance the heat. Ground chicken pairs with flavorsome ingredients for a delicious, warming soup.
Use chicken broth as the base of your soup. Green onion, chilies, shallot, garlic, and ginger deliver a solid taste. Add rice to your soup for a heartier, filling meal.
Source: butteryourbiscuit.com
These are loaded with spicy chicken, refried beans, and melted cheese in a crunchy shell!
Onion, minced garlic, taco seasoning, and your favorite salsa add Mexican flavor. Make a fresh pica de Gallo with juicy tomatoes, jalapeno, onion, cilantro, and lime juice.
Bake your tacos for a few minutes until you have crispy shells and gooey cheese!
Source: familyfoodonthetable.com
Tender rice noodles, tasty chicken, crunchy bean sprouts, and scrambled eggs. That's what you'll find in this delicious Pad Thai!
Add red pepper and shredded carrots for a crunchy texture and pops of color.
Mix fish sauce, soy, rice wine vinegar, and spicy chili-garlic sauce. Brown sugar, peanut butter, and fresh lime juice provide sweetness, creaminess, and acidity.
Add scrambled eggs and your flavorsome sauce near the end of cooking. Allow the flavors to merge, and then serve hot sprinkled with crushed peanuts!
These delicious ground turkey recipes will also give you easy dinner inspiration!
37 Easy Ground Chicken Recipes for a Simple Dinner
Wow your tastebuds mix up your usual weeknight dinners with these delicious and easy-to-make ground chicken recipes.
Ingredients
1. Thai Basil Chicken
2. Chicken Lettuce Wraps
3. Parmesan Chicken Meatballs
4. Greek Chicken Meatballs
5. Air Fryer Chicken Patties
6. Chicken Taco Casserole
7. Indian Minced Chicken Curry
8. Afghan Chicken Noodle Soup
9. Orange Ground Chicken Rice Bowls
10. Chicken Burgers with Spinach and Feta
11. Chicken Meatloaf with Vegetables
12. Italian Wedding Soup
13. Chicken Meatball Bowls
14. Egg Roll in a Bowl
15. Buffalo Ground Chicken Sloppy Joes
16. Thai Ground Chicken Salad
17. Cashew Chicken Lettuce Wraps
18. Cheesy Chicken Empanadas
19. Stuffed Bell Peppers
20. One Pot Fajita Pasta
21. Mango Chicken Breakfast Sausage
22. Buffalo Chicken Shepherd's Pie
23. Grilled Tandoori Chicken Burgers
24. Cheesy Baked Chicken Meatballs
25. Buffalo Chicken Chili
26. Butter Chicken Meatballs
27. Buffalo Chicken Meatballs
28. Thai Chicken Nuggets
29. Ground Chicken Stir Fry with Green Beans
30. Ginger Chicken Lettuce Wraps
31. Asian Style Chicken Sloppy Joes
32. Italian Stuffed Zucchini Boats
33. Chicken Zucchini Meatballs
34. Spicy Chicken Patties
35. Ginger Chicken Soup
36. Baked Chicken Tacos
37. Chicken Pad Thai
Instructions
Scroll up to get a bunch of easy, yummy, and delicious chicken recipes. Don't be afraid to get creative with the ingredients. You might discover a flavor you didn't know you liked.
Get your shopping list going, and make sure you've got all the ingredients.
Get cooking and make your next Ground Chicken Recipe!
Notes
Which one of these recipes was your favorite? Let me know in the comment section or on Pinterest!