You have your favorite Mexican dishes. However, you're bored of eating the same thing time and again. Well, these mouth-watering Mexican chicken recipes will bring a fiesta to your taste buds!
There are so many options when it comes to Mexican-inspired cooking. A few Mexican food favorites are tacos, burritos, tostadas, and fajitas.
Shake up your favorite easy recipe by adding new ingredients. You can even try a new way of cooking them.
Putting chicken in your recipe adds protein. It's also a versatile ingredient. As plain chicken is bland, it's perfect for soaking up Mexican flavors!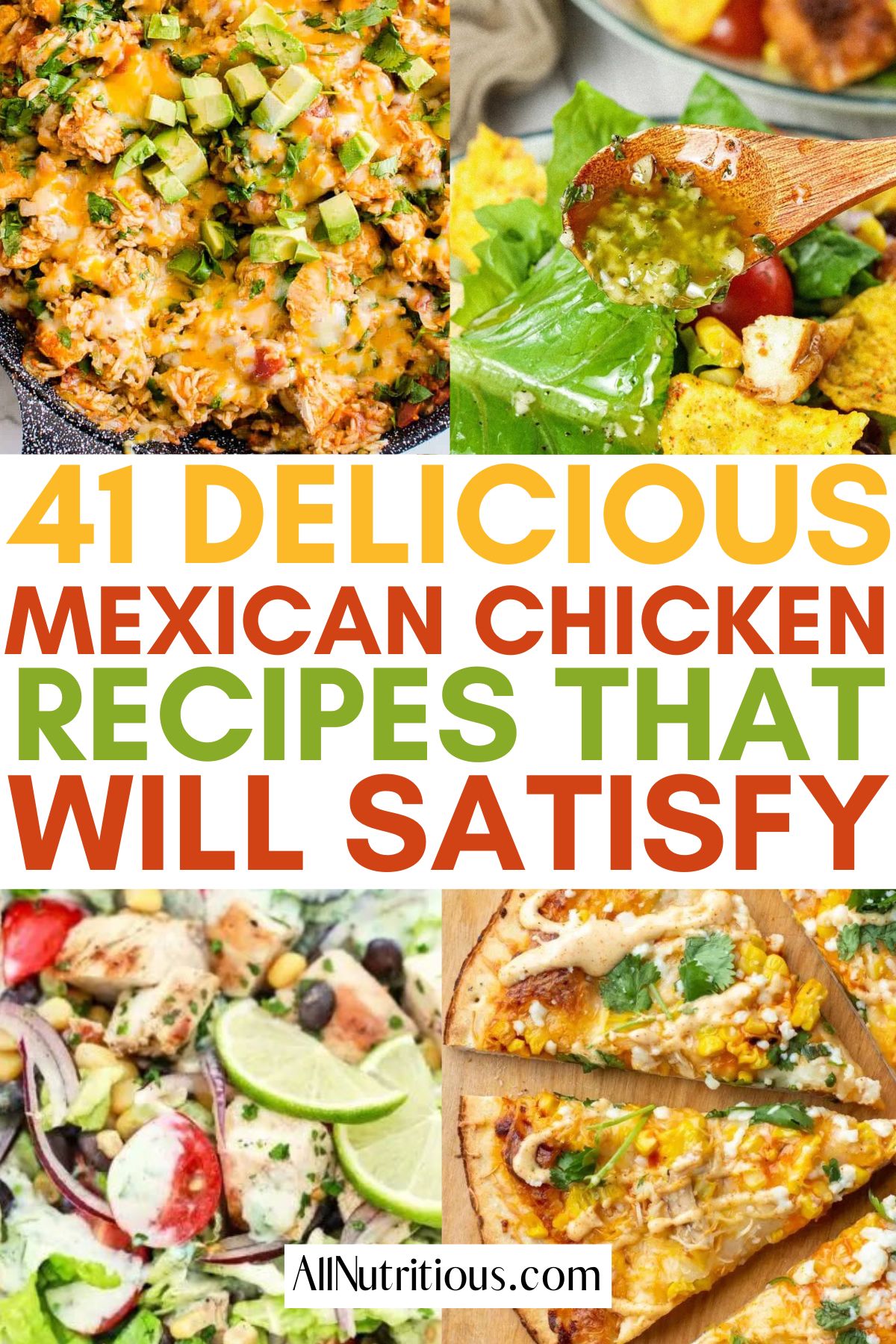 Mexican Recipes with Chicken
Find a selection of tasty Mexican chicken recipes the whole family will love below!
Source: quichemygrits.com
Use a homemade spice and sauce to make these tasty chicken tacos.
Season chicken tenders with Tajin before cooking them in a skillet. This seasoning is made of mild chilis, sea salt, and lime.
Fresh tomatoes, parsley, and onion make Pico de Gallo. Use mayo, lime juice, sour cream, cilantro, and Tajin to make Baja sauce.
Put your tacos together using warm wraps. Layer tasty chicken, salsa, avocado, cilantro, cabbage, cotija cheese, and your sauce.
This is one of the best light dinner ideas for this summer!
Source: slowthecookdown.com
These meaty, cheesy stuffed peppers are full of vibrant Mexican flavors.
Poblano peppers are spicier than bell peppers. Yet they're milder than jalapenos. Onion, garlic, green chilis, and taco sauce provide a ton of flavor to your filling. Sweetcorn adds a juicy crunch.
Combine these with browned ground chicken and mix in shredded cheese. Cilantro delivers fresh, herby flavor to your stuffed peppers.
Top with more shredded cheese and bake until your peppers are soft.
Source: jawnsicooked.com
This soup is a delicious take on a Mexican classic that requires little effort.
Shred tender, juicy chicken thighs toward the end of cooking. You'll also add Mexican hominy and lime juice at this stage.
The vibrant green color of your soup comes from green salsa, chilis, and fresh cilantro. A robust flavor comes from roasted onion and garlic.
Serve your Mexican soup with sliced avocado and fresh cilantro.
Source: thaicaliente.com
Chicken Tinga is spicy, flavorful, and is great on tostadas.
The spicy sauce is a vital part of this recipe. Blend Roma tomatoes, garlic, chicken broth, and chipotle in adobo until smooth.
To make Tinga, cook thinly sliced yellow onions until they caramelize. Add your chicken and homemade sauce, and cook for a few minutes.
Add refried beans, chicken, and cotija cheese to your tostadas to make them. Fresh and tangy flavors come from the shredded lettuce, pickled onions, and chopped avocado.
Source: blackberrybabe.com
Spicy Mexican chicken flatbread is an excellent alternative for pizza night!
Spread enchilada sauce on a warmed flatbread before adding your toppings. Shredded cheese, red onion, rotisserie chicken, and sweetcorn are perfect.
Bake in the oven until the cheese is melted and gooey, then cool a little. Sprinkle your pizza with cilantro and queso fresco.
Make your tasty Elote sauce with mayo, lime juice, and chili powder. Drizzle on your pizza before serving!
Source: chocolatemoosey.com
Have a fusion of cuisines with this dish. You'll find flavors of Mexican fajitas with an Italian twist of pasta!
Cook fajita spiced chicken with garlic, onion, mushrooms, and sweet bell peppers. Create a creamy pasta sauce with milk, heavy cream, and shredded cheese.
Once your sauce has thickened, add your cooked pasta and mix it well. Throw in cilantro and lime juice for a zesty kick!
Source: beyondmeresustenance.com
This tasty chicken salad uses fresh fruits and veggies like avocado and orange. A spicy vinaigrette is used to mix everything.
Your tangy dressing is made from citrus zest and juice, vinegar, Dijon mustard, and chili powder. Agave adds a sweet taste.
Mix your sauce with cooked chicken, soft spinach, red onion, and bell pepper. Add jicama, pepitas, and avocado for creamy and crunchy textures.
Source: chocolatemoosey.com
This healthy chicken salad is quick and easy to prepare. Use fresh veggies alongside fajita spiced chicken and ranch sauce.
Before adding them to your salad, cook onion and bell peppers in your chicken juices. Make your salad with crunchy lettuce, creamy avocado, juicy tomatoes, and lime juice.
Drizzle your salad with creamy ranch dressing!
Source: beyondmeresustenance.com
This recipe delivers an exciting variation of roast chicken and veggies to your table!
Sprinkle your whole chicken with a mole-inspired rub before cooking. Make a tasty basting sauce using citrus zest & juice, garlic, and butter.
Potatoes, shallots, and sweet bell peppers are ideal veggies to match your sauce's flavors. Mexican grey squash is perfect too.
Add your veggies to the pan with the chicken. Baste them until everything is cooked and tender.
​Grab an airtight container to store your leftovers to enjoy the next day or save them for busy weeknights.
Mexican Chicken Breast Recipes
Use tender chicken breast for the following delicious recipes.
Source: healthyrecipes101.com
This recipe is a healthier version of a regular taco. It has the same mild, smoky flavors but in a simple salad form.
Flavor your chicken with Cajun seasoning, paprika, and garlic powder before cooking. Make a zesty cilantro-lime dressing. Combine garlic, cilantro, oil, lime juice, salt, and pepper.
Assemble your salad using juicy tomatoes, romaine lettuce, and sharp red onion. Add juicy and creamy textures with sweetcorn and canned black beans. Tortilla chips add crunch!
Source: fromvalerieskitchen.com
Find lean protein, colorful veggies, and wholesome black beans in these skillet fajitas.
Marinate your chicken with fajita seasoning and olive oil. Lime juice also helps the chicken stay tender.
Once you've cooked your chicken, remove it from the skillet and keep it warm. Add bell peppers and onions and cook until tender.
Serve with lightly toasted tortillas, warm black beans, and shredded cheddar. Sour cream and cilantro are tasty additions too.
This is such a fun dinner idea for a family night in!
Source: runningtothekitchen.com
This chicken lime soup is ideal for colder months. It's spicy and refreshing, perfect for blowing away winter sickness!
Use onion, carrot, celery, and jalapeno for the base of your soup. Add garlic, cumin, and ginger for an even more spicy taste. Simmer these in chicken broth for a short time.
Add shredded chicken when your flavors have developed. Finish your soup with cilantro, lime juice, and rice vinegar.
Source: all-thats-jas.com
This easy, hearty soup is loaded with veggies in a rich tomatoey base.
Onions, carrots, celery, minced garlic, and red pepper flakes form the base flavors of your soup. You'll season your chicken breasts with chili powder, cumin, salt, and pepper.
Add tomato paste, crushed tomatoes, and chicken broth to your pot. Cook until your chicken breast is tender. Remove the chicken, shred it, then add it back to the pot and mix well.
Serve your soup with fresh cilantro and slices of avocado.
Source: flavorthemoments.com
Tender, juicy chicken marinated in tequila is versatile for Mexican meals. Try it as tacos, burrito bowls, or with your favorite side dishes. Tequila lends a mild flavor alongside warm spices.
Mix tequila, lime juice, garlic powder, smoked paprika, and cumin for your marinade. Coat your chicken breast and marinate for as long as possible before grilling.
Source: reciperunner.com
This Mexican chicken dish is easy, healthy, and comes together in one pan.
Ground cumin, chili powder, oregano, and dried garlic deliver flavor to this dish. Cook your chicken and onion in the spices until tender.
Stir in sweet potato, cherry tomatoes, black beans, green chilis, and salsa. Cook for a few minutes until everything is heated through.
Sprinkle your delicious meal with shredded cheese before serving. Garnish with lime juice and cilantro.
Source: quichemygrits.com
This chicken taco bake is easy and flavorful, perfect for busy days. Only a handful of ingredients are needed for this great recipe!
Combine cream cheese and taco seasoning and mix well. Add your chicken breasts to a baking dish and spoon the cheesy mixture over the top.
Sprinkle shredded cheddar cheese over your cheesy chicken and bake until it's tender. Serve with your favorite toppings. Chunky salsa, avocado, black beans, and sour cream are ideal!
Source: beyondmeresustenance.com
Chicken breasts are coated with Tajin seasoning before grilling to perfection. Use your chicken for tacos or serve with a simple Mexican salad.
You can easily make your own seasoning. Do this by mixing red chili powder, lime, and sea salt.
Mix lime juice and minced garlic to marinate your chicken before grilling. The lime keeps your chicken tender when cooking.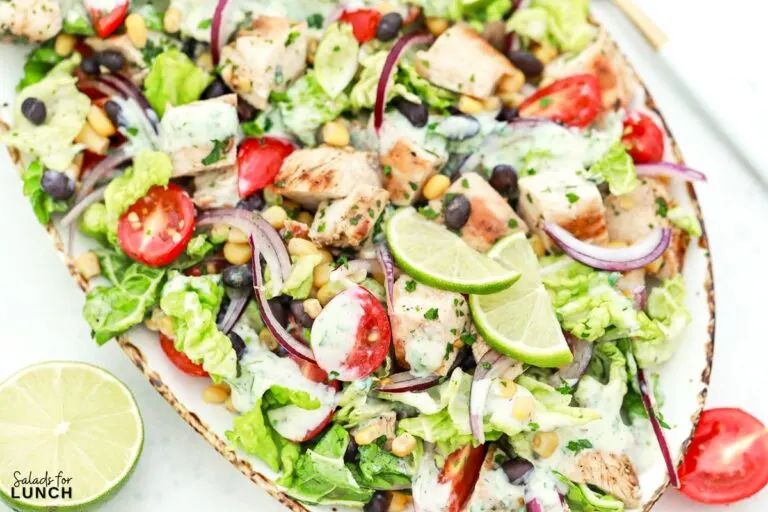 Source: salads4lunch.com
This salad with grilled chicken is full of fresh flavors for summer.
Coat your chicken in a marinade before cooking it. Use minced garlic, lime zest and juice, ground cumin, and smoked paprika.
Make your salad with romaine lettuce, juicy tomatoes, sweetcorn, and red onion. Add wholesome black beans as well.
Drizzle your salad with honey-lime dressing. Mix honey, Greek yogurt, cilantro, lime, and oregano.
Source: tiffinandteaofficial.com
This salad is packed with a smoky flavor and satisfying textures.
Combine garlic, cumin, ground coriander, smoked paprika, and cayenne for your chicken marinade.
Smashed avocado with lime and chili gives a creamy texture to your salad: lettuce, cucumber, sweetcorn, and red onion offer crunchy textures. Add juicy cherry tomatoes and pickles, too.
Drizzle your salad with a smoky, sweet dressing. Mix olive oil, lime, garlic, cayenne, cumin, and honey.
Mexican Shredded Chicken Recipes
Try these recipes with shredded chicken for an authentic Mexican feel!
Source: allnutritious.com
These meal prep bowls are healthy and delicious. Mexican flavors come from a variety of spices.
Your chicken is seasoned with only salt and pepper. You have a ton of flavor in your other ingredients.
Cook your cauliflower rice with green bell pepper and chopped tomatoes. Add dried onion, garlic powder, paprika, cumin, chili flakes, and oregano.
Serve your chicken and rice with wild rocket salad and sliced avocado.
Source: theroastedroot.net
Once you've cooked this Mexican shredded chicken, it's excellent to use for other dishes!
Chicken thighs lend a juicier flavor when cooked in a crock pot. Onion adds a fresh taste. Use enchilada sauce and salsa for your liquid ingredients. They keep your chicken moist, too.
Canned green chilis are an excellent addition to your shredded chicken. They go a long way in adding authentic Mexican flavor.
Source: mapleandmango.com
These shredded chicken enchiladas are an exciting twist on a Mexican favorite!
The tasty cheese sauce is easy to make. Make a roux, add milk, and simmer. Whisk in cheese until melted. Also add spices – onion, garlic powder, cumin, paprika, and turmeric.
Combine your chicken with salsa, corn, and half of your sauce. Divide this mixture between soft tortillas.
Roll tightly before placing them in a baking dish. Spread more sauce and cheese over the top.
Serve your baked cheesy enchiladas with your favorite toppings!
Source: slowcookermeals.com
This chicken is effortless to make in your crockpot with a handful of ingredients. Once shredded, it's versatile to use however you like!
Mix salsa Verde with canned green chilis, onion, minced garlic, and cumin. Pour your sauce over the chicken breasts in the pot of your slow cooker.
Shred your chicken once cooked and serve it hot. Try it in tacos or a burrito bowl.
Source: frommypantry.com
Make these crunchy taquitos with a tasty Mexican filling. You only need a few simple ingredients to make them.
Shred chicken and mix it with cheese and taco seasoning until everything is coated. Stir in sour cream until it is well mixed in.
Before cooking, put your filling on tortillas and roll them up tightly. Serve your taquitos with guacamole, salsa, and sour cream.
Source: fromvalerieskitchen.com
These delicious baked tostadas are wholesome, light, and nutritious. Crispy tortillas are topped with flavorful chicken and veggies.
Season zucchini, bell pepper, onion, and jalapenos with taco mix. Sauté them until soft, then add your cooked chicken and sweetcorn.
Lightly bake your tortillas, then spread refried beans on each one. Add your chicken and veggie mix and serve with shredded cheese and sour cream.
Source: goodlifeeats.com
This crock pot chicken can be used in many different Mexican recipes. You could put it on tacos, salads, or rice bowls.
Mix together onion and garlic powder, cumin, chili powder, smoked paprika, cilantro, and smoked paprika. This goes on your chicken.
Cilantro, lime juice, onion, and jalapeno give Mexican flavors. When the chicken is done, shred it and serve it while it's still hot.
Mexican Chicken and Rice Recipes
Create a complete meal with these Mexican chicken and rice recipes.
Source: thehealthyepicurean.com
This chicken taco casserole has tastes and textures you love in Mexican dishes!
Season your chicken with oil and taco seasoning. Combine with brown rice, creamy pinto beans, sweetcorn, and bell peppers.
Canned tomatoes, green chilies, jalapenos, and green salsa create the liquid element of your dish. They also add a ton of flavor.
Top your casserole with cheddar, pepper jack cheese, and crunchy tortilla chips!
If you are looking for easy summer casseroles, this is a great option!
Source: ifoodreal.com
Use a handful of ingredients for this tasty one-pan chicken and rice dish.
Sauté onion and garlic before adding your brown rice and cumin. This step adds flavor and helps your rice cook faster.
Add your chicken, salsa, and diced tomatoes before cooking for 20 minutes. Give it a good stir and let it cook some more.
When your chicken and rice are tender, sprinkle cheese on top. Warm through until the cheese is melted and gooey!
Source: dinneratthezoo.com
Burrito bowls are versatile. This version combines grilled chicken, black beans, zesty cilantro lime rice, and your favorite toppings for an easy dinner.
Marinade your chicken with lime juice, olive oil, garlic, and onion & chili powders. Cumin and smoked paprika add a rich, smoky flavor.
Toss your tender cooked rice with cilantro, lime juice, salt, and pepper. Transfer your rice to bowls and add your ingredients on top in your favorite way.
Creamy avocado, fresh salsa, sour cream, and crips lettuce are ideal for this delicious recipe.
Source: boulderlocavore.com
This slow-cooker Mexican chicken soup is a tasty combination of chicken, tender rice, and more. Everything is coated in a rich tomato broth.
Put sweetcorn, diced tomatoes, black beans, onion, and fresh garlic in your slow cooker. Green chilis, enchilada sauce, and cumin add a spicy flavor.
Add whole chicken breasts and shred them when they're cooked. Top your tasty soup with shredded cheese, sour cream, green onion, jalapenos, and cilantro.
Source: juliascuisine.com
These tasty chicken and rice wraps are quick and easy to prepare!
Marinade your chicken before cooking it in a skillet. For this, combine olive oil, lemon juice, garlic, cumin, salt, and pepper.
Mix cooked rice with sweetcorn, olive oil, lime juice, cilantro, sugar, and salt. This provides a zesty flavor to your wraps!
Fill flour tortillas with your chicken, rice, and shredded cheese before rolling tightly. Bake your wraps until the filling is heated and your tortillas crunchy.
Source: chefsavvy.com
Blackened chicken thighs are the star of this dish!
Coat your chicken with olive oil and spicy taco seasoning, then sauté until golden brown. This gives it a beautiful crust when you bake it!
Cook onion, bell pepper, garlic, and rice in the same pot to absorb the flavors. Add chicken broth, diced tomatoes, black beans, corn, and chipotle in adobo.
Add your chicken thighs back to the pot and cook in the oven until everything is tender. Stir in lime juice and sour cream before serving!
These other cheap chicken recipes will help you save more money on groceries!
Source: cleaneatingkitchen.com
This flavorful Mexican chicken rice is an easy dump-and-go dish. Add your ingredients to your crockpot and let it do its thing!
Add white rice, diced chicken, onion, broth, salsa, black beans, and green chilis to your pot. Stir well to combine and cook until the rice is tender.
Stir in lime juice before serving. Top your delicious chicken and rice with slices of creamy avocado.
Slow Cooker Mexican Chicken Recipes
Pop everything in your slow cooker and let it work magic with these recipes.
Source: itsavegworldafterall.com
This recipe is an excellent, tasty way to add more veggies to your diet. It's effortless with a handful of ingredients!
Add chicken breasts, green salsa, lime juice, and cumin to your slow cooker pot. Shred your chicken when it's fork-tender.
Add whatever veggies you have to hand and cook for a little longer. Green spinach, zucchini, and red bell peppers are ideal.
Source: flavorthemoments.com
This chicken tortilla soup is hearty and flavorful. It has minimal prep that can be done in advance. So, you can pop everything straight into your slow cooker in the morning!
Add chicken, onion, garlic, corn, black beans, and diced tomatoes to your pot. Chili powder, cumin, cayenne, and chicken broth flavor your soup.
Remove and shred your chicken when tender, then add it to the pot. Stir in lime juice, and serve with your favorite toppings.
Source: foodmeanderings.com
This quick and easy Mexican chicken only needs a few ingredients.
Put chicken breast, black beans, sweetcorn, salsa, onion and parsley in your pot. Mix these with a packet of taco seasoning before cooking.
Cauliflower rice, pepper jack cheese, and sour cream are delicious with this.
Source: twohealthykitchens.com
This recipe has all the delicious flavors of a chicken burrito without the carbs of a tortilla!
Layer your chicken, salsa, veggies, black beans, and taco seasoning in your slow cooker pot. Sweetcorn, chopped onion, Rotel, and cilantro are ideal for this dish.
Shred your chicken when tender, and stir well to combine everything. Serve with brown rice and your favorite toppings.
Source: recipesfromapantry.com
Chicken enchilada casserole is hearty and filling. Mexican flavors come from everyday ingredients.
Start by cooking your chicken breast with enchilada sauce to make this dish. Pull it apart with two forks and mix it with the other ingredients when it's cooked.
Your "enchiladas" are made with black beans, chili flakes, shredded cheese, strips of tortilla, and black olives. Add more cheese and olives, and cook until the cheese has melted.
Source: twopinkpeonies.com
Chicken Tinga is loaded with bold Mexican flavors. However, you can easily create a spice level to suit kids.
Add sliced onion, chicken thighs, and garlic to your pot. For a mild spice, blend two chipotle chilis with a can of tomatoes. Add this with a spoonful of chili sauce.
Add cumin, oregano, bay leaf, and chicken stock. Cook until your chicken is tender enough to shred.
Source: slowcookermeals.com
Chicken breast is slow-cooked until it's tender. Mix it with a creamy cheese sauce for a unique twist on tacos!
Use taco seasoning to flavor your chicken. Add it to your pot with canned tomatoes, cream cheese, and green chilis. Cook until the chicken is tender enough to shred.
Add salsa con queso and mix until well combined. Serve your chicken queso tacos with tortillas and your favorite toppings.
Source: strengthandsunshine.com
This taco chicken is quick, easy, and delicious!
Add chicken breasts, taco sauce, and canned tomatoes to your pot. Green chilis, onions, oregano, chili powder, and cumin give your chicken tacos more flavor.
When the chicken is tender, shred it and serve it in taco shells or on soft tortillas. Add your favorite toppings as well!
If you loved these chicken recipes, these yummy slow cooker chicken recipes are sure to impress!
41 Best Mexican Chicken Recipes for Easy Dinner
The vibrant colors and bold flavors of these Mexican chicken recipes will have your family asking for seconds!
Ingredients
1. Baja Chicken Tacos
2. Chicken, Cheese, and Corn Stuffed Poblano Peppers
3. Mexican Chicken Pozole Verde
4. Chicken Tinga Tostadas
5. Mexican Chicken Flatbread with Elote Sauce
6. Chicken Fajita Pasta
7. Chipotle Chicken Spinach Salad
8. Chicken Fajita Salad
9. Mexican Roasted Chicken and Vegetables
10. Chicken Taco Salad
11. Skillet Chicken Fajitas
12. Spicy Chicken Lime Soup
13. Mexican Chicken Soup
14. Grilled Tequila Lime Chicken with Avocado Peach Salsa
15. Mexican Chicken, Sweet Potato, and Black Bean Skillet
16. Chicken Taco Bake
17. Grilled Tajin Chicken
18. Grilled Chicken Salad with Creamy Honey Lime Dressing
19. Spicy Mexican Chicken Salad
20. Mexican Meal Prep Bowls with Cauliflower Rice
21. 5-Ingredient Crock Pot Mexican Shredded Chicken
22. Cheesy Shredded Chicken Enchiladas
23. Crock Pot Salsa Verde Chicken
24. Air Fryer Chicken Taquitos
25. Chicken and Veggie Baked Tostadas
26. Crock Pot Mexican Chicken
27. Chicken Taco Casserole
28. One Pan Mexican Chicken and Rice
29. Burrito Bowls with Chicken
30. Slow Cooker Mexican Chicken and Rice Soup
31. Mexican Chicken and Rice Wraps
32. One Pan Mexican Chicken and Rice Bake
33. Crockpot Mexican Chicken and Rice
34. Veggie-Loaded Slow Cooker Mexican Shredded Chicken
35. Slow Cooker Chicken Tortilla Soup
36. Slow Cooker Mexican Chicken
37. Slow Cooker Chicken Burrito Bowls
38. Slow Cooker Chicken Enchiladas Casserole
39. Crockpot Chicken Tinga
40. Slow Cooker Chicken Queso Tacos
41. Slow Cooker Taco Chicken
Instructions
Scroll up to get a bunch of easy, yummy, and delicious chicken recipes. Don't be afraid to get creative with the ingredients, you might discover a flavor you didn't know you liked.
Get your shopping list going and make sure you've got all the ingredients.
Get cooking and make your next Mexican Chicken Recipe!
Notes
Which one of these recipes was your favorite? Let me know in the comment section or on Pinterest!