With just 4g of net carbs per serving, these sweet chili chicken rolls are full of flavors. They are a great option for meal prepping or having a quick lunch.
You could also serve these at parties and make even your non-keto friends happy.
Chicken Rolls: Perfect Food for Meal Prepping
When you're on a ketogenic diet, meal prepping is key to staying on top of the game. That's because we all live busy lives.
With work, school, or taking care of the kids, the last thing you want to think about at the end of the day is what to make for dinner.
Because gone are the days when you could just order takeout if you felt stuck. That's because many takeout options aren't keto. Even the options that appear keto may be drenched in non-keto sauces and gravies.
And if you did find an option that is truly keto, eating takeout all of the time costs a lot of money. The money you could be using for other things like taking a much-needed vacation.
That's where these keto sweet chili chicken rolls come in handy. They're tender and juicy and are extremely flavourful.
The low carb sweet chili sauce makes them sweet with a hint of spiciness. So, they have some heat, but not too much.
Best of all, they contain only 4 grams of net carbs. So, they fit perfectly with your macros.
They are also high in fat, so they are sure to keep you in ketosis.
As an added bonus, they are high in protein too. So, they work great as a post-workout meal, and for growing kids.
And we can't forget about the veggies either. The veggies are rolled in the chicken pieces.
So, they're nicely caramelized and not burnt. The juices from the chicken intensify the sweet flavors of the veggies.
One batch yields 6 servings. So, you have tons of leftovers for lunch, or even supper.
How Long Will These Chicken Rolls Last?
Now, they should last about 4 to 5 days in the fridge, but I tend to not keep them longer than 3 days.
To make sure they stay fresh, make sure you store them in airtight containers. I like to use glass storage containers like these because they keep food fresher.
But, if you prefer plastic containers, make sure you choose BPA-free storage containers like these, so that plastic doesn't leach in your food.
These keto sweet chili chicken rolls are a meal on their own. But if you like, you can serve them with a simple Garden salad, some roasted Brussels sprouts, or some cauliflower mash.
Low Carb Vegetables to Use
For these rolls, you stuff your chicken with onions, green beans, and red bell pepper. These veggies are not only low in carbs but pack tons of nutrition.
Onions
We all know that onions add tons of flavor. But did you know that they are quite nutritious as well?
For instance, one cup of raw onions provides a whopping 20% of your vitamin C needs. It is also a good source of vitamin B6 and even manganese, which you need for healthy bones.
Onions have health benefits too. They help reduce your blood pressure and cholesterol levels.
They also contain certain compounds that may protect you from certain cancers. So, eat up those onions!
Green Beans
Green beans are good for you too. For instance, one cup of boiled green beans provides 16% of your daily fiber needs. Fiber not only helps with your digestion, but it also helps you feel full longer, helping you lose weight.
Green beans are also excellent sources of vitamin K and vitamin C. And they are good sources of manganese, which you need for healthy bones.
Red Bell Pepper
Red bell peppers are pretty healthy too. Just one medium red bell pepper provides 75% of your daily vitamin A needs and 253% of your daily vitamin C needs.
So, they make the perfect snack to munch on if you're fighting a cold.
Other Low Carb Veggie Suggestions
Other low carb veggies that you can use include asparagus, celery sticks, snap peas, and if you like the heat, jalapeno peppers.
How Do You Flatten and Roll Chicken Breasts?
To ensure that your veggies are nicely wrapped and that your chicken and veggies are done at the same time, you need to flatten your chicken breasts.
For this, you will need a meat hammer. Here is a pretty budget-friendly meat hammer that I recommend.
Now, the last thing you want is for chicken juices to be flying around your kitchen counter. So, when you are pounding your chicken, be sure to cover your chicken in some plastic wrap.
And to roll your chicken breasts, you'll need to use some wooden toothpicks to hold everything together.
What Makes Chicken Rolls Ketogenic?
They are ketogenic because they're mostly made out of chicken breasts. Chicken breasts not only contain zero net carbs but are packed with protein as well.
And for the marinade, you want to avoid a regular sweet chili sauce because it is packed with carbs. Instead, use a low carb sweet chilli sauce, like Low Carb Revolution Sweet and Spicy Chili Sauce, which has 0 grams of net carbs. You can find it here.
Lastly, to keep these rolls low carb, you use low carb veggies. You want to avoid stuffing your chicken with high carb veggies like carrots.
You Might Also Like
Watch Full Instructions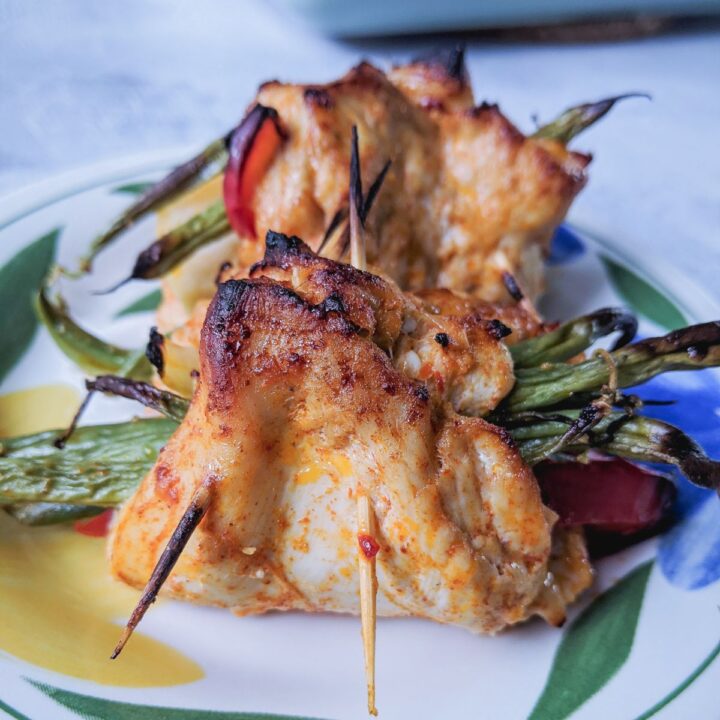 Keto Sweet Chilli Chicken Rolls
Additional Time:
10 minutes
Make these ketogenic sweet chili chicken rolls and use them for low carb meal prep and lunch. These keto sweet chili chicken rolls are delicious, so even the kids will love them! They're also high protein.
Ingredients
1.5 pounds chicken breast (700g), flattened
4 tbsp olive oil
3 cloves of garlic, minced
2 tsp paprika
2 tbsp sweet chili sauce, low carb
1/2 red bell pepper, cut into thin strips
1 1/2 cup green beans
1/3 cup white onion, cut into thin strips
Instructions
Flatten chicken breasts with a meat hammer. Cut each breast into smaller pieces (3x4 inch (7x10 cm)). Mix olive oil with minced garlic, paprika, and sweet chili sauce.
Marinate chicken and store in a ziplock bag or a covered bowl for 30 minutes. Preheat the oven to 430F (220C).
Cut red bell pepper and white onions into thin strips. Take a few pieces of green beans, red bell pepper, and white onion. Wrap them up with chicken and secure with toothpicks.
Bake for 25 minutes in the oven.
Nutrition Information:
Yield:

4 chicken rolls
Serving Size:

1 chicken roll
Amount Per Serving:
Calories:

357
Total Fat:

18g
Saturated Fat:

2.9g
Trans Fat:

0g
Unsaturated Fat:

13.3g
Cholesterol:

128mg
Sodium:

84mg
Carbohydrates:

6g
Net Carbohydrates:

4g
Fiber:

2g
Sugar:

2.6g
Protein:

41g
Nutritional values were obtained with automatic software using the amounts of products used. To get the most accurate representation of the nutritional values, you should calculate them with the actual ingredients used in your recipe. You are solely responsible for the nutritional information obtained to be accurate.