One way to stay on keto diet and keep your carb count low is to meal prep. I'm sharing multiple keto meal prep ideas that will help you plan your meals better.
When it comes to staying on a keto diet, it can get difficult. If you have a full-time job and a bunch of responsibilities at home, thinking about what you're eating might be the least of your concerns.
That's why we often slip and cannot succeed in losing weight. Also, that's where meal prepping comes in handy.
Things you might need for meal prepping:
Here are some of the ketogenic meal prep recipe ideas you should try!
1. Buffalo Chicken Ranch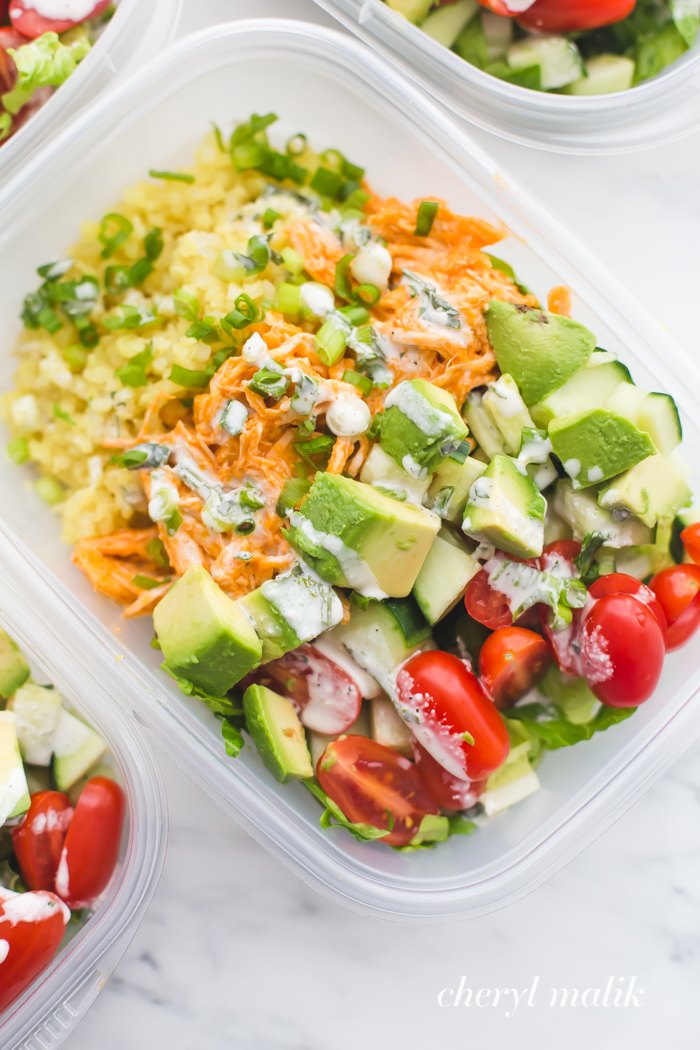 Credit: 40aprons.com
Love chicken and buffalo sauce? You're going to enjoy this meal prep idea then as well.
Trust me, shredded buffalo chicken over cauliflower rice might be exactly what you need to fill you up. Another great thing about the recipe that it doesn't require you to spend a lot of time actively cooking.
Also, the very key here to the amazing taste is cauliflower rice. You'll have to fry it with a little bit of turmeric to give it color and that extra flavor.
Never made cauliflower rice before? It's quite easy to make as long as you have a good quality food processor and a vegetable steamer.
You know me, I like to keep everything low budget. So, here is a low budget food processor that works like a beast and a veggie steaming basket.
Just put it in a pot and steam that cauliflower!
Per Serving:
Calories: 287
Fats: 21g
Net Carbs: 5g
Protein: 13g
2. Cilantro Lime Chicken With Cauliflower Rice
Credit: fitfoodiefinds.com
If you're feeling like enjoying citrus and fresh herbal flavors, you have to try this recipe. This chicken, when served with cauliflower rice, taste absolutely delicious.
On top of that, it's very nutritious and high in protein! Adding some cherry tomatoes and avocado beautifully fills in the taste pallet!
Thus, give it a try. If you're tired of making your cauliflower rice, you can always buy it! Here is the cauliflower rice I recommend.
Per Serving:
Calories: 378
Fats: 21g
Net Carbs: 9g
Protein: 32g
Watch: 5 Easy Keto Recipes
If you are more of a visual person, these keto meal ideas might be just what you like. Keep scrolling if you want to check more keto meal prep ideas!
3. Greek Chicken Meal Prep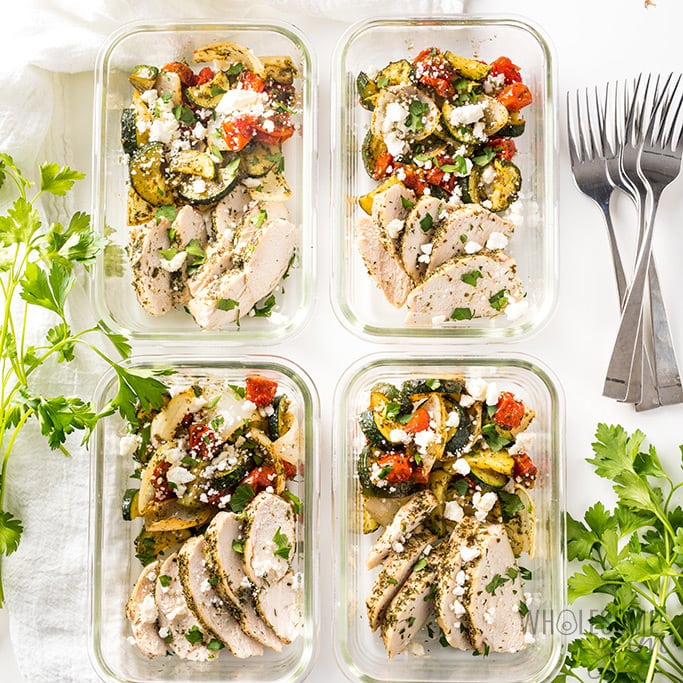 Credit: wholesomeyum.com
If you don't go to Greece, it doesn't mean Greece cannot come to you! This meal prep recipe will do just that.
The secret here, like with most ketogenic recipes, is to use low carb veggies. Zucchini, tomatoes, and onions work amazingly with these meals.
Obviously, spices here play a major role, so don't be afraid to mix up dill, parsley, oregano, and garlic powder to create a powerful combination of tastes.
Per Serving:
Calories: 287
Fats: 15g
Net Carbs: 6g
Protein: 28g
4. Sesame Salmon with Baby Bok Choy and Mushrooms
Credit: mealpreponfleek.com
When on a ketogenic diet, we eat so much meat that it can get so boring. That's where you can get more creative with vegetarian low carb dishes or fish recipes.
This sesame salmon meal prep idea is just for the times when you're bored. If you're a fan of mushrooms, especially the large Portobello ones, you're going to love the recipe.
So, buy some salmon next time you're in the market. Fresh fish is always the best!
Here is another keto salmon recipe for fish lovers!
Per Serving (Calculated):
Calories: 283
Fats: 15.5g
Net Carbs: 2.5g
Protein: 32g
5. Sheet Pan Fajitas with Steak
Credit: 40aprons.com
Chicken fajitas are the absolute best but that's where things get interesting. These fajitas with steak are just as amazing.
On the other hand, the taste pallet is slightly different, which makes it even more interesting. It's a Mexican one-pan dinner you should definitely go for if you're busy but still want to eat something delicious.
It truly takes just under 20 minutes to get the meal prep done. So, definitely recommend the dish!
Per Serving:
Calories: 568
Fats: 42g
Net Carbs: 10g
Protein: 29g
6. One-Pan Italian Sausage Meal-Prep Bowls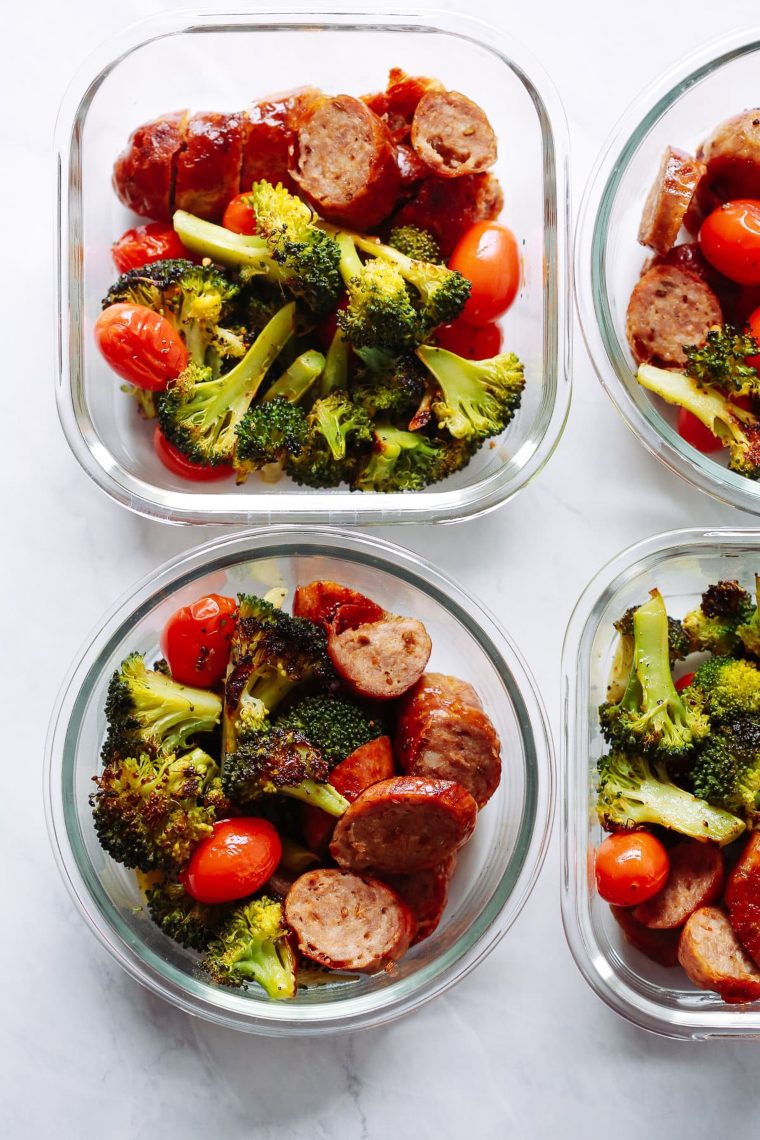 Credit: primaverakitchen.com
I'm always down to eat something that's very easy and quick to make and yet is full of nutritional value. That's where sausage meal prep recipes are just the very best.
Why? Well, you can get good quality sausage in a supermarket or at a local butcher's place.
Then, all you have to do is cook it up with some low carb veggies and you're good for the whole day.
To keep the meal flavorful, make sure you get yellow mustard that's not too high in sugar contents.
Here is the mustard I recommend, this mustard is very low in carbs and has little to no sugar!
Per Serving:
Calories: 319
Fats: 28g
Net Carbs: 6g
Protein: 12g
7. Crustless Quiche Recipe With Broccoli & Cheddar Cheese
Credit: savorytooth.com
I had to include at least one quiche recipe in here. If you're generally a fan of keto casseroles and love to cook them at home, you can always use them for meal prep too.
Since this quiche is without the crust, it's low carb. It's a great breakfast meal if you like to start your day strong.
However, it's equally as delicious at lunchtime. To make this quiche you'll need evaporated milk.
It's a creamier and thicker version of the regular milk. So, give it a try. You can get cans of this milk here.
Need more ideas? Check out this keto quiche with zucchini and pepperoni.
Per Serving:
Calories: 350
Fats: 25g
Net Carbs: 6g
Protein: 24g
8. No Bread Turkey Club
Credit: madaboutfood.co
If you've always loved your sandwiches and had to say goodbye to them for good because of the bread, here's a solution. Try this lettuce wrapper sandwich.
It's perfect as a ketogenic lunch meal prep, you can make it quickly in the morning or in the evening. It's nutritious, healthy and low in carbs.
You would think that this won't taste the same as the actual sandwich, that's probably true. However, that's where picking up your favorite low carb sauce can come in handy.
Sauces and spices always give our food the actual flavor. So, you'll easily trick yourself.
If you're on the keto diet, I highly recommend buying this pack of keto-friendly sauces. The pack includes ketchup, BBQ, buffalo sauces as well as all types of dressings.
Trust me, with these you can get creative, make your food even more delicious than before and still stay within your carb limits.
Per Serving (Calculated):
Calories: 539
Fats: 42g
Net Carbs: 7g
Protein: 31g
9. Sheet Pan Shrimp Fajitas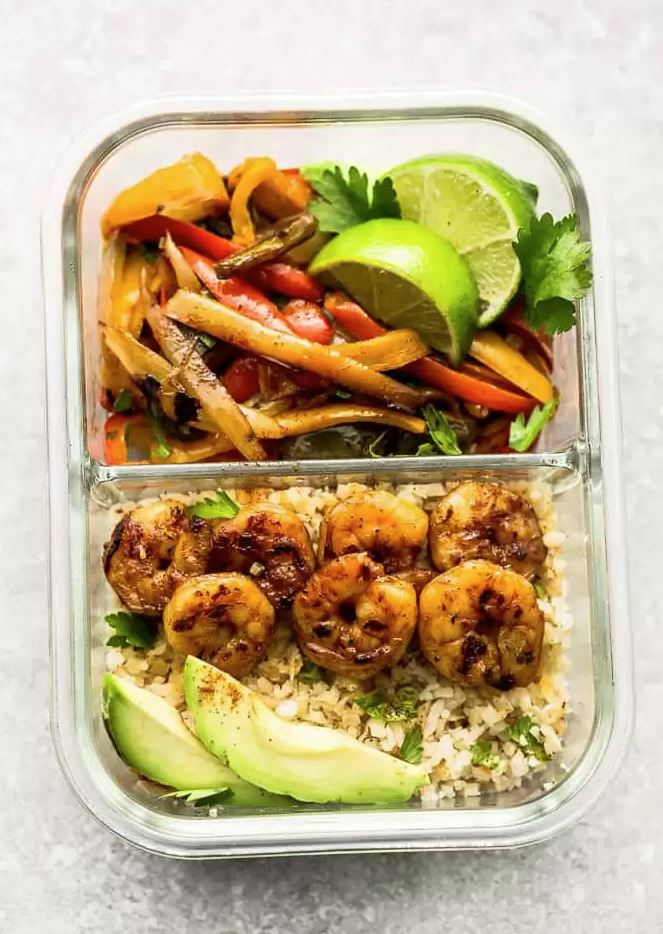 Credit: lifemadesweeter.com
I've already mentioned fajitas before and how delicious they are. They go well with chicken, steak and even shrimp.
Yes, once you get tired of meats, you can always make fajitas with seafood. That's how you'll continue eating your favorite foods and not get bored.
If you want to serve the dish with tortillas, make sure the ones you get are low carb. These keto-friendly tortillas are just for that.
Not interested in waiting for tortillas to come, no problem! You can serve the dish with cauliflower rice and it'll taste just as amazing.
Also, you can always just make some keto salad, pop it in the box and bring it to work with the rest of the meal.
Per Serving:
Calories: 318
Fats: 13g
Net Carbs: 8g
Protein: 36g
10. One-Pot Garlic Butter Chicken Thighs and Mushrooms
Credit: sweetcsdesigns.com
I'm a big fan of making one-pot meals and bringing them to work. This recipe is great a keto lunch meal.
You can easily cook it up, pop it into a box and bring it to work. Warm-up in a microwave and you're good to eat it.
If you love your chicken creamy and absolutely adore the taste of mushrooms mixed with various spices, you need to give this one a try. It's also just one of those meals that you can serve to your guests.
You can make it look fancy which will definitely impress the audience!
Per Serving:
Calories: 335
Fats: 24g
Net Carbs: 6g
Protein: 25g
11. Instant Pot Cilantro Lime Chicken
Credit: lifemadesweeter.com
I've already mentioned a cilantro lime chicken recipe above but this one is a little more special because you can use your instant pot to make it. In case you don't have one, here is an affordable instant pot I recommend getting.
Have the chicken with green beans and enjoy the flavors!
Per Serving:
Calories: 358
Fats: 30g
Net Carbs: 2g
Protein: 18g
12. Philly Cheesesteak Meal Prep
Credit: mealpreponfleek.com
Cheesesteaks are actually high in carbs most of the time. Especially the ones that you can by in the shop.
That's where making your own cheesesteaks come in handy. When you know precisely what's going into the dish, you can control your macros.
Make this little meal prep for work and enjoy a cheesesteak at work. Trust me, it's as delicious as the one you can buy in-store if not more!
Per Serving:
Calories: 310
Fats: 14g
Net Carbs: 8g
Protein: 35g
13. Super Easy and Delicious Keto Pulled Pork
Credit: thebeauticle.com
This slow cooker recipe is the absolute favorite of mine. If you like pulled pork, it makes sense to get an instant pot or a slow cooker.
Don't own a slow cooker, here is a low budget yet very sturdy crockpot you can use. What I love about pulled pork is that requires little to no preparation.
You can enrich it with flavors if you use the right combination of herbs and spices too. Also, wrap it up in lettuce leaves and pack it up for work!
Loving the crockpot recipes? Try these keto crockpot recipes.
Per Serving (Calculated):
Calories: 628
Fats: 41g
Net Carbs: 3g
Protein: 58g
14. Keto Breakfast Sandwich
Credit: heyketomama.com
If you've always eaten sandwiches for either lunch of breakfast, it might be a hard habit to lose. Especially since they're so easy to make, so easy to pack up and just bring to work.
This breakfast sandwich is amazing because it tastes just like a sandwich but has a much smaller amount of carbs. If anything, it's a fat bomb and is perfect for the ketogenic diet.
Make sure the sausage patties you use are of good quality. Also, you can always just make a bunch of them yourself.
Per Serving:
Calories: 603
Fats: 54g
Net Carbs: 7g
Protein: 22g
15. "Just Like the Real Thing" Lasagna
Credit: peaceloveandlowcarb.com
Lasagnas are amazing as freezer meals. If you are on a low carb diet, you can cook a ''fake'' lasagne that isn't high in carbs and freeze it up for the future.
That'll ensure that the next time you need a quick dinner meal, you can cook it very quickly. Also, you can easily meal prep it and bring it to work.
It's one of those dishes that you can easily heat up and make the rest of the office jealous. It does taste amazing, even better than the real lasagna (but that's just my opinion).
Per Serving:
Calories: 486
Fats: 34g
Net Carbs: 9.5g
Protein: 57g
16. Mom's Low Carb Meatballs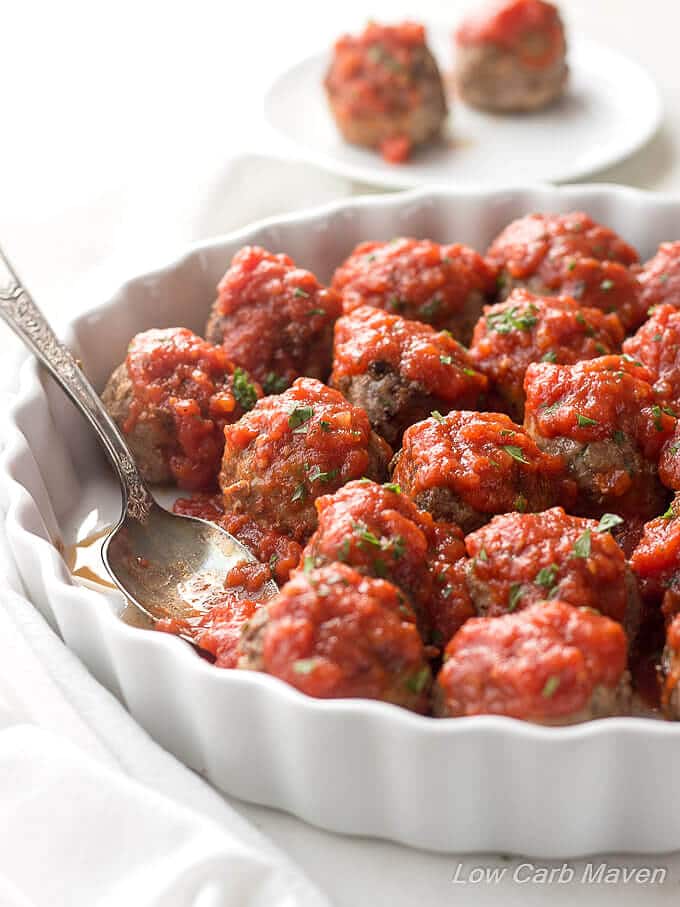 Credit: lowcarbmaven.com
These meatballs are very high in fats and protein but contain little to no carbs. It's basically just one of those low carb meals you can trust will keep you out of trouble.
The recipe does contain ground beef which has a high carbon footprint. So, have that in mind in case you start eating these meatballs way too often.
Otherwise, meatballs are amazing for meal prep dishes and you can have all types of sides dishes with them.
These Italian style meatballs taste amazing. If you do feel like you need to have some noodles with it, just make zucchini noodles instead.
A good spiralizer like this one will make it an easy and quick task.
Per Serving:
Calories: 387
Fats: 22g
Net Carbs: 1g
Protein: 19g
17. Hawaiian Pizza Chicken Meal Prep
Credit: mealpreponfleek.com
I know there are people who think that pineapple doesn't belong on pizza. Well, I'm not one of them.
In fact, Hawaiian pizza is my favorite and finding this recipe was the best thing that ever happened to me. If you love your pizzas and want to satisfy your cravings while still eating a low carb diet, try this recipe.
These chicken breasts are cheese, full of Italian flavors, and even have pineapple on them! Serve the breasts with steamed broccoli.
If you fancy buying an actual vegetable steamer, in case steamer baskets aren't your thing, this low budget steamer will do the job every time.
Per Serving:
Calories: 293
Fats: 11g
Net Carbs: 9g
Protein: 40g
18. Creamy Garlic Chicken
Credit: deliciouslittlebites.com
If rich creamy garlic sauce sounds like heaven to you, you'll love this recipe. The chicken here is rich in flavors all thanks to garlic.
While this recipe is meal prep friendly, you might need to lose a little bit of that sauce when packing it up. Otherwise, it's a delicious low carb dish you have to try at least once in your life.
Per Serving:
Calories: 398
Fats: 30g
Net Carbs: 3g
Protein: 26g
19. Instant Pot General Tso's Chicken
Credit: lifemadesweeter.com
If you own an instant pot, here's a great occasion to make something you can bring to work for lunch. This homemade dish has the flavors of the regular Tso's chicken yet it's a healthier keto version of it.
So, next time you're craving for some Chinese takeaway, get your instant pot out and start cooking. You'll satisfy your cravings and won't cheat the diet.
Also, it doesn't take that long to make. 30 minutes is about as much as you need. A lot of the time you won't even need to think about the dish because the instant pot will do the job.
Get coconut aminos from here and make sure you use a good sweetener like this one here. Also, you'll need a five-spice powder, this organic mix is exactly what you should be looking for.
Check out more keto instant pot recipes here.
Per Serving:
Calories: 276
Fats: 13g
Net Carbs: 5g
Protein: 29g
20. Italian Chicken Skewers
Credit: sweetandsavorymeals.com
I've never been able to resist chicken skewers. They are absolutely delicious, especially if cooked outside on a grill.
These Italian chicken skewers come in delicious with the flavors of Italian herbs and lemon. You can serve them either with cauliflower rice or zucchini noodles.
To make zucchini noodles you'll need a veggies spiralizer. Here is a low budget one that's sturdy and does the job.
The dish is great for meal prepping and packing up. However, you could also just serve it on a hot summer day with a fresh green salad.
Everyone will thank you!
Per Serving:
Calories:276
Fats: 14g
Net Carbs: 2g
Protein: 33g
21. Buffalo Chicken Meatballs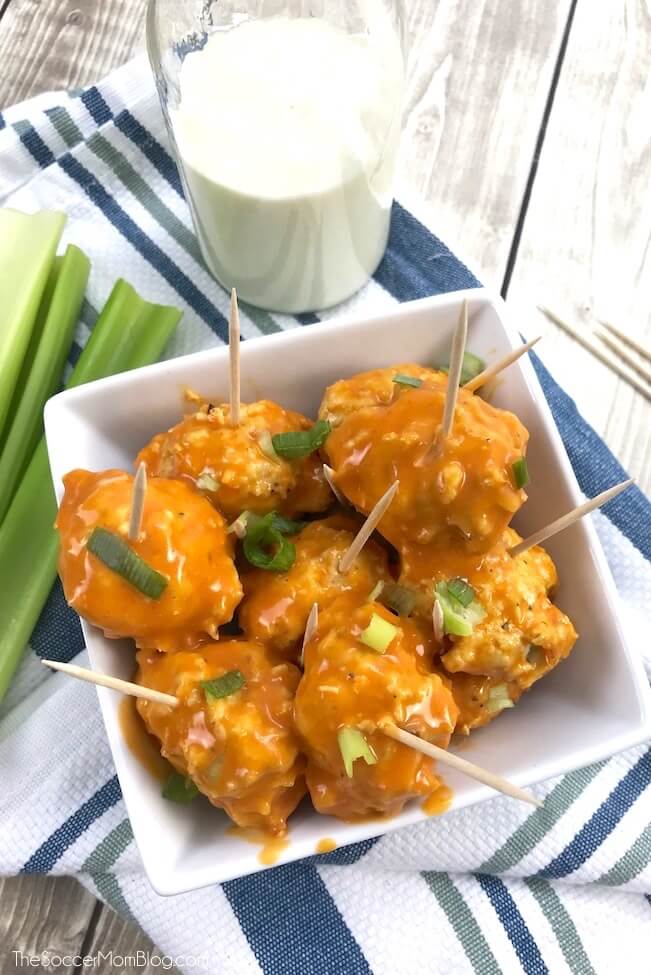 Credit: thesoccermomblog.com
While this chicken meatballs go well as appetizers. You can totally pack up a bunch of these and bring them to work for lunch.
I'm loving the fact that they're very low in carbs yet full of fats and protein. They do have some crispiness to them due to almond flour.
Also, they're just absolutely delicious and seem like a cheat dish if anything. Here is the almond flour I recommend to pile up on if you are committing to low carb diet.
This flour will change your life and allow you to cook low carb versions of your favorite meals.
Here are more ketogenic almond flour recipes that you should definitely try.
Per Serving:
Calories: 104
Fats: 8g
Net Carbs: 1g
Protein: 5g
Conclusion
Enjoyed the recipes? Feel free to share this article with your friends on Facebook and Pinterest!