Sometimes you just need a yummy comforting meal in the evening. You can have your comfort foods without breaking your ketosis with these delicious recipes.
There's something about comfort foods that is, well, … so comforting.
Whether it's a cold dark winter's night and you just need some good old-fashioned cooking that reminds you of those carefree childhood days. When you didn't have bills to pay or have to wear your "grown-up" hat.
Whether you just broke up with someone, and just want to cry your heart out and turn to food for some solace.
Or perhaps life is just easy-peasy, but you come home after a long day at work, and just want to veg out … or pig out.
It's just nice to have some comfort food once in a while. But, that can be so hard to do when the very definition of comfort food means carbs, carbs, carbs!
So, that's where having a couple of keto comfort food recipes comes in handy!
Today I'm sharing 20 keto comfort food recipes that are oh, so comforting. But, won't tank your ketogenic diet!
1. Zucchini Lasagna
Credit: healthyrecipesblogs.com
Italian cuisine offers plenty of comfort foods that most of us genuinely love. However, Italian dishes are most often very high in carbs since the whole cuisine revolves around all types of pasta.
That's where hacking those meals comes in handy. This low carb zucchini lasagna is a good example of that.
Instead of pasta sheets, we're using slices of zucchini. The lasagna is just as flavorful as the original one but it doesn't have the carbs!
In fact, I prefer this version to the original one. That's mostly because zucchinis give the dish a little bit of lightness.
Do remember that this recipe requires minced beef. Beef has a high carbon footprint, thus I wouldn't recommend eating it that often for environmental purposes.
Per Serving:
Calories: 368
Fats: 25g
Net Carbs: 7g
Protein: 26g
2. Cauliflower "Mac" And Cheese
Credit: savorytooth.com
Macaroni and cheese is one of those traditional American dishes that we all know of. It's the ultimate, easy-to-make comfort food for a cold evening.
This cauliflower ''mac'' and cheese comes with no pasta but cauliflower instead. If you love your cheese sauces then this meal is just for you.
A combination of heavy cream, cheddar cheese, and cream cheese creates a heavenly taste you simply cannot resist.
Make sure you get Dijon mustard and cayenne pepper to enrich the sauce with flavors.
Per Serving:
Calories: 350
Fats: 31g
Net Carbs: 4g
Protein: 12g
3. Pizza Margherita
Credit: diethood.com
You had me at pizza. Pizza is one of my favorite comfort foods.
What's there not to love about pizza? The ooey, gooey cheese, the overflowing fresh tomato sauce, the crisp crust, the delicious toppings. My mouth waters just thinking about pizza.
However, a slice of your neighborhood pizza can pack tons of carbs. Just one slice of regular pizza can pack a whopping 37 grams net carbs. Almost twice your typical net carbs for the day.
This is where having a keto-friendly pizza recipe comes in handy.
Instead of regular flour, we're using almond flour, which is naturally low in carbs. So, you get the crunch you expect of a pizza crust, but with way fewer carbs.
What's more, a combination of mozzarella cheese and cream cheese create an extra layer of cheesiness that your taste buds will love. Sprinkled with fresh basil leaves, this Neapolitan-inspired pizza is a feast for your eyes!
Per Serving:
Calories: 237
Fats: 17g
Net Carbs: 4g
Protein: 15g
4. Chicken Parmesan Casserole
Credit: heyketomama.com
Chicken parmesan casserole is another one of those traditional American comfort dishes. Throw together the sauce, chicken, and pasta, add some cheese, put it in the oven, and voila … dinner is served.
This chicken parmesan casserole is even better than your traditional chicken parmesan casserole because we don't use any pasta. Crushed pork rinds give this dish that extra crunch on top, just like the extra-crispy top layer of a traditional dish!
Plus, the combination of parmesan and mozzarella cheese will keep you coming back for more. And, if you like a bit of heat, the red pepper flakes add a bit of a kick to the dish.
The chicken comes smothered in marinara sauce, making the chicken extra tomatoey. Just make sure you use the no-sugar-added marinara sauce as the regular marinara sauce is often loaded with sugars!
You can get good quality pork rinds here. Check more keto casserole recipes here.
Per Serving:
Calories: 438
Fats: 25.6g
Net Carbs: 3.4g
Protein: 43.8g
5. Chicken Quesadilla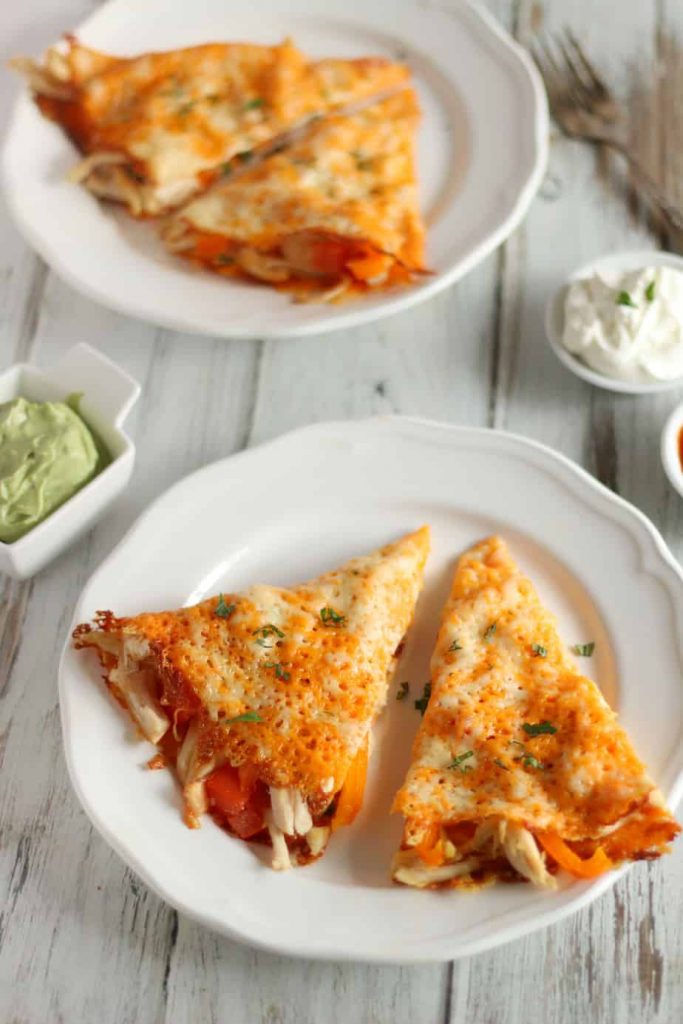 Credit: officiallyglutenfree.com
Do you crave Mexican comfort food? Chicken quesadillas can hit the spot when you are craving Mexican food. Yet, one serving could set you back by more than 50 grams net carbs!
Instead of tortillas, we're using mozzarella and cheddar cheese baked in the oven to make the "taco" shell. These taco shells are so crisp and cheesy, that I actually prefer these shells to the original ones.
Since cheese tends to stick to wax paper, you will want to bake these cheese tacos on parchment paper. Get it here and don't worry about running out of it!
Bell pepper, tomato, and green onions complement the chicken, making this dish colorful and light. If you want to make it a meatless Monday, simply leave out the chicken and top with avocado.
Per Serving:
Calories: 599
Fats: 40.5g
Net Carbs: 5.4g
Protein: 52.7g
6. Fried Chicken Tenders
Credit: meganseelinger.com
Fried chicken is classic Southern comfort food. However, the chicken is typically dredged in flour and breadcrumbs, making this a no-no on a ketogenic diet…until now!
Instead of wheat flour or breadcrumbs, we're using almond flour and pork panko to dredge the chicken tenders. Before we do this, we're also marinating the chicken tenders in dill pickle juice overnight to make them nice and juicy.
These chicken tenders are also kid-friendly. At 26.8g of protein per serving, they are a keto-friendly way to give your kids the protein they need to grow.
Per Serving:
Calories: 193.6
Fats: 9g
Net Carbs: 1.1g
Protein: 26.8g
7. Butter Chicken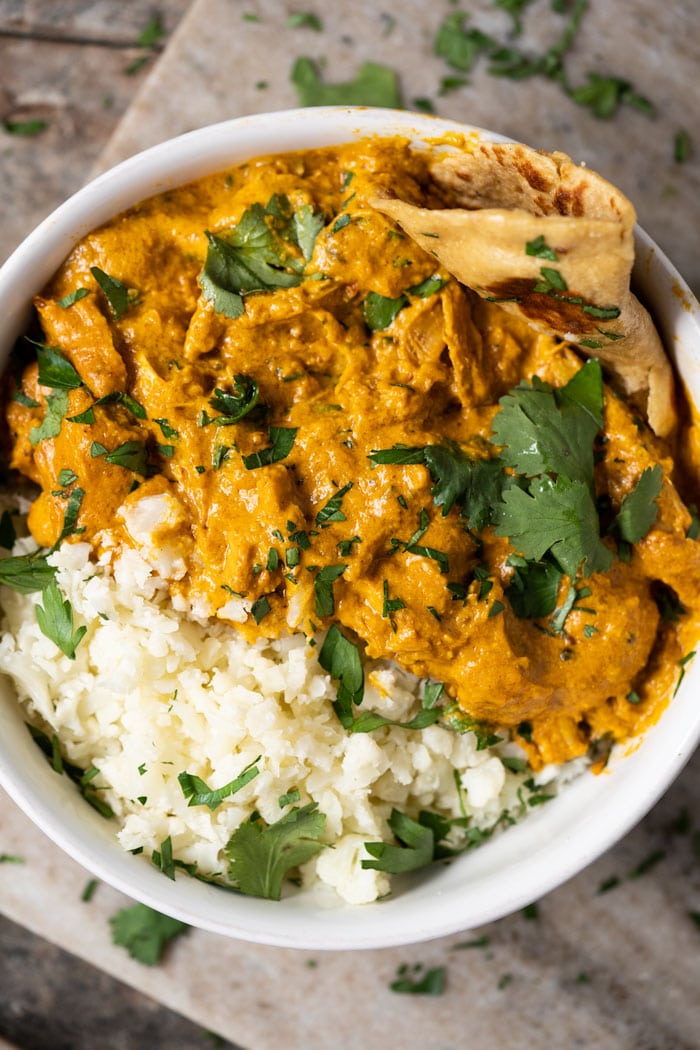 Credit: gnom-gnom.com
If you are craving Indian comfort food, butter chicken is the way to go as it is naturally low in carbs. Some Indian restaurants add sugar to their butter chicken so you need to ask questions when ordering in.
If you like your spices, this meal is perfect for you. Cumin, turmeric, and garam masala create an aroma that will make your stomach growl. It's also great for meal prepping and bringing to work for a ketogenic lunch.
Full-fat Greek yogurt and ghee adds body and depth to the butter sauce while adding the fats you need on a ketogenic diet. Diced tomatoes and jalapeno pepper give our butter sauce acidity and spice, perfectly balancing out the sauce.
Don't forget to mop up that heavenly sauce! You can use these keto cauliflower thins or keto naan to mop it all up.
If you are an ultimate fan of Indian food, getting a good quality wok stir fry pan is a must. Here is a good quality one.
Per Serving:
Calories: 367
Fats: 22g
Net Carbs: 6g
Protein: 36g
8. 2-Ingredient Keto Pasta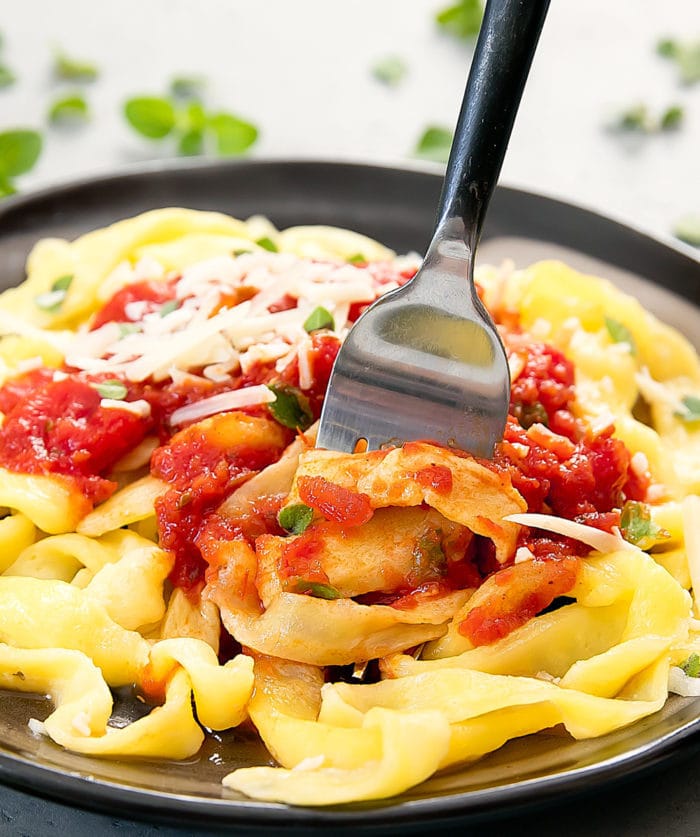 Credit: kirbiecravings.com
Pasta is one of those comfort foods that you can serve with just about anything. Drenched in butter, served with meatballs, topped with cheese … the possibilities are endless.
Yet, one cup of pasta contains more than 40 grams net carbs! This simple 2-Ingredient Keto Pasta will satisfy your pasta cravings without all the carbs.
We use mozzarella cheese and egg yolk to make the "pasta". What you get at the end are noodles that look like the real thing and taste like cheesy noodles.
Served with no-sugar-added marina sauce and a side Garden salad, this is a complete meal perfect for the days you don't meat. And the best thing of all is that it only contains 3g net carbs!
Per Serving:
Calories: 358
Fats: 22g
Net Carbs: 3g
Protein: 33g
9. Paleo Turkey Burger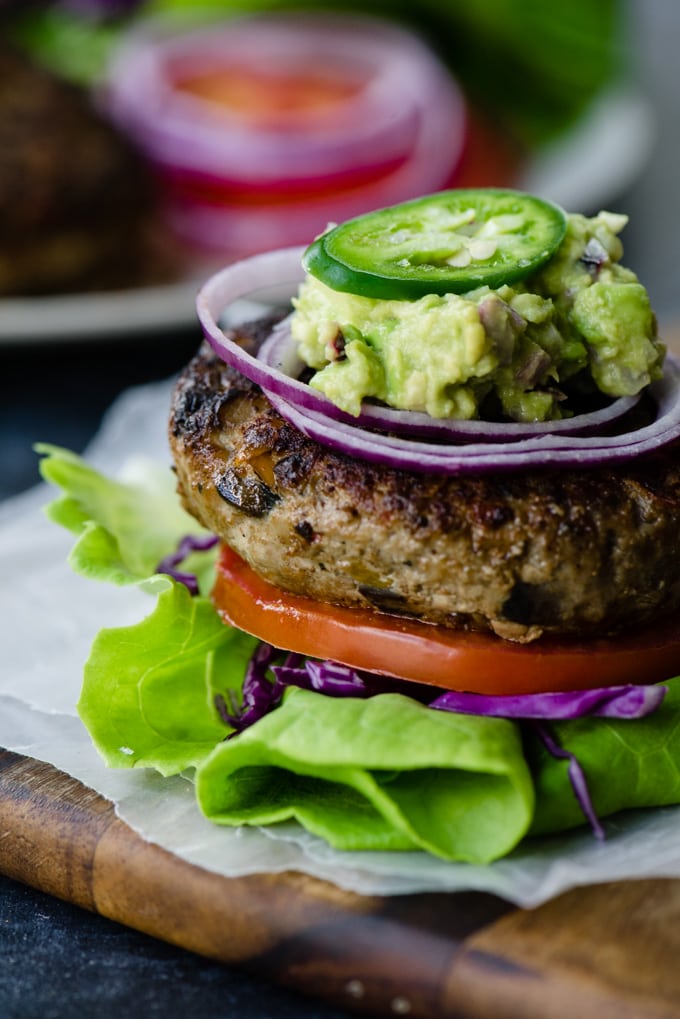 Credit: oursaltykitchen.com
There is probably nothing more American than lighting up the grill and making some burgers. Burgers are so comforting especially when topped with your favorite fixings.
If you don't have an outside grill, the indoor grill will do just as well! Here is a good quality one that you can use.
We're using dark ground turkey for extra flavor since it has more fat than white meat. This is a great alternative to beef if you are looking to reduce your carbon footprint.
We're also adding tons of sautéed veggies- mushrooms, bell peppers, and sweet onions for a burger that is bursting with freshness and flavor. This is the perfect way to get your kids to eat their veggies.
Top with a fried egg and served with lettuce, red onion, and guacamole, this is a good option for enjoying a guilt-free keto meal.
There are great for keto meal prep too!
Per Serving:
Calories: 223
Fats: 15g
Net Carbs: 4g
Protein: 17g
10. Buffalo Chicken Meatballs
Credit: thesoccermomblog.com
Along with pasta, meatballs are another classic Italian American food that brings us comfort. Yet, your typical meatball isn't keto. Wheat flour is used to bind the meat together.
In our recipe, we use almond flour instead of wheat flour to bind the meat. Blended with spices and hot sauce, these chicken meatballs are not your mom's meatballs.
They are light, spicy, moist, and best of all- low carb. Serve with your favorite keto ranch dressing. Here is the one I recommend.
Per Serving:
Calories: 104
Fats: 8g
Net Carbs: 1g
Protein: 5g
11. Bacon-Wrapped Avocado Burger Bombs
Credit: hip2keto.com
For a twist on your all-American cheeseburger, you will want to try our bacon-wrapped avocado burger bombs.
Avocado stuffed with cheese wrapped in a ball of ground beef and bacon, grilled to perfection will make these your go-to bombs when you need to get some extra fat in your diet.
Crusted on the outside, and soft and gooey on the outside, these fiery bombs will delight both keto and non-keto eaters.
Per Serving:
Calories: 618
Fats: 46g
Net Carbs: 5g
Protein: 48g
12. Keto Pizza Bread
Credit: lowcarbediem.com
Pizza bread is the perfect combination of two classic comfort foods- pizza and warm, freshly baked bread. But these foods can quickly bring you out of ketosis.
Instead of wheat flour, we're using almond flour to cut way down on the carbs. This keto pizza bread is a cheese lover's delight.
Mozzarella cheese, parmesan cheese, cream cheese, and sharp cheddar cheese add layers of flavor that are sure to delight your taste buds. Add pepperoni, and you have the perfect pull-apart keto pizza bread.
Check out more keto almond recipes here.
Per Serving:
Calories: 142
Fats: 9.8g
Net Carbs: 2g
Protein: 11.1g
13. Peanut Curry with Chicken
Credit: hismomsmenu.com
If you are craving Thai comfort food, then this will hit your sweet spot. What makes your typical Thai take-out non-keto are the sugar-laden sauces and sugars they use to balance out the spices.
If you like sweet and savory, this dish is for you.
We're using keto-friendly stevia, natural peanut butter, and coconut milk to add sweetness. Then we're using red curry paste, and fish sauce to add savory.
This creamy, mild dish goes great with shirataki noodles or cauliflower rice, so make sure to pick some up!
If you want to make cauliflower rice, you'll need a steamer and a food processor. Here is a low budget vegetable steamer that will always do the job. For a low budget, sturdy food processor, you can get this one here.
Per Serving:
Calories: 367
Fats: 31g
Net Carbs: 3g
Protein: 25g
14. Mozzarella Chicken
Credit: cafedelites.com
Parmesan chicken is another classic Italian American comfort food. However, the breading on the chicken makes this a ketogenic diet no-no.
With our recipe, there is no breading. However, this one-pan dish is so saucy and cheesy that you will not even miss the breading.
The key to this recipe is the fresh home-made tomato sauce. You will need some crushed tomatoes, so make sure you grab some! The sauce only takes 5 minutes to make – and oh so worth it!
Per Serving:
Calories: 309
Fats: 25.9g
Net Carbs: 6g
Protein: 37g
15. Low Carb Nachos
Credit: peaceloveandlowcarb.com
If you love Mexican food, chances are that you love nachos. However, on a keto-diet, nachos are another no-no.
Instead of using flour, we're using baked parmesan and cheddar cheese to make our nachos. These nachos are so cheesy and crisp, that you won't even miss regular nachos.
Topped with guacamole, tomatoes, sour cream, black olives, and jalapenos, these nachos are as good to look at, as they are to eat!
For this recipe, you will need a good pizza cutter to cut the baked cheese into pieces, so make sure you have one!
Low carb nachos are also a delicious keto snack.
Per Serving:
Calories: 324
Fats: 26g
Net Carbs: 2g
Protein: 20g
16. Keto Pizza Rolls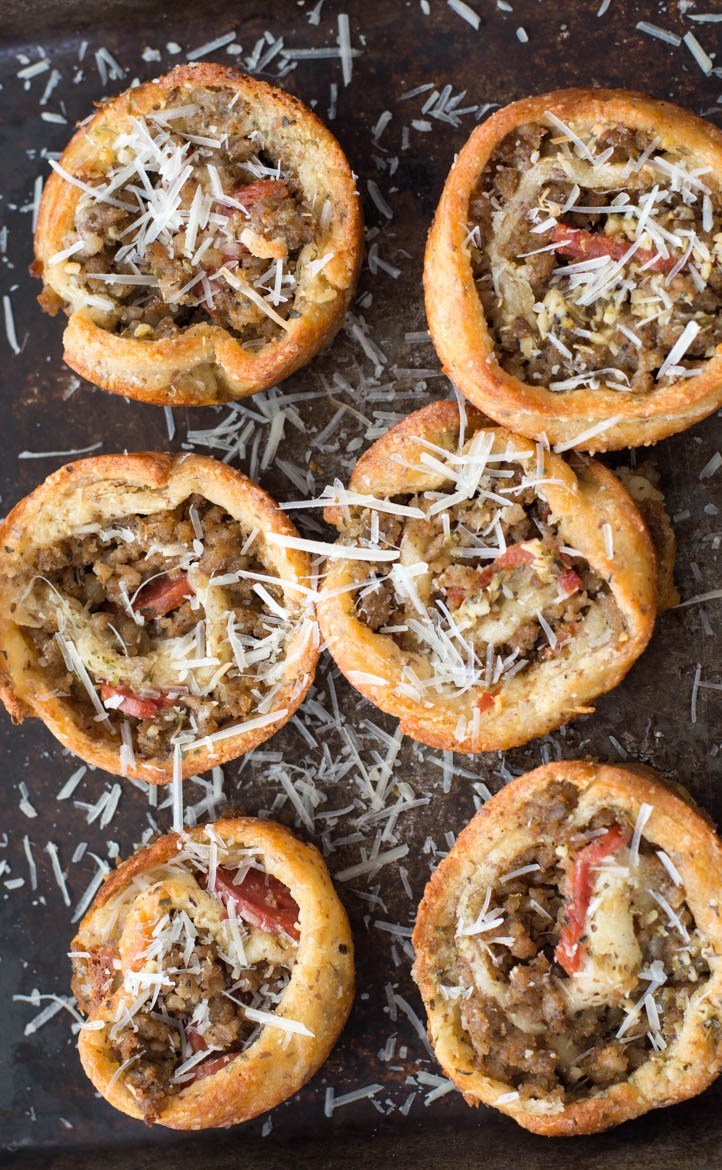 Credit: maebells.com
The perfect marriage between a pizza and a roll, pizza rolls are the perfect comfort food when you need a snack- or two. However, your typical pizza rolls don't really fit into a keto diet.
We're using almond flour to make our pizza rolls low carb. Filled with mozzarella cheese and cream cheese, you can also serve these pizza rolls as elegant appetizers.
The Italian sausage and pepperoni make this a meat lover's delight.
Per Serving:
Calories: 203
Fats: 16.5g
Net Carbs: 2.1g
Protein: 12.4g
17. Original Chicken Tenders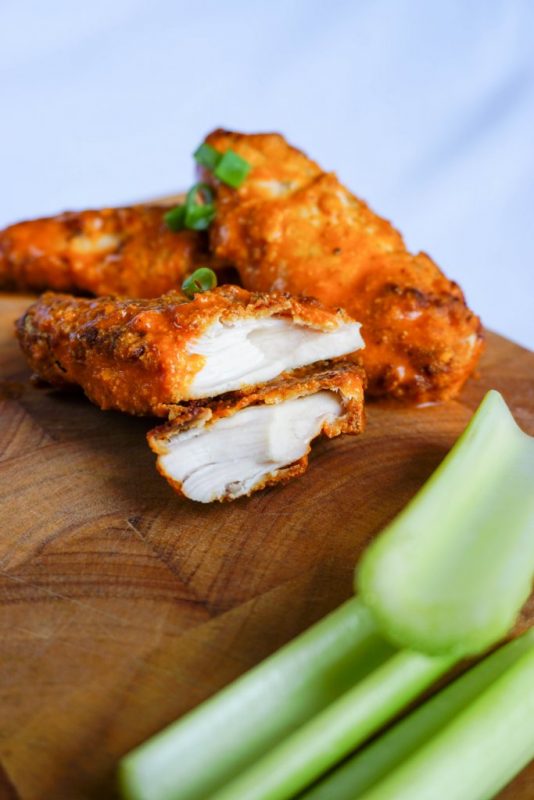 Credit: ketoconnect.net
Chicken tenders are the perfect comfort food for dipping. They are such easy finger foods for when you want to veg out and relax in front of the TV.
However, once again the breading makes these a no-go for a keto diet. A 3.0 ounce serving of tenders has about 12.0 grams net carbs.
Once again, we are using almond flour to dredge our chicken tenders to make them low carb. Once you have dredged your chicken tenders, place them in a Ziploc bag and shake, shake, shake!
These tenders go great with your favorite Buffalo sauce. Serve at your next football game, and watch them go!
Per Serving:
Calories: 285
Fats: 14.7g
Net Carbs: 3g
Protein: 29.3g
18. Chocolate Cake with Whipped Cream Icing
Credit: jenniferbanz.com
There's something about chocolate cake that is so comforting. Other cakes simply don't compare … it must be chocolate.
But what do you do when you crave a chocolate cake but are on a ketogenic diet? Make our chocolate cake with whipped cream icing!
Instead of regular flour, we're using coconut flour. Compared to regular flour, coconut flour has only 8 grams net carbs per cup and since coconut flour is so absorbent, a little goes a long way!
This cake comes out nice and moist and will satisfy the sweet tooth in you. Just make sure you make enough, as this cake is so good that it will keep you coming back for seconds.
If you fancy low carb dessert, try these low carb doughnut cookies and keto shredded coconut cookies. Both contain either coconut flour or unsweetened coconut flakes!
Per Serving:
Calories: 358
Fats: 33g
Net Carbs: 5g
Protein: 8g
19. Creamy Chocolate Pudding
Credit: buttertogetherkitchen.com
Chocolate pudding is wonderful for those occasions when you want some melt-in-your-mouth goodness.
Unfortunately, traditional chocolate pudding is loaded with sugar. A 4.0 oz. serving contains about 25 grams of net carbs.
Instead of sugar, we are using Lakanto's monk fruit sweetener to sweeten our pudding. It is an all-natural sweetener that does not cause spikes in your blood sugars.
Made with heavy cream, cocoa powder, and cream cheese, this pudding is creamy, luxurious, and smooth and hits the spot when you're craving chocolate.
Per Serving:
Calories: 407.5
Fats: 44.4g
Net Carbs: 2.75g
Protein: 4.4g
20. Fluffy Low Carb Waffles
Credit: thismomsmenu.com
There is something comforting about having the smell of waffles wafting through the air on a Saturday morning. It makes you want to kick back, relax, and put your feet up.
But did you know that 1 waffle contains almost 13 grams net carbs? That is a whole lot of carbs for just one waffle!
That's why we're using almond flour instead of regular flour to make our waffles.
What's more, we don't add any sweetener … the unsweetened almond milk and a touch of vanilla adds sweetness to our waffles. Obviously, you can always add a little bit of erythritol to make them sweeter but that's not necessary.
These waffles come out fluffy and buttery and go great with your favorite sugar-free syrup. If you love waffles, you probably appreciate pancakes too! Check out these low carb pancakes recipes to get inspiration for your next comfort meal.
Per Serving:
Calories: 291
Fats: 27g
Net Carbs: 4g
Protein: 9g
Conclusion
Hopefully, these comfort food ideas have convinced you that eating keto doesn't mean that you can't indulge in your favorite comfort foods. Just make them keto!