Nothing sets a good party apart quite like the best appetizers. The point of an appetizer is to wake up your guests' palates and stomachs, getting them ready for the night ahead.
The thing is, the right appetizer to serve is going to depend on your circumstances. How many people are coming to eat? Are you serving a large dinner? How much time do you have?
What's your budget? And, most importantly, what do you enjoy eating that you would like to share with your guests?
I'm familiar with the brainstorming process of planning a party. It can be hectic, especially if you have a big guest list and a limited budget or time.
So, I'd like to offer you sixty-one of the best appetizer recipes to help you create your perfect menu.
There's something for everyone on this list of easy appetizer recipes, no matter what you and your party guests are after!
Dive in, explore, and let the ideas flow!
What Are the Most Popular Appetizers?
There are hundreds – even thousands – of appetizers on menus worldwide. It's hard to pick which ones are the most popular from such a big range!
However, there are some popular appetizer categories that party planners and food lovers tend to rely on. Some of those include:
Dips – A dip is a fantastic way to feed a large crowd communally, especially if you're just looking to wake up their appetites. They're also easy to make ahead of time.
Cocktails – These are refreshing bites made from vegetables, fruits, and even seafood to start the meal off with a kick.
Canapes – One of the most well-known appetizer categories, canapes are well-suited to fancier dinners. They usually use an edible base – like a cracker or piece of flatbread.
Hors d'oeuvres – Designed to eat with the hands or toothpicks, this category features many potential recipes. They're usually small, fresh, and dainty. Also great for fancy affairs!
Don't worry if you don't see something you like just yet. There are so many appetizer recipes out there, each with its unique charm.
The key is to make sure your appetizer choice gels with your menu. The goal of an appetizer is to awaken your guests' appetites, setting them up for the meal ahead.
If they don't match up, that can set the whole menu off-kilter. Check out these sixty-one options to find one for your next event!
Easy Appetizers
Let's kick things off with the simplest recipes on the list. Easy appetizers are great because they don't take a lot of time to make, saving you both energy and valuable minutes on the clock.
Some of these are meant to be prepared beforehand, while others are quick and easy for on-the-day preparation. They all have minimal steps and ingredients, helping to pare back the effort required.
Source: allnutritious.com
We're kicking things off with one of my recipes! These low-carb parmesan and zucchini bites are super easy to make and a great choice for a special occasion.
The zucchini rounds form a base for crispy parmesan and taste great! These double as a great snack, so cook a big batch and save your leftovers.
Source: servedfromscratch.com
They say everything is better homemade, and in this instance, I can't help but agree. These delicious crispy tater tots aren't just easy to make. They're also easy to eat!
That's why I suggest overestimating the amount you will need to make. Your guests will devour these in a heartbeat.
Source: allnutritious.com
Next up is another one of my recipes, and this time we're going high protein. These ham roll-ups double as a great lunchbox snack, but they taste party-worthy.
These are easy to customize, so you can wrap your ham around any ingredients that bring you joy. Make them in your style!
Source: inspiredbycharm.com
If you're looking for something easy to feed your guests, making a dip is a surefire way to deliver on both flavor and quantity. This corn dip, known as 'Crack Corn Dip,' is a must-try.
It doesn't need many ingredients, but the result tastes restaurant-worthy. Take twenty minutes out of your party prep time to get this ready, leave it in the fridge, and serve it when the party starts!
Source: maesmenu.com
Do you need delicious dips sure to please a crowd? This buffalo chicken dip will do the trick! This is delicious on a cracker or chip, packed with the vibrant buffalo flavor we all know and love.
Best of all, you only need a handful of ingredients to get this great appetizer done. Serve warm with all your favorite crunchy accompaniments.
Source: foodbanjo.com
Sausages on cocktail sticks are a tried-and-true party appetizer, but why not put a little spin on your version? This air fryer kielbasa recipe uses high-quality sausages cooked to perfection.
Skewered on a cocktail stick and brushed with a sticky cocktail sauce, this appetizer is out of this world.
Source: theinstantpottable.com
While they are called deviled eggs, we don't want them to be-devil you by taking forever to make. This Instant Pot recipe for shrimp deviled eggs is worth paying attention to.
Every egg is rich with fragrant spices and herbs in the yolk mixture, while the sweet shrimp kicks things up a notch.
Source: brokebankvegan.com
Keep things simple and delicious with these tasty baked potato wedges. You can't go wrong with serving your guests a few platters of these wedges – along with some good sauces.
The best part of this recipe is the lack of clean-up. You only need one sheet pan dish to make it happen.
Source: whenisdinner.com
Serving individual salads to a large crowd is every party host's nightmare. But what if you could accomplish the same effect without being left with a mountain of dishes afterward?
That's where these genius salad bacon cups come in. This is a finger food version of a Caesar salad housed in a crunchy bacon cup. Tasty, salty, and everything you want an appetizer to be.
Source: yuminthekitchen.com
In times of stress, we rely on the recipes that have gotten us through tough times. Let's be real. Good guacamole never fails. It's creamy, flavorful, and delightfully refreshing on a summer night.
Serve a few bowls of guacamole, your favorite chips, some fresh-cut vegetables, and some crackers to kick off your night with a bang.
Healthy Appetizers
Appetizers are meant to be a light starter before the real meal begins. They're the ideal place for fresh vegetables, light seafood, and dainty ingredients.
Because of that, they're fairly easy to make with healthy ingredients! Healthy appetizers are fantastic because they're usually light enough to get your guests hungry without filling them up.
They also have a lot of potential flavors. 'Healthy' doesn't have to mean 'boring' or 'tasteless,' and as this list will prove, it can quite often mean the opposite. Let's dive in.
Source: allnutritious.com
Broccoli and cheese might not seem intuitive, but hear me out. My broccoli cheese bites are packed with protein, fiber, and many nutrients.
The cheese makes these crunchy morsels so addictive. Your guests will be dying for the recipe!
Source: goodlifeeats.com
I love using cucumbers in appetizers. Done well, they make refined, delicate morsels that look like they leaped off the pages of a society magazine.
These cucumber roll-ups are delicious, refreshing, and super healthy. Not to mention, you can customize the fillings to suit your needs.
These other refreshing cucumber appetizers are sure to impress!
Source: inspiredbycharm.com
I know the words 'healthy' and 'pizza' don't often end up together, but this time it's justified! This delicious veggie pizza dip includes cream cheese, crisp vegetables, and a generous dollop of ranch.
The result is a creamy, crunchy dip with a ton of nutrients to start your meal off right.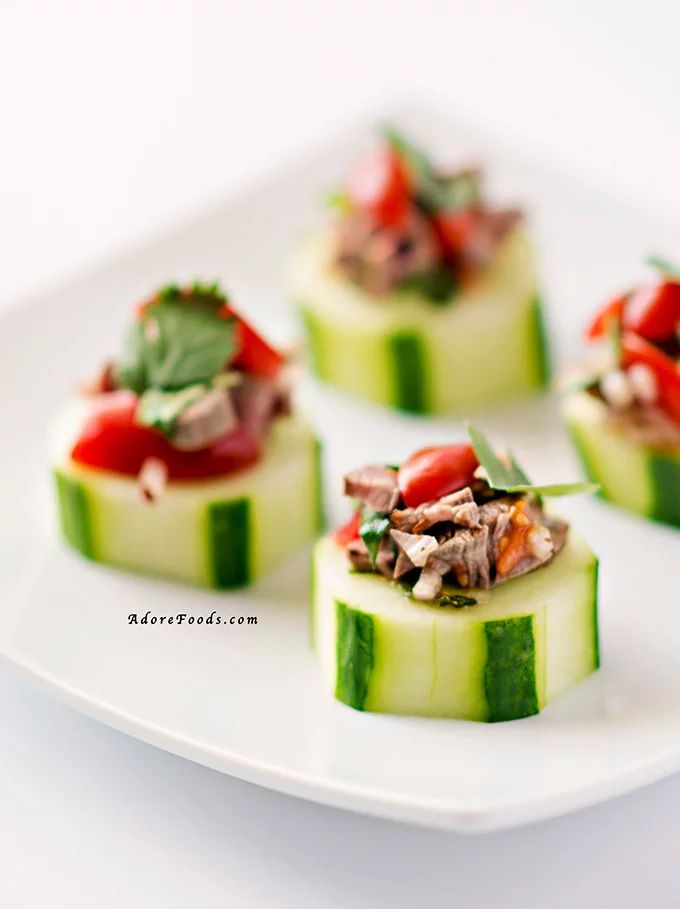 Source: adorefoods.com
Need something refined and healthy to serve a large crowd? These Thai beef salad cucumber bites are packed with flavor.
The cooling cucumber perfectly contrasts the punchy chili on top of the bites, anchored by the sweet and sour beef in the middle. What's not to love?
Source: eatingworks.com
Brussels sprouts have so much potential as an appetizer if you know what to do with them!
In this case, this recipe calls on the age-old tradition of slathering vegetables in butter and garlic to make them tasty. The result is a scrumptious pile of greenery your guests will adore.
Source: mypureplants.com
When it's warm outside and the sun is shining, guests don't want to munch on heavy appetizers! Luckily, these Vietnamese spring rolls are light, delicious, and simple to make.
The miniature spring rolls come with a rich, dark dipping sauce to offset the fresh vegetables.
Source: lifearoundthetable.ca
Sunflower seeds come packed with a ton of protein and flavor, so they're the ideal foundational ingredient for a dip. This quick and easy recipe crams healthy ingredients into every molecule.
Go with the recipe's suggestions, or omit the maple syrup and chili to experiment with your flavors instead!
Source: maryswholelife.com
Spinach and artichoke dips are a classic party appetizer option for a reason. They're healthy, easy to prepare, and super creamy! Your guests will be crowding around these dishes for a taste.
Serve with bowls of your favorite lightly salted chip, some crostini, or even a bouquet of fresh-cut vegetables.
Source: pavaniskitchen.com
These Gobi Bites – or cauliflower bites – are an Indian-style appetizer with heaps of flavor packed into every molecule! You can make them as spicy or mild as you like, and they're quite good for you.
Delight your guests with a quick look into your spice capabilities. These might seem tough, but they're very easy to make.
Source: debraklein.com
Everyone loves a good pizza, but it might not be what you want as an appetizer. That's where these clever pizza bites come in! Instead of dough, these bites use zucchini as a base.
From there, load up the zucchini rounds with any pizza toppings your heart desires.
If your garden is overflowing with zucchini, check out these other easy zucchini appetizer recipes.
Vegan Appetizers
Delight and impress your vegan guests with a range of amazing appetizers they can eat. Making delicious vegan appetizers is much easier than it seems, especially if you're willing to be creative.
You might find that you'll enjoy these recipes even if no one at your party is vegan. These feature no dairy or animal by-products, so they're all light and enticing.
Choosing a light appetizer can mean the difference between success and sadness at a party where you want to leave room for your guests' appetites for the main courses.
Source: planted365.com
There's nothing like a baked brie to get a party going. But I hear you asking, "How on Earth do you make a baked brie vegan?". Well, one clever home cook figured it out!
This recipe uses potatoes, vegan puff pastry, and nutritional yeast to get the job done. Give it a try!
Use up your extra puff pastry sheets with these other easy puff pastry appetizers!
Source: nutriciously.com
Croquettes are a wonderful way to kick off an evening, especially if you serve them with addictive dipping sauces. These vegan croquettes feature many different vegetables.
So, not only are they good for you, they're good for your tastebuds too! You can prepare the croquettes beforehand, letting them sit in the fridge to create the iconic croquette shape.
On the day, simply drop them into a pot of hot oil to crisp them up. Warm, fluffy, and delicious, you can't ask for anything better from a vegan appetizer.
Source: healthmylifestyle.com
Appetizers are the place in the meal to play around with unique flavors and textures. If you're looking for something special, these apple bites will do the trick.
Crunchy fresh apple, balsamic, rocket, and crunchy bacon create something truly stellar together!
Source: rainbowplantlife.com
Picture this. Your guests are seated around a table, ready for the appetizers. You appear carrying a loaf of bread, and they assume that's all it is… until you lift the lid of the loaf off!
This is an outrageously good vegan spinach and artichoke dip housed in a warm loaf of freshly-baked bread. You have to try it!
Source: debraklein.com
Vegan substitutions are becoming more and more clever as the years go on. In this case, instead of crab meat, all you need are some artichoke hearts to create a close approximation of the crab cakes.
This appetizer is warming, delicious, and easy to make. Best of all, your guests will be raving about them for days!
Source: bestservedvegan.com
Keep things simple and refreshing with a host of cucumber rounds topped with vegan cream cheese. The whipped cream cheese keeps things light, while the cucumber rounds are mellow and cooling.
Combined, these ingredients make wonderful hors d'oeuvres that won't take up all your time to prepare.
Source: itsnotcomplicatedrecipes.com
These onion fritters are so good that you'll want to incorporate them into your regular snack rotation. On the surface, they look just like normal fritters.
But once you bite in, you'll discover a world of dark sweetness created by the carefully caramelized onions.
Source: bestservedvegan.com
Do you already have a few other appetizers in the line-up and just need something small to complete your menu? These vegan fried olives are perfect for you!
Fried olives have a coating of delicious crunchy breadcrumbs fried to golden brown perfection. Dipped in a creamy sauce, these taste like heaven.
Source: myplantifulcooking.com
Dumplings are a fantastic appetizer idea, especially if your main courses involve Asian cuisine! Customize the filling on these Chinese tofu dumplings to help them fit into your menu.
I highly recommend making these the day before and letting them sit in your fridge. It will save you a ton of stress and ensure they all come out neatly folded.
Source: brokebankvegan.com
There's standard hummus, and then there's roasted beet hummus, which is on a whole other level. Not only does this hummus look incredible, but it also rings with a dark sweetness.
Serve this intoxicating hummus with a selection of crunchy vegetables and crackers to get your party started!
Christmas Appetizers
The holidays are a time for celebrating the year's end, gathering with loved ones, and enjoying delicious food. If you're hosting this year, that means the pressure is on.
Not to worry, I have some Christmas appetizers here that will get everyone sitting down to dinner into the holiday spirit. Round out your holiday menu with a few of these appetizer recipes!
Source: inspiringsavings.com
First up are these delicious crostini!
With crunchy, crusty bread as the base and smooth cream cheese smeared on top, the only thing left to make this dish perfect is to add a dash of sharp cranberry.
This dish's red and white colors make a perfect appetizer for a holiday party.
Source: nibbleanddine.com
Marinated mozzarella is so easy to make, leaving you with time to get on with the other aspects of your big Christmas dinner.
These mozzarella balls look beautifully on theme with sundried tomato and herbs in the marinade. These are especially good if you have anything Italian lined up for your main course!
These other Italian appetizer recipes are perfect for Italian night!
Source: meaningfuleats.com
Are you after something unique for this Christmas? These bacon-wrapped dates will definitely do the trick! Sweet dates, salty bacon, and creamy goat cheese combine to create a perfect balance.
The textures are also ideally balanced, offering a delicious symphony of crunch, creaminess, and chewiness.
If you love goat cheese, these other easy goat cheese appetizers are for you!
Source: flavorthemoments.com
Roasted nuts are a classic Christmas treat, hailing from centuries ago when we would roast nuts over an open fire. Leave bowls of delicious toasted nuts strewn around your party for guests to nosh on.
You can mess with the flavors to suit your preference, but these maple and rosemary nuts are nothing to sneeze at.
Source: passmeaspoon.com
We return to the red and white color scheme, perfect for Christmas day! These brie and cranberry tarts are excellent finger food. They're bite-sized morsels of creamy, crunchy sweetness.
Use these if you're having a lot of guests around or hosting an outdoor event where guests might not be able to sit down for the appetizers.
Source: thedefaultcook.com
Finally, let's put a little holiday spin on a classic appetizer: the deviled egg! These deviled eggs have a green center thanks to the avocado in the yolk mixture, making them so Christmas-y.
Top with a shard of crispy bacon or a few chili flakes to complete the look.
Thanksgiving Appetizers
More than anything, we know Thanksgiving as the eating holiday. Getting the food right on this day can feel like a lot of pressure, but these simple and delicious appetizer recipes will help.
Choose a few to circle the party as your guests filter in, or use them as part of your main meal. Any of these appetizers could double as side dishes or snacks on the big day.
Of course, leftovers are a crucial part of Thanksgiving celebrations. So, any of these Thanksgiving appetizer recipes will also hold up until they can be enjoyed the following day.
Source: livingsweetmoments.com
Nothing says 'Happy Thanksgiving' quite like communal eating. This honey-baked brie is a beautiful way to encourage your guests to sit down and chat as they chow down on melted cheese.
The figs, honey, and rosemary are an age-old combination that keeps coming back, probably because it tastes incredible!
Source: kidtestedrecipes.com
Next up is a fall salad packed with all the autumnal ingredients you could ever ask for. Beets, candied walnuts, and goat's cheese will make your taste buds sing.
This is a chunky salad that looks as refined as it tastes. Best of all, thanks to the size of the pieces, this takes almost no time to prepare!
Source: cinnamonandsageco.com
Bring a little bit of Italian summer to your Thanksgiving table with this recipe. The crunchy crostini hosts a generous amount of cream cheese, feta, and sun-dried tomato.
While they look like they hopped off a restaurant menu, these crostini are so simple. You only need fifteen minutes to make them!
Source: iheartvegetables.com
Whipping feta turns it into a smooth, velvety dip that's perfect for highlighting other flavors. Picture a dish of creamy feta topped with roasted heirloom tomatoes… that's what you get with this recipe!
Serve with a simple accompaniment of olive oil and crostini to complete the appetizer.
Source: ifoodreal.com
If whipped feta isn't your style, try baking it instead! Baking the feta makes it spongy and porous, perfect for soaking up all the flavor in the surrounding roasted tomatoes.
Plonk a dish of this in the middle of your table and watch the guests disappear into good food and great conversation.
Party Appetizers
Are you gearing up for a party soon? Depending on your needs, you might be searching for an hors d'oeuvre that can circle the room on trays or a simple dip to draw your guests together.
Think carefully about how you want your guests to enjoy their food before choosing. But most of all, think about what you would love to eat at a party. Your gut is never wrong.
Dig into some classic party-style appetizers, as well as a few creative or unique options that will leave your guests asking for an encore!
Source: allnutritious.com
First on our list of party appetizers is a quick and easy option highlighting a crowd-pleasing ingredient: smoked salmon. These smoked salmon bites are full of texture and flavor.
I recommend making these as fresh as possible to preserve the salmon's flavor. Luckily, you won't need more than twenty minutes to make a big batch.
Source: meaningfuleats.com
Do you need to save time on the day of the party? Make your appetizer ahead of time with this simple recipe. This is a hot artichoke dip your guests will love.
Prep time only takes fifteen minutes; all you need to do is bake it for half an hour before serving. Easy!
Source: acedarspoon.com
Reach back into history for an appetizer idea straight off the lunch menu of an ancient Andalusian farmer. These honey goat cheese balls are both creamy and crunchy, perfect for waking the appetite!
The honey drizzle on top of the cheese balls helps counteract the rich cheese, so guests will keep coming back for more.
Source: alittleandalot.com
Minimize the dishes you'll have to do with this cheesy stuffed mushroom dip. Rather than creating individual stuffed mushrooms for your partygoers, you can enjoy the same flavors in dip form!
Prepare your dip in advance and leave it overnight. Bake just before serving so that it's nice and warm.
Source: livingsweetmoments.com
If you're after something refined for your next party, look no further! These tuna tartare crackers with creamy avocado are perfectly suited to a spring party.
Topped with zesty microgreens to add a little kick, these are much easier to make than they look!
Source: healthyrecipes101.com
If your guests are the kind that loves a little comfort food – who doesn't? – then they'll love these popcorn shrimp. Sweet shrimp is coated in a layer of spiced batter, then fried to perfection.
Serve with a simple dipping sauce to complete the magic that is in this recipe.
Your guests will also love these other delicious shrimp appetizer recipes!
Source: thedefaultcook.com
Stuffed mushrooms are a wonderful party appetizer! They taste rich and hearty but light enough to leave room for the main event. They're also easy to eat with just your fingers.
Prepare a large batch of stuffed mushrooms in just forty minutes, ready for your guests to devour.
Source: ifoodreal.com
Sometimes, it's good to go with a classic. These smoked salmon crostini feature tried-and-true flavors that everyone in attendance will love. The textures are out of this world, too!
Elegant, light, and refreshing, these are everything a party appetizer should be.
If you love the smoky flavor, you need these best-smoked appetizers!
Source: yuminthekitchen.com
Encourage your guests to gather and chat with this delicious cheese ball recipe. I love a good cheese ball, especially if the accompanying ingredients are well-paired. In this case, they are!
Nutty pecans and salty, crunchy bacon make this a real treat to enjoy. It's a treat for you, too, because you only need twenty minutes to make it happen!
Source: cookingschooldropout.com
Rather than boiling your ravioli appetizer, try using your air fryer to make something new and exciting. This is a great way to serve ravioli as finger food without any slippery pasta in the way.
You can even use store-bought ravioli for this recipe to save some time.
Source: mychefsapron.com
Fennel, cucumber, and tuna get along like a house on fire. This is a low-carb appetizer option that uses canned tuna, of all things! It's cost-effective, simple, and very healthy too.
Super Bowl Appetizers
The food on Superbowl day is almost as important as the game itself! There's a hallowed tradition of enjoying many different little treats as the clock winds down on the big game.
If you're hosting Superbowl Sunday this year, you might feel a little overwhelmed at the prospect of feeding a room full of hungry football fans. That's a lot of food to make!
Well, fear not. The last section on this list is dedicated to some of the best Superbowl appetizers the internet has collectively come up with.
These are simple, delicious recipes featuring some of the most iconic Superbowl appetizer choices in the game (pun intended). Let's do this!
Source: neighborfoodblog.com
It's not a Superbowl party without pigs in a blanket. That would be sacrilege! Luckily, these puff pastry-wrapped hot dogs are super simple to prepare.
You can use either your oven or your air fryer to get the iconic golden brown crisp on these babies. I love this appetizer because you can wrap them in advance, then fire them on the day.
Source: groundbeefrecipes.com
Speaking of iconic Superbowl appetizers, you can't go wrong with a ground beef queso dip! This is like a party in a bowl, with everything you need to create the perfect dunk.
You only need fifteen minutes to whip this appetizer up, so you can crank this out as your guests arrive. Tweak the recipe to create your signature mix of vegetables, beef, and spices.
Source: whereismyspoon.co
Of course, you need to have wings on the table. These baked spicy chicken wings take barely any effort but taste like they took hours to make. That's the power of a good marinade!
While the recipe only calls for half an hour of marinating, I suggest dialing that up by a few hours. The marinade will tenderize the chicken and pack it full of flavor so it becomes twice as good.
Source: flavorthemoments.com
Crack open the beers and sit down with a plate of jalapeno poppers because it's time to watch the game! You can assemble these up to two days ahead, so there's no stress on game day.
Use large jalapenos for a hefty appetizer that will leave your guests salivating.
Source: practicallyhomemade.com
Make your pigs in a blanket dish a little extra special by turning them into a wreath! This is super easy to pull off (and pull apart), requiring only a few simple steps to come to life.
Best of all, this recipe uses pre-made refrigerated pizza crust as the 'blankets.' This makes the dish even easier to create, leaving you plenty of time to watch the halftime show.
Source: theroastedroot.net
If jalapeno poppers aren't your style, but you still want something similar, try this on for size! These mini peppers stuffed with cheese are so ooey gooey that they'll capture your heart.
Dust them with some of your favorite toppings, from crunchy bacon to fresh green onion. And if you wanted to keep a plate of these to yourself… well, no one's going to blame you!
Source: watchlearneat.com
Are you after a Superbowl-worthy vegetarian snack? These tofu nuggets are so addictive, and they come together in less than thirty minutes thanks to a little help from an air fryer.
The crunchy crust on the outside makes these sing, featuring an array of spices to crank up the flavor. Serve with a light and bright sauce to cut through all that vibrant, punchy flavor.
Source: agratefulmeal.com
I haven't met anyone who doesn't like buffalo sauce, which means this next recipe will surely succeed. Delight and impress your guests with a different take on a buffalo chicken dip!
Rather than chicken, this recipe uses chickpeas to add the necessary protein. This is a great option for vegetarians on Superbowl Sunday and for communal enjoyment.
Source: corriecooks.com
Finally, we have one of my favorite ways to enjoy avocado! Rather than the creamy guacamole everyone knows to expect, why not try making something unique with these avocado fries?
All you need is your Instant Pot and fifteen minutes on the clock to crank these out. They're the perfect way to get some healthy fats in amongst the other (less healthy) Superbowl snacks.
Not to mention, they deliver just as much crunch as regular wedges! This is a must-try recipe for your next Superbowl Sunday.
So, there you have it! Sixty-one amazing appetizers to impress your guests, no matter the occasion. Are there any essential recipes that I've left off the list? Do you have any favorites? Let me know!
As always, if you want to check out more recipe ideas to elevate your parties and spice up your weeknights, check out the rest of All Nutritious.
From my recipe round-ups to my meal prep ideas, there's something for everyone to enjoy.
61 Best Party Appetizers Guests Will Love
Hosting a party? Here are the best party appetizers to serve any crowd that will leave everyone craving for more.
Ingredients
1. Parmesan Zucchini Bites
2. Crispy Tater Tots
3. Ham Roll Ups
4. Corn Dip
5. Dairy-Free Buffalo Chicken Dip
6. Air Fryer Kielbasa
7. Instant Pot Shrimp Deviled Eggs
8. Baked Potato Wedges
9. Caesar Salad Bacon Cups
10. Guacamole
11. Broccoli Cheese Bites
12. Cucumber Roll Ups
13. Veggie Pizza Dip
14. Thai Beef Salad Cucumber Bites
15. Garlic Butter Brussels Sprouts
16. Vietnamese Spring Rolls
17. Chili Lime Sunflower Seed Dip
18. Paleo Spinach Artichoke Dip
19. Baked Cauliflower Bites
20. Zucchini Pizza Bites
21. Vegan Baked Brie in Puff Pastry
22. Potato and Vegetable Croquettes
23. Carrot Bacon Wrapped Apple Bites
24. Vegan Spinach Artichoke Dip
25. Vegan Crab Cakes
26. Vegan Cucumber Bites
27. Crispy Onion Fritters
28. Vegan Fried Olives
29. Vegan Chinese Tofu Dumplings
30. Roasted Beet Hummus
31. Cranberry Cream Cheese Crostini
32. Marinated Mozzarella Balls
33. Bacon Wrapped Dates with Goat Cheese
34. Maple Rosemary Roasted Nuts
35. Brie and Cranberry Tarts
36. Avocado Deviled Eggs
37. Honey Baked Brie with Figs and Rosemary
38. Beet Salad with Candied Walnuts and Goat Cheese
39. Sun-Dried Tomato Crostini
40. Whipped Feta Dip
41. Baked Feta Dip with Tomatoes
42. Smoked Salmon Bites
43. Hot Artichoke Dip
44. Honey Goat Cheese Balls
45. Cheesy Stuffed Mushroom Dip
46. Tuna Tartare with Avocado Appetizer
47. Popcorn Shrimp
48. Stuffed Mushrooms
49. Smoked Salmon Crostini
50. Bacon Pecan Cheese Ball
51. Air Fryer Fried Ravioli
52. Fennel Cucumber Bites with Creamy Tuna
53. Puff Pastry Pigs in a Blanket
54. Ground Beef Queso Dip
55. Baked Spicy Chicken Wings
56. Air Fryer Jalapeno Poppers
57. Pigs in a Blanket Wreath
58. Air Fryer Cream Cheese Stuffed Mini Peppers
59. Air Fryer Tofu Nuggets
60. Buffalo Chickpea Dip
61. Instant Pot Avocado Fries
Instructions
Scroll up to get a bunch of easy, yummy, and delicious appetizer recipes. Don't be afraid to get creative with the ingredients. You might discover a flavor you didn't know you liked.
Get your shopping list going, and make sure you've got all the ingredients.
Get cooking and make your next Appetizer To Serve!
Notes
Which one of these recipes was your favorite? Let me know in the comment section or on Pinterest!