Tasty food is the best part of a carnival for many people. You can't blame them! It's a chance to forget about eating healthy for one day and enjoy the tasty offerings of these carnival food recipes.
Many carnival foods are deep-fried, which makes for a mouthwatering crispy texture. Not to mention the flavor!
However, making delicious and healthy carnival food at home is easy with these favorite recipes.
You'll be transported to the sights and sounds of the fair by the appetizing smells coming from your kitchen.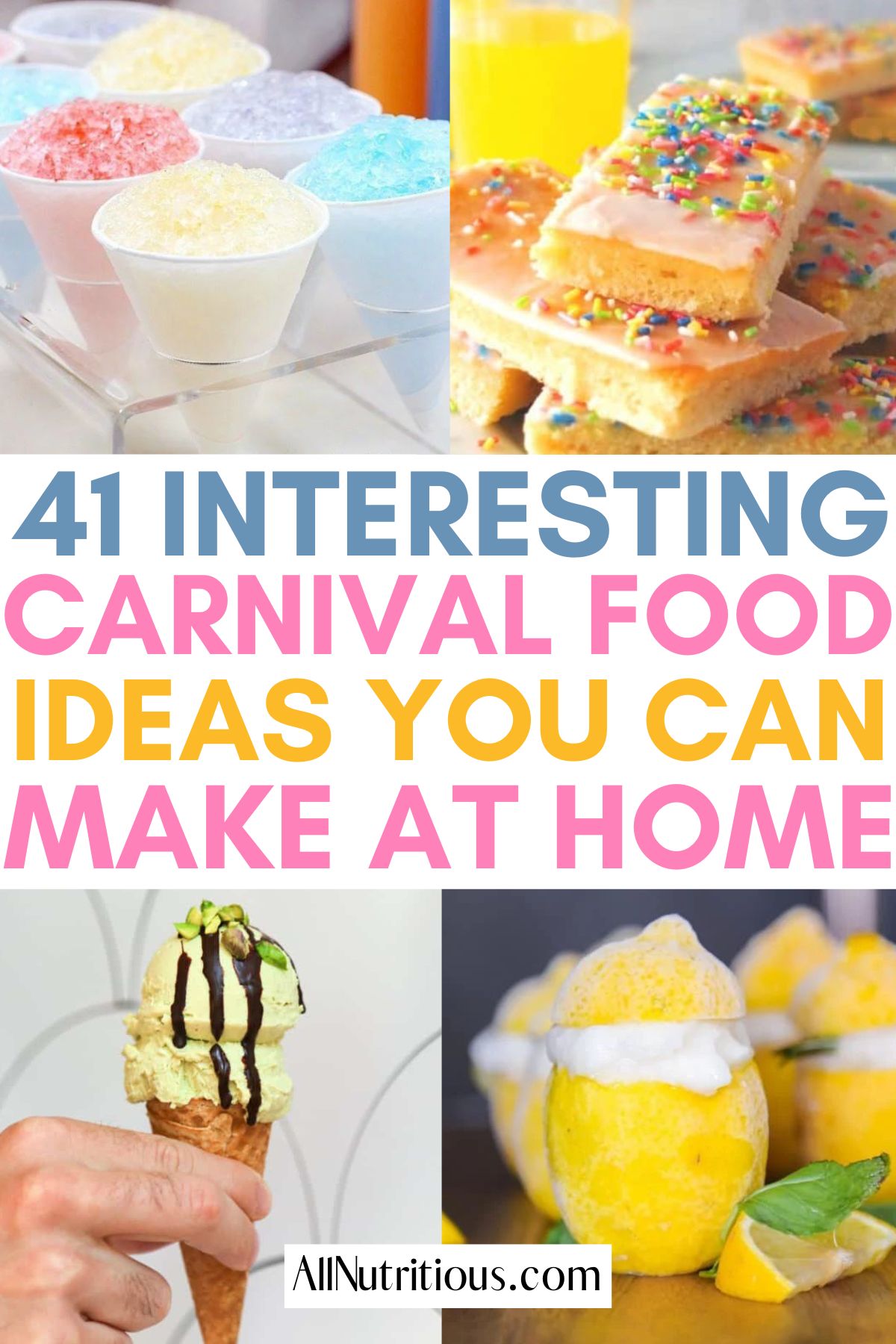 What Traditional Foods Are Eaten on Carnival?
Corn dogs are one of the most famous traditional savory foods eaten at carnivals! Simple food of meaty hot dogs surrounded by a crispy golden batter. Yummy!
On the sweet side, caramel apples, and funnel cake are popular options. Crunchy, golden, sweet batter with a soft and fluffy inside. What's not to love about that?
Best Carnival Food Ideas
Discover the best sweet and savory favorite fair food recipes to serve at a carnival-themed celebration or special occasion with these favorite carnival foods!
Source: allnutritious.com
These healthy nachos are a sweet take on a savory favorite fun snack. These tasty treats are nutty, chocolaty, and delicious!
Lemon juice stops your apples from turning brown. However, it also adds another layer of flavor. Drizzle melted nut butter to help your toppings stick.
Sprinkle your slices of apple with your favorite toppings. Shredded coconut and dark chocolate chips add another crunchy texture.
Hemp seeds provide a soft yet nutty texture, and cinnamon pairs perfectly with apples and chocolate!
Source: wholenewmom.com
This kettle corn is a perfect blend of sweet and salty but also healthy! It's crunchy, delicious, budget-friendly, and uses just a few simple ingredients.
Cook your corn kernels in coconut oil for a mild nutty taste. Sweetener adds the ideal amount of sweetness but is healthier than using sugar. Add salt to balance the sweet flavor.
Source: dishnthekitchen.com
Take an ear of sweet corn and add salty cotija cheese, spicy Tajin, and fresh cilantro. You have this sweet, spicy, crunchy snack or appetizer!
The unique tastes of this Mexican corn blend create an explosion of flavor!
Assemble your street-style corn by brushing mayo onto cooked cobs and sprinkling with Tajin. Scatter cheese and cilantro and drizzle with avocado crema. Serve with lime wedges for a zesty kick!
Pair this corn recipe with any of these great authentic Mexican bread recipes!
Source: cookwithkushi.com
This giant carnival treat gets its name as it looks like elephant ears in size! In reality, you have delicious pieces of crispy fried dough sprinkled with sweet cinnamon sugar.
Elephant ears look like they're challenging to make. However, they're easy. Mix milk, butter, salt, and sugar before adding yeast. Add your flour once it's foamy, then form a dough.
Make your "ears" by frying thin sheets of your dough until golden and crispy. Combine cinnamon and sugar and sprinkle all over while they're still warm!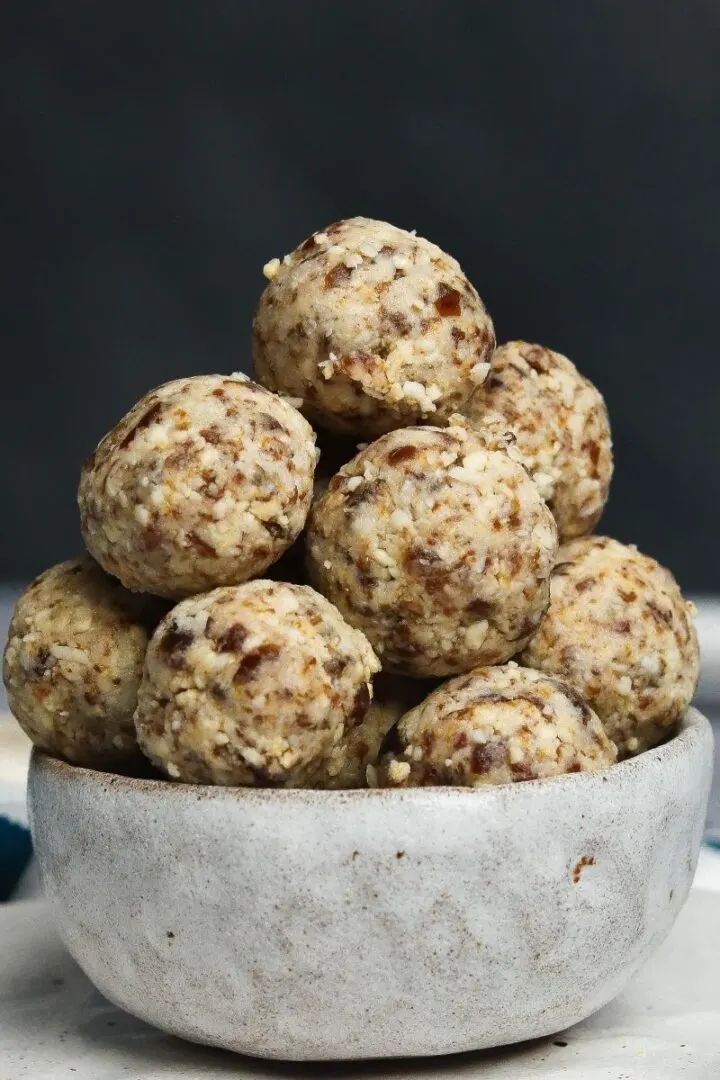 Source: allnutritious.com
These cashew energy balls are a sweet, nutty snack. Creating them is effortless with a handful of ingredients!
You'll need to blend your cashews to produce a smoother texture for your balls. Dates and shredded coconut provide natural sweetness without adding sugar.
Vanilla extract adds a delicious natural flavor to your energy balls. Add sea salt to elevate the flavors of your ingredients.
Add coconut, vanilla, dates, and salt to your blended cashews and mix until well combined. Roll them into balls and refrigerate before enjoying your healthy snack!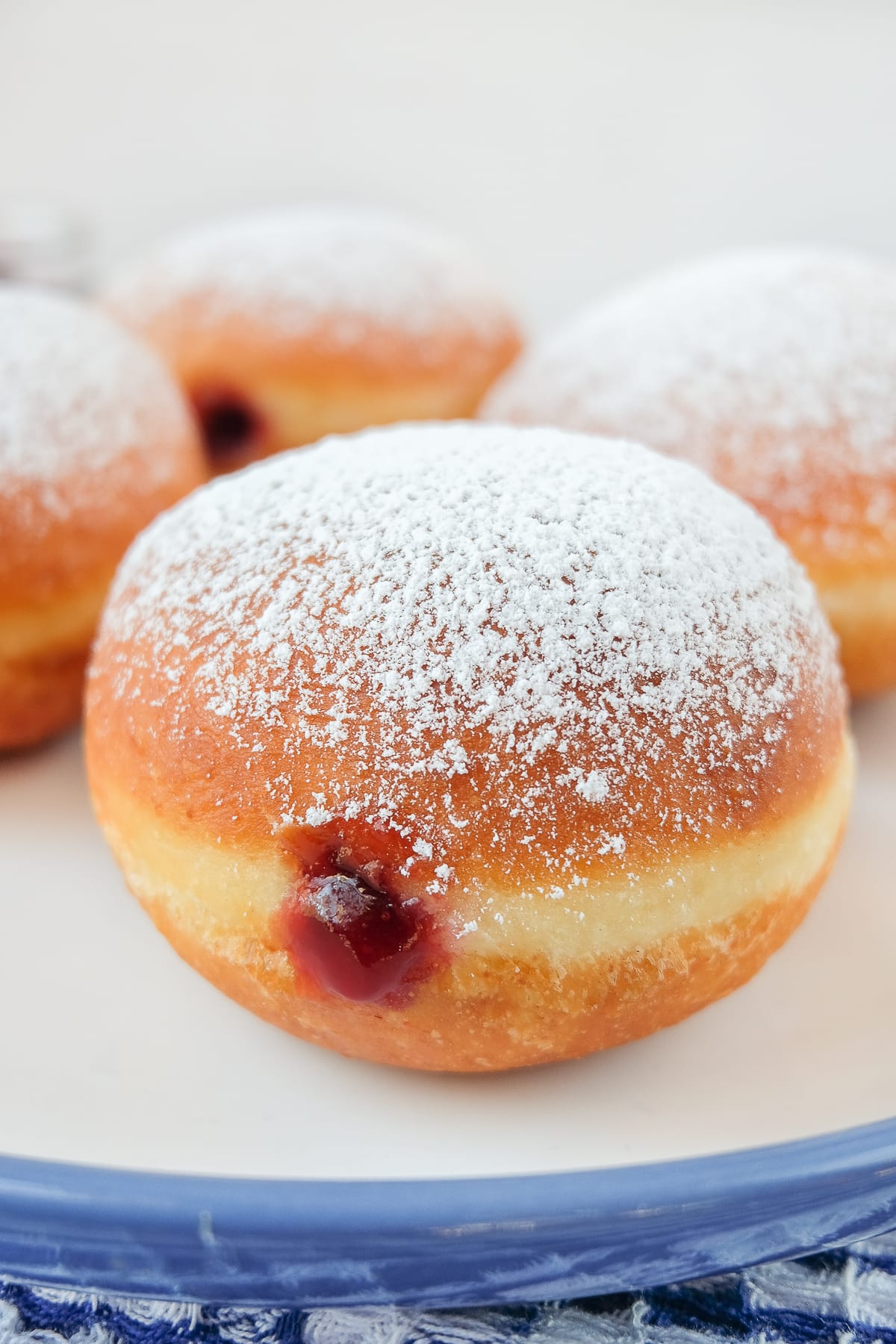 Source: recipesfromeurope.com
Krapfen is tasty golden balls of deep-fried dough. They're filled with sweet jelly and dusted with powdered sugar.
Making Krapfen involves a few processes and a waiting time for the dough to rise. However, the result is worth the effort!
The ingredients for this treat are pantry and fridge staples. You'll use flour, milk, yeast, eggs, sugar, salt, and butter.
Fill your shaped and fried dough with your favorite jelly. An ideal option is strawberry flavor!
Source: savoryexperiments.com
Gooey cheese is encased in light, fluffy beer-flavored batter and then fried to perfection! These are like mozzarella sticks, but you'll use cheese curds instead.
Season your batter with dried parsley, garlic powder, and oregano. You don't need much, as the beer adds much flavor!
Dredge your cheese curds in your tasty beer batter and fry until golden and crispy! When you bite into them, the cheese will be gooey and melted.
Serve your fried curds with your favorite dipping sauce.
Source: thegunnysack.com
Dip hot dogs into a sweet honey-flavored batter to make this carnival favorite. You'll deep fry them until they're golden, crunchy, and delicious!
Use flour, cornmeal, salt, and baking powder for your batter. Combine these with buttermilk, egg, and sweet honey.
Before dipping them in your batter, you must put your hot dogs onto skewers. This makes eating them easier! Fry your battered hot dogs until golden and crispy, and serve them hot.
Source: afarmgirlsdabbles.com
Golden and crispy, these juicy dill pickle slices are dipped in a seasoned batter before frying. They're perfectly salty, crunchy, and tasty!
Make your pickle batter by combining flour, baking powder, cornmeal, salt, and pepper. Add cayenne for a hint of spice. Beer adds a delicious taste and keeps the batter light.
Coat your battered pickles in breadcrumbs before frying. This produces an even crunchier texture. Serve your crispy fried pickles with creamy ranch dressing for dunking!
Source: thegunnysack.com
How do you make Oreo cookies even better than it already is? Coat it in a golden batter and fry it! Sweet, crunchy Oreos are a perfect match for the savory Bisquick batter.
Use all-purpose flour, baking powder, salt, butter, and milk to make your Bisquick batter. Coat your Oreos in the batter and fry them until golden brown!
Sprinkle your fried deep-fried Oreos with sweet powdered sugar before serving!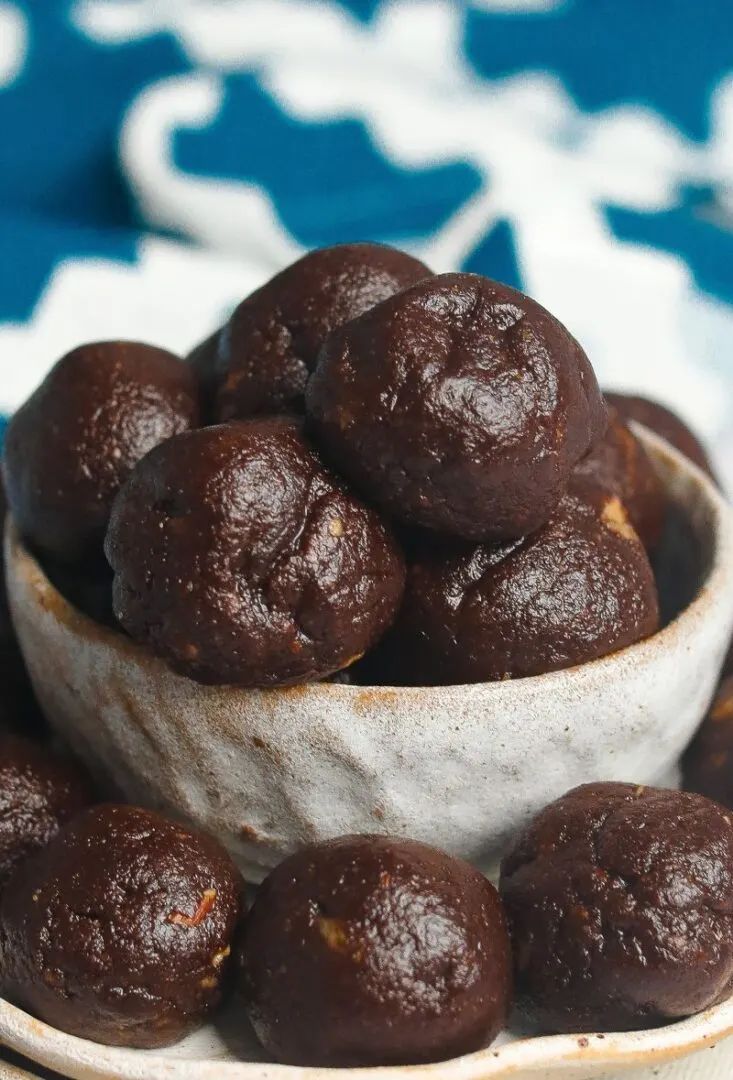 Source: allnutritious.com
These almond butter energy balls are sweet, nutty, and super healthy. They don't require baking, either, so they're effortless!
Almond butter provides a nutty taste to your energy balls. Coconut flour works for a nutty flavor too. Use maple syrup as a natural sweetener and cocoa powder for a rich chocolate taste.
Ground flaxseed binds your energy balls and stops them from falling apart. Once you've rolled your balls, refrigerate them for at least two hours before eating them.
Source: serenabakessimplyfromscratch.com
Take homemade popcorn to the next level by mixing with pecans and smothering it in salty-sweet caramel!
Your caramel is easy to make. Heat sugar, corn syrup, and water in one pan and combine with heavy cream, butter, and salt. Add vanilla extract for extra flavor.
Toss your popcorn and pecans in your caramel and bake until golden and crunchy. Break it into bite-sized pieces before eating it!
This is sure to be a crowd pleaser at any carnival-themed party!
Source: lovebakesgoodcakes.com
This funnel cake recipe is easy to make with ingredients you most likely have on hand. They're fried dough poured from a funnel and sprinkled with sweet powdered sugar. Delicious!
You'll make a simple dough mixture starting with eggs, milk, water, and vanilla extract. Mix in flour, sugar, baking powder, and salt.
Once you've fried your funnel cakes, dust them with powdered sugar and serve warm!
Source: herbsandflour.com
Another fried carnival treat, churros are crispy sticks of dough. They're light and fluffy inside and delicious throughout!
Make your churros with ingredients you probably have to hand. Melt butter with water, cinnamon, and salt before stirring in flour and eggs. Fry them until golden brown!
Before serving, sprinkle your churros with cinnamon sugar. Provide pots of melted chocolate and sweet caramel for dipping!
Source: allnutritious.com
Sliced Brussels sprouts are covered in parmesan and baked until deliciously crispy.
Season your sprouts with oregano, onion powder, garlic powder, salt, and pepper. Add finely crumbled parmesan for a tasty, cheesy flavor. Mix with olive oil to help your sprouts crisp up.
Spread them on a baking pan in a single layer. This ensures maximum crispness! Cook your sprout chips until the edges are brown are crispy. Serve them hot with your favorite sauce for dipping!
Source: lovebakesgoodcakes.com
Make a batch of this sweet syrup to have on hand for when you want refreshing snow cones! This syrup keeps well in the fridge, stored in a pouring container.
Your syrup takes minutes to make. Boil sugar and water until the sugar is dissolved, then stir in a packet of your favorite flavor drink mix.
Cherry, grape, berry blue, and peach mango are tasty flavor choices for your syrup! These iconic fair foods are perfect for a hot summer day to satisfy your sweet tooth.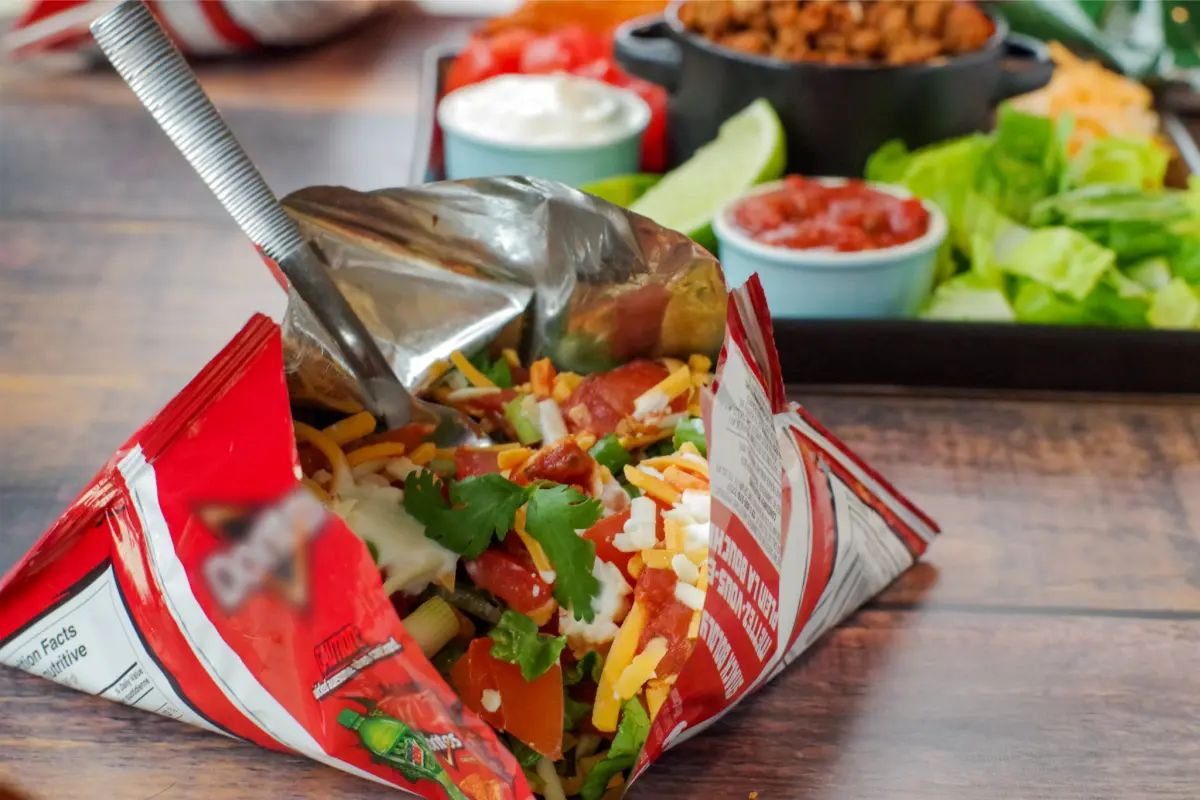 Source: foodmeanderings.com
Tacos in a bag are perfect for carnival celebrations! They're a mess-free, easy way to enjoy your tacos.
Use a packet of taco mix to flavor your ground beef. A bag of Doritos works as an alternative to a taco shell! Crush your chips before cutting open the bag and adding your taco meat.
Add crisp lettuce, juicy tomatoes, green onions, and shredded cheese. Mix everything up before adding salsa, sour cream, and hot sauce!
Source: joyfoodsunshine.com
These tasty pecans make the perfect carnival snack. Raw pecans are glazed in a sweet cinnamon-sugar mixture before baking in the oven.
Add sea salt to your cinnamon sugar. This elevates the overall sweet flavor of your pecans.
Egg white binds the cinnamon-sugar mix to your pecans while baking. It also helps with the satisfying texture of every bite!
Source: pinchandswirl.com
Try a flavor twist on traditional kettle corn with this delicious toasted coconut version!
Use a mixture of coconut oil and butter to pop your corn kernels. Add sugar, salt, and toasted coconut to the coconut-butter mix.
Shake your pan to coat your kernels with the liquid mixture before they get popping!
Source: theshortordercook.com
Use a flavorsome teriyaki marinade to coat these juicy chicken kebabs before grilling!
Find umami, sweet, and salty flavors in your marinade. Tamari, apple cider vinegar, ground ginger, and minced garlic provide a robust taste. Sesame oil and sesame seeds deliver a nutty flavor.
Brown sugar adds a delicious sweetness to the marinade. You can also use this as a dipping sauce for your chicken!
Source: allnutritious.com
These zucchini bites are the perfect healthier carnival snack! They're oven-baked with a delicious golden parmesan topping.
Arrange zucchini slices in a single layer on a baking tray before adding your seasonings. Garlic powder and salt are ideal flavors for zucchini.
Use powdered parmesan for a crispy, cheesy topping. Paprika adds a hint of spice and a pop of color!
Source: 4sonrus.com
Gyros are excellent carnival food! Perfectly seasoned, sliced meat is piled on pita with fresh veggies and sauce.
Ground veal and lamb add the tastiest flavor to this recipe! However, you can use ground beef if that's all you can find.
Season your meat with onion and garlic. No need to cook them; throw them into the blender!
Dried herbs and spices add a ton of flavor too. Oregano, rosemary, cumin, red pepper flakes, salt, and pepper are perfect.
Red onion, juicy tomatoes, and crisp lettuce add a fresh taste to your gyros. Add crumbled feta for a salty balance, and drizzle with creamy tzatziki!
Source: confessionsofparenting.com
Combine pretzels and hot dogs for a unique take on corn dogs! Hot dogs are encased in a beer-flavored pretzel dough before baking to perfection in the oven.
Make your dough by combining beer, sugar, yeast, flour, salt, and butter. You'll need to let your dough rest before using it, but it's worth it!
Wrap ropes of dough around hot dogs before baking until crisp and golden brown!
Source: bellyfull.net
Take breakfast cereal to the next level with this delicious carnival snack! "Fry" Cheerios in melted butter and coat with a sweet cinnamon-sugar mixture.
Add flavor to your butter with vanilla extract. This works well with cinnamon sugar. Stir your Cheerios into the melted butter, then toss in your spiced sugar until they're coated evenly!
Source: thesoccermomblog.com
Use your air fryer to make a healthier version of soft pretzels. They're soft on the inside with a crispy, golden brown crust.
This recipe takes time, as your dough needs to rise, but the result is worth it! Make your pretzel dough with warm water, yeast, salt, and all-purpose flour.
Form your dough into pretzel shapes, then air fry until golden brown and crispy! Brush your hot pretzels with butter and sprinkle with sea salt.
Find more fun things to bake when bored here!
Source: kidtestedrecipes.com
A savory take on a classic sweet treat, this cheddar cheese popcorn is delicious and addictive!
Popping your corn kernels in coconut oil delivers a mild nutty flavor to your popcorn. This works well with the star of the show – cheddar cheese powder!
Use melted butter to help your powdered cheese stick to the popcorn. It combines with cheese for a rich taste in every bite!
Source: ambitiousfoodie.com
Use your Instant Pot to produce juicy, moist, and flavorful chicken drumsticks.
Season your chicken with garlic powder, salt, and pepper. Paprika and chili powder add a tasty kick of heat to your drumsticks.
When your chicken legs are cooked, toss them in barbecue sauce before cooking. The sugar in the sauce and butter and oil produce a beautiful caramelization!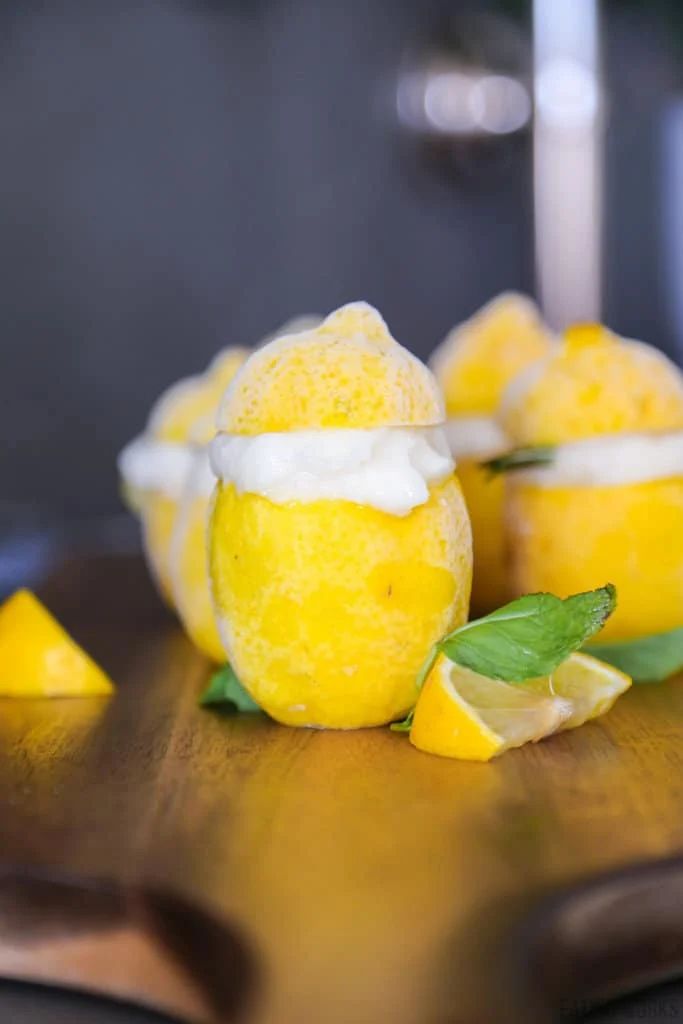 Source: eatingworks.com
Italian lemon sorbet is zesty, refreshing, and delicious! It's the perfect treat for a carnival. You only need three ingredients to make it, too.
You'll make a simple syrup with monk fruit crystals and water. Combine this with lemon juice and zest for maximum lemon flavor.
Serve your sorbet in your hollowed-out lemons for the wow factor! Garnish with a mint leaf for a pop of bold color and flavor.
This sorbet is also one of the best pool party food ideas for a hot summer day!
Source: 4sonrus.com
These fries are an easier way to enjoy classic funnel cake! Cook French fry-style funnel cake batter strips until golden and crispy.
Make a regular funnel cake batter with flour, sugar, baking powder, and salt. Add liquid ingredients of milk and egg, too.
Vanilla extract adds a sweet flavor to your funnel cake fries. Fry strips of batter until golden and crispy. Sprinkle your fries with powdered sugar and serve warm!
Source: eatingworks.com
Juicy shrimp skewers are served with a vegan Aji Verde sauce. They make a delicious and quick savory carnival snack!
Thread your shrimp onto skewers and season with salt and pepper before oven-baking. Coating them with oil delivers a golden brown crust.
Make your tasty sauce by combining cilantro, parsley, lemon juice, apple cider vinegar, and garlic. Tahini provides a creamy texture, while jalapeno delivers a spicy kick!
Serve your Aji Verde drizzled over your skewers or in a dish for dipping!
These tasty skewers are one of the best potluck foods to feed a crowd!
Source: alekasgettogether.com
This crunchy, salty snack combines sweet and savory flavors. Potato chips and chocolate make the perfect combination for a carnival treat!
Ruffled potato chips are best to use for two reasons. They're thick, so they won't break when dipping. They also look more eye-catching!
Use good-quality chocolate for coating your chips. This is where half your flavor is coming from! A sprinkle of sea salt balances the sweetness of the chocolate.
Source: mydinner.co.uk
This is an easy, quick, fun cake made with Fanta, flour, oil, and sugar! Essentially, it's an orange-flavored cake with orange-flavored icing.
The carbon dioxide in the Fanta is what makes your cake fluffy. Oil and eggs deliver a deliciously moist texture.
Combine powdered sugar and Fanta to make the glaze for your cake. Sprinkle with funfetti for a carnival look!
This is also a great recipe for a pool party!
Source: thesoccermomblog.com
Combine sweet donuts and gooey cheese to make this indulgent carnival-style treat!
Assemble your donut sandwich, ensuring that your donut's inside is on the outside. This makes grilling easier, and the glaze will stay inside your sandwich.
Add a layer of melty provolone cheese. Make it two slices if you like your sandwich extra cheesy!
Source: theforkedspoon.com
Delicious Jambalaya is filled with tender chicken, shrimp, and andouille sausage. It has the classic flavors of Creole cooking, with flavorsome Cajun seasoning in spiced tomato rice.
Canned tomatoes, Worcestershire sauce, chicken broth, and white rice make the base of this dish. Season your jambalaya with Cajun spices, cayenne, Italian herbs, and red pepper flakes.
Use the holy trinity of Cajun cuisine to add flavor to your jambalaya. This is onion, bell pepper, and celery!
Source: thequickerkitchen.com
Peanut butter and jelly sandwiches have a delicious transformation with these fried treats!
Use canola oil to deep fry your Uncrustables. You can use your air fryer to keep them healthier. Leave them to cool until they're slightly warm, then sprinkle with powdered sugar!
This easy recipe is one of the best air fryer desserts to satisfy your sweet tooth!
Source: sparklestosprinkles.com
These crispy bites are another fun way to enjoy classic funnel cake. The bite-sized cake batter is fried until golden, then dusted with powdered sugar.
Make your batter using eggs, milk, and vanilla. The vanilla adds a gentle background flavor to your funnel cake. Combine with flour, sugar, baking powder, and salt.
Use an ice cream scoop to drop perfectly sized scoops of batter into hot oil, and fry them until golden. Drizzle chocolate over your funnel cakes, or serve them with a caramel dipping sauce!
Source: yourguardianchef.com
Use mashed potato to make these authentic Italian donuts! It produces a fluffier inside while the outside remains satisfyingly crispy.
Mix your mashed potato with flour, butter, eggs, sugar, and yeast. Lemon zest adds a light, fresh flavor to your donuts.
You'll need to let your dough rest for a few hours before frying, but it's worth waiting. Sprinkle your warm donuts with sugar before serving!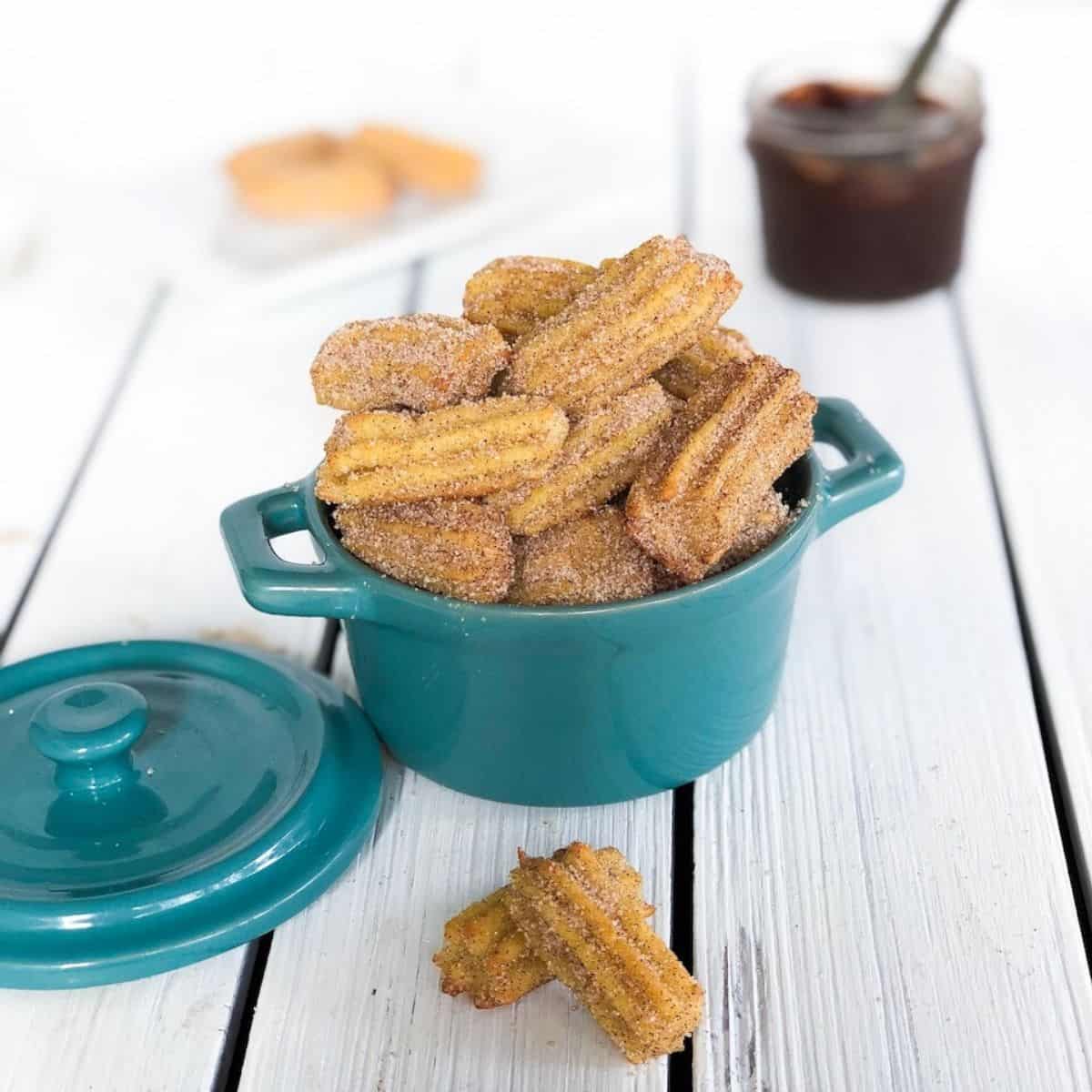 Source: alekasgettogether.com
These delicious mini churro bites are oven-baked, making them a healthier carnival treat.
Combine water, milk, butter, and vanilla in a skillet pan. Let it boil before adding flour, sugar, and salt. Mix it briefly, remove it from the heat, and add your egg. The egg produces a cakey texture inside.
Pipe your churros onto a baking pan and bake until they're golden. Serve your crispy churros with chocolate sauce for dipping!
Source: kitchenlaughter.com
A honey butter glaze delivers a fantastic flavor to juicy turkey leg! It sticks to the smoked meat and leaves a delicious sticky coating.
Season your turkey leg with a dry brine – Bada Bing Dry Brine is perfect! This pulls moisture from the skin to make it more crispy when cooked.
Smoke your turkey leg before glazing it with melted butter and honey. Continue grilling until the turkey is cooked throughout.
Source: eatingworks.com
Vegan pistachio ice cream is a perfect healthy carnival treat. It's creamy, refreshing, and full of nutty flavor!
You'll make a vibrant pistachio paste from ground pistachios and water. Combined with beaten coconut milk and almond milk, it produces a rich, nutty, creamy base for your ice cream.
Use maple syrup as a natural sweetener and for added flavor. The vanilla extract stops your ice cream from crystallizing in the freezer and adds a delicate taste.
Serve your delicious ice cream in a cone and sprinkle with chopped pistachios and chocolate syrup!
Love pistachios? Enjoy these other easy pistachio recipes!
Source: thepracticalkitchen.com
Sourdough funnel cakes are light and fluffy inside, golden and crispy on the outside. They gain a slightly tangy flavor from the sourdough discard, too!
Your dry ingredients for your funnel cake batter are flour, sugar, baking powder, and salt. Mix these with egg, milk, and your sourdough discard. Vanilla extract adds a delicate flavor to your batter.
Sprinkle your funnel cake with powdered sugar while it's still hot. Serve with fresh strawberries and chocolate sauce!
41 Best Carnival Food Recipes for a Fun Party
Need to prepare for a carnival? Get creative in the kitchen and enjoy making these fun and easy carnival food recipes.
Ingredients
1. Healthy Apple Nachos
2. Sugar-Free Kettle Corn
3. Mexican Street Corn
4. Elephant Ears
5. Cashew Energy Balls
6. Krapfen
7. Fried Cheese Curds
8. Corn Dogs
9. Fried Pickles
10. Fried Oreos
11. Almond Butter Energy Balls
12. Caramel Corn
13. County Fair Funnel Cakes
14. Churros
15. Brussel Sprout Chips
16. Snow Cone Syrup
17. Tacos in a Bag
18. Cinnamon Sugar Pecans
19. Toasted Coconut Kettle Corn
20. Teriyaki Chicken on a Stick
21. Parmesan Zucchini Bites
22. Homemade Gyros
23. Pretzel Dog
24. Mini Doughnut Hot Buttered Cheerios
25. Air Fryer Soft Pretzels
26. Cheddar Cheese Popcorn
27. Instant Pot Chicken Drumsticks
28. Italian Lemon Sorbet
29. Funnel Cake Fries
30. Baked Shrimp Skewers
31. Chocolate Covered Potato Chips
32. Fanta Cake
33. Donut Grilled Cheese
34. Jambalaya
35. Fried Uncrustables
36. Funnel Cake Bites
37. Italian Donuts
38. Baked Mini Churro Bites with Chocolate Sauce
39. Smoked Turkey Legs
40. Vegan Pistachio Ice Cream
41. Fried Sourdough Funnel Cakes
Instructions
Scroll up to get a bunch of easy, yummy, and delicious recipes. Don't be afraid to get creative with the ingredients, you might discover a flavor you didn't know you liked.
Get your shopping list going and make sure you've got all the ingredients.
Get cooking and make your next Carnival Food Recipe!
Notes
Which one of these recipes was your favorite? Let me know in the comment section or on Pinterest!