Smoked appetizers are the cream of the crop. The delicate smokey flavors are some of the best out there! They help get your guests' appetites ready with these incredible smoked appetizers.
If you're curious about the world of smoked appetizers, you've come to the correct list. We'll go through twenty-one ways you can create appetizers like this.
Some of these recipes require a smoker or pellet grill. But others use pre-smoked ingredients or a homemade smoking method, so there's a great option for everyone to try for your next party!
What Is the Most Popular Appetizer?
There are so many appetizers served all around the world. It's hard to know which one is the most popular! Bread-based appetizers are pretty standard because they're easy to make.
Crostini, bruschetta, and even breadsticks with dip are all very popular. Other things like stuffed mushrooms and even French fries make appearances often.
The key is making a crowd-pleasing dish for your appetizer so that everyone can enjoy them!
What Can Be Smoked Besides Meat?
When people think of smoked appetizers, they often think of meat. But you can smoke so many other things to give them a richer flavor.
Dairy items like sour cream or cheese are great at absorbing smoke. Vegetables are also a good place to start, with artichokes or potatoes being particularly good.
Of course, there's also fish! The delicate fish flesh is a perfect home for veins of smokiness. To explore the full range of what you can smoke, keep reading!
Best Smoked Appetizer Recipes
The point of an appetizer is to make your guests feel hungry without filling them up too much. Each of these recipes fits the bill and is the perfect match for your pellet smoker!
Add a hint of smoke, and you've got appetizers your guests will devour in minutes.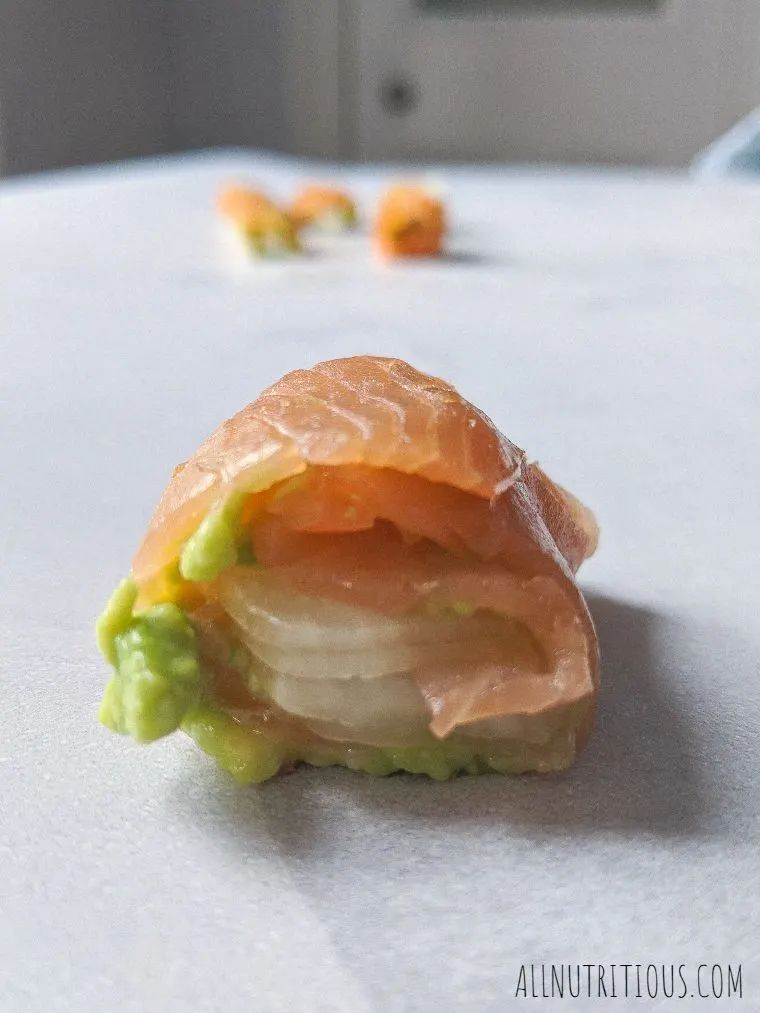 Source: allnutritious.com
First on the list is a quick high-protein appetizer. Smoked salmon and avocado pair ideally in these tasty little bites. You only need four ingredients to make this finger food recipe!
These simple appetizers look great, and they taste just as good. With plenty of protein in every single one, these delicious appetizers will keep your guests happy and full until dinnertime.
You will absolutely love this finger food recipe for potlucks and parties!
Source: bonappeteach.com
Cream cheese is beautiful when smoked. The rich, tart flavor takes on a rounded smokiness that makes it a hundred percent more addictive!
Pair a block of cream cheese with this delicious pepper jelly. You've got a real winner. This is a great appetizer to use for a small group of guests.
Serve this great appetizer idea with a platter of crackers or tortilla chips for a shared appetizer.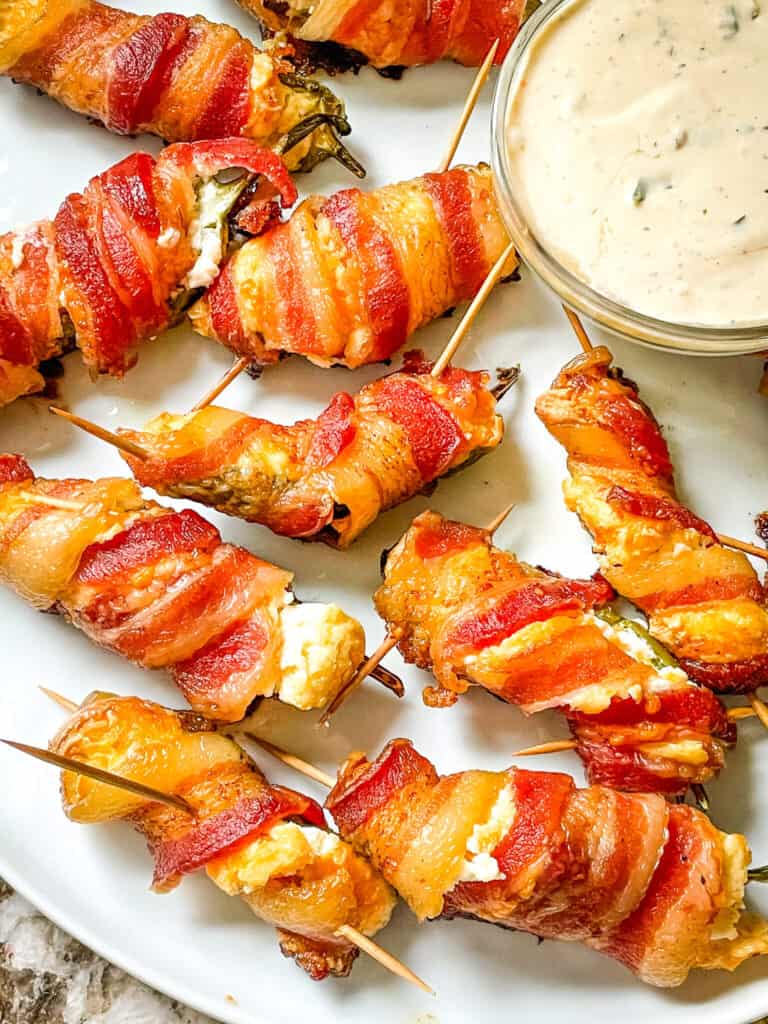 Source: threeolivesbranch.com
Take your jalapeno poppers to the next level with this delicious hack. These little finger foods are one of the favorite recipes for the perfect appetizer for a BBQ with the family.
The key is to cook these in a smoker. If you don't have a smoker, you can improvise one using your Traeger grill or even a stovetop pot at home. Trust me. The effort is worth it!
The cheddar cheese and a slice of bacon takes these backyard bbq appetizer to the next level.
Source: bonappeteach.com
The next recipe goes out to all fish lovers. This delicious flaky Florida fish dip has the perfect amount of smoke hovering around the edges.
The flavor is light and delicious, with just a hint of smoke and spice at the back of the tongue thanks to the hot sauce.
If you don't have a smoker at home, you can use pre-smoked fish to make this at home.
Source: bbqingwiththenolands.com
That's right. There's a way to make salsa even better than it already is! This recipe pours smoke into a prepared salsa, lacing it with fragrant notes.
This is a beautiful way to elevate a simple party appetizer. Making this requires barely any extra effort. If you don't have a smoker at home, you can use your grill to achieve a similar effect.
Source: bonappeteach.com
Speaking of Mexican-style dips made better with smoke: it's time to up your queso game! This delicious queso dip would be the perfect bite and the ultimate party dip at your next gathering.
This would be at home at a potluck, where everybody can go nuts and dip whatever they want in the cheese. Straight off Tik Tok, this viral crowd pleaser recipe lives up to its reputation.
Enjoy more tasty appetizers for your fiesta night with these other Mexican appetizer recipes!
Source: atastefortravel.ca
If you don't have a smoker at home, this is a great appetizer to reach for. The smoked element is salmon, which you can easily pick up from your local store.
The rest of the elements highlight the smoky salmon's flavor. Capers and cream of sardine combine to create an appetizer that looks fancy but tastes like a homemade treat.
Source: bbqingwiththenolands.com
Scallops are one of the best seafood items you can smoke. The delicate flesh takes on flavor like a sponge, especially smoke! This recipe allows you to enjoy tender, juicy scallops that sing with smoke.
One or two of these scallops make a great appetizer. However, you can also use this recipe to create a main dish. These scallops are super versatile!
Source: familyspice.com
Put a unique spin on a game-day favorite with this delicious smoked guacamole. The bacon stirred through the mix highlights the smokiness in the avocado, making it a million times better.
This technique uses a smoking gun, a cheaper alternative to a full-on smoker. Serve with a pitcher of margaritas and enjoy the tailgate party the way it was meant to be enjoyed!
Source: aimeemars.com
Here's a super simple make-ahead appetizer that's great for holiday parties. This delicious smoked cheese ball is covered in a layer of crushed pecans to add some nuttiness.
The cheese inside sings with a light – but delicious – note of smoke. The combination is out of this world! Serve with crackers, breadsticks, or your favorite Christmas snacks.
This is one of the greatest fall appetizers for parties!
Source: cookwhatyoulove.com
Fire up your smoker and crank out this smoked Chex Mix in no time! This is a great way to create a custom Chex Mix that suits you and your guests.
Pick up all your favorite crunchy snacks and blend them into the perfect collection of crunch. Then, leave it in the smoker for a few minutes and coat it with a spicy glaze to finish it. Delicious!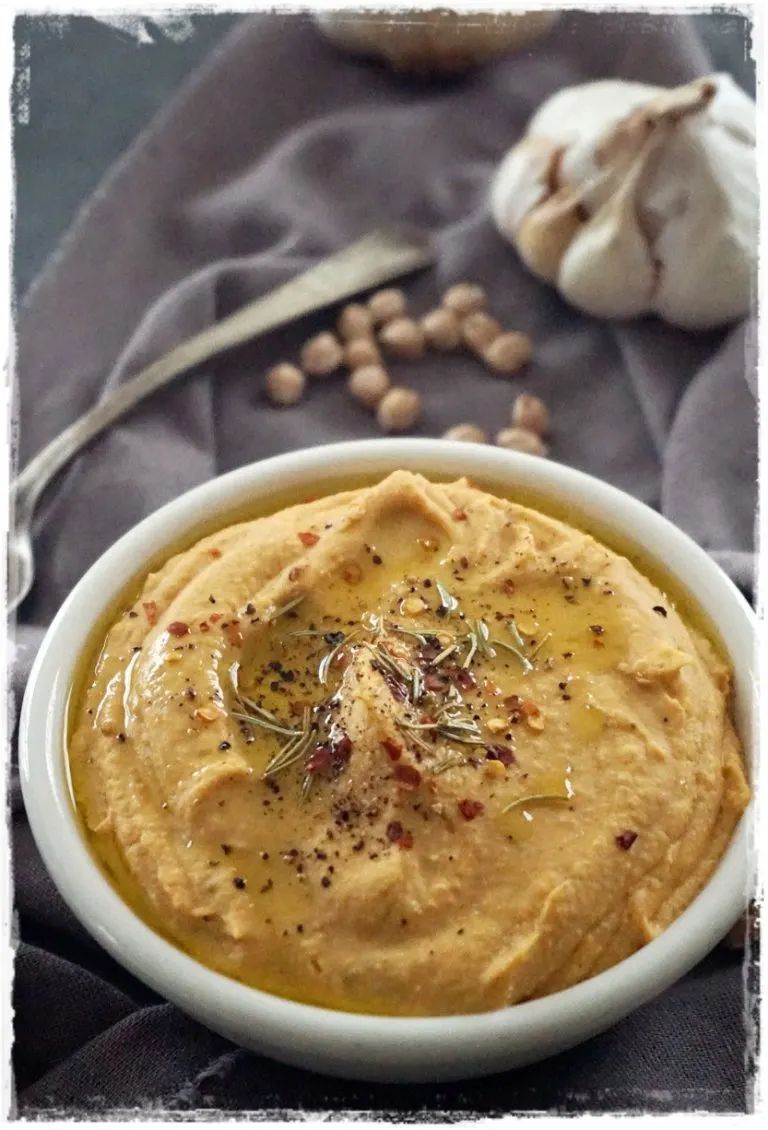 Source: planted365.com
This smoky rosemary hummus might be one of the best recipes on this list. It's so simple, but the flavors are out of this world. Rosemary and smoked chickpea are an incredible combination.
This is a super simple hummus recipe you can easily make ahead. Store in your fridge whenever you need a high-protein pick-me-up!
Complete your party apps with more of these easy cold appetizers!
Source: ourlovelanguageisfood.com
Do away with the old-style fish cakes and make room for these modern smoked salmon cakes. These have all the same crunchy flakiness we know and love.
But they take it up a notch with smoky goodness. Pair with a chipotle-style mayonnaise that picks up on the smokiness in the salmon flesh. These are amazing as both an appetizer and a side dish.
Source: windingcreekranch.org
Is there anything better than a good chicken wing? These smoked wings are so tender and juicy. The smoker cooks them perfectly, putting a lovely char on the outside.
You can serve these as a game-day appetizer or as part of your lunch. Try serving with various dipping sauces to let everyone try their favorite combinations!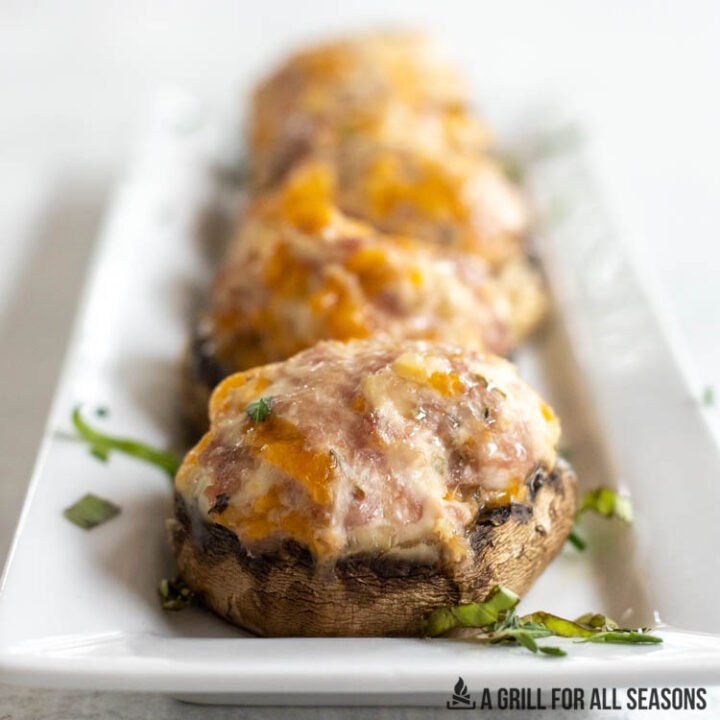 Source: agrillforallseasons.com
Stuffed mushrooms are a classic high-protein appetizer that will satisfy your guests. These smoky mushrooms are stuffed with a delicious meat and cheese mixture.
Mushrooms are known for soaking up the flavor of their surroundings. By smoking them on the grill, you're turning them into little flavor bombs! You'll want to make many of these because they go fast!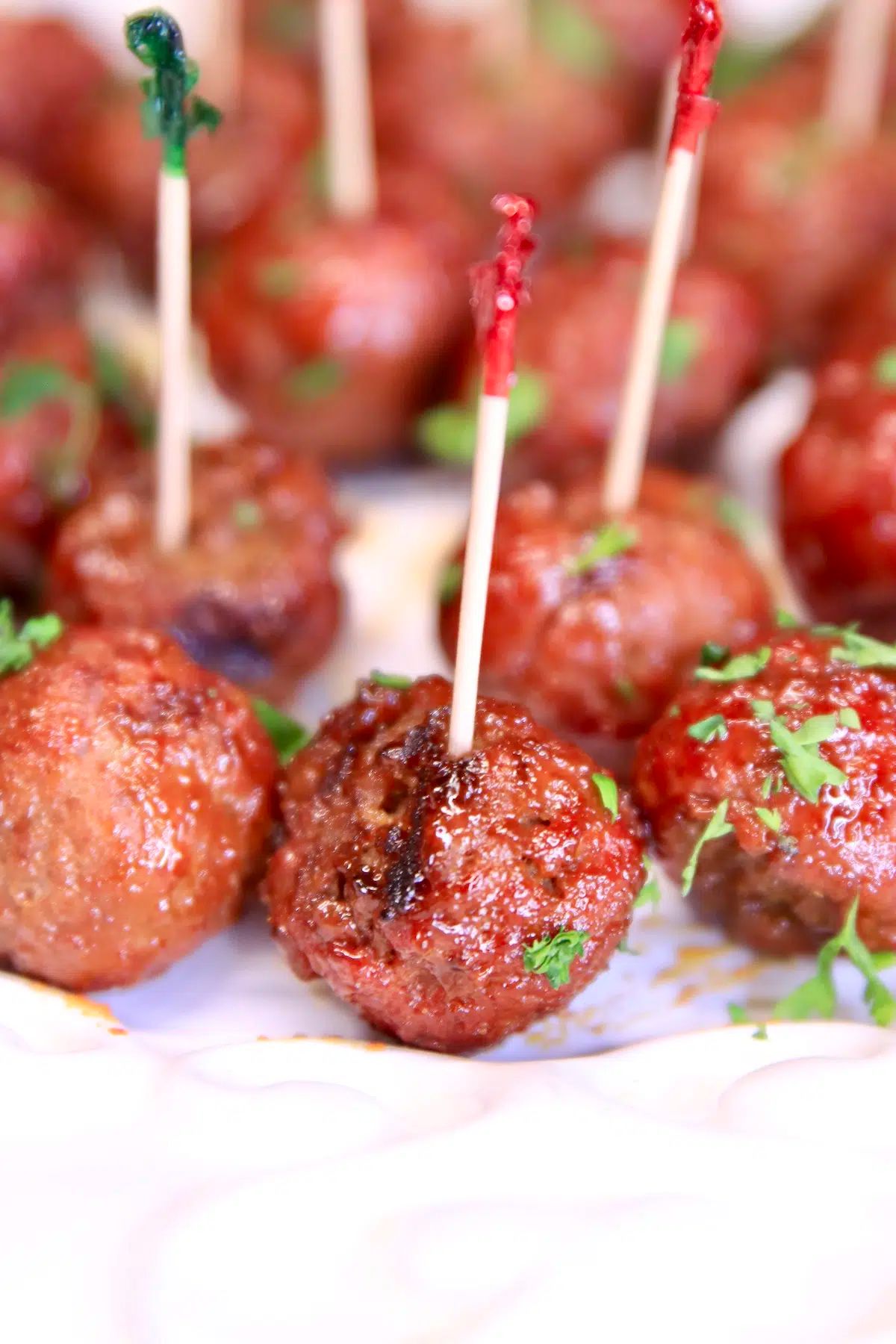 Source: outgrilling.com
Venison is gamey meat, so it goes beautifully with smoke. These delicious venison teriyaki meatballs are so smoky, sticky, and sweet.
They're a great party appetizer to get your guests ready for more!
Even though they taste amazing, these are super simple to make. You can prepare the meatballs the day before. Then, whack them in the smoker and brush them with your teriyaki glaze to serve.
Source: dinneratthezoo.com
Here's a smoky salmon take on the Key West smoked fish dip from earlier in the list. This is a great appetizer for a warm summer day when you need something cool to eat.
I recommend making this ahead of time. The dip keeps well in the fridge, saving you much time. While you can smoke your salmon for this, store-bought works well too!
Source: vindulge.com
If you love French onion soup, then you will love this dip. There's nothing better than settling down to tuck into a bowl of this with some friends and a bag of salty chips.
This super simple dip would be perfect on a road trip or as part of a picnic spread. Make it ahead of time and let it sit in the fridge to become even more flavorful.
If you are looking for the best hot appetizers, this is it!
Source: theprimitivedish.com
Deviled eggs are already incredible. Now, imagine adding smoke… I know, right?!
These delicious eggs have an incredible smokiness wafting through every bite. Pair that with the smoked bacon sprinkled on top. Then, you've got an addictive appetizer.
Source: theprimitivedish.com
Asparagus is an underrated vegetable. Smoking it in some bacon can bring out its natural springtime flavor to contrast the dark smoke and pair perfectly with your main dishes.
The flavors at play in this appetizer are to die for. Fresh asparagus faces off with smoky bacon to create an addictive cycle. In other words, your guests won't be able to stop until they're gone.
This one of the best smoked appetizers for a family gathering or special occasions
Source: theprimitivedish.com
Our final recipe can be ready and on your table in less than twenty minutes! This one-pan wonder is a good choice for the next tailgate party food and the perfect game day snacks.
Mix it up and turn it into your signature dish on game days! Make sure to include plenty of fresh salsa, lime, and cilantro to balance the smoky flavor.
So, do you own a smoker? Do you use another method at home to smoke your food? Let us know your favorite recipe in the comments below so we can try it!
21 Best Smoked Appetizers
If you need some crowd pleasing appetizer ideas, we've got your back! These are the best smoked appetizers that are both easy to make and easy to eat!
Ingredients
1. Smoked Salmon Bites
2. Smoked Cream Cheese with Pepper Jelly
3. Smoked Jalapeño Poppers
4. Florida Smoked Fish Dip
5. Smoked Salsa
6. Smoked Queso Dip
7. Cream of Sardines Tapas with Smoked Salmon and Capers
8. Smoked Scallops with Garlic
9. Smoked Guacamole with Bacon
10. Smoked Cheese Ball
11. Spicy Smoked Chex Mix
12. Smoky Rosemary Hummus
13. Smoked Salmon Cakes
14. Crispy Smoked Chicken Wings
15. Smoked Stuffed Mushrooms
16. Venison Teriyaki Meatballs
17. Smoked Salmon Dip
18. Smoked French Onion Dip
19. Smoked Deviled Eggs
20. Smoked Bacon Wrapped Asparagus
21. Smoked BBQ Chicken Nachos
Instructions
Scroll up to get a bunch of easy, yummy, and delicious recipes. Don't be afraid to get creative with the ingredients, you might discover a flavor you didn't know you liked.
Get your shopping list going and make sure you've got all the ingredients.
Get cooking and make your next Smoked Appetizer!
Notes
Which one of these recipes was your favorite? Let me know in the comment section or on Pinterest!