Don't know what makes a decent fall snack? Then check out these ultimate fall appetizers that are perfect for holiday gatherings and are a cinch to make!
When fall rolls over, you need some warm and inviting flavors and scents to fill up your kitchen. And not only for your main dishes you need a delicious appetizer as well.
When preparing delicious fall appetizers, it has to be loaded with classic ingredients like fresh herbs and pumpkin spice that will reach the nostalgic parts of your brain in the autumn months, filling you up with instant satisfaction.
Luckily for you, I know just the best fall appetizers for your fall parties that will complement your main course! If you cannot decide what to serve in between your October meals, these easy fall appetizers will definitely wow your guests at your fall party!
Source: diprecipecreations.com
Although this amazing dip tastes great all year round, I especially love making this perfect appetizer around Thanksgiving for an autumn party.
You have to have some pumpkin and sage flavors for Thanksgiving, right?
Rich in cheese – both cream and cheddar. And filled with garlicky notes, this lovely and gooey dip is perfect for your family gatherings.
Just grab some crackers or pumpkin bread, and I promise you, you won't be able to resist. For an even healthier version, try it with celery stalks and veggie sticks like carrots and cucumbers.
Source: pizzazzerie.com
Fixing charcuterie boards is always a challenging undertaking for finger foods. There has to be something with a hint of sweetness, savory, rich flavors, crunchy and creamy texture.
And yet, everything should be super balanced to create the perfect fall appetizer to compliment your Thanksgiving feast.
Besides, if your cheese platter appetizer is supposed to be theme-based, such as this fall-devoted board, then finding a combo that tastes and looks great can be even trickier. But not with these hearty cold appetizers!
If boards are overwhelming, just use this ingredient list.The most aromatic, flavorful, and delicious platter will wow every single guest, guaranteed.
There's meat, cheese, nuts, fruits, crunchiness… What more could you possibly need other than a glass of white wine or seasonal fall cocktails?
Source: mybakingaddiction.com
If you are looking for a cheese ball that will take things to a whole new level. Then this crunchy and sweet, but super creamy appetizer will definitely do the trick.
Packed with pecans, cranberries, and some sharp kick from sliced green onions. This creamy goat cheese ball with a crunchy topping is the perfect thing to serve alongside crackers or pita chips.
The recipe also features half a teaspoon of Worcestershire sauce. However, if you don't have any, you can substitute it with a touch of soy sauce and apple juice.
Source: girlheartfood.com
Roasted squash on a toasted baguette with meaty prosciutto and crunchy walnuts!
The most satisfying thing about this savory hot appetizer has to be the goat cheese base. That creamy touch on top of the crispy bread is nothing but satisfying.
The recipe suggests Herbs de Provence.However, when you have cheese, squash, and prosciutto, you really cannot go wrong with any mix of herbs and spices that you prefer.
For a wilder bite, add some fresh fruit slices on top. However, know that dried pieces such as raisins will also taste incredible.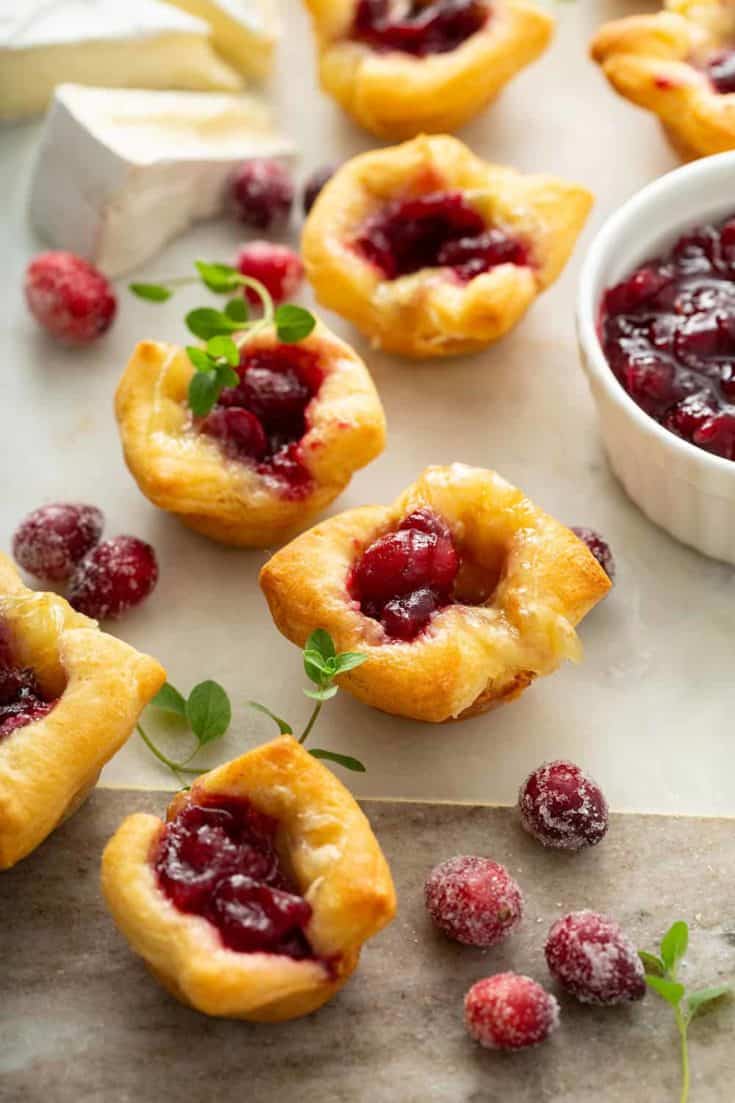 Source: mybakingaddiction.com
This recipe is for crescent roll cups with brie cheese and cranberries. It will become an absolute favorite for all fruit-and-cheese-combo lovers out there.
And the best part? You can simply top with frozen cranberries, or cranberry jam, or even make your own cranberry sauce and use it for this recipe. The taste will be incredible either way.
If you drizzle them with some honey for extra sweetness, even better!
Source: theshortordercook.com
If you're not a fan of pumpkin seeds, you better rethink the urge to skip this recipe. That's right because this sweet and salty recipe will change how you feel about this bite-sized snack forever.
So crunchy and delicious, there is something about the salty and syrupy taste that forces you to just keep on munching.
If you are watching your sugar intake, I suggest you swap the honey with some sugar-free syrup. These bites are extremely addictive.
Source: thriftyjinxy.com
If you're all out of crescent rolls and you liked our brie and cranberry appetizer idea from earlier. Then this recipe will be a total party saver.
Toasted baguette slices are topped with cheesy brie. They are further decorated with sweet, tarty, and orangey cranberry sauce that is so lick-your-fingers worthy.
If you don't have oranges, you can use lemons instead. However, I'd suggest adding a bit more maple syrup in that case.
Source: inthekitch.net
Who doesn't like galletes, right? But have you ever topped this crispy crust with pureed pumpkins? If not, then here is your chance to catch up with us pie addicts.
The pastry is crispy, delicious, and definitely worth the wrist work. It's almost like pizza dough but a bit flakier and crunchier around the edges.
And don't get me started on the topping because the pumpkins, cheese, and shallot combination is pure heaven.
If you don't have goat's cheese, substitute it with feta cheese for a similar texture and taste.
Source: threeolivesbranch.com
There is something about the combination of apples and cinnamon that I just cannot resist. It may be the deep scent, the warmth, or the lovely sweet touch on the tongue. Whatever it is, I'm glad it exists!
And if you give this sweet and loaded puff pastry appetizer a try, you will start appreciating the combo of flavor. Even if you're not usually a cinnamon fan.
Besides the cinnamon apples, this fall pocket is also stuffed with creamy brie and crunchy walnuts (you can use pecans!). That gives it a smooth and crunchy texture that will send your dieting goals to sleep.
Source: cookingonthefrontburners.com
Sweet, gooey, and cheesy, there is nothing you'd like to change about this recipe. Baked rounds of potatoes topped with cheese, candied pecans, and cranberries.
Drizzled with sweet honey, this incredible appetizer is even more delicious!
The fact I like the most about this recipe is that you can easily customize it. Play with crunches and sweets, or even some chopped meat like prosciutto or pancetta. Yum!
Source: reciperunner.com
Prosciutto, fruit, and cheese… What more could you possibly need for a sweet and savory bite to go alongside your glass (or two!) of wine?
I really love the Manchego cheese in this recipe. It brings a special touch that other types of cheese won't quite provide, so make sure not to do any swaps.
For a more colorful presentation, arrange the wrapped apple slices on top of a green leafy bed. Sprinkle some balsamic dressing or honey over it. Super irresistible, don't you think?
Find more Italian appetizers here.
Source: aseasonedgreeting.com
Crispy cups made out of phyllo sheets, filled with bacon, sauteed mushrooms, and creamy brie cheese. If you're looking for a savory appetizer, this will be a total hit!
The cherry on top here has to be the balsamic honey drizzle, which wraps everything up beautifully. That allows each of the ingredients to shine respectfully.
If you don't have Brie, it wouldn't be a crime to use Feta instead.
Source: flavourandsavour.com
If you don't like the scent and flavor of blue cheese, then this recipe is the perfect way to train your taste buds. Fall in love with this cheesy delight.
Crispy, soft, sweet, sharp, and zesty at the same time. These yummy mini treats for the tongue are the perfect thing to put on your fancy-party table.
If you're not a pear fan, you can use apples instead, as long as they are sweet, to get a similar result.
Source: theviewfromgreatisland.com
Apples and pecans are one of the most recognizable fall ingredients that you need to stock your kitchen with.
And when October rolls over, you need some great apple and pecan recipes to gather everyone for a quick bite. Recipes like this simple delight!
And it is as simple as it could possibly be. You need a wheel of brie, chopped apples, pecans, some butter, and a generous maple syrup drizzle, and that's it!
Source: fantabulosity.com
Another cheese and fruit appetizer that always seems to satisfy guests. Why? Because it is salty, crunchy, and sweet, and it looks just so adorable on the table.
Secured with toothpicks, this bite-sized treat will practically be begging you to put it in your mouth. And it is pretty convenient to serve, don't you think?
Besides, dates are packed with fibers and rich in vitamins and minerals. So, these lovely appetizers will be good for your diet, as well.
Source: feastingnotfasting.com
So festive and rich-looking, but incredibly light and easy on the tongue. This sweet and cheesy appetizer with cranberries is a definite must-try.
The recipe also features pomegranate arils, herbs, and pecans. However, the thing that gives it irresistible creaminess is goat cheese.
It doesn't only look glamorous, but it tastes great, too. Give it a try at your next get-together party, and see for yourself!
Source: saltycanary.com
Have you ever tried beets on a stick? I know it doesn't sound like the tastiest thing in the world.
However, trust me, it is so rich in flavor that it will become in serious demand in your house.
Plus, with beets, arugula, walnuts, and goat cheese. You can only imagine the nutrients that this salad-on-a-stick is packed with.
The salad is drizzled with honey balsamic dressing, which makes it even more delicious.
If you're not quite fond of arugula, feel free to use another leafy green. I promise the taste will be incredible either way.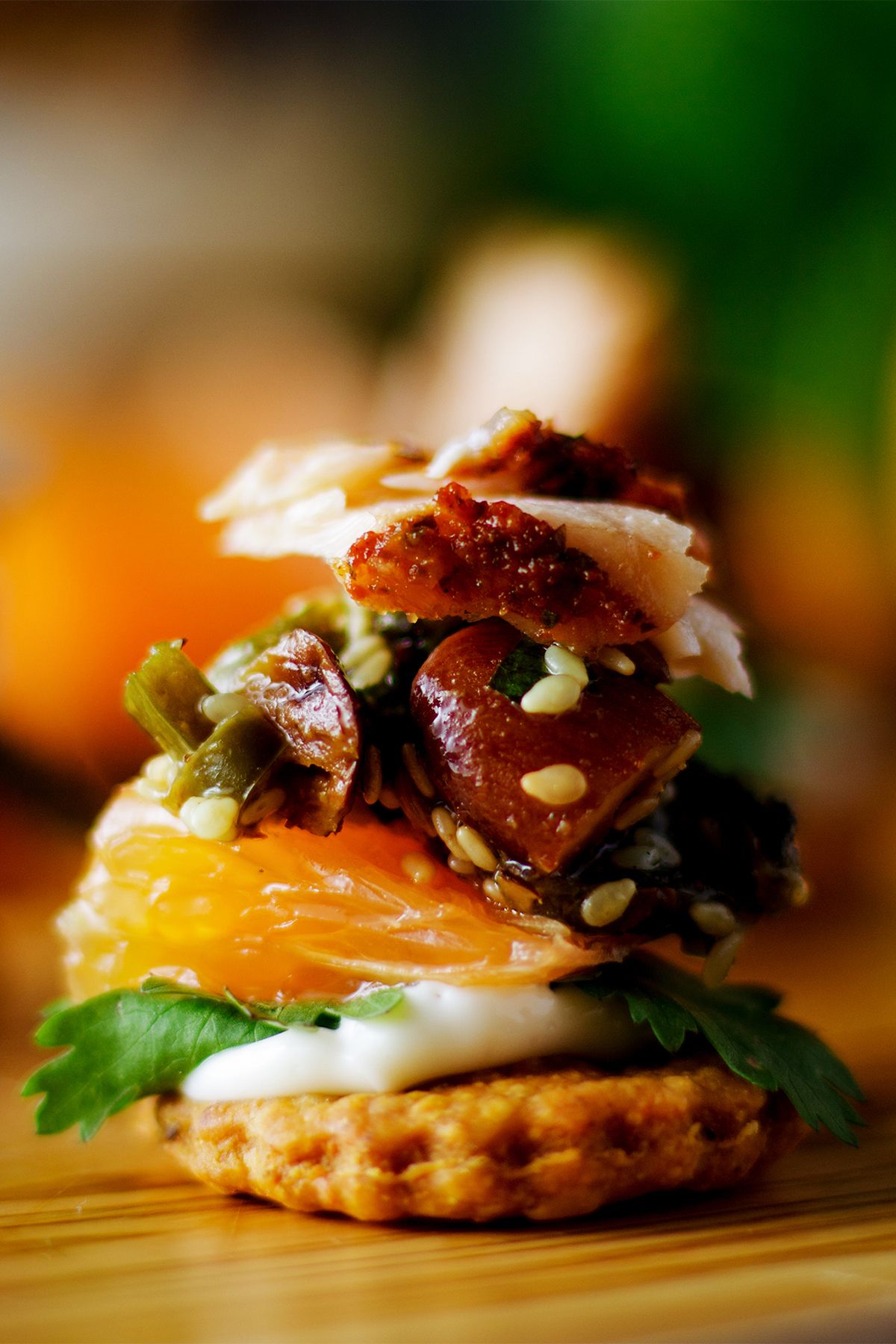 Source: alittleandalot.com
If you're not familiar with this combination, salmon with citrus flavors is definitely something you have to prepare. The salmon taking on fresh and zesty notes is simply irresistible.
But that's not all! This salmon goodness is served on top of buttery and flaky homemade crackers, which is yet another way to show off your cooking skills to your guests.
I especially love the mayo and garlic topping that gives a creamy and flavorful touch.
It combines everything deliciously.
Source: beyondmeresustenance.com
When apple season comes knocking on your door. Here is another great use for the leftover gala or delicious golden apples sitting in your fruit bowl.
With creamy cheese, cheddar, pecans, and tons of warm spices, this lovely dip will satisfy all your fall cravings. Besides, it is so vibrant and fancy to look at, that it will become a total party hit.
The surprise ingredient that gives off the kick and intensifies the other flavors is the chopped green chiles. Trust me, without the heat. This dip will not be as eclectic and satisfying.
Source: nourishplate.com
We all love chickpea hummus with delicious tahini and just the right spices. It is so full of flavor that it's practically impossible to stop dipping your celery sticks into it, right?
But have you tried adding sweet potatoes to your hummus recipe? If not, then this is something that will seriously transform your crackers and veggie dip party.
Make sure not to skimp on the cumin, though, as two generous teaspoons are really necessary for this recipe.
Source: goodlifeeats.com
When in an appetizer doubt, go for crostini! You cannot make a mistake if you serve a crunchy base topped with something gooey and sweet. Something like this flavorful recipe!
With pears, pomegranates, and cinnamon cream (you can also use plain cream cheese!), palate satisfaction is guaranteed!
So easy to make and yet super scrumptious, everyone will ask for seconds!
Source: bigfamilyblessings.com
If you are in the mood for some pumpkin pie bites but don't feel like spending the whole afternoon in the kitchen, try this recipe. A crescent roll cheat for a quick and pumpkin fall appetizer!
With only 20 minutes needed from start to finish, this has to be the quickest pumpkin pie you'll ever make. All you need is packaged crescent rolls and pumpkin pie mix. Okay, and a touch of butter and spices!
I'd add some cinnamon to that sugary topping, but that's just my warm-spice-addict side talking!
Source: happykitchen.rocks
So clean, nutritious, and 100% vegan, these crunchy crostini topped with sauteed mushrooms are to die for. Honestly, meat or dairy toppings here are totally unnecessary.
Although the recipe features shredded mozzarella, I suggest you skip this ingredient altogether. As a generous amount of onions and mushrooms is all that's needed.
Source: reneenicoleskitchen.com
If you are a fan of fritters, then here is a fall snack you should not miss! Sweet, crispy, and loaded with feel-good taste is what sweet potato fritters bring to your afternoon get-together table.
Served with sweet and spicy mayo sauce, there is nothing I'd change or add to this recipe.
The cinnamon and fennel give respectful aromas that work so well with the shredded sweet potatoes. But really, it is the ginger that shines through and gives that special oomph to the fritters.
Source: wholefoodbellies.com
When you have phyllo pastry in your kitchen, you can come up with many appetizer varieties based on what your pantry and fridge offer.
These feta and pumpkin serving-sized rolls are just one of the many delicious things you can whip up as a fall snack.
Crispy on the outside and pumpkiny and cheesy soft on the inside. Who can possibly say no to these hand-eaten treats?
Source: theroastedroot.net
Another crostini recipe that shouldn't be left untried. Crunchy, soft, and naturally sweet, with so many different flavors that complement each other that you will be tempted to devour the entire platter.
Oh, and it is 100% vegan. With veggie ricotta with cauliflower and cashews, the colorful beets on top of the toasted baguettes taste even better.
An ultimate pick for your recipe folder, don't you think?
Source: sweetandsavourypursuits.com
It seems that we cannot live without toasted baguette slices this fall. So. here is another crispy recipe, topped with soft brie and sweet sliced pear.
For an added crunch, the recipe uses chopped walnuts. If you want it to be sweeter (like I definitely do!), then the honey drizzle will more than help.
This classic combo of fruit, cheese, and bread, is just the thing your beloved glass of wine needs. Ooh la la, how very French of us!
Source: lifecurrentsblog.com
You can already guess that there are figs, onions, and some balsamic vinegar in this recipe. But what you cannot know without giving it a try is how amazing these pinwheels taste.
All you need is a puff pastry sheet to make the finger-licking sauce with figs, onions, and, yes, balsamic. Then, you simply roll it up, slice, and bake. And voila! Your fall finger food is served!
The best thing about these delicious pinwheels is that they can be easily frozen. I suggest freezing them pre-bake, but you can also pop the baked pinwheels in the freezer, as well.
Source: amandascookin.com
It's a dip, it has pumpkin in it, and it smells just like October. Can you find a more suitable fall recipe than that?
It is loaded with cream cheese, pumpkin puree, whipping cream, sugar, and yes, your favorite pumpkin pie spices.
I suggest enjoying this sweet dip with some apple slices. But crackers or gingersnaps will be just as tasty.
Source: ifoodreal.com
Stuffed Medjool dates have to be one of the sweetest, healthiest, and absolutely guilt-free snacks you can freely enjoy.
With cheese, pumpkin seeds, green onion, and chili flakes, these dates have it all. Sweetness, gooeyness, crunchiness, spiciness, and that hot kick to wrap up everything nicely.
Besides, once you drizzle them with honey, they become finger-licking delightful!
Source: ihearteating.com
If you love those roasted street snacks, this recipe will take you back to your childhood fair days. So easy to make and delicious, you can never go wrong with roasted almonds on your party table.
Crunchy and sweet, these cinnamon-sugar-tossed almonds are the healthy sweet bites that kids will adore. Adults, too!
Don't like them sweet? No problem!
Just swap the sugar with some salt, and use paprika, garlic, turmeric, or whatever spice you like instead of the cinnamon and vanilla. I promise delicious crunchiness!
31 Best Fall Appetizers for Your Next Dinner Party
Searching for the best fall appetizers? These go-to recipes are sure to be a hit at your next holiday gathering.
Ingredients
1. White Cheddar Pumpkin Sage Dip
2. Fall Charcuterie Board
3. Cranberry Pecan Goat Cheese Ball
4. Roasted Acorn Squash Crostini
5. Cranberry Brie Bites
6. Honey Roasted Pumpkin Seeds
7. Cranberry Compote with Brie
8. Pumpkin Galette
9. Cinnamon Apple Baked Brie Puff Pastry
10. Sweet Potato Goat Cheese Appetizer
11. Prosciutto Wrapped Apples with Manchego Cheese
12. Brie Bacon and Mushroom Phyllo Cups
13. Blue Cheese Crostini with Crisp Honeyed Pear
14. Baked Brie with Maple Apples and Pecans
15. Bacon Wrapped Dates
16. Cranberry Goat Cheese Log
17. Beet Salad on a Stick
18. Salmon Bite Appetizers with Citrus and Almond Salsa
19. Savory Warm Apple Dip
20. Roasted Sweet Potato Hummus
21. Pear and Pomegranate Crostini
22. Pumpkin Pie Crescent Rolls
23. Vegan Mushroom Crostini
24. Sweet Potato Fritters
25. Feta and Pumpkin Phyllo
26. Roasted Beet and Herbed Vegan Ricotta Crostini
27. Pear and Brie Crostini
28. Onion Fig Balsamic Pinwheels
29. Pumpkin Pie Dip
30. Stuffed Dates
31. Cinnamon Almonds
Instructions
Scroll up to get a bunch of easy, yummy, and delicious recipes. Don't be afraid to get creative with the ingredients, you might discover a flavor you didn't know you liked.
Get your shopping list going and make sure you've got all the ingredients.
Get cooking and make your next Fall Appetizer!
Notes
Which one of these recipes was your favorite? Let me know in the comment section or on Pinterest!