Throwing a party? Check out these finger food recipes that are easy to make and guests will definitely love.
All set to throw a raving party for your friends? Have you thought of the best easy finger foods to serve? No? Well, let us help you with the most delicious yet easy finger food recipes that your guests will love.
These best finger foods and party appetizers are sure to a crowd pleaser at your next dinner party.
Source: culinaryginger.com
Here's a Sausage Rolls recipe you can think of as your convenience party food. This easy finger food recipe is known as a British staple for all the good reasons.
To make this great finger food a hit, you need two key ingredients, a good pastry, and quality pork sausages. Once baked, these puff pastry rolls look divine.
You can serve them at a game day party and an intimate dinner for just family or your date. Get your dough ready, marinate your sausages and cook them with all the seasoning now; fill your pastry with the sausage mix and put them in the oven to cook nice and crispy.
Love this recipe? Check out more easy puff pastry appetizers!
Source: amandascookin.com
The shrimp cocktail is one of the most attractive finger food appetizers ever. And did you know that as beautiful as it looks, it's also pretty easy to put together?
Bursting with flavor and served in martini glasses, this recipe is the most hit finger food for any party and requires minimal effort; here's how to make it.
There are two elements to this recipe. One is your meat, the shrimp, and the other is the dipping sauce, which is very important.
Boil your shrimp and let them rest on a dry towel. Add chilli sauce, ketchup, horseradish, and lemon juice in a separate bowl and mix to make your dip with so much flavor for the shrimp. Serve in a martini glass for the oomph factor.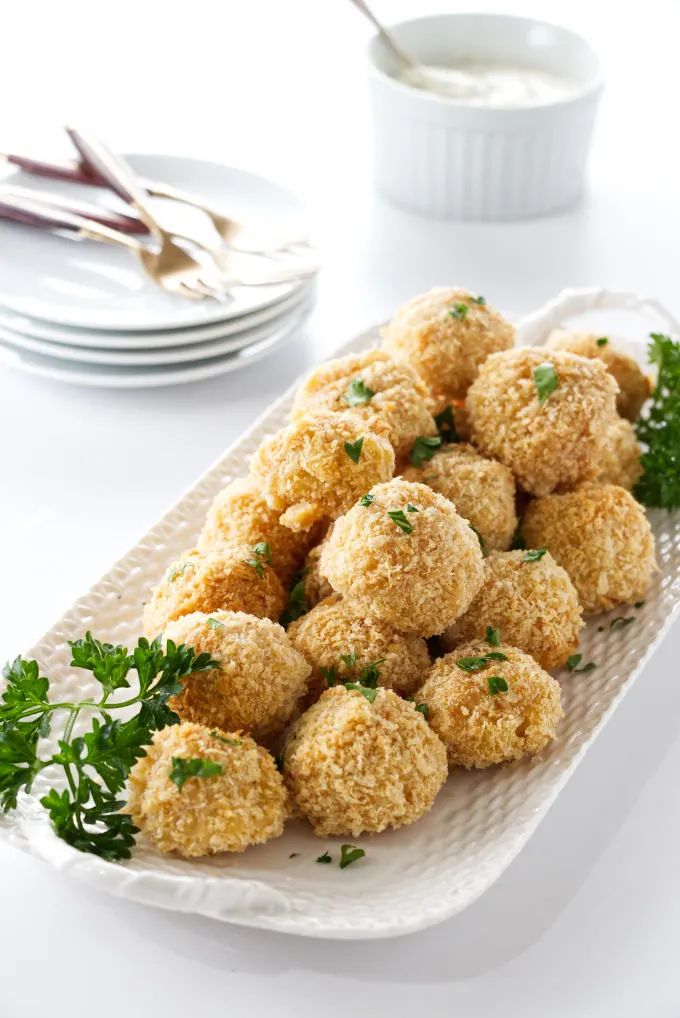 Source: savorthebest.com
Who doesn't love Mac and Cheese? If you love them as much as we do, you need to make Baked Mac and Cheese Bites as your party appetizer for sure!
The best part is that you can make this easy party appetizer with leftover mac and cheese. Isn't that amazing? Take your leftover mac and cheese, scoop it, and make even balls. Now roll these balls in breadcrumbs and bake.
Make a delicious creamy dip or serve with any store-bought dip you like. These bite-sized appetizers are the best and easiest finger food for any party.
Source: aubreyskitchen.com
Here's a fun, fast, and crispy appetizer your guests will love. The best part is this easy finger food idea is as healthy as it's delicious. Our Air Fryer Pizza Rolls will turn your dull party into a hip one.
Just get some frozen pizza rolls. Preheat your air fryer and put your rolls to cook. Check in about 10 minutes and turn sides. Try these pizza rolls with marinara or pizza sauce to enhance the taste and serve them with a veggie tray.
Source: drivemehungry.com
If you are more invested in preparing other aspects of your party, you need an effortless yet tasty finger food recipe to save time. How about Deviled Eggs?
Devilled Eggs are easy to cook, and we all also love them. Did you know deviled eggs are also Keto friendly? They have 1 gram of net carbs per serving; isn't that cool?
Boil your eggs, scoop out the yolk, and mix it with mayo and mustard. If you aren't a fan of mustard, you can use avocado, Hummus, yoghurt, sour cream, etc. to put new twists and tasty variations on these healthy appetizers.
Source: dinneratthezoo.com
Buffalo sauce is one of the most popular sauces to serve with finger foods. Here's a mouth-watering recipe for Buffalo Cauliflower Bites that you can try for your party as an alternative to buffalo wings.
Pro tip: cut your Cauliflower into even small bites so that they all cook at the same rate. This easy appetizer recipes total cook and prep time is just 40 minutes, so you can easily prepare it for a hungry crowd.
Apart from Cauliflower, you will also need simple ingredients like flour, salt and pepper seasoning, buffalo wing sauce, butter, and honey. Serve your crispy Cauliflower with any dip you like at your next super bowl party or dinner parties.
Source: shwetainthekitchen.com
Taste, looks, and convenience of cooking, this Vegetarian Tortilla Pinwheels recipe ticks all the boxes for the perfect finger food recipe.
You can serve them baked or cold. Either way, it will be the best finger food for your party ever. You will need cooked tortillas, sour cream, seasoning, and all the vegetables you like.
Fill and roll your tortillas and cut in even circles; bake or serve cold; these pinwheels will steal the show.
Source: dinneratthezoo.com
Pigs in a blanket is a hit and most popular finger food recipe that people love to serve at all big or small parties.
The two main ingredients you need for this recipe are dough and miniature cocktail wieners. Cut your dough in strips, wrap your cocktail wieners snug and tight, bake and serve with any dip you like.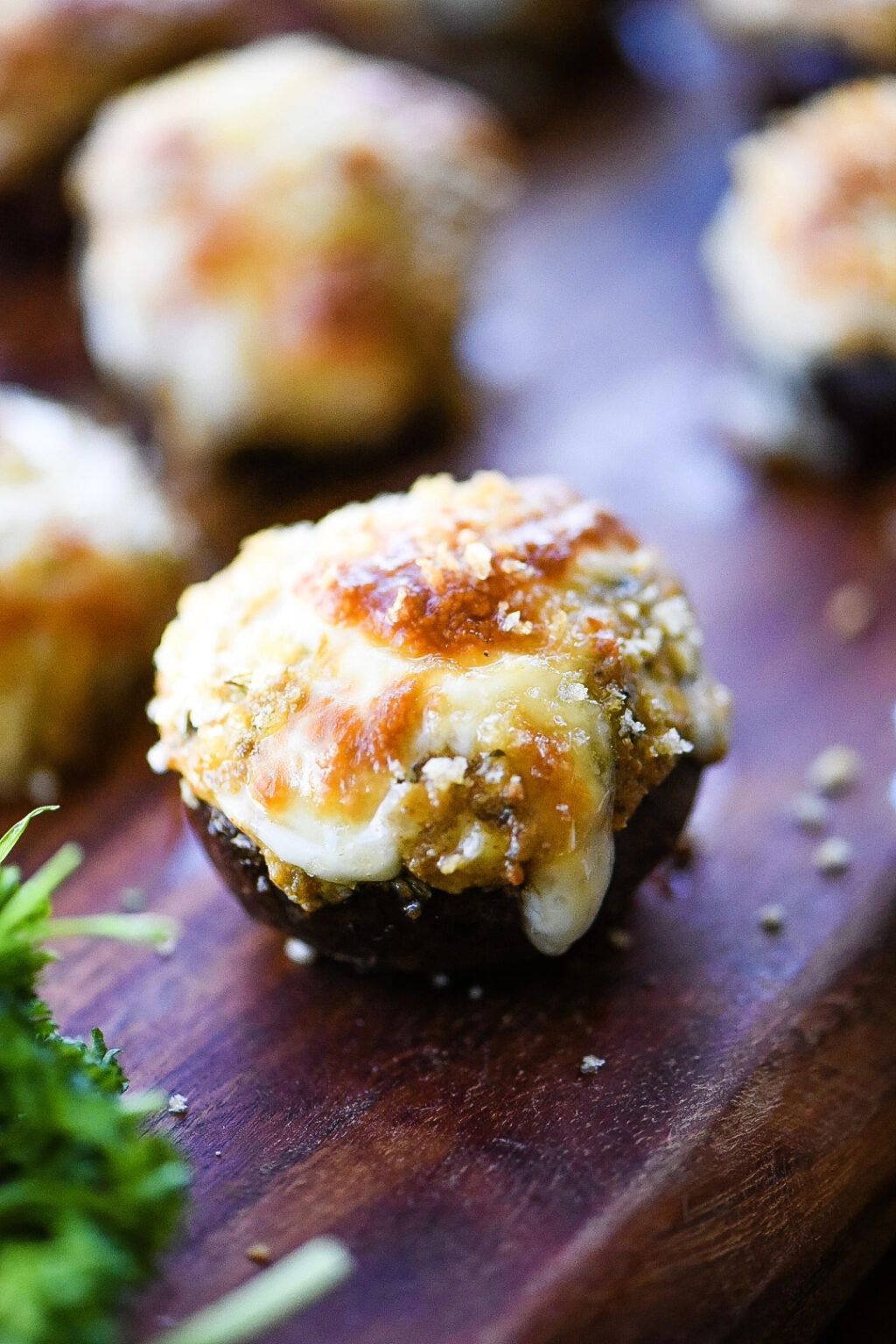 Source: dudethatcookz.com
Here's a one-bite cheesy recipe your guests will not have enough of; Stuffed Mushrooms.
The blend of cream cheese and Parmesan cheese with the robust flavor of mushrooms is just divine.
Mix in panko breadcrumbs to add just the right amount of crunch to your stuffed mushrooms.
Source: playpartyplan.com
Broccoli may not be a well-liked food, but these Broccoli Cheese Bites will become everyone's favorite.
Apart from being tasty and healthy, Broccoli cheese bites are also very quick and easy to cook. You can prepare your Broccoli bites in as little as 20 minutes; isn't this the perfect finger food for your party?
Prepare a thick batter of Broccoli, cheeses, eggs, and crackers and scoop it into molds. Now bake or Air Fry your batter and serve with your favorite dip.
Source: theroastedroot.net
Here's a short recipe you will find hard to resist, Cream Cheese Stuffed Mini Peppers. If you are a fan of hot and flavorful food dipped in cheese, these will become your favourite finger food ever.
Score Mini sweet peppers in different colors (red, green and yellow). Take out the seed and ready them to be filled with different varieties of cheese, such as Cream cheese, ​​mozzarella cheese and Cheddar cheese.
Fry in Air Fryer and enjoy with the dip of your choice.
Source: wholesomeyum.com
We believe finger foods shouldn't only taste good; they should also look highly presentable on a tray. So, we bring you the most delicate-looking Smoked Salmon Cucumber Bites.
Since it's served cold, there is no need to rush to make this one; you can prepare this even half an hour before the party begins.
Slice your cucumbers, add a good scoop of dill sauce, and place your thin salmon slices on top. You can garnish this with fresh dill as well. This refreshing and light appetizer tastes just as good as it looks.
Source: bellyfull.net
Chickpeas are packed with protein and fibre; if you roast them, they become crunchy and even tastier.
You can serve them in small bowls as a light and healthy snack at your party as finger food or as a light appetizer for dinner at home. It's also a great movie snack.
Source: recipesfromapantry.com
Here's a recipe that is extremely popular for so many reasons. These Ham roll-ups are perfect for lunch boxes, light snacking, party finger food, and kid's snacking.
These are also pretty easy to make. Moreover, you can even make these a couple of days ahead of time, as they stay good for 2 to 3 days and can also be frozen.
Combine cream cheese, cheddar cheese, and ranch sauce in a bowl. Now take your tortillas and spread your cheese and ranch evenly. Add your ham next and roll up. Cut even slices of your rolled tortilla and serve with a dip of your choice.
Source: thesuburbansoapbox.com
Any snack that goes on a skewer is perfect as party finger food. It's both delicious and presentable. These Caprese Salad Skewers are a life saver if you're short on time, and the best part is that you don't need to do much to make them look great for your party.
To make Caprese Salad Skewers, you will need juicy cherry tomatoes cut in half, mozzarella balls, and fresh basil leaves. String them together on skewers and lightly drizzle olive oil as a dressing.
Source: glutenfreepalate.com
It doesn't take more than six ingredients to make these Gluten-Free Quiche Bites, but they taste out of this world and are perfect as the finger food for your next party.
To make your Quiche bites, you will need one loaf of Schar Artisan Baker, Olive oil, six eggs, ham, shredded cheese, and seasoning. These come together effortlessly, and they look great on a platter with a cool dip to go with them.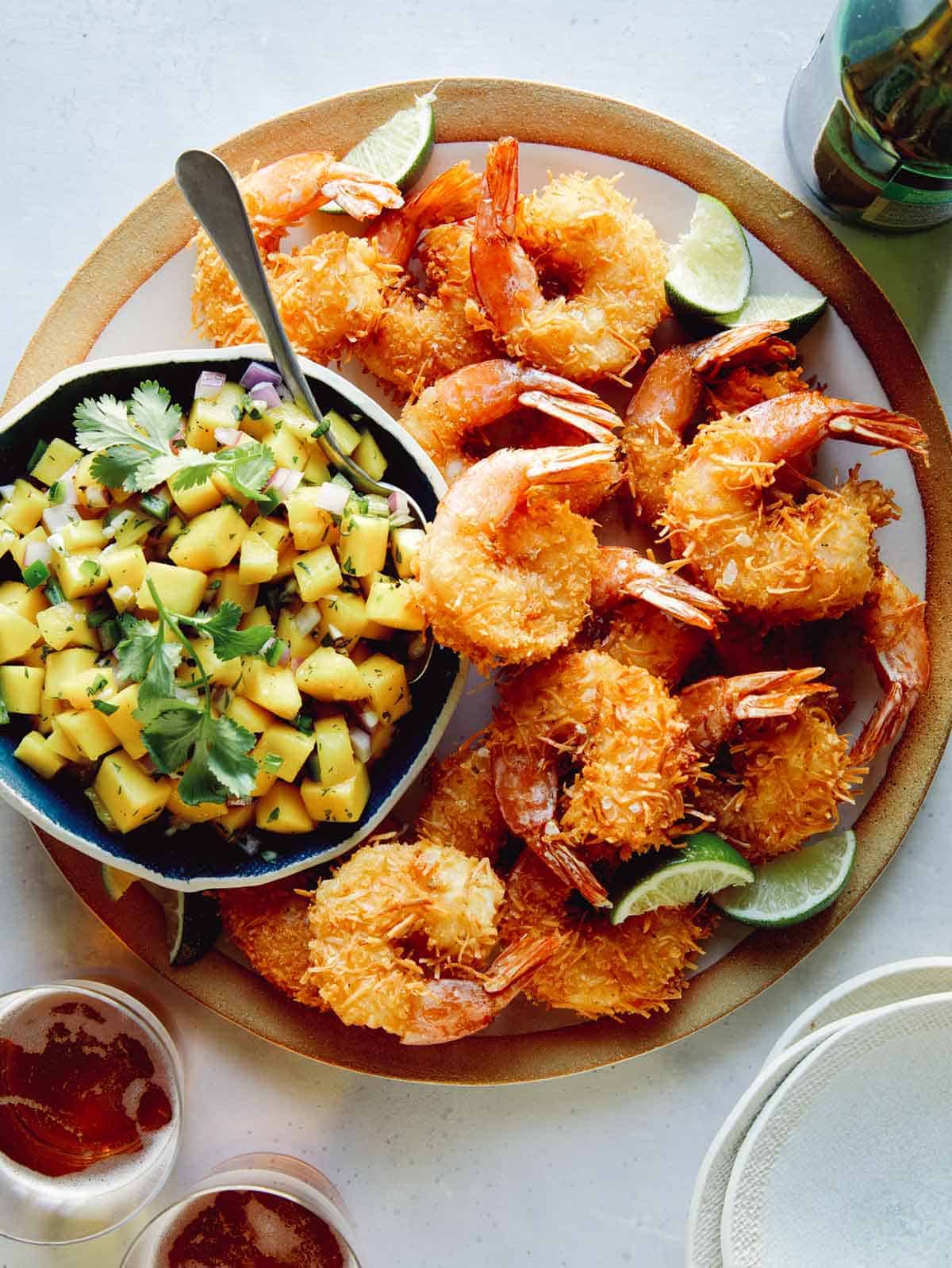 Source: spoonforkbacon.com
If you're looking for an exotic and flavorful recipe, you must try our Coconut Shrimp. It's a delightful combination of coconut and shrimp served with a side of mango salsa.
This is an appetizer you can cook three ways, fry in oil, bake in the oven or fry in the Air Fryer. All three ways make a delicious and bright appetizer that will make your guest fall in love with your creative cooking skills.
Source: chefsavvy.com
If there is one snack that beats all, it's Pretzel. There is nothing as perfect as pretzels, and here's a way you can make them even more perfect for your party by converting them into Pretzel bites.
This delicious finger food is easy to make and also pretty cool to serve at a summer or pool party. You can even make this as an appetizer if you have friends over for a slumber party, dinner, or movie.
To make your homemade Pretzel dough, you will need Yeast and water, Salt, Sugar, Flour, Butter, and Eggs.
To make the cheese sauce, you will need Butter, Flour, Milk, Cheese, and seasoning.
Source: mightymrs.com
If you are looking for filling finger food or appetizer for your party, you need to try these mini ham and cheese sliders. These are perfect for pool parties, summer bashes, and even picnics.
You can also use these sliders as a full meal if you want. Have them as your hearty breakfast or lunch. They are ideal for filling you up on a busy day.
To prepare them for a big party, you will need Savory Hawaiian rolls, Black forest ham, and Havarti cheese.
Source: ketocookingchristian.com
Here's the most refreshing Shrimp recipe; this one is prepared with lemon zest to add perfect tangy flavoring to the otherwise subtle shrimp.
These Shrimp Skewers are perfect as finger food for your party, they look great on a tray, and you can serve them with a fresh avocado dip. It's the perfect finger food recipe for seafood lovers.
Source: peaceloveandlowcarb.com
Here's a recipe that lets you enjoy potatoes without the carbs; Loaded Sweet Potato Bites. It's my favorite keto recipe prepared with intense cheddar, flavorful bacon, fresh green onions, and sour cream.
Apart from that, you will also need a good amount of seasoning and olive oil. Bake your sweet potato slices and add a hefty amount of your filling on top; serve hot or at room temperature with the dip of your choice.
Source: momfoodie.com
Keto has become a popular dietary lifestyle for many. So you need to have at least one Keto-friendly finger food at your party for sure.
These Keto Cheese Steak Buns aren't only healthy, but they are also delicious. But don't take our word for it; experience the flavor by making these at your party.
Source: lemonblossoms.com
I love making Instant Pot Chicken Wings; you can use fresh or frozen chicken, and the recipe will turn out delicious.
This Instant Pot Chicken Wings recipe is perfect for lazy Sunday dinners, big picnics, and parties. You will need Chicken Wings, Chicken Broth, Seasoning, Hot Sauce, Butter, and Honey.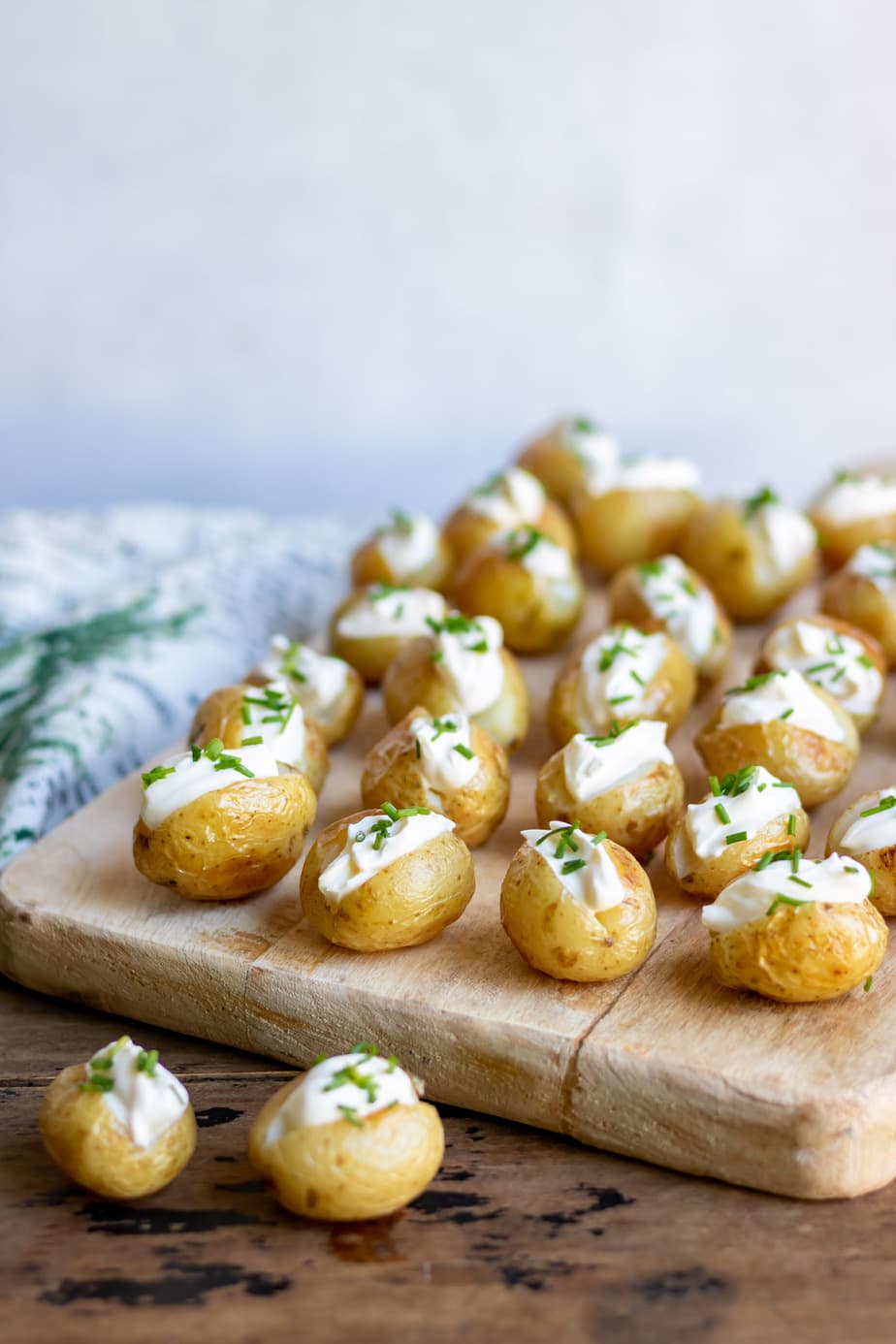 Source: veggiedesserts.com
Here's a finger food you can make in your sleep; Mini Baked Potatoes. Fill up your mini potatoes with sour cream and chives and serve your guests this exceptionally easy yet most delicious recipe ever.
Source: iheartvegetables.com
Prepare your Vegetarian Egg Bites ahead of time and reheat them when it's time to serve. These make the perfect finger food for a big party for many reasons.
First is the fact that you can precook them, so there is no last-minute cooking. Secondly, they look great and taste even better. Third, they are no-mess finger food that can be served with any dip under the sun.
To prepare your Vegetarian Egg Bites, you will need eggs, milk, spinach, cheese, and seasoning; you will also need a silicone mold to make these vegetarian bites the same size and perfect-looking.
Apart from being a savory delight, these are also high in protein, so keto lovers will have a great time devouring these bites at your party.
Source: drivemehungry.com
I love Summer appetizers, they are not only yummy, but they look so cool and delicate. Just like these Vegan Cucumber Hummus Bites.
To prepare your Vegan Cucumber Hummus Bites for a big party, you will need sun-dried tomatoes, artichoke hearts, and kalamata olives as a topping. For the filling, you will need yoghurt or cream cheese, Hummus, or guacamole. For a healthy bite, we suggest guacamole.
Source: crumbtopbaking.com
To make these healthy Air Fryer Mini Quiche, you will need mini frozen tart shells, eggs, cream, Broccoli, ham, Swiss cheese, and seasoning.
To make your Broccoli and ham in your Mini Quiche, dice them small and as thin as possible.
Source: theroastedroot.net
Mini sandwiches as finger food are perfect for any size parties and picnics. These Mashed Avocado Sandwiches are so good that even your toddler will have a great time eating these.
To make your Mashed Avocado Sandwiches, you will need ripe avocados, herbs, lemon juice, and tahini packed in whole grain sandwich bread.
Check out more easy cold appetizers!
Source: momfoodie.com
Cajun Chicken Appetizers are made with love and very few ingredients that you can find in your pantry. The ingredients you will need are chicken breast, seasoning, slices of Baguette, and cheese.
Cook your Cajun Chicken and load them on the baguette slices and add softened cream cheese.
Source: itsnotcomplicatedrecipes.com
No finger food is complete without a dip, so here's the perfect dip for all your party finger foods, be it nachos, mini baked potatoes, or mini pizzas.
This Butter Bean Dip is easy to prepare and delicious to eat. It's great for so many reasons; you can use it as a dip as well as a salad dressing. Moreover, it prepares in just minutes.
To make your Butter Bean Dip, you will need butter beans, lemon, olive oil, and seasoning. Add fresh parsley in the end, to finish off your dip in style.
Source: diycandy.com
One thing I have learned while cooking finger foods is that no matter how tasty your food is, the presentation matters even more.
If it looks good, it will attract people, and finger food should be presented n the most unique way possible. So, here's this cool Pizza Sticks recipe that will amuse every guest at your party.
To make the Pizza Sticks, you will need Bread Pepperoni, Mozzarella cheese, Parmesan & Milk, buttermilk, and Pizza sauce as your dip.
Check out more Italian appetizer recipes here.
Source: cleaneatingwithkids.com
There are many ways to cook Broccoli and make it exciting for a party or your kids. Most people are a fan of Broccoli, but if you cook it following this Broccoli Cheese Square recipe, you will have a winner on your hands.
Source: allwaysdelicious.com
Forget the original jalapeno poppers and take a load of these bite-size Jalapeno poppers that are way too easy to cook and enjoy.
These flavorful Jalapeno poppers are perfect as party finger foods for two reasons. Firstly they are easy to make. Secondly, you can air fry them, so there is no need to get your hands dirty.
Source: ketocookingchristian.com
Here's a Keto-friendly Appetizer that your guests will keep coming back for more, Keto Avocado Fries.
It might sound difficult to make, but in reality, it's the easiest healthy food recipe ever. Moreover, it's one of those recipes that are crunchy on the outside and melt-in-the-mouth soft on the inside.
Source: masalaherb.com
Anything with Salmon in it looks deliciously appetizing, and no one can argue that. Thinly sliced Salmon makes the perfect topping for any finger food as it looks delicate and beautiful set on a tray.
This Smoked Salmon Appetizer with Dill sour cream looks not only fancy but also tastes divine, just the perfect starter for any party.
Source: ketofocus.com
If you have a hearty dip at your party, you can have multiple snacks as your finger food like crackers, chicken strips, Nachos, and what not.
So, forget the conventional ways of having finger food, and have a hearty and heavy dip instead. This Spinach Artichoke Dip is a healthy and hearty choice for any party, and it's very easy to prepare as well.
Mix, in a big bowl, garlic, cream cheese, mayo, and your seasoning. Add your veggies and fold. Enjoy your dip with Nachos, bread, or any kind of crisps.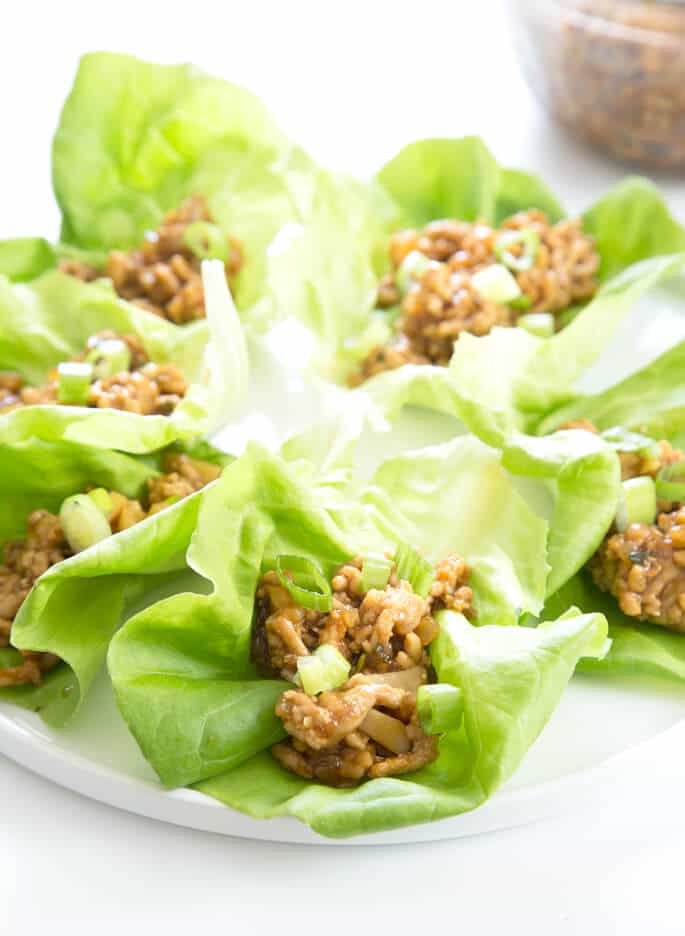 Source: glutenfreeonashoestring.com
If good food makes you count calories, you need to try these Asian Chicken Lettuce Wraps. These guilt-free lettuce wraps are perfect for your guests who are health fanatics.
Add your marinated and cooked chicken on a bed of lettuce, drizzle some sauce and fold lightly. This refreshing appetizer is the perfect light snack for any party.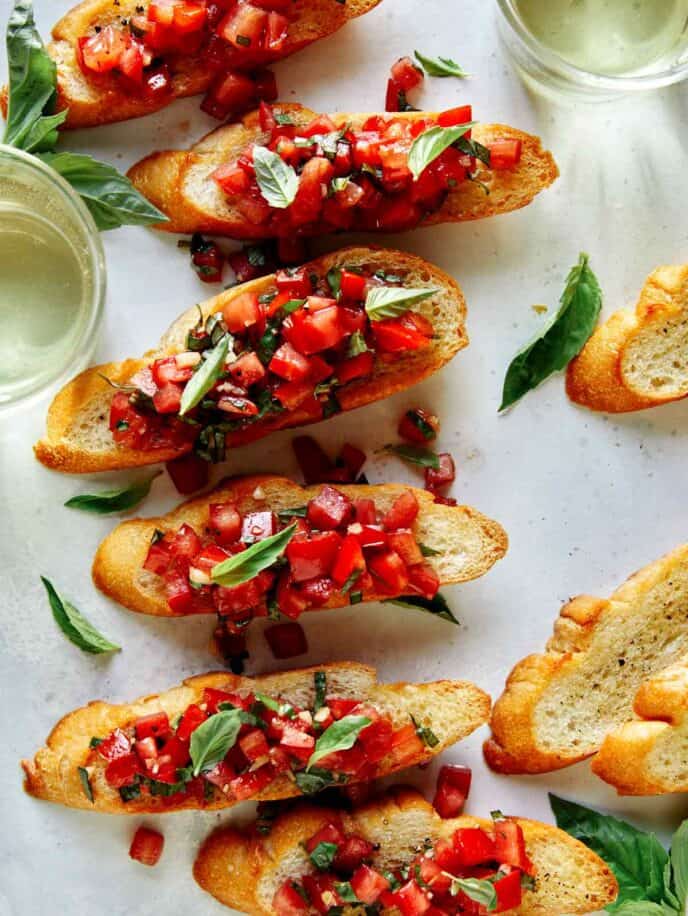 Source: spoonforkbacon.com
Colorful and flavorful, this Bruschetta recipe beats all other party finger foods big time. Get the juiciest, most ripe tomatoes to make these Bruschettas taste divine.
This recipe is, yet again, pretty easy to prepare. There are two elements to this recipe. One is the topping that you create by folding your tomatoes and other ingredients. And the Baguette that you prepare with oil, butter, and seasoning.
Put these together, and you have the most effortless finger food ready to be served at your party.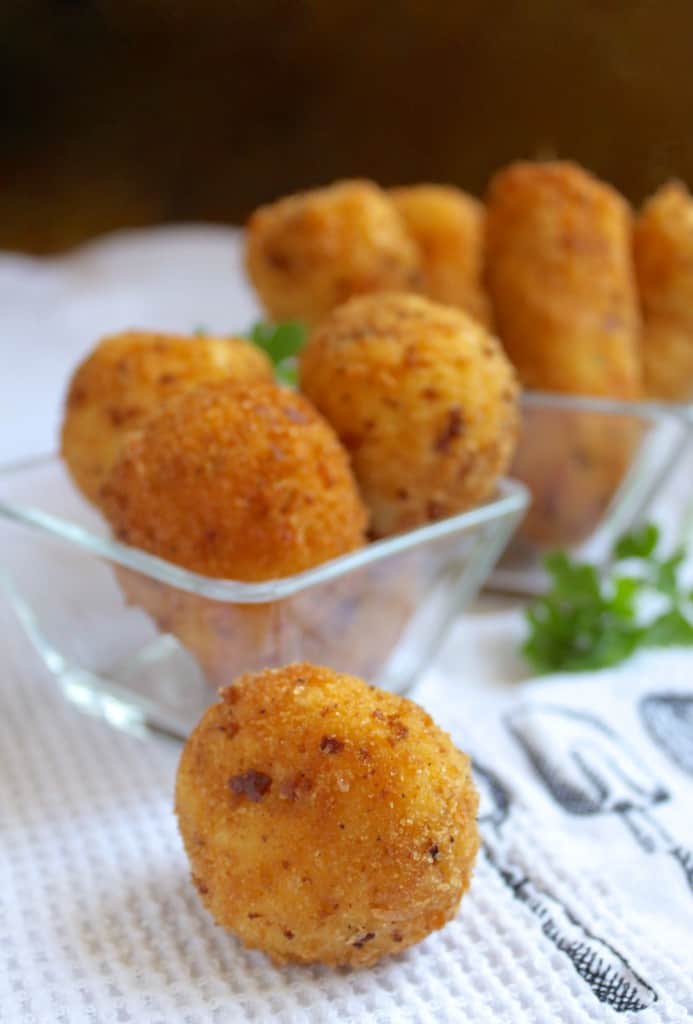 Source: christinascucina.com
These Potato Croquettes aren't for the faint-hearted, these are deep-fried, and they taste out of this world.
Prepare your potato mixture by folding in mashed potatoes, egg, chopped fresh parsley, and salt and pepper. Coat it with flour, eggs, and breadcrumbs, and enjoy deep-frying with your preferred dip.
Source: theforkedspoon.com
Veggie Skewers are the most colorful and flavorful skewers you will ever eat. Thye is also the easiest skewer food ever.
To make your Veggie Skewers, you will need Red onion, Zucchini, Bell pepper- red, yellow, orange, green, grilled with Garlic, Fresh herbs, Olive oil, and Balsamic vinegar.
Source: itsnotcomplicatedrecipes.com
Crostini is a simple appetizer that goes a long way, and it's also very easy to prepare. All you need are cherry tomatoes, slices of bread, and a good scoop of Ricotta on each slice.
This recipe doesn't need much, but it makes the perfect finger food for all big and small parties.
Finger food doesn't need to be an elaborate or complicated dish. You only need a few good ingredients to make a delicious and flavorful appetizer.
41 Finger Food Recipes Perfect for a Party
Need to prepare Finger Foods for a perfect party? Check out these recipes - easy, tasty, and yummy!
Ingredients
1. Sausage Rolls
2. Shrimp Cocktail
3. Baked Mac and Cheese Bites
4. Air Fryer Pizza Rolls
5. Devilled Eggs
6. Buffalo Cauliflower Bites
7. Vegetarian Tortilla Pinwheels
8. Pigs in a Blanket
9. Stuffed Mushrooms
10. Broccoli Cheese Bites
11. Cream Cheese Stuffed Mini Peppers
12. Smoked Salmon Cucumber Bites
13. Roasted Chickpeas
14. Ham Roll-Ups
15. Caprese Salad Skewers
16. Quiche Bites
17. Coconut Shrimp
18. Pretzel Bites
19. Ham and Cheese Sliders
20. Shrimp Skewers
21. Loaded Sweet Potato Bites
22. Keto Cheese Steak Buns
23. Instant Pot Chicken Wings
24. Mini Baked Potatoes
25. Vegetarian Egg Bites
26. Vegan Cucumber Hummus Bites
27. Air Fryer Mini Quiche
28. Mashed Avocado Sandwiches
29. Cajun Chicken Appetizers
30. Butter Bean Dip
31. Pizza Sticks
32. Broccoli Cheese Squares
33. Jalapeno Popper Bites
34. Keto Avocado Fries
35. Smoked Salmon Appetizer
36. Spinach Artichoke Dip
37. Asian Chicken Lettuce Wraps
38. Bruschetta
39. Potato Croquettes
40. Veggie Skewers
41. Crostini
Instructions
Scroll up to get a bunch of easy, yummy, and delicious recipes. Don't be afraid to get creative with the ingredients, you might discover a flavor you didn't know you liked.
Get your shopping list going and make sure you've got all the ingredients.
Get cooking and make your next Finger Food Recipe!
Notes
Which one of these recipes was your favorite? Let me know in the comment section or on Pinterest!