Need some hot appetizers for the best party ever? Find the recipes you'll love and use them to surprise your guests.
Food is the ultimate way to entertain, and when it comes to mouth-watering food, you can't skip easy appetizer recipes.
Appetizers are the most important part of your meal; these finger foods are ideal for kicking off your party in style. Here are top-rated easy hot appetizers for your next party.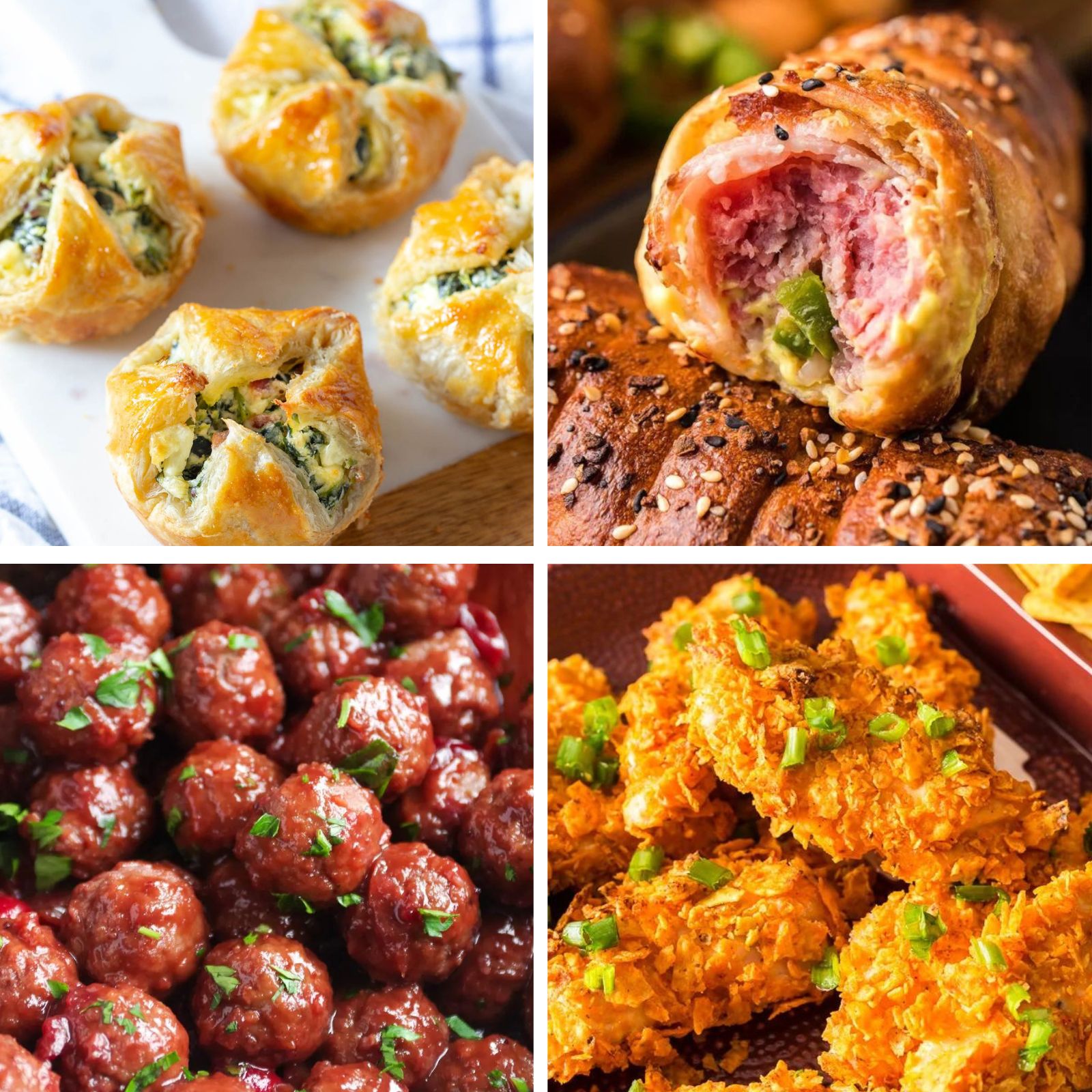 Source: moneywisemoms.com
Here's one tasty Appetizer that compliments several finger foods like Crackers, Pretzels, Nachos, Bread, Veggies, etc.; we call it Cheese Dip. But we aren't done yet.
What makes this Hot Cheese Dip even hotter? Bacon! Yes, add Bacon to the lot, and your easy hot Appetizer recipe will even beat the main course.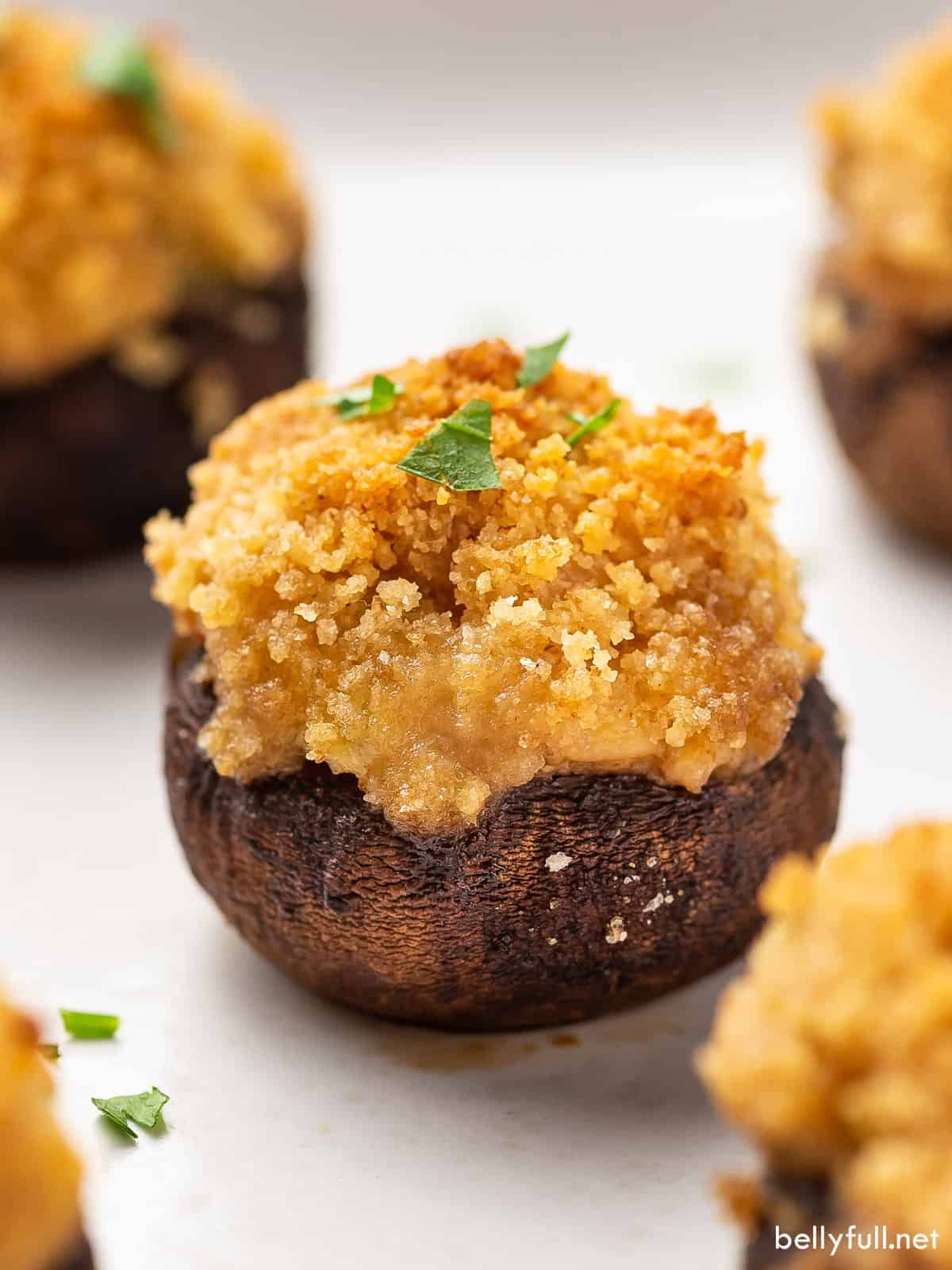 Source: bellyfull.net
Here's a classy and 5-star restaurant-worthy appetizer for your holiday table; Crab Stuffed Mushrooms. Yum, the name of this delicious hot appetizer is tantalizing enough to bring water to your mouth.
The main ingredients for this mouth-watering Appetizer are Button mushrooms, Crab, Cream cheese, breadcrumbs, and Parmesan cheese.
Source: bellyfull.net
Grape Jelly Meatballs is one Appetizer you won't have enough of and are the perfect warm appetizers for game day.
To make Grape Jelly Meatballs, you need sweet grape jelly and zesty BBQ sauce to marinate meatballs.
Check out more best crockpot appetizers!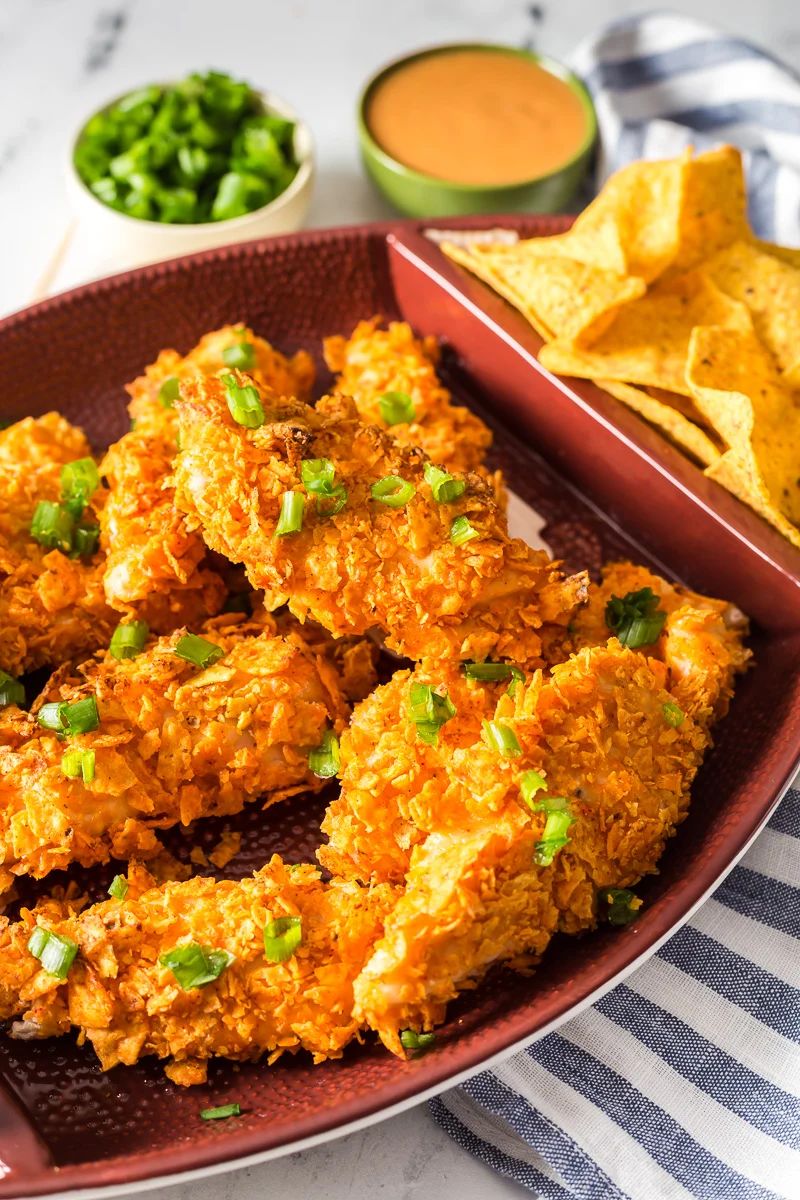 Source: shesnotcookin.com
Feast your eyes on Baked Cool Ranch Doritos Chicken Tenders. These chicken tenders have a crusty and crispy shell with a juicy and tender center.
Doritos Chicken Tenders will have your taste buds dancing with joy. To make this heaven of a chicken recipe, you will need chicken breasts, Ranch Doritos, flour, eggs, and milk.
Source: justisafourletterword.com
Healthy eating has become a lifestyle; however, healthy eating doesn't mean you have to compromise on flavor. If you are looking for a flavor-bursting Air Fryer recipe, we suggest trying the Air Fryer Pepperoni Balls.
Get a Fiery punch with every bite.
Find more Italian appetizer recipes here.
Source: urbanfarmie.com
Avocado fries are ideal for picky eaters as they are easily made with a few ingredients and are also gluten-free.
To prepare this appetizer, you will need Avocado, chickpea flour, gluten-free breadcrumbs, and the seasoning of your choice. The recipe is so easy.
Source: girlheartfood.com
Whether it's a weekend snacking or a big party you are throwing, if you serve Vegetarian Buffalo Dip, your guests are in for a luscious treat.
You will need tempeh, cream cheese, buffalo sauce, ranch, pepper, and fresh lime juice. Throw all in the blender, combine and bake when you are ready to serve your food.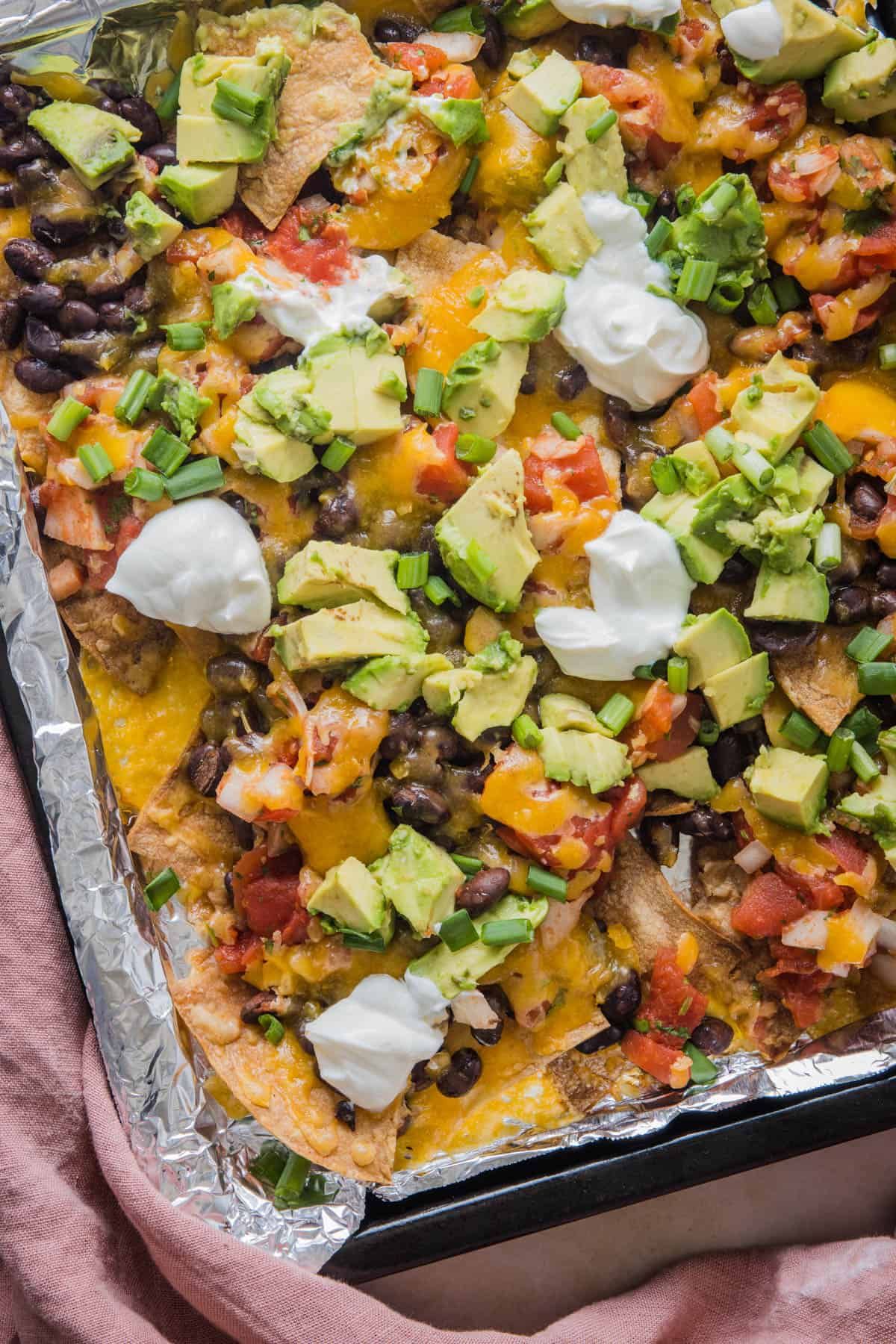 Source: urbanfarmie.com
Ten minutes is all you need to make the Air Fryer Nachos for your party. If you find a quicker appetizer, we bet you won't.
These nachos are so versatile; you can add any topic you want and customize this recipe to your liking. To cook this up, you will need corn tortilla chips, shredded Cheddar, and salsa.
Source: diprecipecreations.com
Looking for a Zesty dip for your appetizer that is sure to wake up your taste buds? Check out this Artichoke Dip.
The three main ingredients you will need are Artichoke, Cream Cheese, and Parmesan cheese; the rest is just details.
Source: theforkedspoon.com
Here's one recipe that will make you the star chef of the family; Cranberry Meatballs. These meatballs are juicy, bursting with flavor, and melt in the mouth tender.
You will need cranberry sauce, ketchup, vinegar, brown sugar, garlic, and cayenne pepper.
Source: diprecipecreations.com
The Spinach Dip is a slow cooker recipe that will put you in a food coma at your next cocktail party. The first step is to add cream cheese cubes, buttermilk, and butter to your slow cooker.
Next, add in your chopped spinach. Add the shredded cheese and seasoning last.
Serve this delectable hot cheesy dip with bread or any finger food that you like.
Source: brooklynactivemama.com
Philly Cheesesteak bites are tiny pieces of heaven that fill your mouth with a Piquant that you can't get enough of. These are also pretty easy to throw together for a quick brunch or a sudden dinner plan.
You will need Wonton Wraps, Onions, Ground Beef, and Shredded Mozzarella Cheese. The ingredients are easy to find, aren't they?
Source: xoxobella.com
Try these Air Fryer Bacon Jalapeño Cheese Pigs in a Blanket to impress your guest with your cooking skills.
Start with your Crescent roll dough and Lil' smokies or cocktail sausages. Add in the cheese with Jalapeños to give your recipe a kick of flavor.
Source: cookingonthefrontburners.com
Feta Spinach Bacon Puff is a restaurant-worthy appetizer that not only looks great on a plate but also tastes super delicious.
To make these, you will need one puff pastry sheet, cream cheese, eggs, feta cheese, and spinach.
Check out more puff pastry appetizers here.
Source: xoxobella.com
Create food from heaven by mixing in a few key ingredients like ground beef and cheese with simple seasonings like garlic, black pepper, and salt.
Pop these into a preheated Air Fryer at 160 degrees for 8 to 10 minutes, and your robust appetizer is ready to be served.
Source: cookingwithmammac.com
Keto has become a lifestyle of many. If you have invited a Keto fanatic to dinner, don't fret; just make some Keto Stuffed Mushrooms with Cream Cheese for starters.
The key ingredients to make this savory dish are white mushrooms, cream cheese, mozzarella cheese, Parmesan cheese, and Italian seasoning.
Source: xoxobella.com
How about making an appetizer so tender and juicy that a slight pull breaks the juices in your mouth. To make these Air Fryer Pull-Apart Jalapeno Popper Rolls. You don't need much.
Start with a jalapeño appetizer store-bought or homemade pizza dough and cheese, lots and lots of cheese for this one. Pop these into your Air Fryer and let them cook for 10 minutes.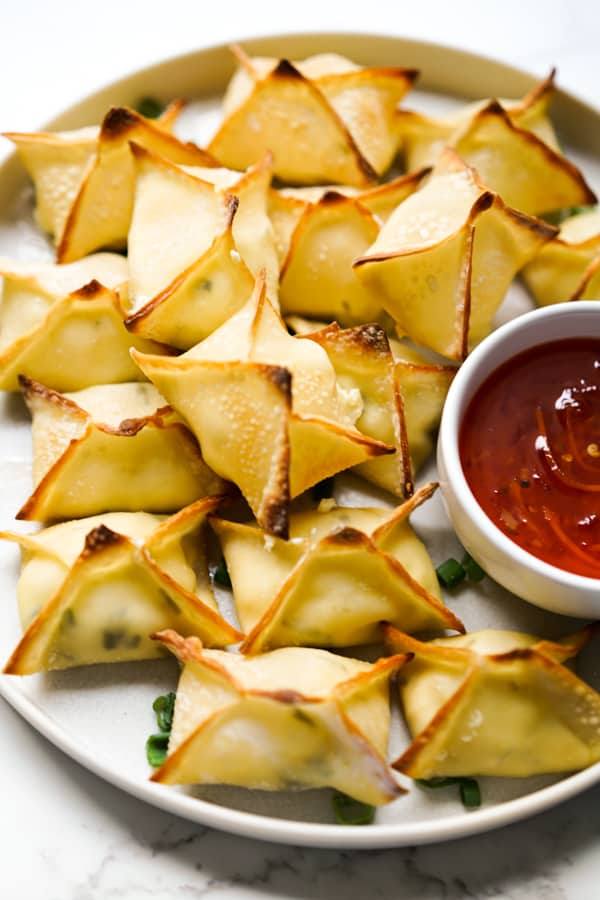 Source: joyousapron.com
Mix your softened cream cheese, chopped green onions, sugar, and salt in a bowl. Scoop your mixture and dump it on your Wonton sheets; seal the sheets with egg wash.
Air Fry, Bake, or Fry, you can cook these any way you want. The result will be crispy Cream Cheese Wontons that will earn you the badge of Master Chef in your family.
Source: suburbansimplicity.com
Make Meatball Parmesan Bites once and answer calls for its recipe for decades. Not only are these effortless to make, but they are also the appetizer your guest won't be able to let go of.
With just one pound of ground beef and a few ingredients from your pantry, like breadcrumbs, marinara sauce, and Parmesan, you can make these heart meatballs in no time.
Source: joyousapron.com
Need the best Queso recipe ever? Add Velveeta and Rotel to make your Queso the yummiest dip anyone has ever tasted.
This recipe is quick, you can make it in under 15 minutes, so it's perfect for game nights and movie nights with family.
Source: joyfoodsunshine.com
One-pan dishes are nothing but pure love. Make this Cheese Sausage Dip in one pan with 8 ingredients in under 20 minutes. Can you think of an easier appetizer?
You will need sausages, garlic, onion, cheese, tomatoes, and green chilies for this recipe. All of this goes into one pan.
Source: mondayismeatloaf.com
These BBQ Smokies are also known as No-Fail Buffalo Chicken Meatballs. Are you ready to cook these up for your next party? Let's get started.
Get your hands on two packs of Little Smokies, jalapenos, BBQ pork rub, raspberry jam, and pineapple juice and chunks.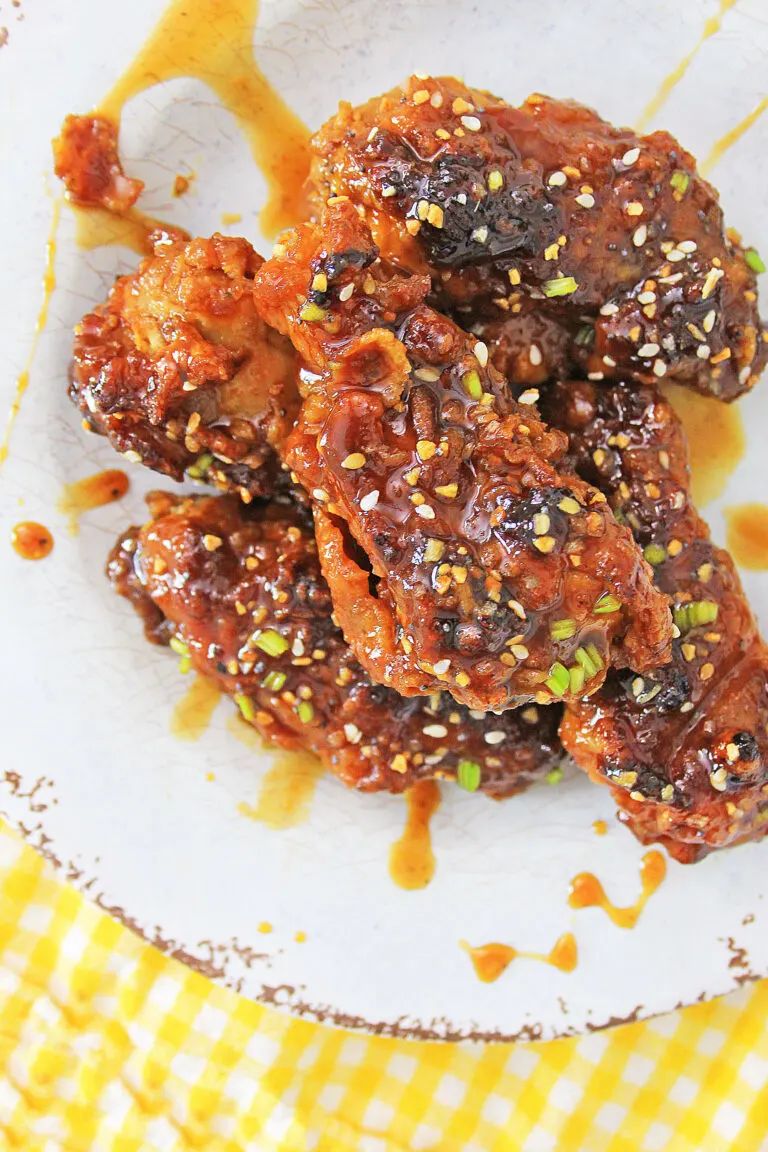 Source: mooreorlesscooking.com
If it's Korean, it's trending. So, add a little trend to your dinner table, too, with these Air Fryer Korean BBQ Chicken Wings.
To prepare these Korean BBQ Chicken Wings, you will need basic ingredients like chicken wings, egg, milk, and flour.
Once marinated nicely, pop them in the Air Fryer and enjoy the Korean Delicacy,
Source: all-thats-jas.com
Easy Baked Brie is a quick appetizer that you can whip up any hour of the day. The task is to make the perfect blend of savory and sweet, this is it.
With as few ingredients as brown sugar, chopped nuts, dried cranberries, brandy of your choice, Brie cheese, and as little time as 5 minutes, your appetizer will be ready. Can you think of anything easier?
Source: mooreorlesscooking.com
Here's a fiery recipe with a sharp taste that will make people come to your house for more dinners; we call it the Jalapeno Popper Chicken Dip.
Score your pantry for cream cheese, sour cream cooked Bacon, and jalapeno. You can also add chicken to the lot if you want.
Source: all-thats-jas.com
Isn't serving spaghetti and Meatballs a messy business? But not anymore. Here's a Mini Spaghetti Meatball Appetizer that is both delicious and mess-free.
Now enjoy your Spaghetti and Meatball on a stick with this trick. You will need angel hair pasta, meatballs, Mozzarella cheese, white sauce, and Marinara sauce.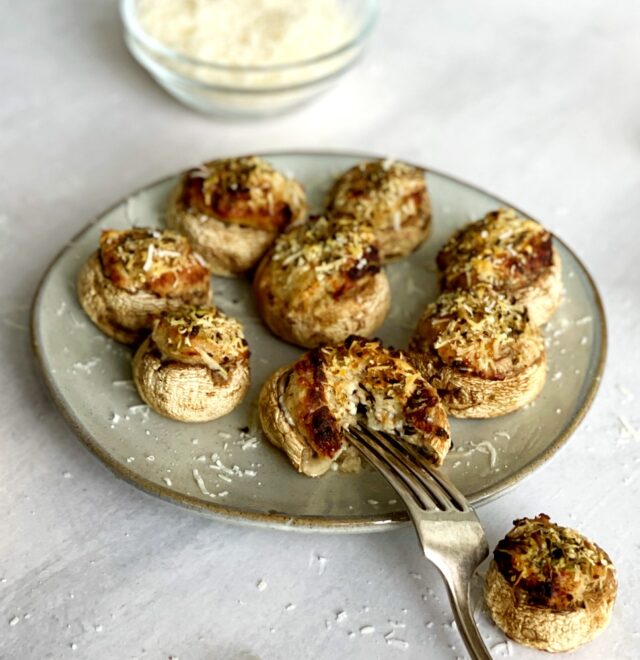 Source: emilyfabulous.com
Who can say no to stuffed mushrooms that are both healthy and melt-in-the-mouth appetizers?
Fill in your mushrooms with anything from cooked sausage to brie cheese to cooked bacon, and add cheese and seasoning on top.
Let these turn golden brown in the Air Fryer and serve them hot to your guests as the best starter of their life.
Source: freshoffthegrid.com
Prosciutto can bring out the beautiful flavor of steamed Asparagus. Give your dinner table a burst of flavor and color with Asparagus Bundles.
To make these, you will need Asparagus, prosciuttos, olive oil, and parmesan cheese. Add a splash of lemon and a bit of zest to increase the flavor.
Source: thetopmeal.com
Need a dip to complement your Mexican heritage and go well with Tortillas and pita chips? You need to make Mexican Chiquito Cheese Dip.
Make it with simple ingredients from your pantry, like butter, paprika, black pepper, cayenne, garlic powder, ketchup, salt, milk, cheese, flour, and chili powder.
Check out more Mexican appetizers here.
Source: littlesunnykitchen.com
Up for a sinful appetizer that will make your guests ask for leftovers? Check out this Cheeseburger Dip recipe and thank us later.
You can make this easy dip with Bacon, lean meat, onion, garlic, cream cheese, and sharp cheddar cheese.
Fry it up on a skillet and enjoy this best dip at family picnics and holiday dinners.
Source: christinascucina.com
Spanish Leek Croquettes are as tempting as an appetizer can get. With a hearty main course, you need an appetizer that can easily complement it.
These golden-brown balls look great in a fry basket with breadsticks.
Appetizers are a brief glimpse of your hearty main course, so make every bit count. With a great start, you will build the anticipation of your guests. So, make sure every time you throw a party, your Appetizer is always on point.
31 Hot Appetizers for The Best Party
In need of some appetizers for your party? Make these delicious Hot Appetizers and surprise your guests!
Ingredients
1. Hot Cheese Dip with Bacon
2. Crab Stuffed Mushrooms
3. Grape Jelly Meatballs
4. Baked Cool Ranch Doritos Chicken Tenders
5. Air Fryer Pepperoni Balls
6. Avocado Fries
7. Vegetarian Buffalo Dip
8. Air Fryer Nachos
9. Artichoke Dip
10. Cranberry Meatballs
11. Spinach Dip
12. Philly Cheesesteak Bites
13. Air Fryer Bacon Jalapeño Cheese Pigs in a Blanket
14. Feta Spinach Bacon Puff
15. Air Fryer Bacon Wrapped Cheeseburger Bites
16. Keto Stuffed Mushrooms with Cream Cheese
17. Air Fryer Pull-Apart Jalapeno Popper Rolls
18. Baked Cream Cheese Wontons
19. Meatball Parmesan Bites
20. 15 Minute Queso Cheese Dip
21. Cheese Sausage Dip
22. BBQ Hawaiian Little Smokies
23. Air Fryer Korean BBQ Chicken Wings
24. Easy Baked Brie
25. Jalapeno Popper Chicken Dip
26. Mini Spaghetti Meatball Appetizer
27. Air Fryer Stuffed Mushrooms
28. Prosciutto Wrapped Asparagus Bundles
29. Mexican Chiquito Cheese Dip
30. Cheeseburger Dip
31. Spanish Leek Croquettes
Instructions
Scroll up to get a bunch of easy, yummy, and delicious appetizers. Don't be afraid to get creative with the ingredients, you might discover a flavor you didn't know you liked.
Get your shopping list going and make sure you've got all the ingredients.
Get cooking and make your next Hot Appetizer!
Notes
Which one of these recipes was your favorite? Let me know in the comment section or on Pinterest!