With these berry overnight oats, you can get enough protein you need for the first part of the day! And it only takes 5 minutes to make!
It's a make-ahead breakfast that's sweet, fresh, flavorful, and delicious! You can make it vegan, dairy-free, and high protein!
Many experts say that breakfast is the most important meal of the day. And for a good reason.
Eating breakfast can go you a world of good. It may boost your memory and concentration.
It may even reduce your risk of being overweight.
But mornings can be pretty hectic. With all the things you need to do before you rush out the door, having a healthy breakfast can be an afterthought.
And we all know what happens when you have a rumbling tummy in the morning. Those doughnuts that your coworkers brought to work look pretty tempting, right?
These Berry Protein Overnight Oats can change all that. They're a quick make-ahead breakfast.
Just spend 5 minutes the night before to make them. And boom…breakfast is served.
The chewy oats and filling chia seeds are a nice complement to the fresh raspberries and blueberries. Your tummy and tastebuds will be so happy.
Not a fan of blueberries? That's okay.
Just add your favorite fruit. It will still taste delicious.
What Makes These Overnight Oats High Protein
These overnight oats are pretty high in protein. Just one serving provides a whopping 29 grams of protein.
So, these oats are sure to leave you feeling full. And away from those pesky doughnuts.
To make them, you'll be using high protein ingredients like:
Rolled oats: Oats are the king of protein when it comes to grains. In fact, they contain more protein than most grains.
Half a cup of dry oats provides 13 grams of protein. It also provides more than two-thirds of your daily fiber needs.
Oats are also packed with bone-building minerals like magnesium, phosphorus, and manganese. As an added bonus, it's an excellent source of iron.
Additionally, oats are rich in beta-glucans. Beta-glucans are a type of fiber that have a number of health benefits such as promoting healthy gut bacteria and helping you feel full.
Chia seeds: Chia seeds are a good source of plant-based protein. A one-ounce serving provides 4 grams of protein.
They're also a complete protein. This means they contain all the essential amino acids.
So, eat up those chia seeds! If you need to stock up on some, you can get some at a great price here.
Vanilla Protein Powder: Protein powder really amps up the protein content of these overnight oats. This protein powder here provides a whopping 20 grams of protein per serving.
If you're looking for a vegan protein powder, this is a great option. It provides 22 grams of protein per serving. It is also a rich source of iron, Vitamin D, selenium, zinc, and manganese.
Greek Yogurt: Greek yogurt is creamier and has more protein than regular yogurt. In fact, a 100g serving contains 9 grams of protein.
Tips and Tricks for These Overnight Oats
Here are some of the most common questions you might want answers to!
1. How to Make Protein Overnight Oats Vegan
Now, these overnight oats are vegetarian because they contain Greek yogurt. But making them vegan is pretty easy.
Just replace the Greek yogurt with your favorite vegan yogurt. Good options include soy milk yogurt, almond milk yogurt, or coconut milk yogurt.
To get the texture just right, you can even make your own vegan Greek yogurt using this recipe here. For it, you'll need coconut milk, cashews, tapioca starch, and a good quality probiotic like this.
2. Make Sure Protein Powder You Add Is Tasty
These overnight oats are pretty good-provided you use the right protein powder. Some protein powders can be pretty chalky and taste pretty bad…and this can ruin your overnight oats.
So, make sure you use a high-quality protein powder that tastes good.
3. Are Overnight Oats Healthy?
Overnight oats are quite healthy. That's because they contain a lot of protein and fiber.
So, they're sure to keep you full. They're also rich in calcium and Vitamin C, which you need for good bones and a healthy immune system.
They're also a good source of iron, which keeps your energy levels up. Finally, they provide potassium, which is important for good blood pressures.
4. Can You Heat Up Overnight Oats?
You sure can! Just put your overnight oats in a microwave-safe container. Then, heat for about a minute.
6. Which Is Better Overnight Oats or Cooked Oats?
Actually, overnight oats are better for you. When you soak your oats overnight, this breaks down the starches and reduces the amount of phytic acid.
Phytic acid is a substance that reduces the absorption of minerals like calcium and magnesium. So, by reducing the amount of phytic acid, your body can absorb these minerals better.
Also, overnight oats contain more resistant starch than cooked oats. Resistant starch is a substance that is good for digestion and weight loss. So, bring on those overnight oats!
How to Make Berry Protein Overnight Oats
Just in 5 minutes, you can prepare these protein overnight oats and have them for breakfast!
Ingredients:
rolled oats
chia seeds
protein powder (vanilla or any other)
Greek yogurt
almond milk
maple syrup
salt
raspberries
blueberries
Step-by-step Instructions
Add all the ingredients except for raspberries and blueberries into a food container.
Mix all the ingredients together until one smooth texture.
Top up with berries just before storing them in the fridge. Keep it for 8 hours or overnight before serving.
Once the oats are out of the fridge, give it a good stir and enjoy with a cup of tea or coffee!
Other High Protein Overnight Oats You Might Like

How Long Do Overnight Oats Last?
Overnight Oats can last in the fridge for up to 5 days.
Just make sure you store them in airtight food storage containers like these or airtight jars like these.
Watch Full Instructions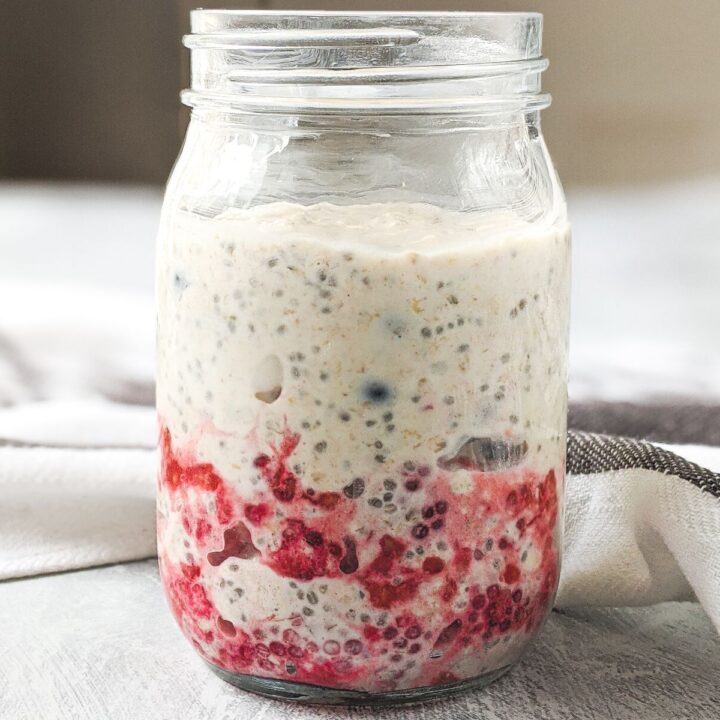 Berry Protein Overnight Oats
Total Time:
8 hours
5 minutes
These high protein overnight oats are sweet, acidic, and flavorful. It's a quick overnight breakfast you can make just in 5 minutes and meal prep for the week.
Ingredients
1/2 cup rolled oats
1 tbsp chia seeds
1 tbsp vanilla protein powder
1/3 cup plain Greek yogurt
1/2 cup almond milk
1 tbsp pure maple syrup
Pinch of salt
1/4 cup raspberries
1/4 cup blueberries
Instructions
Mix all the ingredients together except for berries. Add it into a glass jar or food container.
Top up with berries and put away into the fridge. Keep in the fridge for 8 hours.
Stir before serving.
Nutrition Information:
Yield:

1 jar
Serving Size:

1 jar
Amount Per Serving:
Calories:

430
Total Fat:

8.5g
Saturated Fat:

1.2g
Trans Fat:

0g
Unsaturated Fat:

6.3g
Cholesterol:

6.3mg
Sodium:

196mg
Carbohydrates:

63g
Net Carbohydrates:

51g
Fiber:

12g
Sugar:

24g
Protein:

29g
Nutritional values were obtained with automatic software using the amounts of products used. To get the most accurate representation of the nutritional values, you should calculate them with the actual ingredients used in your recipe. You are solely responsible for the nutritional information obtained to be accurate.