These healthy egg muffin cups are loaded with vegetables and are super easy to make. With just 81 calories per muffin, you can make them ahead and have them as a healthy breakfast or a snack.
These muffin cups are high in protein, low calorie, vegetarian, dairy-free, and gluten-free. They're flavorful and savory yet have a hint of natural sweetness!
We all know the importance of eating veggies. By eating more veggies, you can lose weight and live a healthier life.
But the chances are that you're probably not eating enough veggies. In fact, only about 10% of us are eating enough veggies.
Adding vegetables to your high protein breakfast offers a great way to increase your veggie intake. And these egg muffin cups will help you do that.
They're moist, savory, and packed with vegetables. The red and green bell peppers add natural sweetness, while the baby spinach, broccoli, and onion add savory notes.
Besides being tasty, they're also pretty filling. So, you'll be less tempted to eat those doughnuts that your co-workers bring in.
They're also the perfect breakfast for busy mornings. You can pop one or two in your bag, and eat on the run.
Healthy Egg Muffin Cups – A Perfect Low-Calorie Breakfast
Aside from being tasty, these muffins are pretty healthy.
One egg muffin cup has 6 grams of protein. So, they're high in protein.
They're also low in carbs. So, they're great if you're watching your carbs.
They're also rich in Vitamins A and C. So, they're good for your immune system.
And even though they taste rich, they don't have a ton of calories.
In fact, one egg muffin cup contains only 81 calories. That means that you can eat more than one and not feel guilty.
And they have a ton of veggies. So, you're getting a lot of antioxidants to boot.
As an added bonus, they're dairy-free and gluten-free. So, they're a great breakfast option if you have sensitivities or allergies to dairy and/or gluten.
Benefits of Make-Ahead Breakfast
We all know how hectic mornings can be. There's barely enough time to get ready, let alone make breakfast in the morning.
So, these egg muffin cups are the perfect solution.
Just make a batch of these over the weekend. And you'll have your breakfasts ready for an entire week.
Or you can even have some for lunch or dinner, served with a side salad.
Just be sure to store them in airtight food storage containers to keep them fresh longer. I recommend these ones here because they keep food fresh for longer.
How to Make Healthy Egg Muffin Cups
These egg muffins are relatively easy to make! The hardest part of the whole recipe is really just chopping!
Ingredients You'll Need
olive oil
red bell pepper
green bell pepper
white onion
baby spinach
broccoli
garlic
salt and black pepper
large eggs
egg whites
Step-by-step Instructions
To begin, we'll chop all of our vegetables and peel the garlic clove. Make sure you chop the veggies quite thoroughly so that they cook through easily.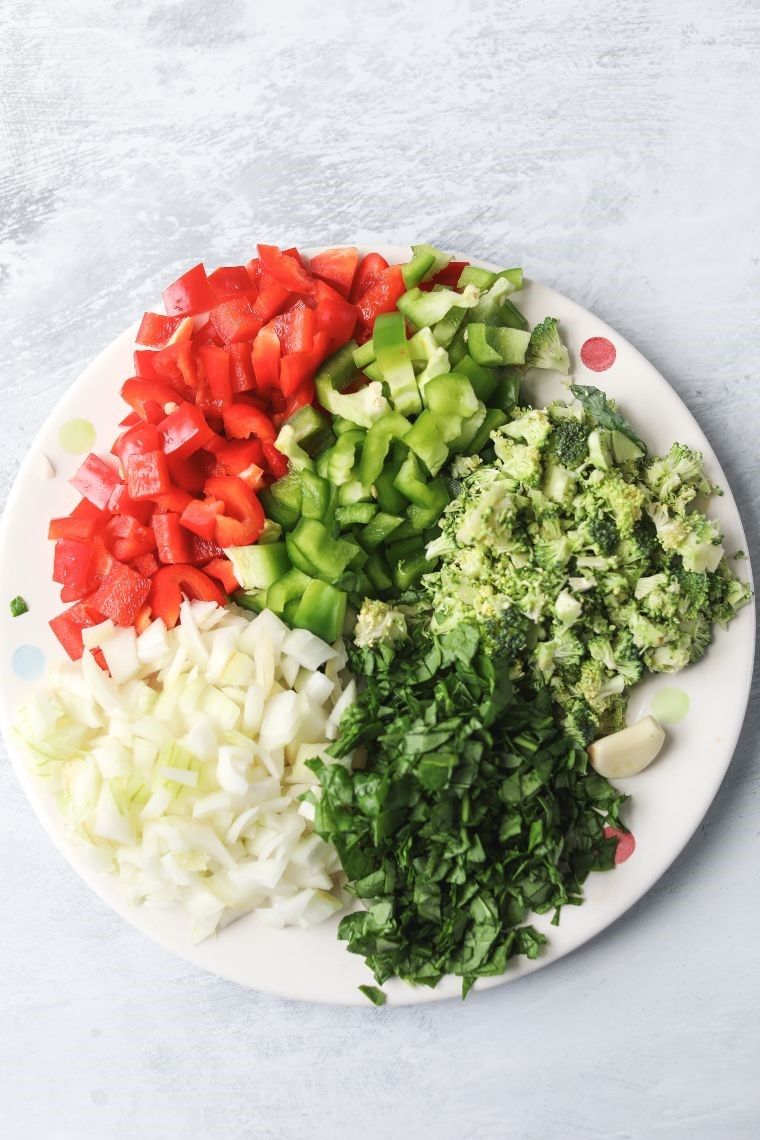 Get the skillet and preheat the oven to 350F or 180C. Heat up the skillet and add the olive oil.
Then, we're going to add in chopped red bell pepper, green bell pepper, and white onion. We're going to let these veggies cook for around 7 minutes or so.
Make sure you're stirring them. If the veggies, especially the onion, are starting to burn, lower the heat.
Once peppers are tender, we're going to add in chopped spinach, broccoli, and give it a stir. Cook for another 2 minutes.
Press in the garlic clove and cook for another 30 seconds while stirring. We want the veggies to absorb the flavors of garlic.
Now, get a bowl and crack in the eggs. Then, crack in the egg whites.
We want to have a little bit more of the egg whites because they will keep the muffins together. It's the ''sticky'' part of the egg.
Whisk the eggs until one consistent texture.
Now, stir in the vegetables.
Get a standard muffin pan and spray it with oil. I'm using olive oil.
Pour the mixture we've just made into the muffin pan. I would fill them up to the very top as the muffins won't rise up that much.
I managed to make around 6 muffins.
Bake these in the oven for 15-20 minutes until the muffins are firm to the touch.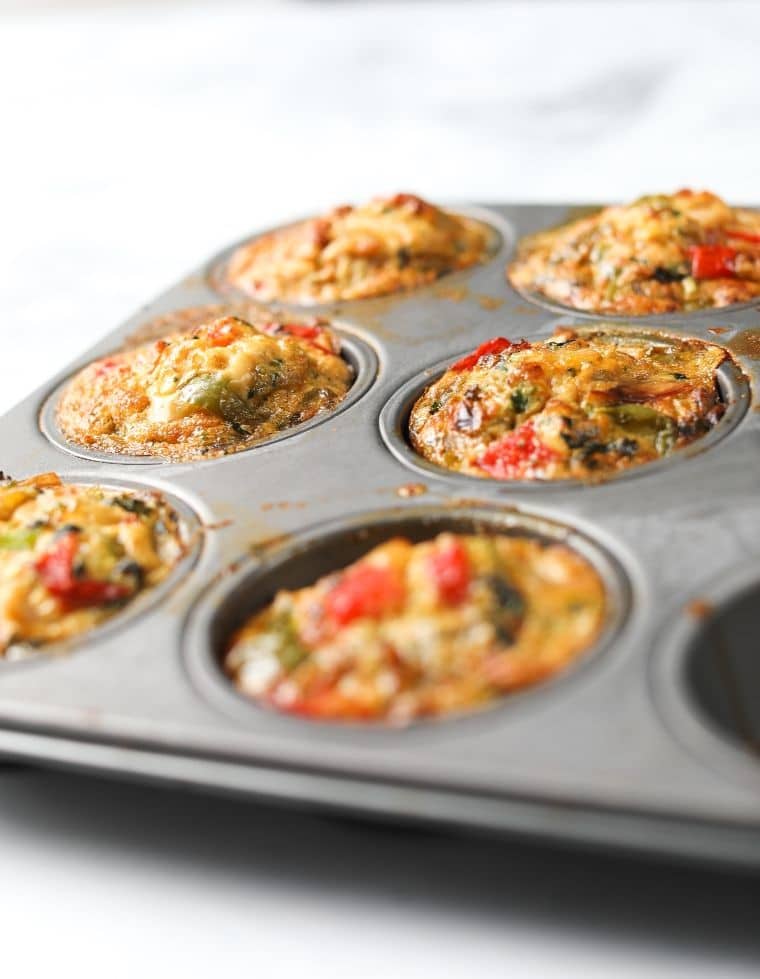 How Long Can You Keep Egg Muffins in the Fridge?
You can keep them in the fridge for 4 to 5 days.
How Do You Keep Egg Muffins from Getting Soggy?
To keep egg muffins from getting soggy, make sure you saute your veggies first. Don't skip this step.
By sauteing your veggies, you not only make them softer but also dry them out too.
What Can I Use if I Don't Have a Muffin Tin?
If you don't have a muffin tin, you can just use paper or foil muffin liners. Just make sure you double or triple them.
Once you've doubled or tripled them, place your egg-veggie mixture in them. Then place your muffin liners on a baking sheet or tray before placing them in the oven.
If you don't mind the shape of your muffins, you can just grease a baking pan. Then place your egg mixture on it and bake.
Once baked, cut into rectangles.
Can You Freeze Egg Breakfast Muffins?
Yes, you sure can. Just place them in airtight food storage containers and place them in your freezer.
They'll last about 3 to 4 months there.
Other High Protein Breakfasts
Watch Full Instructions
Egg Muffin Cups with Veggies
These savory egg muffin cups are flavorful, delicious, and nutritious. It's a perfect quick breakfast that's high in protein, low calorie, gluten-free and vegetarian!
Ingredients
1/2 tbsp olive oil
1 red bell pepper (chopped)
1 green bell pepper (chopped)
1 white onion (chopped)
1/2 cup baby spinach (chopped)
1/2 cup broccoli (chopped)
1 clove garlic (minced)
salt and black pepper to taste
3 large eggs
3 egg whites
Instructions
Preheat the oven to 350F (180C). Grease the standard muffin pan with cooking spray.
Heat up a skillet and add olive oil. Now, add red bell pepper, green bell pepper, and white onion. Cook for 7 minutes until peppers are soft.
Add baby spinach, broccoli, and cook for another 2 minutes or so. Finally, add garlic and cook for another 30 seconds or so. Finally, season with salt and pepper.
Whisk the eggs and egg whites, and stir in the vegetables. Then pour it into a muffin pan.
Finally, bake for 15-20 minutes until muffins are firm to touch.
Nutrition Information:
Yield:

6 muffins
Serving Size:

1 muffin
Amount Per Serving:
Calories:

81
Total Fat:

3.7g
Saturated Fat:

1g
Trans Fat:

0g
Unsaturated Fat:

2.3g
Cholesterol:

93mg
Sodium:

167mg
Carbohydrates:

6.1g
Net Carbohydrates:

4.5g
Fiber:

1.6g
Sugar:

2.9g
Protein:

6g
Nutritional values were obtained with automatic software using the amounts of products used. To get the most accurate representation of the nutritional values, you should calculate them with the actual ingredients used in your recipe. You are solely responsible for the nutritional information obtained to be accurate.