These Cheddar cheese bites are made out of 4 ingredients and can be prepped in just a few minutes! They have a little bit of crunchiness to them, which makes them a perfect snack or appetizer.
Great with your favorite sauce! On top of that, these cheese bites are keto-friendly and gluten-free.
Most of us love cheesy snacks. They are rich, full of flavor, and extremely satisfying.
These Cheddar Cheese Bites will soon become a kitchen favorite! They are easy to make, very delicious and taste better than whatever you'll find in the shop.
You just need five simple ingredients, and you'll be able to enjoy the snack in just under 30 minutes.
These cheddar cheese bites are also gluten-free. That's because we make them with almond flour instead of all-purpose flour.
Almond flour is one of the best flours to use if you are trying to lose weight. It is low carb and has a low glycemic index.
Why These Cheese Bites are a Great Snack?
These cheddar cheese bites make a fantastic snack option. They can be eaten right away or packed for an on-the-go snack.
On top of that, they're easy to meal prep. So, you can eat them alone or serve them with a dipping sauce.
The snacks are a great healthy option to have on hand, too.
Cheddar cheese is not bad for your diet when you eat it in moderation. Cheese provides calcium and protein.
By the way, you can find cheddar cheese that is lactose-free if you are trying to avoid foods with lactose.
Cabot cheese is lactose-free and perfectly acceptable for this recipe.
How to Make Cheddar Cheese Bites
You can make these cheddar cheese bites with just a few ingredients, and takes only 5-10 minutes of prep time.
Ingredients You'll Need
eggs
cheddar cheese
almond flour
baking powder
black pepper
Tip: It's more cost-efficient to buy blocks of cheese rather than pre-shredded. Often times pre-shredded cheeses also have added preservatives.
Buy cheese by the block if you can and shred it at home. You can freeze shredded cheese if you don't think you will use it all before its expiration date.
Step-by-step Instructions
First, preheat the oven to 400F (200C).
Then, start by cracking the eggs into a bowl. Whisk them until they are completely mixed.
Add the cheddar cheese, almond flour, baking powder, and pepper.
Mix everything with a metal spoon or spatula. Make sure that everything is combined well.
Line a baking tray with parchment paper. This will help the cheddar cheese bites from sticking to the baking tray.
You can use your hands to roll the mixture into 9 equal balls.
Tip: You can rub a small amount of oil (olive oil, coconut oil, etc.) on your hands to prevent the batter from sticking.
Put the tray in the oven and bake for 10-12 minutes. The cheddar cheese bites are done when they are golden brown.
Remove the cheddar cheese bites from the oven and let them cool for just a few minutes. They are best served warm, but you can eat them chilled or at room temperature.
What Cheddar Cheese to Use?
Cheddar cheese is so delicious, and it can be tricky to see all of the different varieties at the grocery store.
It's best to buy cheddar cheese in whole blocks to save some money. But which one should you buy?
You will often see different types of sharp cheddar cheese. As cheddar ages, it becomes sharper.
A sharp flavor is going to be tangier, while a less sharp cheese will be more mellow. You can use whatever you prefer for this recipe.
Any cheese will work here. However, if you are going to be feeding the bites to kids or pickier eaters, I recommend using mild cheddar.
You can also use flavored cheese. Some to consider herbed cheddar cheese or pepper jack.
How to Store These Low Carb Cheese Bites?
Store these cheese bites in a glass container because they tend to keep the food fresh for longer. Also, it's more sustainable.
Do use parchment paper to separate the layers if you cannot lay them all flat in the container. They will stick together if you do not do this.
The best way to store the cheddar cheese bites is in a cool place, but not necessarily the refrigerator. They will get soggy if you store them in the fridge.
So, I would keep them in a container on the countertop. They probably won't last that long anyway since once you try one, you cannot stop.
Can You Freeze These Low Carb Bites?
Freeze them in food containers for up to one month.
You can also freeze these cheese bites before baking. All you need to do is pop them into the freezer on a baking tray until they are solid.
Afterward, put them in a container or even a freezer-friendly plastic bag.
Once you're ready to bake them, take them out of the freezer, let them sit for a few minutes before baking in the oven.
Other Recipes You Might Like:
Are you looking for some other really tasty healthy snack options? There is a lot to choose from!
Try out some of these recipes:
Watch Full Instructions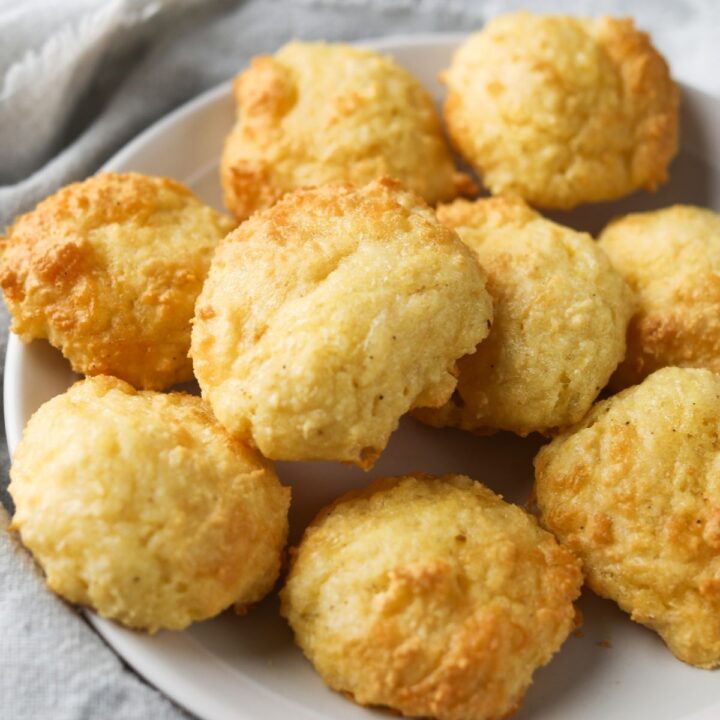 Cheddar Cheese Bites
These crispy cheddar cheese bites are a delicious low carb snack you can meal prep and have on a low carb diet. These are gluten-free, vegetarian, and keto-friendly.
Ingredients
2 eggs
1 cup cheddar cheese (shredded)
1/2 cup almond flour
1/2 tsp baking powder
pinch of black pepper
Instructions
Preheat the oven to 400F (200C). Line baking tray with parchment paper.
Whisk the eggs in a bowl.
Add in cheddar cheese, almond flour, baking powder, and black pepper. Mix them as well as you can.
Roll 8 balls out of the mixture and place them on the baking sheet.
Bake for 10-12 minutes until the cheese bites are golden brown.
Nutrition Information:
Yield:

9 cheese bites
Serving Size:

1 cheese bite
Amount Per Serving:
Calories:

103
Total Fat:

8.3g
Saturated Fat:

3g
Trans Fat:

0.1g
Unsaturated Fat:

4.7g
Cholesterol:

54mg
Sodium:

125mg
Carbohydrates:

1.9g
Net Carbohydrates:

1.1g
Fiber:

0.8g
Sugar:

0.4g
Protein:

5.6g
Nutritional values were obtained with automatic software using the amounts of products used. To get the most accurate representation of the nutritional values, you should calculate them with the actual ingredients used in your recipe. You are solely responsible for the nutritional information obtained to be accurate.