It's happened. You're hosting a dinner party, and one of your guests has RSVP'd… but they're gluten-free. These tasty gluten free appetizers are here to save the day!
Don't worry. All is not lost! Your gluten-free guests will not be left without a taste of your cooking. There are a ton of gluten-free cooks out there, and they all love good food (much like you and me).
So, I've collected a few delicious gluten-free appetizer recipes to make sure everyone coming to dinner can enjoy a little nibble.
From classic gluten-free staples to a few wild cards, let's check out thirty-one ways to impress your gluten-free attendees with gluten-free recipes.
What Can Gluten-Free People Eat at a Party?
Gluten-free people can eat a wide variety of foods at a party, even if they are following a gluten-free diet for celiac disease.
It's important to be mindful of the ingredients in the dishes being served with dietary restrictions at dinner parties.
Here are some gluten-free options that could be available at a party or for game day:
Fresh fruits and vegetables: These are always a great gluten-free option and can be served with dips like hummus or guacamole.
Cheese and crackers: Many types of cheese are naturally gluten-free, and there are also gluten-free crackers available in most grocery stores.
Charcuterie: Meats like salami and prosciutto are gluten-free and can be served with cheese, nuts, and fruits.
Chips and salsa: Corn chips and salsa are usually gluten-free, but it's important to double-check the ingredients to be sure.
But here's a little secret… the best part is these days, you can make almost anything gluten-free if you know where to find easy gluten-free appetizer recipes.
I present to you thirty-one incredible recipes to nail your gluten-free appetizers at your next gathering!
Easy Gluten Free Appetizers
As with any appetizer recipe, the best-case scenario is that the appetizers are super simple to make. That way, you can churn out a ton of them and thus don't have to worry about running out.
Plus, they won't run up the clock on your prep, leaving you more time to mingle with your guests!
Source: allnutritious.com
First up is one of my recipes, and one I reach for often! These ham roll-ups are perfect if you're after something high-protein and low-carb. They're tasty, refreshing, and super easy to make.
Whip up a big batch of these ahead of your party and sit back while your guests have a good time and munch on these tasty morsels.
Source: ifoodreal.com
Cream cheese is one of the best ingredients for perfect gluten-free cooking. It's so rich and delicious, making it the perfect host for bold flavors and luxurious textures.
These cream cheese-stuffed mini peppers are the perfect intersection of simple, tasty, and good-looking.
These peppers are bright and vibrant, drawing everyone in from the moment they hit the table. Fresh vegetables are one of the best ways to celebrate at a super bowl party!
Source: reciperunner.com
There's just something about shrimp as the best gluten free appetizer that sets the night up to be great. Imagine a platter of these juicy, spicy shrimp making their way around your party.
Guests will be flocking to the plate of these healthy gluten-free appetizers, craving that delicious contrast between the spicy, sweet shrimp and the creamy feta dip.
If you have extra goat feta, check out these yummy goat cheese appetizer recipes!
Source: theforkedspoon.com
Speaking of shrimp, here's another way to enjoy this classic appetizer choice. Wrapping your shrimp in bacon adds a ton of texture and flavor contrast to make the shrimp taste even better.
I highly recommend using maple-glazed bacon to add a delicious touch of sweetness to the crunchy, salty bacon.
If shrimp is a favorite of yours, these easy shrimp appetizers are sure to impress!
Source: caramelandcashews.com
That's right. You can have gluten-free mozzarella sticks! Even better, they won't lack for crispiness at all. These are so simple that you could reach for them as an after-school snack!
The secret to success here is the gluten-free bread crumbs. These should be easy to find at your local supermarket or health food store, or you can make your own.
Source: meaningfuleats.com
Speaking of gluten-free bread, nothing hits the spot at a party quite like a breadstick and some dip. Don't deprive your guests of this delicious treat! This bread is chewy, simple, and delicious.
Make a few different variations with your favorite Italian toppings. Garlic, parmesan, and even prosciutto would be amazingly baked into the top of each loaf.
Source: karalydon.com
Are you in love with Mexican street food? Chances are that your guests are too! This Mexican street corn dip is an homage to elotes, a classic corn and dressing dish that's packed with flavor.
You can use fresh or frozen corn to make this dip as easy as possible on you, so go nuts! Serve with your favorite gluten-free chip!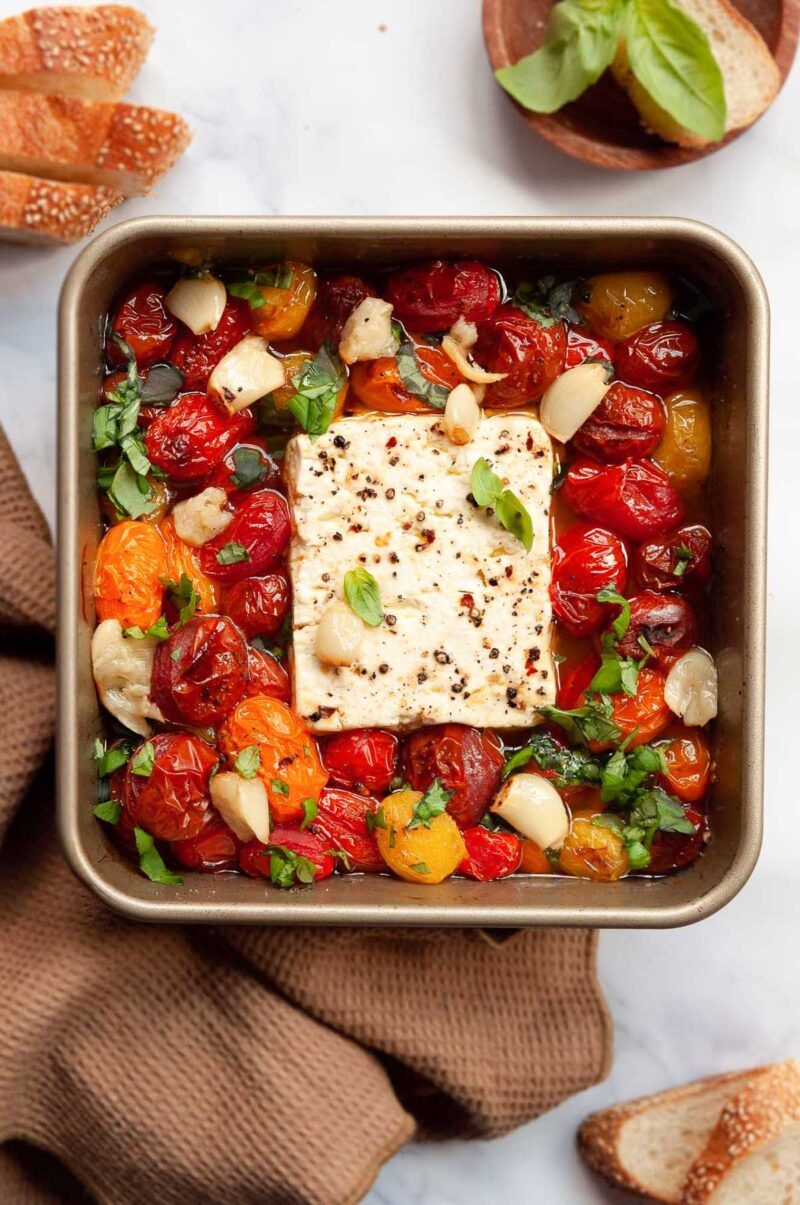 Source: ifoodreal.com
Are you looking for a communal appetizer that fits seamlessly into an Italian or Mediterranean feast? This baked feta dip features roasted heirloom tomatoes, mellow garlic, and a ton of tasty herbs.
This is the kind of thing that perfectly suits a crowd of friends who just want to open a bottle of wine, settle in with some comfort food, and talk.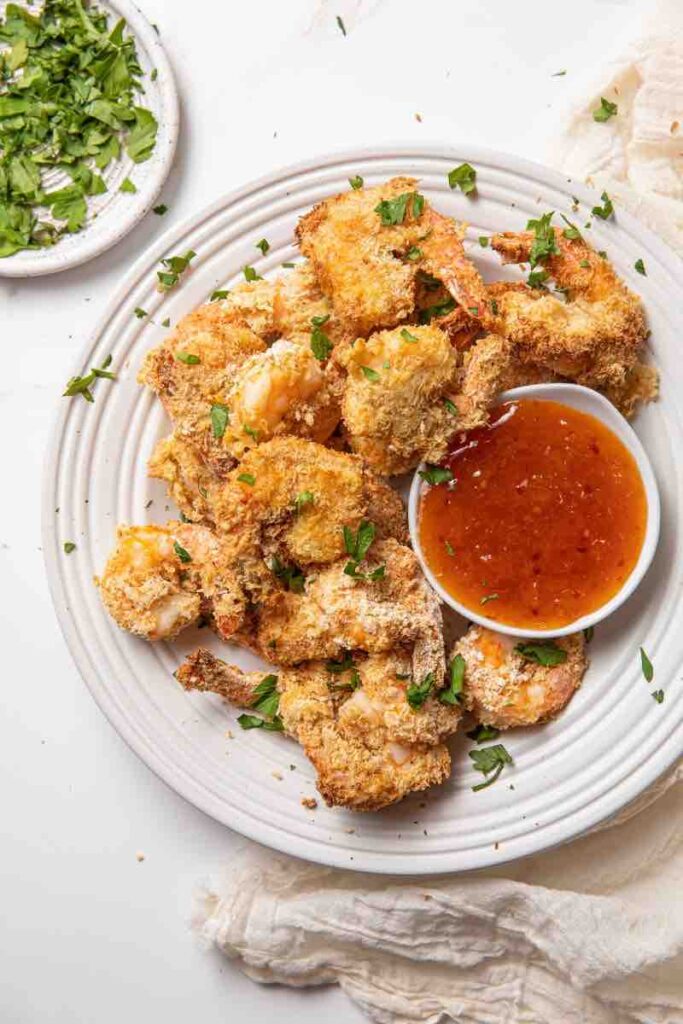 Source: prettydeliciouslife.com
An air fryer is the ultimate ally in the battle to make a lot of appetizers in a short amount of time. This is another delicious way to enjoy shrimp that pairs a crunchy texture with coconut flavor.
The sweet chili sauce in the middle adds the perfect contrast with a kick of sweetness and heat.
Source: theheirloompantry.co
Tuna is another great seafood option if you're keen on something refreshing for your appetizers. Rice is a great substitute for gluten-free meals, and this appetizer is proof that you can get creative!
Featuring fried rice cakes as the base and a topper of spicy jalapeno, the real star of the show is ahi tuna with a coating of spicy mayo.
Source: thedeliciousspoon.com
Devilled eggs have been an appetizer staple for decades, so why not put a new twist on it for your party? These Spanish devilled eggs have a kick of spice from the chorizo that makes them irresistible.
Not only are they complex in flavor, but they also look so beautiful on the plate.
Source: throughthefibrofog.com
Sometimes, you just need something simple and tasty to tide everyone over until the main event. That's where this ripped ricotta dip comes into play!
This is the kind of thing an Andalusian farmer might enjoy. Sweet honey, herbs, and crunchy vegetables are the perfect companions to the creamy dip.
Gluten-Free & Dairy Free Appetizers
Making appetizers that are both gluten-free and dairy-free may sound a bit tough, but your options are plentiful.
From delicious smoked salmon bites to refreshing rice paper rolls, let's check out these recipes.
Source: allnutritious.com
Delicious smoked salmon is the keystone ingredient in this amazing dish. They're basically salmon roll-ups with fresh onion, lemon, and avocado stuffed in the middle.
These have a beautiful interplay of texture and taste that makes them the perfect thing to wake up the palate.
These other tasty smoked appetizer recipes will wow your guest list!
Source: wholenewmom.com
Combine two of the best comfort foods in the world into one amazing appetizer with this recipe! This is perfect for serving with baked pita chips, nacho chips, or fresh-cut vegetables.
This takes almost no time to prepare, and it's a great recipe to have in your back pocket when you need something quick.
Source: theveganatlas.com
Did somebody say tater tots? This is the ultimate crowd-pleaser, and not a trace of gluten is in sight. This is like giving your guests a plate of loaded fries, but a hundred times better.
Tater tots are great finger food, super easy to enjoy while people mingle, and easy to customize as you like.
Source: asweetalternative.com
Here's another dairy-free dip option! If you want that cheesy goodness, you can always opt for vegan cheese as part of the topping and whack it in the oven for a few minutes to let it melt.
Nutritional yeast is the secret to getting the cheesy flavor into the dip without adding any dairy. And trust me, it works wonders.
Source: theveganlarder.com
Speaking of the powers of nutritional yeast, these vegan cheese balls are incredible. They're rich with cheesy flavor, smooth on the palate, and packed with crunchy treats to add texture.
These are fantastic as quick and easy finger food, and you can easily make them ahead of time.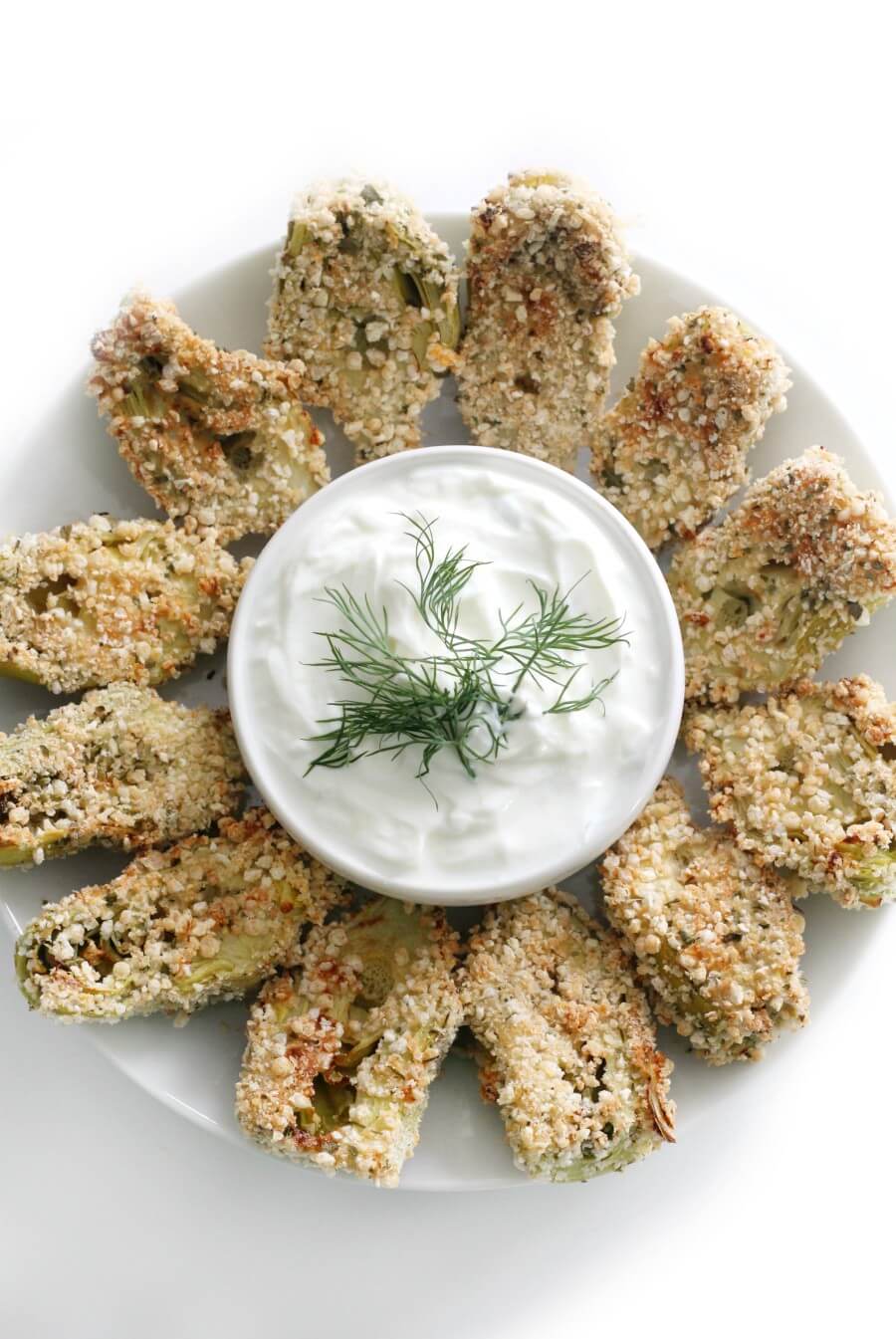 Source: strengthandsunshine.com
Artichoke hearts don't get enough love, but this recipe is here to change that! Crispy air fryer artichoke hearts with a creamy dip in the middle. Is there anything better?
This is the definition of finger food, with little leaves of artichoke perfect for dipping.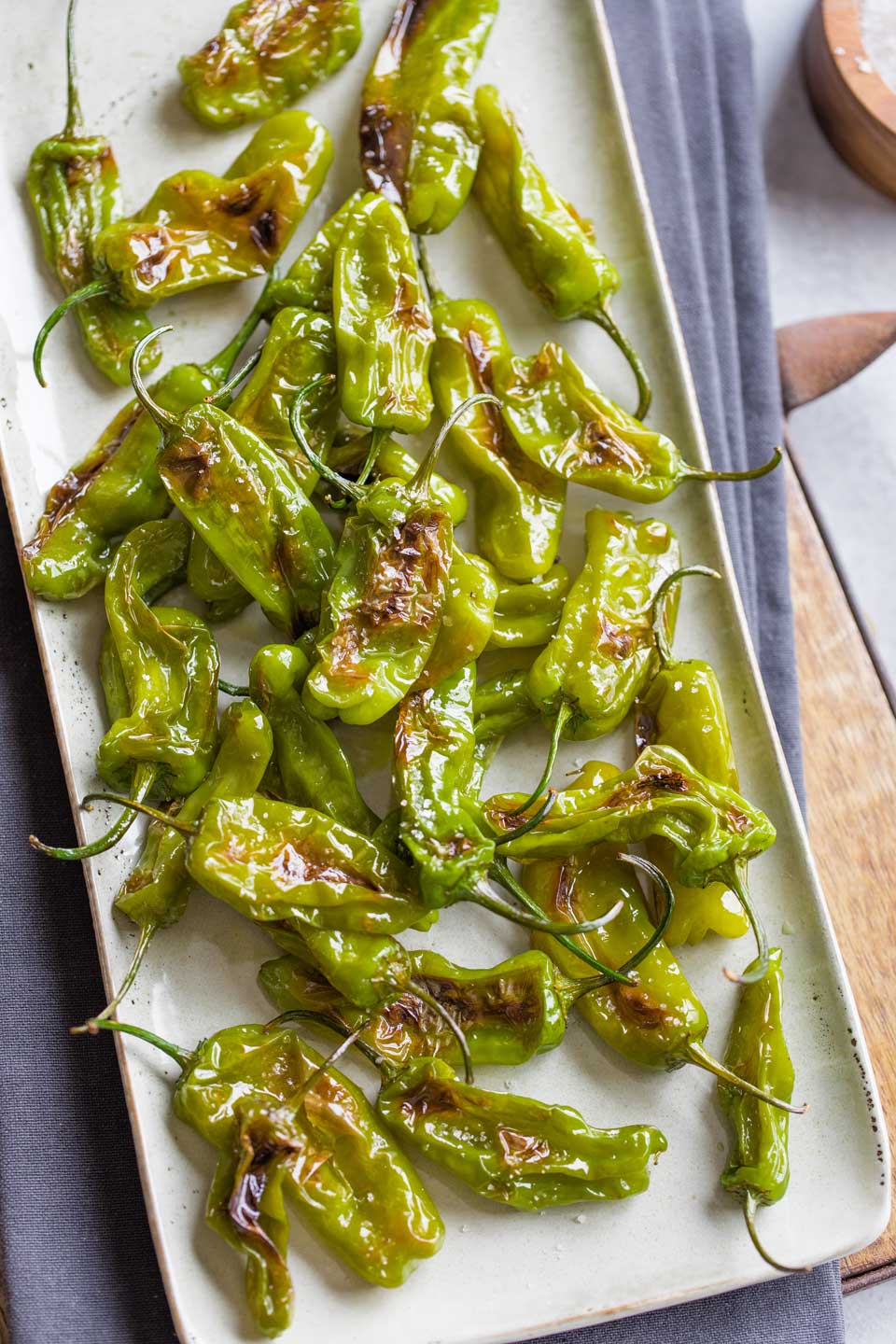 Source: twohealthykitchens.com
Blistered peppers are a dead simple appetizer appearing on restaurant menus all over the world. Blistering the peppers just requires some quality time with a pan, some oil, and some salt.
While these might look simple, they taste out of this world. Trust me, give them a try!
Source: myplantifulcooking.com
Our final dairy-free and gluten-free option is rice paper rolls with tofu. These are basically spring rolls on steroids, with a ton of texture, flavor, and crunch.
Pair them with an iconic sticky, dark sauce that imparts a much-needed sweetness. It's so easy to enjoy with your friends and easy to make ahead of time. That's a win-win!
Vegan Gluten Free Appetizers
Finally, we come to perhaps the hardest challenge of them all: making your appetizers gluten-free and vegan. That means no dairy, no eggs, no meat, no gluten, and no animal by-products of any kind!
Don't worry. It can be done. Not only that, but the results will be so delicious that your non-vegan, gluten-eating guests won't even blink.
Source: allnutritious.com
Chickpeas are nature's answer to the high-protein snack! That's why I love these spicy roasted chickpeas. Whether you need a quick snack or a tasty appetizer, this recipe is there for you.
Prep time on this is super short, requiring only five minutes of your time. But the result is super chewy and flavorful!
Source: karalydon.com
If you're hosting a game-day party, then featuring loaded potato skins on your menu is a must. Making them vegan and gluten-free is much easier than you think!
These sweet potato skins are a great healthy alternative to standard potato skins, and they taste amazing.
This is one of the best finger food recipes for any party!
Source: healthmylifestyle.com
Running low on time and need something everyone at the party will enjoy? Guacamole never fails! This is a super easy vegan guacamole you can serve with anything from chips to chopped vegetables.
Every bite has little gems of red onion and tomato that add a ton of flavor, making this super addictive.
Source: happykitchen.rocks
Stuffed mushrooms have a special place in my heart. Mushrooms are another high-protein vegetable that makes for excellent finger food foundations.
These mushrooms are roasted to perfection and topped with vegan ricotta and parmesan for a cheesy kick your guests will love.
Source: saltedplains.com
Everybody deserves to enjoy jalapeno poppers, even if you can't have dairy or gluten. That's where this recipe comes in! These crunchy, tasty, cheesy jalapeno poppers are a definite crowd-pleaser.
These appetizers take less than half an hour to make, with an amazing texture and flavor to boot.
Source: theveganlarder.com
Keen on a pate for your guests to enjoy? Turns out, there are geniuses who have come up with a way for vegans to enjoy this classic appetizer ingredient. Mushrooms and lentils are the key!
Blended into a perfectly smooth paste, this pate is amazing on little rounds of crusty bread.
Source: mydinner.co.uk
German potato salad simply hits differently. This is a great appetizer for a neighborhood grill! The radish in this salad adds a much-needed element of crunch and sharpness.
This is much more refreshing than most other potato salads, with no mayonnaise or creamy ingredients in sight!
Source: bestservedvegan.com
Looking to keep things simple? Whip out a cucumber and top it with a decadent vegan cream cheese topping for a gluten-free version of tea-time cucumber sandwiches.
Not only is this an affordable option for making appetizers for a large crowd, but it's easy to churn out a hundred of these morsels in no time.
You will love these other fresh cucumber appetizer recipes!
Source: theveganlarder.com
Courgettes are one of those things you can put in almost any dish because they blend into the background well. However, this recipe puts the courgettes front and center!
The flour mixture is comprised of chickpea flour, meaning this is a super high-protein version of your standard vegetable fritters.
Source: strengthandsunshine.com
Buffalo chicken is for everybody. Vegan, gluten-free, whatever dietary requirements you may need to fulfill, buffalo chicken is a necessary part of everyone's diet. It's just that good.
Luckily, this recipe – which replaces chicken with cauliflower – only has five simple ingredients to deal with! It's crunchy, packed with the buffalo flavors we all know and love, and juicy as heck.
Source: atastykitchen.com
Our final recipe takes inspiration from Vietnam. These vegetarian rice paper rolls are super light and crunchy, with every bite being as refreshing as the last. This makes a great sharing platter!
While the rice paper rolls are amazing, it's the dipping sauce that cranks this dish up a notch. It's sweet, spicy, and wildly fragrant! Plus, it's easy to make a large batch and keep it in your fridge.
There you have it! Thirty-one delicious gluten-free appetizers to have your guests clamoring for more. Which of these recipes has made it onto your next party's menu?
Are there any go-to gluten-free appetizers you reach for when a party is on the horizon? Let me know in the comments below!
31 Best Gluten Free Appetizers Everyone Will Love
These gluten-free appetizers are far from boring! Serve these ay any gathering or party and impress your guests.
Ingredients
1. Ham Roll Ups
2. Cream Cheese Stuffed Mini Peppers
3. Spicy Shrimp with Feta Dip
4. Bacon Wrapped Shrimp
5. Mozzarella Sticks
6. Breadsticks
7. Mexican Street Corn Dip
8. Baked Feta Dip
9. Air Fryer Coconut Shrimp
10. Spicy Tuna with Crispy Rice
11. Spanish Devilled Eggs
12. Whipped Ricotta Dip with Honey and Herbs
13. Smoked Salmon Bites
14. Pizza Hummus
15. Hot and Cool Salsa Tater Tots
16. Spinach Artichoke Dip
17. Vegan Cheese Balls
18. Air Fryer Artichoke Hearts
19. Shishito Peppers
20. Rice Paper Rolls with Tofu
21. Spicy Roasted Chickpeas
22. Loaded Sweet Potato Skins
23. Guacamole
24. Stuffed Mushrooms with Ricotta and Spinach
25. Jalapeno Poppers
26. Mushroom and Lentil Pate
27. German Potato Salad
28. Cucumber Bites
29. Courgette Fritter with Pine Nuts
30. Buffalo Cauliflower Wings
31. Vegetable Rice Paper Rolls
Instructions
Scroll up to get a bunch of easy, yummy, and delicious recipes. Don't be afraid to get creative with the ingredients, you might discover a flavor you didn't know you liked.
Get your shopping list going and make sure you've got all the ingredients.
Get cooking and make your next Gluten Free Appetizer!
Notes
Which one of these recipes was your favorite? Let me know in the comment section or on Pinterest!