Looking for some tasty shrimp bites? Well, you better get the party started because these easy shrimp appetizers will please every guest.
If shrimp is your shellfish of choice, then you need some spectacular recipes to spice up your seafood parties. Thankfully, this article will give you 21 insanely delicious shrimp appetizers.
Whether you like them grilled, sauteed, or fried, there is something for everyone. Tasty shrimp bites will upgrade any party.
You better buy in bulk because these yummy treats will disappear in no time. Tried and true!
Source: cravingcalifornia.com
Seared in a pan and tossed with spices and herbs for a smoky and zesty flavor. The texture of this easy appetizer is super crispy, which makes these shrimp even more enjoyable.
The blackened shrimp is then served with creamy garlic-lime mayo on the side. If you want to, you can also toss the shrimp with this flavorful sauce with lime juice for an even coating.
For a fancy look on your table, serve with lime wedges and some herbs.
Source: bellyfull.net
Okay, there isn't any actual popcorn in this recipe. But I assure you, this shrimp is as addictive as the classic snack.
Dipped into seasoned flour and deep fried, these crispy, golden, and super irresistible juicy shrimp bites are the ultimate crowd pleasers.
Just fry a batch for your next party, and see for yourself.
Also, don't be afraid to adjust the seasonings so that the taste is to your liking. Just top with fresh parsley and serve!
Source: bestappetizers.com
Looking for foolproof cold shrimp appetizers? One that makes delicious shrimp that can keep well in the fridge and plate up nicely when needed? Then this is your perfect match!
Cooked, marinated in fresh herbs, ground dijon mustard, and black pepper, and refrigerated, these chilled shrimp are the definition of a cocktail appetizer.
The secret to the amazing taste of this perfect appetizer recipe lies in the white vinegar. And no, it is not a typo. You need a good half a cup of it.
The marinade really makes a difference in this seafood appetizer, so make sure to stick to the ingredient list.
This scrumptious cold shrimp recipe pairs perfectly on the appetizer table with the cold appetizer recipes.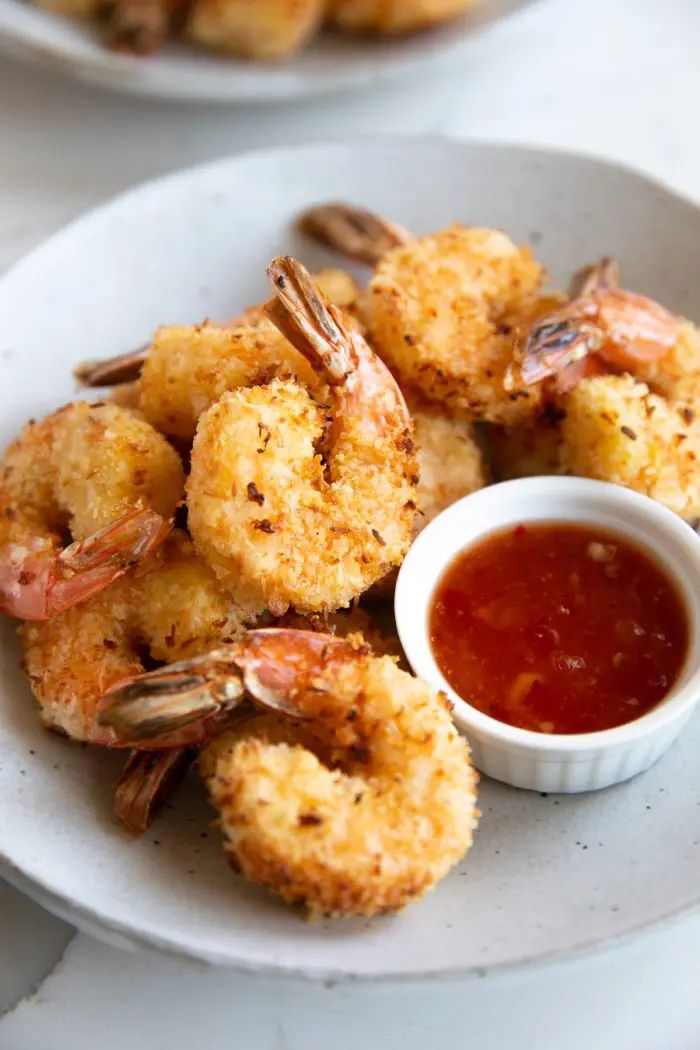 Source: theforkedspoon.com
If you haven't tried coconut shrimp before, here is your chance to get on board. Crispy perfection in the size of a bite! The perfect treat for any party guest!
This recipe is made in the air fryer, so it is extra crispy and delicious. However, keep in mind that you can easily bake them in the oven. Or even pan-fry them until golden.
I generally use unsweetened coconut for the coating. I like to dip my shrimp into various sauces, some of which happen to be somewhat sweet.
Source: pizzazzerie.com
Now, this is something completely different. Serve these tartlets on your party table, and I guarantee everyone will be wowed.
So fancy-looking and delicious, these shrimp and tomato treats are a perfect fit even for wedding-grade parties.
I promise you, once you learn how to make this, you will never ever need a catering service. Again!
The filling is herbed cheese, but feel free to adjust to your liking.
Check out more puff pastry appetizers for your next party.
Source: chefjar.com
I love cucumbers. And everything rolled in cucumber is an appetizer I gladly devour. But even if you're not a fan of this veggie, these shrimp rolls will definitely please your taste buds.
And how can they not when there are also avocados and cream cheese involved?
The trick here is to slice the cucumbers thinly. If you have a mandoline slicer, that will seriously help.
Also, serve the rolls with some lemon slices and sprinkle them with pepper or chili flakes. That will make an even more representative look.
Source: pinchandswirl.com
Any appetizer that is wrapped in bacon and secured with a toothpick is a total hit at any party. And if you want your guests to have a wonderful time, I suggest you try this bacon shrimp.
Juicy and crispy at the same time, there is a lot of flavor and texture packed in this bite-sized treat.
If you want them super delicious, then partially cooking the bacon prior to wrapping the shrimp is suggested. Then, simply pop in the oven until the shrimp turn pink. Easy peasy, isn't it?
Make more mouthwatering apps for your gathering with these hot appetizers.
Source: thekitchenismyplayground.com
Paired with cream cheese and cocktail sauce, these shrimp are just the thing you need for your next party. Add some salty crackers to the platter, too, and you've got the perfect snack.
The recipe doesn't include the cooking method. But the cream cheese sauce is perfect for both grilled and pan-seared shrimp.
So if a fabulous but super quick appetizer is what you're looking for, then this festively snacking platter will surely help.
Source: beyondmeresustenance.com
With lime, chipotle, cumin, and cilantro, these succulent shrimp skewers bring Mexican flavors to your backyard party.
The secret to having a deep flavor lies in marinating the shrimp for at least 15 minutes. 20 is best, but make sure not to leave them in the marinade for more than half an hour.
Then, thread onto skewers and grill just until pink. So good!
Pair these tasty shrimp skewers with more of these flavorful Mexican appetizer recipes.
Source: heartbeetkitchen.com
Threaded fresh onto skewers, the shrimp and fruit will take some charred notes on the grill that you will simply love.
The shrimp will cook perfectly, the pineapple will slightly caramelize, and the avocados… Well, let's just say you need to try grilled avocados to know. But I promise you'll like it.
At the end, sweet lime and sesame vinaigrette is added, for a lovely drizzle that is simply irresistible.
Source: lucismorsels.com
As the name suggests, this recipe is for grilled shrimp on toasted bread. However, the key to a flavorful appetizer here lies in the lovely spread.
Made with sundried tomatoes, basil, and olive oil, it is the red spread that takes the taste to a whole new level here.
I prefer Sourdough bread for this recipe, but any kind of bread will do fine. If you want it to be more finger-foody, then toast some French baguette slices for this appetizer.
Source: champagne-tastes.com
I read "mini tacos," and I know that will be a snacking delight, no matter what the filling is. But these shrimp and pineapple tacos are seriously out of this world.
Pan-seared shrimp with diced pineapple, lovely spices, and a yogurt/lime sauce that mellows out the sweetness and spiciness. How can you not fall in love with that after the first bite?
You will like this recipe so much, that you will use regular-sized tacos and turn it into a main dish.
Source: reciperunner.com
Coated with tons of spices and baked to a crisp delight, there's nothing you would change about this shrimp recipe.
Even if you're not a spice fan, you will absolutely adore this appetizer. The delicious feta and yogurt dip tames the spiciness and makes the shrimp even more wonderful.
There's no chili powder in this recipe, but for a stronger kick, I'd suggest you add half a teaspoon.
Source: flavourandsavour.com
If you want to take things a bit further, then this impressive recipe is definitely worth making.
Air-fried shrimp, wrapped in bacon, sitting on top of toasted bread. And on top of that toasted bread, there is a lovely avocado and lime mash.
Crispy, creamy, meaty, zesty, fresh… All at the same time. If that's not a real feast for your taste buds, then nothing is.
Make this at your next get-together and your family and friends will be absolutely astonished.
Source: simplystacie.net
Whether you serve this on flatbread, baguette, or any slice of toasted bread, the result will still be equally tasty.
Cooked shrimp, drizzled with lime, and spiced up with jalapenos and onions, is what you need at your party.
Don't worry though, the tomato and mint are there to mellow out the heat and bring a cool freshness that just combines everything fabulously.
Source: joyousapron.com
Well-seasoned, loaded with flavor, and perfect in texture. These shrimp will literally have you licking your fingers.
The shrimp here is marinated in garlic, chili, and lime. Then, it is pan-seared until pink and slightly crispy.
Doesn't sound too exciting? Wait until you hear about the refreshing avocado and yogurt crema that is drizzled all over.
And since it tastes as good as it sounds, I strongly suggest you double the batch. The shrimp will disappear from the platter the minute after they hit the table, guaranteed.
Source: goodlifeeats.com
If you're anything like me, then the first thing you grab at a party are the stuffed appetizers. And these shrimp-loaded mushrooms will be the first thing your guests will reach for.
Scrumptious and super impressive, this appetizer is perfect for the holidays!
With onion, basil, rosemary, and garlic, how can it not be flavorful? And thanks to the mayo and breadcrumbs, there is a lot of creaminess and texture, as well.
The thing that brings everything to life, though? The generous amount of Parmesan cheese!
Source: bonappeteach.com
If your shrimp-cooking skills are decent at best, then this recipe will help you graduate. No, master it!
Coated with a soy, chili, lime, and coconut mixture, there is no shortage of flavor in this seafood recipe.
Perfectly grilled shrimp, paired with soft shishito peppers, and accompanied with chili sour cream dip. How can you not go crazy for this delight?
If you're looking for a more finger-enjoyed appetizer for your party, then you might want to omit the peppers. Just serve the shrimp with the dipping sauce on a platter.
Source: thegirlonbloor.com
Looking for a sticky appetizer that is finger-licking worthy? Well, you've just found it!
Sweet, zesty, citrusy, salty, and with a kick of spiciness that increases the appetite. A real firecracker, right?
The shrimp is super crunchy as it is breaded first and then fried until golden. Besides, it is also sprinkled with sesame seeds.
The best thing about this dish is that you can easily turn it from an appetizer into a main dish. Just add some fluffy rice and steamed veggies next to it, and voila!
Looking for more finger-licking good appetizers? Check out these finger food recipes!
Source: theblondcook.com
Your cheese balls always turn somewhat boring? Then it is time to spice things up with this shrimp-loaded ball of creaminess!
Whatever you do, do not omit the Worcestershire sauce here.It is the secret ingredient that makes the flavor pop. It wraps everything beautifully, so it is a must.
Cover the ball with some chopped nuts and seeds, and serve with salty crackers for the always-irresistible indulgence.
Source: flavourandsavour.com
Tiny shrimp cakes made the Thai way, are the perfect finger-food treat. Isn't that what every party needs?
Ideal for game nights and get-togethers, these shrimp bites are super crunchy on the outside, but moist and tender on the inside.
The recipe features a mango dipping sauce, which is sweet and zesty at the same time. The perfect match for the fried shrimp patties!
21 Shrimp Appetizers
If you need some party appetizer ideas, we've got your back! These are the best shrimp appetizers that are both easy to make and easy to eat!
Ingredients
1. Blackened Shrimp with Garlic-Lime Aioli
2. Popcorn Shrimp
3. Cold Marinated Shrimp
4. Air Fryer Coconut Shrimp
5. Shrimp & Tomato Pastry Tartlets
6. Cucumber Roll
7. Bacon Wrapped Shrimp
8. Shrimp & Cream Cheese
9. Spicy Mexican Shrimp Skewers
10. Grilled Shrimp, Pineapple, and Avocado Kabobs
11. Grilled Shrimp Toast
12. Mini Shrimp Tacos with Pineapple
13. Spicy Shrimp with Feta Dip
14. Air Fryer Bacon Wrapped Shrimp Tapas
15. Zesty Shrimp Flatbread
16. Chili Lime Shrimp
17. Shrimp Stuffed Portobello Mushrooms
18. Grilled Sesame Shrimp with Shishito Peppers
19. Firecracker Shrimp
20. Shrimp Cheese Balls
21. Crispy Thai Shrimp Cakes with Mango Dip
Instructions
Scroll up to get a bunch of easy, yummy, and delicious recipes. Don't be afraid to get creative with the ingredients, you might discover a flavor you didn't know you liked.
Get your shopping list going and make sure you've got all the ingredients.
Get cooking and make your next Shrimp Appetizer!
Notes
Which one of these recipes was your favorite? Let me know in the comment section or on Pinterest!