Goat cheese is a great ingredient to have around the house. It can be used in many ways, so it's ideal if you need a last-minute snack, meal or even these easy goat cheese appetizer recipes.
Tangy goat cheese is known for its salty richness, making goat cheese popular on salads and refined dishes. Let's take a deep dive into the many ways you can use goat cheese in an appetizer!
What Can I Do with a Lot of Goat Cheese?
Goat cheese only lasts up to three weeks in the refrigerator. So, if you have a lot of goat cheese to get through, it's time to get moving.
You can use it in many ways. Enjoy it on crackers with honey or fresh fruits or on a cheese board. Try flavored oils as a light snack in the middle of the day. Stuff your protein with it for an oozy center.
Or, you could host a party this holiday season and use all your goat cheese in a delicious appetizer! There are plenty of options for a goat cheese appetizer recipe to choose from on this list.
What Mixes Well with Goat Cheese?
Goat cheese has a mild, slightly tart, earthy flavor. It can play host to any number of tasty ingredients, depending on what you enjoy like fresh herbs and balsamic vinegar.
Dried fruits and nuts are a great place to start. They help cut through an older goat cheese's intense flavor and balance it out. Herbs and light oils are great with young, spreadable goat cheese.
Best Goat Cheese Appetizers
The question of the day is: which goat cheese appetizers are best? I have twenty-one savory appetizers ready for you, each with its unique tangy flavors.
Get your guests' appetites raring to go with these fantastic recipes!
Source: joyfoodsunshine.com
Let's kick things off with a tried-and-true success story. Cranberry and goat cheese are flavors made to work together.
The sweet cranberry is perfect for cutting through the cheese's salt in this log of goat cheese.
This is a super simple appetizer you can whip up in no time. Your guests will love it because it looks beautiful on the plate and tastes just as good. Serve with crackers for a perfect start to the night.
This lovely starter is one of the best fall appetizers for get-togethers!
Source: thedizzycook.com
When 'fancy' is the order of the day, this is the delicious goat cheese appetizer to reach for. Each little endive is stuffed with a bunch of flavors with the perfect balance to keep you on your toes.
These delicate parcels are refined and simple to prepare for an impressive party appetizer. That's what makes them so great for dinner parties!
Impress your guests without spending hours making your appetizers.
Source: simplystacie.net
The next appetizer on the list is as cute as a button… literally. These button mushrooms are stuffed with a tasty mixture of goat's cheese and sundried tomatoes.
The earthy mushrooms pair beautifully with the rich, tart flavors in this delicious recipe. Top that with a sprinkle of parsley to bring out some lighter flavor.
This warm goat cheese appetizer is super easy to make in advance. All you need to do is bake them when ready to serve.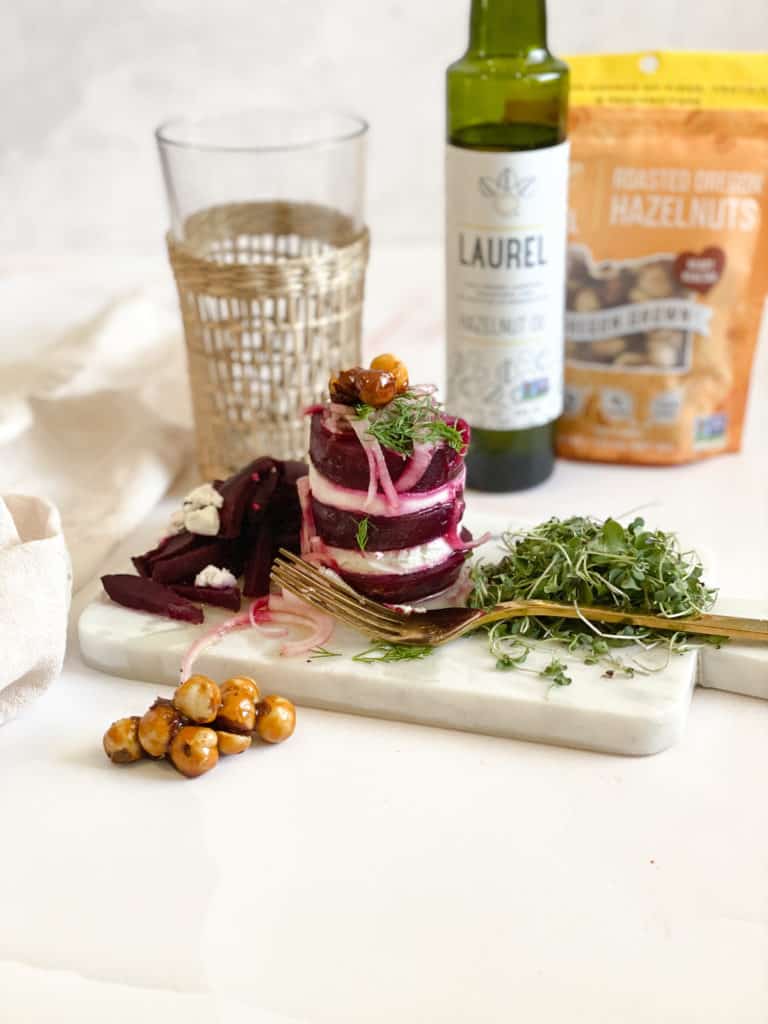 Source: thisvivaciouslife.com
Vegetable stacks have never gone out of style, and this appetizer proves it. Add a 'wow' factor to your dinner table with these pretty beetroot and goat cheese stacks.m
The candied hazelnuts and hazelnut oil add richness and crunch. Paired with smooth cheese and earthy beetroot, your guests will never tire of this one!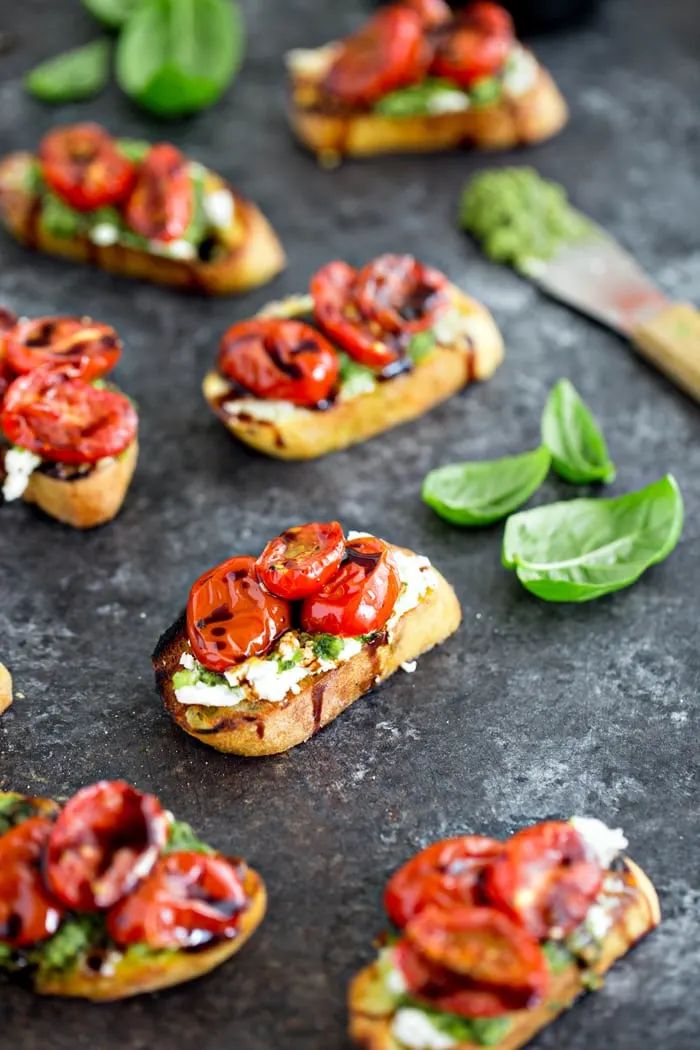 Source: goodlifeeats.com
Enjoy summer on a plate with these roasted tomato crostini. This is a great way to give old bread new life! Please treat this as an appetizer to the main meal or have them as a light lunch or snack.
You can use this technique with any toppings you like! In this case, the roasted tomato and pesto pair to create a brightness that's so addictive.
Source: thehealthyepicurean.com
Speaking of crostini, here's another recipe to enjoy in this way. This time, our little toasts play host to a delicious combo of goat's cheese, smoked ham, dried cherries and fresh thyme.
Each bite of this easy goat cheese appetizer tastes like Christmas! That's what makes this such a great appetizer dish around the holidays. It's easy to prepare all the elements in advance!
Source: peelwithzeal.com
We know that beetroot and goat cheese go super well together. So why not let that combination have center stage? Our next recipe uses small beetroot rounds as a base.
Pipe some whipped goat's cheese on top and finish with a piece of scorched orange. You're done! All you need is four ingredients to create these tasty delights.
Source: mykitchenlove.com
Goat cheese is commonly enjoyed in a ball like this, and I can see why. The coating on the outside of the ball adds a ton of flavor to every scoop of herbed goat cheese.
Goat cheese balls are super easy to prepare! Whip them up in advance with your favorite herb mix. Then, serve it in the middle of a plate of crackers when you need appetites raring at your holiday party!
Source: deliciousonadime.com
Puff pastry is one of those things that can make a dish feel super fancy without requiring much effort from you. Using store-bought puff pastry, you can create these tasty bites with ease.
The goat cheese mixture in the middle comes together in no time. You can prepare these bites ahead of time and let them sit in the fridge. Bake when you're ready to serve, and you're done!
You'll love these bites as a finger food recipe at your next party!
Source: drugstoredivas.net
Are you looking for a unique twist on your bruschetta? Try this lingonberry, goat cheese, and prosciutto combination.
The salt, richness, and sweetness all work in perfect harmony in these goat cheese rounds.
This is a great way to kick off a refined dinner party. The best part is that they require barely any preparation!
Source: theroastedroot.net
These sweet potato rounds are a great option if you want to step away from using bread as a base. I love how clever these are! The roasted sweet potato rounds add a delicious earthy flavor.
You can't ask for anything more topped with goat cheese and roasted cranberries.
Source: suburbansimplicity.com
Goat cheese and honey are a great combination because they come from two different ends of the flavor spectrum. The salty and tart goat cheese is a perfect contrast for sweet honey.
That mixture packed into a buttery puff pastry shell is heaven on earth. This appetizer is light, delicious, and easy to make in bulk. For large parties, this is the way to go.
Have extra puff pastry? Check out these easy puff pastry appetizer recipes.
Source: runningtothekitchen.com
If fall is on the horizon, it's time to break out this recipe. This is delicious no matter the time of year, but having it in the fall feels all the better.
This is a stunning dip with a creamy feel and plenty of flavors. Serve it with your favorite crunchy sides, including fresh vegetables or breadsticks. Top with plenty of crunchy seeds for texture!
Source: flavourandsavour.com
We're now switching from fall to summer with these deliciously fresh apricots. The creamy goat cheese and lavender honey highlight the floral apricot.
If you want this to be even better, whip out your blow torch. Scorching the tops of the apricots will help bring out the natural sweetness in the flesh.
These apricot bites are also a hit as a cold appetizer at parties!
Source: suebeehomemaker.com
I firmly believe that bacon makes almost everything taste better. This recipe is proof of why! The bacon-wrapped dates are sweet and chewy, with a salty coating that's so addictive.
The goat cheese right at the center makes each little parcel gooey. Taste, texture, and flavor all harmonize in this fantastic appetizer. It's also so simple to make!
Source: feastingnotfasting.com
Thanks to this simple recipe, take care of the prep work ahead of time. This is great around the holidays. It lets you feed the whole family without sinking much time making it!
Coat your goat cheese log with crushed nuts, cranberry jam, and herbs. Serve with your favorite crackers, bread, and vegetables for a quick and easy appetizer everyone will love.
Source: theflavorbender.com
Goat cheese and figs are flavors that tie together throughout history. With a drizzle of honey and spice, these roasted fig tartlets will blow your guests away!
The best part is how simple they are to prepare. Use store-bought filo pastry for the tartlets and pipe the goat cheese into the center. The toughest part is making the figs, but even that is super simple.
Source: barleyandsage.com
Do you love the fig and goat cheese combo? You're not alone! Enjoy a fresher version of the roasted tartlets with these tasty crostini. The fresh fig on top is super juicy and packed with flavor.
The rich goat's cheese is the perfect way to highlight the fruit's freshness. This is a great appetizer to whip out for fall to celebrate fresh seasonal figs!
Source: fromachefskitchen.com
Artichokes don't get enough love. The truth is, they're so versatile! You can use any part of the artichoke, including the bottom. This appetizer proves how tasty this underrated vegetable is.
Stuff your artichoke bottoms with goat's cheese and grill for a creamy, oozy delight. These would go perfectly on a summer picnic or spring lunch table.
Source: bessiebakes.com
We're jumping all over the globe with our next recipe. Combine wontons, goat cheese, and guacamole into the ultimate international treat.
The wontons are super crispy, so they're perfect as a base. The goat cheese guacamole is light, fluffy, and rich enough to hold its own. The result? A pitch-perfect appetizer for any occasion.
Source: twokooksinthekitchen.com
Finally, we have a refined dish that couldn't be any easier to make. This is great in small portions, so serve this at your next dinner party!
You can mix the goat cheese filling in advance and keep it in the fridge. On the night of your party, stuff the prepared peppers and roast away. The tangy sauce at the end brings it all together!
If you are looking for the best hot appetizer recipe for your party this is it!
What's your favorite way to use goat's cheese? Have you ever tried it before? Let me know your favorite recipes in the comments below!
21 Easy Goat Cheese Appetizer Recipes
Goats cheese is an incredible ingredient to elevate any dish. Here are some creative goat cheese appetizer ideas that will impress.
Ingredients
1. Cranberry Goat Cheese Appetizer
2. Endive Appetizer with Strawberry Relish
3. Goat Cheese and Sun-Dried Tomato Mushrooms
4. Hazelnut Oil, Beet, and Goat Cheese Salad with Candied Hazelnuts
5. Roasted Tomato Crostini with Walnut Almond Pesto and Goat Cheese
6. Goat Cheese Crostinis
7. Beet and Goat Cheese Bites
8. Honey Goat Cheese Ball
9. Herb and Goat Cheese Puff Pastry Bites
10. Goat Cheese Prosciutto Lingonberry Jam Bruschetta
11. Sweet Potato Rounds with Goat Cheese and Roasted Cranberries
12. Goat Cheese and Honey Bites
13. Pumpkin Goat Cheese Dip with Caramelized Onions
14. Fresh Apricots with Goat Cheese and Lavender Honey
15. Bacon Wrapped Dates with Goat Cheese
16. Cranberry Goat Cheese Log
17. Goat Cheese and Roasted Fig Tartlet
18. Fig and Goat Cheese Crostini
19. Goat Cheese Stuffed Artichoke Bottoms
20. Goat Cheese Guacamole with Crispy Wontons
21. Stuffed Mini Peppers with Goat Cheese
Instructions
Scroll up to get a bunch of easy, yummy, and delicious recipes. Don't be afraid to get creative with the ingredients, you might discover a flavor you didn't know you liked.
Get your shopping list going and make sure you've got all the ingredients.
Get cooking and make your next Goat Cheese Appetizer Recipe!
Notes
Which one of these recipes was your favorite? Let me know in the comment section or on Pinterest!