Love your pork? These thin pork chop recipes are easy to make, taste delicious, and are full of flavors.
Thin pork chops are the ideal protein for a weeknight meal. They're affordable, easy to cook, and take on flavor like a sponge. Best of all, they crisp up beautifully.
With so many potential ways to cook this versatile protein, the question is, which ones are the best?
How Do You Cook Thin Pork Chops Without Drying Them Out?
The first thing to know about cooking thin pork chops is baked right into the name: they're thin. That means they can dry out much more quickly than their thicker counterparts.
With thin pork chops, it's best to flash fry them so they can retain their moisture. It's even better if you can marinate them beforehand. Not only does this improve their flavor, but it also keeps them juicy.
You can also bread or batter your pork chop. This helps it develop a delightfully crusty exterior while holding all the delicious juices inside, keeping the meat moist.
With these top tips in mind, I think it's only fitting that we crack into the twenty-one unique ways you can apply them, don't you?
Best Thin Pork Chop Recipes
The best thin pork chop recipes celebrate this versatile ingredient with classic flavors and combinations.
Whether it's comfort food or date-night-worthy, check out these twenty-one delicious ways to integrate a thin pork chop into your week's meals.
Source: eatingglutenanddairyfree.com
Let's kick things off with a tried-and-true classic for busy weeknights: honey mustard pork chops. Honey and mustard is a perfectly-balanced combination renowned for its taste when paired with thin cut pork chops.
These marinated thin-cut chops have a short cook time, and the glaze offers a punchy flavor perfect for easy dinner on winter nights indoors. That's not even mentioning the buttered potatoes!
Source: threeolivesbranch.com
This keto-friendly easy pork chop recipe is the best way to keep your pork chops moist. You cook your chops in a delicious bath of stock, onions, herbs, and bay leaves to imbue them with incredible flavor.
Because the chops are seared in olive oil over medium heat and then cooked in the broth, they're insanely moist with a delightful char on the edges. Top that off with a light slice of cheese; you've got a treat on your hands.
There is no such thing as tough pork chops here!
Source: threeolivesbranch.com
Pork and fruit have historically been excellent friends, and this easy recipe for pork chops continues that relationship. The stewed apricot, smoky bourbon, and black pepper are ideal companions for a savory chop.
These tender pork chops are fantastic to enjoy when apricots are in season. The sugar caramelizes on top of the chop, creating a delicate yet dark sweetness perfect to anchor the meal.
This is great for an easy Friday night dinner.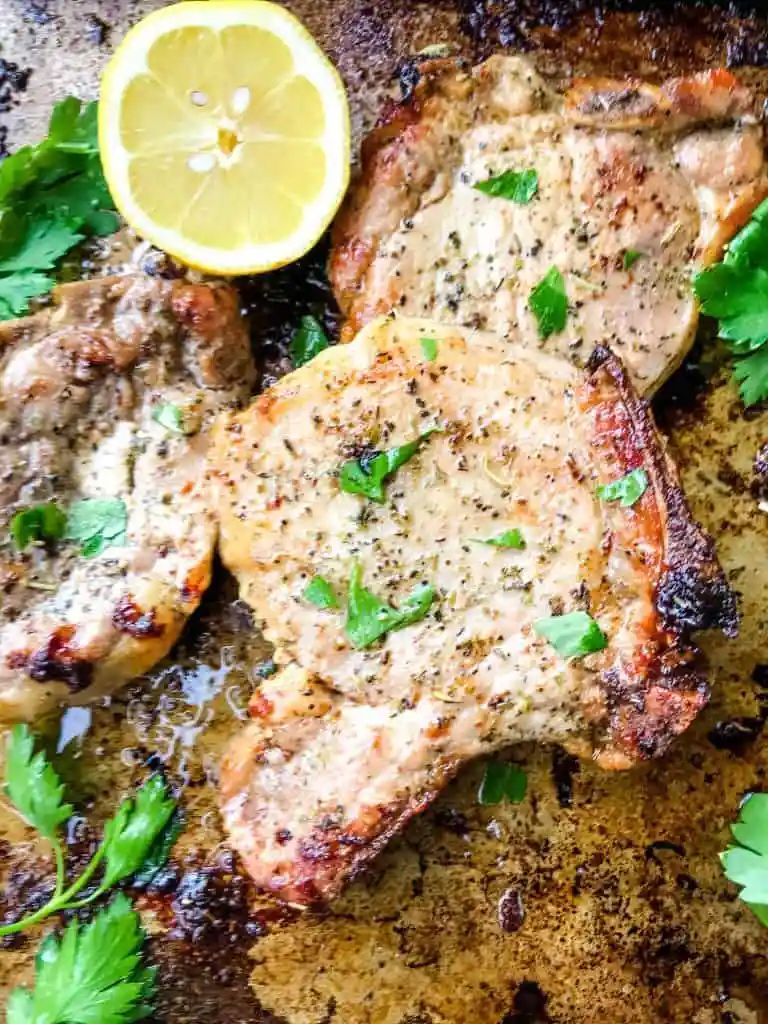 Source: threeolivesbranch.com
This next recipe is a fantastic dinner staple you can serve with any starch to round it out. Think roasted potatoes, pasta, rice, or even quinoa!
These boneless chops are baked, so they require barely any hands-on time to prepare. They're cooked in a fragrant bath of simple ingredients like stock, cilantro, garlic powder, and lemon juice to create tender, juicy pork chops.
Source: vikalinka.com
Apple and pork is the ultimate holiday-friendly combination, so you know this next recipe will be good. These pork chops are baked in an apple cider bath to add flavor and a little fat from the heavy cream for moisture and richness.
While the recipe recommends boneless pork chops, bone-in chops could more easily prevent them from becoming fried when you flash-fry them with a short cooking time.
Douse with butter and apple slices to round this holiday meal out with a bang.
Source: all-thats-jas.com
Is there anything better than a sticky pork chop? These honey-glazed chops are so tender and juicy that it's hard to believe they're so simple to make. They're perfect for serving up on weeknights!
You only need half an hour and a handful of ingredients to get these chops from fridge to table with so much flavor.
You only need one dish – a solid pan or a large skillet. So, there is no need to wash up your entire kitchen after making pork chops in this delicious way!
Source: girlcarnivore.com
If you're searching for luxury, this fried pork chop sandwich is the cream of the crop. A moist, crunchy pork chop brushed with lashings of truffle aioli on a brioche bun? Sounds like heaven.
Despite how delicious this meal is, it's pretty simple to whip together. The thin chop cooks in barely any time with a quick sear on both sides of the chops over medium-high heat.
Serve solo or with a plate of fries or a fresh side salad.
Source: sweetandsavorymeals.com
Pineapple has special enzymes in its juice that tenderize meat when it comes into contact with it. In other words, it's the ultimate weapon against the dreaded tough pork chop.
Not to mention, pineapple also has natural sugars that caramelize beautifully when heated. Put that combination with onion powder and a spice rub on a pork chop.
And you've got a winning dish on your hands and an easy weeknight dinner.
Source: crockpotsandflipflops.com
Not only do these pork chops come together in a crockpot, but they also only require three ingredients you can easily pick up at the grocery store.
These juicy chops slow-cook in a combination of French onion soup and cream of mushroom soup for ultimate tenderization and flavor.
While they cook for three hours, they only need five minutes of hands-on time. That's the ultimate convenient pork chop dish!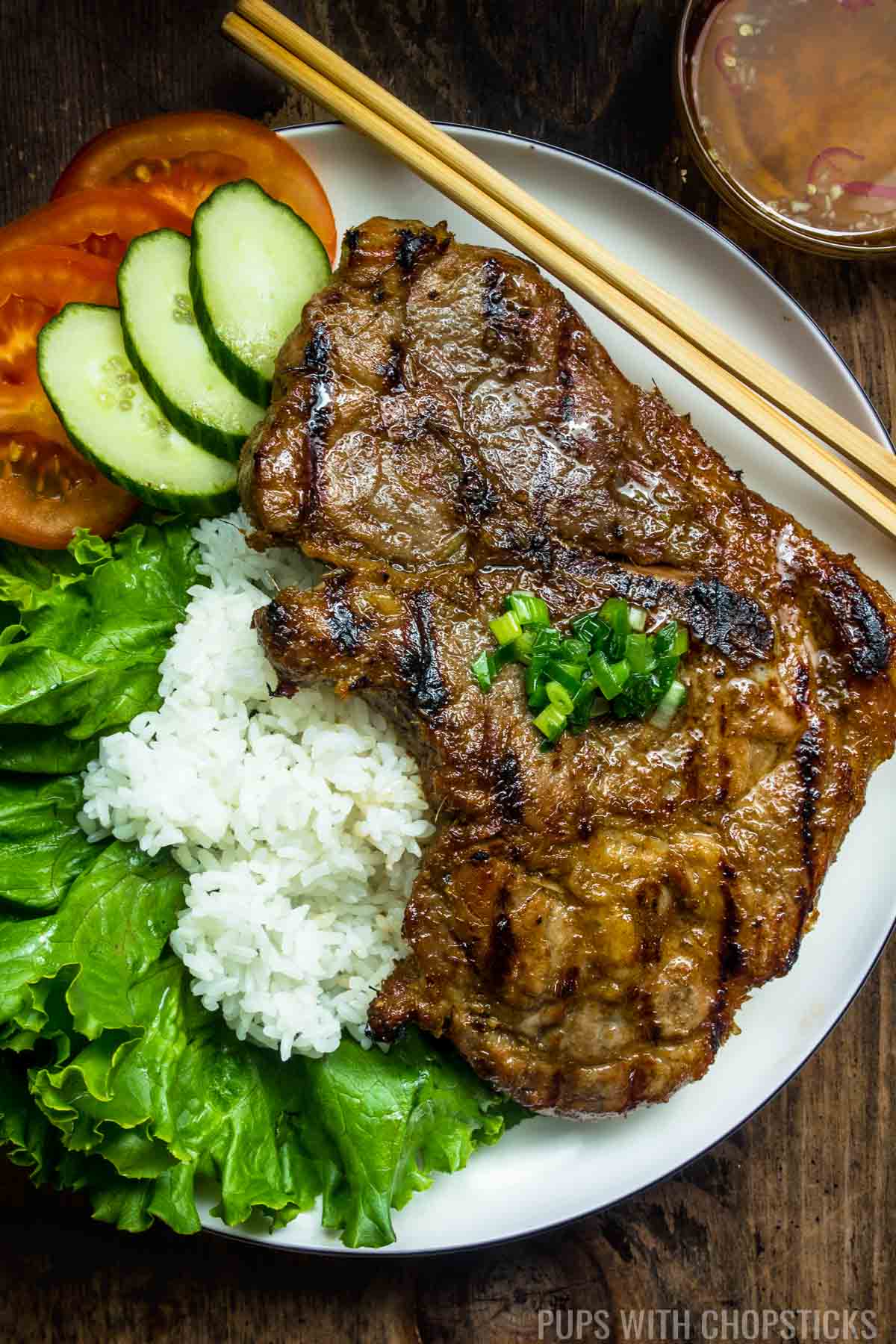 Source: pupswithchopsticks.com
Looking for something a little unique for your next pork chop dish? This Vietnamese-inspired recipe is incredibly aromatic and smoky. The lemongrass, garlic, and fish sauce all balance each other out.
This is an excellent introduction to Vietnamese cooking if you've never ventured into this arena! Work with fresh aromatics and a chargrill pan to impress the heck out of your next Sunday dinner guests.
Source: cookingandcussing.com
This is another take on French onion pork chops, only this time; they're a whole lot crispier. These chops are breaded in seasoned potato chips. Need I say more?
You can keep any leftovers – assuming there are any, of course – in the fridge for up to three days. After all, who doesn't love a reheated chop with gravy for lunch the next day?
Source: plattertalk.com
These parmesan-crusted pork chops are super simple, and their punchy flavor is anything but! The parmesan is a seamless double-whammy, sealing the juices in the pork and adding a savory crunch.
Sidestep the stereotypes of sad, grey pork chops with this vibrant and delicious rendition of everyone's favorite white meat. With a touch of lemon to lighten the taste, this is unforgettable.
Source: joyousapron.com
Italian cuisine knows how to treat a pork chop, that's for sure. Pork Milanese is a beautifully-spiced pork chop fried to perfection, breaded with parmesan, and served with a salad.
The best part about this recipe is that you have to pound the chops even thinner than they already are. That creates a thin, crispy chop that cooks incredibly quickly and retains moisture.
Source: enchartedcook.com
Looking for the perfect intersection of sweet and savory? This pork chop recipe is an old-fashioned recipe with a modern twist. Talk about bringing the seventies back up to date!
These seasoned Italian pork chops are covered in lashings of creamed corn to keep them moist and delicious. This is a great dish to whip up on a cold winter's night when you need some comfort.
Source: persnicketyplates.com
Kick dinner's butt every night of the week with this effortless slow cooker meal. You can put all the ingredients in your crock pot the second you get home, then lift the lid on dinner a few hours later.
These delightfully creamy pork chops only require six ingredients, but you can flavor them with anything you like. On top of that, the potato side dish cooks right alongside the chop.
That's a one-pot wonder I can get behind!
Source: amandascookin.com
If you have a grill at home, you can't miss out on these stellar grilled pork chops. These chops are marinated to tenderize them before cooking, so they're incredibly juicy straight off the grill.
Combine the light, fragrant marinade with smoky char lines and a herbaceous mix to create the perfect flavor blend.
Source: delightfulplate.com
The key to this next recipe lies in the marinade. All you need is ten minutes to prepare the mixture, then allow the chops to soak. The thin cuts take on the delightful aromatics in no time at all.
Then, all that's left is to throw them on a grill. This is an excellent base for a meal prep recipe. The pork stays juicy thanks to the marinade, while the flavorful glaze keeps each meal light and fresh.
Source: littlefamilyadventure.com/oktoberfest-smothered-pork-chops
There are many countries all over the world, each giving pork its own unique treatment. This German version will have you salivating at the mere mention of it.
These pork chops are the ultimate celebratory meal, smothered in creamy onion gravy and served with pasta. They're warm, comforting, and packed with oodles of flavor.
Source: mindyscookingobsession.com
I've mentioned the pork and apple combination before on this list, but it bears repeating. Especially this variation! A light cools spicy pork chops; refreshing apple salsa served on the side.
Each bite is a symphony of different flavors; sweetness, spiciness, and a deep savory note thanks to the pork itself. Prepare the apple salsa in advance and use it anytime to lighten a dish.
Source: carriesexperimentalkitchen.com
The next time you have the urge to get takeout rather than cook, hang back and prepare these lemon pepper-baked chops instead. They're insanely easy to prepare in just one dish and your oven.
Apart from the chops, you need a healthy dose of lemon peppers seasoning and a splash of cooking oil to create this tasty treat. Crank up the oven, throw them in, and come back in twenty.
Source: mashupmom.com
Our final recipe celebrates one of the best ways to make your pork as tender and juicy as humanly possible. This is a one-pan meal with just a few ingredients, so it's ideal for weeknight family dinners.
Broiling your pork chops gives them a wonderful char on the outside while preserving their inner tenderness. This is a sheet pan meal, so your sides cook alongside the delicious pork.
That means each piece of the meal has a chance to lend fragrance to the others, creating a deliciously cohesive dish.
So, what are you waiting for? Rush out and pick up some thin pork chops to experiment with any of these recipes. Which one are you going to start with? Let me know in the comments below!
21 Best Thin Pork Chop Recipes
Got some thin pork chops? Let's make a delicious, easy, and mouthwatering dinner with these thin pork chop recipes.
Ingredients
1. Honey Mustard Pork Chops
2. French Onion Pork Chops
3. Bourbon Apricot Pork Chops
4. Italian Baked Pork Chops
5. Pork Chops with Apple Cider
6. Honey Glazed
7. Fried Pork Chop Sandwich
8. One Pan Pineapple Pork Chops
9. Crockpot Pork Chops
10. Grilled Lemongrass Pork Chops
11. French Onion Pork Chops
12. Parmesan Crusted Pork Chops
13. Pork Milanese
14. Italian Seasoned Pork in Creamed Corn
15. Creamy Ranch Pork Chops
16. Grilled Pork Chops
17. Vietnamese Grilled Pork Chops
18. Pork Chops and Noodles
19. Spicy Grilled Pork Chops with Apple Salsa
20. Lemon Pepper Oven Baked Pork Chops
21. Broiled Parmesan Pork Chops
Instructions
Scroll up to get a bunch of easy, yummy, and delicious recipes. Don't be afraid to get creative with the ingredients, you might discover a flavor you didn't know you liked.
Get your shopping list going and make sure you've got all the ingredients.
Get cooking and make your next Thin Pork Chop Recipe!
Notes
Which one of these recipes was your favorite? Let me know in the comment section or on Pinterest!