These low-calorie baked apple chips are a perfect healthy snack even the kids will love! Easy, quick to prepare, delicious, sweet, vegan, gluten-free, and dairy-free!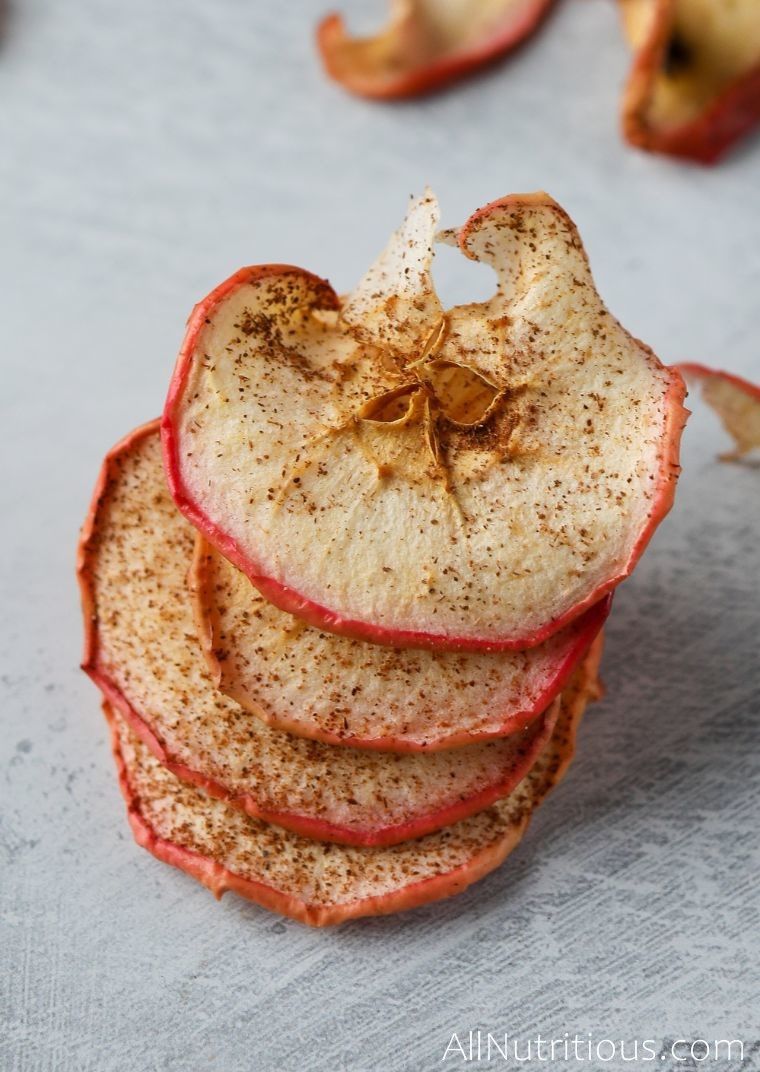 Sometimes we are looking for something crunchy when we are looking for a snack. Most of the time, those crunchy snacks are not that great for us.
They are often processed, high in sodium, and have no nutritional value. Sure, we can always grab a handful of nuts or a fresh apple.
They are pretty simple options. They will satisfy the need for something crunchy but can get boring pretty quickly.
These apple chips are the way to go. You can have a handful of these and feel great about it!
They are so easy to make. You could probably make these right now with ingredients you already have on hand.
All you need is two apples, lemon, and some cinnamon. They do take a bit longer to make than some other snacks, but they are worth the wait.
The apples are nutritious and provide fiber and Vitamin C. Adding cinnamon gives a great flavor boost.
Are Apple Chips Healthy?
Apple chips might be one of the healthiest chips you will come across. The best thing about this recipe is that you are making them yourself.
There are no added preservatives or sugars. A few simple whole foods are all that you need.
Apples provide antioxidants, fiber, Vitamin C, and minerals. They have no fat at all.
Talk about the perfect snack!
Cinnamon also adds a lot more than just a boost of flavor. It helps keep your blood sugar under control, has anti-inflammatory properties, and may cut the risk of heart disease.
How Do You Make Baked Apple Chips?
It's really simple to make these apple chips. You just need a few ingredients and tools.
The prep will only take a few minutes. The hardest part is going to be waiting for the apples to crisp up in the oven.
Ingredients:
apples
fresh lemon juice (squeezed out of lemon)
cinnamon
Step-by-step Instructions
Firstly, preheat your oven to 225F (110C). Yes, this is a very low temperature.
We aren't really cooking the apples. We are dehydrating them.
Putting the apples in the low heat for a long period of time will help them really crisp up.
Step 1: Get Your Lemons Out
Then, squeeze your lemon juice into a small bowl. Make sure to take out any seeds that might have fallen in.
Step 2: Thinly Slice the Apples
Slice the apples crosswise using a sharp knife.
You don't need to peel the apples. We want to keep the skin on for added fiber and nutrients.
You want the slices to be as thin as possible. The thinner the slices you make, the crispier the chips will be.
Don't worry about the seeds. They will fall out once the apples dry up.
Tip: You can use a mandoline slicer like this if you have one. Be very careful, though!
The blades on slicers are very sharp. Using protective gloves is helpful.
Step 3: Toss Your Apples in with Other Ingredients
Place all of the apple slices into a large bowl. Pour the lemon juice over the apples.
Toss the apples in fresh lemon juice, so they get evenly coated. This is going to help the apples from getting too brown.
Lay all of the apples onto a parchment-lined cookie sheet. Be sure that no apples are overlapping.
This is important. The apple chips will not get crispy if they are overlapping.
Step 4: Bake Your Apple Slices
Sprinkle the cinnamon over the apple slices. Place the baking tray in the oven and baked those apples.
Set a timer for one hour. Flip all of the apples over after the first hour.
Continue to let the apples bake for another hour. They should be nice and crunchy after about two hours.
Let the apple chips cool after you take them out of the oven. To check if they are done, pull one out and let it sit for five minutes.
The apples are done when they are crispy after cooling for a few minutes.
What Are the Best Apples for Apple Chips?
When choosing an apple, you want to choose one that is fresh and sweet for this recipe.
Be sure to use firm, fresh apples. Mushy and bruised apples will not work well here.
Gali, Fuji, and Golden Delicious are great options. You could also use Granny Smith if you want something a little more tart.
When Can You Have These Chips?
These baked apple chips are great at any time of the day. They can be packed in sealable bags like these for an easy on-the-go snack.
They are light but still incredibly filling. Also, they could be a great snack to have before a workout to get that extra boost of energy.
They would also make a great crunchy addition to other recipes. For example, you could crumble the apple chips up and put them on your favorite salad.
The apple chips will stay crispy for a long time if you store them in a good, air-tight container. A simple mason jar like this will work.
You can pre-portion them into smaller bags for a snack you can grab on the go. Put them in a bowl right on the counter for an easy, healthy snack option.
Next time you are in the mood for a crunchy, crispy snack, try these apple chips!
Other Recipes You Might Like:
Watch Full Instructions
Baked Apple Chips
Total Time:
2 hours
5 minutes
These low-calorie apple chips are a perfect snack you can meal prep and have during the day. They're low in sugar, calorie, rich in fiber, and vegan-friendly!
Ingredients
2 apples (thinly sliced)
1/2 tbsp freshly squeezed lemon juice
1/2 tsp cinnamon
Instructions
Preheat the oven to 225F (110C). Now, lane a baking sheet with parchment paper.
Slice the apples crosswise with the skin on. Keep the slices as thin as possible. You don't have to worry about deseeding the apples as they will just fall out once baked.
Squeeze in in lemon juice into a bowl and toss in the apples.
Place them on a baking tray and sprinkle with cinnamon. Make sure the apple slices aren't on top of each other.
Bake for 2 hours, flipping the apples halfway through.
To check whether they're done, we'll remove one apple chip and let it cool down for 5 minutes. If it's crisp, the chips are done.
Finally, let the chips cool down before serving.
Nutrition Information:
Yield:

30 apple chips
Serving Size:

1 apple chip
Amount Per Serving:
Calories:

6.5
Total Fat:

0g
Saturated Fat:

0g
Trans Fat:

0g
Unsaturated Fat:

0g
Cholesterol:

0mg
Sodium:

0.2mg
Carbohydrates:

1.7g
Net Carbohydrates:

1.4g
Fiber:

0.3g
Sugar:

1.3g
Protein:

0g
Nutritional values were obtained with automatic software using the amounts of products used. To get the most accurate representation of the nutritional values, you should calculate them with the actual ingredients used in your recipe. You are solely responsible for the nutritional information obtained to be accurate.