Wondering what to bring to a potluck? These Potluck Recipes are easy to make, taste awesome and will please the crowd.
The potluck meal is where you can enjoy the company of those you love most; your neighbors, family, and friends. The key to its success? A spread of delicious food.
That's where this list comes in. Today, we're exploring forty-one tried and tested recipes to make your following potluck celebration special.
What Are the Best Foods to Bring to a Potluck?
Potluck meals need to be plentiful, delicious, and easy to transport.
Most importantly, the best potluck recipes need to be crowd-pleasers.
That's why dishes like casseroles, cakes, and salads are so popular at these events. Skewers, ready-to-grill items, and vegetable sides are a fantastic way to round out the selection.
So, what are you waiting for? Let's find your next potluck meal!
Best Potluck Dinner Ideas
We're kicking the list off with the cream of the crop. Each recipe here is a guaranteed crowd-pleaser. Even better, they're simple for you to make and transport, so there's minimal hassle on your part.
Source: allnutritious.com
Brussels sprouts have historically been the outcasts of the vegetable world. This recipe will be the thing that changes that for the residents of your next summer potlucks.
Healthy, crisp, and bursting with flavor, this is the perfect side to accompany the larger dinner dishes.
Source: withasplashofcolor.com
The delicious combination of ham and potatoes is made even better when you add a cheesy sauce.
This casserole recipe is super quick and easy to whip up with just a few grocery store ingredients like cheddar cheese, ham, and potatoes. Plus, all the ingredients are cost-effective and require barely any extra preparation.
Source: homemadeheather.com
These BBQ beer meatballs will make you extremely popular at your next potluck party.
Each little meatball is glazed in an irresistible sticky sweet dressing. Served on skewers or individually, you'll be hard-pressed to find a more delightful, easy appetizer for your potluck dinner.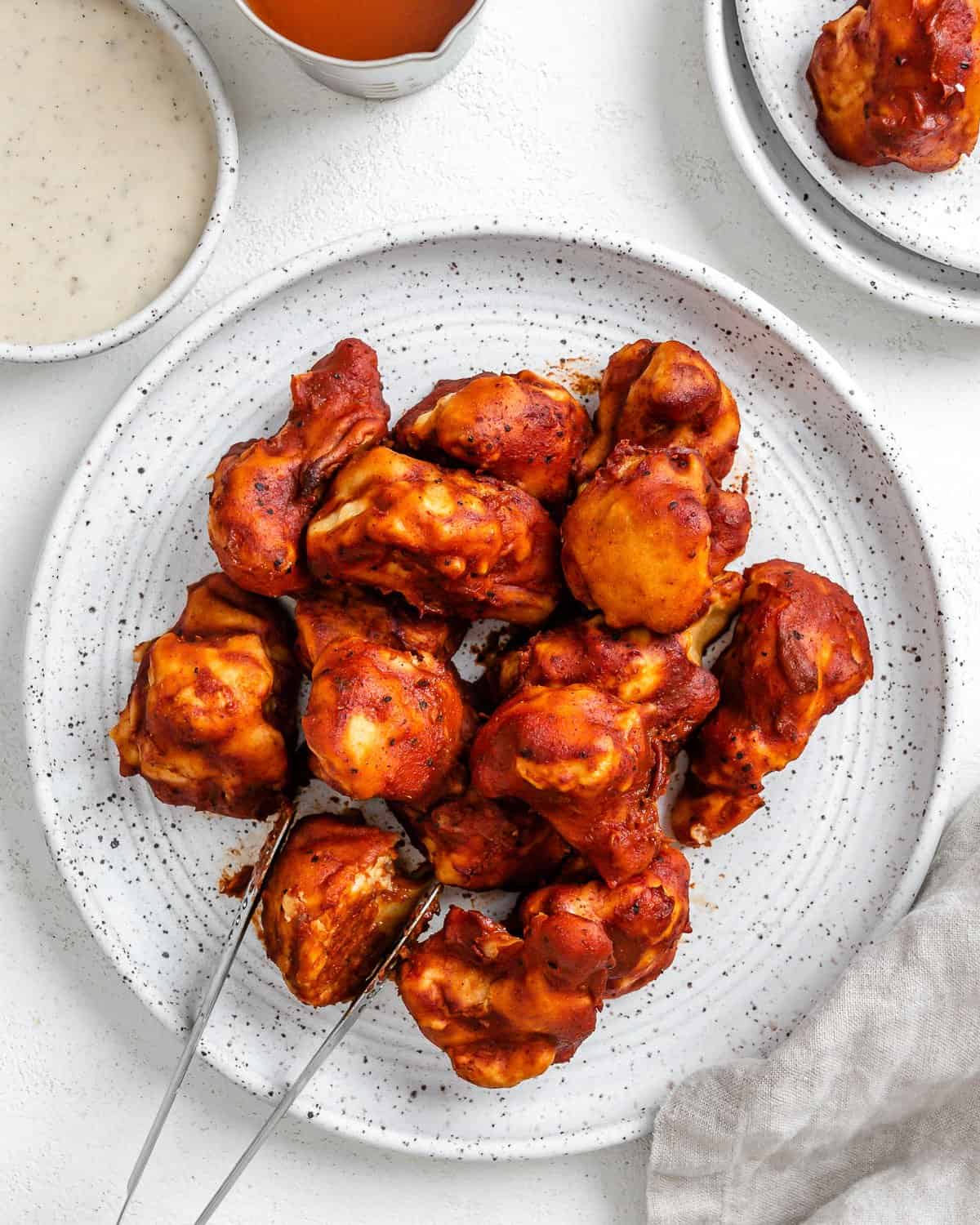 Source: plantbasedonabudget.com
These easy potluck ideas for BBQ cauliflower wings are just as good as the real thing. Fried, crispy battered cauliflower is slathered in a smoky-sweet sauce and served hot.
It's also a fantastic easy potluck recipe to reach for if you want to avoid rising meat prices.
Tweak the spices to suit your signature style, and enjoy!
Source: cookinginchinglish.com
Next, we have a Taiwanese comfort food dish that is not only delicious but also super easy to make in large quantities.
If you walk away with any leftovers, this rice is excellent for heating up the next day. Just ensure you heat the dish throughout to ensure the rice is good to eat.
Source: foodmeanderings.com
Bring this slow cooker appetizer along to a potluck and everyone will be clamoring for the recipe.
This ultra-simple recipe uses frozen hashbrowns, sour cream, fresh herbs, and a crock pot, so you barely need to do anything to create it!
Source: theshortordercook.com
Macaroni and cheese is one of the main dishes at the heart of a good soul food menu. This dish is the definition of 'comforting.' and it is a great addition to any potluck menu.
A great way to add some crunch is with crispy-fried onions and bacon to spice up each bite.
Source: livinglou.com
This Greek orzo salad bursting with juicy and vibrant Greek flavors.
Serve these hearty salads as a side dish or incorporate some grilled protein to anchor it as one of the main potluck dishes. This crowd-pleasing recipe will be gone in a flash, so save some for yourself!
Best Potluck Lunch Ideas
Potluck lunches make me think of sunny days, the smell of a grill, and the taste of cold, creamy potato salad, chicken salad, and backyard barbecues.
Good potluck lunch dishes are a little less involved than dinner recipes, allowing you to bring multiple meals or easily prepare a last-minute dish with fresh flavors.
Source: allnutritious.com
This recipe is perfect for a quick and easy lunch. Not only is it delicious, but it's also full of protein and vitamins.
Pull this together in mere minutes for a last-minute potluck. It's vegan so everyone attending can enjoy the refreshing flavors; plus, it's high in protein, thanks to the beans.
Source: pressurecookrecipes.com
Knowing how to make your hummus is one of those impressive things you can brag about at neighborhood events. With this Instant Pot hummus, you'll nail your hummus every time.
With a smooth, rich, and creamy texture, you can't beat this as an accompaniment to your lunch.
Source: myorganizedchaos.net
When you want a quick meal that's as vibrant as it is tasty, this delicious taco salad is the recipe to reach for.
It features delicious vegetables, lots of protein, and a delicious secret weapon: French dressing. Blend two cultures in this unbeatable dish, and prepare to be handing out the recipe.
Source: areinventedmom.com
This next pasta is a crowd favorite, embracing Mediterranean flavors with minimal effort. Each bite sings with the taste of olives, cherry tomatoes, and a delicious mustard vinaigrette.
I love this dish for its versatility. Create it with whichever vegetables you have on hand. No need to rush to the supermarket!
Source: pressurecookrecipes.com
Historically, making a delicious chili meant standing over the stove with your wooden spoon and stirring for hours. Well, thanks to the Instant Pot, that reality is a thing of the past.
Now, you can dump all your ingredients into your Instant Pot, set it, and forget it. Ready in forty-five minutes!
Source: healthyseasonalrecipes.com
This next recipe is a true leftover-buster. You can make a mind-blowing summer salad using all the vegetables left in your drawer at the end of the week and some packet ramen.
Avocado oil, soy sauce, rice vinegar, orange juice, maple syrup, and garlic powder blend into an unbeatable Asian-inspired dressing.
Source: pressurecookrecipes.com
Making sushi is a delicate and almost impossible process. But with this recipe, you'll nail it in no time.
While the recipe calls for crab as protein, you can substitute any filling you like. From chicken to tofu, bring any selection of sushi you want to the table.
Source: theshortordercook.com
This Asian slaw is just one example of how an incredible side dish can elevate a potluck.
Bursting with color and flavor, this vibrant slaw is super easy to pull together in advance. Allow the slaw to sit for an hour before serving to mingle the flavors, or serve immediately for ultimate crunch.
Source: thehealthyepicurean.com
This inventive broccoli salad rejects the idea that you always need leaves to make a good salad.
Pull back on the fatty mayo and replace it with plain yogurt for a light tang. This is an unbeatable salad with sweet dried cranberries and crunchy, earthy sunflower seeds.
Potluck Brunch Ideas
The best part about a potluck brunch is that you can bring breakfast or lunch meals, so the world is your oyster! Enjoy the interplay of sweet and savory with each of these tasty recipes.
Source: homemadeheather.com
Deviled eggs are already luxurious and rich. So, when you load them up as this recipe has, you've got a treat on your hands.
I love serving eggs like this because they're already portioned out. Your guests can simply grab and go, enjoying unique flavors while catching up with an old friend.
Source: scrummylane.com
In a similar vein, these mini quiches are fantastic for potlucks. They combine the best elements of breakfast and lunch into easy-to-eat finger food.
Flavor your mini quiches with anything your heart desires. From fresh vegetables to crispy bacon, you can use various easy ingredients to make this recipe your own.
Source: thelazyslowcooker.com
If your potluck brunch is on a game day, you must try this hot dog pull-apart bread. Served with a delicious cheesy dip in the center, it's as good to eat as it is fun to look at.
While the visual result is super impressive, this recipe doesn't cost much money or effort.
Source: pressurecookrecipes.com
Lay these out at your next gathering, or send them home with the guests in little gift bags. Either way, everyone will be blown away by these candied almonds' dark, nutty sweetness.
Dress each almond to impress with a simple combination of sugar, vanilla, and cinnamon!
Source: thelittlestcrumb.com
This coffee banana cake is the ultimate brunch treat. It's moist, flavorful, and above all, accessible.
It combines all the best things about banana bread and coffee cake. Trust me when I say everyone will be begging for your recipe after they take a bite of this tasty offering.
Source: flawlessfood.co.uk
Keep it simple, warm, and comforting with these delicious dough balls. You can dress these up with garlic butter or serve them with chocolate sauce, so they're the ultimate versatile brunch food.
While best served straight out of the oven, these dough balls are also super easy to prepare in advance.
Source: balancewithjess.com
Take a trip to Southeast Asia with this next brunch meal: Vietnamese shrimp toast. Bursting with all the aromatic flavors Vietnam is known for, this is a light and refreshing treat for your next potluck.
You can easily prepare the shrimp in advance and simply dress the toast before serving.
Source: thecurlyspoonblog.com
Opt for a sweet option at your next brunch potluck! This simple whipped cream salad is perfect for celebrating seasonal fruit in the warmer months.
Keep all the elements in the fridge for as long as possible to keep them cold, crisp, and delicious.
Source: dashofherbs.com
Bruschetta is a traditional Italian dish typically made of a vegetable mix on crunchy bread. This pasta salad version is much easier to make and great for large crowds.
Plus, the light and fresh taste make this an ideal brunch meal. Enjoy classic Italian flavors without spending hours in the kitchen!
Source: thelittlestcrumb.com
Finally, these goat cheese croquettes are super simple yet super impressive. Blow your guests away with these delightfully crunchy, cheesy balls of savory goodness.
Serve with a generous drizzle of honey or a side of ranch. Trust me; these will be gone in no time.
Potluck Breakfast Ideas
While your classic diner breakfast may not work for a potluck meal, plenty of breakfast recipes out there are potluck-friendly.
These five are nice and straightforward, so you can focus on enjoying the delicious food instead of just preparing it!
Source: allnutritious.com
This breakfast idea hails from Tik Tok, and it's a super fun way to put a spin on a classic fruit salad! Every texture is at play on this plate, creating a sensory and delicious start to your day.
Assembled in under 5 minutes, you can customize the toppings you want to appear on this potluck-ready meal.
Source: flawlessfood.co.uk
These British-style flapjacks are golden and delicious oat bars that require only four ingredients to make. They're great for preparing the day before!
This recipe is a one-pot wonder that's great for kids and adults to enjoy. Make a double batch and use the extras as breakfasts for the week ahead.
Source: allnutritious.com
These date energy balls are a go-to recipe for me. They're packed with lots of energy, delicious, and cater to almost every dietary restriction.
Whether you're gearing up for a breakfast potluck or just looking for a new snack to keep in the pantry, these date energy balls are ideal!
Source: eatingglutenanddairyfree.com
These baked raspberry bars will be perfect if you love peach cobbler or apple crumble. They're buttery and crumbly, with a sweet raspberry core to die for.
Not to mention, they're also gluten, dairy, soy, and egg free. Everyone at the party will be able to enjoy these seasonal beauties.
Source: belleofthekitchen.com
Our final breakfast idea is a tried-and-true classic: the fruit salad. This Greek yogurt variation provides a healthy dose of probiotics to start your day off right.
Celebrate seasonal fruit in your region – from berries to stone fruits, there's no better way to enjoy fruit for breakfast.
Best Potluck Dessert Ideas
Finally, we have everyone's favorite meal of the day: dessert. No matter how full you are, there's always room for a little something sweet.
These recipes champion taste and portability above all things. Each delicious dish is easy to prepare in advance and take with you.
Source: pressurecookrecipes.com
That's right! Two of the best desserts in the world combine into a bite-sized treat with this unbeatable recipe. Enjoy a sticky, sugary top with a creamy, rich center.
These bites are very classy, so they're perfect for reaching for if you're attending a fancy potluck dinner.
Source: allnutritious.com
If you're searching for a simple, healthy dessert with a lot of flavors, you can't go past this recipe.
These cashew energy balls only require five ingredients and about ten minutes of your time. They're deliciously sweet, vegan, and packed with good nutrients to cap off the indulgent potluck meal.
Source: mybakingaddiction.com
The defined layers and crunchy base on this pistachio pudding make it as good to look at as it tastes.
With this dish, you can prepare the day before and leave in the fridge. Simply portion out the pudding the day of the potluck, and you're ready to serve.
Source: pressurecookrecipes.com
A good New York cheesecake is soft, fluffy and creamy with the right balance of tartness without overloading the dish. Yourour base must be buttery and crumbly.
Thanks to this recipe, produce a New York cheesecake in your Instant Pot that will impress even the pickiest taster with barely any effort.
Source: theshortordercook.com
Oozing with irresistible caramel and marshmallow nougat, this homemade Snickers Bar is an indulgence to the max.
You might want to double the batch for this recipe because I guarantee you'll have partygoers flocking to your plate the second you set these down.
Source: bakerita.com
Need a last-minute no-bake dish? These incredible pretzel bites use five ingredients and come together in fifteen minutes or less!
Pretzels, chocolate, and peanut butter are unbeatable combination. Their taste, convenience, and cost-effectiveness make these peanut butter bites one of the best recipes on this list.
Source: eatingglutenanddairyfree.com
Put a modern twist on a traditional classic with these deliciously sweet and sticky cherry pie bars.
The cherry filling and dough need time to set in the fridge, so you can make it the night before and just grab it from the refrigerator in the morning.
Source: pressurecookrecipes.com
Are you looking for something a little bit fancy? These Thai-inspired mango sticky rice bites look like little gems of pure flavor. The gorgeous orange mango stands out against the white of the fragrant rice.
In addition, the sweet and sticky texture makes this dish genuinely unbeatable.
Source: scrummylane.com
Our final recipe is a super easy, luxurious, and rich caramel slice that requires no baking! You couldn't ask for more from this dessert with a buttery crumble, smooth caramel, and chocolate top.
With this crowd-pleasing dessert in your arsenal, you'll be the guaranteed favorite at your next neighborhood potluck.
Have any of these desserts caught your eye? Which one will grace your kitchen counter this potluck season? Let me know in the comments below!
41 Best Potluck Ideas to Feed a Crowd
Not sure what to bring to gatherings? Get enough delicious Potluck Recipes for your next meal inspiration!
Ingredients
1. Smashed Brussel Sprouts
2. Ham and Potato Casserole
3. BBQ Beer Meatballs
4. BBQ Cauliflower Wings
5. Chicken Rice
6. Potato Romanoff
7. Mac and Cheese
8. Greek Orzo Salad
9. Mexican Bean Salad
10. Instant Pot Hummus
11. Taco Salad
12. Pasta Salad
13. Instant Pot Chilli
14. Cabbage Ramen Noodle Salad
15. California Roll
16. Asian Avocado Peanut Coleslaw
17. Broccoli Salad
18. Loaded Devilled Eggs
19. Mini Quiche
20. Hot Dog Pull Apart
21. Churro Candied Almonds
22. Coffee Banana Cake
23. Dough Balls
24. Vietnamese Shrimp Toast
25. Whipped Cream Fruit Salad
26. Bruschetta Pasta Salad
27. Goat Cheese Croquettes
28. Apple Nachos
29. Flapjack
30. Date Energy Balls
31. Raspberry Bars
32. Greek Yoghurt Fruit Salad
33. Cheesecake Creme Brulee Bites
34. Cashew Energy Balls
35. Pistachio Pudding
36. New York Cheesecake
37. Homemade Snickers Bar
38. Peanut Butter Pretzel Bites
39. Cherry Pie Bars
40. Mango Sticky Rice
41. No Bake Caramel Slice
Instructions
Scroll up to get a bunch of easy, yummy, and delicious recipes. Don't be afraid to get creative with the ingredients, you might discover a flavor you didn't know you liked.
Get your shopping list going and make sure you've got all the ingredients.
Get cooking and make your next Potluck Recipe!
Notes
Which one of these recipes was your favorite? Let me know in the comment section or on Pinterest!