Are you craving a comforting treat when you're bored? Here is the ultimate list of things to bake when bored to keep you entertained!
When the blues lock you up at home, there's nothing else to do but bake!
We can all agree that there's something magical about eating your way through a muffin tin, sipping on a hot cuppa, and cozying up in front of the TV.
Whether you're looking for cookies, cakes, brownies, pies, or something a tad healthier, these delicious baked goods are instant mood boosters. Plus, they're a lot of fun to make, too!
What Can You Bake on a Rainy Day?
Anything that will make you feel good!
Seriously, when the weather's all moody and you feel like spending the afternoon at home, you're in desperate need of something to comfort you.
And what's more comforting than a gooey chocolatey piece of cake? Or flaky scones? Maybe some moist muffins? Or perhaps a warm, fruity dessert to enjoy with a scoop of vanilla ice cream?
Whatever presses your happy buttons, really. Baking is almost a therapeutic activity. Give it a try!
What Are Fun Things to Bake?
Baking is a lot of fun! There's something about combining plain ingredients like flour, eggs, butter, and milk and watching the fruit of your labor rising and puffing up in the oven.
If you ask me, anything that is comforting will be loads of fun to bake. But if you want to take things to a new level, there are some interesting recipes to try.
Like maybe a boozy pie? Or a colorful rainbow cake? Perhaps the most delicious 5-ingredient treat? Or your homemade version of s'mores pop tart?
Luckily for you, we have a whole section bursting with fun recipes to bake. Read on to discover them!
Easy Things to Bake
Looking for an easy treat to whip up and enjoy warm straight from the oven? Here are some simple baked goods for you to try.
Source: allnutritious.com
With a crusty top and incredibly soft interior, this recipe has to qualify for your "best muffins" folder.
Enriched with fresh blueberries and sweetened with honey. It is so darn impossible to have only one of these moist treats.
And why should you have to? They are gluten-free and dairy-free and pack a delicious punch.
Go ahead and scratch that sugary itch with this coconut delight!
Source: livingsweetmoments.com
When you bake something fluffy and soft, how can you possibly stay bored?
These condensed milk dinner rolls are the perfect thing to lift your mood on a rainy afternoon.
And if bread is your choice of comfort, then they will definitely hit the spot!
I suggest you try them straight from the oven with some butter and a spoonful of jam on top. And maybe a glass of milk. So yummy!
Source: flawlessfood.co.uk
Flour, sugar, butter, eggs, and cocoa powder. That's all you need for these soft cocoa sponges.
Plus, butter, sugar, and chocolate, for the thick buttercream.
And that's it! No fancy ingredients, no overwhelming steps. Basic, simple, and incredibly delicious. Who wouldn't want a slice of that?
The best thing about it? It makes one heck of a birthday cake!
Source: flawlessfood.co.uk
Oaty, syrupy, chewy, and incredibly buttery!
With just four ingredients, this classic flapjack recipe will put a smile on your frowny face in an instant.
Plus, the kids will love these bars, too!
If you want some more flavor, swap the syrup for some fruit jam.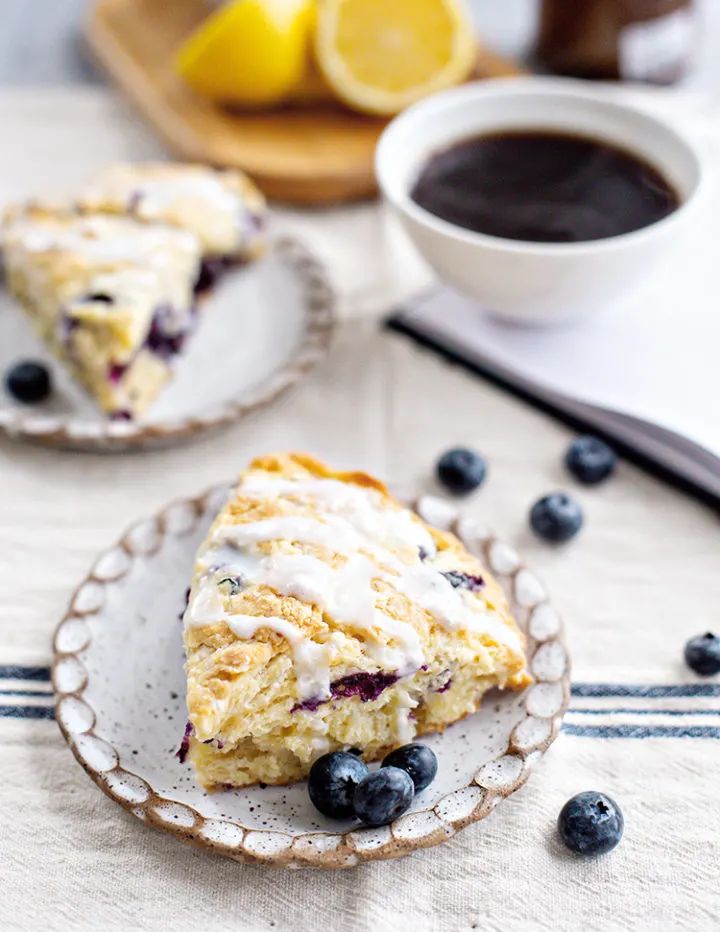 Source: goodlifeeats.com
Flaky, light, and loaded with the most amazing flavors. To me, that is the definition of a comforting treat. And if you pair them with your coffee, well, that's just plain delicious.
Dotted with fresh blueberries and scented with zesty lemons. Plus, drizzled with a buttery and lemony glaze.
This scones recipe doesn't feature any cream, which is even more convenient.
Source: drivemehungry.com
Have you tried baking the fluffiest sponge cake and failed? Well, this recipe will be the perfect way to brush up on your skills.
It is super soft and airy and takes any frosting pretty well.
This recipe is vanilla-flavored, but you can easily change it. Add another extract, cocoa powder, or even some jam.
Source: hellospoonful.com
Have some extra sweet potatoes that are about to go to waste? Then use them up in this delicious recipe.
Cinnamon-flavored potato bars with chocolate. Soft, buttery, and chewy from the oats.
You better make some room in your lunch box for this treat, because you're about to fall in love with it.
Source: stacyling.com
A slice of coffee cake and a hot cuppa. Isn't that the perfect way to spend your afternoon, or what?
Quick and easy, you only need 10 minutes of prep time for this lovely treat.
Take a shortcut with a premade cake mix and a dream whip. And you will have a full-blown dessert on your table in no time.
Soft, flavorful, and with a cinnamon streusel on top that will make your taste buds explode.
Source: mysequinedlife.com
Okay, if this is not a beloved classic, then I don't know what is. What do we usually bake when we're bored? Chocolate chip cookies, of course!
And this is an easy and foolproof recipe that guarantees a satisfying treat. Why? Because it uses a Bisquick baking mix.
Enjoy the beloved cookie texture and taste, in the most hassle-free way possible.
Source: partylicious.net
Haven't added walnuts to oat cookies before? Then this is a recipe you have to try.
Crispy, chewy, and incredibly soft on the inside. This cookie recipe has it all. Minus the hard work.
Simple, easy, and pretty straightforward instructions to make buttery and chocolaty cookies. Plus, the extra walnut crunch goes a long way.
It is impossible not to reach for that chilled milk with these treats.
Fun Things to Bake
If you want to have some fun while baking in the kitchen, here are the recipes that are destined to put a smile on your face.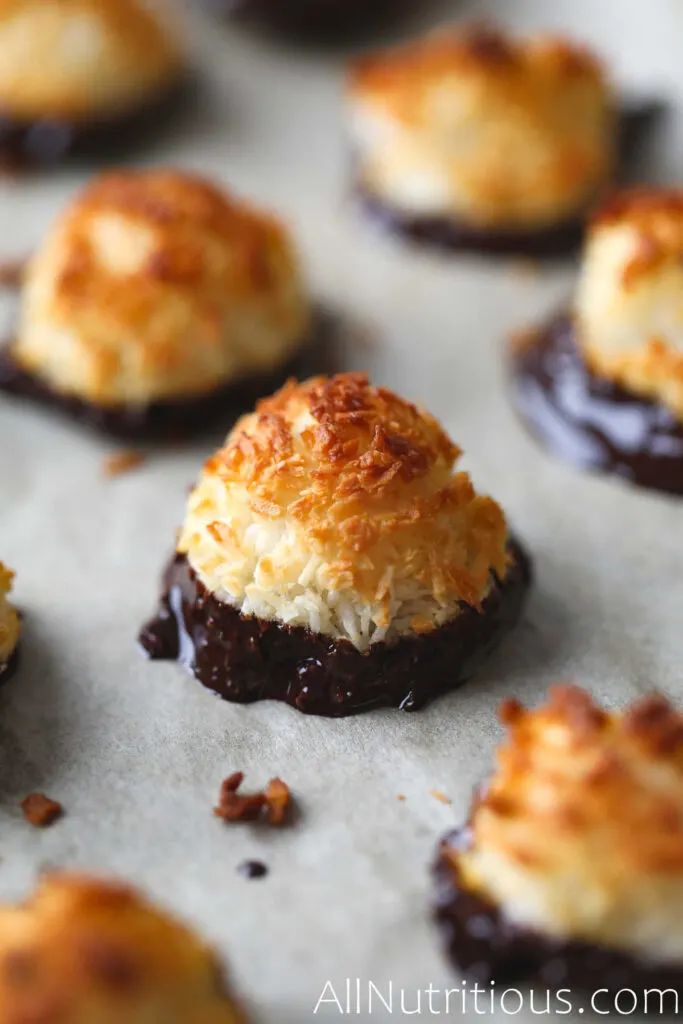 Source: allnutritious.com
Let's make something clear. Bite-sized sweet treats that are dipped in chocolate are nothing but fun to make.
You might want to gather your kiddies for this, because they will enjoy making these coconut delights, too.
These may not be your ordinary macaroons. But they are lighter, much healthier, and super satisfying.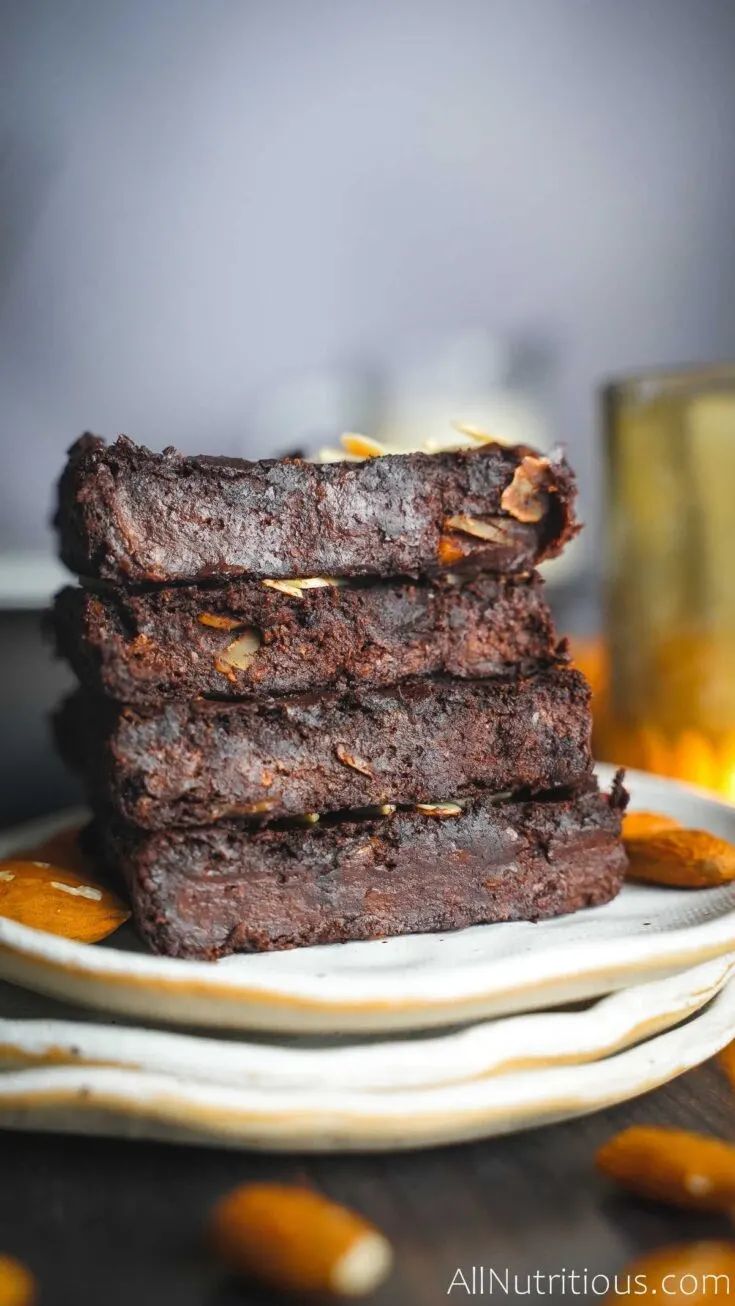 Source: allnutritious.com
This recipe uses mashed bananas, cocoa powder, and almond butter. So you don't need any eggs, milk, or flour.
And it yields brownie squares that are fudgy and naturally sweet.
All of that with just five ingredients? Make these fun brownies and see for yourselves.
For a crunchy bite, just add more almonds.
Source: shesnotcookin.com
Soft and airy donuts with a light pink glaze. A cure for the blues, and instant sweet tooth satisfaction!
This lovely batter is loaded with diced strawberries and then baked in a donut tin.
The sugary glaze also features some strawberries. Hence the pinkish color.
If you don't have time for the frosting, just add some powdered sugar on top. Just as delicious.
Source: jenniferbanz.com
Peanut butter and jelly combos are not only for your sandwich bread slices. This keto recipe for low-carb muffins is something that will surely upgrade your lunch box.
Packed with protein and almond flour, these cups are so good, you won't even know they're sugar-free.
Plus, with only 1 net carb per muffin, they also make one guilt-free treat!
Source: apaigeofpositivity.com
This key lime pie is as boozy as it can be! With coconut tequila and orange Cointreau, this is not one for the kids.
If you love Margaritas, then you will never make a classic key lime pie ever again!
So zesty, citrusy, and creamy, with a crispy crust that is super satisfying.
Serve this creaminess with a couple of tequila shots, and get the party started!
Source: aussiehomecook.com
Two classic Australian desserts wrapped in one delightful package. A mix between fairy bread and lamingtons. This treat is a dream come true for every little princess.
Soft and fluffy sponge cake squares dipped in white chocolate glaze and coated with rainbow sprinkles.
If you're feeling down, this colorful treat will bring some sunshine into your day.
Source: apaigeofpositivity.com
Craving pop tarts and s'mores? How about having them both at the same time?
This recipe seems like there is too much preparation involved, but this comes together in just 40 minutes from start to finish.
You need to make the ganache, prepare the crust, fill the pop-tarts, and bake.
Fluffy, marshmallowy, chocolatey, and deliciously good! That's the result!
Source: wornslapout.com
Six layers of sponge cake. Six different colors.
This rainbow layer cake is the perfect thing to whip up for a children's birthday party. Or if you simply want some color to brighten up your greyish mood.
Seems like a lot of work? Think again! All you need is four ingredients. Rainbow cake mix and canned frosting save the day!
Source: urbanfarmie.com
These strawberry shortcake cookies may take no shortcut. But they are super easy to make!
Buttery, soft, and fluffy, filled with cream cheese and fresh strawberries. Aren't these a perfect summer delight?
Don't have any fresh berries? Don't worry! You can always use canned fruits. Or even dried ones. Just soak them in water before baking, to make them moist.
Source: partylicious.net
Now, this is what I call therapy. Individual tart crusts, filled with yellow cream and topped with sliced fruits. All made from scratch.
If that doesn't kick you out of boredom land, then nothing will.
Kneading and rolling the dough, shaping it, whipping the cream, filling the tarts… Definitely a cure for any bad mood.
Plus? The result will be creamy perfection!
Impressive Things to Bake
Anything less than impressive below your standards? Then try these baked goods that never fail to satisfy.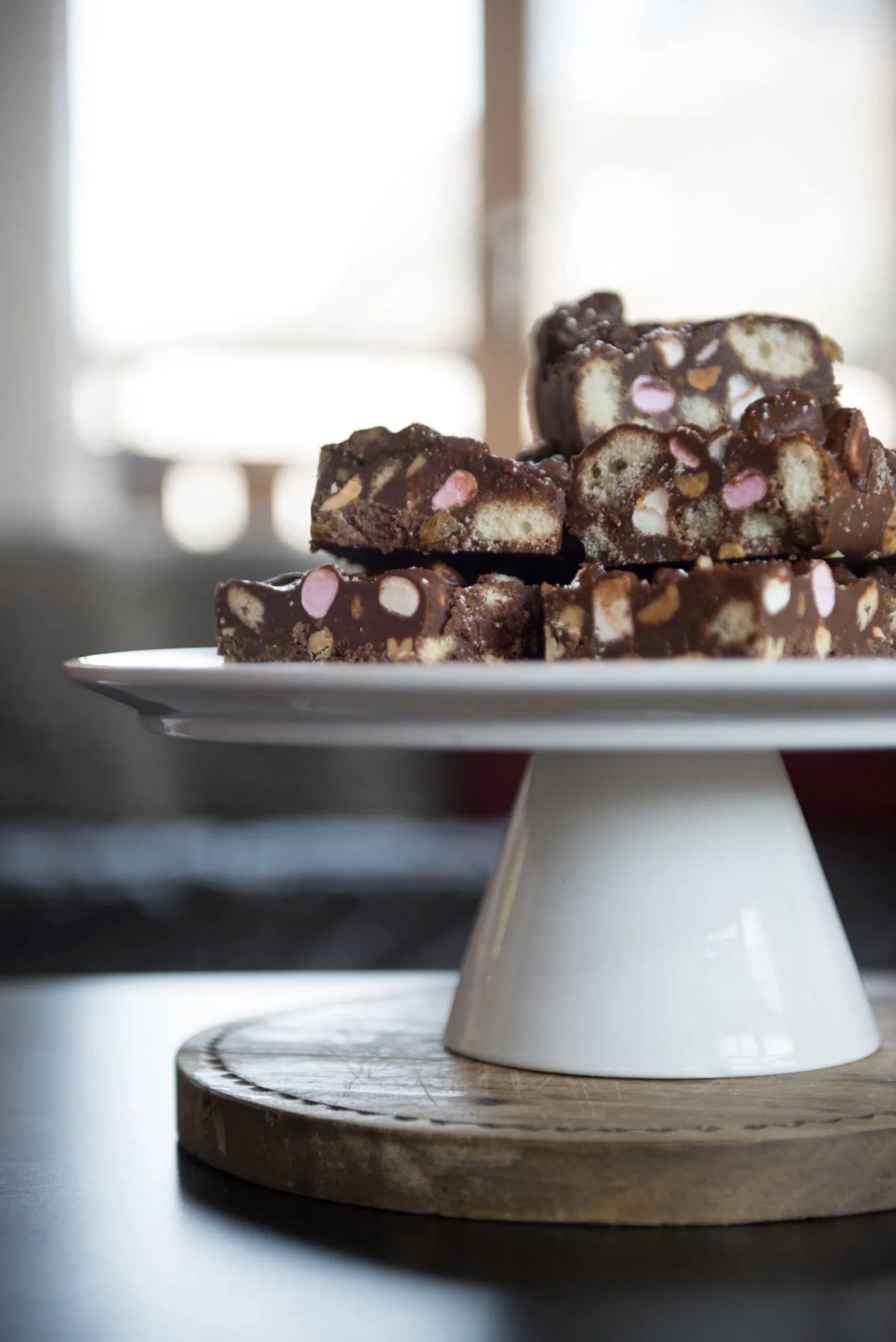 Source: intheplayroom.co.uk
Looking for something to comfort your entire family? This is what you need to whip up. From juniors to seniors, absolutely everyone loves Rocky Road.
Chocolate bars that are soft, crunchy, and chewy at the same time.
This recipe uses biscuits, raisins, peanuts, and marshmallows. But feel free to use any fruits, nuts, and seeds you prefer.
Source: livingsweetmoments.com
Moist and zesty lemon bread is always a hit. And an instant cheer-you-up treat.
And if you choose to coat it with a sugary and lemony glaze? Even more delicious!
Classic ingredients. Classic taste. A slice of this pound cake is like made for your afternoon cuppa.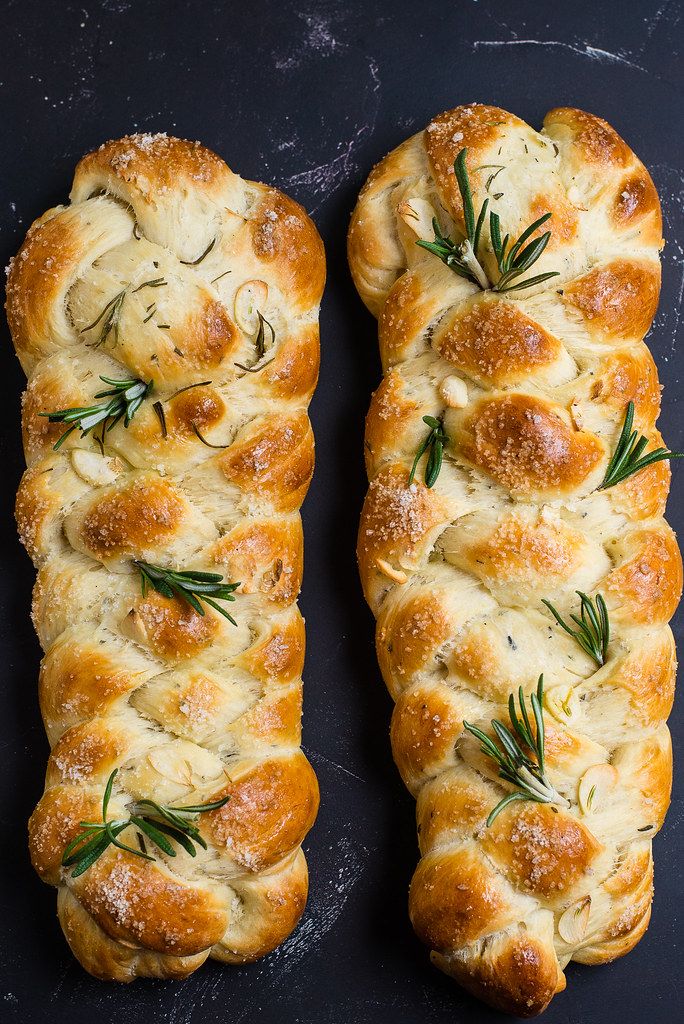 Source: littleferrarokitchen.com
Every baking enthusiast has probably tried their hand at baking challah. But have you ever made it savory?
This garlic and rosemary braided bread is the perfect thing to knead when you need something to slap you out of a bad mood.
Crusty, soft, and full of flavors, this will be the perfect thing to snack on. Or serve at dinner. Breakfast. Or any time of the day, really.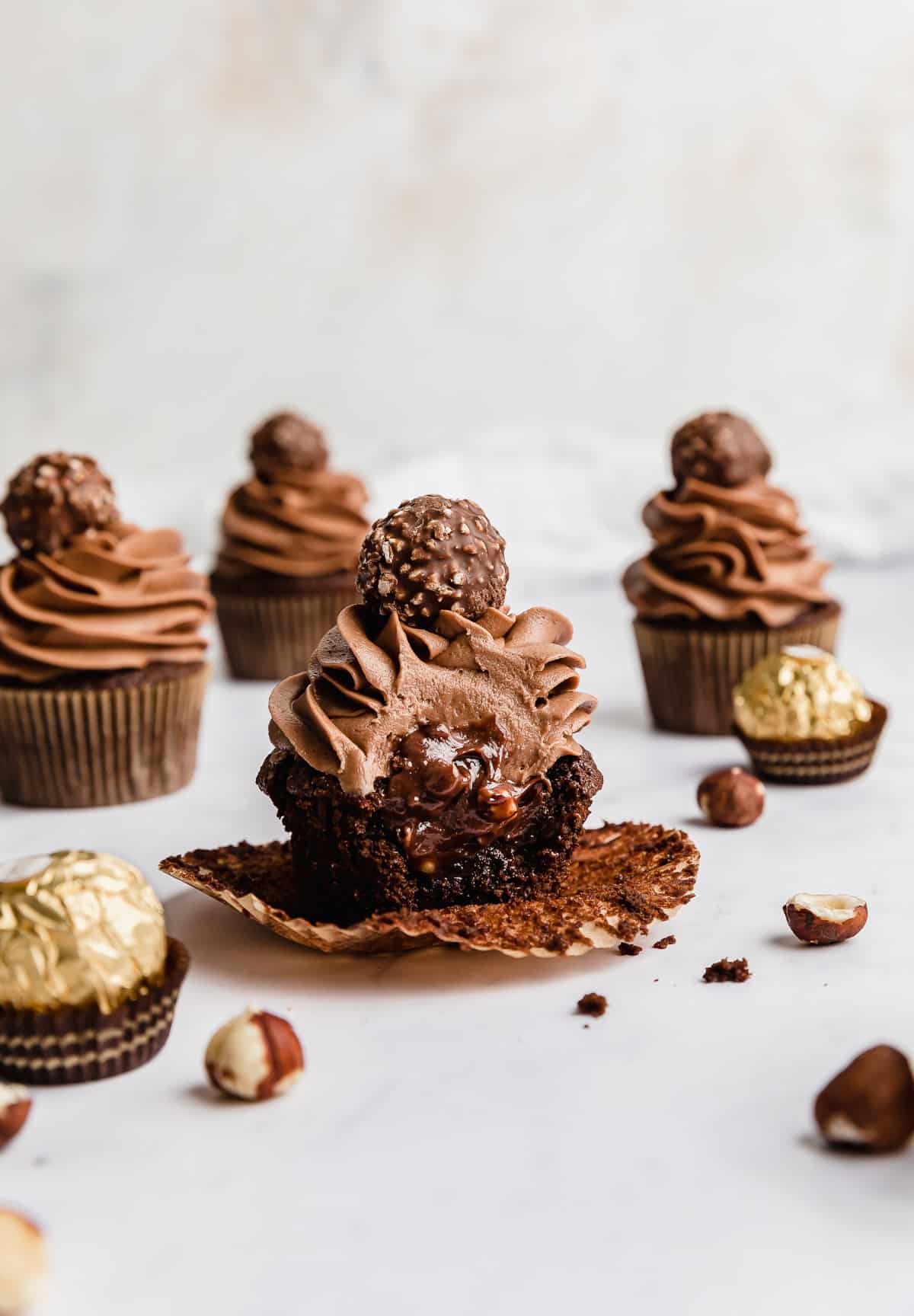 Source: saltandbaker.com
Love Ferrero Rocher treats? Who doesn't? But trust me, you'll be impressed at how close to the original these tasty cupcakes come.
Hazelnut cupcakes that are filled with whipped Nutella and hazelnuts. And topped with thick chocolate buttercream.
Want to make them even more impressive? Top them with real Ferrero Rocher chocolate.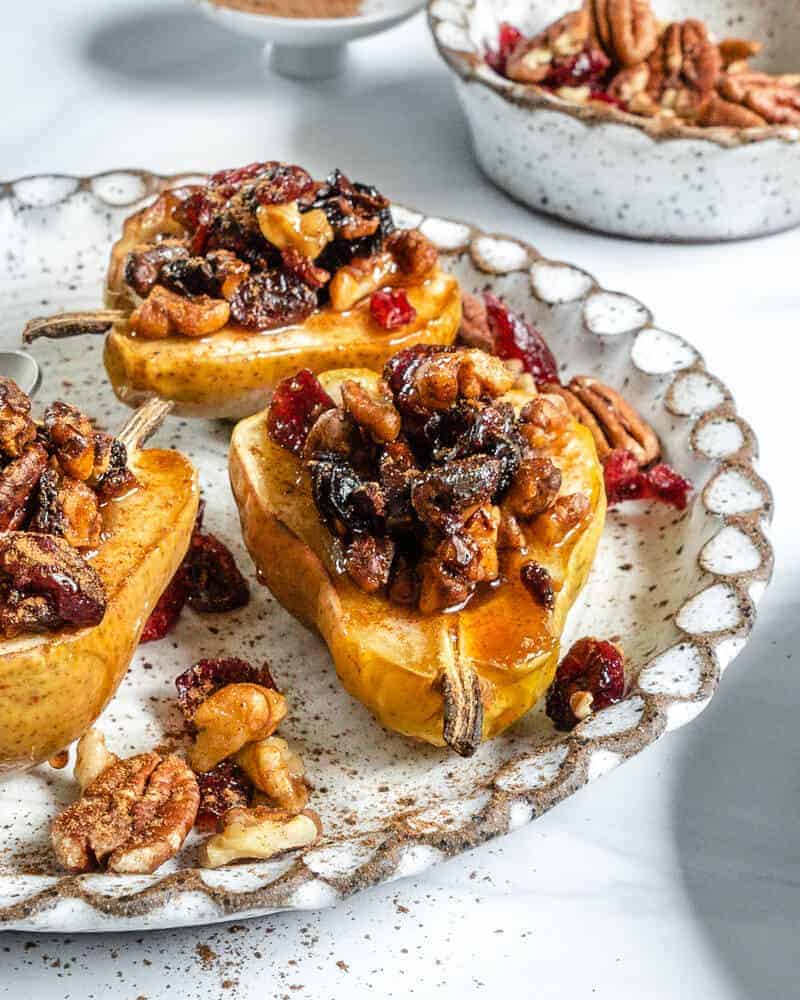 Source: plantbasedonabudget.com
Baked pears filled with a sweet and spicy mixture of chopped nuts and dried fruit. Pretty hard not to serve this delight with Brie. Or Gorgonzola. Or maybe both?
You really need just 10 minutes to prepare this incredible treat. And yet, it is so classy and elegant, that everyone will be impressed.
Source: theniftybaker.com
Macarons are that one dessert that somehow always amazes everyone. Seriously! Whip it up the next time you have friends over, and watch their reaction.
Flavored with chai tea. Plus a creamy chai-tea flavored chocolate ganache in the middle. This version of the French classic is nothing less than impressive.
These macarons are the perfect treat for a rainy fall day.
Source: lovefromtheoven.com
A triple berry cake with whipped mascarpone frosting.
Strawberries, raspberries, and blueberries in between four sponge cake layers.
Soft, fluffy, smooth, and incredibly rich! That's how I'd define this light summer dessert.
How impressive will that look on your table?
Keep in mind that cream cheese can be a mascarpone substitute, but not a recommended one. That way, the cake will lose that lush taste.
Source: whippeditup.com
If you're into internet trends, then you've probably heard of Dalgona coffee. Perhaps even tried it. But have you ever thought about adding this delicious Java beverage to your cakes?
This recipe does just that. It adds Dalgona coffee to a cinnamon-flavored bundt cake.
The thing that will force you to lick your fingers, though? The buttercream frosting on top!
Check out more recipes that start with D!
Source: cinnamonandcoriander.com
A soft and delicious cake the way Grans would make it. Buttery and vanilla-flavored, these peach-topped slices offer comfort with every bite.
And if you serve it warm with some whipped cream or vanilla ice cream, even better.
If you don't have fresh peaches, you can use canned ones. Canned apricots work well, too.
Check out these authentic German recipes!
Source: cookinginchinglish.com
Chiffon cake is that air-light Asian dessert that somewhat resembles Angel food cake. Only richer and a touch more delicate.
This fluffy cake is loaded with matcha flavors. But the thing that will impress everyone is the sweet and black-sesame-loaded whipped cream on top.
A real centerpiece on your table, don't you think?
Have egg yolks remaining? Try these leftover egg yolk recipes!
Healthy Things to Bake
Are you looking for some healthy baking recipes? Well, look no more! Here are the ultimate guilt-free baked goods to boost your mood.
Source: allnutritious.com
A classic banana bread, but in a healthier, protein-rich package. That's right, this is actually a treat that your health will approve of.
Almond flour, coconut oil, protein powder, and, obviously, bananas. This sweet loaf will give some guilt-free pleasure bites you will cherish.
The poppy seeds add a real color pop.
Source: allnutritious.com
Moist, sweet, and absolutely scrumptious! These healthy muffins with oats and blueberries are perfect as a snack, dessert, and breakfast.
With almond flour, oat flour, and coconut sugar, there is nothing but healthy ingredients here.
This recipe uses fresh blueberries, but you can add frozen ones. Just remember to coat them with some oat flour before adding them to the batter.
Source: daniscookings.com
Baked apples topped with biscuits. This healthy cobbler offers all the satisfaction of a dessert. But in a slightly healthier way.
By using spelt flour and coconut sugar, you minimize the empty carbs.
Cinnamon-flavored, flaky, and super delicious. How can you not pair this with a scoop of vanilla ice cream?
Source: smalltownwoman.com
Baked oatmeal is my new favorite treat. It is healthy, delicious, and practically 2-in-1. Breakfast and dessert.
If you have a picky eater in your family who refuses to eat their oatmeal, this is a tasty way to change their mind.
With cinnamon, berries, and maple syrup, this is as flavorful and delicious as you'd want it to be. In other words, perfect.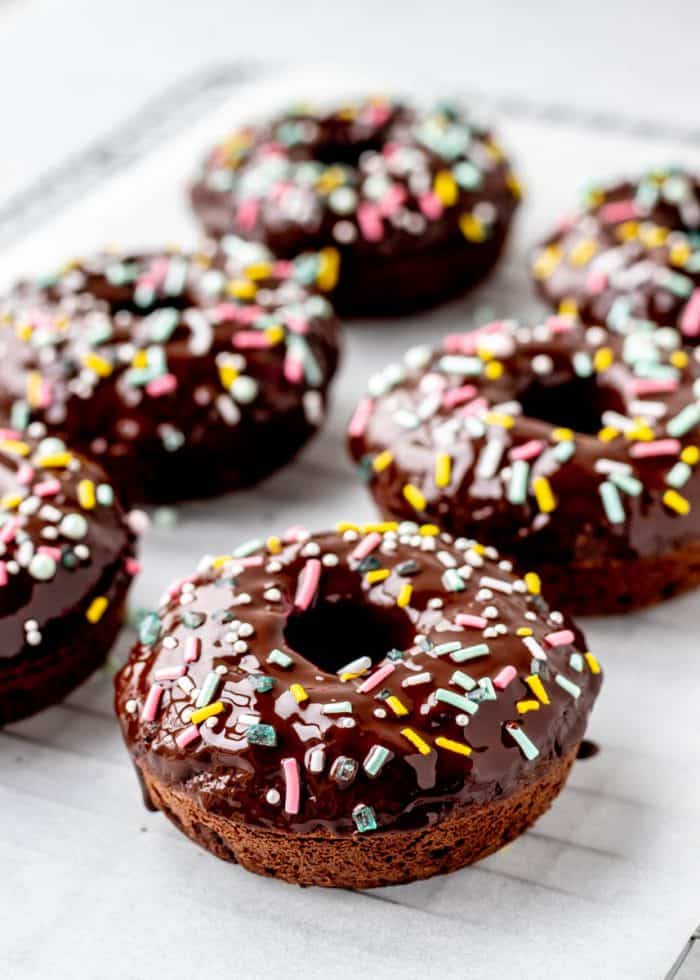 Source: hauteandhealthyliving.com
Chocolate donuts? Healthy? Absolutely!
With oat and almond flour, coconut sugar, coconut oil, and dark chocolate. You can bet these treats are healthy. And super yummy, too!
Rich, soft, and fluffy. Plus, without any grease.
For a more tempting look, serve them with sprinkles on top. I bet your guests will clear the platter in no time.
These healthy donuts would pair perfectly with any of these low-calorie smoothies.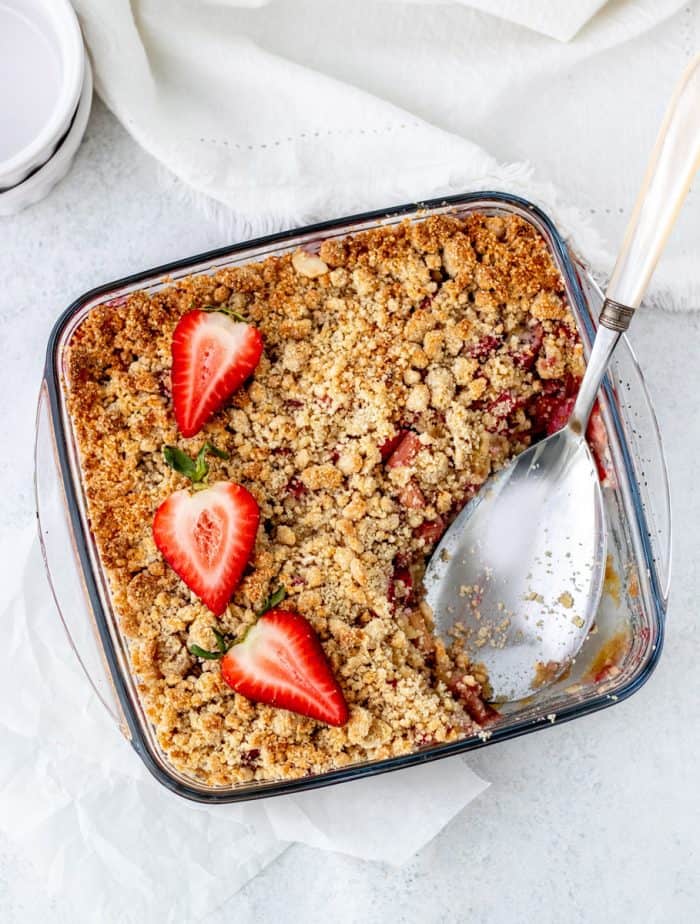 Source: hauteandhealthyliving.com
When you have fresh rhubarb and strawberries, make this crumble. Made with almond and coconut flour, coconut oil, and maple syrup, you will love every crispy bite of this crumble.
It is not only healthy but vegan and gluten-free, also. Plus, it doesn't contain any processed sugar.
Of course, you can use different fruits if you like, but I strongly suggest you give this combo a try. Super tasty!
Source: veganhuggs.com
For all the vegans out there, here is a carrot cake that's not to be missed.
Moist, soft, and super spicy. And, with a vegan cheese frosting that will force you to lick your plates.
The moisture in this cake also comes from the applesauce used. If you don't like apples, use some pumpkin puree instead.
Source: urbanfarmie.com
This banana bread with pumpkin puree is just the thing any vegan needs to make to cheer themselves up.
It also features cinnamon and orange flavors. Which only makes this loaf warmer and cozier.
If you're feeling extra generous, throw some chocolate chips into the mix. The kids will go crazy about these yummy slices.
Source: ifoodreal.com
When there's zucchini in a dessert, you know it's going to be super moist and soft. And this one surely delivers!
Shredded zucchini with coconut oil, spelt flour, maple syrup, and cocoa powder.
So healthy and fudge. no one will even realize that this dessert hides two cups of zucchini.
Source: ifoodreal.com
Another blueberry muffin recipe that will shake the blues off!
Moist, flavorful, sweet, and fruity. With applesauce, cinnamon, maple syrup, and lots of blueberries. How can they not be tasty?
Easy to whip up and even easier to eat. These muffins will disappear in no time. If you're feeding a crowd, you better double the batch.
Source: natalieshealth.com
Are you a matcha green tea drinker? Then why not add it to your favorite dessert – chocolate chip cookies?
This green powder combined with oats, flour, maple syrup, and dark chocolate chips, creates one dessert you will love to make regularly.
Dense, chewy, packed with flavor, and super chocolatey. What more could one want?
You will also love these little green bites as healthy Christmas cookies!
41 Fun Things to Bake When You're Bored
We have you covered with the best things to bake when you're bored. Try these baking recipes for easy desserts and snacks to make at home.
Ingredients
1. Coconut Flour Muffins
2. Condensed Milk Bread Rolls
3. Chocolate Victoria Sponge Cake
4. Flapjack
5. Blueberry Lemon Scones
6. Sponge Cake
7. Sweet Potato Bars
8. Coffee Cake
9. Chocolate Chip Cookies
10. Oatmeal Walnut Chocolate Chip Cookies
11. Coconut Macaroons
12. 5 Ingredient Brownies
13. Strawberry Frosted Donuts
14. Peanut Butter and Jelly Muffins
15. Tequila Key Lime Pie
16. Fairy Bread Lamingtons
17. Homemade Smores Pop Tart
18. Rainbow Cake
19. Strawberry Shortcake Cookies
20. Mini Fruit Tarts
21. Rocky Road
22. Moist Lemon Loaf
23. Garlic Rosemary Challah
24. Ferrero Rocher Cupcakes
25. Baked Pears
26. Chai Latte Macarons
27. Chantilly Cake
28. Dalgona Coffee Cake
29. German Peach Cake
30. Matcha Chiffon Cake with Black Sesame Cream
31. Protein Banana Bread
32. Blueberry Oatmeal Muffins
33. Healthy Apple Cobbler
34. Baked Oatmeal
35. Healthy Baked Donuts
36. Strawberry Rhubarb Crumble
37. Vegan Carrot Cake
38. Vegan Pumpkin Banana Bread
39. Zucchini Brownies
40. Blueberry Muffins
41. Matcha Chocolate Chip Cookies
Instructions
Scroll up to get a bunch of easy, yummy, and delicious recipes. Don't be afraid to get creative with the ingredients, you might discover a flavor you didn't know you liked.
Get your shopping list going and make sure you've got all the ingredients.
Get cooking and make your next Fun Thing to Bake When You're Bored!
Notes
Which one of these recipes was your favorite? Let me know in the comment section or on Pinterest!