Picture it! The summer sun on your skin, the smell of chlorine in the air, and good food on the menu. The only thing better on a hot summer day are these refreshing pool party food ideas!
Is there anything better than a pool party for some summer fun when summer hits its peak?
Whether attending someone else's pool party or hosting your own, nailing the pool party snacks is key! Check out forty-one delicious, simple, crowd-pleasing best pool party ideas here.
What Kind of Food Do You Serve at a Pool Party?
Pool parties are a great opportunity to serve refreshing, easy-to-eat foods and delicious treats perfect for hot weather. Here are some ideas for your summertime pool parties:
Finger Foods: Offer a variety of snacks like chips and dips, popcorn, trail mix, fresh fruit, and vegetable platters.
BBQ items: Grilling burgers, hot dogs, and sausages are perfect options for a pool party.
Salads: Cold salads like pasta salad, potato salad, and coleslaw are great options for pool parties.
Sandwiches and Wraps: Offer a variety of sandwiches or wraps that can be easily eaten poolside.
Beverages: Don't forget to offer plenty of refreshing beverages like lemonade, iced tea, soda, and water.
Desserts: Serve cold treats such as ice cream, popsicles, and fruit cups, or frozen desserts like ice cream cakes.
Remember to keep in mind any dietary restrictions and offer vegetarian and gluten-free options. Keep the food chilled to beat the summer heat, and ensure it is not left in the sun for too long.
What is the Most Popular Food at Parties?
That will depend entirely on the kind of party you're attending!
Most parties do well with simple snacks, finger foods, communal or pot-luck-style dishes, and bonus points if desserts are on the pool party menu.
Chicken wings, nachos, snack platters, pizza, and a healthy snack like fresh veggies…if it fits in on a game day table, chances are they will be great ideas at a pool day party!
Best Pool Party Food Ideas
Source: allnutritious.com
This simple recipe is one of my inventions, I always reach for it and so will party guests!
This easy appetizer is a great way to serve dessert to a large crowd, keeping things healthy without taking away the fun and flavor.
Apple slices act as nacho chips, while the various crunchy seeds, chocolate chips, and peanut butter sauce are toppings. Customize this dish with anything that suits your tastes, and let it loose!
Source: budgetdelicious.com
Salads can be tough to serve at parties, so it's important to nail them! This grilled watermelon salad is unique and refreshing, so it's guaranteed to catch your guests' attention.
Grilling the watermelon brings out its natural sweetness, while the salty feta helps it along even further. Trust me. This is the kind of salad that will have people clamoring for the recipe.
Source: recipesfromapantry.com
If you're anything like me, the croutons are your favorite part of a salad. This salad is for crouton lovers, changing things from cubes of crunchy bread into soft, fluffy pieces of cornbread.
The black beans, corn, and creamy dressing make this a delightful Mexican-style salad. Be generous with the dressing on this salad, as the cornbread can soak it up to add a ton of flavor.
Source: budgetdelicious.com
Avocado is technically a fruit, but we tend to forget that when making salads. The subtle, mellow flavor of avocado against the bright tartness of strawberries proves how good this combo is!
Pasta is the perfect base for this salad, soaking up the excess dressing and adding much-needed carbs. This makes a great light lunch for a casual gathering poolside.
Source: allnutritious.com
With all the swimming and excitement at a pool party, you need a lot of energy! That's why these cashew energy balls are so great.
They're easy to eat poolside, with no risk of stray crumbs ending up in the pool water. Each ball has enough energy to keep you swimming, and they taste delicious.
Source: huckleberrylife.com
Is there anything better than a refreshing summer fruit salad when the sun is beating down? This salad has a cream cheese dressing to crank up the refreshing taste even further.
I highly recommend keeping this salad as cold as possible, only taking it out of the fridge before serving it. Serve the dressing on the side so everyone can drizzle to their heart's content.
Source: thedizzycook.com
Smoke, spice, and sweetness; it's the perfect trifecta. These honey and chipotle chicken sandwiches are perfect pool-side fodder. The secret? The marinade.
While the recipe calls for just thirty minutes in the marinade, you can let the chicken patties sit overnight in the deliciously sticky sauce. Fire quickly on the poolside grill and serve!
Source: thehealthyepicurean.com
Adding sweetness to your guacamole is guaranteed to make it perfect for summer in a fun way.
If it's summer, chances are that peaches are in season, which means this is the ideal recipe to use them in!
This is a simple last-minute dish you can take to any pool party. This creamy dip is summery and delicious, with a hint of citrus in the avocado. Trust me. It will disappear quickly.
Don't forget the tortilla chips and lime juice to pair with this cool avocado crowd pleaser!
Source: rachaelhartleynutrition.com
Dessert is on you this time! Whip up these simple chili mango popsicles the day before to blow everyone away with a refreshing sweet treat.
The light touch of chili in these popsicles awakens your tastebuds, while the icy mango immediately cools them off. These are dead simple to prepare and perfect to enjoy under the hot sun.
Source: thefastrecipe.com
Need something quick and last-minute? These sandwich pinwheels have got your back! Make a few different flavors, so everyone can select something they'll enjoy.
This is a great way to put a spin on the classic sandwich platter. Plus, you can make a heap of pinwheels in virtually no time.
Source: allnutritious.com
I know, I know. Brussels sprouts at a pool party? Who would have thought?! This recipe is one of mine, and trust me when I say it goes down a treat no matter whom I serve it to.
The smashed sprouts are grilled to perfection. They're sweet, sticky, and delicious, with a creamy ranch. Make sure you make a ton because these will disappear fast.
Source: savvymamalifestyle.com
Instead of the usual chips and dip, switch things up with a sweet and refreshing take on this classic potluck dish. Fruit salsa is like a finer fruit salad, which makes it easy to scoop with a chip.
But what kind of chip goes with the ultimate sweet salsa? Cinnamon chips, of course! These are easy to make ahead of time using just a bag of pita bread and your oven.
Source: noshingwiththenolands.com
Salads can be tough to eat poolside, so these skewers are such a great idea. They take all the core ingredients from a watermelon and feta salad and put them on skewers instead of a bowl.
This way, you don't need cutlery to enjoy the salad; everyone gets their portion! Assemble these skewers in mere minutes, and be generous with the balsamic vinegar!
Source: epicveganeats.com
Need a hearty vegetarian option that's pool party friendly? This black bean lentil burger fits the bill! These burgers are dead easy to assemble poolside, meaning you just need to bring the ingredients.
Set up a 'make-your-own-burger' bar to delight and impress everyone in attendance. If there's a grill at your pool party, even better! Then, you can serve the patties fresh off the grill.
Source: allnutritious.com
This quick and easy snack is a great table filler, especially if you're after something healthy. These are packed with salty flavor thanks to the crunchy parmesan baked into each zucchini round.
With no cutlery needed, this snack is ideal for kids and adults alike. It's healthy, tasty, and a great alternative to the standard bag of chips.
Source: epicveganeats.com
Everyone deserves to enjoy fudgesicles poolside, no matter what dietary restrictions you're working with. Luckily, there are geniuses on the internet who have come up with a way!
These vegan fudgesicles are just as creamy and chocolatey as the real deal. With the bonus crunchy coconut on the outside, these might even be better than the originals.
Source: lucismorsels.com
Keep things simple and refreshing with this delicious Mediterranean quinoa salad. This is super easy to prepare on the morning of your party, with a ton of fresh ingredients to cool you off poolside.
The quinoa ensures that this salad is filling enough to accompany any other main dish but not so filling that you won't want to get in the pool after your meal.
Source: joyfoodsunshine.com
If there's room to sit down and eat, this classic feta and watermelon salad is perfect for summer! The ingredients scream sunny days, especially with the drizzle of balsamic vinegar.
The secret to this feta watermelon salad is the fresh red onion sprinkled on top. They add a sharpness to the salad that cranks up the flavor by a ton.
Source: livinglou.com
The Mediterranean is a great place to look for summer party meal inspiration. That region of the world relies on using the best, freshest ingredients and letting them do their thing.
With simple techniques and seasonal ingredients, this is the kind of salad that won't stress you out the day before.
Source: theoregondietitian.com
Looking for something extra special and unique? These brown sugar boba ice cream bars are here to help! Surprisingly, these are vegan, so everyone can have a bite!
The boba pearls strewn through the mix make eating these bars a super fun experience. Refreshing, creamy, and singing with summery flavor, party-goers will be fighting each other for the last bar.
Source: allnutritious.com
If I'm having a lot of people over, I love reaching for a sheet pan recipe. It's an easy way to prepare a delicious lunch for a crowd while giving you plenty of time to mingle with your guests.
My sheet pan chicken fajita recipe is designed for just such an occasion. Packed with summery flavors and Mexican spices, this is a tender, delicious way to enjoy chicken on a hot day.
Source: easyanddelish.com
You've heard of a fruit salad, but what about a salad that just focuses on the berries? This is an ultra-refreshing recipe featuring a lemon juice poppyseed dressing.
Whip this up in just fifteen minutes to keep your stress levels low and your tastebuds happy. Try serving with some crumbled feta and a handful of fresh herbs to spice things up in the best ways.
This berry salad is also one of the best potluck ideas for summer gatherings!
Source: planted365.com
These fried chicken tacos are so easy to make, and you'd never know they're vegan! You might need to leave yourself a little bit of extra time to prepare the tofu.
It requires a little extra effort to get the right texture on the tofu but trust me. It's worth it. The tofu ends up soft, crunchy on the outside, and incredibly flavorful.
Not sure what to pair with your tacos? Check out these tasty sides for tacos!
Source: easyanddelish.com
Sometimes the right choice for a pool party is a classic: the potato wedge. These are super easy to make, please everyone there, and won't break the bank! After all, potatoes come cheap.
These wedges are ultra crispy on the outside and fluffy on the inside, just like good wedges should be. Serve with your favorite sauces and a generous dusting of grated parmesan.
Source: plantbasedonabudget.com
Speaking of classic choices, this pico de gallo recipe is another pool party favorite! Refreshing and full of robust flavor, this is the kind of side dish you can serve with almost anything.
Bring a massive bag of chips and a bowl of salsa, and you'll have a pool full of happy partygoers.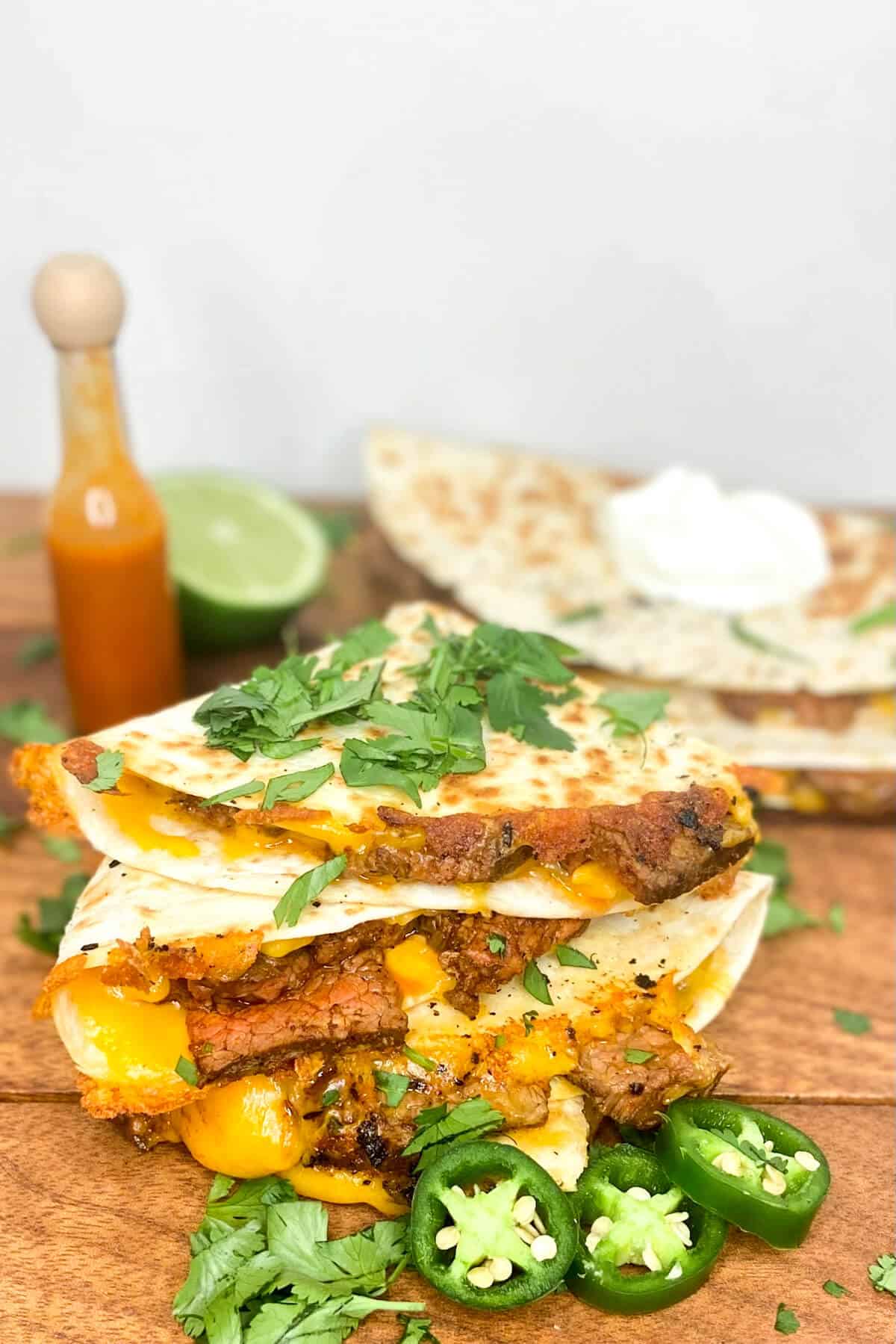 Source: maplewoodroad.com
The best kind of dish to enjoy at a pool party is one you can easily eat with your hands. That's why these quesadillas will go down a treat! They're an entire meal wrapped in a single handful.
Just imagine it: bold spices, succulent beef, and gooey cheese all wrapped in a crispy quesadilla. You can make each one fresh or bring a plate of them with you. Either way, they'll be gone in minutes!
Source: plantbasedonabudget.com
This is a healthy poolside snack that lives up to its name. It's super simple to make and great if any kids are coming to the party. Each apple slice has a top coat of dark chocolate and granola.
These are easy to eat, easy to make, and very easy to wish for more of. Make them as fresh as possible to keep the apples crispy and cold, and you'll be fending people off the plate.
Source: yellowthyme.com
If you're in a rush and need something versatile, a great dip is always the answer! This roasted red pepper and feta dip is by turns creamy and smoky, with a velvety red pepper flavor in each bite.
Bring along your own homemade pita chips or a few bags from the grocery store, and let the tasty dip do the talking.
Source: ambitiousfoodie.com
In the battle to save time and serve a crowd, your Instant Pot is your best friend. This chicken drumstick recipe is proof that juicy, fork-tender chicken is just a button press away.
The secret to success with this recipe lies in the bold, spicy dry rub. It puts a tasty skin on the chicken while sealing all the moisture inside.
Source: bitzngiggles.com
Chicken, bacon, and ranch are a combination as old as time itself. In a salad, the salty bacon, tender chicken, and creamy ranch play off each other to create something beautiful.
The secret is it's also really easy to make. That's what makes this such a popular party dish for attendees and hosts alike.
Source: ambitiousfoodie.com
Do you have a grill waiting poolside? Put it to good use with this amazing grilled buffalo chicken recipe! The buffalo sauce is bold and punchy, with a distinctive orange that calls to your tastebuds.
Pair that with a delicious char and the promise of a wrap or sandwich, and you've got a winning dish.
Source: dinneratthezoo.com
This is another great recipe to whip out if you have access to a grill! Serving these hot off the grill makes them a hundred times better.
These kabobs are fantastic party fodder since everyone can have their own portion. Plus, you don't need to give anyone cutlery (or even plates). Just enjoy them straight off the skewer.
Source: senseandedibility.com
We all know macaroni salad, but what if you could put a Hawaiian spin on it? If you're hosting a poolside grill, this salad is an essential guest at the party! It's creamy, cooling, and delicious.
Best of all, you only need five ingredients to bring this salad to life. Try making this the night before to allow it to sit and chill. The flavors will mingle, making the salad super creamy and mellow.
These other Hawaiian recipes are sure to be a hit this summer!
Source: alekasgettogether.com
This recipe could be a great side dish or a great dessert. It's up to you! Crank up the grill and slice your pineapple into chunky sticks, ready for the fire.
All you need to do is sprinkle the cinnamon and sugar over the top of the pineapple. As it grills, the sugar will melt into a delicious glaze, covering the pineapple in sticky perfection.
Source: loveandotherspices.com
Crostini are delicious as part of a party table and a great alternative to the standard bag of chips! All you need is a loaf of old bread, some oil, and some quality time with your oven.
Serve with a dip or a refreshing salsa to take the sting of heat out of the summer day. This is great for enjoying poolside since it's light yet filling.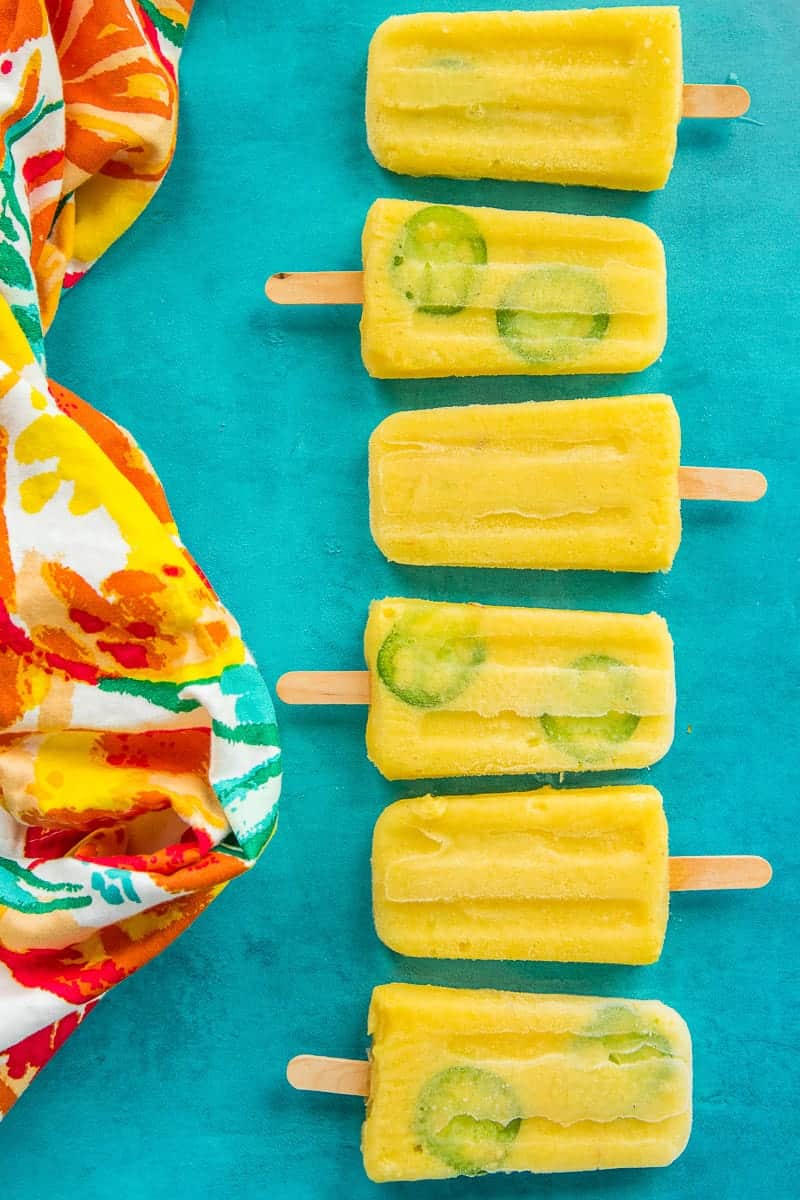 Source: senseandedibility.com
In Mexico, it's fairly common to have a kick of spice along with your sweet desserts. That's why these spicy pineapple paletas are so delicious; they've been perfected over many years!
Slices of jalapeno are buried in the tart, sweet pineapple ice. They offer a break from the icy texture and a kick of heat to simultaneously cool you off and heat things up.
Source: pipingpotcurry.com
The Caprese salad is an Italian summertime staple and perfect for a pool party! The little nuggets of bocconcini, along with heirloom tomatoes and balsamic vinegar, create a symphony of flavor.
Orzo is the perfect pasta for this salad. It's small, almost rice-like, so the grains become coated in the dressing. It's light, delicious, and perfect for a hot day by the pool.
Source: balancewithjess.com
How well does Hawaiian pineapple, garlic, and plenty of butter-basting sweet shrimp sound? This is a tropical delight perfectly suited to a day by the pool, especially if there's a grill involved.
This is a great option if you're low on time and need something summery, fast!
Source: thefoodolic.com
This is the easiest ice cream in the world to make! They're just slices of watermelon topped with yogurt and pistachios… at least, that's what it says on paper.
But when you bite into one of these popsicles, there's nothing 'just' about them! These are extremely refreshing, with a delicate sweetness and addictive crunch you can't beat.
You'll also enjoy these other tasty pistachio recipes!
Source: sweetmouthjoy.com
Who doesn't love cupcakes at a pool party? These mermaid-themed cupcakes are a little boozy, so they're perfect for the adults at the party. Rum dulce de leche, anyone?
Even the roughest pirates would be tempted by the pillowy cupcakes and rum-soaked buttercream. Decorate these to remind you of a day at the beach and watch them disappear at lightspeed.
This would be one of the most fun things to bake when you are bored before the party!
Source: pipingpotcurry.com
Finally, we have a vibrant fruit salsa that makes the best possible use of everyone's favorite tropical fruits. Pineapple, mango, and a few extra savory vegetables create the perfect balance.
This is sweet, a little salty, and absolute heaven on an unsalted nacho chip.
There you have it! With forty-one of the tastiest pool party food ideas on your side, you're more than ready for your next pool party. When the temperature starts to rise, you'll be ready!
Have I missed any essential pool party musts? Let me know in the comments what your go-to poolside dish is! And, of course, check out the rest of All Nutritious for more party food ideas.
41 Best Pool Party Food Ideas for a Perfect Summer Day
Make a splash with these fun and tasty summer snacks and pool party food ideas. These are perfect for small and big gatherings.
Ingredients
1. Healthy Apple Nachos
2. Grilled Watermelon Salad
3. Cornbread Salad
4. Strawberry Avocado Pasta Salad
5. Cashew Energy Balls
6. Summer Fruit Salad with Pineapple Cream Cheese Dressing
7. Honey Chipotle Chicken Sandwich
8. Peach Guacamole
9. Chili Mango Popsicles
10. Easy Sandwich Pinwheels
11. Smashed Brussels Sprouts
12. Fruit Salsa with Cinnamon Chips
13. Watermelon Feta Salad Skewers
14. Black Bean Lentil Burger
15. Parmesan Zucchini Bites
16. Vegan Fudgesicles
17. Mediterranean Quinoa Salad
18. Feta Watermelon Salad
19. Pasta Salad with Sun-Dried Tomatoes
20. Brown Sugar Boba Ice Cream Bars
21. Sheet Pan Chicken Fajitas
22. Berry Salad with Lemon Poppyseed Dressing
23. Vegan Fried Chicken Tacos
24. Air Fryer Potato Wedges
25. Pico De Gallo
26. Carne Asada Quesadillas
27. Apple Granola Goodness
28. Roasted Red Pepper Feta Dip
29. Instant Pot Chicken Drumsticks
30. Chicken Bacon Ranch Salad
31. Grilled Buffalo Chicken
32. Grilled Chicken Kabobs
33. Hawaiian Inspired Macaroni Salad
34. Grilled BBQ Pineapple with Cinnamon Glaze
35. Homemade Crostini
36. Spicy Pineapple Paletas
37. Caprese Orzo Pasta Salad
38. Hawaiian Garlic Butter Shrimp Kabobs
39. Watermelon and Yogurt Popsicles
40. Mermaid Beach Cupcakes
41. Pineapple Mango Salsa
Instructions
Scroll up to get a bunch of easy, yummy, and delicious recipes. Don't be afraid to get creative with the ingredients. You might discover a flavor you didn't know you liked.
Get your shopping list going, and make sure you've got all the ingredients.
Get cooking and make your next Pool Party Food Recipe!
Notes
Which one of these recipes was your favorite? Let me know in the comment section or on Pinterest!