Don't shy away from stuffing peppers just because you don't know what to pair them with! Here are the best side dishes for stuffed peppers.
Made with a combination of grains, veggies, and meats, stuffed peppers are a crowd-pleasing meal that is simply substantial on its own. But does that mean that you should serve them alone? No!
Even the most tummy-filling meals require a complementary dish on the side that will accompany the flavors and even bring more nutrients to the table. And stuffed peppers are no different!
If you're wondering what the most delicious stuffed pepper side dishes are, you are definitely at the right place! Here are the ultimate stuffed pepper pairings!
How to Make Stuffed Peppers?
Stuffing peppers is a method where you remove the top, deseed, and then fill the pepper cavities with your mixture of choice – usually, that is rice or other grain with ground meat and diced veggies.
In most cases, the rice is at least par-cooked, and the meat is well-browned before stuffing.
Some recipes call for boiling the peppers, some pre-baking them, and some encourage you not to cook before the stuffing part at all.
Whatever technique you rely on, the truth is, stuffed peppers always make a fun and super delicious meal. And if you choose to sprinkle some cheese on top, well, then, a total hit is guaranteed!
What to Serve With Stuffed Peppers?
A creamy mash, a nutritious salad, or roasted veggies are all good sides that complement meals that are bursting with rich stuffing.
And the options are pretty much endless, as well. Creamy, crunchy, grilled, roasted, or loaded with cheese, there are many different textures and flavors to add to your grains and veggies.
Whether you are a rice or potato fan or are looking for something lower in carbs and calories, there are many ways in which you can make a side that will make your stuffed peppers taste even better.
Below you find 27 of them!
Potato Side Dishes for Stuffed Peppers
Potatoes alongside your entrée are always a good choice! Here are the absolute best potato dishes that will be the perfect side to your stuffed pepper recipes.
Take your main dish to a whole new level with these side dish ideas the next time you're cooking.
I don't know if you're aware of this, but stuffed peppers taste best if paired with something sweet and crunchy. And this sweet potato bake with walnuts and apples is a match made in heaven.
But it's not only the taste that's amazing! Loaded with such super ingredients, this sweet bake packs a powerful nutrition punch, as well.
Plus, the silky butter and fragrant cinnamon on top wrap up the texture and flavor, providing some perfectly delicious and velvety bites.
For the ultimate sweet side, I'd suggest Gala or Fuji apples. If you want a touch of tartness, though, feel free to use sour apples such as Granny Smith.
Just when I think I've tried all of the possible mashed potato combos, a new recipe pops up that proves me wrong. This is a great side dish to make a complete meal and enjoy savory flavors.
With Greek yogurt, lemon juice, and feta cheese, this has to be the zestiest and most refreshing mash I've ever tasted.
This bowl of yummy creaminess is also loaded with garlic for the most fragrant and satisfying flavor.
The recipe uses oregano, but to be honest, I kind of prefer it with parsley more. Try it both ways and be the judge yourself! You'll fall in love with the recipe, anyway!
Need an easy side dish? Have you ever tried roasted fingerling slices straight from a muffin tin? If not, here's your chance to give this trick a try.
The thing I love the most about this recipe is that the potato side is already portioned before roasting. One cup for kids and two for adults is how I serve this lovely dish.
With butter, garlic, and thyme, you'll get addicted to these tiny slices after a single bite, for sure.
If you're looking for a fun and kid-friendly recipe, then this is surely it!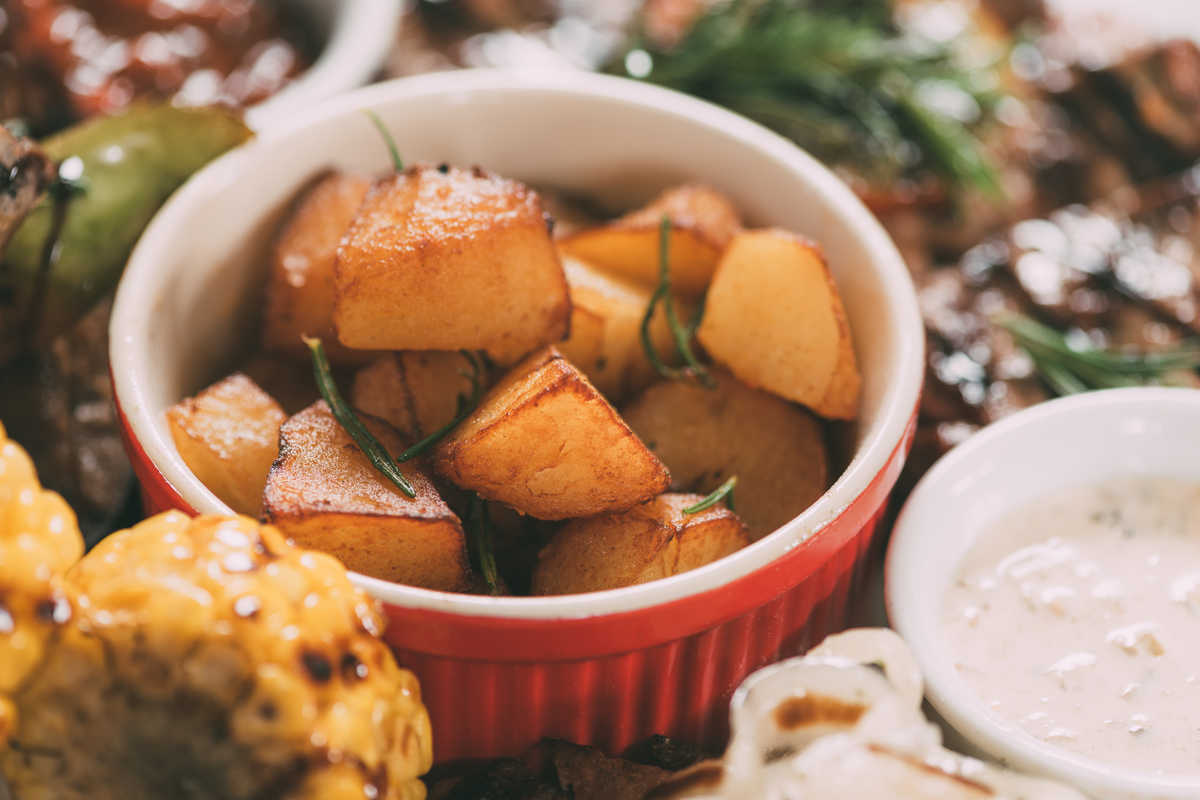 This has to be one of the best things to cook when out camping in the woods. Seriously, if you haven't grilled foil-packed potatoes, you definitely have to try this recipe.
So simple to make and without a shred of fuss, these tender and flavor-packed red potatoes will be a staple for every cookout or barbecue party.
With just some olive oil, garlic salt, and Italian seasoning, these almost prep-free potatoes will become your number one outdoor side dish.
And you know what? They can really round out your stuffed pepper dinner!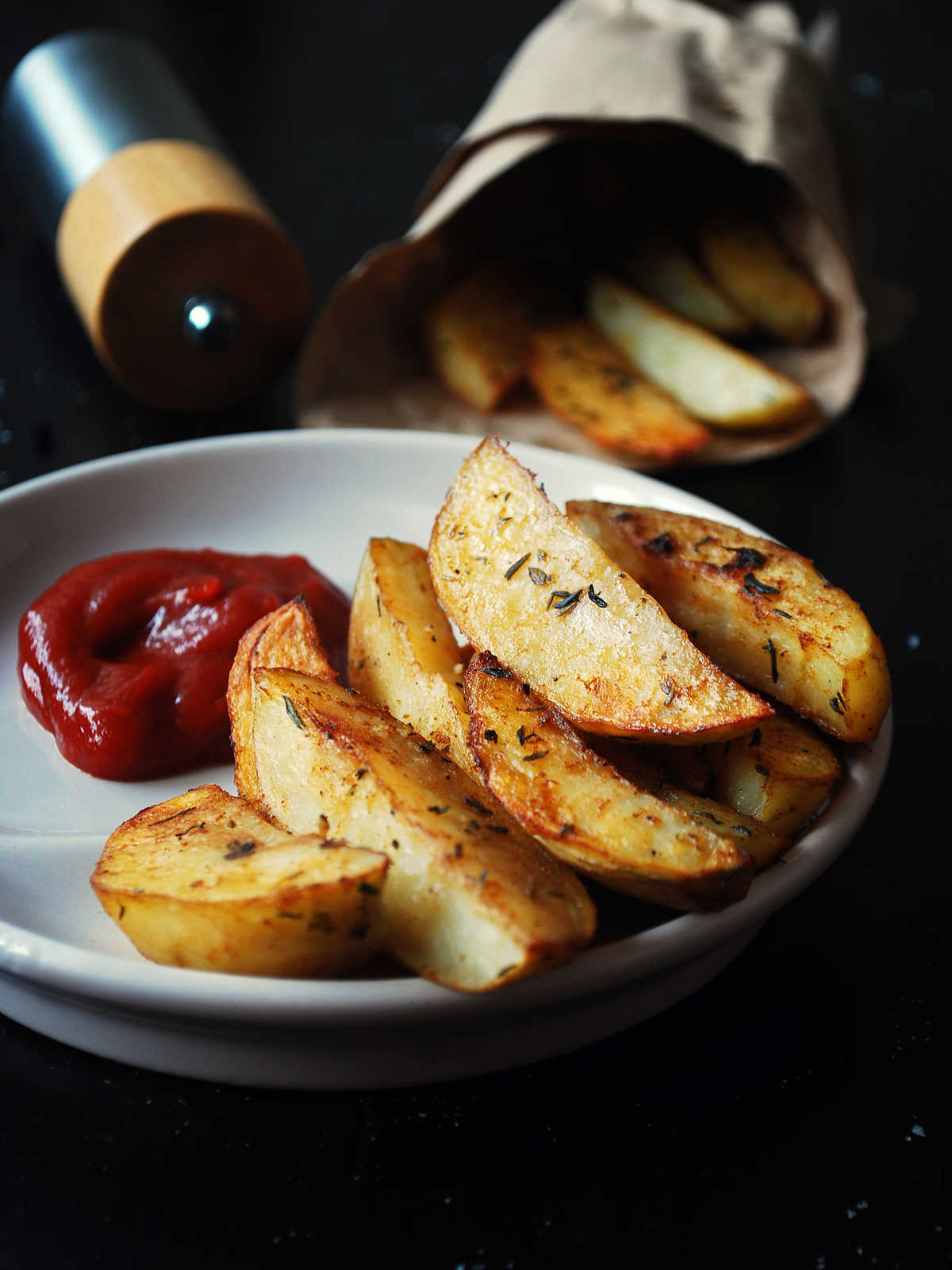 Roasted potato wedges have to be one of those side dishes that simply taste good whatever you choose to pair them with. And this recipe will definitely make sense alongside your stuffed peppers.
We've all got at least one roasted-potato method in our recipe folder, but this combination of seasonings is the definition of fail-proof simplicity.
Oregano, parsley, garlic, and onion powder for a flavorful and crispy exterior that complements the fluffy interior perfectly.
Just make sure to cut the potatoes into roughly the same size, so that every bite will be just as delicious.
Baby or new potatoes – whatever you call them – are the perfect bite-sized side dish that will fail to disappoint regardless of the entrée.
These baby potatoes are threaded onto skewers, grilled to perfection, and then served with tangy herbed salsa on top.
Make sure to boil the potatoes prior to the grilling (about 10 minutes would do), so that you can give them a charred makeover in just a few minutes.
Perfect for a summer barbecue party, and even better with your stuffed peppers!
There's something about this mash that is totally addictive!
Perhaps it's the deep orangey color. Or the squash, or the buttery silkiness, or maybe the maple sweetness. Or perhaps, the fact that the potatoes are roasted, not boiled.
Whatever it is, I'd sign up for a giant bowl of this velvety mash, no matter what the main dinner star is.
Add some thyme or rosemary for a deep herbal flavor, and I guarantee a total hit on your table! At least it was in my house, for sure!
I admit, sometimes I give into my greasy, deep-fried temptations. But I make sure I use healthier veggies. Just so I can pretend I'm at least injecting some nutrients while enjoying my guilty pleasure.
And sweet potatoes instead of regular ones should make up for the cholesterol boost, don't you think?
Fried twice for the ultimately crispy exterior, once you make this recipe you'll see how addictive these sweet potato sticks can be.
The recipe uses only salt and paprika, but by all means, add your favorite seasonings to the mix for a taste you'll enjoy the most.
Again, sweet potatoes on the menu! Only this time, these roasted wedges are nothing but healthy. Oh, right – delicious, too!
These crispy and soft sweet potatoes make one heck of a side dish, but also an incredible snack, too. Just serve with some dipping sauce, and you won't be able to stop yourself from devouring.
The sprinkle of cinnamon is a real must here. Not only does it completely transform the taste, but it makes these wedges even more nutritious! Remember, cinnamon is a super spice!
Healthy Sides for Stuffed Peppers
Guilty pleasures aside, if you are looking for something nutritious and delicious to further healthify your stuffed pepper dinner, then you cannot do better than these sides.
Whether it's a green salad or just a vegetable recipe, you'll find a great option for your dinner.
Loaded with all the Mexican flavors you adore, this black bean salad with tomatoes, corn, peppers, and onions is perfect for your stuffed peppers. Especially if they are filled with rice!
The jalapeno brings a hot kick to the mix, while the cilantro and lime balance out the heat and gives a refreshing tone.
Low in calories and packed with protein, this is a filling side that can easily be a nutritious lunch.
And the best part? You can make a whole batch and enjoy it for up to four days! It's what I always do, anyway!
This salad recipe offers a delicious way to enjoy your beans. And it's just a great Mexican side dish.
Fresh, sweet, crunchy, and with just the right amount of acidity, this tomato and basil salad is the perfect side dish to any protein-packed meal.
With just 10 minutes to whip up from start to finish, you can have a nutritious garden-fresh bowl on your table in no time.
To make it even more Italian, add some chopped or shredded Mozzarella to the mix. A generous sprinkle of Italian seasoning will also taste delicious in this recipe.
Just make sure to stick to red onions and don't use the white kind, as the red ones offer a more spicy bite that wraps up the taste nicely.
Enjoy this fresh salad and make it one of your favorite delicious side dishes.
If you find roasted broccoli to be boring, then let this recipe change your mind in an instant!
Sprinkled with cheese and flavored with garlic, there is nothing but tender and cheesy deliciousness in this recipe.
The best cheese to use here would be cheddar, as it can give a sharp punch to the broccoli. That really transforms the taste, making it anything but bland.
However, if you are a fan of mild cheeses, know that sprinkling with mozzarella will work, too.
If you think the recipe lacks seasoning, feel free to turn on your spicy game and add your beloved flavors!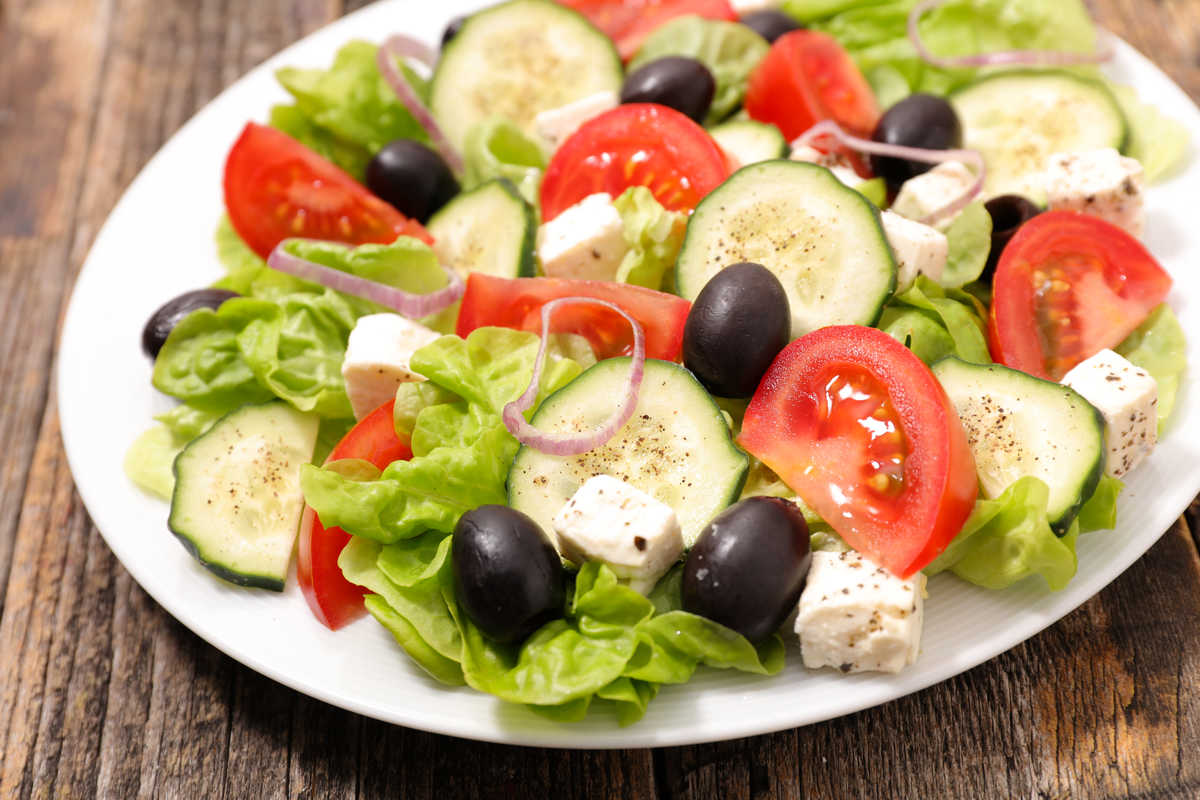 Sometimes, you don't need more than a few of the simplest ingredients to create an extraordinary flavor that will satisfy you deeply. That is the case with this easy-to-make salad!
Cucumbers, tomatoes, and onions are the stars of this recipe. Coated with a sweet and tangy dressing and loaded with flavorful dill, there is nothing but freshness in this salad bowl.
The recipe suggests you top this salad with crumbled feta cheese, but that is totally optional. I find this vegan and dairy-free version alongside my stuffed peppers to be more than pleasing.
This is a great salad for your favorite stuffed pepper recipe.
If you are not a fan of green-bean sides, then perhaps you should try adding this low-carb veggie to your salads? That is exactly what this recipe does!
For best results, try to get your hands on some fresh green beans. Frozen ones should work too, but you will not be able to achieve the same level of tenderness and crispiness in the texture.
Paired with tomatoes, almonds, and parmesan cheese, this salad is perfect for your stuffed peppers.
Tossed in a mustardy vinaigrette, no one will be able to resist a second serving of this side. You can also serve this side with chili.
As you can already guess by the name of the recipe, this tomato salad is super juicy and loaded with flavors.
By sitting in the marinate for a couple of hours, the tomatoes soak in all of the mustardy, basil, and Italian seasoning tastiness, and take on an even more refreshing flavor.
This salad is also loaded with mozzarella, and if you can find marinated Mozzarella balls to buy, that will further boost the taste here.
If you're looking for a sunshiny summer in a bowl – then this is surely it! Feel free to also serve this side dish with your favorite chuck steak recipe.
Looking for a lighter side dish? Wait before skipping this recipe. Although the name – chargrilled – may not sound too exciting, these broccoli florets are wrapped in nothing but flavor.
With garlic, red chilies, and lemon juice, this green veggie is flavored to perfection. And besides, the florets are served with lemon slices for an even more sensational look that screams freshness.
Perfect for your summer cookouts, and yes, super delish if served next to stuffed peppers.
If you don't like the heat of the chilies, feel free to omit them. Instead, sprinkle some paprika and top the broccoli with red bell pepper slices.
If you are looking for a charred, juicy, crunchy, spicy, and sweet salad, then this colorful bowl of goodness is just the thing your dinner table needs.
Tomatoes (both red and yellow), red onion, avocado, cilantro, and yes, charred corn, are wrapped up in a sweet and tangy mustard dressing that tastes just like summer.
This recipe uses grilled corn on the cob for a smoky and extraordinary flavor.
However, if you don't have any and you're eager to give this a try, use canned corn instead. The taste won't be the same, but hey, close enough is sometimes good enough, too!
A salad loaded with peaches has to be the ultimate summertime backyard BBQ dish. This Mexican side is fresh and zesty, and it perfectly combines with stuffed bell peppers.
With avocados, corn, basil, garlic, and jalapenos, this sweet and spicy peach salad is nothing but rich in flavor and texture.
Besides, when you add rich burrata cheese to this combo, you can only imagine the explosion of taste on your tongue.
For a full-blown lunch, feel free to serve larger portions of this salad topped with some grilled chicken. Totally irresistible, don't you think?
You could also have this salad as a side dish with brisket.
Best Sides for Stuffed Peppers
There are some dishes that are simply created to be served with stuffed peppers. If you're looking for a side that will wow your guests, make sure to take your pick from the perfect side dishes below.
The word fiesta here is a real spoiler alert! You know it's going to be colorful, rich in texture, filling, and just made to serve a crowd. And this Mexican rice is just the thing any fiesta needs!
Jasmine rice with tomatoes, corn, black beans, cilantro, and carrots, tossed in lime juice and packed with garlicky flavor. This has to be one of the best ways to cook rice.
Besides, this rice is so delicious, that you can easily sneak in some extra veggies for the fussy kiddies.
The rice is weak on seasonings, so feel free to use your paprika, cumin, cayenne, chili powder, or whatever Mexican flavors you prefer here.
Stuffed peppers go well with anything Mexican. Especially corn! And this delightful recipe will show you how to perfectly execute grilling and air frying corn on the cob. Yup, both methods are included!
The recipe uses nothing but cooking spray but encourages you to include your favorite toppings such as salt, lemon, or cilantro.
My personal favorites are paprika or chili powder, parmesan cheese, and of course, some chopped herbs for a more presentative look on the table. Sprinkle some zest on top for a refreshing kick!
With just four ingredients – rice, cilantro, lime, and oil – and salt, you can make fluffy and packed-in-flavor chipotle-style rice that pairs incredibly well with stuffed peppers.
The thing I love the most about this rice is that it has such a neutral flavor that can be a great base for many sauces and meat-based dishes on top.
If you like it a bit deeper in flavor though, you can cook the rice in chicken (or veggie) broth.
And the best part? This lime rice is made in the instant pot, which is hands-free and zero-guess cooking at its best!
Light, fresh, and super creamy, this cucumber salad with dill and red onions is the ultimate summer side dish.
The cucumber slices here are smothered in Greek Yogurt for extra freshness. If you want it to have a bit more dense cream, cut the yogurt amount in half and swap it with sour cream.
So simple and quick to make, but incredibly delightful!
I'd suggest English cucumbers for this recipe, but feel free to try it out with different types of cucumbers, too.
This salad also goes well with steak as well!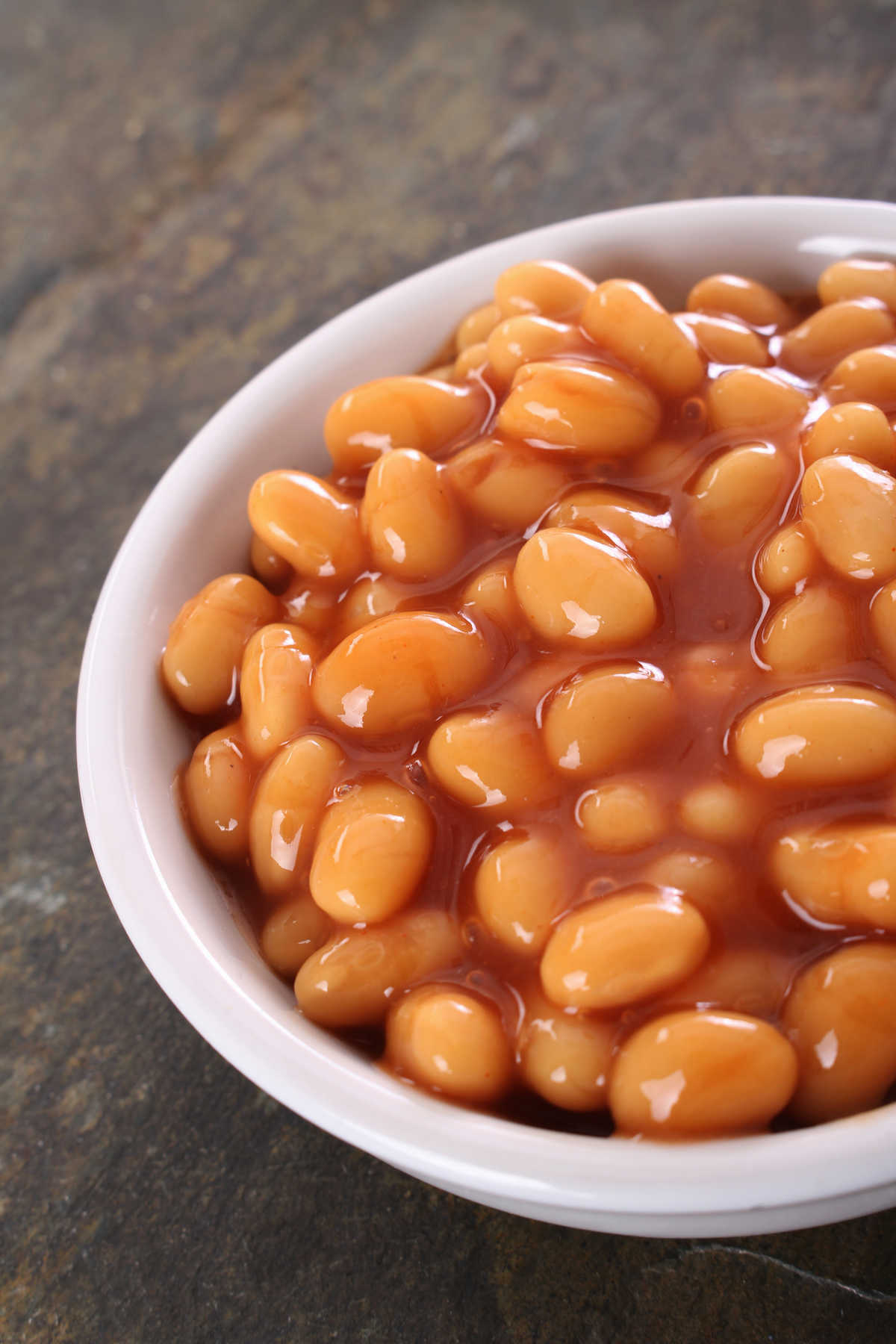 Baked beans the old-fashioned way but in vegan style. I promise these taste just as those your nanna used to make to warm up those cold winter days.
Loaded with tomatoes and a generous touch of maple syrup, these sweet and super comforting beans will be the perfect companion to your stuffed peppers.
The recipe uses smoked paprika, but feel free to add some chili powder for an even spicier side.
Combining the natural carrot sweetness with thyme creates one super delightful flavor. And these tender and almost caramelized sliced carrots will definitely prove that.
The secret here lies in the generous orange juice squeeze that gives citrusy zestiness that wraps it all up.
Buttery silky and garlic and ginger-infused, I bet no one will be able to pass on these delightful slices. These carrots are also an amazing side dish for chicken wings.
If you don't like Brussels Sprouts, then you clearly haven't tried this recipe before.
With nothing but butter, garlic, and lemon, these stovetop Brussels Sprouts quarters can be easily whipped up in a matter of minutes.
If you want to further boost the flavor, sprinkle these charred veggies with a generous amount of Parmesan cheese.
Garlic bread – but with tons of cheese on top. If you are a die-hard cheese fan, then this will surely be a regular side dish on your table. Especially alongside stuffed peppers!
This recipe uses a loaf of French bread and gives it a garlicky makeover! Loaded with garlic butter and cheese, this half-homemade version of the Italian classic is a must-try.
I dare you to try and enjoy only one slice – so darn impossible!
Pasta with chicken, arugula, tomatoes, and bell peppers loaded with seasonings and condiments for the ultimate taste!
Soft, crunchy, tangy, meaty, acidic, sweet… you name it. This colorful bowl is practically an infusion of textures and flavors.
And the best part? The possible alternatives are pretty endless, too. Feel free to experiment with different veggies and spices, and create a side dish (or lunch!) that works best for your taste buds!
What Goes with Stuffed Peppers: 27 Best Sides
Got some stuffed peppers? Try these Side Dishes for Stuffed Peppers that are easy to make and taste delicious.
Ingredients
1. Apple Sweet Potato Bake
2. Greek Mashed Potatoes
3. 5-Ingredient Muffin Tin Crispy Roast Potatoes
4. Foil Pack Grilled Red Potatoes
5. Crispy Oven Baked Potato Wedges
6. Grilled Baby Potatoes
7. Healthy Mashed Sweet Potatoes
8. Deep Fried Sweet Potato Fries
9. Sweet Potato Wedges with Paprika
10. Mexican Bean Salad
11. Balsamic Tomato Basil Salad
12. Cheesy Garlic Broccoli
13. Cucumber Tomato Salad
14. Italian Green Bean Salad
15. Marinated Tomato Salad
16. Chargrilled Broccoli
17. Charred Corn Avocado Salad
18. Summer Peach Corn Salad
19. Fiesta Mexican Rice
20. Mexican Air Fryer Corn on the Cob
21. Instant Pot Cilantro Lime Rice
22. Creamy Cucumber Salad
23. Old-Fashioned Vegan Baked Beans
24. Roasted Carrots with Thyme
25. Garlic Butter Brussels Sprouts
26. Cheesy Garlic Bread
27. Chicken Pasta Salad
Instructions
Scroll up to get a bunch of easy, yummy, and delicious recipes. Don't be afraid to get creative with the ingredients, you might discover a flavor you didn't know you liked.
Get your shopping list going and make sure you've got all the ingredients.
Get cooking and make your next Sides for Stuffed Pepper!
Notes
Which one of these recipes was your favorite? Let me know in the comment section or on Pinterest!