Looking for great ways to make the best chuck steak recipe? Well, your quest ends here! With 21 tender and delightful chuck steak dishes, you will surely find your match!
If you've tried cooking chuck steak before and it turned out tough, don't fret! It isn't the meat's fault.
You just need the perfect recipe and technique for melt-in-your-mouth soft meaty bites without having to buy a high-quality expensive steak.
Luckily for you, this post is devoted to all of you steak lovers who want to up their chuck cooking game.
With over twenty delicious chuck steak recipes, you will soon learn that foolproof and tender steak on a budget is indeed possible. Read on!

What is a Chuck Steak Good For?
If you're wondering what chuck steak is best for, know that the great options are limitless.
Mainly used in stews, pot roasts, or for braising and slow cooking, there are plenty of tasty meals you can whip up with this cheap beef cut.
Because it is known as a somewhat tougher beef part, it is usually not the first inexpensive cut that comes to mind when planning on grilling a steak. However, it doesn't mean that you cannot do it.
Cuts of beef vary in tenderness, so there surely are some parts that will be great for your grill, as well.
How Do You Make Chuck Steak Tender?
There are many great techniques you can use to tenderize tougher parts of meat, chuck steak included. So, the cooking time differs based on size!
Marinating – By allowing your meat to sit in an acidic solution (buttermilk, lemon juice, balsamic vinegar) the acids will penetrate the connective tissues and tenderize the meat. Even 30 minutes of soaking will do the trick in a good chuck steak marinade.
Salt – By breaking down the protein cells in the meat, salt can be a great tool to use to soften this tough meat cut. Simply rubbing the steak with sea salt will be enough to tenderize the texture.
Pounding – By pounding the steak (best to cover with plastic foil first), you can also break down the fibers and make it softer. A meat pounder is great, but even a rolling pin or a skillet will do just fine.
Slow cooking – My ultimate favorite, slow cooking chuck steak will break down the collagen, and make your tough meat cut fall apart. This texture can be buttery soft and melt in your mouth.
How Long Does Chuck Steak Take to Cook?
A general rule is that you should cook a pound of chuck for at least 30 minutes, or a large chunk of 2-3 pounds in about 90 minutes.
If not sure whether the meat has been properly cooked, you can always check with a meat thermometer.
The initial temperature has to be at least 135 degrees F (57.2 C) for it to be safe to be served. Thus, make sure you cook your beef chuck eye steak on medium-high heat.
Beef Chuck Steak Recipes
If you're tired of your old and boring chuck recipes, then here you will find some of the most exciting and fail-proof beef chuck steak dishes to serve. Start your day with a good steak and enjoy the great flavor.
Source: temeculablogs.com
Thanks to the flavorful dry rub, this chuck roast is so crispy on the outside but incredibly juicy and tender on the inside.
This Air Fryer method really doesn't leave anything up to chance, so you can have perfectly soft meat, every single time.
The Worcestershire sauce gives a nice kick that pairs perfectly with the garlic and rosemary.
For the best melt-in-your-mouth results, make sure to let this roast rest after cooking. Waiting at least 15 minutes will allow the juices to settle in, giving you nothing but succulent bites.
Source: cookingformysoul.com
A classic dutch-oven beef roast is one of the warmest and heartiest meals you can put on your Sunday dinner table.
And this recipe will make sure that you nail down the texture and consistency, every time.
A perfectly seasoned chunk of chuck steak seared until well-browned and simmered in a wine and broth mixture for 3.5 hours. Fall of the bone perfection!
Plus, with baby carrots and new potatoes in the pot, this is nothing but a full and satisfying meal.
Love this recipe? You might enjoy easy sheet pan dinners.
Source: joyousapron.com
If you're in the mood for some beef stew, make sure to give this easy recipe a try.
Simmered in a wine and broth sauce with tomatoes, onions, carrots, potatoes, and celery, this beef stew is nothing short of a deeply comforting and nourishing dinner.
The chuck pieces are so soft that even your kids will be asking for seconds.
If you serve with crusty bread and a green salad on the side, you will be tempted to devour the warm pot in one sitting.
If you want a tad more flavor, add a cube of beef bouillon along with the broth and wine.
Source: gypsyplate.com
A Cuban classic that is sure to win your heart over, this fall-apart shredded beef is a perfect way to enjoy your chuck in the most juicily way.
While the recipe uses tons of flavorings and seasonings, I really suggest you use as much of them as you possibly can. Each dash and sprinkle gives a spicy note that builds the whole taste.
The recipe uses tomatoes, olives, and capers, which give a lot of creaminess and texture to the dish.
Served with rice and black beans (or a black bean salad!), this Ropa Vieja will be your new definition of a finger-licking meal.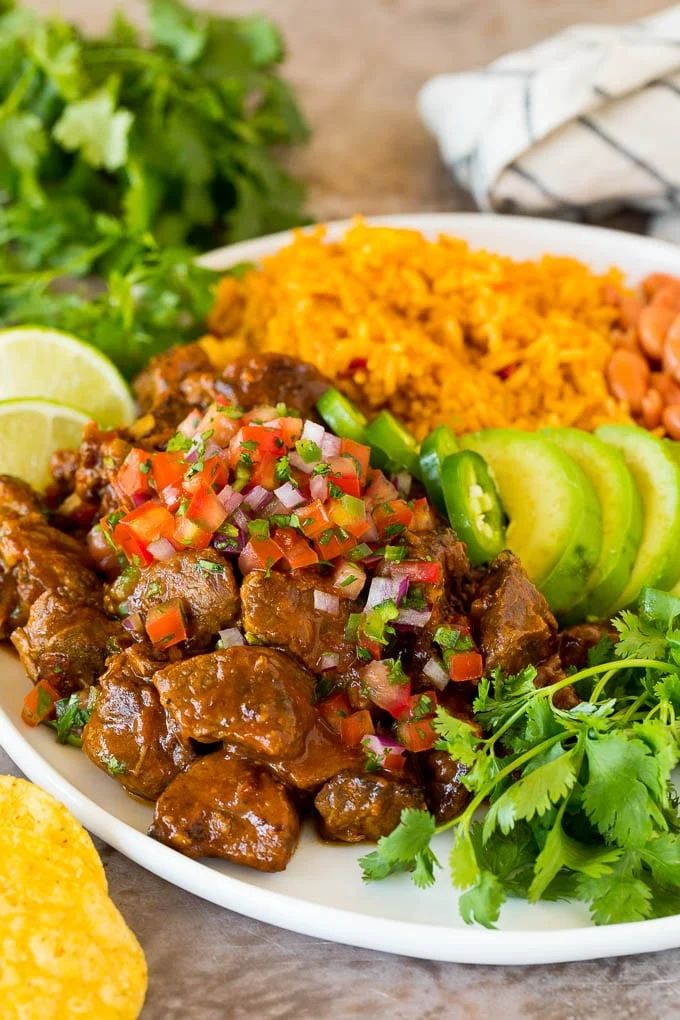 Source: dinneratthezoo.com
Basically just beef served with bell pepper and tomatoes, this spice-loaded Mexican beef dish is another great way to perfect your chuck cooking skills.
So tender and rich in flavors, this dish can be served as stand-alone beef, or even used as the meaty base for your burritos or enchiladas.
The recipe uses two generous teaspoons of chili powder, but feel free to omit for a Carne Guisada your kids can enjoy, too.
Topped with salsa and garnished with chopped cilantro and lime wedges, this will make one heck of a specialty dish!
Source: theheirloompantry.co
If a beef soup hasn't been on your menu in a while, I suggest you whip up this nourishing pot. So nutritious and warming, this soup will shortly become a regular.
And guess what? Chuck roast is actually the best cut for soups because it can tolerate long hours of cooking, resulting in soft fall-apart meat and nourishing liquid.
With carrots, tomatoes, celery, onions, and parsley, you barely need any spices. Just season with salt and pepper, and dig in.
Plus, this soup also includes orzo, which makes it a great filling lunch meal.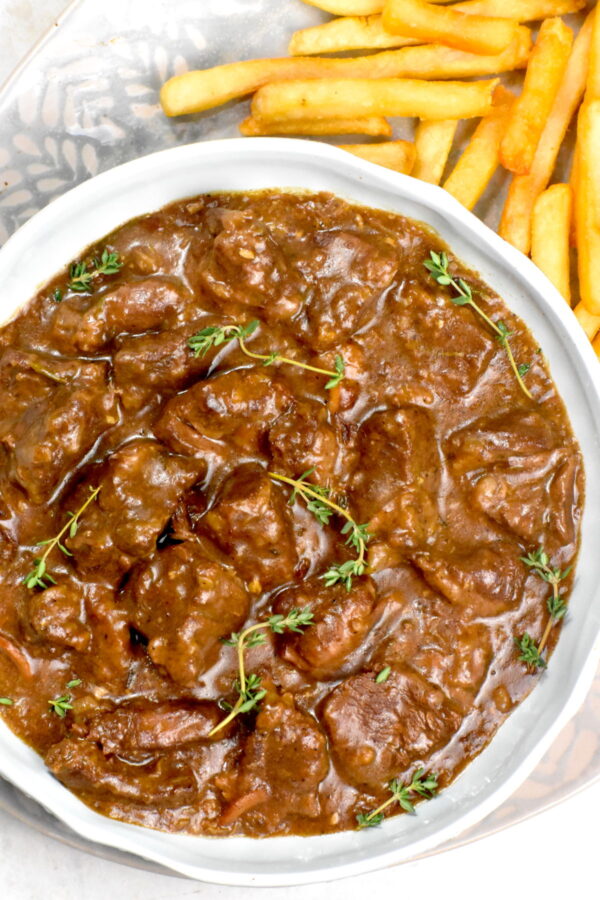 Source: gypsyplate.com
Carbonnade Flamande, as exotic as it sounds, is actually a Flemish traditional beef stew made with beer.
And while any beer will do the trick here, the darker it is, the deeper the flavor. Any nut-brown ale or Belgian beer will offer an earthy and deeply comforting flavor, perfect to warm up a cold winter day.
With bacon and strong thyme and rosemary flavors, this hearty soup will make you cozy and warm after just a spoonful.
And if you serve it with some warm and rustic bread, well, indulging a second plate is almost guaranteed.
Source: glutenfreehomestead.com
If you love a good traditional British meat pie but cannot tolerate carbs, then this low-carb version of the all-time staple comfort food will definitely satisfy.
Made with a cauliflower crust and filled with tender and long-simmered beef sauce, there is absolutely nothing you won't love about this low-carb pie.
The beef chunks are juicy and soft, flavored with tomato and Worcestershire for a depth in flavor that is perfect for pies.
So luscious and mouthwatering, I recommend serving this cauliflower and beef pie with some green salad on the side.
Source: littlesunnykitchen.com
In just one hour, you will have a real Mississippi-style pot roast on your table, ready to be devoured.
Smothered in a butter and beef broth sauce and spiced up with a generous amount of jarred pepperoncini peppers.
These tender chuck-roast pieces have just the softness and flavor you're looking for in a saucy pot roast.
Perfectly paired with a glass of red wine and a healthy salad on the side, I love how such simplicity can taste so marvelous! Good news for wine lovers!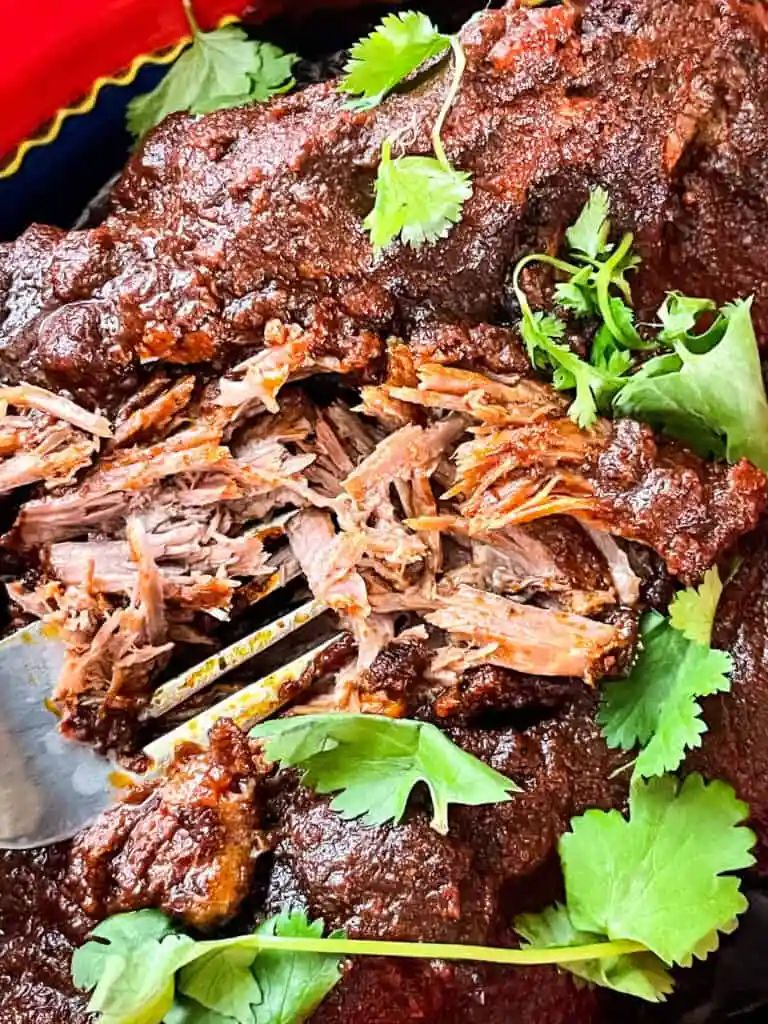 Source: threeolivesbranch.com
Birria de Res is a very popular Mexican stew that has beef and peppers as a base. This recipe uses four different types of peppers, tomatoes, and tons of your beloved Mexican spices.
If you want a spicy shredded beef dish, then this is the perfect recipe for you.
Whether you choose to serve it as is with some rice and Mexican salad on the side or add it to your tacos or burritos, you cannot argue the fact that this is one incredibly tasty dish.
Source: snackrules.com
Braised beef in red wine is probably one of the most comforting winter meals I want to be serving on those cold days. This recipe, though, I can enjoy even on the hottest of summer nights.
With 4-5 pounds of chuck roast, this recipe easily serves eight adults, with some leftovers for tacos, if you're lucky.
Rich in a garlicky and thyme flavor and accompanied by thinly sliced potatoes, tomatoes, and a generous sprinkle of Parmigiano-Reggiano, this dish is lick-your-fingers good.
Serve with ciabatta and watch your dinner disappear in a jiffy!
Chuck Steak Crockpot Recipes
If you own a crockpot, then you don't have to worry about your chuck turning tough with these slow-cooked beef delights. Go to your grocery store, get your olive oil, soy sauce, smaller steaks, and get cooking!
Source: alittleandalot.com
If you haven't tried a Guinness stew before, it's almost like you've never even tasted saucy beef.
Made in the slow cooker, this Irish stew is nothing but scrumptious!
Tender chunks of beef smothered in a thick Guinness and mustardy broth, with potatoes, baby carrots, and peas.
Add the herb butter on top of that, and you will not be able to stop yourself from dunking and dipping your crusty bread in this heavenly bowl.
Source: theforkedspoon.com
Beef bourguignon is a classic and one of the most delicious ways in which you can prepare your chuck steak. But the stove version can sometimes get tricky for beginners.
Not this recipe, though. Simply brown the meat first, then dump everything in the slow cooker for 6-8 hours of slow tenderizing.
Plus, with tomatoes, mushrooms, carrots, onions, and celery, these chuck cubes need nothing more than a slice of bread to be served with.
The sweet Marsala wine takes the flavor up a notch, so use this instead of red wine if you can.
Elegant-looking and hearty to feed a crowd, but hands-off enough for your busy weeknight dinners.
Source: threeolivesbranch.com
Ah, ragu sauce! On top of my pasta, a toasted slice of bread, over rice, or even on its own with some salad on the side. So many delicious options for such a simple yet super soft shredded beef.
This Italian-style recipe simmers the beef in tomatoes, for a saucy and packed-with-flavor ragu.
So hearty and comforting, this tender chuck ragu will top your comfort-food list after just a single bite.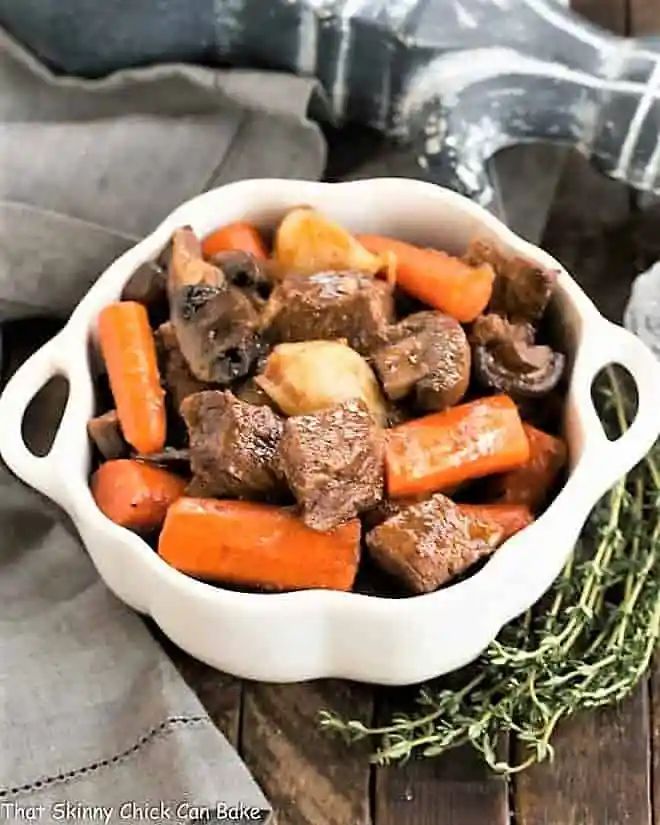 Source: thatskinnychickcanbake.com
Are you looking for a tasty beef dinner with potatoes, carrots, and mushrooms, that will not have you glued to your stove for hours? Then this is just the recipe you need.
Made in the slow cooker, this dump-and-forget-about-it kind of dish is packed with so many flavors and textures that it will please even the fussiest eaters.
Not to mention that it is super comforting, as the 8-hour long slow cooking tenderizes this meat to an almost butter-like softness.
Source: littlesunnykitchen.com
Talking about comfort food, you will not find a tastier option than these shredded-beef Italian sandwiches.
All you need is to sear the beef, drown it in seasoned beef broth, slow cook to perfection, and then assemble the sandwiches.
For best results, these sandwiches should be placed under the broiler just until the provolone cheese doesn't become melted.
So fun to make and even more enjoyable to devour, these Italian sandwiches definitely fit my guilty-pleasure-food description.
Check out more easy college dinner ideas here.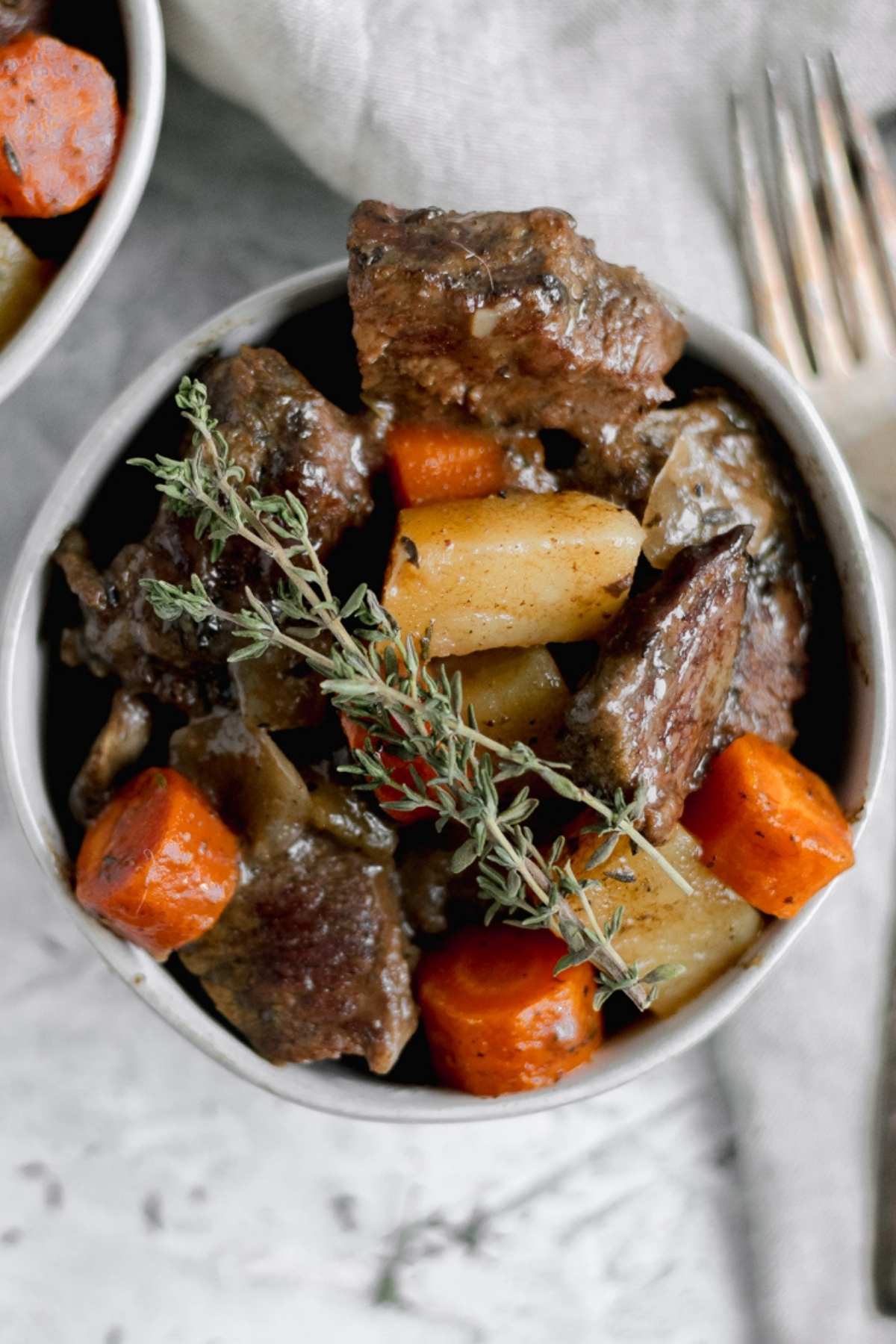 Source: kaleenaskitchen.com
This slow-cooked whole30 pot roast really just slow-cooks its way to a juicy delight. With very little prep time and hands-on cooking, this is one of the perfect chuck dinners for all the busy workers.
Plus, there are carrots, potatoes, and celery, for an authentic, filling, and deeply comforting taste.
Also paleo, dairy-free, and gluten, this dish will be literally enjoyed by everyone.
To make it low-carb, just ditch the potatoes and carrots, and add cauliflower, parsnips, broccoli, or some other Keto-approved veggies.
Check out more cheap crockpot recipes.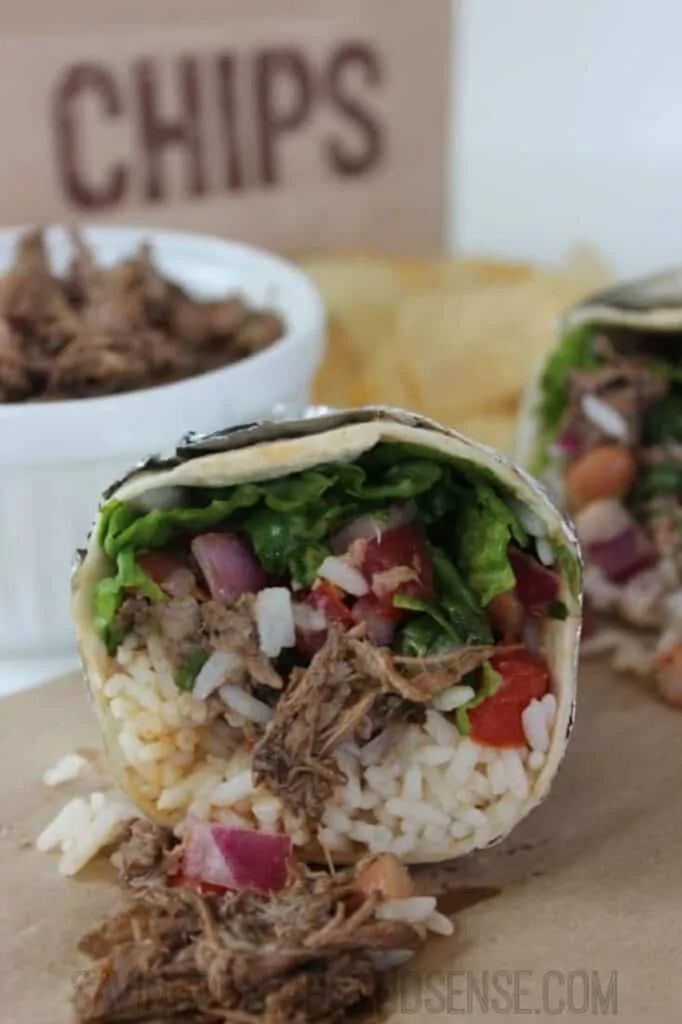 Source: savingdollarsandsense.com
Chipotle barbacoa is a Mexican beef dish to die for. That's all I'm going to say about this recipe. I'm actually joking, but I might as well finish with that sentence. Because yes, this recipe is that good.
So tender and shredded to a soft meaty perfection in your mouth, this chuck steak with chipotle peppers in a tangy sauce is the ultimate must-try.
And the best part of it is how easy it is to whip up. Just sear the meat, place everything in the slow cooker, and forget about
Chuck Steak Oven Recipes
Chuck steak can be juicy and fall-apart soft straight from the oven, too. With these ultimate oven chuck recipes, you will enjoy this beef cut in the most delightful way possible.
Add these 3 meals to your collection of chuck steak recipes. Make your perfect steak dinner, get some fresh herbs out, and find the best way to make your favorite new meal.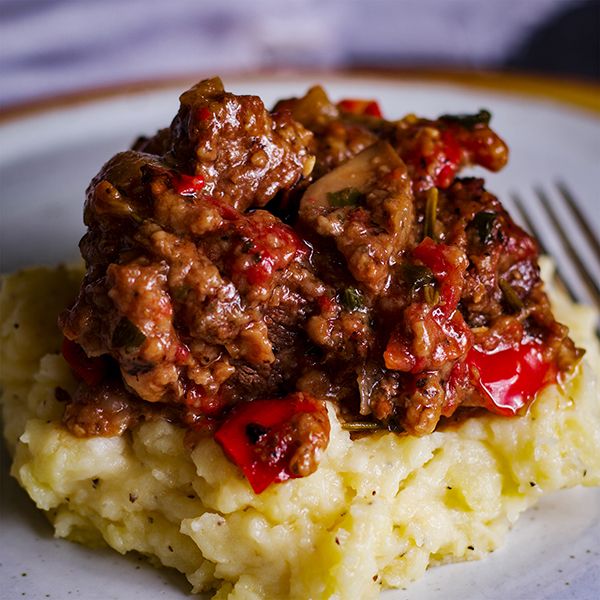 Source: alittleandalot.com
Slow-roasted to a very, and I mean very, tender consistency, this Tuscan beef is served on top of a garlicky mash loaded with creamy mascarpone cheese for a full and pleasing meal.
Braised in wine and chicken broth sauce with tomatoes, peppers, mushrooms, and enough butter to make it super silky, these smooth and fall-apart chuck pieces are nothing but heavenly.
For an authentic Italian dish, make sure to top it off with some Parmesan shavings.
Source: culinaryginger.com
If you cannot decide between a quesadilla and a taco, make this two-in-one version. Melted cheese on crispy corn tortillas, topped with some flavorful shredded beef.
The beef part is cooked in the oven, in a chili-loaded sauce, and enhanced with a cinnamon stick for a real flavor zing that wraps up everything nicely.
The recipe also offers a slow-cooker version, so you can never go without this comfort food even if you don't have the time to cook.
Source: stateofdinner.com
So comforting and nothing but juicy and tender, this pot roast from the oven with carrots and potatoes is the ultimate crowd-pleaser for your get-together Sunday dinners.
For the deepest flavor, go for a bone-in chuck if you can get your hands on such a chunk. If not, at least make sure that the meat is well-marbled to offer some more flavor and fattiness to the roast.
Perfect on top of rice, mashed potatoes, pasta, in sandwiches, tacos, or simply enjoy it by messy spoonfuls while standing over the Dutch Oven. No judgy looks from my side, guys!
Great choice when you need a boneless chuck steak with an easy marinade!
21 Best Chuck Steak Recipes
Looking for dinner ideas? These Chuck Steak Recipes are delicious, tasty, and full of flavors. So, go ahead and make one!
Ingredients
1. Air Fryer Chuck Roast
2. Dutch Oven Pot Roast
3. Easy Stovetop Beef Stew
4. Ropa Vieja
5. Carne Guisada
6. Italian Beef Soup
7. Carbonnade Flamande
8. British Style Meat Pie
9. Instant Pot Mississippi Pot Roast
10. Birria De Res
11. Red Wine Braised Beef
12. Slow Cooker Irish Beef and Guinness Stew
13. Slow Cooker Beef Bourguignon
14. Slow Cooker Italian Shredded Beef Ragu Sauce
15. Slow Cooker Beef Stew with Mushrooms
16. Italian Beef Sandwiches
17. Whole30 Pot Roast
18. Copycat Chipotle Barbacoa
19. Tuscan Braised Beef with Garlic Mascarpone Mashed Potatoes
20. Quesabirria Beef Tacos
21. Oven Pot Roast
Instructions
Scroll up to get a bunch of easy, yummy, and delicious recipes. Don't be afraid to get creative with the ingredients, you might discover a flavor you didn't know you liked.
Get your shopping list going and make sure you've got all the ingredients.
Get cooking and make your next Chuck Steak Recipe!
Notes
Which one of these recipes was your favorite? Let me know in the comment section or on Pinterest!